You may think there is not much difference between a 54 degree wedge and a 56 degree wedge other than two degrees, but those two degrees can be the difference between sticking it close and airmailing the flagstick.
Your short game is paramount to shooting low scores. While practice is a must, you could be doomed from the start if you have the wrong equipment.
Unlike a set of irons, your wedges must be bought separately, so you have to do the homework yourself to ensure your wedges will suit your game and complement the rest of your set. We don't want any shots that are "in-between yardages."
Is a 54 degree wedge or 56 degree better for you? A 54 degree wedge will go further but will have a lower loft. It can be better for bad weather and if you can avoid unpredictable lies. It also is better if you carry a 45 degree pitching wedge and a 50 degree gap wedge.
Know the difference between these two clubs so you can get your set and your wedge game dialed in.
54 vs. 56 Wedge: Overview
A 54 degree sand wedge has gained popularity recently because of how iron sets are made. But can it compete with the 56 degree wedge?
This change in standard loft has forced us to rethink which wedges we carry. Choosing between these two clubs depends on one thing: the trajectory you want and how it fits with the rest of your set.
What is a 56 degree wedge called? Wedges between 54 and 56 degrees are called sand wedges. Which is right for you? Keep reading.
Comparison Chart
| | | |
| --- | --- | --- |
| | 54 Degree Wedge | 56 Degree Wedge |
| Loft | 54° | 56° |
| Length | 32.25" | 32.25" |
| Bounce | 8° – 12° | 10° – 14° |
Pros Of A 54 Degree Wedge
Provides lower and penetrating ball flight
54° wedge distance is greater than a 56° wedge
Fits any set that prefers more hybrids or long irons
Can still be used out of the rough with the right bounce
Cons Of A 54 Degree Wedge
Might provide too much distance
Harder to create loft
Not great out of bunkers
54 Or 56 Sand Wedge—Difference In Shot Types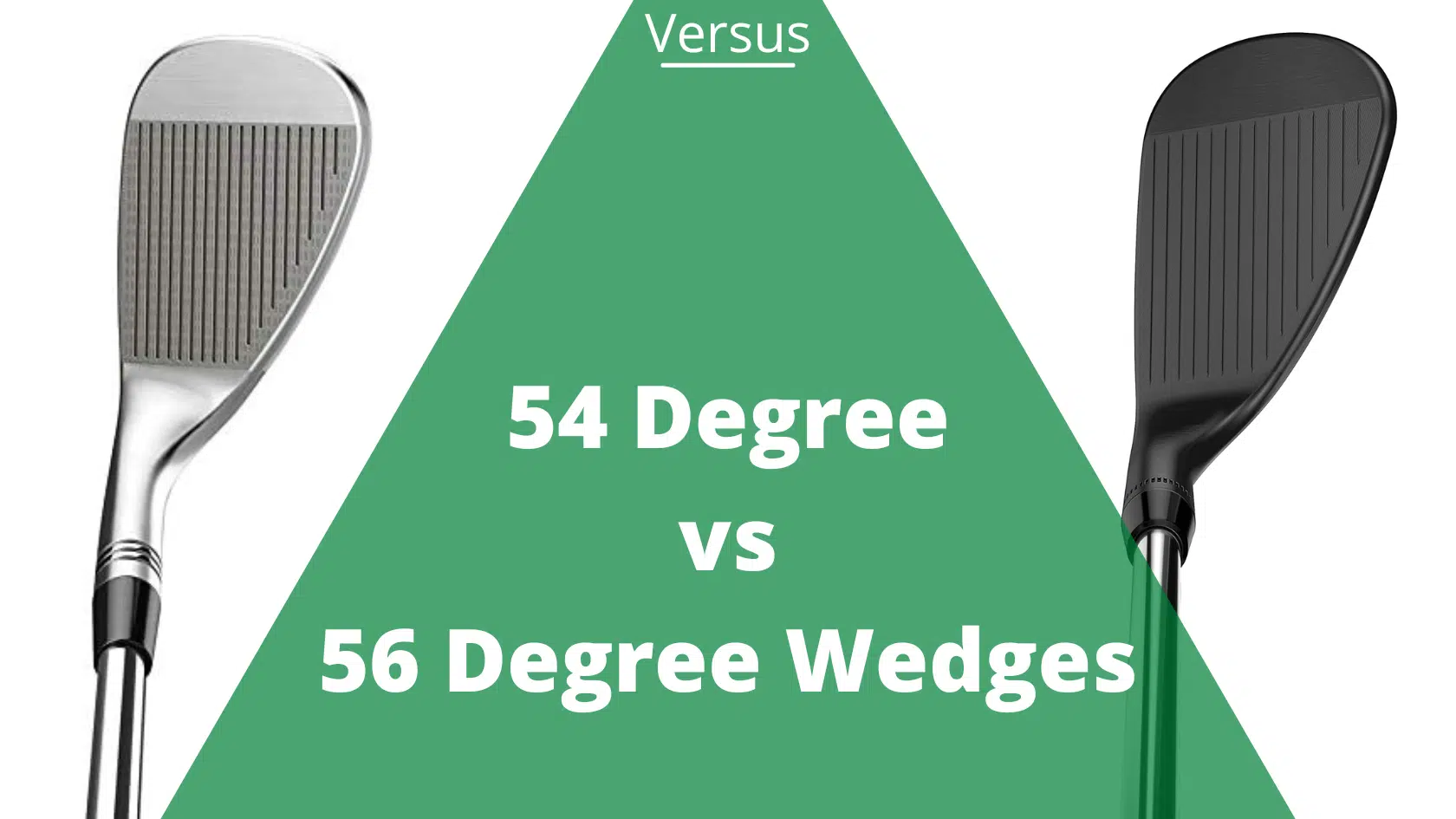 The first question you probably have is: how far does a 54 degree wedge go?
Well, the 54 degree wedge distance will be greater, but this is because the trajectory is slightly lower than a 56 degree wedge.
The lower flight of the 54 degree wedge can be more controllable if in the hands of a skilled user. Your miss will never be a high, weak fluttering shot. But beware, you could find yourself chipping from behind the green a few times if you're not careful.
If playing in inclement weather is unavoidable (or enjoyable) to you, then a 54 degree wedge might be a better option. The wind and moisture will affect your ball flight less, so you have less to worry about when approaching the green.
This is one reason Rory McIlroy has used the 54 degree wedge. Is it right for your set though?
Will A 54 Degree Wedge Suit Your Set?
Aside from your swing, you'll also want to consider the other wedge you're carrying.
A 54 degree wedge is best suited in sets with stronger pitching wedges. If your PW is 45 degrees, you have room to carry a 50 degree gap wedge and your 54 degree wedge.
If your PW is 47 degrees, then a 50 or 52 degree gap wedge is redundant if you want to carry a 54 degree wedge.
A 56 degree wedge is best suited for those carrying a weak pitching wedge around 47 degrees. An optimal setup for you would be to carry a 52 degree gap wedge and then a 56° wedge.
Whether you want a 54 or 56 degree wedge, they both work well with a 60 degree wedge in your bag. Things get more confusing if you choose to carry a 58 degree lob wedge which will work much better with a 54 rather than a 56.
If you need the extra space at the top of your set for an extra wood or hybrid, then I recommend you choose the 54 degree wedge for its versatility and ability to fill the gap between your PW and LW.
What Kind Of Player Benefits From A 54 Degree Wedge?
This golf club will be best suited for someone who is a consistent ball striker. Someone who can find the sweet spot and harness the extra power that comes from a 54 instead of a 56.
It will also benefit slower swing-speed players who want to hit more wedges into greens but can't get the 56 degree wedge distance they need. Those extra two degrees of loft can sometimes make all the difference.,
If you tend to be a scrambler and find yourself out of sorts sometimes, then look to the 56 degree wedge for refuge. It will help you much more out of bunkers and be much more versatile when you're around the collar of the green.
What Are The Physical Differences Between 54 And 56 Wedge Degree?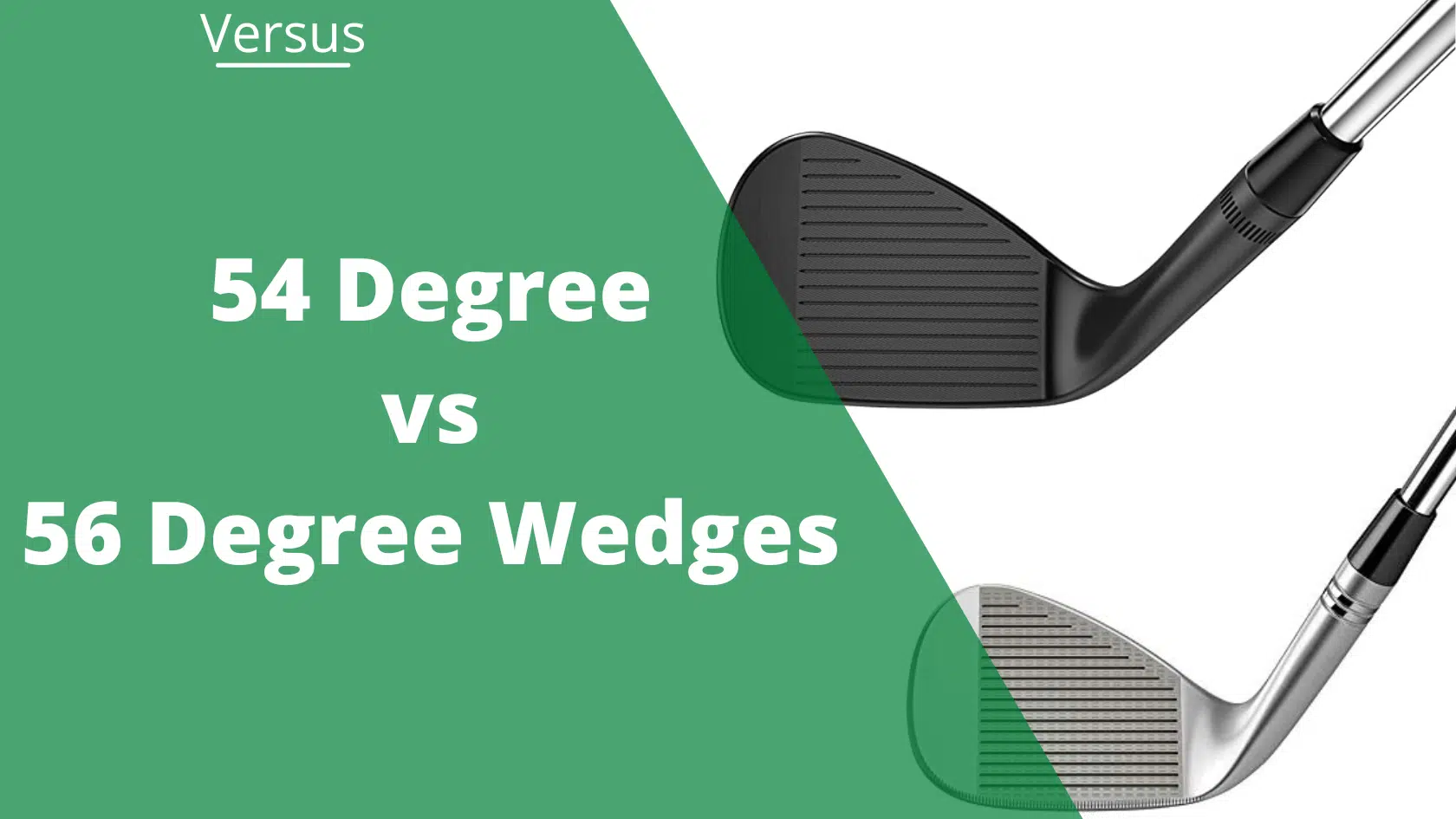 It's very difficult to tell the difference between the lofts of these two clubs just by looking at them. But the loft isn't the only way you can tell these two apart.
Since a 56 degree wedge will be used more out of tough lies and bunkers, it tends to have a higher toe. This provides more forgiveness when it's tough to hit the sweet spot.
54-degree wedges are made more like pitching wedges, with the power focused more on the center of the club face. It can still be effective out of tricky lies but is meant for full swings more often than not.
What Is The Optimal Bounce For A 54 Degree Wedge?
Choosing the best bounce will depend on your primary use for your 54 degree wedge. Those who want to use it as a pin seeker from the fairway with mostly full swings will prefer a lower bounce of 8° – 10°.
You also might benefit from less bounce if you have a shallow swing plane. Those who take thin and shallow divots should opt for lower bounce, while "diggers" or those whose divots look like a N.Y. striploin can go up to 12°.
What Is A 56 Degree Wedge Used For?
Using your 56 degree wedge out of the bunker will require a bit more bounce despite your swing plane. This is the secret of a sand wedge and makes it easy for us to splash the ball out of the sand and (hopefully) next to the hole.
This may also depend on what kind of sand you typically play out of. For dryer climates promoting fluffy sand, get the maximum bounce on all your wedges. If you frequent moist, compacted bunkers, you want less interaction with the sand, so less bounce will help you with that.
The Best 54 and Best 56 Degree Wedges
Your wedges don't have to be bought as a set; you can mix and match. You don't see this a lot in professional bags because they get paid a lot of money to use the same manufacturer. We are not held back by the inconvenience of being paid millions to play a certain club.
This works great as a 54 degree option because of its compact head design. It has added weight spread out behind the sweet spot to increase forgiveness on full-swing shots.
It also comes with 11° of bounce, which works well with both shallow and steep swing planes. The sole is milled, which is unique to TaylorMade wedges. This helps it glide through a variety of lies much easier.
So even though this wedge is best suited for full swings, it still has features to allow versatility in how you use it.
As you can see, the higher toe of this Callaway wedge makes it a great option for getting you out of trouble. This is a defining characteristic of a great sand wedge.
Multiple tungsten weights located low in the club head and behind the sweet spot help the club drive through thick rough. This is especially helpful if you have to chip from deep grass while you're close to the green. It promotes acceleration through impact and prevents the dreaded chunk chips.
The raw face is void of the traditional plating finish, which exposes the groove edges more. This will create more friction on the ball, even on short shots where not much club head speed is being applied. Over time it will rust, which helps with spin but not with visual appeal.
FAQ
Should I Carry A 54 Or 56 Degree Wedge?
You should carry a 54 degree wedge if you plan to take more full swings from predictable lies. You should carry a 56 degree wedge if you need something more versatile around the greens and specialized in escaping from less-than-perfect lies.
Which Is Better, 54 Or 56 Degree Wedge?
A 54 degree wedge is better for attacking pins from further out. It provides a more controllable ball flight that is less affected by weather conditions. A 56 degree wedge is better for getting out of bunkers. The added loft and slightly different head design allow for maximum forgiveness from sandy lies.
What 3 Wedges Should I Carry?
The three wedges you should carry should be based on your pitching wedge loft. You will always carry a pitching wedge, so if you want all three wedges, ensure your loft spacing is about 4 degrees between each. If you plan to carry an extra hybrid or long iron, then forgo one wedge and space your lofts by 5 or 6 degrees.
Should I Carry Both A 54 And 56 Degree Wedges?
No, you should not carry both a 54 and 56 degree wedge. Their lofts are too similar, and you will not need to be that precise. Choose one or the other, and then add a lob wedge that's 58 or 60 degrees. If you already have that, you could add a hybrid to bridge the gap between your fairway woods and irons.
What Degree Is A Sand Wedge?
The degree of a sand wedge is anything between 54 and 56 degrees. While many would prefer to use a 56 out of the sand, a 54 will still perform well if matched with the correct bounce for your swing. The term sand wedge gets thrown around a lot, but officially a sand wedge falls within this small window of lofts.
Conclusion
Getting your wedges dialed in is crucial to lowering your scores. If your 56 is only useful for getting out of trouble, then maybe it's time to try a 54 degree wedge. You will have more opportunities to attack greens further away without changing your swing.
Utilize technology to your advantage by honestly analyzing your game and choosing a 54 degree wedge if it fits your set and golf game.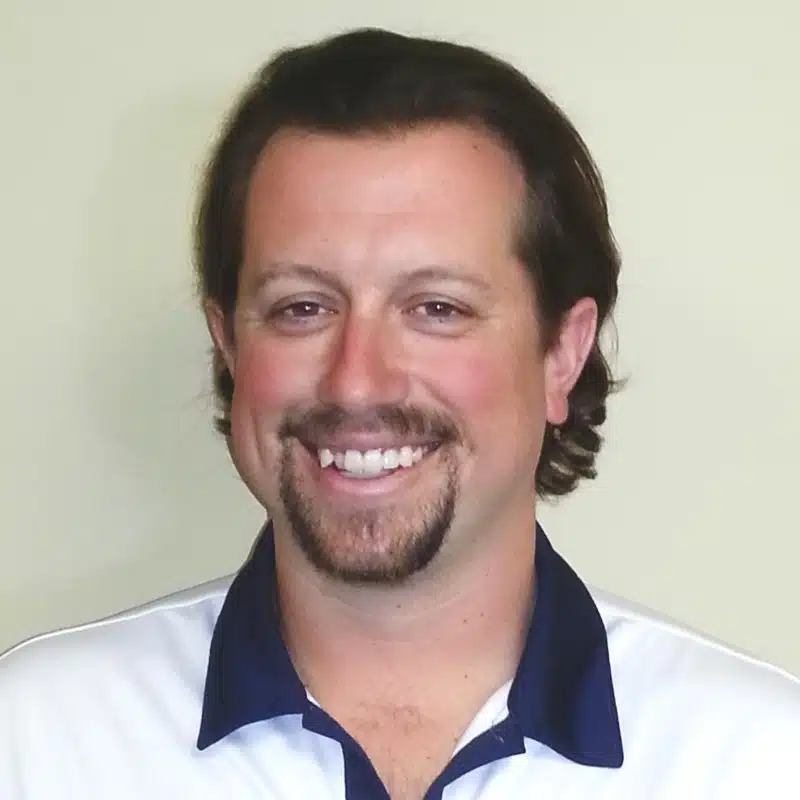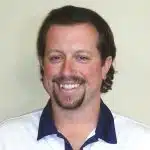 Clint became the Head Teaching Professional at one of Toronto's busiest golf academies and was featured on Canada's National Golf TV program, "Score Golf Canada," twice. He now tests and reviews golf equipment and gets to enjoy the game he loves whenever he wants while helping people lower their scores.