To optimize your short game performance, you'll need a set of wedges that maximize spin, launch, and greenside control. In this post, I am unveiling my picks for the best wedges for mid handicappers in 2022.
The wedges that made the cut for this list possess a combination of:
Enhanced spin
Turf interaction
Feel
Control
The options on this list cover the best overall wedge this year — along with the most affordable and forgiving pick. Plus, it includes the best gap wedge and sand wedge for mid handicappers.
If you are a low handicapper, you may prefer our guide on the best golf wedges. However, our female reader may find what you need in our review on the best wedges for women.
Overview Of The Best Golf Wedges For Mid Handicappers
Best Overall Wedge
Most Forgiving Wedge
Best Sand Wedge
Wilson Harmonized
C3i
Cleveland CBX2
Pros

Highly affordable
Promotes higher shots for increased control
Forgiving
Optimal turf interaction
Gap, sand, and lob wedges are available

Easy to launch
Limited turf interaction
Increased spin
Hassle-free aim
1-year warranty

Highly forgiving
Smooth feel
Generates increased spin
Glides through the sand and turf for clean contact

Cons

Acoustics
Shallow and wide grooves reduce an element of spin

The oversized design is off-putting to some players

Price Score
98.7
94.6
85.7
Feel Score
88.6
87.3
92.5
Spin Score
90.3
88.1
91.1
Rating
4.5 Stars
4.5 Stars
4 Stars
Our Research Parameters
Golfspan is independent and not pressured by manufacturers to recommend products. We were not paid for the golf wedge reviews in this article. These wedges were selected by our team, who have over 50 years of experience playing golf and hundreds of hours reviewing products. We may earn an affiliate commission when you purchase something through our retail links.
23 Products were considered from 10 brands on:
Spin
Forgiveness
Control
Feel
Price
Factors To Consider When Purchasing Golf Wedges

As a mid-handicapper, you should know about the different wedge options available to you and how they can enhance your game. However, I will touch on a few key elements below to refresh your memory.
Those who are just starting at golf should instead read our guide on what wedges should a beginner carry?
Type Of Wedges
There are four types of wedges: pitching, gap, lob, and sand. The wedges you select will come down to your preferences since you can only have 14 clubs in your bag.
Most of you should have a pitching wedge in your set so that I will focus on the remaining options.
The strongest lofted club after your pitching wedge is a gap wedge. Golf Digest suggests that the average loft of a gap wedge is 50-degrees. I cannot recommend the gab wedge enough. I made the mistake as a youngster to skip the gap wedge and add a lob wedge, which was catastrophic.
I had to choose between a half-pitching wedge and a forced sand wedge. The forced sand wedge led to ballooned shots and a loss of distance, while I usually overhit the pitching wedge. The gap wedge bridges this distance gap and allows you to swing easily.
Next, the sand wedge runs between 54 to 58-degrees, and as a mid-handicap golfer, I would be surprised if this club is not in your bag. The loft is easier to control than a lob wedge, making it a superior option for chipping.
Finally, the lob wedge carries between 60 to 64-degrees of loft. I love this wedge because it helps me get the ball up quickly and stop it dead. However, if your rhythm is off with this club, you can shank and tooth many simple chips.
Besides your pitching wedge, I suggest playing with at least a gap wedge and a sand wedge. However, if you have the space for a lob wedge, it is worth adding that to your bag. It all comes down to how many long game clubs you are carrying and whether you are compliant with the 14-club rule.
Spin
Wedges are built to optimize your spin and control around the green. If your wedge produces high spin rpm, you can get the ball up to the cup and stop it quickly. To achieve this, you need a wedge with sharp grooves that grip into the cover of your ball at impact and enhance your spin.
As your grooves wear out, your ball stops producing the level of spin it did when it was new. That means you need to sharpen your grooves or trade the wedge in for a new one.
Bounce And Grind
Wedge manufacturers apply different grinds to their wedges to produce varying degrees of bounce. Bob Vokey explains that manipulating the material in the sole enhances the club's turf interaction. That helps you to optimize your connection and ultimately spin.
The best bounce for your game depends on your angle of attack and the surface you are playing on. I don't expect you to own a wedge for every condition but make sure your chosen wedge performs on your home turf.
Vokey says that high bounce wedges best suit players with a steep angle of attack, as it prevents them from digging the clubhead into the ground. However, shallow attack angles suit a low bounce wedge.
In addition, a low bounce wedge is ideal for firm turf to prevent your wedge from bouncing off the turf and topping your ball. Contrarily, a high bounce design is preferred in wet conditions as it gets through the turf to connect cleanly with your ball.
Best Wedges For Mid Handicappers In 2022
Pros
Highly affordable
Promotes higher shots for increased control
Forgiving
Optimal turf interaction
Gap, sand, and lob wedges are available
Cons
Acoustics
Shallow and wide grooves reduce an element of spin
To decide the best overall wedges, I looked at spin, control, and forgiveness. Although most options on this list were similar, only the Wilson Harmonized Sole Grind wedges ticked all the boxes.
They are available in 50, 52, 56, 60, and 64-degrees of loft, which means they include a gap, sand, and a lob wedge option. Plus, they are the best value-for-money wedges on the market for mid handicappers.
Features
The Harmonized Sole Grind wedges feature a classic polished finish and a blade shape.
An innovative sole design encourages superb turf interaction to ensure a clean strike from any lie. That means that your short game enjoys consistency, spin, control, and forgiveness.
Added to the design is a sole grind that enables you to open the clubface more to hit higher shots that stop rapidly. As a result, you enjoy more control and consistency for improved short game results.
Furthermore, these are arguably the best value-for-money wedge options on the market for mid-handicappers.
Conclusion
The Wilson Harmonized Sole Grind Wedges produce optimal spin and height, and are the best value for money wedges on the market. They are perfectly suitable for a mid handicapper looking for spin, forgiveness, control, and a bargain.
Rating: 4.5 Stars
2. C3i Wedge – Most Forgiving Golf Wedge For Mid Handicappers
Pros
Easy to launch
Limited turf interaction
Increased spin
Hassle-free aim
1-year warranty
Cons
Although the C3i wedge is associated with high handicappers, it also benefits advanced players. The unique beveled leading-edge design by Autopilot discourages contact with the ground, guiding the sweet spot to the ball.
Its ease of play, combined with its forgiveness, spin, and turf interaction, make it my pick for the most forgiving golf wedge for mid handicappers. C3i wedges are designed with 55, 59, and 65-degrees of loft, meaning you have the choice of sand or lob wedge.
Features
The core feature of the C3i wedge is its Glide Sole Technology which enables the wedge to glide across any surface to cleanly connect the ball. It is specifically helpful in the bunkers when you need to cut through the dirt to make clean contact with the ball for optimal launch.
Besides the Glide Sole, this wedge is engineered to enable you to aim directly at the flag. If you are a right-hander, you need to aim slightly left of the target to compensate for the open clubface aiming to the right. It is confusing for many amateurs and results in inaccuracy.
The engineers at Autopilot golf have removed this issue with the design of the face enabling you to set up and swing as you would with stronger lofted clubs.
In addition, the higher center of gravity increases your spin level by 55% over standard wedges for superior control around the greens. Plus, Polymer Inserts are included to improve the feel of the club and the sound it emits at impact.
Finally, Autopilot Golf, the manufacturer of the C3i wedge, offers a 1-year manufacturer warranty. If there are any problems, get in touch with them to fix or replace them.
Conclusion
The C3i wedge is ideal for mid-handicappers who need forgiveness and consistency in their short game. It is easy to aim with and launch, plus you enjoy increased spin.
Those interested in more forgiving options should read through our review of the best wedges for high handicappers.
Rating: 4.5 Stars
3. TaylorMade MG2 Wedge – Best Gap Wedge For A Mid Handicapper
Pros
Enhanced turf interaction
Produces precise flight
Increase spin
Soft feel
Cons
Moderately expensive
Reduced forgiveness
Now that we have the most forgiving and best overall awards out of the way, it is time to focus on specific wedge types. The first award goes to the best gap wedge. To claim this title, a club needs to deliver a balance between launch, distance, and spin, which the TaylorMade Milled Grind 2 delivers.
Although it is the predecessor to the MG3, it contains the majority of the same features but at a lower price. The only addition to the newer model is the Raised Micro Ribs. They are added between the grooves for an increased layer that encourages additional spin.
The features of the MG2 wedge are, however, sufficient for mid-handicappers to improve their short game. Aside from its spin, this wedge promotes improved turf interaction for cleaner strikes. That results in increased height, spin, and control on approach.
Features
The MG2 wedge is designed with Raw Face technology. It creates sharp, deep, and narrow grooves to maximize spin.
Furthermore, the milled grind sole encourages optimal turf interaction for consistent, clean strikes. When you catch the ball out of the middle, you enjoy optimal ball speed and control around the green.
TaylorMade's engineers fitted a Thermoplastic Polyurethane (TPU) insert into the wedge's cavity to deliver a buttery soft feel. If you mishit your shots, the insert absorbs the impact and reduces the feel of unwanted vibrations.
In addition, weight is redistributed to produce a thick and thin head combination. As a result, the engineers optimally positioned the CG for precise ball flight.
Conclusion
The TaylorMade Milled Grind 2 wedge is a more expensive option but worth the dollars. It delivers a balance of ball speed, spin, feel and control, which is why it is the best gap wedge for 2022.
Rating: 4 Stars
4. Cleveland CBX2 – Best Sand Wedge For Mid Handicappers
Pros
Highly forgiving
Smooth feel
Generates increased spin
Glides through the sand and turf for clean contact
Cons
The oversized design is off-putting to some players
Your sand wedge can change the outcome of a hole if you know how to execute your shots. It is imperative for mid handicappers that your sand wedge is forgiving, feels soft, and ramps up your spin rpm. All these elements and more are featured in the Cleveland CBX2, which bags the title as the best sand wedge for mid handicappers this year.
Features
A hollow-cavity design gives the CBX2 the turf interaction of a blade and the forgiveness of a game-improvement club. Weight is distributed around the club's perimeter, increasing forgiveness on off-center strikes.
Added to the forgiving nature of the CBX2 is its optimal feel. Cleveland combined Enhanced Feel Balancing Technology and a Gelback TPU insert to provide a pure feel and reduce vibrations from mishits.
Finally, the engineers implemented Rotex Face technology to deliver sharp Zip Tour grooves and face milling. The collaboration between the milled face and grooves generates supreme spin. Therefore providing better greenside control and accuracy.
As a club that you will use for bunker play and chipping, it equips you with all you need to improve your short game.
Conclusion
The moderately affordable Cleveland CBX2 is forgiving, smooth, and encourages sublime spin levels. These are the qualities you need to excel around the green, and it is worth considering this option if you seek a 56 or 58-degree wedge.
Rating: 4 Stars
5. Titleist Vokey SM8 – Best Lob Wedge For Mid Handicapper Golfers
Pros
High launching
Maximum spin
Buttery soft feel
Increased control
Cons
We have reached the weakest lofted club in the bag, the lob wedge. For a club to stand out in this category, it needs to generate maximum spin to get your ball airborne rapidly and stop it dead.
That is why Titleist Vokey SM8 claims the award for the best lob wedge.
Features
The legend that is Bob Vokey has another superb wedge design in the SM8. It features an M-grind sole that performs optimally in various conditions and neutral swing planes.
In addition, Titleist and Vokey repositioned the CG forward to optimize spin, forgiveness, and control. Plus, the milled grooves impart maximum spin on the ball at impact for better control around the green.
The tour sole grinds encourage superior turf interaction, enabling you to strike the ball cleanly with an open face. That results in a high shot that stops dead.
Lastly, this wedge provides a soft and pure feel to enhance your experience. It eradicates unwanted vibrations and produces crisp acoustics.
Conclusion
The Titleist Vokey SM8 lob wedge launches high and stops dead, which is what you need from this club. Its only drawback is that it fetches a premium price that may not appeal to all mid handicappers.
If you are specifically interested in the weaker lofted clubs, read our guide on the best 60-degree wedges.
Rating: 4 Stars
Best Golf Wedges For Mid-Handicappers: FAQs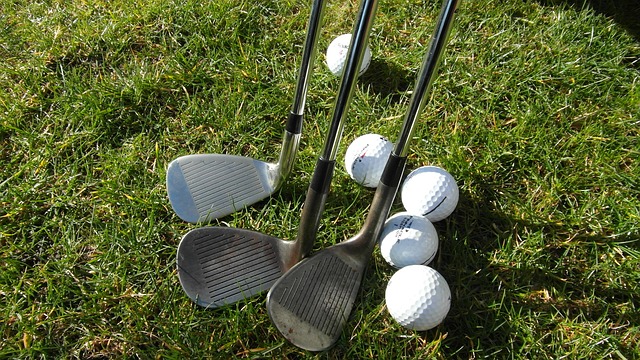 What Is A Gap Wedge And Do I Need One?
As I discussed earlier, a gap wedge bridges the distance gap left between a pitching and sand wedge. From my experience, I highly recommend carrying a gap wedge for improved distance control on short full shots.
How Far Should You Hit A 60 Degree Wedge?
My colleague Nick Lomas explains that the average man hits a 60-degree lob wedge an average of 65-yards. Women, on the other hand, average 60-yards with the same club.
How Far Does The Average Golfer Hit A 56 Degree Wedge?
Lomas further mentions that the average distance of a sand wedge shot is 90-yards for men and 80 for ladies. Since a 56-degree is your typical sand wedge loft, that is how far the average golfer hits it.
What Is The Handicap Of A Mid Handicapper?
Any golfer with a handicap between 10 to 18 is considered a mid handicapper. You can find more details in our article, what is a mid-handicapper.
Can A Mid Handicapper Use Blades?
A mid handicapper can use blades, but they shouldn't. Blades are unforgiving and honestly make no sense for the average golfer who needs forgiveness every now and then.
What Degree Is A Pitching Wedge?
Golfweek mentions that the average pitching wedge contains 45 to 48-degrees. However, these days you can find strong lofted constructions that are 43.5-degrees.
What Degree Is A Sand Wedge?
Golfweek suggests that a sand wedge loft ranges from 54 to 58-degrees.
Final Thoughts
There you have the best wedges for mid-level golfers. As you can see, a quality wedge for golfers in this bracket needs to be forgiving, generate maximum spin, and deliver control around the greens.
Our most forgiving wedge this year is the C3i from Autopilot. The TaylorMade MG2 claims the title for the best gap wedge. The Cleveland CBX2 claims the honor of the best sand wedge, and the Vokey SM8 is the top lob wedge.
Despite their efforts, none could overpower our best overall choice for a wedge, the Wilson Harmonized Sole Grind wedges. The affordable, forgiving, and high spinning construction is a deserved winner of the best wedges for mid handicappers.
Matt is a seasoned golf equipment writer and sports fanatic. He holds a Postgraduate in Sports Marketing and has played golf for over 28 years.