Mizuno has almost a century of golf club manufacturing experience and is famed for their buttery-soft irons and amplified acoustics. Our Mizuno JPX 921 Forged review aims to identify what handicap range they suit and their lofts, grips, shafts, and features.
By the post's conclusion, you will know whether the soft-feeling, fast-hitting, and compact forged irons work for you. In addition, I have included a buyer's guide to help you identify whether the modern player's irons are suitable for your swing.
Here is what you can expect to learn in our Mizuno JPX 921 Forged Irons review:
Pros and cons of the Mizuno JPX 921 irons
Mizuno JPX 921 Forged irons suit mid handicappers
JPX 921 Forged irons generate optimal distance
The forged irons deliver a buttery-soft feel
Mizuno JPX 921 Forged Review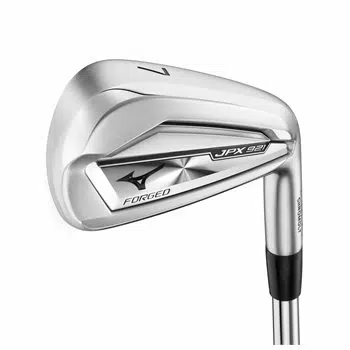 Pros
Buttery soft feel
Enables greater workability
Stable at impact
Generates maximum feedback
Minimizes speed drop off
Cons
Priced at a premium
Some players may prefer a more workable long iron
Mizuno JPX 921 Irons Set Ratings
| | |
| --- | --- |
| Total Score | 88.7 |
| Star Rating | 4-stars |
| Distance | 89 |
| Forgiveness | 81 |
| Feel | 95 |
| Workability | 94 |
| Aesthetics | 92 |
| Price | 81 |
Mizuno JPX 921 Forged Specs
| | |
| --- | --- |
| Iron Type | Players Distance Iron |
| Material | Stainless Steel |
| Set Composition | 4-iron – GW |
| Stock Shaft | Nippon N.S Pro Modus3 Tour 120,  Nippon N.S Pro Modus3 105 Regular |
| Srixon ZX7 Release Date | 2021 |
| Forgiveness | Medium High |
| Workability | Moderate |
| Mizuno JPX 921 Forged Handicap Range | Low to Mid |
Who Are The Mizuno JPX 921 Forged For?
The Mizuno JPX 921 Forged irons are built for mid-handicappers, but every skill level can benefit from these irons. They feature an attractive compact profile, explosive clubface, maximum stability, and consistent distance on approach.
Mizuno JPX 921 Forged Irons Review: Features & Benefits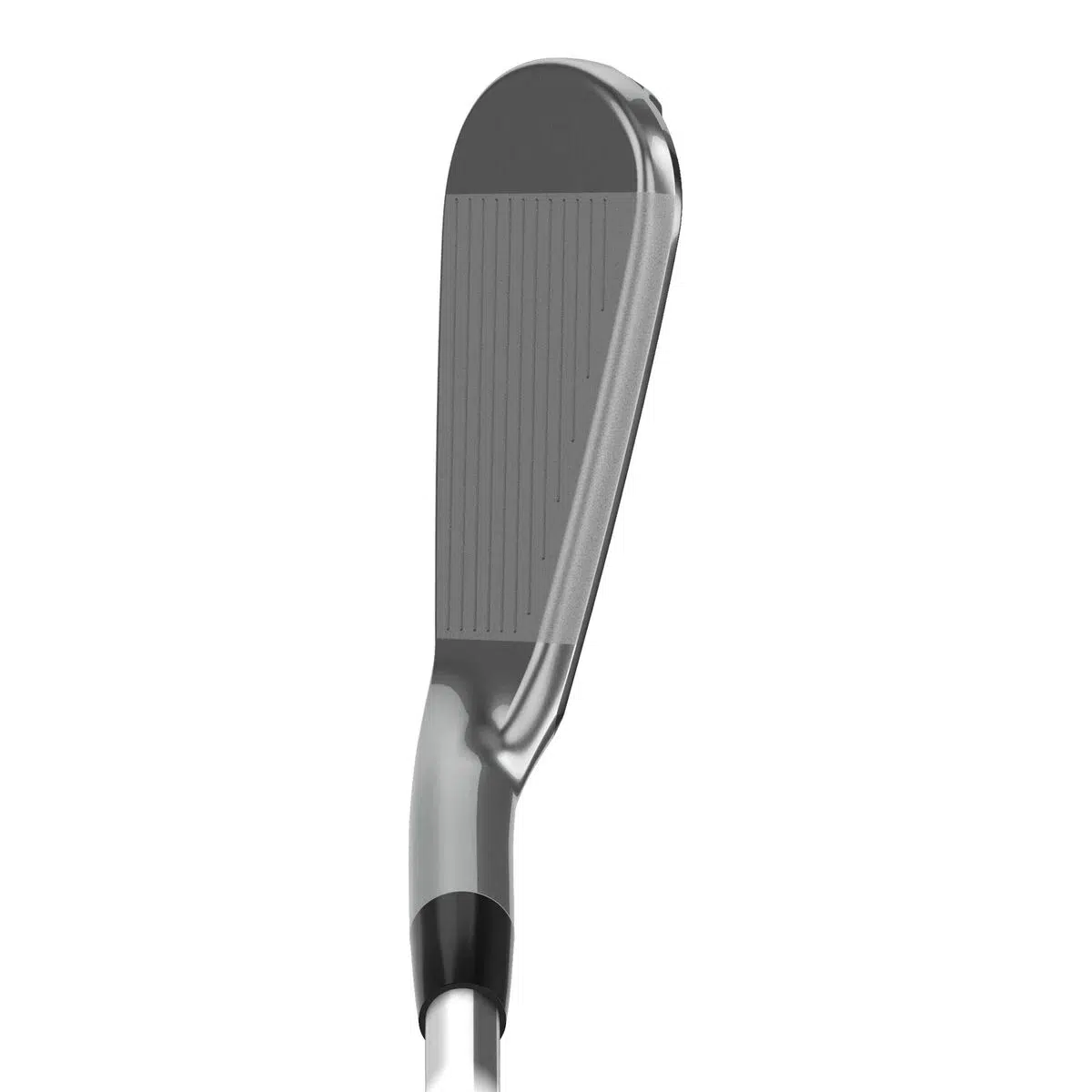 Grain Flow Forged HD
Mizuno engineers expertly forged these JPX 921 irons in their famed facility in Hiroshima, delivering only the finest feel and feedback. The team commences with a single steel billet and exposes it to multiple forging stages.
A plush feel on strikes out of the middle is overturned by increased vibrations on off-center hits, which help golfers identify where the clubface struck the ball. Besides the impressive feel, the Grain Flow Forged HD design improves the durability and consistency of the irons.
Harmonic Impact Technology
The JPX 921 Forged irons feel good and produce amplified, crisp acoustics off the deck. Harmonic Impact Technology enhances your experience and extends the sound as the ball catches the clubface and launches into the air.
Mizuno produced the Harmonic Impact Technology to notify you where the clubface struck the ball. When the sweet spot hits the golf ball, you enjoy consonant intervals. In other words, the peaks are balanced and in harmony. Conversely, an off-center shot produces dissonant intervals, notifying you of your mistake.
Chromoly 4120
Our friends in Hiroshima opted for the high-strength Chromoly 4120 steel to power the JPX 921 Forged clubface. The low carbon alloy material allowed Mizuno engineers to reduce the clubface thickness by 0.5 millimeters prompting an explosive launch across the surface.
Thanks to the Chromoly 4120, these irons prevent speed drop-off for a powerful launching shot to boost distance off the deck. For context, I was averaging 102 mph ball speed with the 7-iron on sweetly struck shots, which is just over 1 mph more than my standard results.
Stability Frame
The Mizuno JPX-921 Forged Iron set contains perimeter weighting to stabilize the clubface at impact, boosting moment of inertia (MOI). The distributed mass pushes the heel slightly open, stabilizing the clubface at impact to preserve ball speed and spin.
I found the combination of Chromoly 4120 and the robust Stability Frame delivered ample forgiveness on off-center hits. As a result, I produced optimal speed and launch for consistent yardage on all shots.
CNC Back Milled Slot
A CNC Back Milled Slot adds to the solidity of the clubface at contact. Mizuno expanded the area by 6.4% to maximize stability in a compact clubhead. In conjunction with the Stability Frame, I was saved on several off-center hits and delivered an adequate distance.
On average, I hit a 7-iron 153 yards, and my mishits were only 10 to 15 yards off at worst, which I will take any day.
Pearl Brush Finish
A Pearl Brush Finish is applied to these players' distance irons to mitigate bright light at address, preventing distractions that hamper your pre-shot routine. On a personal level, this proved handy as my eyes struggle to stay open in moderate light, let alone when facing bright rays.
Mizuno JPX 921 Forged Lofts
JPX 921 Forged lofts are relatively standard, which is surprising for modern distance irons that are typically strong. The 4-iron is the lowest lofted iron in the offering at 21 degrees, and a gap wedge caps off the set at 50 degrees.
| | | | | | | | |
| --- | --- | --- | --- | --- | --- | --- | --- |
| 4 | 5 | 6 | 7 | 8 | 9 | PW | GW |
| 21° | 24° | 27° | 31° | 35° | 40° | 45° | 50° |
Mizuno JPX 921 Forged Shafts
The Nippon Modus Steel is the stock shaft offering in the Mizuno JPX 921 range. Moderate swing speeds are better suited to the regular flex 105-gram construction, while faster clubhead speeds should test the stiff flex.
Things To Consider Before Buying A Set Of Mizuno Irons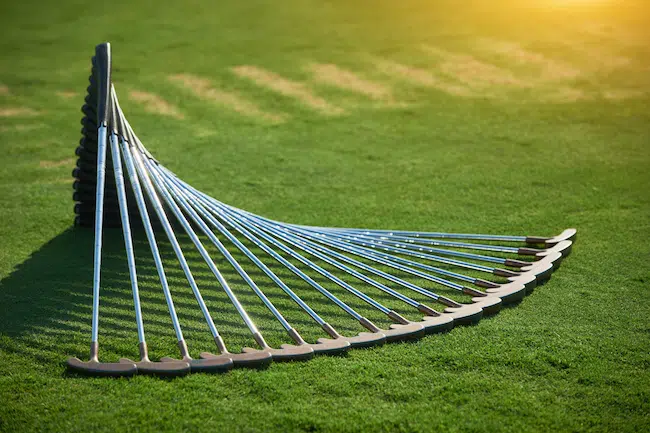 Type Of Iron
Mizuno is revered for their high-quality irons that deliver phenomenal feel and feedback. Somehow they have applied their technique to game improvement, player distance, and player's irons.
Start your search by considering what style suits you best. Beginners want game improvement irons that provide leniency across the clubface for consistent distance and accuracy. Conversely, mid-handicappers may prefer the improved workability and sensational length of players' distance irons.
Finally, low handicappers and professionals can control soft feeling, high feedback player's irons that optimize shot shape off the deck.
Forgiveness
Mizuno constructs irons for all skill levels, ranging from highly forgiving game improvement irons to workable players irons. As an amateur, I do not suggest relinquishing leniency for workability because you are making life unnecessarily difficult for yourself.
The Mizuno JPX 921 forged iron is ideal for the average golfer because it offers ample forgiveness and encourages optimal distance. However, some beginners might need the increased forgiveness of the JPX 921 Hot Metal Pro that encourages straighter flight.
Workability
Lower handicap golfers enjoy the freedom to shape their golf ball into the green for maximum consistency and accuracy. This demands minimal offset, which is found in the JPX 921 Tour.
Mizuno constructed the JPX 921 with progressive offset to combat slices on long iron mishits. However, the irons contain a reduced offset profile as you reach the lower numbers to promote better workability and control.
Feel And Acoustics
The final feature to consider is the feel, acoustics, and feedback. Experienced golfers often prefer a high feedback iron to help them determine where the clubface struck the golf ball.
Feedback is delivered in two forms: vibrations and acoustics. A sweetly struck shot will feel crisp and produce consonant sound intervals. Conversely, mishits send vibrations up the shaft and deliver dissonant intervals, signaling inconsistency in the strike.
JPX 921 Forged Alternatives
The Cobra King Forged Tec comprises a compact profile, a PWRSHELL Face Design, and a Hollow Body Insert. Together these features offer workability in the short irons, distance in the long irons, and enhanced feedback.
In addition, the engineers employed a heavy toe tungsten weight, which shifts the center of gravity (CG) behind the impact zone for optimal transfer. Finally, CNC Milled grooves gripped into the cover of my golf ball and imparted increased spin on the golf ball for enhanced bite on mid and short iron shots.
TaylorMade P790 irons feature the profile of a player's iron with the game improvement technology found in cavity backs. A forged hollow body construction pairs with Speedform and a Thru Slot Speed Pocket to deliver stability, sensational feel, feedback, and speed leading into impact.
I always appreciate the Inverted Cone Technology (ICT), which expands the sweet spot to maintain velocity and contain spin on all shots. Therefore, despite its player's iron profile, it delivers the consistency and yardage of a player's distance iron.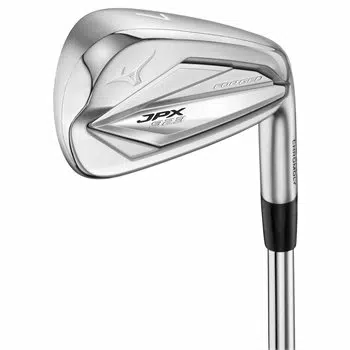 The final alternative option to the JPX 921 Forged is its successor, the Mizuno JPX 923 Forged. The midsize cavity back irons contain 4120 Chromoly to further reduce face thickness compared to its predecessor for explosive ball speed in the long irons.
Conversely, the mid to short irons feature mild carbon steel to generate a soft feel and optimized feedback. Finally, a beveled edge enhances turf interaction, promoting clean contact from any lie on the golf course.
FAQ
Are JPX 921 Forged Forgiving?
Yes, the JPX 921 Forged are forgiving, producing consistent ball speed across the clubface and generating maximum stability. As a result, off center-strikes still deliver ample distance for a consistent performance on approach.
What Handicap Should Play JPX921 Forged?
The JPX921 Forged irons are built for mid-handicap golfers seeking maximum distance without relinquishing forgiveness.
However, I find that it produces enough forgiveness for high handicappers to deliver consistent shots. Furthermore, it is also playable, long, and offers ample feedback for low handicappers.
Are Mizuno JPX 921 Game Improvement?
Yes, the Mizuno JPX 921 Hot Metal Pro and Forged feature game improvement technology to produce distance, forgiveness, and accuracy on approach. However, the JPX 921 Tour is a player's iron that offers limited leniency on off-center hits.
Final Thoughts
Our Mizuno JPX 921 Forged review revealed that innovative player's distance irons delivered superb consistency across the board. They generated rapid ball speed off the clubface, prompting a powerful launch with exceptional carry distance.
In addition, I appreciated the feedback offered by the Harmonic Impact Technology, which amplified acoustics and increased vibrations. Finally, the progressive offset setup was fantastic for long iron shots as it elevated the ball high and reduced the risk of off-center strikes.
At the start of the review, I set out to determine which golfers the Mizuno JPX 921 Forged suits best. While I feel that everyone can benefit from these golf clubs, a more accurate assertion is that mid-handicappers stand to gain the most from these players' distance irons.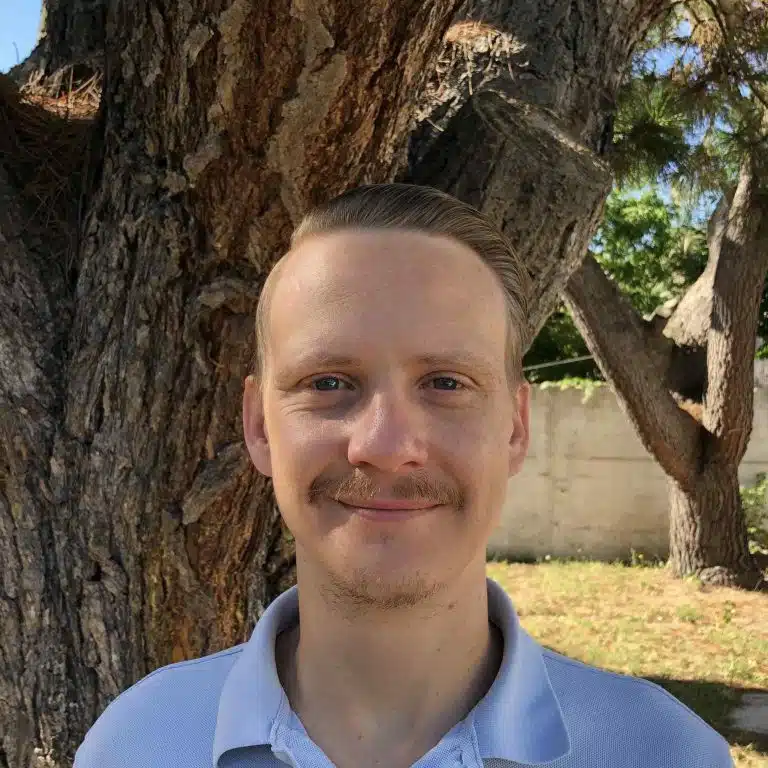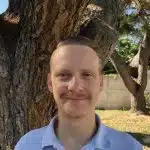 Matt is a seasoned golf equipment writer and sports fanatic. He holds a Postgraduate in Sports Marketing and has played golf for over 28 years.