Cobra Golf has long strived to be the club of choice for the average golfer. In 1974 the manufacturer released their first club, the Baffler wood. However, it would be their oversized irons creation that would catapult them to prominence, becoming the best selling irons in golf.
Much has changed in the world of golf equipment since they released their oversized irons in 1992. When I heard about their set that comes with four different styles of clubheads in one, it prompted me to conduct a Cobra F7 Irons Review. I was curious to see if the irons are suitable for the average golfer.
Things To Consider Before Buying a Set of Irons
When buying a set of irons you need to factor in your budget, preferred club head size, and the style of your game.
Budget
Of all the clubs in your bag, you likely invested the most in your irons. Due to the wide variety of brands and designs of irons, the price points can vary significantly, therefore before you start looking for a set of irons, know your budget. If you are on an entry-level budget then it is no point in even looking at a set of Honma Beres irons.
Trajectory
Your desired trajectory is important to consider when purchasing a set of irons. Are you looking to hit the ball higher or lower? Golfers who play on links-style courses or who prefer to keep the ball low should consider irons with a lower degree of loft. Players that hit the ball high and are looking for more spin, may consider irons with a higher degree of loft.
Clubhead Design
Depending on your budget, and ability with an iron in hand, you will need to decide if you want to buy blade irons or cavity back irons. Blades are used by lower handicap players and are set with weight immediately behind the sweet spot, allowing players to shape a shot better than other irons. Cavity back irons are larger by design and have weight evenly distributed throughout the head, which offers a more forgiving club better suited for medium to high handicappers.
Shaft
When you are looking at new irons it is important to consider your swing and the type of shaft best suited to it. If you have a slow swing, then you may want to consider a regular or flexible shaft to give you additional whip and launch on your downswing. Fast swinging players should contemplate a stiff shaft, as any additional flex could send your ball wayward.
Distance
Distance is another factor that you need to consider when purchasing irons. Are you looking to gain less distance and more spin, or are you looking for more distance and carry with your irons?.
Cobra F7 Irons Review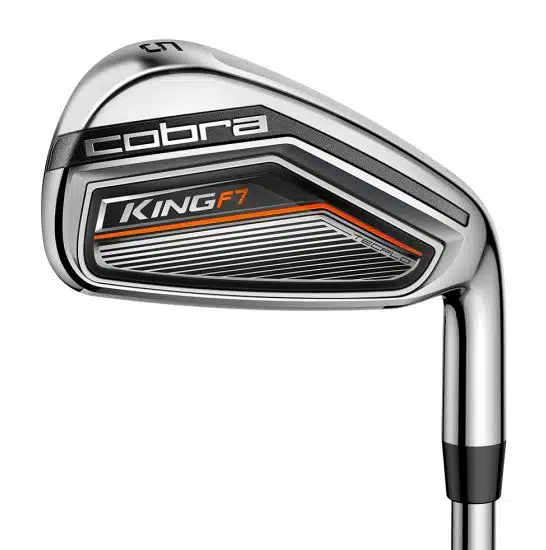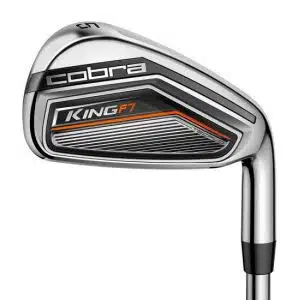 Pros:
Optimized head design for each iron
Forgiving clubs
More distance
More shape control
Larger sweet spot
Cons:
Single size irons feel awkward
Set up is uncomfortable (standing closer to the ball with long irons, and further from the ball with short irons)
Not suitable for beginners
F7 irons are another innovative line of clubs manufactured by King Cobra and tailored to the needs of the average golfer. The set includes four unique iron head designs that were created to be forgiving and with a larger sweet spot.
Deviating from their popular oversized heads, the Cobra F7 irons are midsize but still carry sufficient weight to help your distance and carry. Cobra offers golfers the choice of a set with lighter shafts on longer irons, and heavier shafts on your short irons, or one length irons. One length irons were created in collaboration with 2020 US Open Champion Bryson Dechambeau.
These irons are better suited to mid handicappers who are looking for consistency and forgiveness, but who knows how to strike a ball.
Features & Benefits
Full Hollow Head
The 3, 4, and 5 iron in this set are fitted with a full hollow head. The weight of the head gives you added launch at impact, designed to increase the spin and distance with a longer iron in hand.
Semi-Hollow Head
The F7's 6 and 7 iron are fitted with a semi-hollow head. The weight of the head is set at the bottom of the club, enabling you to loft the ball without hassle, while at the same time reducing your spin. The reduced spin speed gives you more control of the flight of your ball.
Full-Open Cavity Head
Full-open cavity heads are found on the F7's 8 and 9 irons. The center of gravity is lowered, and the weight of the club is reduced, stabilizing your club. This allows you to control the flight of your ball, increase your distance, and reduce the level of spin.
Blade Head
Wedge's in the F7 set are fitted with a blade head and are attractive works of art from Cobra. The blade makes it easier for you to get under your ball. The face is completely CNC milled, which leaves it rougher on the surface, and provides additional spin in your short game.
PWRShell Face
Cobra's PWRShell technology employed in the design of the F7 irons suspends the face freely, allowing your club to flex, giving a more powerful launch at impact. The increased clubhead speed at impact will help you gain more height and distance.
TECFLO (Technology Enhanced Cavity Feel Launch Optimisation)
TECFLO technology was developed by Cobra to enhance the performance of each iron. Longer irons in the set are designed to give you more stability, distance, loft, and spin. F7 mid-irons have a reduced center of gravity, allowing you to get the ball in the air easily but with a reduced spin rate.
Finally, the wedges in the set have a blade face, making it easier for the club to remove any debris from the ball at impact, and increase the rate of spin on your ball.
Cobra F7 Iron Alternatives
1. TaylorMade M6 Irons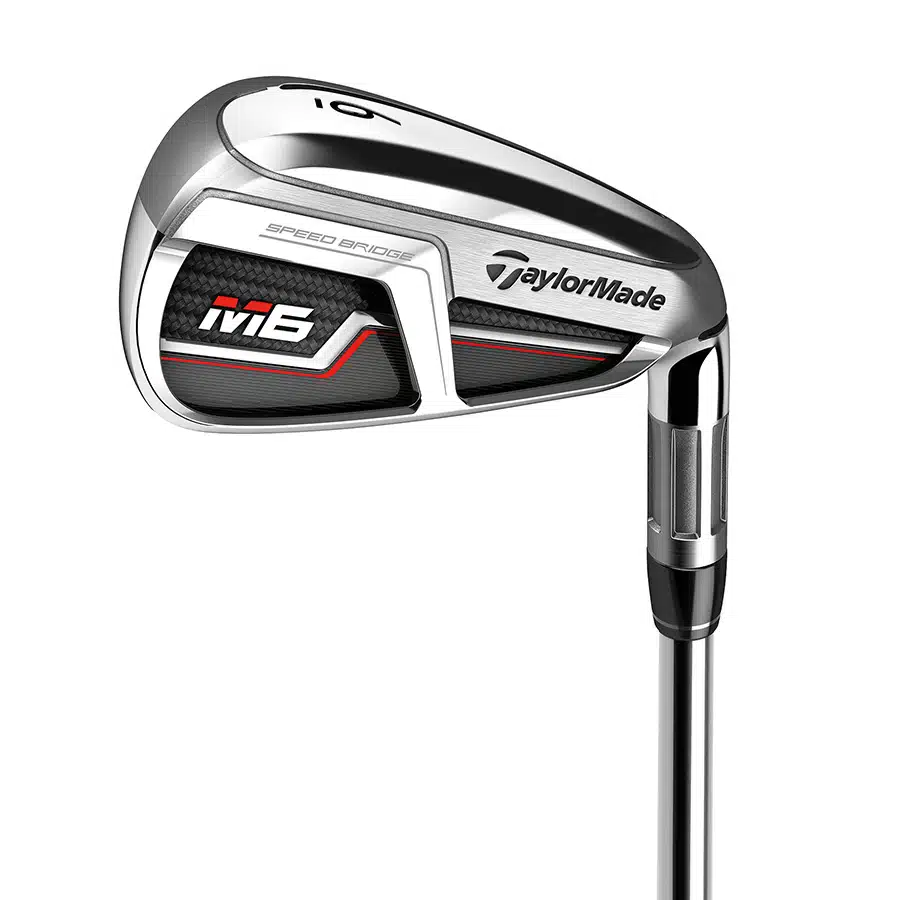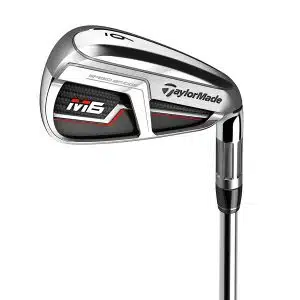 TaylorMade's innovation in golf club design continues with their M6 irons. The clubs were created using Speed Bridge technology, purposed to be forgiving and to increase your distance. A speed pocket is inserted underneath the wide sole, allowing the irons to cut through any lie.
The M6 irons are better suited for mid to high-handicappers who are looking to hit straighter iron shots.
2. Titleist AP3 718 Irons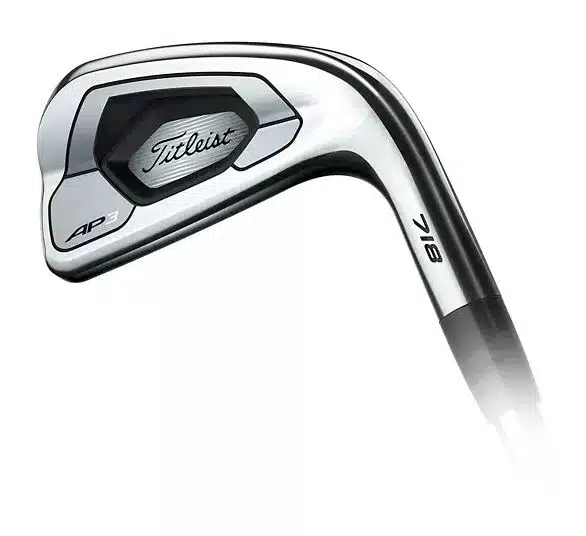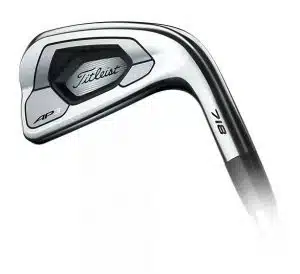 Another ideal set of irons for the mid-handicapper. If you are looking to add more shape and control to your shots, the AP3 718 irons are less offset and are fitted with hollow blades that allow for more movement on your backswing and follow-through.
Much like the Cobra F7, these are forgiving clubs with a large sweet spot that will assist your distance and direction, when you don't catch all of the ball.
3. PING G710 irons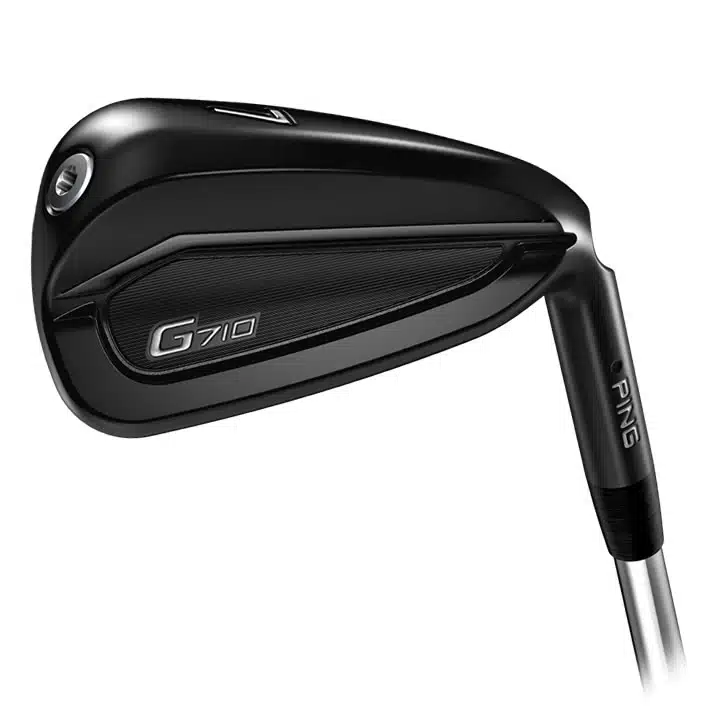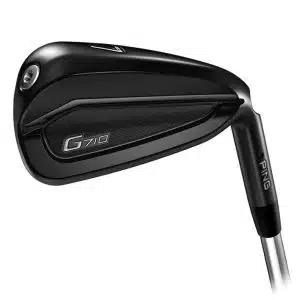 These irons come fitted with durable alloys that are up to aerospace standards, giving you more flex and clubhead speed on your downswing. This combination is designed to help you launch the ball higher and further.
The increased "moment of inertia" (MOI) in these irons, provides you with additional forgiveness, length, and accuracy. G710 irons are best suited to mid-handicappers or players with slow swing speeds.
Final Thoughts
Cobra has once again displayed its commitment to making the game of golf easier for the average player. The F7 irons are best suited for the player who wants to gain more distance and spin with their long irons, and more control and shape with their lower irons.
The one-length irons enable you to have one set up, and one swing for every iron in the bag. Bryson Dechambeau has found that using one length irons has helped him hit the ball more consistently, by reducing the number of variables in his setup and swing.
For some golfers, a consistent routine during setup helps them hit more consistent shots, which could help mid handicappers break that 80 barrier.
If you are looking for more consistency in your swing, and need more distance, shape, and spin, take a look at Cobra F7 irons here.
Related Articles
Nick Lomas is the founder of GolfSpan, an avid golfer, not quite a pro but has over 15-years of experience playing and coaching golfers from all over the world. His mission is to bring the golfing community a better experience then it comes to choosing the right golf gear, and finding the right set up for your game.