Game improving irons have become a popular choice for mid-handicappers over the years. The advancement of technology has enabled manufacturers to design more club options that make life easier for the average golfer.
Reading a Cobra Bio Cell Iron Review, it came as no surprise to me that the King is once again at the forefront of golf club innovation. They consistently have managed to create equipment that makes golf easier for the average player.
In this Cobra Bio Cell Iron review, we will take at how Cobra has created a forgiving club that increases distance and helps you hit the ball squarer.
Things To Consider Before Buying a Set of Irons
When you are buying a set of irons, it is worth taking into account your preferred clubhead design, distance, spin, forgiveness, and most importantly, your budget.
Budget
To save time when looking for your next set of irons, start by setting a budget. Once you have a number in mind, it will assist you in determining the best in that range. With the volume of irons on the market today, you will have no shortage of options, no matter your budget.
Clubhead Design
Higher handicapped players should think about oversized clubheads that offer forgiveness and a large target area. Solid mid-handicap ball-strikers, might feel confident enough to acquire blades, but I would advise that you look at mid-sized heads instead. They also tend to be forgiving and have a large sweet spot.
Lower handicap golfers often opt for blade irons that have a smaller sweet spot, enabling you to better shape your shots.
Forgiveness
Even if we are confident in our swings and ball-striking ability, it is useful to have a forgiving club on your side. Irons with a higher MOI (moment of inertia), help you achieve a satisfactory result even when you don't middle your shot. Over-sized and mid-sized club heads are better equipped for forgiveness.
Shafts
The speed of your swing will often help you determine which shafts you want your irons fitted with. Some iron options will give you the choice of graphite or steel shafts. Other irons may require you to fit your preferred shafts separately.
If your swing is slow, graphite shafts will give you additional speed on your downswing, resulting in a more powerful launch. Players with faster swings may prefer the option of steel shafts, as they do not need the assistance to get the ball airborne.
Distance
Distance is an essential factor to consider when looking for a new set of irons. What type of irons will help you maximize your distance? Maybe you hit further with flex shafts in comparison to stiff shafts. Or you get more distance from blades than you do from semi-hollow clubheads. If you lose distance due to unwanted shape, then an offset clubhead that helps you hit straighter may improve your distance.
Cobra has always pushed the boundaries when it comes to innovation. In 1975, the company created the first utility wood. And, in 1985 they became the first golf manufacturer to stock woods and irons with graphite shafts. They have certainly lived up to their reputation with the Bio Cell set.
Each iron was created to be more forgiving while offering you better distance and higher trajectory. In the words of Cobra's Mike Yagley, these irons will help you hit longer and straighter while increasing your confidence and lowering your scores.
The irons are best suited for mid to high handicap golfers, who are looking to shave a few strokes off their score, by being more accurate. Lower handicappers may consider the Bio Cell Plus set, which is designed with similar technology but is more compact than the normal Bio Cell's.
Features & Benefits
Game Improving Irons
Bio Cell's fall under the category of game improving irons. These are clubs that are designed to help the average golfer hit the ball straighter, higher, and longer. The technology applied in the design of these club's aims to increase the MOI (moment of inertia) percentage, lower the center of gravity, and offset the clubface.
Below, we look at what technology Cobra used when designing their Bio Cell irons, and how it may improve your game.
Cell Weight Technology
Cobra's research and development team extracted 26 grams of weight from the back of the Bio Cell clubheads, added four-cell pockets, and fitted them with tungsten alloy. Tungsten is a ductile alloy which means that it is incredibly flexible. It gives your club more flex at impact, which helps with your launch.
The tungsten alloy that is fitted behind the toe and the heel of the clubface allows for forgiveness on mishits. The weight in the center of the club enables maximum clubhead stability and speed when you hit a clean shot.
Rebound Sole Technology
Bio Cell irons were designed to rebound during impact, increasing your ball speed, launch, and trajectory. The combination of these factors helps you to increase your distance with a long to mid-iron in hand.
E9 Face Technology
Cobra's success with using E9 face technology first surfaced on their drivers. However, they have now applied it to the Bio Cell iron range.
The research and development department found that golfers mis-hit the ball in different areas, depending on the type of club. To solve this issue they created long irons with an elliptical back cavity, mid irons with an oval cavity, and shorter irons with a circular cavity.
The E9 technology delivers more speed across the clubface, which results in players hitting the ball consistently long, even on mishits.
Colors
The irons come in a choice of four colors. If you prefer the traditional look then the set in black is potentially more up your alley.
However, if you are feeling a bit adventurous consider the irons in red or blue. You also have the option of going full-on Rickie Fowler and acquiring the clubs in orange.
Cobra Bio Cell Iron Alternatives
1. Cleveland Launcher HB Turbo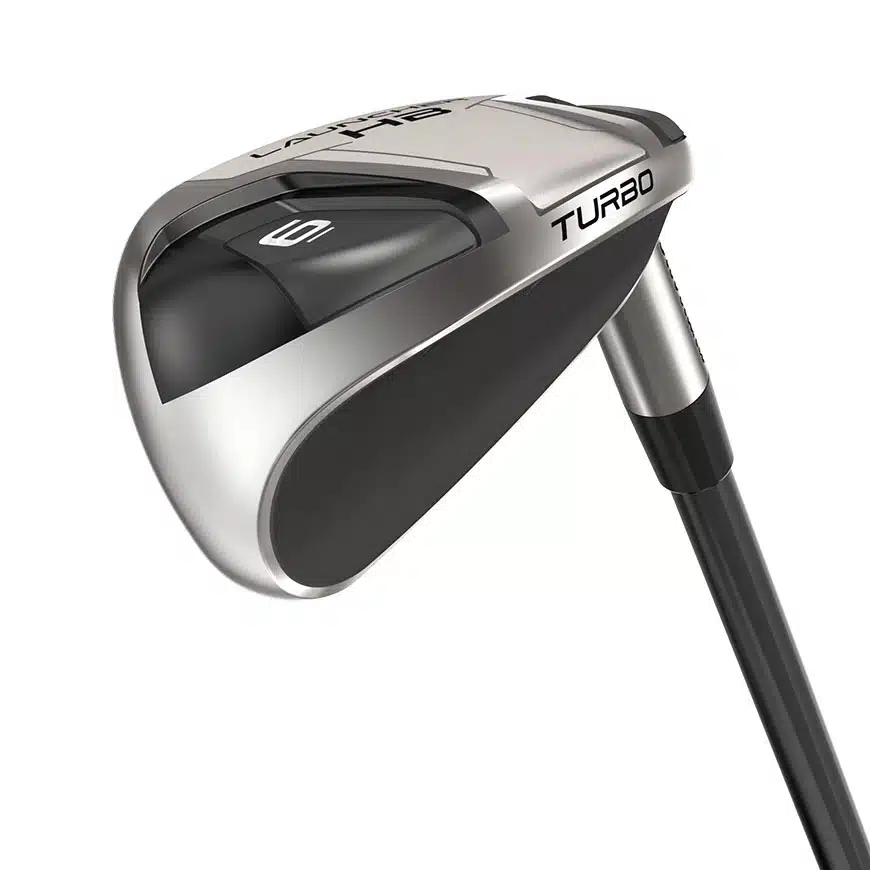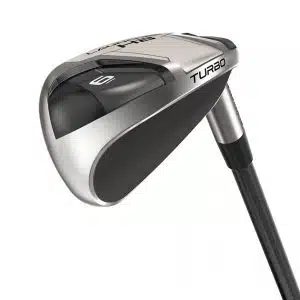 Cleveland has fitted each iron in the HB Turbo set with hybrid technology. This helps you hit the ball higher, further, and straighter with longer irons in hand. The solid steel face of the club increases ball speed, resulting in higher flight and distance.
These are forgiving clubs, suitable for mid to high handicappers, or those players with slower swings.
2. Mizuno JPX919 Hot Metal Cast Irons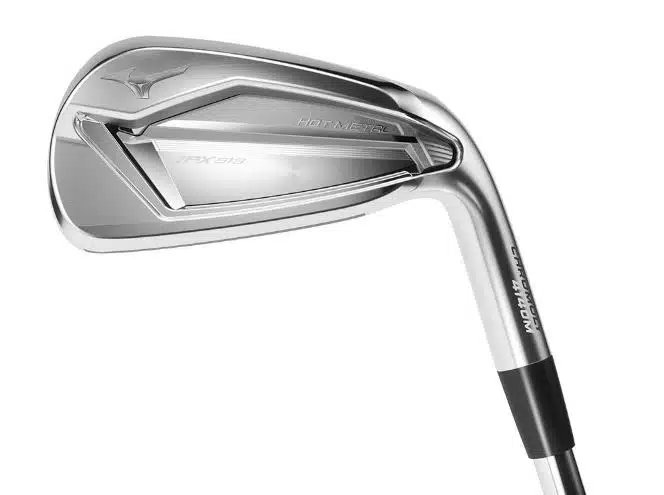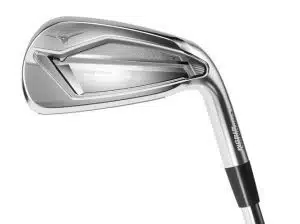 These are irons that were made to achieve powerful launches, high flight, and soft landings. Each JPX919 Hot Metal iron is designed to achieve the desired trajectory of that specific club. The cup-face construction enables lightning ball speed and increased spin, to help you control your shots into the green.
Besides the iron's efficiency, it provides the sound and feel you desire, when hitting a crisp iron shot. This set is for the mid-handicap player, looking to improve their launch and control with their irons.
3. Callaway X Forged Steel Irons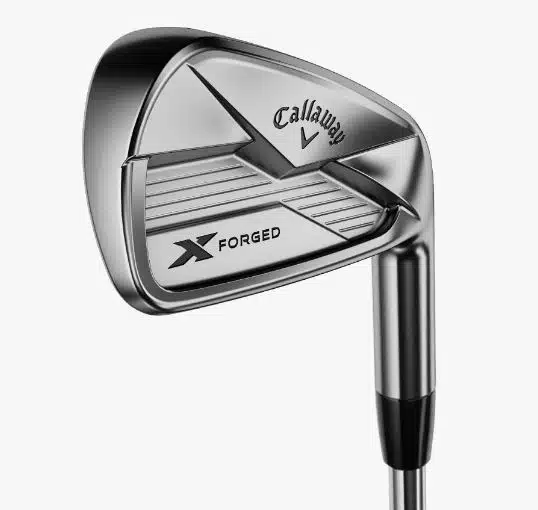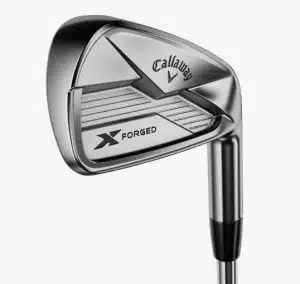 Callaway employed their 360 face cup, ball speed technology in the design of these irons. They reduce any loss of distance on heel and toe mis-hits. The irons further offer you lower flight and less shape which result in longer, straighter shots.
The longer X Forged irons, are ideal for gaining distance and accuracy off the tee, giving you a longer alternative if the woods are not firing.
As is the case with all the JP X919 and the HB Turbo irons, these are best suited for a mid handicapper looking for distance and forgiveness.
Final Thoughts
Cobra Bio Cell Irons are a perfect reminder that the manufacturer remains committed to designing golf clubs that make life easier for the average player. They have combined their cell weight, rebound sole, and E9 Face technology to create a set of irons that hit longer and straighter, and are forgiving when required.
Hitting your long irons further and more accurately will keep you out of trouble and in contention to make more birdies and pars. If this is where you struggle with your game, then take a look at the Cobra Bio Cell Irons here.
Related Articles
Nick Lomas is the founder of GolfSpan, an avid golfer, not quite a pro but has over 15-years of experience playing and coaching golfers from all over the world. His mission is to bring the golfing community a better experience then it comes to choosing the right golf gear, and finding the right set up for your game.