What works for one golfer might not work for another and a common debate is whether forged irons are better than cavity-backed irons. Today we will discuss the pros and cons of forged irons and then take a look at the 5 best forged irons currently available.
At a glance: Our Top 5 Picks for Best Forged Irons
What Are Forged Irons?
Experienced and better players require clubs that provide maximum feedback and a soft feel. To enable this, the best forged irons are manufactured from a single piece and position more weight in the center of the clubhead.
The process of manufacturing forged irons is quite different and more expensive than the process used in manufacturing cavity-backed irons.
This is in contrast to cavity-backed irons that are manufactured by putting several components together. Furthermore, it enables manufacturers to position the weight around the perimeter of the club thereby reduce side spin and create a larger sweet spot.
Benefits of a forged iron
The soft feel and feedback provided by forged irons enable you to exercise more control and achieve more accuracy from your irons. Forged irons tend to be thinner than cavity-backed irons, have a more compact shape behind the clubface, and have a smaller clubhead.
Although the smaller sweet spot makes it more difficult to hit consistently, experienced golfers want clubs that enable them to shape their shots and provide great feedback on impact. It is easier to hit a variety of ball flights, draws, and fades with forged irons than with cavity-backed irons.
Perimeter weighting provides additional forgiveness to cavity-backed irons. However, this reduces your ability to shape your shots.
Some golfers believe that cavity-backed irons offer more distance. This is true on off-center strikes, but when a forged iron is struck in the sweet spot it can achieve comparable distance to any cavity-backed iron.
Disadvantages of a forged iron
As mentioned earlier the manufacturing process used for forged irons is more expensive thus making the clubs more expensive. However, the feel and workability available on forged irons make it worthwhile.
Although the feel is quite similar on the short irons, you will feel the difference on off-center shots on the mid-to-long irons.

Quick Overview: Our Top Picks for 5 Best Forged Irons
Review of The 5 Best Forged Irons
If you consistently and confidently strike the ball well, you might want to consider playing with forged irons. We look at 5 of the best options to consider.
1. Wilson Staff D7 Golf Irons Best Value Forged Irons
Pros
• Forged heads
• Power hole technology
• Weight optimization for more consistency
• Eye please aesthetics
• Durable
• Affordability
• Very fairly priced
• Reduced vibration at impact
Cons
• Perimeter weighting negates the true forged iron characteristics
Wilson is one of the biggest names in the world of sport covering nearly every sport you can think of. They have been active in golf for many decades and continue to produce quality equipment that can compete with most brands.
The company offers a wide range of cavity-backed irons as well as some forged irons. The best-known forged irons in their stable are the D7 Forged irons.
They do not compete with the most expensive forged clubs but offer good quality forged irons at an extremely affordable price making it a great option for mid-handicap golfers that want to experience the feel and benefits of forged clubs before investing a huge amount of money.
Designed to be a forged iron using forged carbon steel, the D7 offers perimeter weighting and power holes for more ball speed and distance. The perimeter weighting adds to the distance and forgiveness while retaining the feel of a forged club.
Power holes aid in reducing the amount of vibration often found on mishits off a forged iron.
Sets come with an option of seven or eight pieces with either steel or Wilson Graphite shafts and Tour Velvet grips. Shaft flex available in regular, stiff, and senior shaft flexes
Srixon is renowned for creating some of the most strikingly beautiful, forged irons that promote confidence in players of all levels. This combined with exceptional feel and impressive performance makes it ideal for good ball strikers that want added workability.
The irons are forged from a single billet soft 1020 carbon steel for an exceptional feel and a sleek design that promotes pure and consistent ball striking from a classic muscle back blade shape.
From the first time you lay your eyes on the Srixon Z-forged, you will know that these irons are aimed at a better player. The thin topline, fairly small offset, and compact length will remind you that this is a forged blade built for performance.
The sharp angular components found on most cavity-backed irons are replaced with muscular rounded curves. Possibly to remind you to keep your tempo smooth throughout and not to rush your swing.
Well-struck shots produce a comfortable thud sound off the face and contact is soft and muted. Once you get accustomed to the Z-forged irons you will soon realize where contact was made on the face of the club.
You can expect quality from the Srixon Z-forged with little forgiveness. After all these clubs are meant for the better ball strikers. Any mishits will immediately show in the distance and trajectory of the ball.
As with most other blades, you can expect to generate more spin with the Z-forged irons. This increases the workability of the clubs.
Srixon's V-sole design is incorporated into the design of the Z-forged irons. This design stops the clubhead from digging into the turf for a smoother transition after impact.
The Z-Forged comes standard with Nippon N.S. Pro Modus3 Tour 120 shafts.
Not all golfers will find the Srixon Z-forged to their liking as it requires you to have the rights skills and ball striking abilities to appreciate the qualities that it offers. These irons have been crafted for Tour players and highly skilled amateurs.
The classic muscle-back blade irons offer extreme versatility anywhere on the course.
Not ideal for fast swing speed
Callaway has perennially produced quality irons that have found their way onto many professional tours.
Callaway has perennially produced quality irons that have found their way onto many professional tours.
The Callaway Apex 19 is a set of irons that broke with the traditional way and set a new standard in the construction of forged irons and is generally accepted as the best forged irons available.
Forged from a forged 1025 mild carbon steel body with Urethane Microspheres into a forged iron. This provides an awesome feeling at the impact on one of the softest irons without having to sacrifice distance.
Variable face technology (VFT) allowed Callaway to produce a club with the feel of a forged club while retaining a hint of forgiveness. This enables low-handicap players to work the ball and shape their shots at will.
The face is constructed using multiple materials to assist you in getting extra ball flight without sacrificing control. The face is geared to create the ideal launch angle off any iron in the set. This enables you to generate a generous spin to land the ball softly on the green.
Callaway engineers designed the renowned 360 Face Cup to deliver tour performance and consistency for pinpoint accuracy on approach shots to the green.
Fifty grams of tungsten is infused into every clubhead to promote better shot-making, ball trajectory, and ultimate control.
Callaway's Apex 19 is extremely competitive in the looks department with its shape influenced by what tour players prefer. It is designed with a classic look offering a straight leading edge, higher toe line, thin top line, and a smooth hostel transition.
Although these are forged irons that offer good workability and precision, their center of gravity is placed low to generate a great launch angle and ball flight.
True Temper Elevate 95 Steel shafts are standard which are suitable for the mid swing speed player.
Backed by the Callaway brand you can rely on the quality and durability of the Apex 19 range.
If you feel ready to move up to forged irons from your cavity-backed irons, the Callaway Apex 19 is as close as possible to perfection.
Standard features
Available in left and right-hand orientation
The shaft is available in either steel or graphite
Shaft flex available in Stiff, Regular, and Extra Stiff
Standard set configuration available
3-9 Iron, PW
4-9 Iron, PW
4-9 Iron, PW, AW
5-9 Iron, PW
5-9 Iron, PW, AW
Price tends to be in the upper levels
TaylorMade has delivered some of the most stunning forged irons and cavity-backed irons over the last decade. The TaylorMade P790 only just shades the TaylorMade P770's in looks and performance.
A soft 8620 carbon steel hollow body design is linked to a high-strength forged 4140 carbon steel WrapFace. The design combines the muscle back styling with an internal cavity that is filled with TaylorMade's SpeedFoam ultra-light urethane foam injected inside the head.
The internal cavity and SpeedFoam offer forgiveness that is more often found on perimeter weighted clubs.
A new design provides a thinner forged face with progressively located ICT. This innovative design allowed the engineers to maximize COR area while improving accuracy thus pushing the limits of face speed without sacrificing feel.
The P790 is designed for better golfers that appreciate quality, looks, and high performance. A Well-rounded design provides everything you want in a forged iron, and some more. The P790 was designed to offer the look, feel, and feedback of a true blade iron.
A low-profile tungsten weight promotes a lower center of gravity and higher launch.
Shafts come as either Dynamic Gold Steel or the TM Dual Feel steel options.
A combination of the TaylorMade technologies, including their Speed Pocket technology, offers you some of the best golf clubs that TaylorMade has ever produced. It offers remarkable distance and accuracy.
The P790 forged irons are aimed at the better golfer, but with all the technology included it is possible for mid to high handicap golfers to experience the feel of a forged golf club.
Irons are available in left-handed and right-handed orientation with graphite or steel shafts. Shaft flex availability in Regular, Stiff, and Extra Stiff
Sets can be configured as
3-PW
4-PW
4-PW, AW
5-PW
5-PW, AW
Priced at the upper end of the pricing spectrum
Mizuno has a long history of producing excellent forged irons. The Mizuno JPX 921 grain flow forged irons follow the phenomenally successful JPX900 and JPX919 irons.
A slightly longer blade offers you the ultimate in hitting straighter shots, but you may lose a little of the workability.
The use of Harmonic Impact Technology provides a fine-tuned head profile that delivers an impressive feel and feedback at the point of impact.
Mizuno's use of their Stability Frame opens the heel of the club for a more stable launch while it produces tour preferred vibration and sound.
The use of CNC Back Milling from the sole up creates minimum face thickness over a bigger area for consistency and increased ball speed.
The clubheads are finished off in a durable Pearl Brush chrome plating to soften the JPX919's precise lines in sunlight.
The standard issue is the Nippon steel modus shafts for enhanced consistency and control.
Mizuno Golf JPX921 Forged irons are highly rated in the premium class and suitable for the better player requiring some distance and forgiveness in their iron.
In addition to the JPX921 forged irons, Mizuno offers a Tour option. These clubs are slightly more difficult to hit and do not offer the same distance as the JPX 921 forge irons.
The JPX 921 forged irons come with one degree stronger loft than the JPX919 Forged and offers eleven percent less backspin. These changes have resulted in a 0.8 percent increase in ball speed, six percent higher launch angle and ball flight, a 0.9 percent steeper landing angle, and an increase of six yards in distance.
Solid contact generates the feel of a well-struck Mizuno blade.
It is no secret that Mizuno clubs are priced in the upper end of the spectrum. The quality, durability, and playability make it worth every penny.
A standard set configuration consists of four iron through a gap wedge. Nippon shafts are available in steel with a regular or stiff flex.
Final Thoughts
Selecting a forged iron is normally only in the scope of better ball-strikers with a healthy budget. This offers them the benefit of being able to work the ball as the distance is not a problem.
We have offered you a few alternatives in the article at a range of prices and aimed at various levels of ability. You don't necessarily have to be a low handicap golfer to experience the feel of playing with forged irons. Wilson D7 Forged irons will provide the entry-level experience at an affordable price from where you can upgrade if it is compatible with your ability.
It is extremely difficult to single out any of the premium branded forged irons as they are extremely competitive. Brand loyalty may drive you to select a set from your preferred brand.
There are other sets of irons in the various brands that are equally competitive and may suit your requirements better.
The one set of irons that nudges the others out by a short head is the Callaway Apex forged irons and they are some of the best irons that Callaway has ever produced. It is one of the most viable sets of irons when you decide to transition from cavity-backed irons to forged irons.
I hope you found this article informative and useful.
Please add feedback in our comments section below.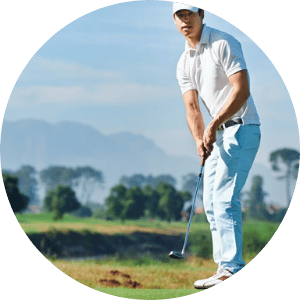 Nick Lomas is the founder of GolfSpan, an avid golfer, not quite a pro but has over 15-years of experience playing and coaching golfers from all over the world. His mission is to bring the golfing community a better experience then it comes to choosing the right golf gear, and finding the right set up for your game.