The G710 irons are long, forgiving, straight and promote a stable clubface for consistent ball speed and spin. After combing through our Ping G710 irons review, you will know if the rapid glare-resistant irons fit your game.
Slow swing speeds seeking a consistently elevated launch and enhanced shot-stopping power should keep reading. These superb Ping game improvement irons contain advanced technology despite their three-year age.
Here is what you can expect to learn in our Ping G710 Irons review:
Pros and cons of the Ping G710 irons
Ping G710 irons suit slower swing speeds
Ping G710 irons produce optimal distance
The Ping black irons are glare-resistant and forgiving
Ping G710 Irons Review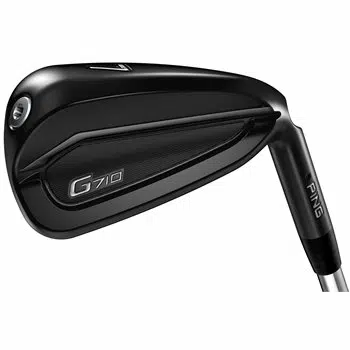 Pros
Delivers outstanding forgiveness
Generates high-launching shots
Increased moment of inertia (MOI)
Glare resistant finish
Built for slow swing speeds
Cons
Challenging to find a new set
The reduced offset can increase the severity of slices
| | |
| --- | --- |
| Total Score | 88.7 |
| Star Rating | 4-stars |
| Distance | 89 |
| Forgiveness | 81 |
| Feel | 95 |
| Workability | 94 |
| Aesthetics | 92 |
| Price | 81 |
Who Are The Ping G710 Irons For?
The Ping G710 irons are made for slow swing speed high handicappers searching for faster ball speed and forgiveness on each strike. In addition, they promote an elevated launch to help slow swing speeds get their ball airborne consistently for improved carry yardage.
Ping G710 Specs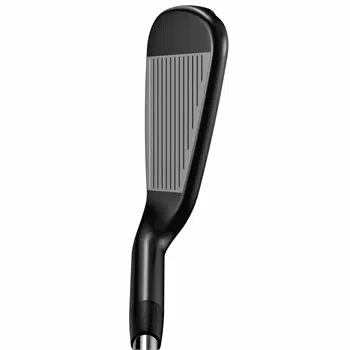 | | |
| --- | --- |
| Iron Type | Players Distance Iron |
| Material | Stainless Steel |
| Set Composition | 4-iron – SW |
| Stock Shaft | Alta Distanza Black 40 |
| Ping G710 Irons Release Date | February 2020 |
| Forgiveness | High |
| Workability | Low – Mid |
| Handicap Range | Mid to High Handicappers |
| Swing Speed | Slow |
| Ping G710 Irons Price At Launch (Per Iron) | $175 (steel) $190 (graphite) |
Read More: The 6 Best Ping Irons
Why You Should Trust Us
Our team spends thousands of hours trying out and researching golf equipment to help you take your game to the next level. Here's our product review process.
We can bring these reviews to you through the small commissions we earn if you buy through the links below.
How We Reviewed These Products
Golfspan only shares equipment and brands we trust.
I'm an experienced golfer of 28 years and thoroughly researched and evaluated the products shared below. Then an editor reviewed and fact-checked the article. Finally, we conduct regular content audits to update and revise our reviews to ensure you receive the latest information.
To review these irons, I considered these criteria:
Cost
MOI
Face
Offset
Looks
Shaft
Grips
Ping G710 Set Reviews: Features & Benefits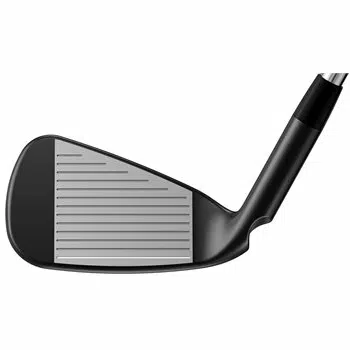 Faster Maraging Steel Face
Ping engineers had a field day implementing robust maraging steel, which enhances clubface flexibility, combatting strikes low off the clubface. When you pair the Maraging Steel Face with its stainless steel body, the G710 irons deliver outstanding flexibility, boosting energy transfer into impact.
In addition, Ping applied variable face thickness across the surface using Maraging Steel, resulting in consistent velocity generation and spin control on all shots.
5% Higher MOI
I felt the addition of high-density heel and toe tungsten weights elevated the iron's moment of inertia, boosting stability at impact. Thanks to its stable features, I prevented ball speed drop-off for a consistent launch and optimal carry distance.
Read More: Ping Irons By Year
High Offset
As you would expect from Ping game improvement irons, the G710 range is equipped with a high offset to combat slice shots. The offset reduces as you go down the set, but the shorter irons and wedges still carry increased levels over their peers.
The 4-iron carries 0.29 inches of offset, more than most of its peers. I found the added offset simplified the task of squaring my long irons at impact for a cleaner strike and straighter ball flight.
Finally, the pitching wedge is still relatively offset, operating at 0.13 inches. I find this keeps you straighter with wedge shots that would typically veer off to the right, my common miss. However, it reduces workability, for control and versatility on approach.
Stealth Hydropearl Finish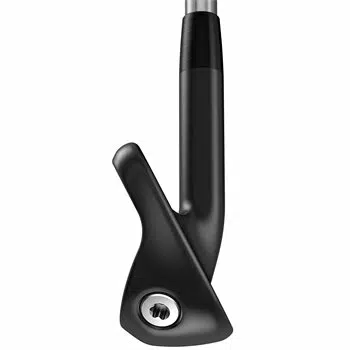 Besides the forgiveness and consistency, I am a big fan of the hydropearl and black PVD coating combination. The hydropearl chrome boosts the hydrophobicity of the clubface, helping it repel moisture and ensure maximum contact between grooves and golf ball.
In my experience, the Hydropearl offered the best value in the early morning dew. However, I am confident it will elevate your contact in the rain.
The black PVD finish is arguably my favorite feature of the G710 irons because it looks slick and delivers outstanding glare resistance. As a result, it reduced distractions from address through impact.
Shaft
Ping opted for the Alta Distanza Black 40 graphite shaft, built to enhance the performance of slow-swing speed golfers. I find the golf shaft very light and easy to unload, but the soft regular flex is too whippy for my taste.
Slower swing speeds will relish the lighter and more flexible shaft design, which encourages superior energy transfer into contact for accelerated ball speed. In addition, the shaft is fitted with a low kick point to produce a consistent high-launching golf shot for ample carry distance.
Grips
Ping teamed up with Golf Pride for the stock grip offerings, presenting the Tour Velvet and Tour Velvet Cord. I found both grips wick moisture away from the surface for a non-slip pattern and enhanced traction in all conditions.
The unique difference between the grips is their material and feel. Brushed cotton cord pairs with rubber for improved moisture wicking, while the cord delivers a firm feel for increased feedback on all shots.
Conversely, the Tour Velvet comprises an advanced rubber blend compound producing a non-slip surface. Finally, it exudes a comfortable feel and generates moderate feedback, eliminating some vibrations on mishits.
Ping 710 Irons Lofts
Compared to modern game improvement irons, the G710 set carries weak lofts. For example, the G430 irons start with a 19-degree 4-iron and close out with a 41-degree pitching wedge.
The table below highlights that the 4-iron in the Ping G710 iron set is set at 20 degrees, a degree weaker than the new Ping G430 irons. In addition, the 44-degree pitching wedge is 3 degrees higher than the same club in the new model.
Slower swing speeds stand a higher chance of consistently launching weaker lofted irons, leading to improved flight and carry distance.
| | | | | | | | | |
| --- | --- | --- | --- | --- | --- | --- | --- | --- |
| 4 | 5 | 6 | 7 | 8 | 9 | PW | UW | SW |
| 20° | 23° | 26° | 29.5° | 34° | 39° | 44° | 49° | 54° |
Ping G700 vs G710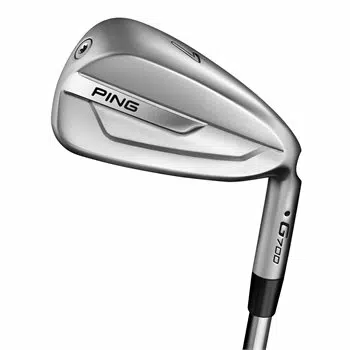 The most significant difference between the G700 and G710 is the finish on the clubheads. The G710 features a black PVD finish which is glare resistant, while the Ping G700 features a traditional stainless steel appearance.
However, besides that, both clubs carry a maraging steel clubface and 17-4 stainless steel body. In addition, the G710 and its predecessor feature the same lofts and promote a high launch. Plus, the irons carry the same offset level, prompting a straighter ball flight.
Things To Consider Before Buying A Set Of Ping Game Improvement Irons
Set Composition
The first factor to consider when purchasing a set of Ping game improvement irons is what clubs you want in the set. Do you prefer high-launching, forgiving hybrids over long irons? If so, you can forego the 4 or 5-iron because you are covered in this department.
On the lower end of the spectrum, what wedges do you need? If you possess a trusted gap and sand wedge and are hesitant to change, you can close out your new Ping set with a pitching wedge.
Read More: Where Are Ping Golf Clubs Made?
Offset
Are you looking for exceptionally forgiving irons which combat your sliced shots and attempt to minimize the damage? Alternatively, do you prefer a workable set of irons that allow you to shape your strikes on approach for increased control and versatility?
Offset is measured in inches or millimeters, and the higher the degree of offset, the further the leading edge is set back from the shaft. This design simplifies squaring the clubface at impact, promoting straighter flight and improved accuracy.
However, excess offset can complicate your attempts to induce a draw or fade on approach, which may not appeal to lower handicappers.
Launch
Next, I recommend thinking about the launch profile of the irons. Do you desire an enhanced launch for consistent carry distance or a lower flight for increased control and forward momentum?
Slower swinging golfers are better suited to irons with a high MOI and low center of gravity (CG). The pair stabilize the clubhead at impact, preventing ball speed loss, while the low CG increases your launch and apex.
Forgiveness
Forgiveness is vital for amateur golfers to minimize the impact of mishits and promote consistent energy transfer, ball speed, and accuracy. Leniency is packaged in multiple parts of the club, ranging from increased offset to an enlarged sweet spot and variable face thickness.
In addition, forgiving irons encourage a consistently high launch to help slower swing speeds generate optimal flight and carry distance.
Ping G710 Alternatives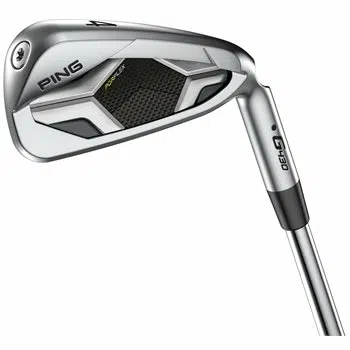 My first Ping G710 alternative recommendation is the newly released Ping G430 range. The engineers upped their game on the speed front, employing Hyper 17-4 Stainless Steel to improve clubface flexibility, ball speed, launch, and distance.
I enjoyed the low CG position, which allowed me to launch my ball consistently high and promote improved shot-stopping power. Finally, I appreciated the increased offset, which helped me square the clubface at contact for a straighter shot.
The Paradym are the latest game improvement irons from Callaway built to deliver consistent speed, elevated launch, and a softer feel. In addition, its moderate offset helps high handicappers mitigate slices for a better outcome.
In my experience, the speed of the A.I. designed Forged 455 Face and stability of the Speed Frame Construction produced an accelerated ball pace. This is welcome news for slow-swinging high handicappers seeking additional distance without sacrificing accuracy.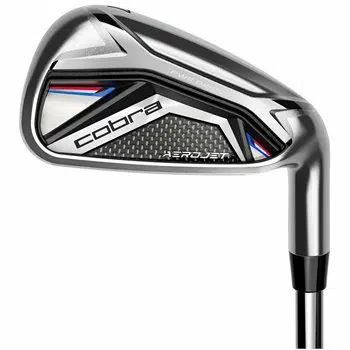 My final recommendation is the Cobra AeroJet irons, built for pure distance and shielding me with sufficient leniency. I experienced superior clubface flexibility across an expanded area, leading to impressive ball speed on all shots.
The potent combination of PWR-Bridge Weighting, PWRSHELL Face Design, and H.O.T Face Technology contributed to its speed. The PWR duo maximized face flex. Finally, the H.O.T Face Technology placed variable thickness across the clubface for optimal velocity and spin levels.
FAQ
Are Ping G710 Irons For High Handicappers?
Yes, the Ping G710 irons are for high handicappers as they are super forgiving, high launching, and consistently long. In addition, they sport increased offset to help high handicappers square the clubface at contact for straighter golf shots.
What Year Did Ping G710 Irons Come Out?
The Ping G710 irons came out in 2020, two years after their predecessors, the G700 range.
Is Ping G710 Irons Cast Or Forged?
The Ping G710 irons are cast, featuring a cavity back packed with game improvement technology. Ping combined a maraging steel clubface with a stainless steel body to deliver maximum flex, energy transfer, and speed.
Final Thoughts
The Ping G710 irons review allowed me to better understand these clubs and the value they offer the average golfer. They are exceptionally forgiving, high-launch, and promote straighter shots thanks to increased offset levels.
In addition, I appreciated the explosive maraging steel clubface, which worked to increase ball speed on all shots. Finally, I thoroughly admired the black PVD coating responsible for eliminating glare during my swing.
Overall, the Ping G710 irons proved their worth as exceptional golf clubs for slow swing speed high handicappers. The only downside is their age makes it challenging to find a set. However, I have managed to source some Ping G710 graphite irons for sale.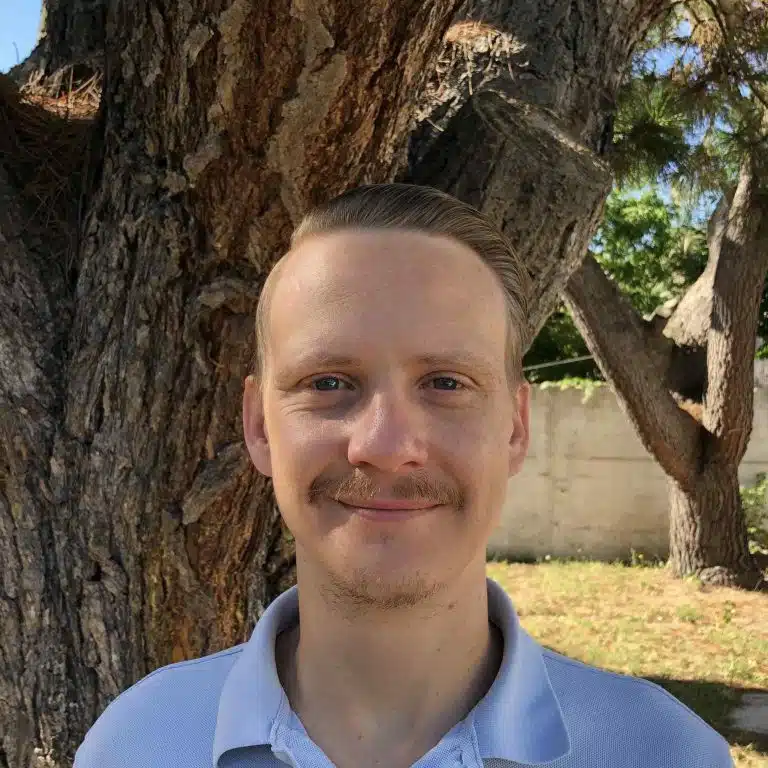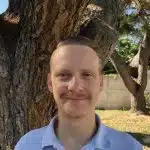 Matt is a seasoned golf equipment writer and sports fanatic. He holds a Postgraduate in Sports Marketing and has played golf for over 28 years.