Apex golf clubs have a long-standing tradition of excellence dating back to the time when Ben Hogan first produced Apex golf clubs before Callaway bought the company in 2003. Callaway then released the first set of Apex irons in 2014. Finally, they improved the irons for the 2016 range before waiting 3 years to release the Apex 19 irons.
Callaway Apex 19 irons are some of the best-forged players irons with a look and feel that advanced players will enjoy. They also offer sufficient forgiveness for golfers that require a distance iron.
This Callaway Apex 19 irons review will look at these clubs' look, feel, and performance. Callaway does offer Apex 19 Pro irons, but this Callaway Apex 19 review will only cover the standard models.
Overview of Our Callaway Apex 19 Irons Review
Callaway Apex 19 Forged Irons Review Score
| | |
| --- | --- |
| Total Score | 94.9 |
| Star Rating | 4.8 stars |
| Distance | 97 |
| Forgiveness | 92 |
| Feel | 96 |
| Workability | 96 |
| Aesthetics | 93 |
| Price | 90 |
Pros
Looks will be admired by golfers without being intimidating
Workability to draw, fade, and create penetrating ball flight
VFT technology creates more ball speed
Extremely forgiving for a players iron
Generates great distance
Precision placed center of gravity
Multi-material construction
Cons
Expensive
Strong lofts can be a little misleading in creating extra distance
Rating: 4.8 out of 5 Stars
When Callaway released their Apex range of irons in 2016, it quickly became popular due to its good looks and excellent performance. The 2016 range was one of the first irons to combine the look of a players iron with the forgiveness of game improvement irons without sacrificing distance.
Unlike most new clubs being released, it took Callaway 3 years to release a successor to the impressive 2016 Apex golf irons — the Callaway Apex 19 Irons.
Callaway Apex 19 irons are a tungsten-infused, multi-material construction enabling the clubs to accurately position the center of gravity for the best possible ball flight and control.
The precision placed center of gravity combined with the flexible Face Cup helps to create the optimal launch angle and ball flight.
Combining all the technologies enables you to add backspin to shots that otherwise produce inadequate spin.
Callaway Apex 19 Irons Features

Key product details:
Dexterity: Available in left- and right-hand
Color: Satin Chrome / Smoked PVD black
Shaft: Steel and graphite
Shaft flex: Stiff, regular, light
Year released: 2019
Key features that distinguish the Callaway Apex 9 irons from its predecessor include:
Looks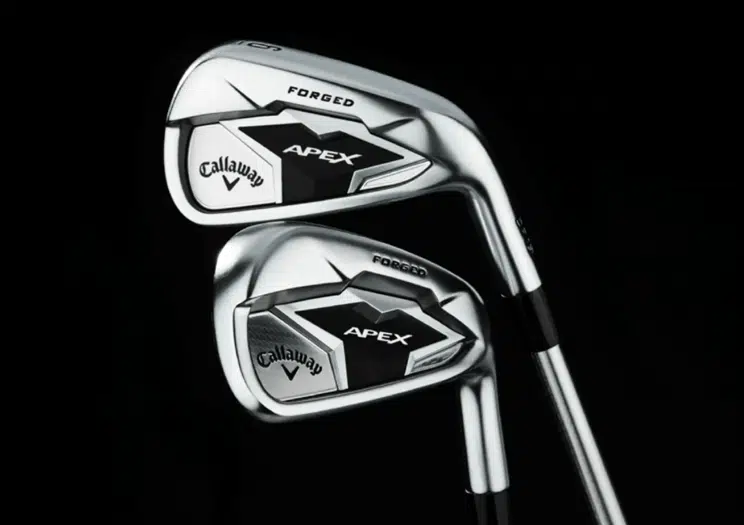 The Apex 19 Irons are available in the standard brush chrome finish and in a smoke black PVD finish that is much darker than the brushed chrome.
Apex 19 irons have a slightly larger footprint than its competitors in the players market but not as big as game improvement irons. This aids lesser experienced golfers. The top line and sole are thin without being so thin as to intimidate golfers.
There is a slight offset, thicker top line, and a thicker sole when compared to the Apex 19 Pro irons. However, the top line is not so thick as to bother experienced golfers.
The offset increases as the clubs get longer, which will suit the eye of most golfers.
Feel
The use of more than one million tiny air pockets called microspheres are located behind the face of the club to absorb vibrations. When the face rebounds, the microspheres collapse on themselves to produce maximum ball speed while reducing vibrations, especially on thinned shots that would normally send a shock back into your hands.
This combined with a 1025 mild carbon steel body, produces a heavy yet solid feel on a purely struck iron. You will notice the difference when there is a slight mishit.
Apex 19 Forged irons offer the softness of a cast metal head and the performance of a players iron.
Overall, the feel is what you expect from a Callaway premium iron. Most players will appreciate it.
Performance
Following the Callaway Apex 2016 irons tradition, the Apex 19 range offers considerable distance.
Callaway's 360 Face Cup technology enhances the ball speeds providing consistency in distance. VFT technology enables spin control in the short irons that promote shot-making.
In terms of forgiveness, they can compete with game improvement irons. Read more about the best game improvement irons on the market today.
You may find that a substantial mishit may lose as little as 10 yards of carry distance.
Callaway's 360 Face Cup technology enhances the ball speeds providing consistency in distance. VFT technology enables spin control in the short irons that promote shot-making.
Even though the Apex irons are extremely forgiving, you have considerable control over your ball flight whether you want to draw, fade, or hit a penetrating shot that keeps low into the wind.
Callaway Apex 19 irons are amongst the best in the player irons category while facing some stiff competition from TaylorMade and Titleist. Its performance makes Apex 19 irons a serious contender to go into the bag of low to mid-handicap golfers.
Callaway Apex 19 Specs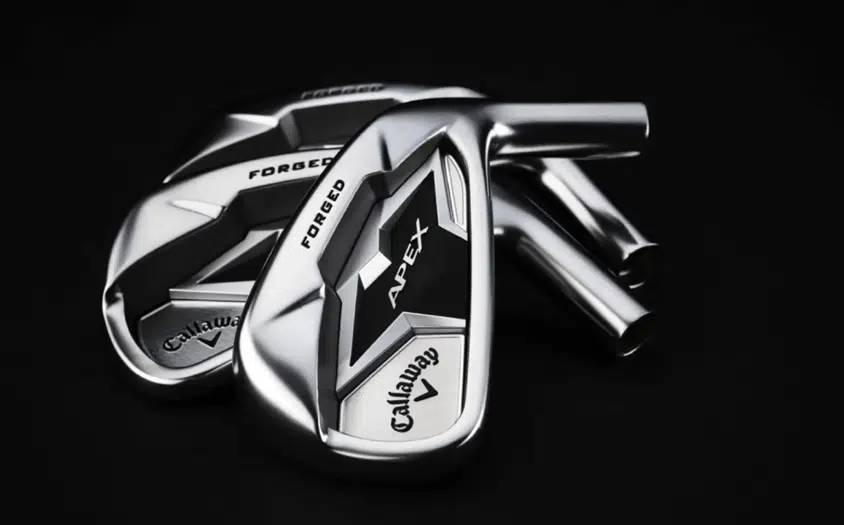 Callaway Apex 19 iron specs indicate that the lofts are slightly stronger than the standard.
Callaway Apex 19 lofts and shaft lengths are:
3-iron comes at 19-degrees of loft and a 39-inch shaft
4-iron comes at 21-degrees of loft and a 38.5-inch shaft
5-iron comes at 23.5-degrees of loft and a 38-inch shaft
6-iron comes at 26.5-degrees of loft and a 37.5-inch shaft
7-iron comes at 30.5-degrees of loft and a 37-inch shaft
8-iron comes at 34.5-degrees of loft and a 36.5-inch shaft
9-iron comes at 38.5-degrees of loft and a 36-inch shaft
Pitching Wedge comes at 43-degrees of loft and a 35.75-inch shaft
Gap Wedge comes at 48-degrees of loft and a 35.5-inch shaft
Sand Wedge comes at 54-degrees of loft and a 35.25-inch shaft
The standard shaft on the Apex 19 irons is a True Temper Elevate 95-gram shaft, and it comes with a Golf Pride Tour Velvet 360 Grip.
Alternatives To The Callaway Apex 19 Irons
TaylorMade P790 irons are a hollow body construction filled with SpeedFoam creating an exceptional feel and distance. These clubs have made waves since their launch in 2017 and are known as some of the best-looking irons available.
The 8620 Carbon Steel forged head with a thin wall in certain areas of the face enabled TaylorMade to position the center of gravity lower in the head thus creating excellent launch characteristics.
Its L-Face promotes flexibility, fast ball speeds, and distance without sacrificing feel. Tungsten weight in the clubface of the 3-iron to 7-iron provides for excellent control and workability.
The P790 irons offer incredible distance, forgiveness, and a players look that is ideal for shot shaping.
TaylorMade is a popular premium brand that competes in the upper echelons of golfing supplying excellent players irons that look exceptional
Control is provided Tungsten through weighting in the 3-iron to 7-iron.[1] [2]
There is little to choose between the Callaway Apex 19 and TaylorMade P790 irons. Both offer excellent distance, forgiveness, and workability.
TaylorMade P790 irons are competitively priced and are approximately 4-5 percent less expensive than the Callaway Apex 19 irons.
Cobra Golf offers the 2019 King Forged CB/MB iron set with a foam-infused hollow-core offering a large sweet spot compared to the Callaway Apex 19 irons.
This allowed Cobra to position the center of gravity low, enabling you to get maximum distance while retaining the workability required from players irons. To further enhance the center of gravity, Cobra added tungsten weight to the toe of the iron offers increased accuracy.
The foam microspheres injected into the hollow core reduce the vibrations for a soft feel while it enabled Cobra to tweak the acoustics off the clubface.
As a first for Cobra players irons, they added their PowerShell forged Face technology to create a larger sweet zone for higher launch and increased ball speed.
Its muscle back looks, which is the preferred style for better golfers, combined with the technology provides players with distance and workability.
The technology is similar to what you get in the Callaway Apex 19 irons but at a more affordable price.
FAQs

Are Callaway Apex 19 forgiving?
Callaway Apex 19 irons are not as forgiving as game improvement irons but offer great forgiveness for the category of players irons.
Is the Callaway Apex a game-improvement iron?
Apex 19 irons are designed with experienced golfers in mind and are less forgiving than game improvement irons. They compete with other players irons that target low handicap golfers. We compared all the players distance irons on the market today for more options.
 Are Callaway Apex irons good for seniors?
Senior golfers will be better advised to use Callaway Apex DCB Irons unless they are exceptional golfers with high swing speed.
Related Articles
Conclusion
This Callaway Apex 19 irons review looks at these clubs which are great for advanced players looking for players distance irons.
The Face Cup, VFT (Variable Face Technology), is precisely positioned center of gravity, and the microspheres allow for maximum performance. The VFT enables you to control the spin for aggressive shot-making in your scoring clubs.
A penetrating ball flight combined with stronger lofts ensures that these clubs produce tremendous distance, even on mishits.
Apex 19 irons are the ultimate forged players distance iron manufacturers with premium craftsmanship to produce an amazing feel. They offer distance, control, and the superior feel that you expect from player irons while still offering a certain amount of forgiveness for those odd mishits from better players.
Lesser experienced golfers may find the thin topline rather intimidating.
Although at the top end of the pricing spectrum, I will highly recommend that you give the Callaway Apex 19 an opportunity to prove their worth.