Golf is a magnificent sport. Yet, it can sometimes be a frustrating experience for high handicappers. One of the worst situations is when you get stuck in the rough or a sand trap. But having one of the best wedges for high handicappers can help ease your pain.
The best wedges for beginners and high handicappers should have:
Perimeter weighting
Medium to high bounce (above 7 degrees)
An S grind or high-toe design
Is all that a little confusing? Don't worry.
In this article, you'll learn how to improve your short-game equipment to get better at approach shots. This will reduce your overall score. Now, let's assess the most forgiving wedges for high handicappers.
At a glance: Our Top 5 Picks for The Best Wedges For High Handicappers
Do You Need a New Wedge?
To reduce your handicap, it helps to sharpen up your short game. 40% or more of your shots will be played from inside 100 yards. Wedges are designed to provide ultimate control and are not aimed at maximum distance.
Studies have found that most high-handicap golfers and beginners leave their approach shots short of the green as they do not have distance control on their irons. Having a wedge or set of wedges will enable you to control these short shots and stop the golf ball closer to the pin.
Wedges have the shortest shafts, heaviest club heads, and the highest lofts of the irons range.
Selecting a wedge is generally determined by your swing, playing conditions, and the type of course you play. We recommend that you select wedges that work for your swing. Consider the most forgiving wedge your budget will allow you to improve your score.
Our Research Methodology
Golfspan is independent and not pressured by manufacturers to recommend products. We were not paid for the reviews in this article. However, we may earn an affiliate commission if you purchase something through our retail links. Also, these wedges were researched and selected by our team, who collectively have over 100 years of experience playing golf and thousands of hours reviewing products.
The 7 Best Wedges for High Handicappers in 2023: In-Depth Reviews
To assist you in selecting the most appropriate wedges, we have assessed some wedges for high handicappers and beginners.
Quick Overview: Our Top Picks for The Best Wedges For High Handicappers
1. Cleveland CBX2 Wedge – Best Overall
Pros:
Forgiving cavity back design
Tour zip grooves for maximum spin
Feel Balancing technology
True Temper Dynamic Gold Steel Shaft
Clean leading edge
Relatively compact head
Blend of modern and classic design elements
Cons:
Cavity back design produces a compromised sound
Toe heavy look on the sole
The maximum loft of 60 degrees
The Cleveland CBX 2 wedge with a cavity back design is appropriate for higher handicap golfers. A saving of approximately 76 grams from the back of the clubhead produces an increase in the Moment of Inertia (MOI) and more forgiveness. These are the best game improvement wedges currently on the market.
Cavity back clubs are prone to compromise the club's feel as it focuses on forgiveness. Yet, thanks to the Feel Balancing and Dual V-sole technologies, you will experience a more responsive overall feel than many other forgiving wedges.
Feel Balancing technology is achieved by moving the center of gravity further to the center of the head.
Dual V-sole provides different sole grinds perfectly matched for the loft of each wedge. The sole is uniquely shaped with a slightly wider toe and a narrower heel.
The designs are progressive, providing more spin the higher the loft is.
True Temper Dynamic Gold shaft is only 115 grams and helps to keep the weight down for a lighter feel.
The chrome silver finish on the club face contains Rotex 3 Face Tour Zip grooves with extra laser-milled friction lines between the grooves. This provides increased spin.
The sole of the CBX 2 is also very wide, adding to the already forgiving wedge
Pricing is competitive in the high handicap wedge market. Cleveland kept the pricing down on this wedge.
The Cleveland CBX 2 provides a near-perfect blend of feel and performance, and high-handicap golfers will benefit from having it in their bag.
A Hi Toe wedge such as this is a smart choice for high handicap golfers that requires a forgiving wedge that still delivers on performance. It provides a lower ball trajectory with good spin control.
The 4-way cambered sole is broad and flat to keep the leading edge from digging into the ground. The high-toe design provides a larger than normal contact area.
With its unique insert finish that tends to darken over, it offers a unique and premium look.
The Speed Bridge creates enhanced backspin, and the full-face scoring lines produce the spin performance required by high handicap golfers.
Both stiff and regular shafts are available.
This wedge is one of the best wedges for beginners due to its versatility for short grass, rough, and bunkers.
3. Cleveland Smart Sole Wedge – Most Forgiving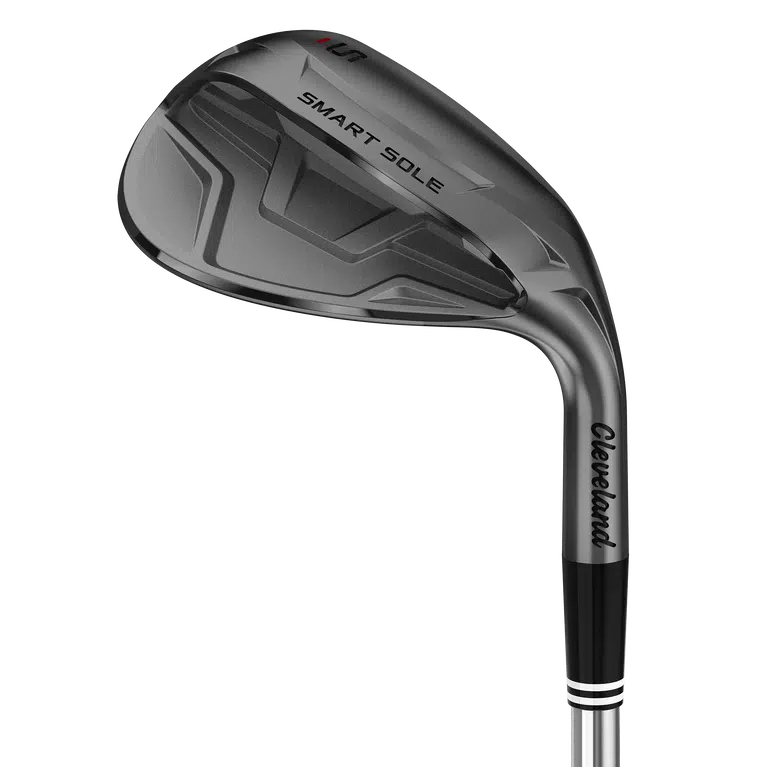 Pros:
Innovative design
Playable from any lie
Available in 3 lofts
S wedge purpose-built for bunkers
C wedge purpose-built for chipping and running balls
Aggressive milled grooves for enhanced spin
Cons:
Not a traditional shape
Unusual shape
The combination of various technologies built into the range of Smart Sole wedges makes it the most forgiving wedge on the market. The weight normally found behind the sweet spot is distributed around the club's perimeter, as you would find on game improvement clubs. This perimeter weighting makes the wedge forgiving and easier to hit your approach shots.
The aggressive milled grooves will assist you in gaining extra spin and stopping the ball quickly on the green.
Designed to assist you in getting the ball into the air, the Smart Sole comes with an added bounce at the leading edge, a center of gravity very close to the club face, and an extra-wide three-tiered sole.
There are 3 different lofts available:
C wedge (42 degrees) has a similar loft that you would find on some 8-irons and would probably replace your pitching wedge. It can be used anywhere from approximately 125 yards to greenside for bump-and-run wedge shots.
G wedge (50 degrees) falls between the C wedge and the S wedge, providing chipping precision and a shorter full shot than the C wedge.
S wedge (58 degrees) aims to get you out of the bunker every time.  It has an extremely wide sole that makes the bunker play straightforward. You do not have to open the face to get out of the bunker as the wide, open clubface will provide all the assistance required.
Since this is an innovative design, it is priced higher than most of its competitors but remains affordable.
You can get a steel or graphite shaft.
The Cleveland Smart Sole wedges are considered to be one of the best wedges for a high handicapper or beginner golfer that is struggling with their short game.
C3i is not a well-known brand that you hear about too often. They use innovative technology and remain one of the best wedges for high-handicap golfers.
Generally available in 55, 59, and 65-degree lofts with an extra-wide sole to cut through sand and tight lies without any difficulty. It is not intended to be hit at 100% but rather for the flop and lob shots. This is an important aspect of improving your overall game, so this is a good choice if you're ready to start practicing.
Getting the ball out of a bunker or off a tight lie is a straightforward process with the C3i wedge.
This wedge is entirely tournament legal despite its looks.
The C3i Wedge is not customizable and comes with a standard steel shaft. It is priced competitively with other high-handicap wedges.
The wedge is highly recommended to assist in improving your short game.
5. PineMeadow PGX Wedge – Cheapest Option
Pros:
Very low-price providing value for money for beginners.
Versatile bounce and grind
Large bounce and sole
Wide variety of lofts
Wide sole
Pretty forgiving
Easy to control
Available for both men and women
Cons:
Lacks the feel of more expensive wedges
The face can wear quickly
Grips tend to wear out very quickly
PineMeadow is one of the top ten golf club makers in the US in terms of production amount. Although they don't have a premium reputation, their wedges are not a new name in America. Their wedges are ideal for beginner and high-handicap golfers that want to pack some wedges in their bag without spending a fortune. The wedges are incredibly popular for the price.
Their wedges deliver a perfect balance between design and quality.
These are large-faced wedges with a wide sole, versatile bounce, sleek stainless finishes, and a clean leading edge aimed at golfers that are looking to hit clean, crisp shots. These are the best gap wedge for high handicappers, as you can experiment with the club-style without spending too much money.
Its Apollo shaft is made of high-quality steel and has a standard-size golf club grip that can be changed to your preference.
PineMeadow wedges are available in 5 loft configurations ranging from 50 degrees to 68 degrees.
The PGX PineMeadow golf club delivers enough to feel and spin as some to enable high handicap golfers to achieve what is required.
The PineMeadow PGX is one of the least expensive wedges designed for new golf starters who are looking for budget-friendly options. It is an excellent choice for high handicappers but probably not be a long-term solution. The wedges are suitable for men and women.
The Hi-Toe wedge is a smart choice for high-handicap golfers that require a forgiving wedge that still delivers on performance. It provides a lower ball trajectory with good spin control
The 4-way cambered sole is broad and flat to keep the leading edge from digging into the ground. The high-toe design provides a larger than-normal contact area.
With its unique insert finish that tends to darken over, it offers a unique and premium look.
The Speed Bridge creates enhanced backspin and the full-face scoring lines produce the spin performance required by high-handicap golfers.
Both stiff and regular shafts are available.
This wedge is one of the best wedges for beginners due to its versatility from short grass, rough, and bunkers.
7. Wilson Staff Harmonized Golf Wedge – Best Budget Pick
Pros:
Well-designed, high polish finish, pretty aesthetically with a classic blade-style look
Durable and high performing
Versatile sole grind
Reasonably priced
Aggressive grooves for maximum spin
Consistent distance control
Wide range of lofts
Cons:
The grip is relatively thin and small
Less forgiving than wedges with a bigger cavity back.
Sandblasted finish may scuff up the balls
Wilson Harmonized Golf Wedges are one of the best sand wedges for high handicappers that comes with a classic blade shape appearance with aggressive grooves, outstanding body finishing, and a quality, durable stainless-steel head.
Despite its meager price tag, it is aesthetically pleasing with its high polish finish that will match the most expensive irons and woods.
The regular flex shaft is made from stainless steel and the 35 inches long head produces a stiffer axis of rotation for improved performance.
The unique sole grind combined with the aggressive grooves enables you to open the clubface and hit higher shots, get more spin, and have greater accuracy.
It is available in lofts from 50 degrees through 64 degrees. High handicap golfers are advised not to include the 64 degrees wedge in their armory.
The Wilson Black Chrome Golf Wedge is a sensible choice for beginners who desires a good-quality classic wedge on a low budget. High-handicap golfers can expect improved overall performance and enhanced confidence.
Golf Wedge Buying Guide
Here are the key factors to consider when purchasing a wedge:
1. Forgiveness
Forgiveness is how much the club counteracts mishits. As a general rule, medium-bounce wedges will provide the most forgiveness on various turf surfaces.
2. Shaft
Most wedges offer a standard steel wedge flex, but they can be changed to graphite shafts if you have an extremely low swing speed.
3. Bounce
There are 3 main categories of bounce angle that will affect your turf interaction:
Low-bounce angle wedges have angles between 4 and 6 degrees. Wedges with low bounce have a slightly flatter sole and are better suited to golfers that have a shallower swing path, play on firmer course conditions, and play courses with tight lies around the greens and in bunkers.
Mid-bounce angle wedges have angles between 7 and 10 degrees. These are the most versatile bounce and can be suitable for most swing types and course conditions.
High-bounce wedges have angles of more than 10 degrees. The sole is more rounded and aimed at golfers with a steeper swing hitting down on the ball or tend to hit fat shots. It prevents the leading edge of the clubface from digging deep into the ground. High-bounce wedges are more appropriate for courses with soft surfaces or when the bunkers have soft sand. They also help high handicappers that need to work on their wedge swing.
4. Grind
Sole grind is the shaping of the wedge's sole, usually located around the toe or the heel. Many wedge manufacturers grind them with a machine to suit specific turf interaction and the shots.
Heel – With a heel grind, the face sits much lower to the ground because of the removed heel part and leads to a more open face at address.
Middle – A grind in the middle section between the heel and toe adds bounce to the sole, aiding players with an unfavorable turf interaction of digging the club.
Toe – A grind at the toe section enables a more closed face at the address and further helps those with an already favorable turf interaction.
5. Finish
The finish of a wedge can enhance the look and feel of the wedge.
There are 3 main categories of finishes
Raw – Some golfers feel that this provides a softer, more responsive feel, will not glare with the sun, and generally will not scratch or rust as much as other finishes.
Matte –With a matte finish plated onto the wedge, there will be less sun reflection. The matte finish is normally thicker than a chrome finish and produces a more dampened feel and the response of the club.
Chrome Finish – Chrome finishes look extremely desirable but often glare in the sun. It offers a more responsive feel than a matte finish.
Other than the 3 finishes mentioned, some manufacturers offer unique finishes, such as the Titleist 200 offered in 'Oil Can' finish that is designed to rust more to add spin.
6. Durability
Wedges wear rather quickly and are said that you may lose up to 1/1000 of the groove on every shot. Replacing your wedges every year is not an uncommon occurrence, as the grooves play a significant role in the functioning of the wedge.
7. Wedge Club Head
Wedges come in either a blade or cavity back configuration. Cavity back wedges are highly recommended for high handicap golfers. Although you may lose out on distance control with cavity-back wedges, you will increase the accuracy of your shots.
Types of Wedges
The 4 most commonly used wedges are pitching wedge (PW), sand wedge (SW), lob wedge (LW), and gap wedge (GW). You could opt to buy them individually or opt for a wedge set.
Loft
The loft on wedges can vary between 45 degrees up to 64 degrees. Higher loft produces higher golf ball flight and more spin. Manufacturers frequently offer wedges in a variety of lofts but most commonly, wedges can be categorized as follows:
This video will give you some insight into wedge lofts and the distance they can achieve:
1. Pitching Wedge (PW)
Pitching wedge is the most commonly used for long chip shots, full shots into the greens, greenside chipping, and bump and run options.
2. Gap Wedge (GW)
This wedge goes by many names, such as:
Gap Wedge
Utility Wedge
Attack wedge
Approach wedge
The purpose of finding the best gap wedge is to fill in the gap between the pitching wedge and the sand wedge. This enables you to hit a full shot and still achieve the correct distance rather than hitting a ¾ shot with a pitching wedge.
3. Sand Wedge (SW)
This was originally the lowest lofted club available until the release of the lob wedge in the 1930s. The main purpose of the sand wedge is to get out of bunkers, AKA sand traps. The biggest difference between an SW and a PW is the wider and heavier sole on the sand wedge.
The best sand wedge for high handicap golfers should have a thick sole. It assists with gliding the club through longer grass and sand and getting the golf ball airborne off shorter grass.
Sand wedges are regarded as the most versatile club in your bag and are highly recommended for high handicap golfers.
4. Lob Wedge (LW)
The lob wedge is designed to generate high-flying shots with loads of spin, dropping the ball on the green without much roll. They are instrumental in greenside bunkers that have a high lip. It is one of the most difficult clubs to use, especially for the lob shot, and should be the last wedge that a high handicap golfer acquires.
Frequently Asked Questions
How Many Wedges Does a Beginner Need?
There are two schools of thought regarding the number of wedges for a beginner. Some say it's better to master one club, while others recommend learning to find the right wedge for the shot, much like an iron.
Most golfers, including professionals, carry between 2 and 4 wedges.
2 wedges are sufficient when you are confident with your ½ and ¾ swings. The 2 most common wedges included with a set of clubs are a pitching wedge (PW) and a sand wedge (SW).
More advanced amateurs and mid-handicappers generally carry 3 wedges: pitching, gap, and a lob wedge.
Many coaches recommend beginners and high handicap golfers carry 4 or 5 wedges. This will enable you to hit all your wedges at 100% force and achieve consistent distances from a standard swing with every wedge.
If you get only one wedge, a sand wedge or a 60-degree wedge is preferred due to their versatility.
This article aims to identify the best golf wedges for high handicappers; therefore, we concentrated on cavity back clubs with a slightly thicker leading edge rather than the blade-shaped design with a thin top line.
What Wedges Should a High Handicapper Carry?
Coaches have different opinions on the number of wedges a high handicapper should use. But, a safe bet would be to have a sand wedge and a pitching wedge in your arsenal. You could get away with just using one, though.
Do High Handicappers Need Wedges?
Yes, lowering your score should be the aim for any golfer, regardless of their handicap. Mastering approach shots with wedges is a good way to do so.
Are High Toe Wedges Good for High Handicappers?
Yes, the wide sole of a high-toe wedge allows for consistent contact and forgiveness for high handicappers.
What Is the Best Golf Wedge Bounce for a High Handicapper?
A high bounce angle wedge will help prevent a high handicap golf wedge user from digging into the ground. We'd recommend being above 7 degrees, but more than 10 degrees would be even better.
How Does Bounce Make a Wedge Forgiving?
Bounce helps to lift the ball out of rough terrain. It also generates more spin and, therefore, more forgiveness for consistent approach shots, no matter the lie.
What Is the Best Sand Wedge for High Handicappers?
Our pick for the best sand wedge for high handicappers is the Callaway Sure Out wedge. It doesn't have great control for more experienced players but is perfect to "just get out" of the sand trap, which many high handicappers struggle with.
What Is the Best Degree Wedge for High Handicappers?
The answer to this depends on the golfer's swing, but most high handicappers find a wedge between 54 and 60 degrees easiest to hit.
What Is the Best Lob Wedge for High Handicap Golfers?
Our favorite lob wedge for high handicappers is the C3i wedge. It has excellent spin, easy launch, and forgiving. They are also fairly priced, which is a nice bonus.
What Are the Easiest Wedges to Hit?
The best golf wedges for high handicappers are lower loft wedges, which are usually easier to hit. This is because they're more like an iron. However, they don't make it easy to get out of bunkers. A 58-60 degree wedge can often be the perfect middle ground.
Do High Handicappers Need a Lob Wedge?
This entirely depends on your game. Do you have trouble with approach shots with your existing wedges? If so, a lob wedge may be the solution. Just be aware that even if you have the best lob wedge for high handicappers, you often have to adjust your swing a little when using a lob wedge.
Are Cleveland RTX 4 Wedges Good for High Handicappers?
Cleveland RTX Wedges are targeted more toward control than forgiveness, so they're less ideal for high handicappers than the CBX2 range.
Final Thoughts – What is the Best Wedge for High Handicappers?
Buying a wedge when you are still playing off a high handicap can be rather frightening if you do not understand the purpose and specifications. Here are a few key takeaways to remember when shopping for the best golf wedge for high handicappers.
Having the right combination of wedges to sharpen up your game within 100 yards will assist you in reducing your handicap.
Many wedges compete in the high handicap space and offer great assistance to make you enjoy your game tremendously.
High-handicap golfers should stay with game improvement cavity-back design that offers extra forgiveness.
The Cleveland CBX2 with its Feel Balancing technology and the improved Rotex 3 face generates an excellent amount of spin for more versatility and control. It is simple to use and is available in a wide range of lofts, bounces, and grinds. High-handicap golfers will benefit from the combination of these features.
We trust that this article provided enough detail to aid you in selecting one of the best wedges for high handicappers to reduce your handicap.
Related Articles
Chris's love for golf is only rivaled by his wanderlust. A globetrotter at heart, He's played courses throughout Europe and Asia and at home in NSW, Australia. With a writing style as smooth as his golf swing, he'll help you find the right gear to match your skill level and style. You can connect with Chris on LinkedIn.