The golf balls are relatively similar to others that you are used to playing, but there are a few things to point out that might change your mind and make you want to check these out. Even though Kirkland is not yet a household name in the golf ball industry, you might be SURPRISED.
Things to Consider When Looking for Golf Balls
Price
As consumers, we are always looking for good deals with golf balls because the price of them can add up. If you are playing too expensive of a ball for your skillset, then you could be spending $40 in golf balls every round as you may be losing them in the water or out of bounds.
You have to find a set of golf balls that fits your skill set and budget, and then you have found the perfect combination to go after.
Feel
Feel is another thing to consider that is totally based on personal preference.  Some golfers like a soft ball that has that smooth feeling off of their club face. Other golfers like more of a hard feeling because it feels more satisfying off the tee.
You need to figure out what your ideal feel is by trying out different balls in between your rounds.
Spin
Golfers who are not experienced should definitely not be playing a golf ball that spins A LOT. A spinning golf ball is going to exaggerate a slice or miss, and it is meant for players that want to work the ball in a draw or fade.
Also, average players do not really need a ball that spins a lot and can stop on the greens because they do not have that shot in their arsenal yet. Spin can actually hinder a beginner golfer because their misses of a slice or hook are going to be exaggerated.
Compression
The compression of a golf ball is based on your swing speed. A ball that is soft is usually going to be suited for a slower swing so that the ball can compress and go a long distance. Pro-players usually have a ball that is meant for fast swing speeds, so they compress it correctly.
Always pay attention to what swing speed coincides with what golf ball. There is a huge gray area in this, but it is still worth your time to see what your swing speed is meant for.
Reputation
The last thing I will point out is that some people really value a name brand and are more materialistic than others. Also, there are crowds of people that want to play with a more unique name like Kirkland or Vice Golf.
Rather than primarily valuing the brand name, you should put more effort into looking at reviews and ratings, because the proof is in the results.
Kirkland Golf Balls Review
Kirkland Golf Balls are produced in South Korea and they became very popular in 2016 with their crazy low price of $30 for 24 golf balls. The average price for 12 golf balls is around $30, so this was a great value golf ball.
They have a few different types of golf balls on the market, but their 3-piece signature golf balls are their most popular product. They are aimed at beginner and average golfers that want an incredible price and performance just like other name brands.
If people regard the price and value most, then this is a smart option to look into.
Kirkland Signature 3-Piece Golf Balls
Pros:
Urethane cover feels great off the club face.
Cheap price for two dozen golf balls.
Made for average and high handicap golfers that want distance.
Unique choice compared to playing the normal household names in the golf industry.
Cons:
If you value name brands, then this is not the answer.
Might not be soft enough for the needs of some golfers around the green.
The ball will not be able to produce a lot of backspin.
Whilst the urethane cover is very satisfying off of the club face, it is not the softest golf ball out there. For players that are not into super soft golf balls, then this might be a good option for you.
It goes without saying that if you want a good price for golf balls, then this is an excellent pick to hit the course with and play your round of golf.
There are 4-piece versions floating around, but according to a few sources online they are not producing those golf balls anymore. If you do find a dozen or two, you must have searched pretty hard for them.
The 4-piece version is probably going to suit more experienced golfers with much higher swing speeds than the people that use the 3-piece version.
Features and Benefits of Kirkland Golf Balls
Cost-Effective
I may sound like a broken record, but price is one of the biggest factors that come into play in the golf industry for a lot of golfers. Kirkland golf balls are aimed at players that want a pay $30, but instead of a dozen golf balls they get two!
Buying golf balls in bulk like that does make for a good deal and is not going to make you feel guilty for going for the green in 2 shots over the water. Losing one of the Kirkland golf balls is a pretty cheap expense.
Distance
Since these golf balls are aimed at high handicap golfers and average players, you can bet that there is going to be good distance involved. The reviews that I am seeing floating around are evident of this fact.
Distance is exactly what we are all after, so why not see if Kirkland golf balls are going to help you in that department?
Soft Cover
The last major thing that I will point out is the urethane cover on the 3-piece version. They have an incredible feel for a distance golf ball. Not many distance balls that are aimed at average golfers have a soft cover for added feel, but these do!
Alternatives
In no particular order, here are 3 other options for you to check out and see how they stack up to Kirkland golf balls.
Srixon Soft Feel
TaylorMade Noodle Long & Soft
Wilson Staff Zip
Srixon Soft Feel Golf Balls
The first ball that I will point out is from a much more well-known brand compared to Kirkland. Srixon is known for how soft their balls are and that is especially true with the soft feel version.
I would recommend this golf ball over the Kirkland 3-piece if you are looking for a ball that is much softer and you have a slower swing speed. The ball compresses the best with lower swing speeds. For more peace of mind, it is also rated exceptionally well all over the golf website world.
TaylorMade Noodle Long & Soft Golf Balls
The second suggestion is the Noodle line of golf balls.  As far as performance, this is very similar to the Kirkland line of golf balls. You really can't split the specs of these two and really can't tell them apart with performance. It really is just a comparison between which brand you want to play and the price that you are willing to pay. The Long & Soft balls are priced a bit higher than the Kirkland Signature balls.
Wilson Staff Zip Golf Balls
The third recommendation that I have for you is from Wilson Staff, which is yet another golf brand that has a lot of options catered to average and beginner golfers. The price of the Wilson Staff Zip golf balls is actually in the same range as the Kirkland balls in this review. The Wilson Staff Zip golf balls are also the same kind of ball that is primarily for distance but does also have a nice feel for impact on the club face.
The Verdict
All in all, these golf balls have an amazing performance for a brand that does not get as much recognition as others do. It is certainly worth your time to check out a dozen or two and see if they are your ideal golf ball for your game and feel.
But, keep in mind that there are certainly better options out there for golf balls in this category. It all depends on how much you value different aspects such as price, brand reputation, and feel for your golf balls.
If you found this review helpful, then please go ahead and share it! Also, thank you for reading.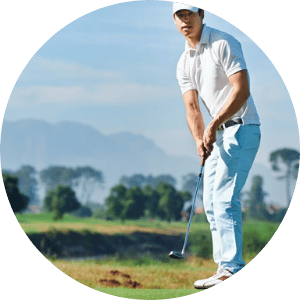 Nick Lomas is the founder of GolfSpan, an avid golfer, not quite a pro but has over 15-years of experience playing and coaching golfers from all over the world. His mission is to bring the golfing community a better experience then it comes to choosing the right golf gear, and finding the right set up for your game.