My pitching wedge has long been a favorite in my bag because it is the money club. When I am close enough to the green for a full wedge, I am confident I can put it close and get down from there.
To help you feel the same way, read on to learn about the best pitching wedges in 2023. Which one is right for you?
I tested numerous forgiving and not-so-forgiving pitching wedges to find the top choices for every golfer's need. While some pitching wedges launched high and landed softly, others followed a penetrating trajectory and spun rampantly for a controlled landing. Either way, they get your ball to the cup and help you improve your short approach game.
If you are happy with your current pitching wedge but need assistance around the green, I have you covered. Head on over to our review on the best golf wedges to find the right option for your game.
Top 3 Pitching Wedges
Best Overall
Best Budget
Most Forgiving
TaylorMade SIM 2 Max
Tour Edge Hot Launch C522
Callaway Big Bertha 2019

Pros

Forgiving
Delivers a high launch
Soft feel

Affordable
Forgiving
Smooth turf interaction

Optimal forgiveness
Muted feel
Towering launch

Cons

The strong lofts reduce backspin
The lack of workability may deter low handicap golfers

The strong loft minimizes spin
Chunky at address

Expensive for an older model pitching wedge
The stronger loft reduces spin

Price Score
88.3
96.5
86.5
Forgiveness
94.8
88.1
95.6
Spin
82.1
90.2
80.1
Feel
90.2
87.8
89.1
Rating
4 Stars
4 Stars
4 Stars
What To Consider When Purchasing A Good Pitching Wedge
Individual Or Part Of A Set
Most complete golf sets throw in a pitching wedge to boost your consistency. This means the lofts of clubs gradually weaken as you go down the set while the shaft lengths shorten in sequence. Basically, a pitching wedge from a complete set is crafted to ensure a flawless transition from short irons into wedges.
However, the downside of wedges in a set is that you take what they give you. This typically means stronger lofts, less spin, and minimal workability for game improvement wedges. You can combat this by opting to acquire your pitching wedge separately.
That gives you the freedom to find the perfect loft and performance features. The risk of this approach is that your chosen wedge may not match your irons, leading to inconsistent swings and erratic ball striking.
Loft
Loft is a key factor when looking for a pitching wedge. These clubs tend to range from 43.5-degrees to 48 degrees. Since most 9-irons clock in around 39 degrees, you do not want anything weaker than a 44 or 45-degree pitching wedge. Anything higher than this point will create distance gaps in your bag.
At certain distance marks, it will leave choosing a soft 9-iron or forcing a pitching wedge to travel the distance. This can lead to inaccurate strikes sending you over, short, or wide of the dance floor.
Keep in mind that the weaker your pitching wedge loft, the fewer yards you generate, which is why loft is a vital factor.
Launch
If you opt for a pitching wedge that provides minimal spin, you at least require a low CG position to prompt a high apex. The high apex will cause the ball to land on a steep angle and stop quickly.
Conversely, when your wedge produces aggressive spin, you need a penetrating trajectory to reign in the revolutions per minute. Otherwise, the ball flies uncontrollably high, losing accuracy and distance.
Spin
Spin is a sensitive topic with pitching wedges. Generate too much, and your golf ball lifts to the heavens before falling out of the sky. As a result, you lose control and distance. However, insufficient spin and a low launch eliminate shot-stopping power from your golf ball, making it challenging to bite upon landing.
Budget
Pitching wedges in golf are not the most expensive golf clubs, but a budget is still necessary to save time and prevent breaking the bank. If you already have a set of golf clubs, you may source a pitching wedge individually. You'll find that it runs you anywhere from under $100 to over $300.
Our Testing Process
As an independent team, we select the best pitching wedges based on our hours of research. While we get a small commission if you use one of our affiliate links, brands do not pay us to conduct reviews, so everything you read on our website is unbiased and factual. We have an expert team of writers who are passionate about golf and have thousands of hours of experience.
The Best Pitching Wedges In 2023
1. TaylorMade SIM 2 Max – Overall Best Pitching Wedge In 2023
The forgiving, high-flying TaylorMade SIM 2 Max is my top-rated pitching wedge in 2023. For an affordable golf club, I found that it offered a superb feel, exceptional forgiveness, elevated trajectory, and straighter flight.
I enjoyed the stability of TaylorMade pitching wedges which use the Cap Back Design and help me keep my clubface square at contact. This prompted straighter flight for improved accuracy, which suits the average golfer. However, lower handicappers will despise the lack of workability.
In addition, the engineers optimized the center of gravity (CG) for higher flight and improved shot-stopping power. Plus, this alteration sets the clubface up to reduce slice sidespin and deliver straighter shots.
I noticed that the Inverted Cone Technology provided a meaty sweet spot to maintain spin and ball speed on all strikes. Therefore, you'll find that you enjoy greater consistency on all shots. Finally, the Echo Dampening System neutralizes vibrations for a soft feel while amplifying acoustics.
My experience with the SIM 2 Max wedge showed that it is an ideal pitching wedge golf club for the average player. It encourages straighter flight, elevates forgiveness, and generates a high-flying ball.
Lofts: 43°
Pros
Forgiving
Delivers a high launch
Soft feel
Maximum forgiveness
Enhanced shot stopping power
Cons
The strong lofts reduce backspin
The lack of workability may deter low handicap golfers
Rating: 4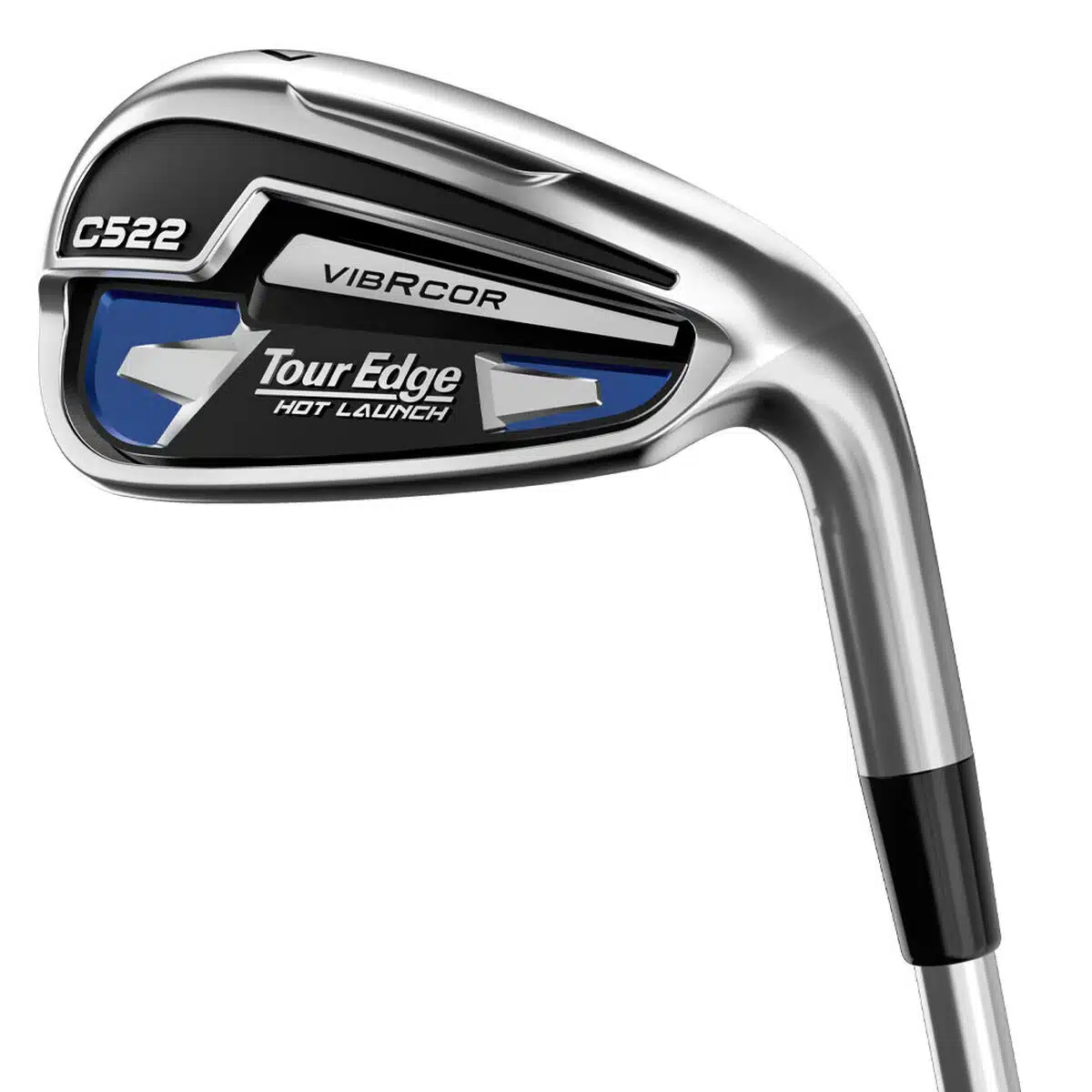 Tour Edge has long dedicated itself to constructing golf clubs for the average player. On top of simplifying the game for the masses, their golf clubs are super affordable. The clean turf interaction of this wedge, coupled with enhanced forgiveness and launch makes it our top budget choice.
The VIBRCOR technology stood out to me as the engine of this wedge. A high-grade TPU is inserted into the deep undercut of the cavity to enhance ball speed and feel. You'll notice that the TPU padding eradicates shocks on off-center strikes to ensure a smooth, pleasant feel.
Although this 43-degree pitching wedge was light on spin, I produced high ball flight, which enhanced my shot-stopping power. Therefore, what it lacked in spin, it made up for on landing. The elevated flight is made possible by the 360-degree undercut cavity and a low CG.
Tour Edge fitted the C522 with a wide sole to produce smooth turf interaction. This component is also responsible for lowering CG, which helps you launch the ball into the heavens. Lastly, I found that the advanced toe weighting structure expanded the sweet spot to maintain ball velocity and spin on heel and toe mishits.
Overall, I recommend beginners or players on a strict budget consider the Tour Edge Hot Launch C522. You'll enjoy consistency, improved shot-stopping power, and heaps of forgiveness without breaking the bank.
Lofts: 43°
Pros
Affordable
Forgiving
Smooth turf interaction
High launching
Softy feel on mishits
Cons
The strong loft minimizes spin
Chunky at address
Rating: 4.5
My buddy has played the Callaway Big Bertha irons since 2020 and constantly raves about their forgiveness. He is the first to admit that his golfing ability leaves much to be desired, precisely why he requires leniency from his equipment. I took his clubs for a spin, and I admit he was spot on.
I will touch on the forgiveness in a moment, but first, I will address its appealing Smoke PVD finish. It looks good and offers the added benefit of glare resistance at address.
Furthermore, Callaway equipped these irons with a Suspended Energy Core, which I found escalated my ball into the sky, resulting in a towering flight. MIM'd tungsten is suspended in the clubface by urethane microspheres for greater clubface flex, crisp sound, and a pleasant feel.
I noticed that the 360 Face Cup technology partnered with the Suspended Energy Core to enhance your launch. This technology ensures rapid ball speed across the clubface for consistent results on all shots.
This Callaway pitching wedge is an older model. But, its consistent, forgiving performance still warrants a place among the best in 2023.
Lofts: 43°
Pros
Optimal forgiveness
Muted feel
Towering launch
Glare resistant
Appealing finish
Cons
Expensive for an older model pitching wedge
The stronger loft reduces spin
Rating: 4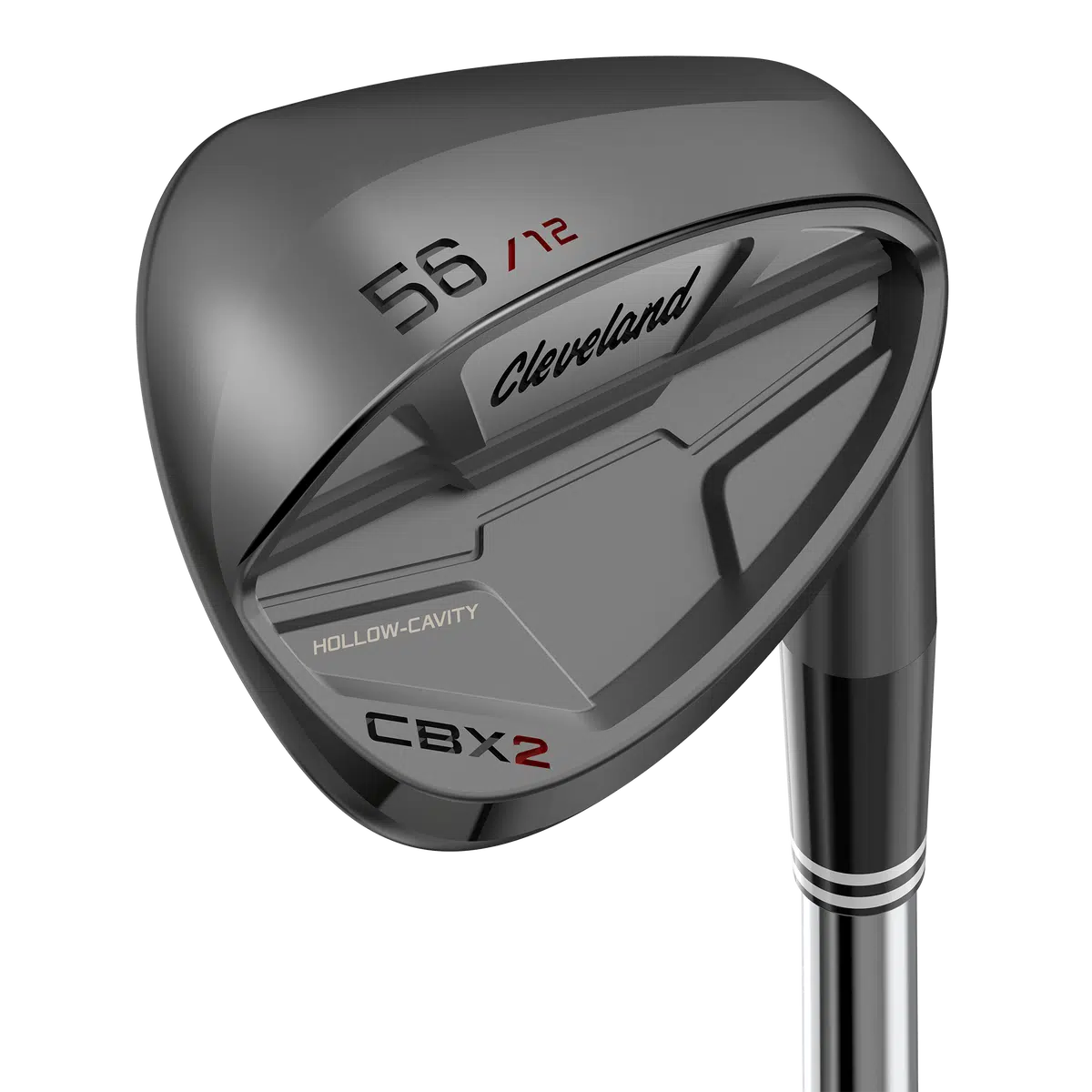 Next, we focus on the best option for high handicappers looking for amplified spin rates, consistent accuracy, and amplified forgiveness. The Cleveland CBX 2 is the good pitching wedge in our test, as it boosted short-game control without eliminating mercy.
The hollow cavity back design contains perimeter weighting to enhance moment of inertia (MOI) and forgiveness. This aids you with keeping your ball on target and delivering accurate shots to get your golf ball closer to the cup.
Enhanced Face Balancing Technologyvoosts MOI by creating toe bias CG to combat misses to the right. I experienced minimal deviation in flight leading to straighter results.
Furthermore, you'll notice that Cleveland added a Gelback pad to drown vibrations and intensify the impact acoustics. The last feature that impressed me is arguably the most important. I am referring to the Fourth Generation Rotex Face Technology, which manufactures the sharpest tour zip grooves.
This aggressive groove construction increases friction between the clubface and golf ball cover, imparting rampant spin onto the dimples. Instead of a high launching shot, you produce lower flight with increased spin, which helps the golf ball stop rapidly upon landing.
Lofts: 46°
Pros
Maximum forgiveness
Enhanced MOI
Prompts straighter shots
Exceptional spin
Soft feel
Cons
Chunky construction
Minimal workability
Rating: 4
5. Ping Glide 4.0 – Best For Mid Handicappers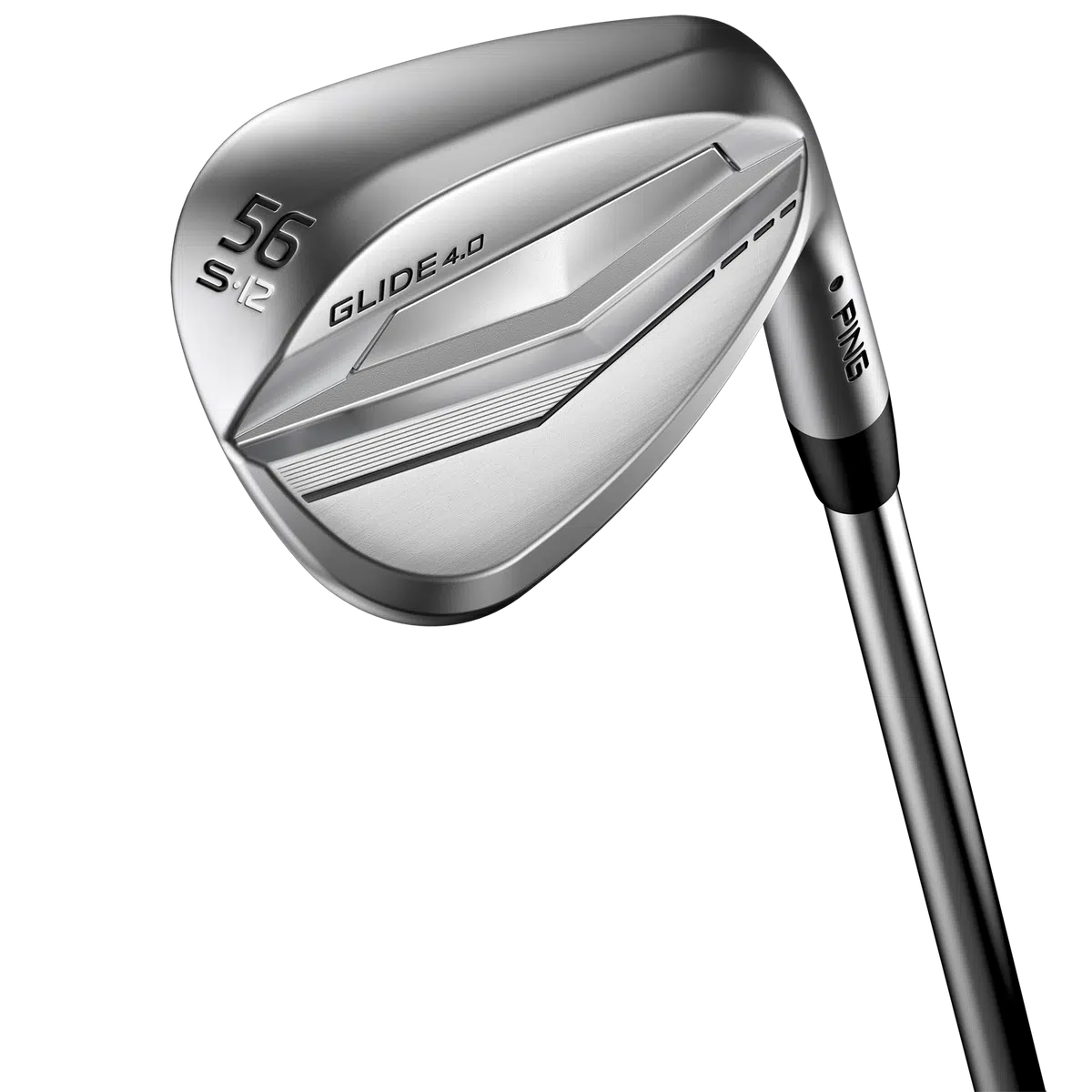 The Ping Glide 4.0 offers a combination of rampant spin, a clean and compact profile, and smooth turf interaction. Plus, it retains forgiveness to ensure consistency, making it an ideal pitching wedge for mid-handicappers
Ping engineers combined 8620 Carbon Steel and an Elastomer CTP Insert for a responsive and soft feel at contact. In addition, I found that this collaboration increased face contact by 36% for escalated spin.
Further adding to its spin qualities are milled grooves and a face blast built to enhance the texture of the strike zone. You'll find that these two components boost friction for rampant spin and a low launch, resulting in superior control.
Lastly, the S-Grind sole delivered amplified bounce and a round leading edge for superior turf interaction. I also noticed this golf pitching wedge offers heel relief for consistent spin and launch on off-center strikes.
Loft: 46°
Pros
Soft and responsive feel
Compact profile
Maximizes friction
Generates a low, controlled launch
Rampant spin
Cons
Expensive
The strongest loft option is 46 degrees, which may be too weak for the average golfer.
Rating: 4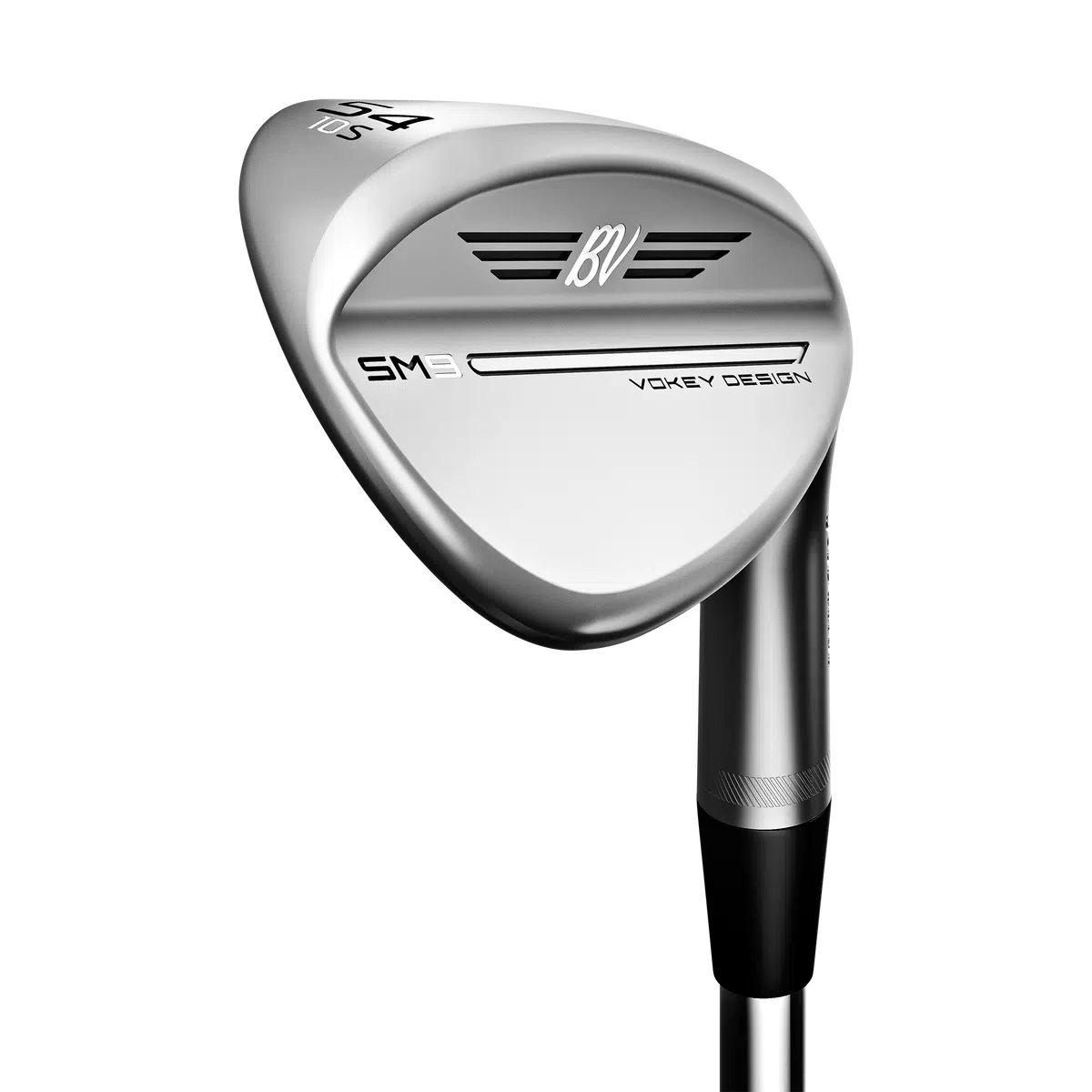 The legendary Bob Vokey continues to spoil us with expert wedge craftsmanship with this golf club pitching wedge. This time, the SM9 Chrome takes center stage as our best wedge for low handicappers. Superior golfers will enjoy exceptional durability, aggressive spin, and controlled ball flight.
I enjoyed the lower ball flight during my test, as it enhanced my control and prevented ballooning shots. This was made possible by the positioning of the forward CG. You'll see that the forward CG position also promotes solid contact for optimal spin and distance on short approach shots.
The next feature that stood out was the Heat Treated Grooves which produced spin that exceeded my expectations. You'll find that it empowers you with shot-stopping power for maximum bite upon landing. In addition, the Heat Treated Grooves bolsters durability to enhance the lifespan of the clubface.
Finally, I delivered satisfactory turf interaction on all swings, thanks to the Full S-grind sole. This construction was fast through the grass and excelled in neutral to firm conditions.
Lofts: 46°
Pros
Controlled ball flight
Encourages solid contact
Robust spin
Durable
Clean turf interaction
Cons
Expensive
Minimal forgiveness
Rating: 4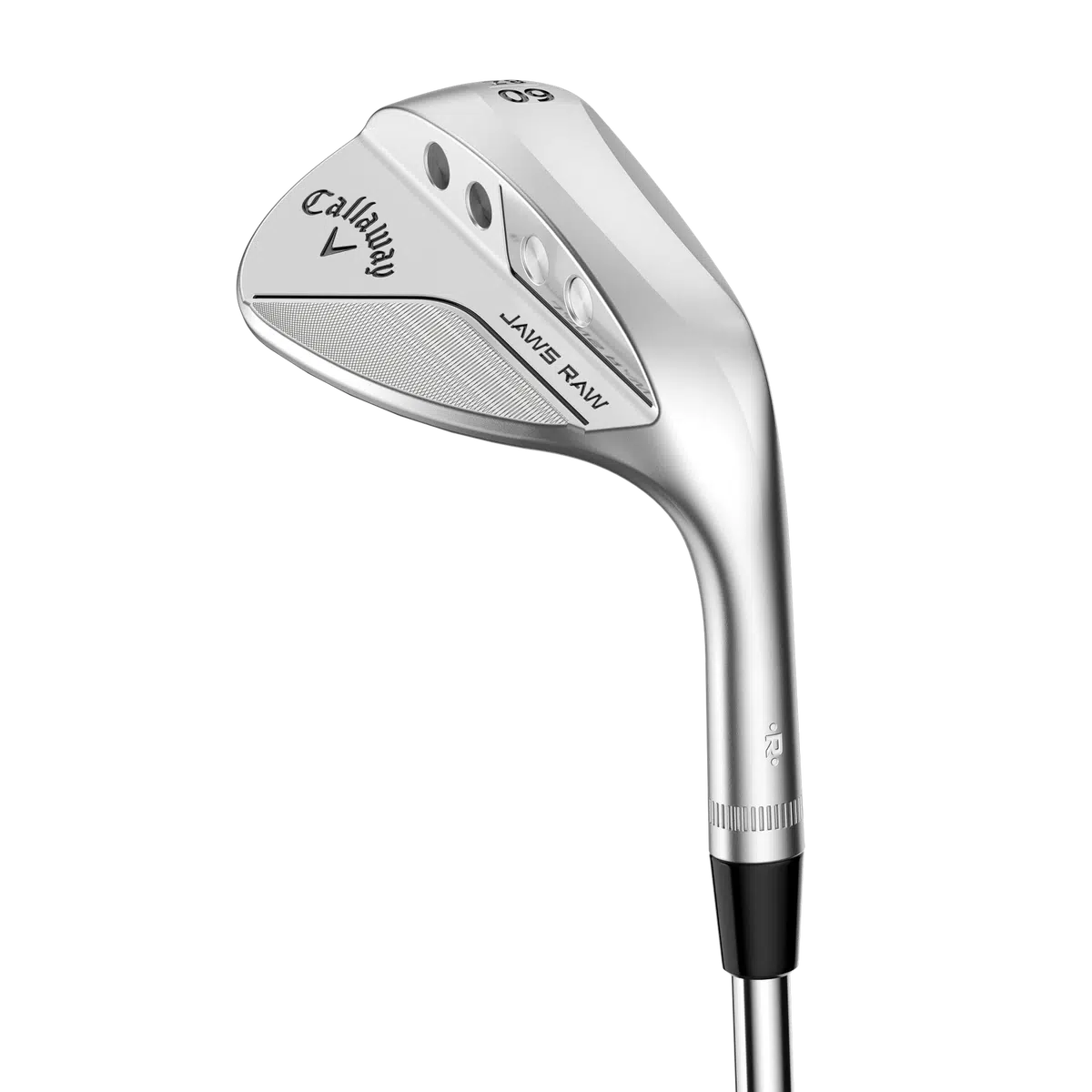 On sunny days, the fire ball's rays can reflect off your clubface and annoy you at address. You find this distracts you from your pre-shot routine and negatively impacts your shot. Fortunately, the Callaway JAWS Raw Chrome delivers excellent glare resistance, elevated spin, and hop and stop capabilities.
The glare resistance is made possible by a Muted Toe Pad on the face. You will find that this minimizes the impact of glare to keep you focused at address.
Besides its glare resistance qualities, the JAWS Raw Chrome contains a new Raw Face which encourages superior contact between the golf ball and the grooves. I noticed the added face contact ramped up friction to impact rapid spin onto the ball.
Adding to its spin performance is the Offset Groove-In-Groove technology that features milled micro grooves set at a 20-degree angle. The structure encourages the optimal level of spin on pitch and full shots. Plus, Razor Sharp Groove increases the serration around the edges, prompting one hop and stop control.
Lofts: 48°
Pros
Ample spin
Maximum friction between the clubface and the ball
Reduced glare
Hop and stop shot control
Delivers optimal spin on pitch and full shots
Cons
Expensive
The 48-degree loft may cause distance gaps in your bag between your 9-iron and pitching wedge.
Rating: 4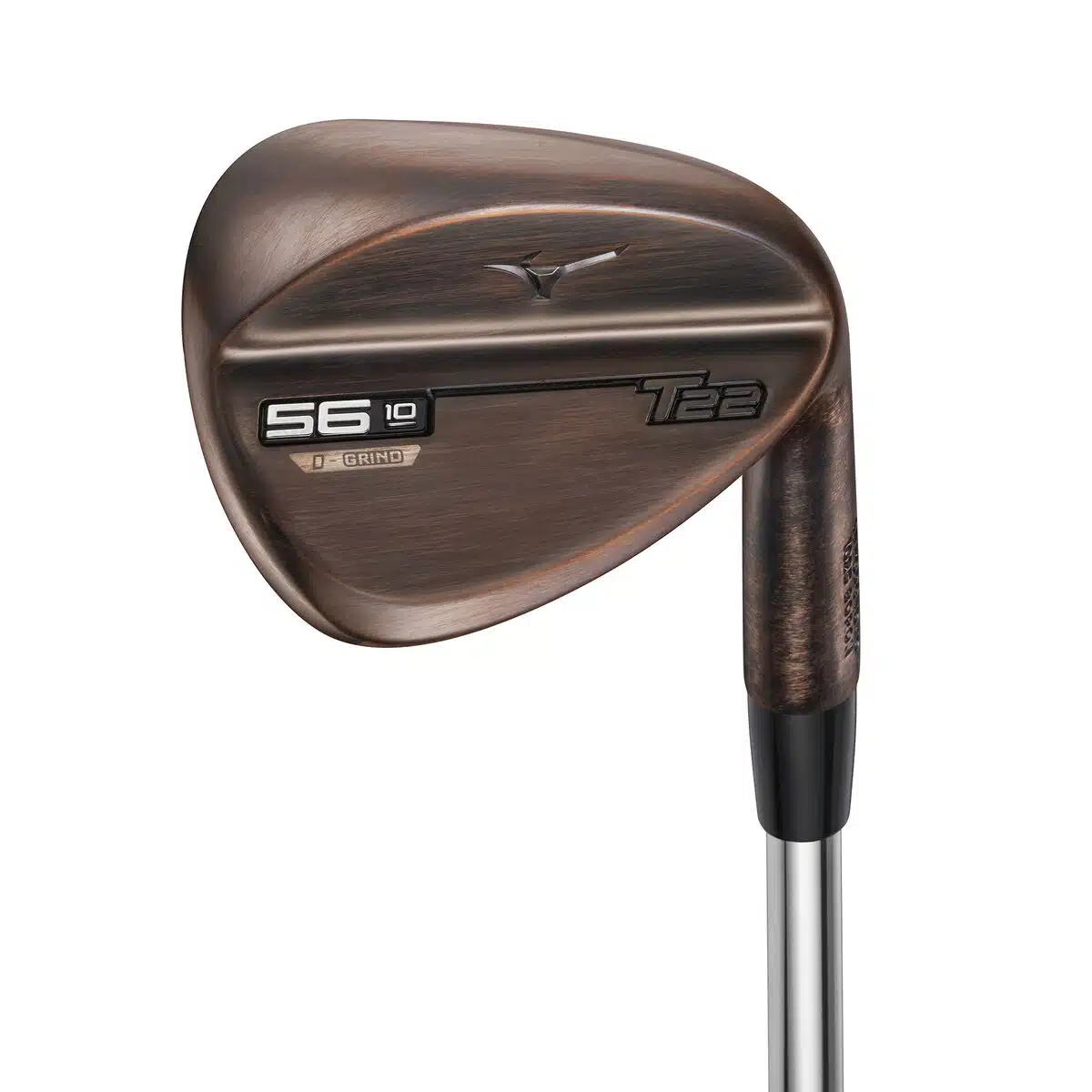 When Mizuno opened their Hiroshima factory in 1968, they set about improving their grain flow forging process to create wedges for added control and a soft feel. The result of over 50 years of dedication to their craft is the T22. On top of its performance, the T22 Copper is the best-looking pitching wedge in 2023.
My first impression is that the T22 Copper is more like a work of art than a standard golf club. The clubhead is a one-piece grain flow forged HD Boron which presents a compact modified tear profile and a soft touch at impact. Plus, the Denim Copper finish provides a vintage look, which stands out from chrome or raw coat.
Mizuno suggested that the Soft Copper Underlay added an extra millisecond of control at impact, which I was skeptical of. However, the microlayer of Copper sitting beneath the nickel chrome seemed to help the ball stay on the face longer at impact for optimal launch and spin.
You'll find that the T22 Copper contains a Spin Weighted Blade design, which ensures consistent revolutions per minute and a penetrating trajectory. These factors delivered ample control to prevent me from skying shots and obliterating distance control.
What excited me most about testing this pitching wedge was the impact of the HydroFlow Micro Grooves on my spin rate. The laser etched the grooves and worked to remove moisture and debris from the clubface. In my experience, this prevented spin drop-off and delivered improved wedge shots.
Finally, thanks to its Quad Cut Milled Grooves, you'll enjoy a long and prosperous relationship with the T22. These are added to bolster durability and enhance the lifespan of the pitching wedge. Ultimately, the Mizuno T22 Copper is an ideal option for mid to low handicappers who desire optimal spin, feel, and deadly good looks.
Lofts: 46°
Pros
Gorgeous looks
Compact teardrop profile
Produces consistent spin
Encourages penetrating trajectory
Prevents spin drop-off due to moisture and debris
Cons
The purpose of the design is to rust over time, which a handful of players may not appreciate.
Reduced forgiveness
Rating: 4
TaylorMade extracted mass from the toe of the pitching wedge and repositioned it in the club's sole for a lower CG. I found it encouraged an exceptionally high apex, prompting optimal shot-stopping power. While this works for the average golfer, it can cause some players to gain excess height and lose distance and control.
You'll see that this golf club contains a Cap Back design, as we explored with the TaylorMade SIM 2 Max. The structure elevates clubface flexibility for consistent ball speed, and a precisely positioned sweet spot increases forgiveness on all strikes.
Furthermore, the engineers stuck with trusted technology by applying their Echo Damping System to drown shocks on heel and toe mishits for a soft, pleasant strike.
Lofts: 43°
Pros
High launching
Forgiving
Eradicates vibrations
Enhanced shot-stopping power
Consistent speed and spin off the clubface
Cons
Expensive
Most of the technology is similar to the SIM 2 and SIM 2 Max.
Rating: 4.5
10. Honma TW-W4 – Best Turf Interaction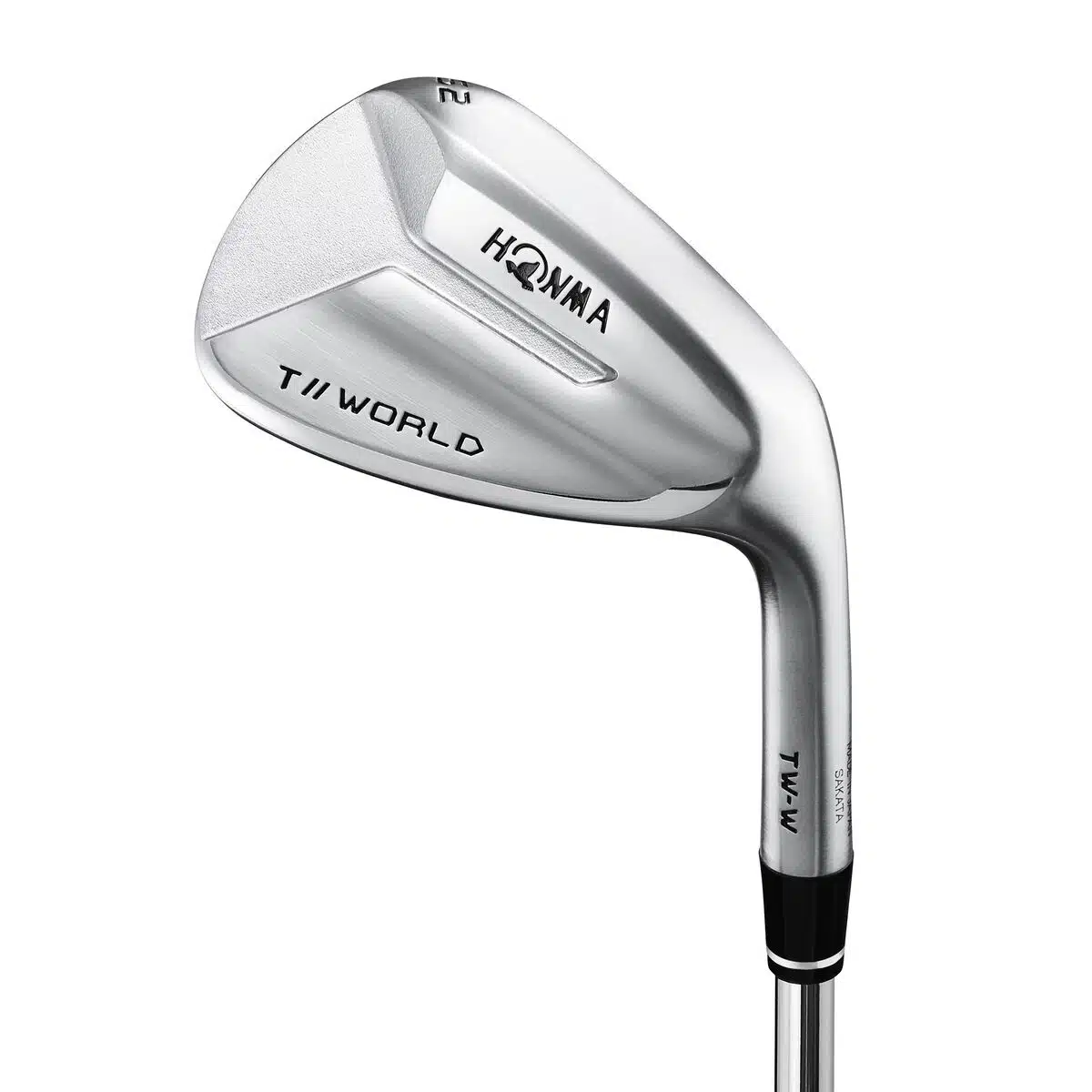 We move on to our second Japanese performer of the review, and this time it is not Mizuno. Instead, I am zoning in on Honma, another brand with over 50 years of experience in the business. Their expert craftsmanship, mid to low CG, and full sole, make the aggressive spinning TW-W4 the best wedge for turf interaction.
Honma equipped the TW-W4 with an I-sole and a thinner upper face for ball speed, contained spin, and clean turf interaction. I found that this combination enabled optimal workability for greater scoring opportunities. In addition, you will find that the I-Sole creates mid to low CG for a controlled launch.
Besides its ability to glide through the turf cleanly, Honma kitted it with a Cross Milled Face. You'll notice that this produces increased spin off the clubface. However, your revolutions are policed by the presence of the I-Sole, for optimal workability and control.
Furthermore, I found that the higher loft was a breeze to launch consistently, but it created distance gaps in my game. I usually play a 39-degree 9-iron and a 43.5-degree wedge enabling me to cover all bases on shots ranging from 110 to 130-yards.
However, if I switched my pitching wedge for the 48-degree, it leaves 9 degrees between clubs and some serious club selection issues.
Lofts: 48°
Pros
Super clean turf interaction
Maximum workability
Controlled trajectory
Soft feel
Polices spin for optimal workability and distance
Cons
The high loft may leave distance gaps between your 9-iron and pitching wedge
Glare was a slight challenge at address
Rating: 4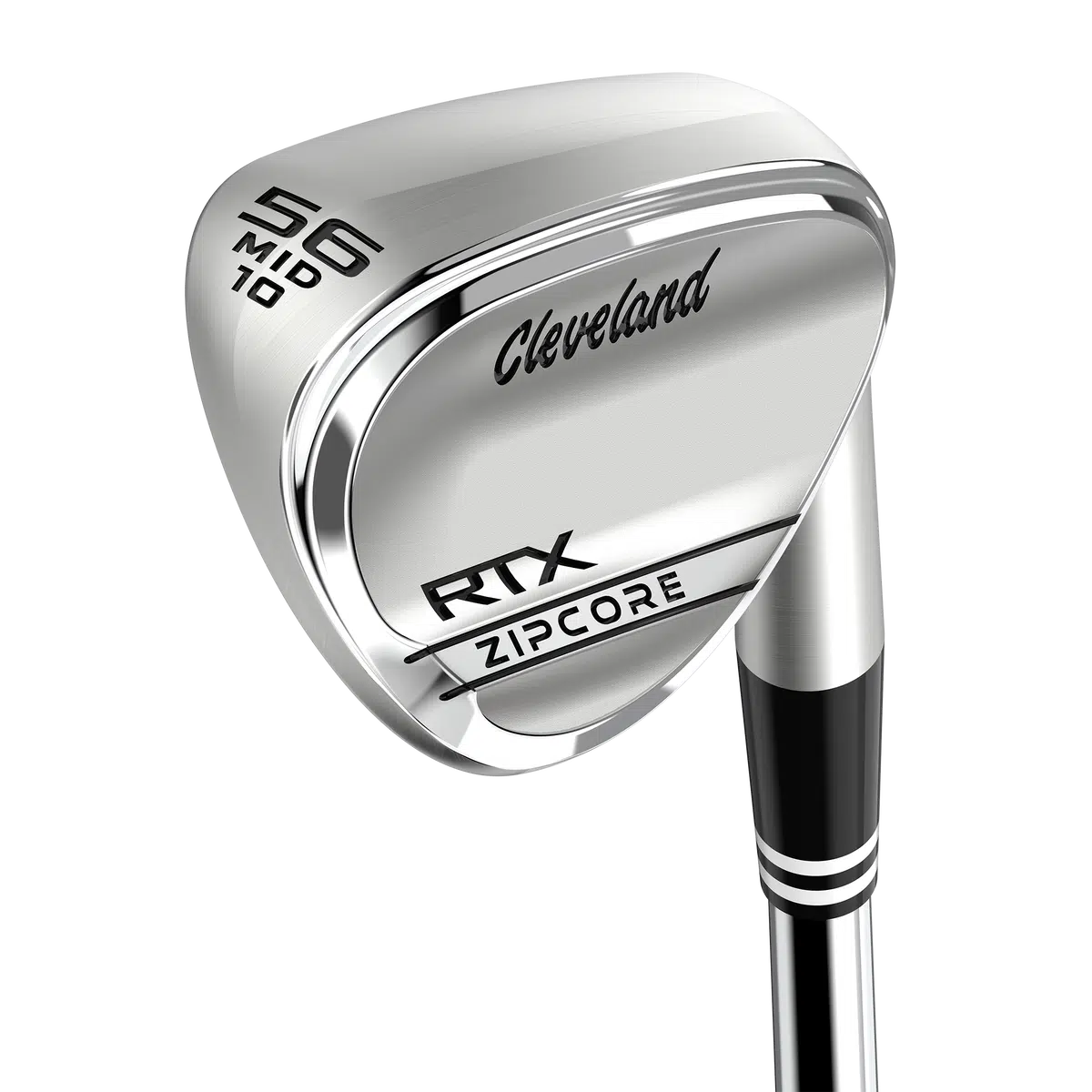 Golf equipment requires a pretty upfront investment, and if you cannot afford to update your golf bag frequently, you need a long-lasting pitching wedge. Enter the Cleveland RTX ZipCore Tour Satin, our most durable pitching wedge in 2023.
Cleveland heat-treated the face to amplify the durability and lifespan of this wedge. I noticed that this enables it to withstand constant impact while generating the required spin and ball speed.
On top of its longevity, the RTX ZipCore contains optimally positioned CG that elevates MOI to improve spin consistency. Therefore, you generate straighter shots and ample spin for greater results.
My favorite component was the Ultizip Grooves, which Cleveland created sharper, deeper, and narrower. You will find that these grooves bite into your golf ball cover at contact to impact ample exceptional spin onto the dimples.
Lastly, The Cleveland RTX ZipCore wedge is fitted with a midsole that works well in various conditions. The clubhead glides through the turf, encouraging a clean strike, in the wet or the dry.
Lofts: 46°
Pros
Durable
Consistent spin for distance and shot stopping power
Versatile sole grind
Increased MOI
Cons
Chunky
Moderately more expensive than other Cleveland wedge options
Rating: 4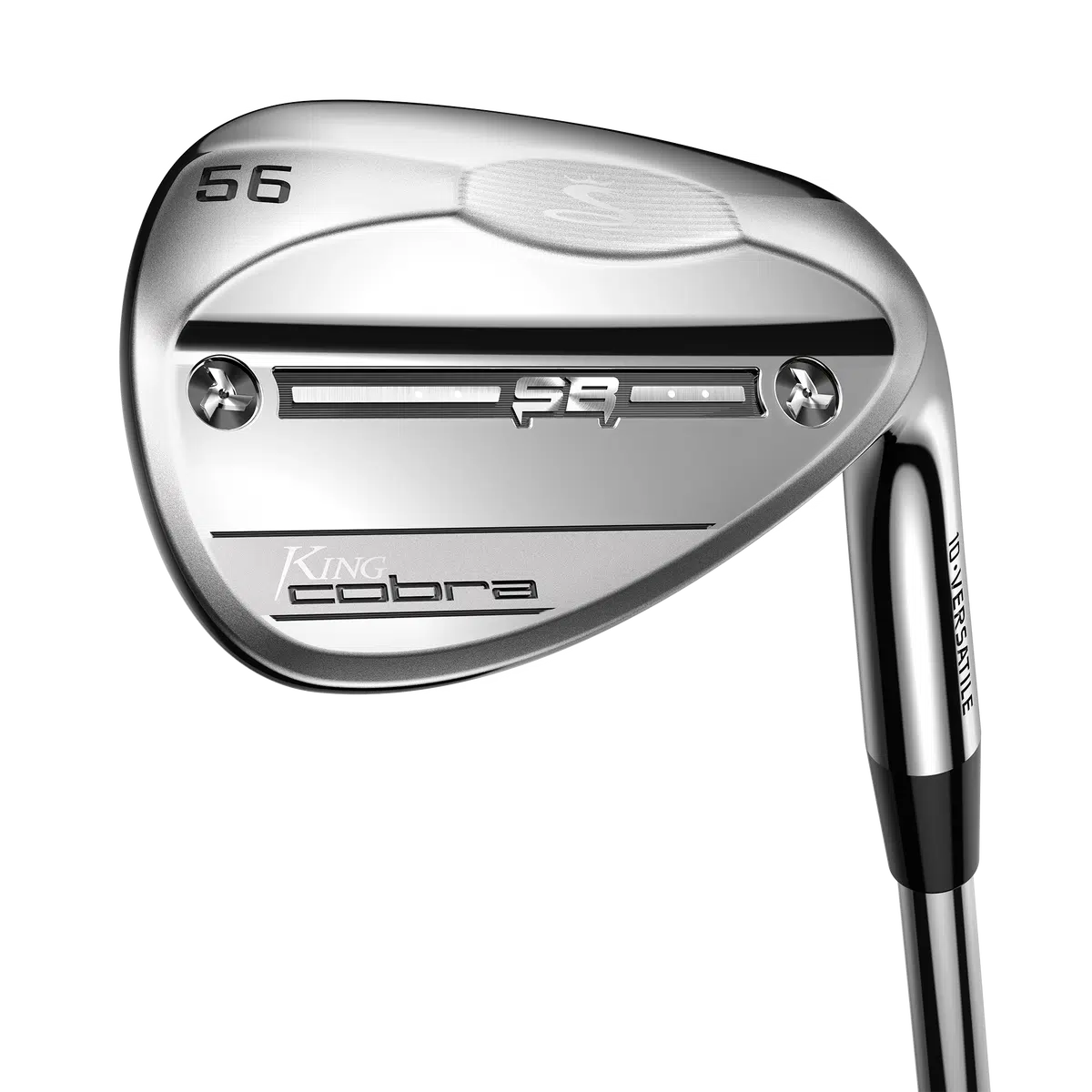 Here we are, the final pitching wedge suggestion for 2023, and we finish with a bang. This category focuses on the highest spinning wedge for golfers seeking maximum bite into the green. That is where the Cobra Snakebite Grooves pitching wedge enters the fray.
Cobra employed their Snakebite Groove Technology to tighten the groves for maximum spin levels. In my experience, they contained the spin to produce a penetrating trajectory for greater control. You will notice that this stops you from ballooning your pitching wedge shots and losing command.
Furthermore, I found that the presence of a versatile sole grind escalated forgiveness and MOI for improved stability at impact. The sole grind creates heel-to-toe trailing edge relief for an expanded sweet spot. Plus, it stabilizes the clubhead at contact to prompt a straighter golf shot.
In addition, you'll see that this pitching wedge contains a Cobra Connect grip equipped with sensors to track your performance on each shot. This is a great way to analyze your pitching wedge shots and make necessary changes based on the findings.
Finally, The King Cobra Snakebite Grooves wedge features a significantly weaker loft, which may create a distance gap between your 9-iron and pitching wedge.
Lofts: 48°
Pros
Exceptional spin
Progressive face grooves prompt a controlled launch
Forgiving
Increased stability at impact
The Cobra Connect grip allows you to track and analyze each pitching wedge shot.
Cons
It can cause an excessive distance gap between your 9-iron and pitching wedge
Chunky profile
Rating: 3.5
FAQ
Which Pitching Wedge Is Best?
The overall best pitching wedge for 2023 is the TaylorMade SIM 2 Max. This is based on its affordable price, consistent launch, shot-stopping power, and forgiveness. It is a golf club pitching wedge that suits the majority of golfers.
What Is The Best Pitching Wedge For Beginners?
The best pitching wedge for beginners is the Cleveland CBX 2 Black Satin golf club. It delivers optimal forgiveness and MOI to produce straighter shots for greater accuracy. In addition, the CBX 2 offer a toe bias CG to fight slice sidespin and encourage direct flight.
Learn more about high handicap golf clubs with our guide on what wedges should a beginner carry.
What Is A Good Distance For A Pitching Wedge?
The 43-degree TaylorMade Stealth is a suitable distance pitching wedge. It produces rapid ball speed for high flight and controlled spin, leading to maximum carry distance and aggressive shot-stopping power.
Which Wedge To Use For Pitching?
I use two wedges for pitch shots, including my pitching and sand wedge. It depends on my lie and the layout in front of me. If I need to clear a hazard, I may use a sand wedge for the added launch off the face. However, if my path is clear to the green, then a low-running pitching wedge does the job.
Should My Pitching Wedge Match My Irons?
It is not compulsory, but I recommend that your pitching wedge forms part of your iron set for greater consistency. Firstly, it reduces the risk of distance gaps in your bag, and secondly, your shaft lengths remain in sequence.
This means a pitching wedge is designed to help you transition into your wedges. Using a different pitching wedge from your iron set can disrupt this structure. Lower handicappers may feel comfortable with this approach. However, I suggest the average golfer eliminates the headache and sticks to a complete iron set that includes a pitching wedge.
What Loft Is A Pitching Wedge?
A pitching wedge stretches anywhere from 43.5-degrees to 48 degrees. You will find that pitching wedges in complete iron sets are often around the 43.5-degree and 44-degree mark to eradicate distance gaps between the 9-iron and the pitching wedge.
However, you do find weaker lofted pitching wedges that are 48 degrees. But, these are venturing into the realm of a gap wedge. I suggested staying away from these wedges if your 9-iron loft is more than 5 degrees stronger.
Conclusion
That brings to a close our review on the best pitching wedges in 2023. As you saw, pitching wedges differ in performance but aim to achieve the same objective. They enable you to get your ball up to the hole on short approach shots and stop it rapidly.
After testing a range of pitching wedges, it was a challenge to whittle it down to our final top 12, but I will take it one step further. Before I end off, let me leave you with my top three picks for 2023.
First, the most forgiving pitching wedge prize goes to the Callaway Big Bertha 2019 edition for its high launch, consistent spin, and maximum forgiveness. Next, the Tour Edge Hot Launch C522 claimed the prize for the best budget option for its forgiveness, turf interaction, and trajectory.
Despite the impressive performance of our finalists, there could only be one winner, and this year the TaylorMade SIM 2 Max took the prize. The affordable, straight-flying, forgiving, and rapid-stopping SIM 2 Max is a force to be reckoned with one year after its release.
Read More: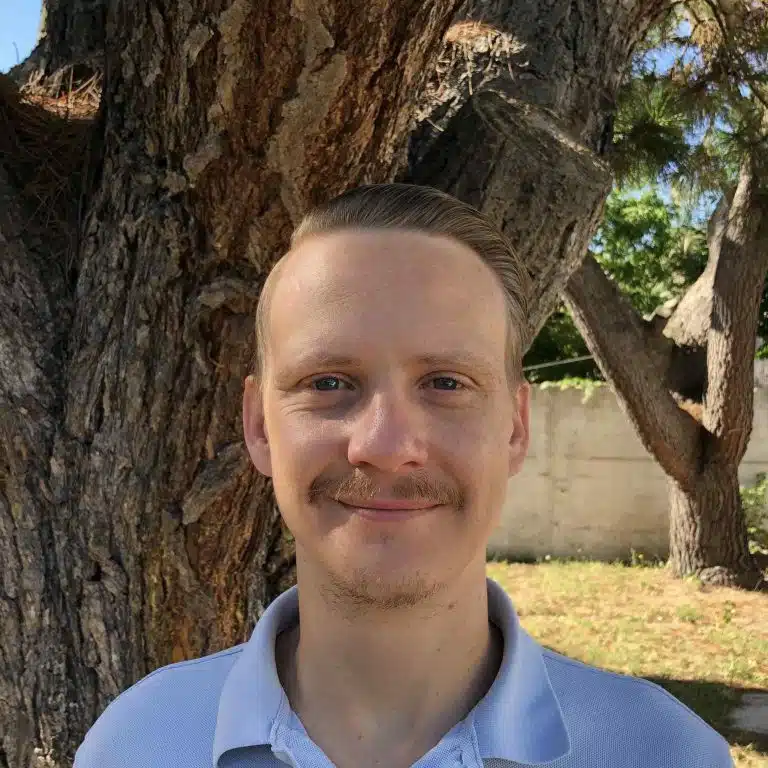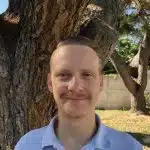 Matt is a seasoned golf equipment writer and sports fanatic. He holds a Postgraduate in Sports Marketing and has played golf for over 28 years.