Keeping up with all the products that Callaway releases is a full-time job in itself. Naturally, there is some redundancy, and we know that the almighty dollar rules everything, but their new driver stands out.
The Callaway Rogue ST Max Driver has forgiveness and distance. But is it right for you?
Well, it combines all the things that Callaway has been doing well in past drivers and piles them all into this driver. It's been a few years since we've seen a club under the Rogue name, but it's back this year in a very impressive manner.
Callaway Rogue ST Max Driver Verdict
If you're looking for a negative Callaway Rogue ST Max driver review, you'll have to keep looking. The Callaway Rogue ST Max is an impressive driver that utilizes all of the cutting-edge technology Callaway has come up with. It provides incredible forgiveness, long distance, and an optimized launch angle to make hitting fairways easier.
Best for Forgiveness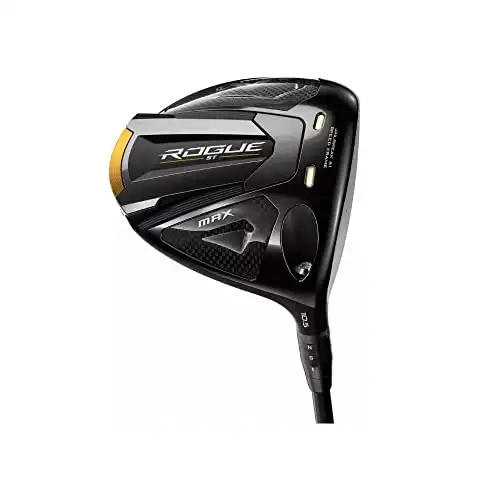 Who Is It Meant For?
Mid-to-high handicappers will benefit most from this driver because of its large sweet spot. Missing a fairway or barely carrying to one makes a hole that much harder. Most of us don't have time to practice and just want to enjoy our time on the golf course. If you want to shape your drives, this isn't the club for you. But for those wanting to make the game a little easier and lose fewer balls, try it out.
Callaway Rogue ST Driver Specs
| | | | | |
| --- | --- | --- | --- | --- |
| Length | Loft | Shaft | Clubhead Material | Grip |
| 45.75" | 9°, 10.5°, or 12° | Mitsubishi Tensei AV Blue or White | Titanium and Carbon Fiber | Golf Pride Tour Velvet |
Callaway Rogue ST Driver Performance Feature Ratings
| | |
| --- | --- |
| Distance | 94 |
| Forgiveness | 98 |
| Spin Rate | 88 |
| Workability | 81 |
| Sound | 72 |
In-Depth Product Review of Callaway Rogue ST Max Driver in 2023
The technology being produced by Callaway is quite astonishing. They continue to find ways to reinvent the driver to benefit a wide range of golfers. There is a noticeable difference between this club and others in the same category.
Increased Forgiveness And Launching Power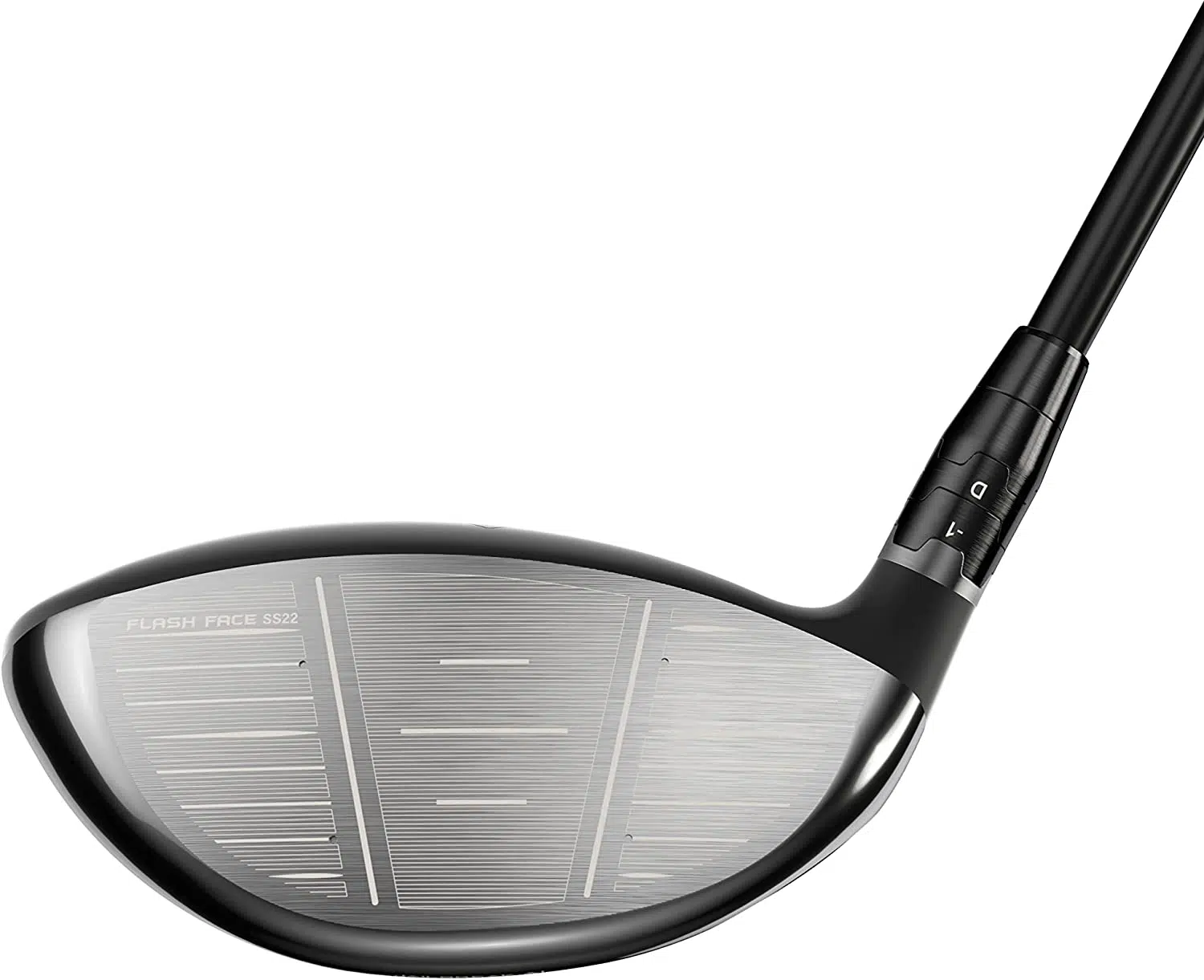 Starting with the elephant in the room, you're probably wondering what the gold bar is that's attached to the back of the club head. It's a 26-gram tungsten speed cartridge used to increase forgiveness across the face and ensure perfect launch angles as much as possible.
It also works to raise the MOI, which is to say, it reduces the clubface from twisting side to side at impact. This helps keep your off-center hits straighter and more reliable.
This huge tungsten bar is made possible because it saves weight elsewhere in the head. By using carbon fiber in the crown and sole, designers could reposition the center of gravity to optimize forgiveness and launch angle.
The Face Is Something Special
The face is not new, but it's successful in previous Callaway models like the Epic Max.
Jailbreak technology works. It's incredible at transferring energy which golf nerds would call increased COR (coefficient of restitution). The less energy lost from clubhead speed to ball, the further your drives will go. These two titanium bars live behind the clubface for support and power.
The clubface itself is designed and made with Callaway's special A.I. technology. Its variable thickness also supports off-center hits as a one-two punch with the tungsten bar.
Adjustability Capabilities
These features are not new either, but they can help much more based on the club's design. The head is available in 9°, 10.5°, and 12° lofts, but with the adjustment feature, you can effectively have all three if you get the 10.5°.
You can also choose your lie angle to help your ball flight stick to one side of the course. Set the head to 'Draw,' and the club head will minimize your slices on bad swings and give you that penetrating power draw on good swings.
Callaway Rogue ST Max vs LS vs ST: How Does It Compare?
The Rogue line of drivers comes in other forms. We've been talking about the Callaway Rogue Max version, which is the most popular for its versatility, but if you want to get more dialed in with your tee shots, then you may prefer one of the other Callaway Rogue drivers.
Rogue ST Max — This will help you eliminate your slice. The tungsten weight in the back is lighter, so they can add more weight to the heel. This slows the heel down through impact, allowing the toe to turn over quicker.
Rogue ST MAX LS — If you don't have a dominant shot, then try the LS. It's weighted differently again to reduce spin, which creates straighter shots overall. While this isn't great for shot shaping, it will help mid-low handicappers launch the ball lower and reduce their missed fairways.
Rogue ST Triple Diamond — Single-digit handicappers will benefit from this ultra-low spin driver. The head is smaller than the other Rogue drivers, providing more control and shot-shaping abilities. This is the head that most touring professionals prefer if they are on team Callaway.
Alternatives
This Cleveland driver is one of those golf clubs that you don't want to like, but once you hit it, you can't deny how GOOD it feels. It has to do with how different the head is shaped.
The high-bore crown increases the flex of the face and gives it great springiness, like a trampoline. It uses cup face technology, which is common—but Cleveland takes it to an extreme here, which is what gives it that amazing feel and a higher ball speed. It's perfect for slow swing speeds to really capitalize on centered hits.
This driver contains many of the same technology as the Rogues but is presented as more flashy. You also get more adjustability options with the sliding weight track.
Use the weight to affect different ball flights to either accommodate your swing, a specific course, or even different weather conditions. You can't make any changes during the round, but if you know you'll be hitting a lot of fades that day, it's a handy feature to have.
The jailbreak technology is the star of the show here as it helps produce powerful strikes. The 'Max' edition seen here is arguably the most forgiving driver ever invented, so if you struggle to hit the sweet spot, it's a non-issue with this driver.
FAQs
Which Rogue ST Driver Is Best?
The best Rogue ST driver is the standard 'Max' version. It offers the most versatility to all mid-high handicap golfers for both distance and forgiveness. The new carbon fiber head, coupled with a large tungsten bar, allows you to increase your swing speed to add distance.
Which Callaway Rogue Driver Is Most Forgiving?
The most forgiving Callaway Rogue driver is the Rogue ST Max. It has a 26-gram tungsten insert that sits at the back of the club head. This enlarges the sweet spot and lowers the center of gravity to add lift to any shot not struck in the middle of the clubface.
What Does ST Mean In Rogue ST?
The 'ST' stands for 'Speed-Tuned.' It refers to all the technological advances coming together to produce an ultra-fast clubhead. This speed is created by a few things, the first of which is the carbon triaxial crown and sole. This saves weight and allows the designers to reposition it elsewhere. Speed also comes from the face, which is designed and built using A.I. technology. It's legally as thin as it can be to produce a hot face that launches the ball off it.
When Did Callaway Rogue ST Come Out?
The Callaway Rogue ST came out in early 2022. These are the latest in innovative technology from one of the leaders in the driver market; Callaway. Anticipation was high for these since the line of Rogue drivers hasn't been around for a few years. This re-launch has exceeded expectations, and this driver is one of the best you can get.
Conclusion
Reviewing golf equipment isn't always fun; there are some terrible clubs out there. But every now and then, we get one that is true to the hype.
The Callaway Rogue ST Max driver is one of them, and it is a pleasure to hit. It makes the game much more enjoyable when you're hitting fairways so if you want to lower your scores and have more fun, take this driver for a test run.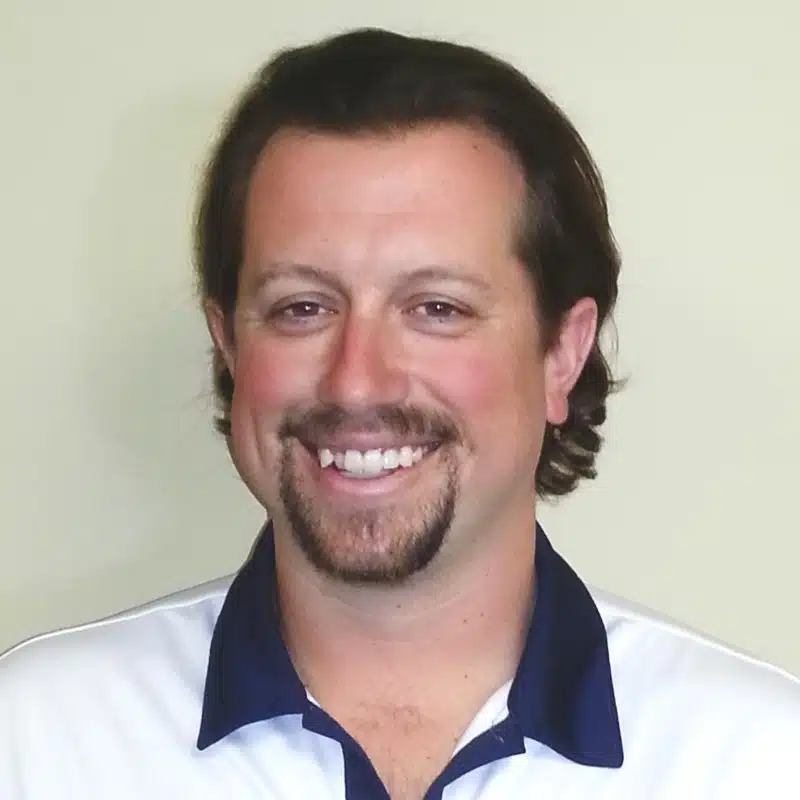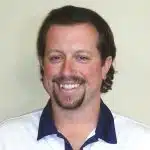 Clint became the Head Teaching Professional at one of Toronto's busiest golf academies and was featured on Canada's National Golf TV program, "Score Golf Canada," twice. He now tests and reviews golf equipment and gets to enjoy the game he loves whenever he wants while helping people lower their scores.