Following Callaway's popular Jailbreak technology, they worked on and improved the current architecture to deliver a new Jailbreak A.I. frame that not only offered vertical stability but horizontal stability too.
The result is increased speed with significantly higher forgiveness. Very alluring!
The Callaway Epic Max LS is the most forgiving driver of the Epic 2021 line. LS, which stands for "low spin," is characterized by a more direct ball flight path and increased distance. This makes it a very desirable driver for a lot of players.
Callaway Epic Max LS Driver Review
Key Info
💰 Price: $$$
📅 Release date: The Callaway Epic Max LS release date was 2021
✔️

Pros

: Great distance, high forgiveness, low spin, great feeling, and sound
❌

Cons

: Expensive and lower spin drivers available
🏌️‍♂️ Verdict: A reliable driver that is satisfying to use and highly functional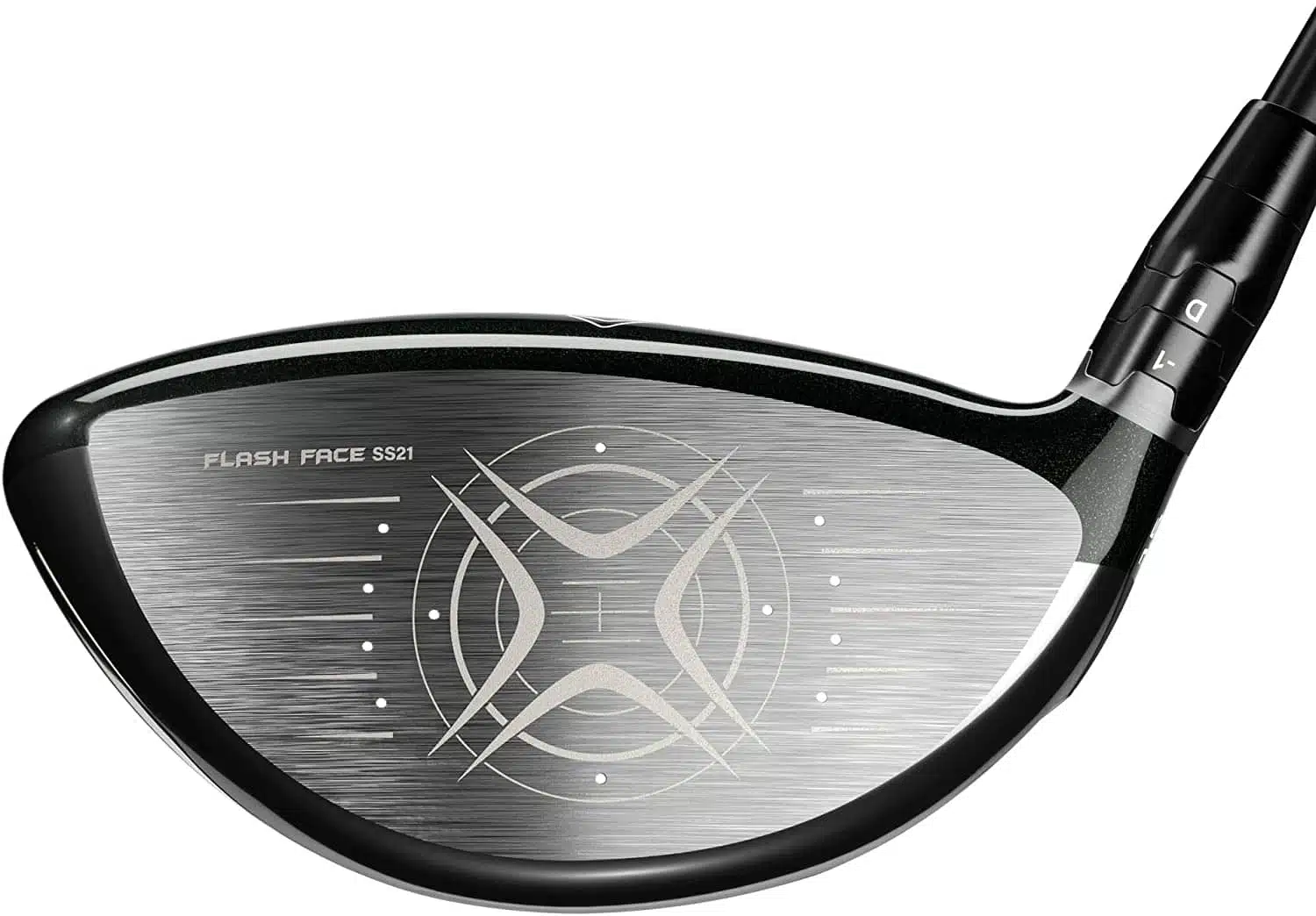 Performance Ratings
| | |
| --- | --- |
| Distance | 97 |
| Forgiveness | 96 |
| Feel | 96 |
| Workability | 95 |
| Aesthetics | 95 |
| Overall rating | 96 |
Specifications
| | |
| --- | --- |
| Length | Standard |
| Loft | 10.5°, 9° |
| Loft settings | -1°/+1°+2° |
| Year | 2021 |
Performance
One of the most vital qualities of the Epic Max LS driver is its ability to improve your driving distance. It represents a significant step up from the previous Sub Zero models, despite these clubs being created with minimal spin in mind.
In fact, the Max LS has the greatest carry distance of the 2021 Epic line. While its spin is not the lowest by today's standards, it is noticeably slower than the Epic Speed and Epic Max. Combine this with a low flight path, and you should see more distance in your swing under most conditions.
One of the reasons this club is so great is because Callaway has managed to achieve great carry distance while preserving high forgiveness. The Epic Max LS has a significantly higher MOI with a respectable head size and a deeper center of gravity than previous MAVRIK models. This mitigates the club's tendency to twist, resulting in increased forgiveness and accuracy.
Appearance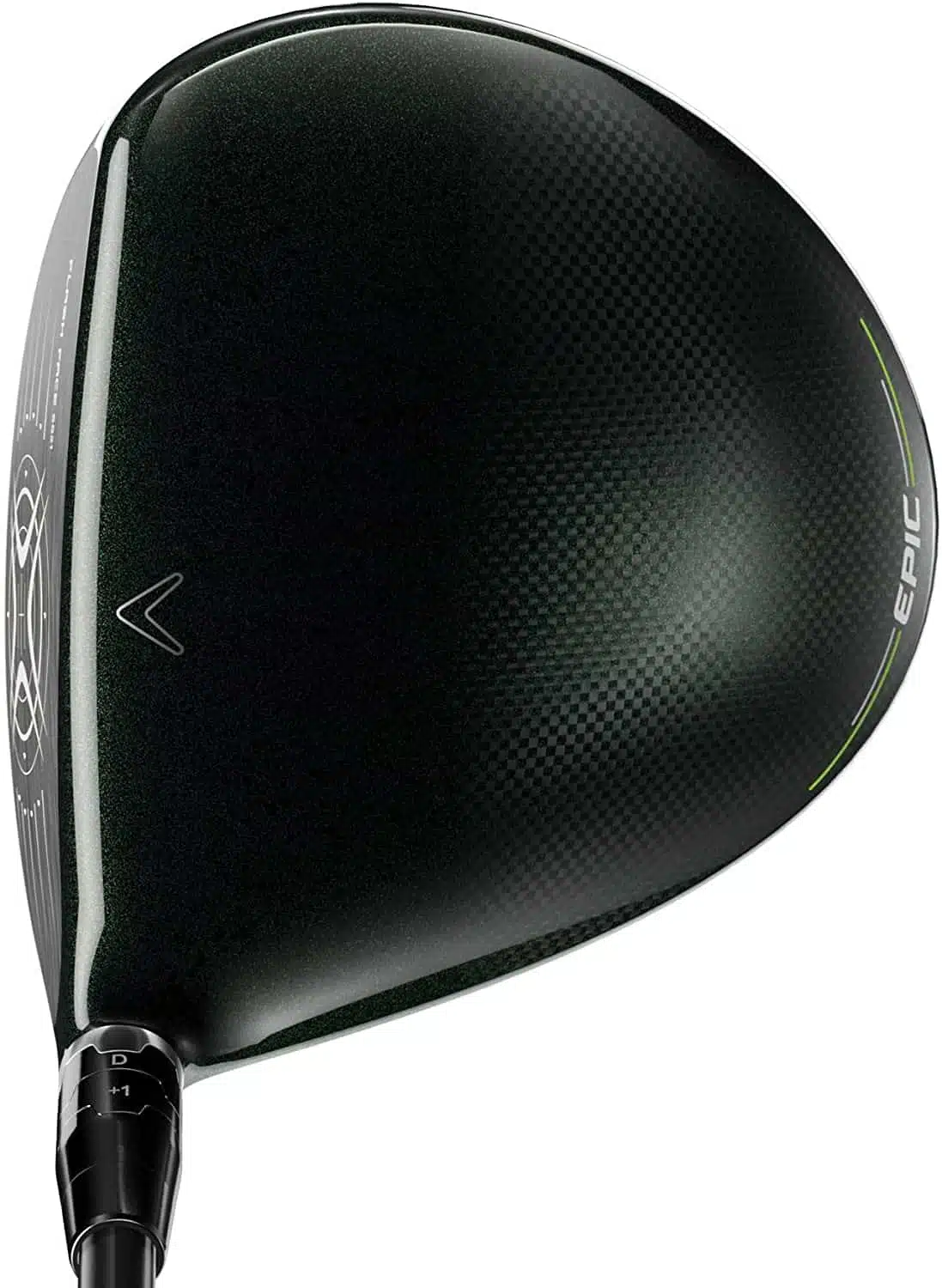 Sporting a large footprint, the Epic Max LS is not the sleekest of drivers. However, it is not overly bulky and is slightly smaller than the Epic Max. Characterized by a black, green, and chrome color scheme, it is very eye-catching and well-balanced.
The bright green is complementary and not in any way overbearing. It really adds character to the club. We also really like the Triaxial carbon crown. It gives the crown a contemporary look and is far more alluring than what would have been just solid black.
Sound and Feeling
Clean strokes with the Epic Max LS produce a satisfying cracking sound — you don't get a pronounced metallic "ting" due to the Triaxial carbon crown.
Also, due to the high level of forgiveness, most strikes feel powerful and clean. However, if you make significant mistakes, you'll get the textbook resonating feedback indicating your poor form. Even with sound technique, there is sufficient feedback to determine where on the face you made contact with the ball, helping you to make adjustments.
What Type of Player Plays the Callaway Epic Max LS?
The Epic Max LS is best suited for mid to low-handicap players. More specifically, those who require high speed, low ball flight, and high forgiveness.
If you prefer a slightly higher launch with only marginally less forgiveness, perhaps consider the Epic Speed instead.
How Popular Is the Callaway Epic Max LS?
Callaway Epic Max LS driver reviews have proven very positive online. The club is rated 4.6/5 on Amazon and 4.5/5 on GlobalGolf.
Final Thoughts
That summarizes our Epic Max LS review. While the Callaway Epic Max LS may be pricey, we feel it is worth every penny.
The new Jailbreak A.I. frame and Triaxial carbon crown significantly improve forgiveness on previous models while increasing ball coverage — traits that are hard to improve simultaneously.
While we certainly feel it is most suited to mid to low handicap players, higher handicap players may also want to try it. Its properties make it easy to use, and its large sweet spot can help make up the difference for lesser skilled players.
Alternatives to the Callaway Epic Max LS
Epic Max
Pros
Maximum forgiveness
Multiple loft options
Great distance
Very stylish
Cons
Not as direct — won't suit low handicappers
As the most forgiving driver in the Epic series, the Epic Max is the best in the line for lesser-skilled players. It has a high launch with an additional 12° launch option on the Epic Max LS, making it a good choice for players that struggle to get adequate height on the ball.
It also produces a little more spin compared to the Epic Max LS, but other than that, it's very similar as it uses the same revolutionary tech.
Cobra Radspeed
Pros
Forgiving
Adjustable weighting
Stylish
Milled face
Cons
Not suitable for high handicappers
Priced a little cheaper than the Epic Max LS, the Cobra Radspeed provides similar returns in terms of speed and low ball flight path. However, while it is fairly forgiving, it cannot compare with the Epic Max LS.
While both drivers are best suited for low to mid-handicap players, less skilled players may also thrive with the Epic Max LS. But the same cannot be said for the Cobra Radspeed.
To learn more about this club, check out our dedicated review.
Callaway Epic MAX LS FAQs
What's the Difference Between the Callaway Epic Max and Max LS?
The Callaway Epic Max is more forgiving than the Max LS. It also produces a higher ball launch and creates more spin.
Is the Callaway Epic Max LS Forgiving?
The Epic Max LS is a very forgiving driver. Its Jailbreak A.I. frame and large sweet spot minimize vertical and horizontal twisting to deliver a solid strike across much of the club's face.
What Does the LS Stand For With a Callaway Epic Max Driver?
The LS stands for "low spin." The Epic Max LS driver produces less spin than the other drivers in the Epic range.
How Much Does the Epic Max LS Weigh?
The Callaway Epic Max LS has a D3-D4 swing weight rating. It is also 13 grams lighter compared with titanium drivers due to the Triaxial carbon cover.
How Do I Adjust My Callaway Epic Max LS?
Adjusting the Callaway Epic Max LS is a relatively straightforward process. The driver features an OptiFit hosel containing two cogs. One for loft and one for lie.
Unscrew the hosel using a torque wrench and remove the club head from the shaft
Rotate the cog from -1 to +2 to obtain your desired loft
Rotate the other cog to either N (neutral) or D (draw) for your desired lie
Replace the club head onto the shaft and re-tighten to the hosel