This guide focuses on the best left-handed putters. We regularly evaluate clubs here at Golfspan and wanted to dedicate some special attention to all the other lefties out there. As we evaluated left-handed putters this year, we considered blade, mallet, budget, alignment aids, and overall precision. We also considered availability. 
When we've covered left-handed putters in the past, many of our top-rated clubs sold out quickly. So check out the options below. In our ongoing effort to provide the best reviews for players of all skill levels, we'll show you the full evaluations, where to find them, and what makes them worth the upgrade.
Featured: Best Left-Handed Putters
Before we evaluate each club, let's break down the top-ranking clubs. These are the best putters for left-handed players.
Why You Should Trust Us
Our team spends thousands of hours trying out and researching golf equipment to help you take your game to the next level. Here's our product review process. More importantly, we spend a lot of time on the course. Note that we're able to bring these reviews to you through the small affilaites commissions we earn if you buy through some of the links in our articles.
Best Overall Left-Handed Putter: TaylorMade Spider GT
The best left-handed putter currently available is the TaylorMade Spider GT Putter. It earns top marks overall because of its precision, weight distribution, availability, and current sale price. Note that other putters in the Spider line also earned our recommendation. Note that these are mallet putters. If you're browsing for the best blade putter for left-handed golfers, read on.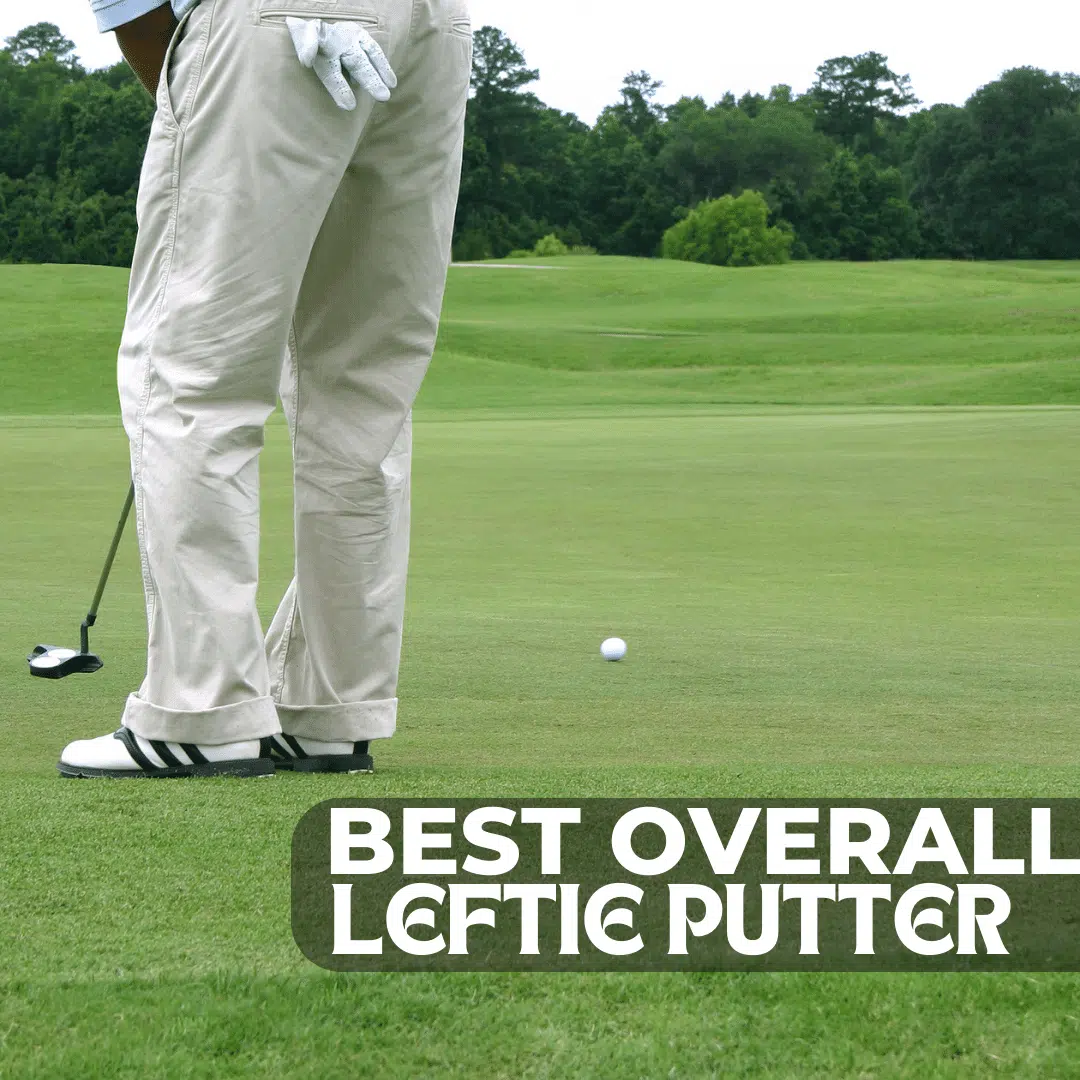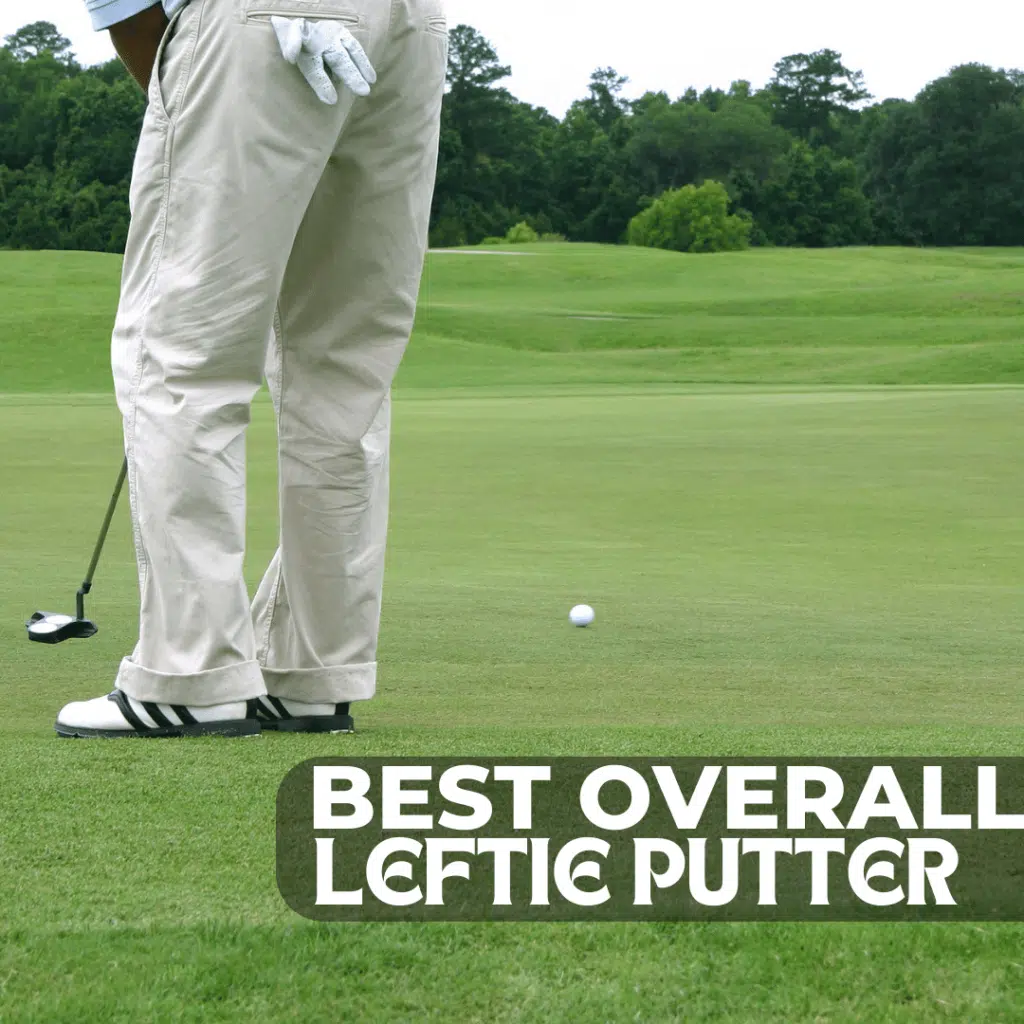 Now, let's talk specs. Here's what you'll want to know about the Spider GT putter before you add it to your bag.
Specifications
Loft: 3 degrees

Lie: 70 degrees

Length: 34″

Hosel: Short Slant
Toe Hang: 21 degrees
Pros
Best overall value for the price
TaylorMade brand
Noted for distance control
Weighted for forgiveness and roll
Cons
Rating: 9.8
As we evaluated the best left-handed putter overall, we needed to consider both performance and price. We considered every major brand (and even some of the off-brands). Our decision ended with this TaylorMade putter because of its forgiving design. When we tried this, it performed reliably on the green. The left-handed putter sunk 10-12 foot putts on multiple green surfaces. We also liked the 21-degree toe hang.
The fact that we found it on sale also contributed to our evaluation. We recommend TaylorMade's Spider GT putter as the best overall option for left-handed golfers. Remember, it's up to you to learn to putt. Your practice time will improve your aim and accuracy more than any putter.
That said, a trusted left-handed club with workmanship from a trusted brand like TaylorMade makes this year's choice obvious. We love the Spider GT among the entire series of TaylorMade putters. Use it to help you visualize the path of your ball on the green, and trust the wing design to minimize the effect of an off-center hit. That's what this club is made for. It's also one of the reasons we chose the Spider GT as the best left-handed putter on the market.
Best Left-Handed Blade Putter: Odyssey White Hot OG
We've consistently been impressed by the Odyssey brand, which is owned by Callaway. That's why it's no surprise to see the White Hot OG Double Wide Putter earn a top spot on our list. It's the best left-handed putter in the blade style, and it's also available for under $200. For even better pricing, look for it on Callaway Preowned. It usually takes 3-4 weeks to get it directly from Callaway, but this double-bend face-balanced putter is worth it.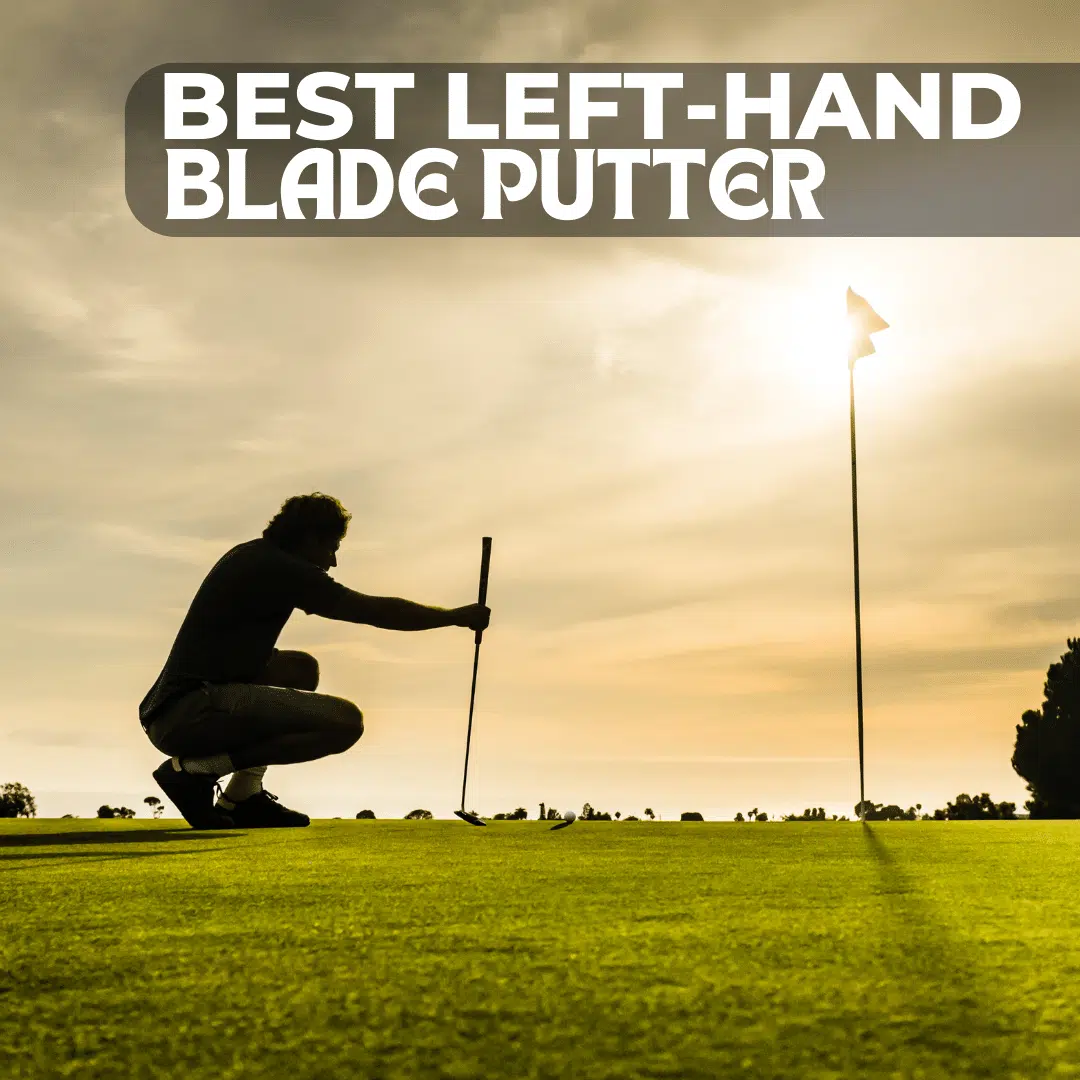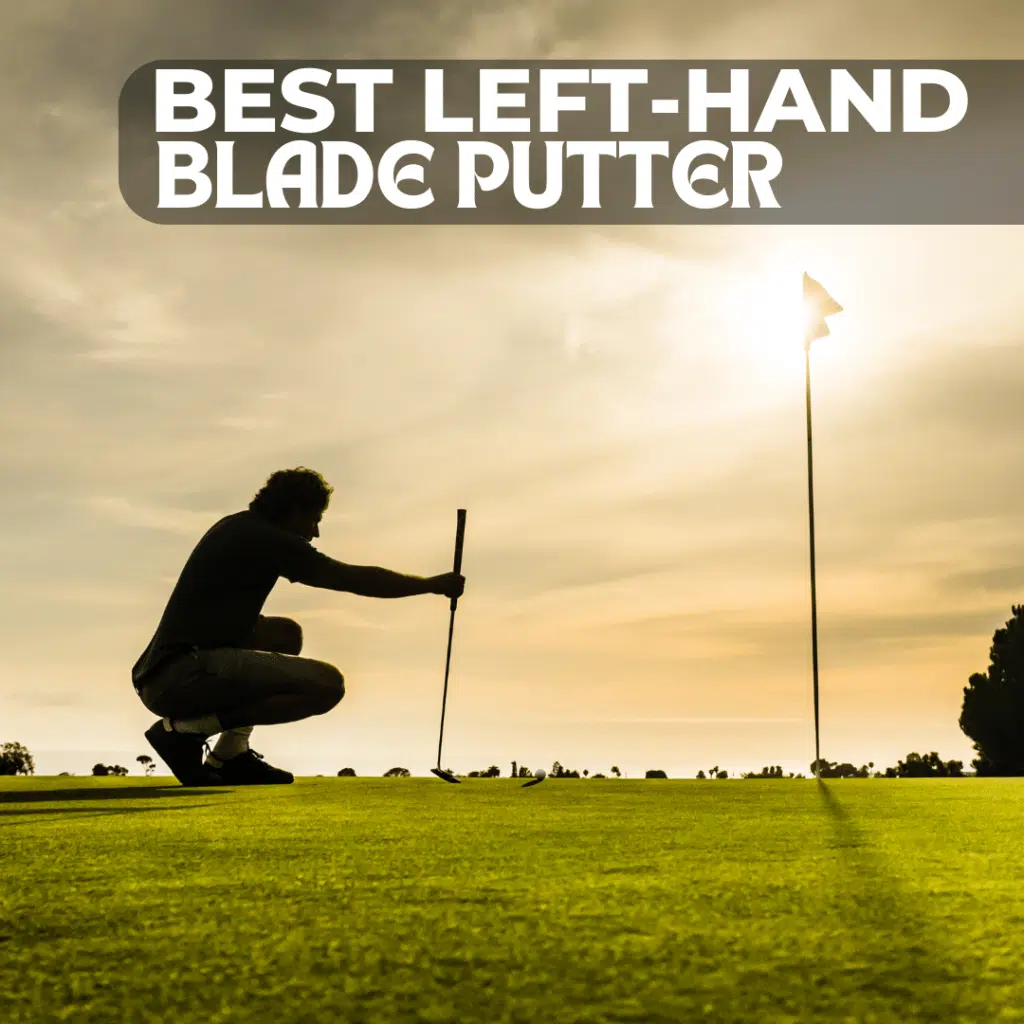 Want to know the details about this Odyssey White Hot left-handed putter? I've got the specifications, pros, cons, and evaluation below.
Specifications
Loft: 3 degrees

Lie: 70 degrees

Length: 33-35″

Material: Stainless steel
Toe Hang: 0 degrees
Head weight: 350G
Pros
Trusted Odyssey brand
Classic two-part urethane insert
Used by pro Tour players
Widely available
Cons
Not always available preowned
Rating: 9.7
Kicking things off, we have the ever-popular Odyssey White Hot OG putter. For the face, we decided to go for the Double Wide style, making this one of the thickest blade putters on this list.
It features the renowned White Hot Insert, which has proven very popular with tour players due to its superior performance, sound, and feel. Even if you sizeably miss the center of the putter, you won't get punished too much as the face resists rotation. 
Golfers have two options for the shafts: the silver stepped steel shaft or the red Stroke Lab shaft we often see on the tours. The steel shaft has 10 grams of adjustable weight, whereas the Stroke Lab shaft has 15 grams, and both are fitted with a comfortable midsize pistol grip. 
The putter also features a beautiful silver PVD finish with fine milling on select areas, so you've got the performance box ticked with the Odyssey White Hot OG putter and the appearance to match. In our opinion, it's the best left-handed putter in the blade category right now. 
The TaylorMade Warranty
Another reason we chose this club is the extensive TaylorMade warranty. Unlike most 12-month warranty options, TaylorMade gives the original customer a full two years free from defects (so long as they got the club from an authorized seller and have their receipt).
Best Alignment Aid: PGX 0211 Bayonet Left-Handed Putter
The PXG 0211 Bayonet is a traditional blade putter, one of five in its series. While fairly expensive, this putter's cost has been somewhat minimized by its build process. Rather than being fully milled, the Bayonet is first cast in 303 stainless steel, with the milling coming afterward.
Specifications
Loft: 3 degrees

Lie: 70 degrees

Length: 34"

Offset:  Full shaft

Head weight: 350 g

Material: Stainless steel
Pros
Runaway Reticle alignment aid

Optimized face pattern

Includes magnetic headcover 
Cons
Alignment aid is over the top for precise hitters
Rating: 9.3
The pyramid face pattern, which is present on the Bayonet and the PXG's Battle Ready series, results from player feedback and rigorous hands-on testing. The depth and distribution of the grooves help control the direction of the ball and the feel of the swing.
Where other putters feature a simple alignment aid, PXG has developed a much more active weight alignment feature known as the Runaway Reticle. While it still uses a standard one-line reticle at the front, the rest of the crown features an all-new visual cue. 
This cue appears much like a runway in an arrow shape, directing your eyes to the center. There is no doubt in my mind this is one of the best alignment aids around today. What's more, the flared guidance lines create a cavity in the center—thereby enabling mass redistribution to the perimeter to raise MOI.
Best Budget Putter for Lefties: Wilson Harmonized M1 Putter
If you're looking to save money but don't want to sacrifice performance, the Wilson Harmonized M1 putter may be the way to go. Coming in at less than a quarter of the price of some of the higher-tier options, it's one you really shouldn't overlook on the golf course.
Specifications
Loft: 1 degree

Length: 35" 

Material: Steel
Pros
Very Cheap

Vertical seam grip

Face insert
Cons
Doesn't have the quality feel of more expensive models
Rating: 9.1
The Wilson Harmonized M1 putter sports a square heel and toe, and the head has a micro-injected face insert to improve your feeling on contact. This helps to produce an excellent satisfying sound when your strike the ball. It's a great addition to a budget golfer's bag.
The shaft is made from steel and features a vertical seam grip on the rear for comfort and feeling. As it stands, the Harmonized M1 putter is only available in 35" lengths.
The way we see it, this putter won't be winning any awards for performance, but its price tag is simply too good to ignore. If you're more of a recreational player rather than a serious golfer, this may well be the best left-handed putter you can get. Remember, the less you spend on your clubs the more you can spend on extra golf balls.
It's also designed to improve your aiming line without having to break the bank for a high-quality putter. Even a $50 club provides exceptional visualization when you get the feel of it.
Need a hand as you're just getting started? We also covered the

best putter for beginners

.
Best Left-Handed Mallet Putter: Cobra Golf Agera 3d Printed Putter
The Cobra Golf Agera 3D Printed Putter earned our high marks for left-handed golfers.
Specifications
Loft: 4 degrees

Lie: 70 degrees

Length: 34" 

Material: Stainless steel

Flex: Uniflex

Head weight: 284 g
Pros
Adjustable weighting system

Aluminum SIK face insert with variable lofts

Sensor in the grip for tracking
Cons
Rating: 9.6
For us, the best left-handed mallet putter of 2023 is the Cobra Golf Agera. It sports a futuristic appearance and is made from a series of 3D-printed materials, including the nylon lattice shape. The club's crown is forged from aluminum, and the four corners of the head feature points for tungsten weighting to help raise the MOI to increase stability. In total, you have 30 g of tungsten to work with. 
The putter also features a SIK aluminum face. What's unique about this insert is the Descending Loft Technology. It incorporates descending lofts of 4 to 1 degree depending on where you contact the ball. This helps ensure you get a straight accurate putt.
Another neat feature is the Lamkin Smart Grip which features a sensor in the handle. You can sync this sensor with your phone using the Arcos caddie app to track your stroke. Improving your putting game has never been so easy with what amounts to 3-dimensional visualization.
Of course, we rated the Spider GT higher than this. Its extended mallet design, top-tier brand, and unbeatable warranty earned it the top marks.
Honorable Mention: TaylorMade Spider EX Putter
The TaylorMade Spider EX Putter Single Blend also deserves a mention among left-handed mallet putters. We loved the Spider GT (it earned the best overall recommendation), and the EX isn't much different. It's also a popular choice for left-handed golfers. Here's what you need to know.
Specifications
Loft: 3 degrees

Lie: 70 degrees

Length: 33"-35" 

Material: Steel

Flex: Stiff

Head weight: 352 g
Pros
Pick between two colors

Very stable

Includes headcover
Cons
White is very bright in sunny weather
Rating: 9.3
If the Cobra Golf Agera is too expensive for you, then the TaylorMade Spider EX putter is a good choice. Made with a steel shaft, it has a softer section where you grip the fluted shaft making it feel incredibly stable and comfortable to hold.
One of the standout points of this putter is the updated insert. Featuring Pure Roll 2, the insert is made from a blend of TPU urethane and silver aluminum, giving the putter remarkable topspin levels. What's more, you get the consistency you can depend on thanks to the high MOI and deep CG. The Spider EX is carefully constructed from a mix of lightweight aluminum, heavy steel on the side, and heavy tungsten on the back. In other words, it's as stable as can be!
In terms of appearance, the TaylorMade Spider EX is pretty impressive. It has an aerodynamic head shape, and the alignment aid looks very clean. TaylorMade opted for three central dots accompanied by two long lines on either side.
The high contrast between the white and black elements also gives it a punchy appearance which we like. That said, the white is a little blinding when the sun is glaring overhead, so if this puts you off, you are better off purchasing the navy/white colorway.    
Honorable Mention: Odyssey DFX Seven Putter
We first evaluated the Odyssey DFX putter a few years back, and it still earns a recommendation for left-hand putters this year. We're also making the recommendation to find this one at PGA TOUR Superstore. Not only do they offer superior customer service, they're also the only place we found that has this popular left-handed putter in stock.
Specifications
Loft: 3 degrees

Lie: 70 degrees

Length: 33"-35" 

Material: Steel

Flex: Uniflex

Head weight: 345 g
Pros
DFX insert, which is 20% softer than White Hot insert

Good value for money

Two grips to choose from

Includes headcover
Cons
0 degrees of toe overhang only suits select players

Hard to find
Rating: 8.9
Our final mallet putter is the left-handed Odyssey DFX Seven putter from Callaway. Besides the alignment aids and insert outline, the putter has an all-black color scheme, giving it a rather smart look. It also means the putter has no glare issues as the TaylorMade Spider EX putter does.
What stands out about this model is the DFX face insert which boasts a 20% softer feel than the incredibly popular White Hot insert. As such, this putter has excellent sound and feeling and is ideal for players who prefer a soft feel. 
The head shape has 0 degrees of toe overhang, so this is undoubtedly a putter for players with a straight stroke rather than an arcing one. 
As a final point, the Odyssey DFX Seven putter comes complete with a black and red DFX grip. You can choose from either a standard pistol grip or an oversized grip.
Best Left-Handed Putters Buying Guide
Most clubs are made for right-handers, so it can be tough to know what to look for in a left-handed putter. But we are out there and have even won a lot of tournaments. So you're not alone and can use these features below to find the right putter for you. 
Which is better: Blade vs Mallet?
There are two main types of left-hand putters that you'll have to choose from, and that's blades and mallets. 
Blades are the classic style of golf putters for the left hand that will suit traditional players. They have a thinner clubface and give you more feedback when you strike the ball. The caveat is that they need to be more forgiving and require a better technique. They are also better suited to players with an arced putting stroke due to their toe-weighting.
Mallet putters are much thicker than blades, and they come in all sorts of weird shapes and designs. What is most advertising about this type is how forgiving they are. This makes them a good choice for lower to mid-skilled players. Mallet putters also tend to have better alignment tools, which suit developing players. 
How to evaluate "feeling" in a left-hand putter
A lot goes into the feel of a putter, such as the shaft and shape of the club head, but the face is easy to identify when it comes to feeling. 
Putters have various face options and inserts, so look for the kind that sounds the most appealing to you. Deep grooves on the face usually indicate a softer feel, whereas shallower grooves or no grooves indicate a hard feel.
What kind of alignment aids actually make a difference?
Alignment aids help you strike the ball centrally, so getting a putter with a quality aid is a big deal if you struggle to hit the ball precisely. Some aids are minimal, whereas others are very large and take up much of the crown. As you improve your short game, you'll find less need for alignment aids. So just get closer to the pin next time!
How much do you need to spend on a left-handed putter?
You'd be surprised at how good some cheap lefty putters are — they may tempt you well. Before buying, it's important to set a budget and know your skill level before buying. While great for a newer player, a well-made, cheap putter is not a good choice for an advanced golfer.  Of course, if you're looking for a truer roll, you may want to splash out on something like a custom putter. That's the most expensive option, but it's one sure way to get extra heaviness in the head or an extra-long shaft.
FAQs
Before we wrap up our guide on the best left-handed putters, let's answer some of the most common questions we hear on the subject. Like a golf ball, your putter is one of those things you'll need on every hole. So ask your questions, get your answers, and hit the green.
Are There Any Left-Handed Golfers on the PGA Tour?
There are plenty of left-handed players on the PGA Tour, but they make up a very small proportion of players at only around 5%. In total, 14 left-handed players have secured PGA Tour wins, and collectively they have amassed 86 titles which is a heck of a lot! 
Are Left-Handed Golf Putters More Expensive?
Golf putters for left-handed players cost the same as right-handed golf putters as they are not any more expensive to make. Rather, the difference lies in availability. There are far fewer lefties than righties, so it's much harder for left-handers to secure the clubs they want. That said, the dimensions of the club aren't any different. That means they're no more expensive to produce than a right-handed club.
What Is Left-Hand Low Putting?
Left-hand low putting is done by right-handed golfers. It derives its name from the way you grip the putter. Your left hand will be the furthest down the putter shaft. Most right-handed putters have their right hand further down the putter, so it's a more rare technique.
Which Putters Offer Better Forgiveness?
We chose a left-handed putter with two wings, the TaylorMade Spider GT, in part because of its forgiveness. The wings help with weight distribution on off-center strikes. That makes it especially appealing to very high handicapper golfers because it can help cut down strokes on the green.
What's a Hybrid Putter?
We've covered hybrid clubs in the past. But we also wanted to talk about when a left-handed golfer might prefer a hybrid putter. These are usually best for golfers who need to work on their short games. If you regularly find yourself in the first or second cut around the green (but not far off the green), you may consider a left-handed hybrid putter. They're designed for more contact in taller grass without sacrificing much accuracy. Consider one to complete your hybrid set.
Does Scotty Cameron make Left-Handed Putters?
Yes, we found five left-handed Scotty Cameron putters. If you're looking for new clubs and don't mind a higher price point, you'll want to check out the Super Select Newport 2. At about $450 and without any reliable coupon code, the brand priced itself out of our recommendations pretty early. But that doesn't mean it's not a beautiful club. Check out the high grade CNC-milled face. It's gorgeous!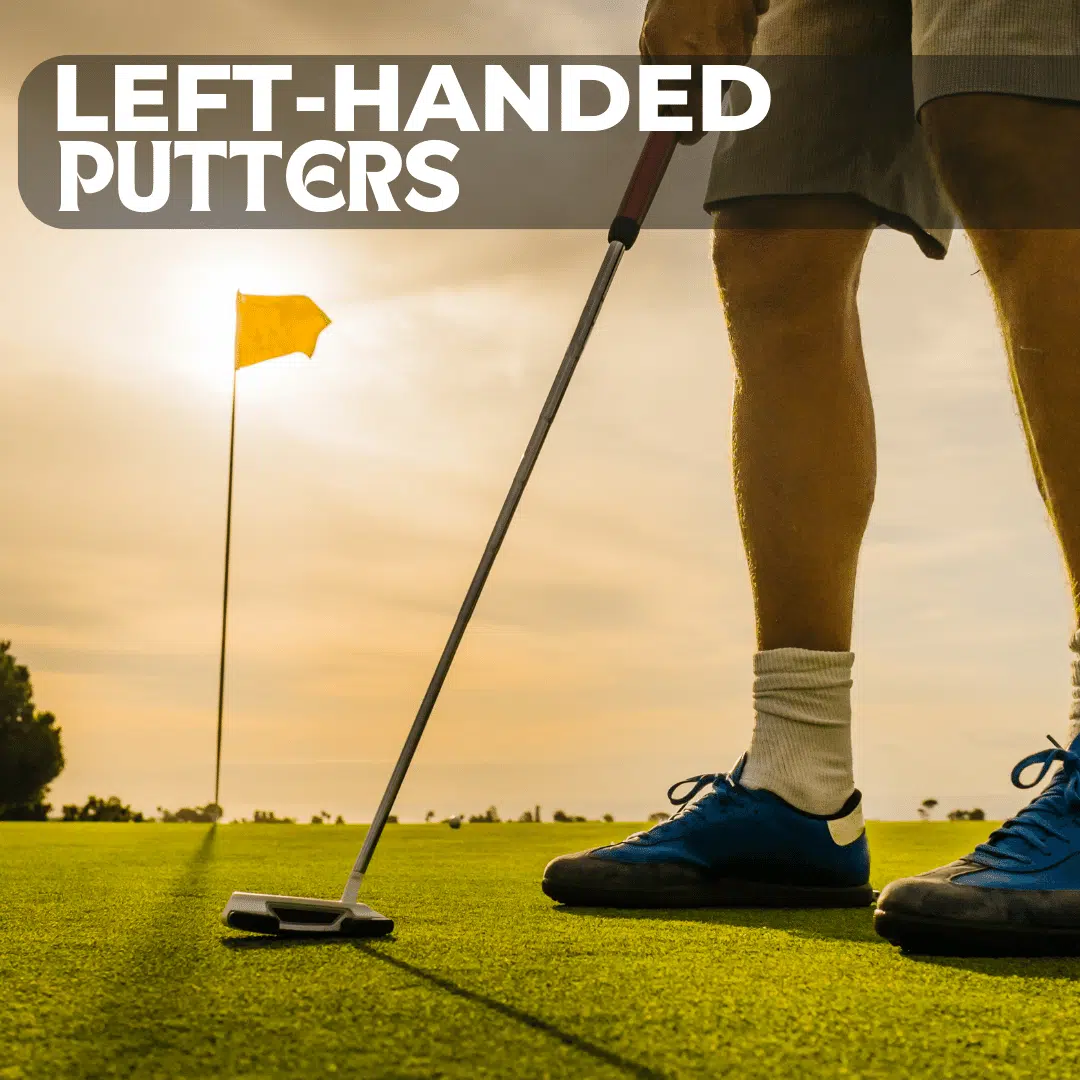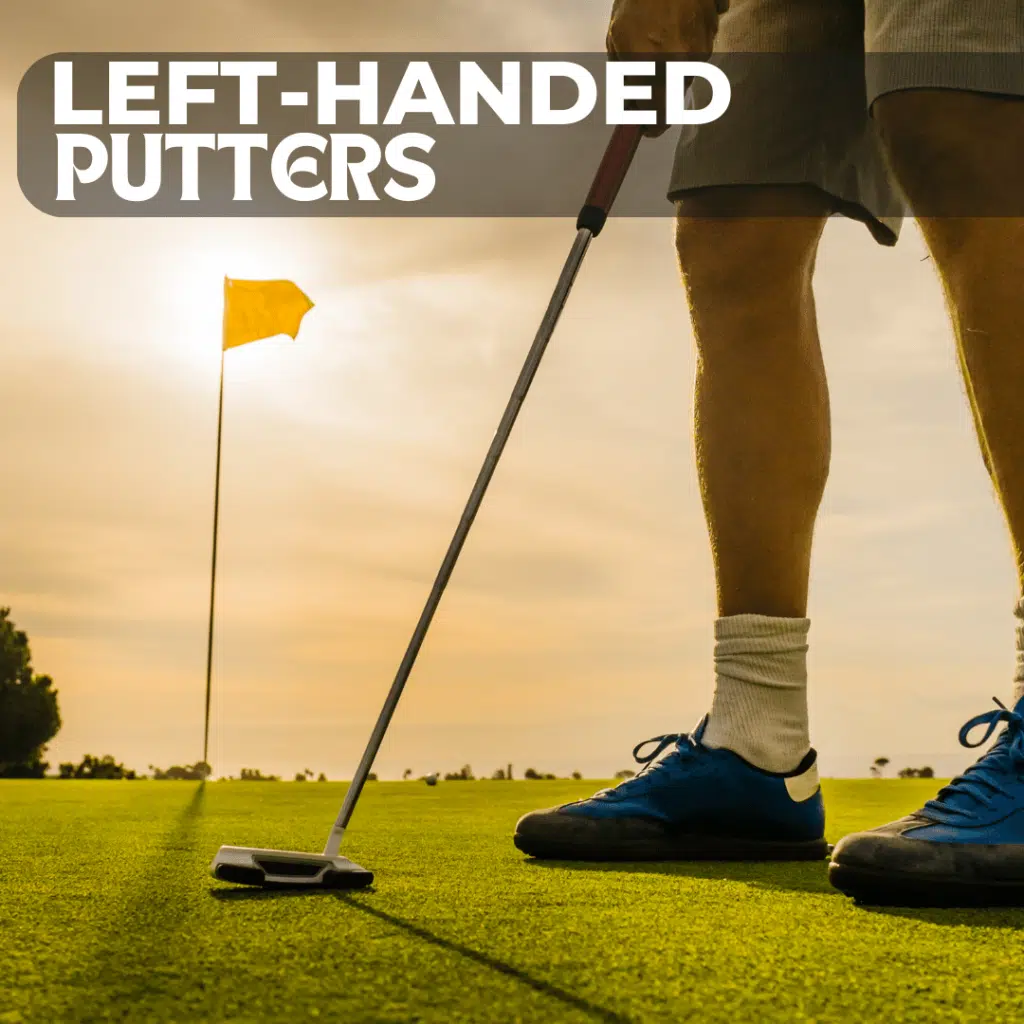 Conclusion
That about sums up our guide for the best left-handed putters. We hope you found our advice and suggestions useful. If you're looking for more like this, check out our more general guide on the best clubs for left-handed golfers. 
To recap, the best left-handed putter overall is the TaylorMade Spider GT. Not only does this come from one of the top brands, it's also weighted for roll and priced as a potentially budget-friendly option. It earns top marks overall.
The best left-handed putter in the blade style is the Odyssey White Hot OG Double Wide Putter. This brand is owned by Callaway, and it earns top marks from both right and left-handed players. Our evaluation revealed exactly what to look for when you're shopping for a left-handed putter. And remember, don't forget your long game! If you have any more recommendations, please let us know on our YouTube channel.
Also read: