I've had multiple names for my golf carts over the years. If you're creative with your golf cart names, chances are, you'll be remembered for it on the course. It's an excellent way to reflect personality, start conversations, make your golf cart stand out, and add humor to the sport.
Some of the best golf cart names are:
Birdie Bomber
The Bogey Man
Golfzilla
Maverick
The Tank
Batmobile
Beer Cart
The Rocket
The Fore-wheel Drive

The Fore Fathers
Since you can name your golf cart anything, finding the perfect name for your four-wheeled buddy might seem challenging.
But don't worry! As a golfer passionate about naming golf carts, I've got your back. I've compiled a list of the 66 best names for golf carts so you can take inspiration from here and name your golf cart.
Funny Golf Cart Names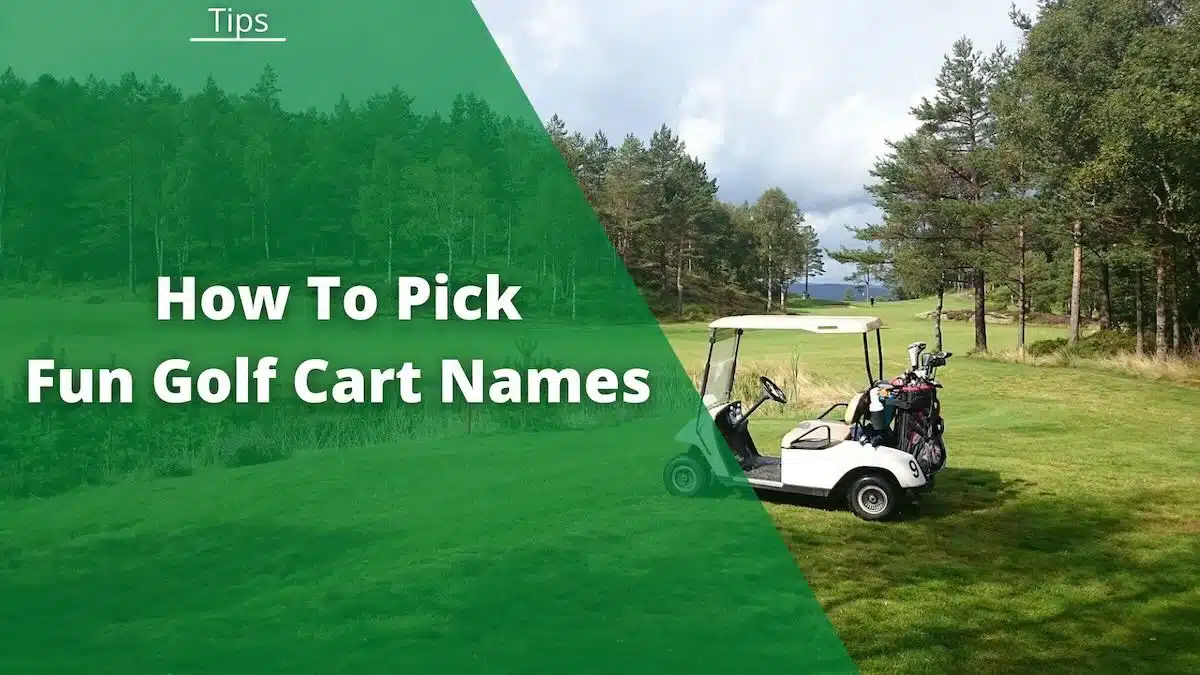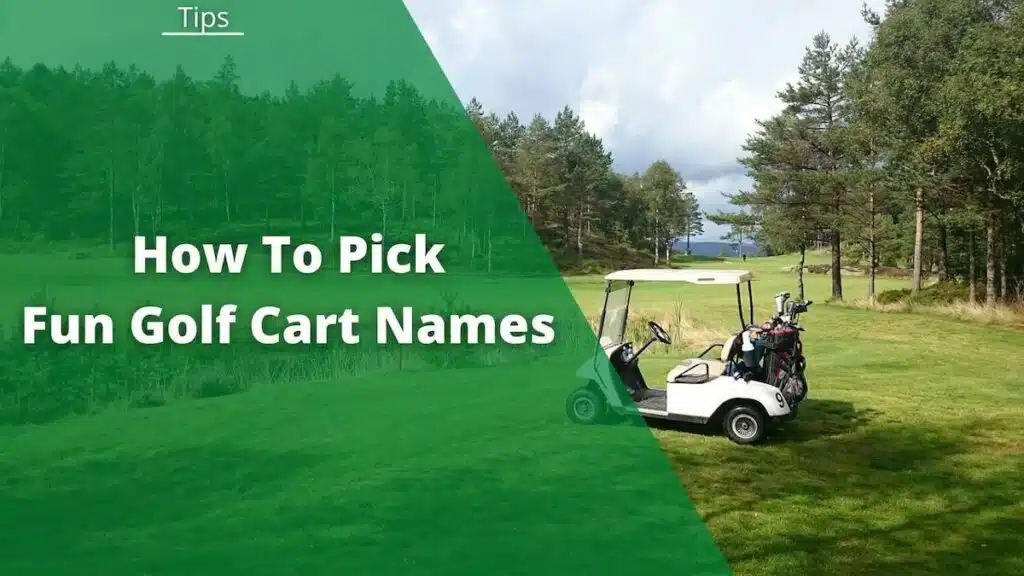 Adding a touch of sarcasm to your golf game is always a good idea, and funny golf teams and club names can do the trick. But if you want to take the comedy up a notch, give your cart a funny name!
Here are some great funny names for golf carts that will have everyone on the course in stitches.
1) Birdie Bomber
This one's my favorite, but you need the skill to back it up. Try the 'Par Bomber' otherwise.
2) Bogey Man
No one likes bogeys, but you can still lighten up the situation by naming your cart 'The Bogey Man' if you're stuck between bogeys.
3) Golfzilla
This monstrous cart name is a hilarious way to announce that your golf buddy, the Golfzilla, is a beast on the greens!
4) Flashy Fox
Like clever and speedy foxes, the Flashy Fox golf cart can zip around the course with style and flair.
5) Sunday Driver
This is the perfect name for that one golfer who drives the cart too slowly. We all know a Sunday driver.
6) Crusty Caddy
Want to add a fun twist? You can even spell it as "Krusty Kaddy" for a reference to SpongeBob. It's a fun name for your no-nonsense golf companion!
7) Puttinator
Does your golf cart perform flawlessly every time, just like a robot or, more specifically, the Terminator? Name it the Puttinator, and let everyone know your golf cart means serious business on the course.
Thinking of buying a golf cart? There are some great brands, but you don't want to get a lemon. Here are the golf cart brands to avoid.
Cool Golf Cart Names
Here are a few cool names for a golf cart.
1) The Rocket
If you play or drive fast on the course, no name screams speed like 'The Rocket.' It's a name that perfectly matches your need for speed while golfing.
2) Maverick
Just like Tom Cruise's character, this golf cart is ready to conquer the course with a fearless spirit.
3) Shadow
Shadow is the perfect name for your golf cart if you drive around without getting noticed. This name shrouds your cart in a mysterious aura like Sonic the Hedgehog's sneaky archenemy.
4) Panther
Naming your golf cart after big animals can be exciting. For example, you can go with names like 'Carolina Panthers,' and "Cincinnati Bengals.'
Alternatively, if you're more into comic books, consider naming your cart the 'Black Panther' or 'Hellcat.'
5) Desert Fox
If you're a golfer around the American Southwest or live near a desert, 'Desert Fox' will be a fantastic golf cart name.
But don't stop there! You can also name your cart after other terrains.
6) Triceratops
Just like Ross from Friends, I'm also obsessed with dinosaurs. If you, too, are a little dino-crazy, then Triceratops is the perfect golf cart name for you!
7) The Tank
The Tank is a great name for a golf cart built like a sturdy death machine and can handle almost anything. It might be a bit clunky, but it can weather a storm or two before showing signs of damage.
Traditional Golf Cart Names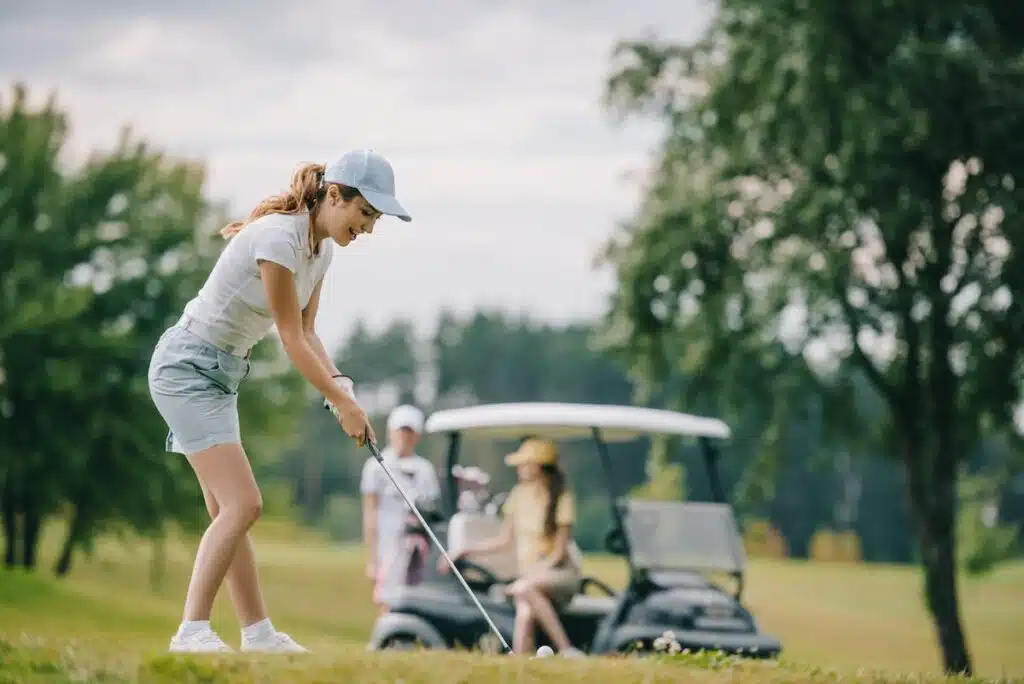 Some golfers may prefer to stick to the basics and pay tribute to the game's long history by sticking to traditional golf cart nicknames. So, here's a list of the top classic golf cart names.
1) Gentleman's Caddy
Just like a true Gentleman, this name reflects class and sophistication.
2) Clubhouse Classic
Name your cart ' The Clubhouse Classic ' for a more nostalgic and vintage vibe.
3) Fairway Finery
The Fairway Finery is a golf cart that serves as an elegant and sophisticated accessory to the fairway, resembling the refined and formal outfits golfers wear on the course.
4) (Your Course Name) Express
(Your Course Name) Express is a straightforward choice that doesn't overcomplicate things. It's efficient and simple, making it a fantastic traditional golf cart name.
5) Carolina Cruiser
The Carolina Cruiser is the perfect pick for golfers living in North Carolina or South Carolina. Alternatively, you can name your cart after your state, too. Some examples may include:
Texas Cruiser
Florida Rider
California Sunshine
6) Timeless Traveler
This name is right for golfers who own timeless and vintage golf carts. It hints at a golf cart that never goes out of style and stands the test of time.
7) Caddie Master
A golf cart named "Caddie Master" is a way to pay tribute and show appreciation for the dedicated caddies.
Golf Cart Names with Puns
Golf cart names with puns are ideal for dad golfers who can't resist cracking a good ol' dad joke. Here's a list of our favorite golf cart names with puns.
1) The Fore Fathers
The name 'Fore Fathers' can mean three different things.
'Fore Fathers'— A golf warning to let other golfers know that a ball might be heading their way.
'Forefathers'— Referring to the founding members of the country.
'Four Fathers'— A four-seater cart with four fathers in it.
Whatever reason you choose to go with, Fore Fathers is a superb punny golf cart name.
2) Fore-Wheel Ride
With this cheeky name, you can let other golfers know that your golf cart and driving skills resemble a 4×4 on the fairway.
3) Putt-er Pilsner
Smooth like your favorite pilsner, this cart is all about chill vibes on the greens.
4) Caddy Cooler
This cart keeps things cool and fresh, like a chilled beer you snuck into the course.
5) 19th Hole Hops
The 19th Hole Hops is perfect for celebrating at the 19th hole with your favorite hops.
Sports-Themed Golf Cart Names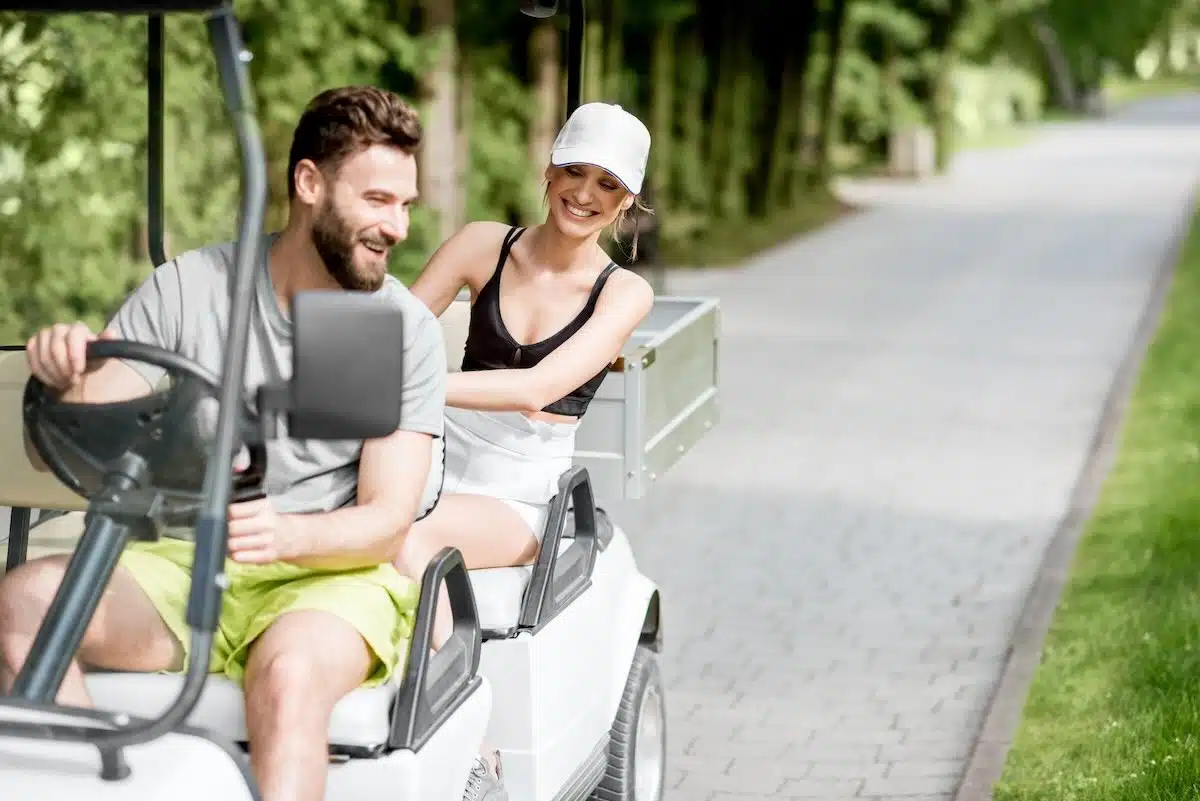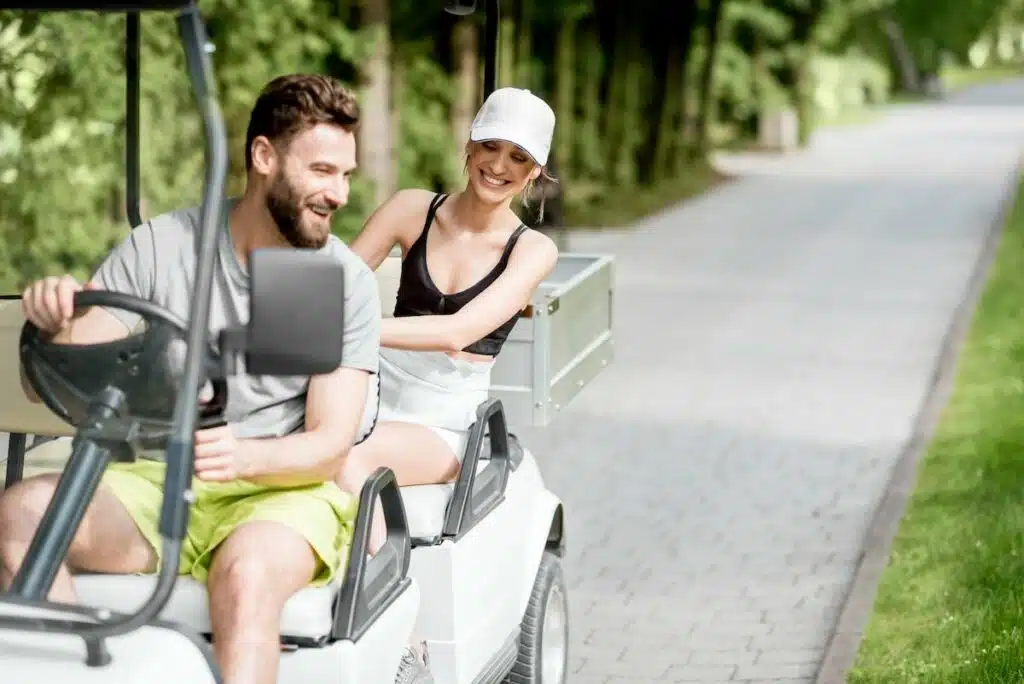 Show off your sporty spirit with these sport-inspired golf cart name options.
1) Slam Dunk Cruiser
This golf cart is all about making power moves, just like your favorite basketball stars on the court.
2) The Arnie Express
Hop aboard the Arnie Express, a golf cart that pays tribute to the legend Arnold Palmer, an American golfer from the 90's.
3) Tiger's Roar
Tiger's roar is for golfers who aim to roar like the great Tiger Woods. With the Tiger Roar by your side, you might win a local championship, too!
4) Ryder Racer
The esteemed Ryder Cup inspires Ryder Racer. Like this iconic tournament, the name suggests a cart built for fierce competition and intense fun on the golf course.
5) Top Spin Shuttle
This golf cart name draws inspiration from tennis, hinting at a powerful and agile ride on the golf course.
Nature-Inspired Golf Cart Names
If you love nature, you can name your cart using one of these unique options.
1) Tornado
Are you known for your aggressive driving style, leaving a whirlwind behind you? Choose Tornado as your golf cart's name to reflect your feisty spirit.
2) Alpine Adventurer
This cart name takes inspiration from the majestic Alpine mountains and its breathtaking views.
3) Avalanche Ace
Conquer the golf course like a true ace with the Avalanche Ace.
4) Thunderbolt
Thunderbolt is a great pick for those who like to zip around the course with electrifying speed.
5) Tsunami
This golf cart name is meant for a powerful cart that can make waves on the course.
Golf Cart Names Inspired by Colors
Golf carts come in various colors; a fun way to name them is according to their color.
Black: Midnight Rider and Shadow Runner
Red: Cherry Charmer and Ruby Racer
Blue: Sapphire Speedster and Royal Bluebird
Green: Emerald Envy and Forest Cruiser
Yellow: Sunflower Spark and Buttercup Beauty
Orange: Tangerine Tango and Sunset Surfer
White: Snow and Polar Prowler
Golf Cart Names Inspired by Food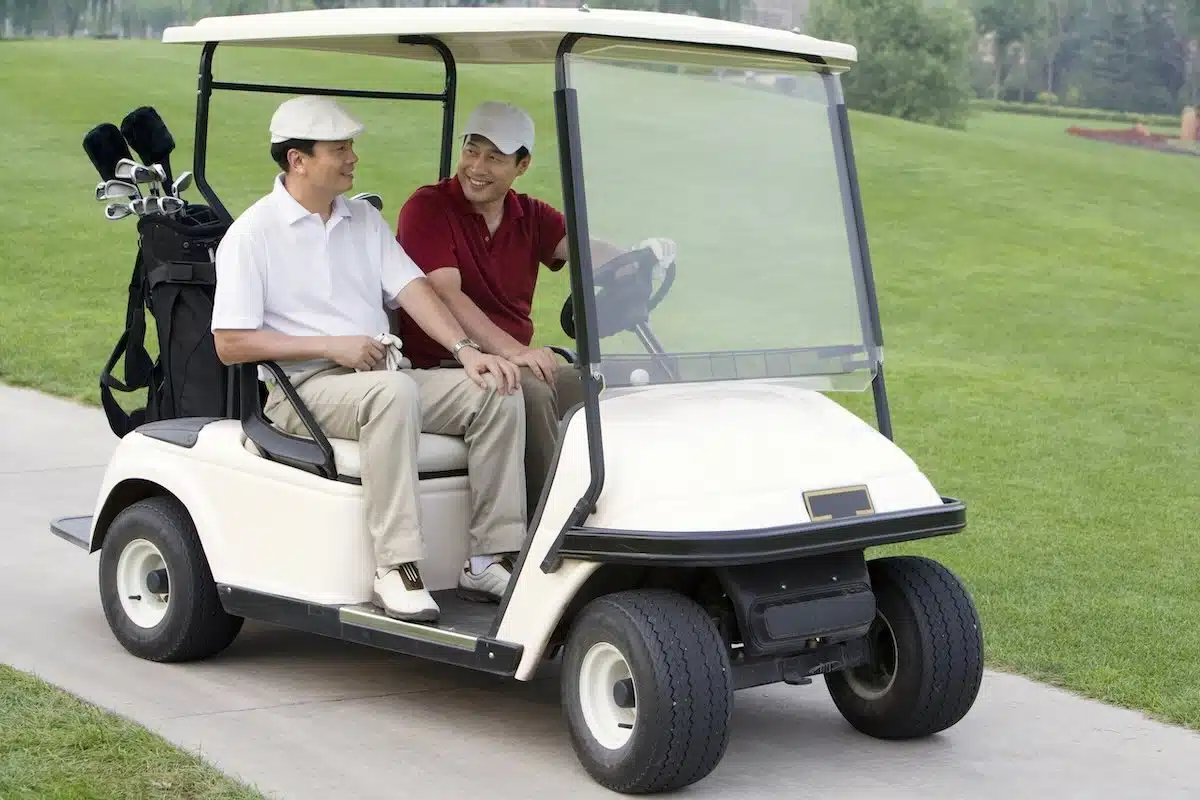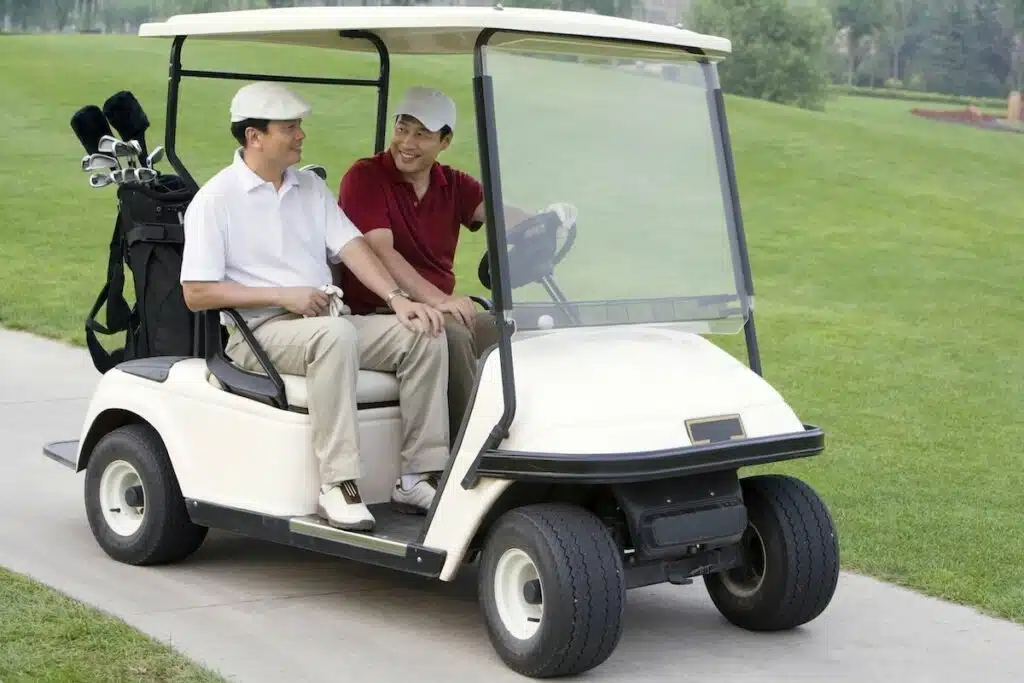 Naming your cart after food is a great way for food lovers to show their passion, even on the golf course.
1) Parfait Wheels
This cart is as smooth as a parfait, providing a seamless ride on the golf course.
2) Chip 'n Drive
Like your favorite snack, this cart will be your perfect companion as you chip through the course.
3) Espresso Express
A cart that keeps you energized and fresh, much like your favorite espresso.
4) Bagel Buggy
As versatile as a bagel with all the toppings, this cart is ready for any golfing adventure.
5) Sherbet Shuttle
The Sherbet Shuttle is like an ice cream party on wheels!
6) Slice of Paradise
This cart is as sweet as a slice of pie and will make your golfing experience delightful.
Golf Cart Names Inspired By Movies/TV
Name your cart after your favorite characters to add personality and flair to your golfing adventures.
1) Hulkster
If you've got a green monstrous cart or simply love Hulk Hogan, this is the perfect name for your golf cart.
2) Flash
Are you an Avengers fan, and is your golf cart faster than most? I'd recommend you name your golf cart after Flash from Avengers.
3) Batmobile
This name is a natural fit if you've always dreamt of cruising in the Batmobile. You can also experiment and be creative with the name, beermobile or birdiemobile.
4) Samurai
A name as sharp as a katana and as fierce as a warrior in a golf cart joust, Samurai is meant for carts that have style and strength.
5) Homer
Homer is your homage to the wacky world of The Simpsons and all things Springfield. It's the perfect choice for anyone who loves this iconic cartoon.
Romantic Golf Cart Names
If you share a golf cart with your partner, here are some romantic buggy names.
Love Bug
Cupid's Carriage
Passion Buggy
Amore Affair Express
Romance Roamer
Other Golf Cart Names
Here are a few more golf cart names for you to choose from.
Beer Cart
Drive Bomber
Knight Rider
Transformer
Optimus Prime
Cobra
Bullet
Cowboy
Ghostrider
Ace Maker
Delorean
Herbie
Lightening McQueen
Mater
007 Cart
Mystery Machine
USS Enterprise (Startrek)
Millenium Falcon (Stawars)
Ecto-1
Airforce 1
The Magic Carpet (Alladin)
The Black Pearl (Pirates of the Caribbean)
FAQs
Do People Name Their Golf Carts? 
Many people name their golf carts as a fun and personal way to show off their personality on the course. It's also a great way to start conversions with other golfers and socialize. 
What Is A Golf Cart Girl Called? 
A Golf Cart Girl is a 'Golf Course Beverage Cart Attendant', also known as a 'beer cart driver.' These attendants/drivers are responsible for delivering snacks and drinks to golfers. They drive around the course in special carts equipped with coolers, refrigerators, and storage for keeping snacks. 
What Is Another Name For A Golf Cart? 
Golf carts are also called "golf cars" or "golf buggies." These terms are used interchangeably to refer to small motorized vehicles carrying golfers and equipment around the course. 
Final Thoughts
When naming your golf cart, the possibilities are nearly limitless with many categories and ideas. It's the perfect opportunity to let your imagination and creativity shine with a name that reflects your personality and interests.
Whether you prefer to show off your sense of humor with names like Golfzilla and Birdie Bomber or traditional names like Carolina Cruiser and the Gentleman's Caddy, the choice is yours.
Remember that your golf isn't just a mode of transport; it's an extension of your personality and style on the course. So, opt for a golf cart name that truly resonates with you and makes you proud to showcase your golfing buddy.

As a skilled golfer and wordsmith, Abdulmoiz brings a fresh and engaging voice to the golfing world. Whether he's on the course or at the keyboard, he strives to improve and inspires others to do the same.