Getting around the golf course is accomplished in one of two ways. By use of a motorized cart or by foot. Those that choose to walk have additional options. They can carry their bag, use a pull cart, or hire a caddy.
For those who choose to ride, you have several rules to abide by as you play. One of those rules is referred to as the 90 degree rule.
What is the 90 degree rule in golf? The 90 degree cart rule in golf states that if you're going to drive off the path, then you should only do so at a 90 degree angle from the cart path.
You don't want to break a rule at your favorite club, get in trouble, or even get banned, so read on to fully understand this.
In this article, I will cover everything you need to know about the 90 degree rule, including:
What the 90 degree rule is
Situations that call for implementation of the 90 degree rule
Why the 90 degree rule is important
How to correctly follow the 90 degree rule
Commonly asked questions about the 90 degree rule
What is the 90 Degree Rule on Golf Courses?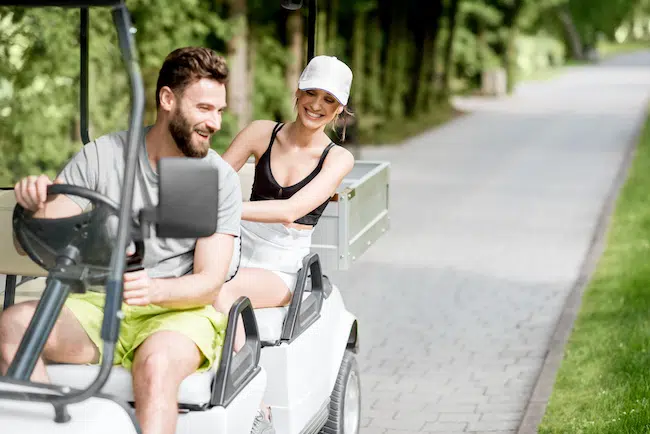 The 90 degree rule is implemented to allow golfers the benefit of using a cart when it might otherwise be frowned upon.
When this rule is in place, a golfer stays on the cart path as much as possible. However, if a cart needs to go off the cart path and onto the fairway, a golfer should do so only at a 90 degree angle from the cart path.
Golf course operators understand that golfers, especially those in the United States, generally prefer to play golf using a cart. Additionally, operators know full well that the golf cart is a significant revenue source for the course.
With this being said, allowing carts to operate as much as possible on the golf course is vital. Think of the 90 degree rule as a compromise between golfers, course operators, and maintenance staff.
This compromise allows golfers the opportunity to use a cart when it might otherwise be restricted from use altogether. I'll cover the times when the rule might be called for next.
Check this out: Golf Etiquette – The Unwritten Rules Of The Game
When To Apply The 90 Degree Rule
There are several situations where the 90 degree rule may be implemented on the golf course.
When the Ground is Overly Saturated- After heavy rains, or even when the irrigation system may have been stuck on too long, the ground will often get overly saturated. Driving a golf cart on overly saturated turf can cause significant damage. If a situation is severe enough, a course may be forced to implement a cart path-only rule or even close the course to carts.
When New Turf is Growing In- Sometimes, new turf will be placed on different spots on the course. This could be with rolled sod or even with a winter overseed. In the case of courses in the south, where winter overseed is put down, play continues as it grows in, but carts are prohibited from driving in those areas. Driving a cart on overseeded turf will leave unsightly tire impressions all over the course as the turf grows in.
When Construction is Being Done on the Course- At times, golf course grounds personnel must do maintenance projects on the course that may call for closing areas on a hole. An example of this is replacing irrigation system piping and components.
On Signature Holes Where Maintaining Perfect Turf Conditions is Important- Every course has one or two signature holes. Some courses have even more. It is common practice that golf cart traffic is limited or even restricted on these holes. Picturesque par three holes often are "cart path only." Some signature par fours and fives sections may see the 90 degree rule implemented.
More good reading: Golf Terms Every Golfer Must Know [Over 250 Terms!]
Why Is The 90 Degree Rule Important?
With all the benefits that the golf cart offers, there are some drawbacks. One significant drawback to golf cart use is that excessive traffic or misuse can cause considerable damage to the course.
In certain situations, it doesn't take much to do a great deal of harm to the golf course's turf by using the golf cart. The situations covered above, where the 90 degree rule might be implemented, help ensure that the turf will be kept from being damaged.
All golfers want excellent turf conditions. Not only is it appealing to the eye, but it makes for better playing conditions. Care for the course does not begin or end with adequately using the golf cart. Raking sand traps after use, fixing ball marks on greens, and filling in divots are all part of good golf course etiquette.
More from Golf Span: How to Teach Golf to a Beginner?
How to Correctly Follow The 90 Degree Rule
It is a relatively simple process for following the 90 degree rule on the golf course. Even if the rule is not in place, it is an excellent practice to follow regardless.
To start, keeping the golf cart on the designated path as much as possible is wise.
Instead of hitting your drive, then blazing up the center of the fairway, consider jumping onto the cart path and staying on it until you are even with the position of your golf ball. This is a good practice even without the 90 degree rule in place.
Once you are level with your ball on the cart path, turn the cart at a right angle and drive straight over to your ball. Play your shot, then return to the cart path on the same line you followed to get to your ball.
As you get closer to the green, it is relatively common not to be able to drive your cart on the fairway from 100 yards and in. These areas are many times roped off anyway.
FAQ
Some common questions regarding the 90 degree rule in golf are covered below. Remember, a dumb question is the one you didn't ask!
What Happens if I Don't Follow the Rule?
Like most things in golf, it's a game of honor and respect. In general, the responsibility falls on you to do the right thing. If a course has an active marshall program, you may be asked to abide by the rule if you break it. You may be asked to leave if you continue to disregard the rule.
How Can I Tell if I'm at a 90 Degree Angle?
The 90 degree rule is a rule of generalities. This means you must do your best to follow the rule the best you can. You will never be questioned for doing what's right, even if you are not technically going to and from your ball at 90 degrees from the cart path.
Can the Rule Be Applied in All Situations?
It is not possible to apply the rule in all situations. The design of some holes may not allow for it. In those situations, use your best judgment on what you should do. But, again, nobody will fault you if you do what you feel is best for the course.
Summing It All Up
Golf can be played with or without a golf cart. For some, walking is an enjoyable way to play the game, but that is only sometimes possible. For others, playing with a cart is a preferred method; for some, it's necessary as they cannot play without it.
Golf carts are a source of revenue for golf course operators, but at the same time, they can be seen as a liability. Cart misuse can do considerable damage to a golf cart. In certain situations, rules such as the 90-degree rule must be implemented and followed to ensure the course looks great.
As a golfer, you need to respect the golf course and follow the rules about caring for the course, the carts, and the other golfers playing alongside you.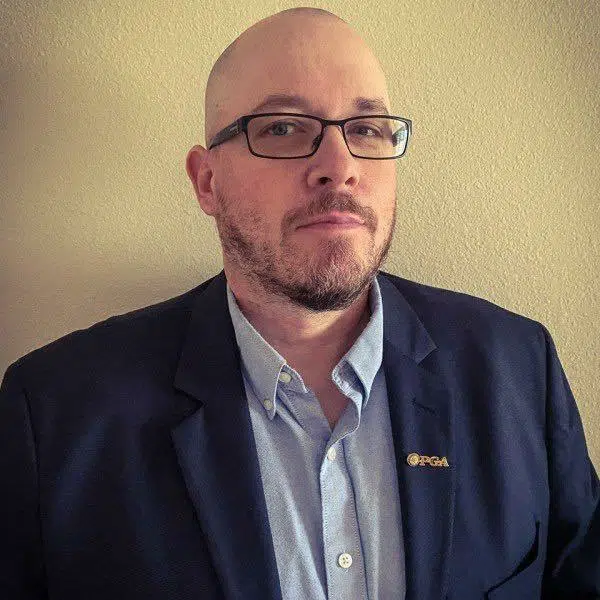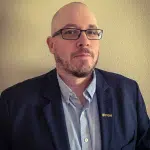 PGA Professional Brendon Elliott is the founder of Little Linksters, LLC, and its nonprofit arm, the Little Linksters Association for Junior Golf Development. He is the winner of 25+ prestigious industry honors, including the 2017 PGA National Youth Player Development award. Brendon is a respected coach, businessman, writer, and golf industry expert.