Ten years ago, fantasy golf wasn't really a thing. But when companies started to dip their toe into fantasy golf, they discovered a match made in heaven, and golf became one of fastest-growing markets in fantasy sports. With all its numbers and spaces for analysis, the world of fantasy sports fitted golf like a glove.
Now, it seems as though a new fantasy golf site crops up every minute. But with so many different fantasy sites to choose from, it can be difficult to decide where to invest your time and your money.
To help with this, we've been traveling the world of fantasy golf. Here are our top five fantasy golf sites.
5 Best Fantasy Golf Sites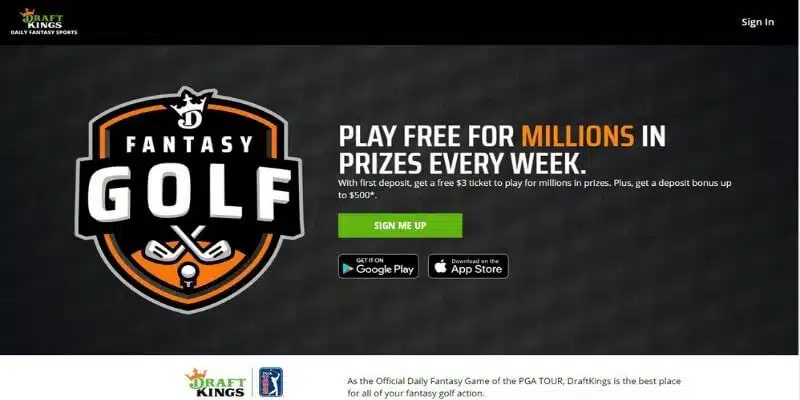 Pros
A huge player base, meaning huge prize opportunities
Plenty of options to play against the public or your friends
No season-long commitments; you can play week-to-week
Great user experience, beginner-friendly
Mobile app available
Cons
Reward system can be a little complex
Predictably, we're starting this list with, well, the king of fantasy sports websites. DraftKings was one of the pioneers of mass-market fantasy golf and has since grown into a goliath of the game. Having gobbled up a number of competitors, and having cultivated a huge tenancy of weekly players, DraftKings is widely considered to be the biggest and best place to play fantasy golf.
DraftKing offers a range of different ways to play. You can take part in the Classic Salary Cap game, where you play against the public for big cash prizes, or you can set up private leagues with your friends.
Thousands of players take part in the weekly PGA Leagues, and the big competitions such as the Masters and the US Open draw masses of participants. Cash prizes of DraftKings competitions have been as high as $1 million.
Better yet, DraftKings leagues can be entered for less than $1, or even for free in some cases. You don't have to commit to a season and can dip in and out however much you please.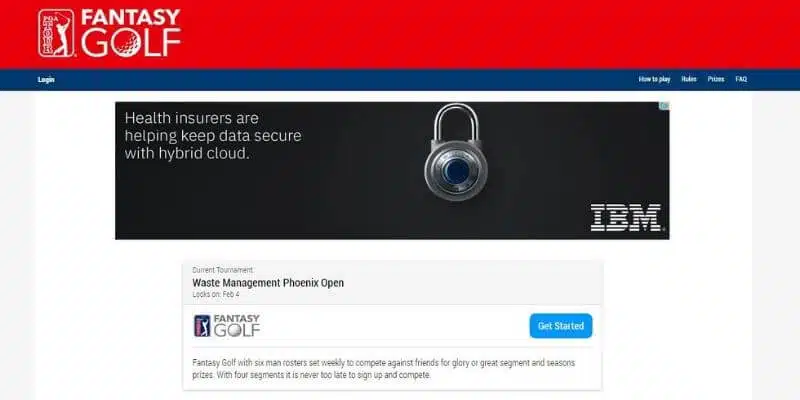 Pros
Free to play
Accessible and user friendly
A good amount of options for public and private leagues
Large player base
Cons
If you're new to fantasy golf and are looking to learn the ropes, there are few better places to start than the official PGA Tour Fantasy Golf site.
Perhaps the best thing about this site is that it's totally free to play. You sign up via email and are allowed three entries per email address. You can set up a private league with your friends, or you can go toe-to-toe with the public.
It's easily accessible, with a simple interface to track your roster and your score. Using your knowledge of the game, you pick a team of 6 PGA players (4 starters, 2 bench). The scoring is live, using PGA Tour Shotlink to provide instant updates based on specific aspects of a player's performance.
It's actually a rather unique take on fantasy golf, but its accessibility and official PGA status has appealed to many. It's a great place to become acquainted with the game before moving on to more competitive, higher-stakes platforms.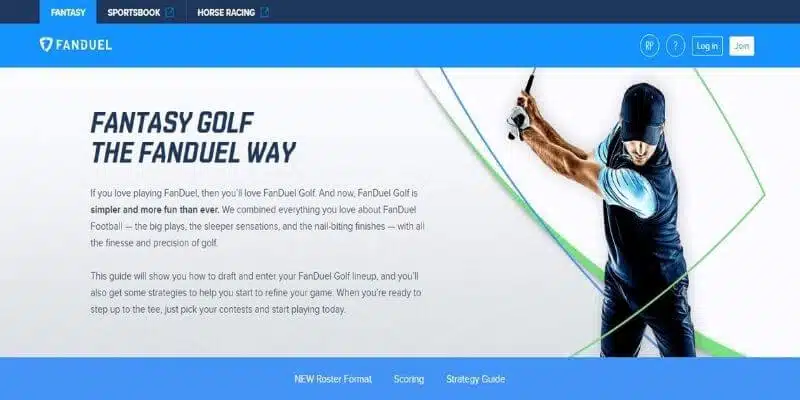 Pros
Easy to use
Cheap to enter
Fun scoring system
Promotion of responsible play
Decent prizes
Cons
Prizes generally aren't as big as the likes of DraftKings
Limited free-to-play options
Another titan of the fantasy sports industry is Fanduel, and Fanduel Golf is certainly up there with the best. It is simple, transparent, and a whole lot of fun to use.
With Fanduel, you can play for cash or just for fun. Paid competitions can be entered for as little as $1, and the majority of the contests have generous prizes. The scoring system is easily grasped, and features some fun little bonuses, such as 'streak bonus' and 'bounce back'.
Something that was particularly nice to see was Fanduel's promotion of responsible play; they offer proactive tools and support to help players manage their spending limits.
There are a variety of game modes available, including the all-new Beat the Score contest in which you don't have to worry about finishing first – the aim is to just hit a target score, and the payout is split between everyone else who wins. If no one hits the score, all entry fees are refunded. This offers a nice break from the usual pressures of finishing at the top.
Both the website and app are very user friendly. They offer extensive guidance on strategy, with a particular emphasis on helping beginners find their way. Overall, this is an excellent platform for seasoned fantasy players and beginners alike.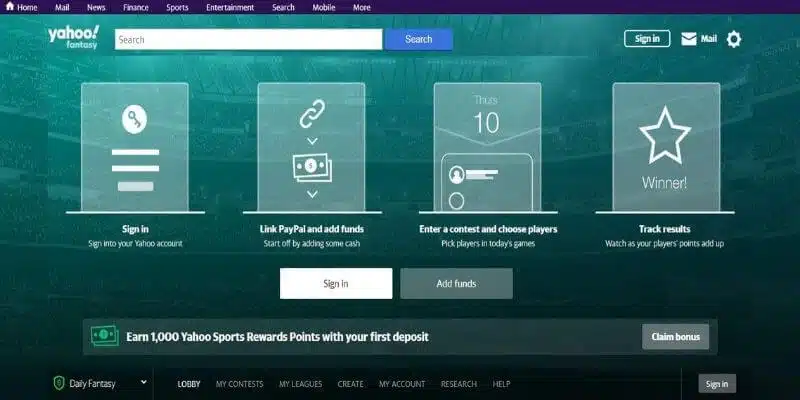 Pros
Lots of free and low-cost contests with big payouts
Well established platform with good support
User-friendly interface
Promotion of fair play
Cons
A long-term provider of season-long fantasy sports games, Yahoo! Sports added golf to their roster in 2018, and have since developed it into one of the top platforms for fantasy golf.
Many players gravitate towards Yahoo! because entry fees are generally low while prize payouts are high. In fact, some of their free-to-enter competitions have been known to pay out hundreds of thousands of dollars.
While contest types are fairly limited compared to other platforms, there is a decent offering of head-to-head matches, 50/50 matches, and other traditional fantasy sports games. There is also the option to set up private leagues with your friends.
The Yahoo! Interface is easily navigated, allowing you to enter contests and draft players with ease. In line with Yahoo!'s commitment to fair play, the interface clearly marks the recommended ability level of each contest, with some tournaments listed as 'Rookie only' or 'Veteran'. This ensures that beginners are in with a fair shot of winning some prizes, while veteran fantasy players can go against each other to potentially win big.
Pros
Easy to set up and run private tournaments
Customizable prizing
Plenty of user friendly features
Cons
Private games only – no public play available on this platform
Prizes are self-funded
If you're solely interested in running private leagues with your friends, you may be interested in using Pro Tour Fantasy Golf. Established in 2008, it has long been a go-to option for people to set up their home-brew fantasy golf games.
The user interface might look a little dated now, but it functions with ease and elegance. Game formats, features, and pricing details are all laid out clearly, and you should be able to get your private league up and running in minutes.
Since they are private leagues, any prize winnings will have to be funded and arranged by you and your fellow participants – but the website makes it easy for the commissioner to set up custom prizes. Payouts can be seasonal, segmented, weekly, skins, majors, or one & done streaks.
All participants will have the ability to select a time zone for their location, meaning lineup deadlines will adhere to their own local times. The commissioner will be able to update anyone's lineup at any time, should the need arise (hopefully, your commissioner is not easily corrupted by power).
A bunch of other features, including virtual trophy icons and email lineup reminders, help to make Pro Tour Fantasy Golf an easy and enjoyable experience for everyone involved.
Related Articles
Nick Lomas is the founder of GolfSpan, an avid golfer, not quite a pro but has over 15-years of experience playing and coaching golfers from all over the world. His mission is to bring the golfing community a better experience then it comes to choosing the right golf gear, and finding the right set up for your game.