As one of the most successful golf players ever, Rory McIlroy is a household name, even for those who don't follow the sport. He secured four major titles and a hell of a lot of prize money in his rise to the top.
So what is Rory McIlroy's net worth in 2023? We estimate McIlroy's net worth to be $622 million. This includes $68 million in PGA Tour winnings, €44.5 million in European Tour winnings, and $100 million Nike and TaylorMade deals. He also has a $24 million deal with EA, earns $1 – $2 million for appearances, and earns millions from smaller tournaments.
But his current net worth doesn't tell the full story about how Rory earned his income over his career, and you'd be missing out if you didn't understand his tournament versus appearance versus sponsorship earnings.
Read on to see all the ins and outs as you learn about Rory McIlroy's net worth.
| | |
| --- | --- |
| Place of Birth | Holywood, Northern Ireland |
| Nationality | Northern Irish |
| Age | 33 |
| Highest Ranking | 1 |
| Annual Salary | ~$7.5 million (2022) |
| Net Worth | ~$622 million+ |
Early Career
Born on May 4th, 1989, in Hollywood, Northern Ireland, Rory McIlroy was an only child. His father, Gerry McIlroy, introduced him to golf while he was very young and coached him, being a competent player himself.
At just the age of 7, McIlroy joined the Holywood Golf Club, making him the youngest member. He would play there every day to hone his skills.
His first serious win came in the World Championships at Doral Golf Resort & Spa in Miami, where he competed in the 9-10 age bracket. Such prestige from an early age showed McIlroy could make it big if he put in the effort.
And put in the effort he did.
By 15, he had won the Junior Ryder Cup. And a year later in 2005, he broke records as both the youngest winner of the Irish Close Championship and West of Ireland Championship.
Career
Tour Pro Golf Clubs (Flickr) under CC BY 2.0
2007-2010
McIlroy embarked on his professional career in 2007. This was just one day before the Quinn Direct Masters where he tied for 42nd place — not the start he was hoping for. However, his performances quickly improved placing 3rd at the Alfred Dunhill Links Championship and 4th at the Open de Madrid Valle Romano.
By the end of 2008, he had risen to a ranking of 39 globally, but after achieving his first win the very next year at the Dubai Desert Classic, his rank soared to 16. This win cemented his quality at the top level and marked his first exorbitant sum of prize money. He earnt over $323,000 — an incredible sum for a 19-year-old.
More success followed in 2010 when he secured his first PGA Tour event win at the Quail Hollow Championship. In doing so, he became only the second player ever to win a PGA Tour event before age 21, the first player being Tiger Woods. By the end of the year, McIlroy's world ranking rose to 7th in the world.
2011-2014
The following year in 2011, McIlroy's performances were a little hit-and-miss. With what seemed to be a likely win in the Master Tournament in Georgia following a stellar performance, he faltered, and badly. Scoring the worst of any professional golfer who was leading entering the third round. That being said, McIlroy quickly rebounded in a big way, winning his first major championship at the U.S. Open.
His performance was so elite that he set numerous records at the competition. One such record was his 268 score which undercut the previous record by 3. Alongside other success throughout the year, McIlroy's rank once again improved, this time to 4th in the world.
It was 2012 when McIlroy finally achieved the distinguished rank 1 position. This came following his win at the Honda Classic. He would go on to have spells of losing and regaining the top spot following dips and surges in his form. A particularly bad spell was his 2013-2014 season. Still, towards the end of the year, he once again showed his quality, winning the Open Championship at Royal Liverpool and a PGA Championship.
2015 – Today
In 2015 McIlroy won the Dubai Desert Classic for a second time. And with continued success, he became one of only three players who had won four majors and ten PGA Tour events by 25 years of age. More up-and-down performances continued in the following years, and he finally reclaimed the world number 1 position in 2020. He still holds this position as of the time of writing in February of 2023.
Rory McIlroy's Career Earnings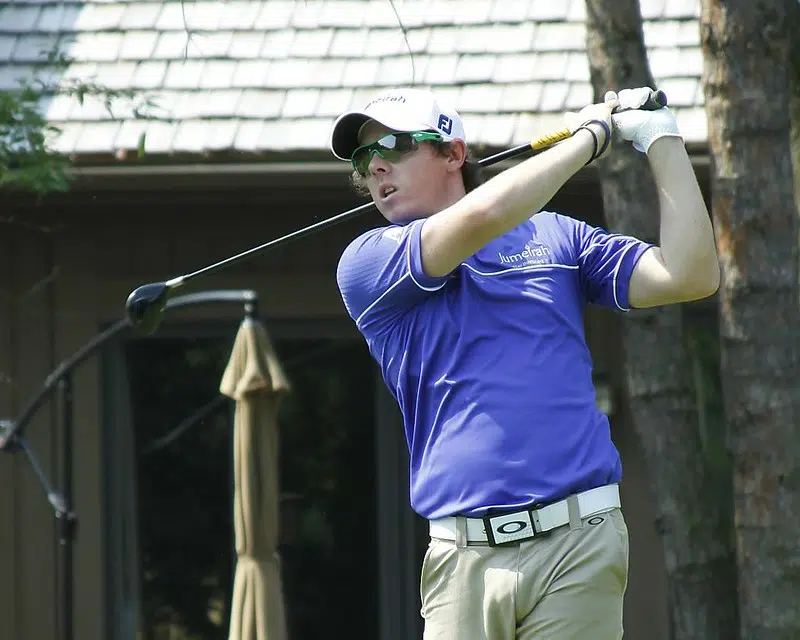 Ed Balaun (Flickr) under CC BY-SA 2.0
While it's impossible to know exactly how much McIlroy earns as some of his income is undisclosed, we can get pretty close by studying the reported figures. McIlroy has three main sources of income:
Tournament winnings
Endorsements
Appearances
Tournament Earnings
His tournament winnings are easier to track as the figures are available online. His PGA tour winnings amount to a staggering $68 million making him the fourth-highest earner, only around 3 million short of Jim Furyk and Vijay Singh. What's even more impressive is that this doesn't include his three FedEx Cup wins, which netted him a further $43 million.
Switching to the European Tour, his earnings are just as staggering. He is the highest earner, €4 million above Lee Westwood, with prize money totaling €44.5 million. Again this excludes some of his wins such as those at the Race to Dubai. Once you factor in his four wins at that competition, this adds around another $10 million in prize money.
Endorsement Earnings
While it's hard to imagine given his outrageous tournament earnings, Rory McIlroy's sponsors are worth even more money.
Sitting as his top-earning brand deal is Nike. They first sponsored him in 2013 with a 10-year deal estimated at a total of $100-250 million. However, three years later, Nike announced that it would stop selling golf equipment which meant a re-negotiation was in order. The new deal was worth $100 million and adds another 10 years to their contract.
While this was essentially a pay cut for McIlroy, it only obligated him to wear Nike-branded apparel, meaning he was free to pursue another brand deal for his clubs. Not long thereafter, he penciled a deal with TaylorMade worth $100 million. This contract was further extended by an unspecified amount in 2022.
Another quality brand deal McIlroy secured was with EA in 2015. He replaced Tiger Woods as the face of their video game that year: Rory McIlroy PGA Tour. This secured him $6 million each year for a total of four years.
Beyond these three brand deals, McIlroy has a plethora of other endorsements including NBC Sports/Golf Pass, Omega, Optum, and most recently Workday. However, the exact figures of these deals are unknown. Golf Monthly estimates that all of his endorsement deals total around $35 million annually.
Appearances
An overlooked aspect of McIlroy's earnings is his appearance fees. As the top player in the world, he can command among the highest fees, and in the past, he has done so.
Reportedly, back in 2012, his management team requested a sum of $2 million for him to appear at the Australian Open. While in recent years we haven't gotten any confirmed appearance figures, we expect he is commanding a similar rate as world number 1.
In 2019 he mirrored Tiger Woods' decision to turn down $2.5 million to appear at the Saudi International. This demonstrates that high appearance fees still make up a good portion of his earnings.
Rory McIlroy's Net Worth Overview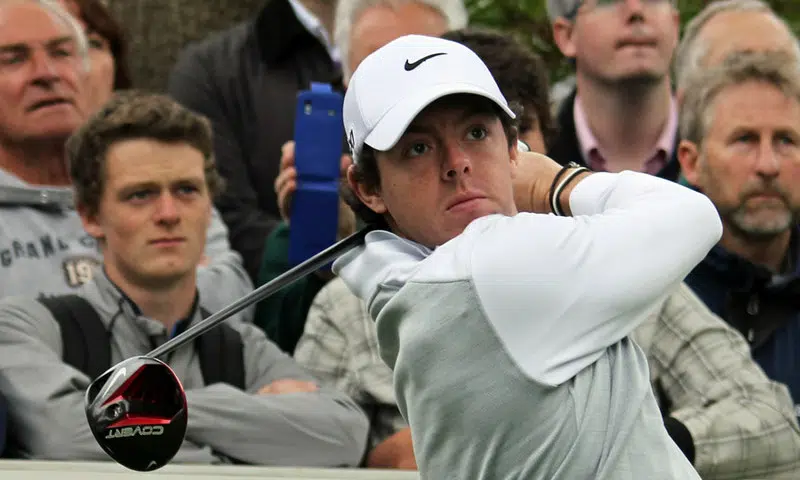 Tour Pro Golf Clubs (Flickr) under CC BY 2.0
Forbes estimates his earnings from 2022 alone are $41.5 million, with $7.5 million from performances and $34 million from endorsements.
The Irish Examiner perhaps has the most accurate figure as they have numbers direct from Rory McIlroys Management Services Ltd — the company responsible for all of his endorsements. They estimate his net worth to total $422 million. However, we should stress that this is only for his endorsements which, if accurate, means his actual net worth is much higher.
So how much is Rory McIlroy worth in 2023?
We estimate McIlroy's net worth as of 2023 to be more than $622 million. Even with his costly, luxurious lifestyle, we expect he is saving the vast majority of his income, which is simply unknown. These include the majority of his appearance fees and brand deal figures which are not made public.
| | |
| --- | --- |
| PGA Tour Winnings | $68 million |
| European Tour Winnings | €44.5 million |
| FedEx Cup Winnings | $43 million |
| Race to Dubai Winnings | $10 million |
| Re-negotiated Nike Deal | $100 million |
| TaylorMade Deal | $100 million |
| EA Deal | $24 million |
| Other Deals | Unknown |
| Appearance Fees | $1 million – $2 million (For Select Events) |
FAQ
What Car Does Rory McIlroy Drive?
Rory McIlroy owns several cars. His most expensive is his Bugatti Veyron which he purchased for an estimated $1.57 million. He owns two more luxury cars: a Ferrari F12 and a Lamborghini Aventador. Both of which cost almost $300,000.
However, when McIlroy wants to drive something a little less flashy, he opts for an Audi RS6, which costs around $120,000.
Is Rory McIlroy a Billionaire?
No sources claim that Rory McIlroy is a billionaire. However, he could become a billionaire by the end of his career depending on his performance and savings.
If you're curious about how much money Rory McIlroy has made, the latest figures from his management company suggest his endorsements are worth $422 million alone.
What Is Rory McIlroy's Net Worth?
We estimate Rory McIlroy's net worth to be around $622 million. However, this could be far off given we are not privy to most of his spending or income. Rather, we can only work with the larger reported figures.
Does Rory McIlroy Have a Private Jet?
Rory McIlroy owns a Bombardier Challenger 605, which will you set back $27 million if you want to buy it new. The jet houses 12 people and costs over $700,000 in fixed costs per year.
What's Rory McIlroy's Personal Life Like?
McIlroy is married to Erica Stoll, a former PGA employee who helped him avoid embarrassment during the 2012 Ryder Cup when he arrived late following a timing mix-up. They began dating in 2015, got engaged in 2016, and married the following year. Three years later in 2020, Stoll gave birth to their daughter, Poppy Kennedy McIlroy.
In 2013 McIlroy established the Rory Foundation. This was an organization that sought to assist children in need. Unfortunately, after just six years it was dissolved and McIlroy disclosed that he would be conducting a "private philanthropic policy" in the future.
Final Thoughts
While we will never know exactly how much Rory McIlroy is worth, we can be certain that he is one of the top golf earners and, indeed, top-earning athletes of all time. He receives a staggering amount of money from brand deals and provided his form continues, and these deals will continue to build.
The most accurate estimation of Rory McIlroy's endorsements is $422 million. On top of this, we believe he has earned more than $200 million from all of his other income sources. Therefore we believe Rory McIlroy's net worth is over $622 million as his spending likely only covers the undisclosed millions.
While this is very impressive, it falls far short of Tiger Woods' estimated £1.1 billion net worth, according to Forbes.