A solid short game is the best way to lower your scores and handicap. The ability to get up and down frequently sets you on the path to becoming a superior golfer.
To do that, you could benefit from focusing on mastering your greenside play and boosting your up-and-down record.
This means you need the right clubs. And one of the most helpful is having the right sand wedge.
What's the best sand wedge for you?
In this post, you'll find the best sand wedge reviews for 2023, with options that deliver:
Exceptional spin rates
Controlled ball flight
A drop-and-stop landing
You'll also learn about some forgiving sand wedges with high MOI for the average golfer and compact workable profiles for the lower handicapper.
If you are unsure of the purpose of the 54 to 58-degree wedge, I suggest reading our guide on whether you need a sand wedge before proceeding. But without further ado, let's dive in.
The 3 Top Rated Sand Wedges
Best Overall
Best Budget
Highest Spinning
Callaway Mack Daddy 5 JAWS
Tour Edge Hot Launch E522
Cobra Snake Bite
Pros

Soft feel
Crisp acoustics
Generates exceptional spin

Incredibly affordable
Forgiving
Promotes high flight

Exceptional spin
Consistent launch
Drop and stop shot power

Cons

The medallions in the back of the clubhead are an eyesore
There is no sole grind suited to firm ground and shallow attack angles.

The oversized clubface won't appeal to some golfers
Prevents workability

Slightly chunky profile
You will need to pay a monthly fee to use the Arccos Caddie app to review your shot data.

Price Score
90.1
96.5
89.7
Comfort
93.2
88.1
92.4
Stretchability
94.6
90.2
93.5
Durability
90.1
87.8
88.1
Rating
4.5 Stars
4.5 Stars
4.5 Stars
What To Consider When Purchasing A Sand Wedge Golf Club
Loft
The first factor to consider here is the best sand wedge loft for your setup. There are three standard sand wedge lofts to choose from, including a 54, 56, and 58-degree loft. I find that the best sand wedge degree is 56 because it is not too weak to be a loft wedge and neither strong enough to act as a gap wedge.
It provides the perfect balance between your gap and lob wedge, reducing the risk of any distance holes. The best way to decide on your preferred sand wedge is to assess the lofts of your pitching, gap, and lob wedge and work from there.
For example, I carry a 44-degree pitching, a 50-degree gap, 56-degree sand, and a 60-degree lob wedge. As you can see, there is no more than a 6-degrees gap between each wedge to cover all my full short shots.
However, if you play a 46-degree pitching wedge, you may opt for the 52-degree gap, 58-degree sand, and a 60 or 62-degree lob wedge. It is up to your swing and which lofts deliver the most consistent flight, spin, and accuracy.
Sole Grind
Sole grind forms an integral part of a golf wedge as it impacts your forgiveness, launch, and turf interaction. Manufacturers typically offer multiple choices which suit firm, soft, and medium turf, as well as players with steep, shallow, and neutral attack angles.
If you play on soft ground with a sole grind built for low bounce, your wedge may get caught up in the turf, lowering clubhead speed and reducing the friction at impact.
I recommend that golfers who take shallow or no divots consider the option of a low-bounce wedge. Conversely, those operating with a neutral attack angle may find a mid-bounce sole the best option. Finally, a high-bounce sole grind works for those with a steep point of attack who tend to take chunky, juicy divots.
Ball Flight
Most other golf club engineers aim to induce high launch and ball flight for increased carry distance and consistency. However, wedges require the opposite trajectory to enhance your control around the green. When the ball balloons, its costs you distance control and spin, leading to inaccurate results.
That is why you want a wedge that features a higher center of gravity (CG), and encourages lower, controlled ball flight. You'll find that this trajectory helps your golf ball bite aggressively into the turf to stop after one hop.
Spin Rate
On the topic of one hop and stop spin, your revolutions per minute are a core feature of sand wedge performance. You need a club that imparts rampant spin on your golf ball to help it stop rapidly, close to your target.
I recommend searching for wedges that contain sharper, narrower, and deeper grooves, which bite into the urethane at impact and generate impressive spin.
Turf Interaction
Crisp turf interaction is essential for producing a clean strike for elevated spin levels around the green. When your clubface gets caught up in the turf, you struggle to create sufficient friction at contact, leading to reduced spin and relinquished control.
Our Research Parameters
Golfspan is independent and not pressured by manufacturers to recommend products. We were not paid for the reviews in this article. These sand wedges were selected by our team, who have over 100 years of experience playing golf and thousands of hours reviewing products. We may earn an affiliate commission when you purchase something through our retail links.
The Best Sand Wedges In 2023
Pros
Soft feel
Crisp acoustics
Generates exceptional spin
Moderately affordable
Available in 2 grind options
Cons
The medallions in the back of the clubhead are an eyesore
There is no sole grind suited to firm ground and shallow attack angles.
The Callaway Mack Daddy (MD) 5 JAWS tops our list of the best sand wedges. This is due to its elevated spin, forgiving sole grind, soft feel, and affordable price tag. You'll find that this is a sand wedge that mid and high-handicappers can benefit from.
I noticed that the clubhead is expertly shaped from 8620 mild carbon steel, which would explain the soft feel I enjoyed on each strike. In addition, the MD 5 wedge produced crisp acoustics for a pleasant short-game experience.
Furthermore, you'll see that Callaway offers the MD 5 in two sole grind options, which are best used on soft and medium turf. I found that the S-grind suits a broader range of golfers thanks to its acceptance of all angles of attack and soft-to-medium ground.
Conversely, the W-grind works wonders for golfers who operate with a steep angle of attack and require increased bounce to put clubface onto dimples. I noticed that the JAWS MD 5 Groove Microfeature was the star performer due to its enhanced friction prompting increased spin and greenside control.
Rating: 4.5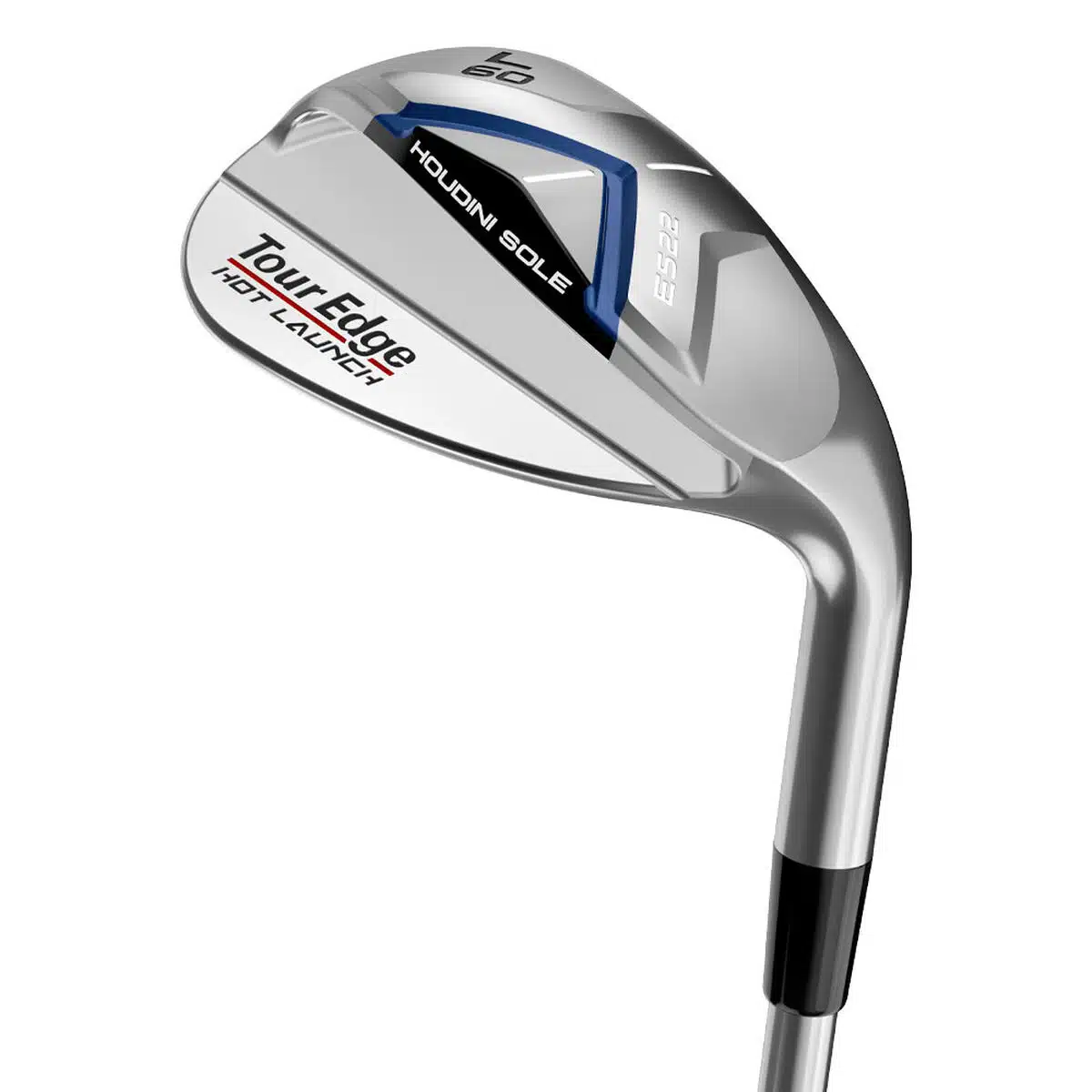 Pros
Incredibly affordable
Forgiving
Promotes high flight
Encourages soft landing
Minimal turf interaction
Cons
The oversized clubface won't appeal to some golfers
Prevents workability
Tour Edge is renowned for constructing quality, forgiving golf clubs that make the game easier for the average golfer. Their status quo remains with the E522, and it is an affordable option well suited to beginners and the average golfer on a tight budget.
Straight away, I noticed the Super Wide Houdini sole, which worked wonders through the turf. It was never held up and reached my ball uninterrupted for a clean strike. Tour Edge suggests that the E522 lowers friction by 35% for consistent contact.
Next, you'll spot a deep undercut cavity, which lowers the CG to deliver a consistently high launch on all shots. This helps high handicappers get their ball into the air without trouble for a soft landing.
Furthermore, I experienced ample forgiveness from the E522 due to its expanded clubface and maximum moment of inertia (MOI). You'll find that the clubface resists twisting to remain square at impact for straighter shots.
Finally, the Full-Face Maximized Grooves was a nice touch to this wedge, as it boosted spin across the clubface for soft landings and more up and downs.
Rating: 4.5
Pros
Exceptional spin
Consistent launch
Drop and stop shot power
Available in three sole grinds
Records data on each shot through the Cobra Connect grip
Cons
Slightly chunky profile
You will need to pay a monthly fee to use the Arccos Caddie app to review your shot data.
Wedges are built to deliver increased spin compared to other clubs, increasing your control and allowing you to attack the flag. However, not all wedges spin equally, but the Cobra King Snake Bite is in a league of its own
You have the Snakebite Groove Technology to thank for the exuberant spin produced by the aptly named Snake Bite. I learned that the technology tightens the tolerance of the grooves and partners with Progressive Face Grooves to create spin, launch, and short game control.
The extended and shallow full-face grooves of the Snake Bite reinforce the toe to generate rampant revolutions per minute with an open clubface. You'll Find that Cobra offers the Snake Bite sand wedge in three grind options to work for all golfers and conditions. I feel that the versatile sole grind is the best option for the average golfer since it covers a broader range of conditions and angles of attack.
Furthermore, I found this wedge delivered neutral ball flight for exceptional control in my short game. This prompted my shots to fly lower, spin higher, hit the deck, and stop on the spot.
Finally, you'll see that Cobra equipped the Snake Bite sand wedge with a Connect grip, which records data on each sand wedge. The information is then uploaded to the cloud and stored on the Arccos Caddie app to review and analyze later.
Rating: 4.5
4. Cleveland CBX – Best Golf Sand Wedge For Forgiveness
Pros
Forgiving
Promotes straight shots
Produces consistent friction
Vibration dampening Gelback
Enhanced spin
Cons
Chunky, oversized clubhead
The high MOI limits the workability
Every amateur needs forgiveness to increase consistency around the links even though forgiving wedges are often chunky and unattractive, I still recommend them. The Cleveland CBX beat the other golf sand wedges to the punch thanks to its accuracy, feel, and sublime spin.
I noted that the hollow cavity back design boosted the perimeter weighting around the face, which expanded the sweet spot and increased MOI. As a result, it helped me keep the clubface square at impact and maintain friction on all shots.
The Enhanced Feel Balancing Technology impressed me with its ability to fight right misses and to prompt straighter shots. For lefties, those are dreaded, left misses.
You'll appreciate the reduced shock experience on off-center strikes, thanks to the Gelback that sits between the clubface and the cavity.
Finally, I found that the 4th Generation Rotex Face Tech offered exceptional spin to improve my control around the green. The sharp tour zip grooves gripped into the cover of my ball and imparted ample spin for a drop and stop landing.
Rating: 4
5. Mizuno T22 – Best Feeling Sand Wedge Golf Club
Pros
Buttery soft feel
Durable grooves
Reduces spin drop off
Encourages workability
Four sole grinds to choose from
Cons
Limited forgiveness
The printing on the back of the wedge is distracting
It is no surprise to find Mizuno topping the list of the best-feeling sand wedges. The T22 comes to you from the famed Hiroshima factory, which has seen the company release countless soft-feel golf clubs. The T22 impressed me the most because of its feel, control, spin, and compact profile.
The forging experts shaped the T22 from a single piece of grain flow forged HD Boron to offer a delicate touch and amplified acoustics. Added to the cosmetics is a modified teardrop profile that creates a thinner appearance and a spin-weighted blade design.
The compact profile helps you produce more spin and a penetrating trajectory for an easy stop on the dancefloor.
Furthermore, the HydroFlow Micro Grooves earned their keep by delivering consistent spin results. The engineers laser-etched the grooves to help remove moisture from the face and encourage a clean strike.
You'll notice that the Quad Cut Milled grooves are highly durable and increase the lifespan of the Mizuno T22. Finally, Mizuno affords you the option of four sole grinds. I would recommend sticking with the S or D-grind unless you possess the skills of Seve Ballesteros.
Rating: 4
No products found.
Pros
Moderately Affordable
Forgiving
Soft feel
Versatile sole grind
Elevated spin
Cons
The medallions on the back are off-putting
The grooves are not completely CNC milled like the Sugar Daddy II, but that has a limited impact on the average golfer.
Rating: 4.5
PXG continues to impress me with the quality, consistency, and affordability of its golf clubs. The 0311 Forged sand wedge offers all of these features: forgiveness, elevated spin, and limited turf interaction. As a result, it earns my vote for the sand wedge with the most versatile sole.
PXG engineers equipped the wedge with a single versatile sole, making it easy to play high, low, and mid-height shots with ease. It also simplifies the process of selecting a sole grind, which may baffle the average golfer.
Furthermore, the 0311 Forged sports partially CNC Milled Grooves which enhance friction between the clubface and golf ball, leading to an enhanced spin rate. You'll find this helps you produce drop and stop spin, to get your golf ball close to the cup, for one putt, up and down.
Finally, you'll notice that this sand wedge delivers a delicate touch on all shots for superior feedback and distance control. This quality stems from the 8620 carbon steel that created a tight grain structure for a superior feel.
Pros
Tour-inspired profile
Moderately affordable
Boosts friction at impact
Generates rampant spin
Promotes increased workability
Cons
Limited forgiveness
Minimal grind and bounce options
Wilson is renowned for constructing affordable golf equipment to suit the average golfer. One cannot forget their connection to Tour players like Gary Woodland and Padraig Harrington. The Staff Model wedge is a tour-inspired design built for superior golfers.
Like many quality wedges, the Staff Model is constructed from 8620 carbon steel to induce a buttery soft touch, high durability, and crisp acoustics. The soft-touch enhances feedback and feels to refine your distance control and judgment around the green.
Where this sand wedge truly shone was in the spin department. Wilson engineers machine-engraved scorelines into the precision-milled face to create a high-density pattern. This design prompted enhanced contact between the clubface and the ball for an optimal short-game spin.
Finally, the affordable Wilson Staff Model offered exceptional workability to improve my control on full shots. However, that leads to reduced forgiveness and wayward results in mishits.
Rating: 4
8. Cleveland RTX Zipcore – Best Sand Wedge For High Handicappers
Pros
Forgiving
Accurate
Bites hard into the green upon landing
Durable clubface
Three sole grind options
Cons
It does not spin as much as other wedges on this list.
The oversized profile may not appeal to some golfers
The second and final Cleveland wedge on our list this year is the RTX Zipcotre which claims the prize for the best sand wedge for high handicappers in 2023. It impressed me with its forgiveness, accuracy, spin, and bite upon landing.
You'll see that the Zipcore technology shifts the CG position and increases MOI for straighter shots. In addition, a square clubface at impact helps you maintain ball speed and spin on off-center strikes.
Next, the Ultizip Grooves stood out because of their ability to deliver drop and stop spin. The sharp, deep, and narrow grooves gripped into my golf ball cover and imparted superior spin on it. As a result, my ball followed a mid-to-high trajectory and bounced once before stopping dead on the dancefloor.
Besides forgiveness and spin, the RTX Zipcore features a durable face that is heat treated to last longer and produce optimal spin.
Finally, Cleveland offers you three sole grind constructions to perform on soft, medium, and firm turf. I suggest mid to high handicappers consider the low or midsole, which works for players with medium to shallow divots. Conversely, superior players may select the full sole for a classic construction.
Rating: 4.5
9. Bettinardi HLX 3.0 – Best Sand Wedge For Mid Handicappers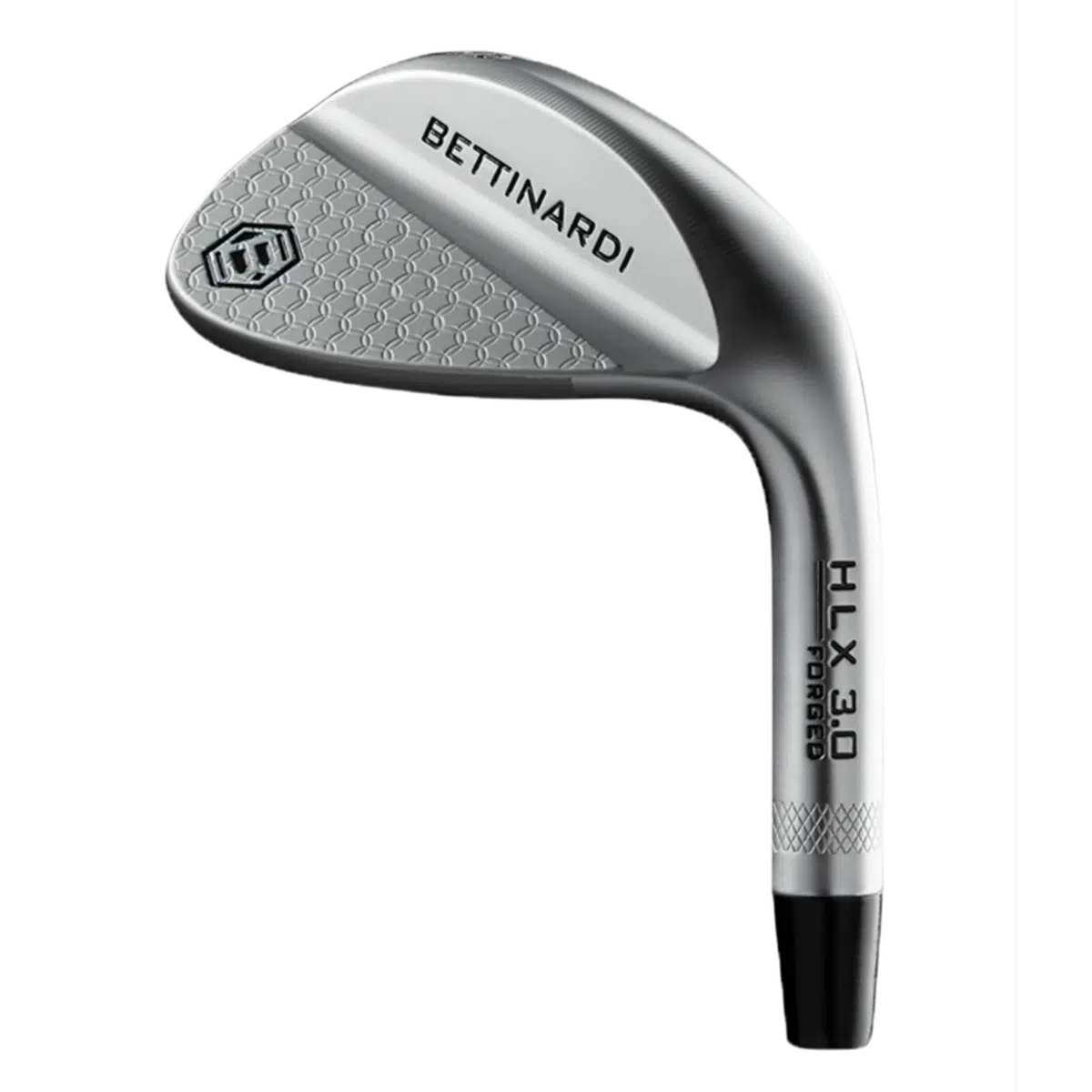 Pros
Clean, chrome finish
Glare resistant
Soft feel
Dampens vibrations on off-center strikes
Generates exceptional spin
Cons
Expensive
Limited grind designs.
Before this test, I had only used Bettinardis milled putters, which provided a delicate feel, consistent roll, and was highly durable. I found that the Bettinardi HLX 3.0 delivered in these areas and produced optimal spin, glare reduction, and forgiveness. You'll find these features are ideal for mid-handicap golfers.
The HLX 3.0 sports a clean, traditional chrome finish, which helps it limit glare off the clubface at address. Bettinardi engineers put the HLX 3.0 through the High Helix Cut machine process that softened the face to create perfect groove depth for more spin, flight, and control.
Furthermore, you'll feel that this wedge eradicates shocks felt on off-center strikes using its patented Vibration Dampening Technology. In addition, the technology amplified the sound of each shot for an appealing short-game experience.
Bettinardi offers the HLX 3.0 sand wedge in two grinds, the C and RJ-grind. I found the RJ caters to a large contingent of amateur golfers, thanks to its forgiveness, consistent flight, and rampant spin.
Rating: 4
Pros
Compact profile
Super soft feel at impact
Generates optimal spin
Four sole grind designs
Encourages workability
Cons
Expensive
Minimal forgiveness
Bob Vokey and Titleist continue their innovation with the SM9 Tour Chrome, which claims the prize for the best low-handicapper sand wedge. Superior players will appreciate the controlled ball flight, elevated spin rate, and drop and stop control.
I found that the CG in the SM9 Tour Chrome sat marginally forward to prompt lower ball flight to ensure a controlled result. In addition, the consistent trajectory enabled me to produce amplified spin to stop the ball immediately upon landing.
Furthermore, I felt the Heat Treated Groove complimented the spin characteristics of this sand wedge, maintaining the rate on all hits. You'll see that the SM9 Tour Chrome contains a compact profile that is both attractive and suitable for shaping your full shots.
Vokey has five wedge grind designs, but only four fit the SM9 Tour. In my experience, the S and F-grinds are a better bet for the average golfer because they suit an array of attack angles and turf conditions.
Rating: 4
Pros
It promotes a one hop and stop landing
Increases friction at impact
Generates exceptional spin
Provides a soft feel on all strikes
Amplified acoustics
Cons
Some golfers may not appreciate the rusted face down the line
There are only two grind options
I have revealed a host of top sand wedges for men, but this one is for the ladies. I roped in a friend at the club for this test who is a 13 handicap, and my focus was on friction, spin, forgiveness, and control, which the JAWS Raw Chrome provided in abundance.
The first feature that stood out was the raw face, which the engineers created by removing the plating. Their idea is for the active zone to rust over time, so the club continues generating advanced spin into its old age.
In addition, the raw structure improves the friction between the clubface and ball at impact for optimal spin and control. The Offset Groove-in-Groove technology aids your spin rate by positioning micro-grooves at a 20-degree angle.
Callaway equipped this sand wedge with impressive razor-sharp grooves crafted at a 37-degree wall angle. You'll see that this design enables the grooves to bite into your golf ball, imparting spin for a one-hop and stop landing.
Furthermore, you'll find that the JAWS Raw Chrome eliminates vibrations on off-center strikes to ensure a delicate feel on all shots. This is made possible by a muted toe pad, which also improves acoustics. Lastly, Callaway offers this wedge in two sole grind options, but my buddy found the S-grind more consistent.
Ladies, we have plenty of resources to help you improve your game and source the ideal equipment for your game. On the topic of high-lofted clubs, look at our best wedges for women in 2023.
Rating: 4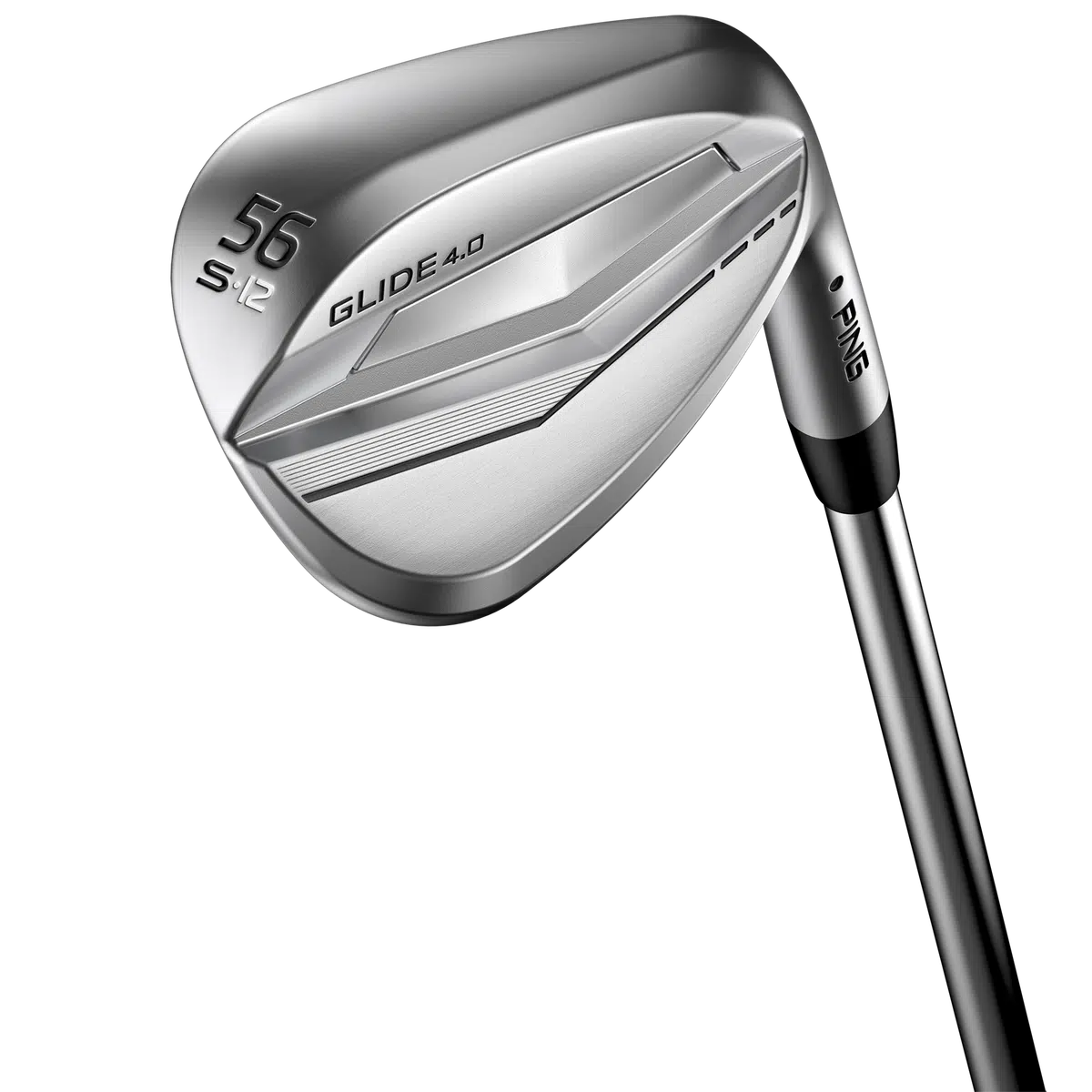 Pros
Crisp turf interaction
Soft feel at impact
Enhances friction at contact
Produces a low, controlled launch
Superb spin rate
Cons
Premium price tag
The metal is soft, which can cause the surface metal to erode rapidly
Although most wedges are built to limit interaction with the turf, Ping did it best this year with the Glide 4.0. I found the W-grind sole design offered the best forgiveness through the turf and promoted consistent contact with the ball. If you prefer alternative characteristics, there are three more grinds to consider.
Ping constructed this sand wedge using 8620 carbon steel and an Elastomer CTP Insert to provide added responsiveness and friction. Ping suggests that it increases face contact by 36%, and although I cannot confirm nor deny that, it boosted my spin rate.
Sticking with friction,  I was impressed with the performance of the face-blasted milled grooves. The engineers employed this method to enhance the texture of the active zone for improved friction, enhanced spin, and a low, controlled launch.
Besides spin, you'll see that the Glide 4.0 sports an attractive compact shape at address, which is a pleasure to look over. Overall, it produced a soft feel, an attractive profile, a controlled launch, and extra spin to help mid and low-handicappers on the links.
Rating: 4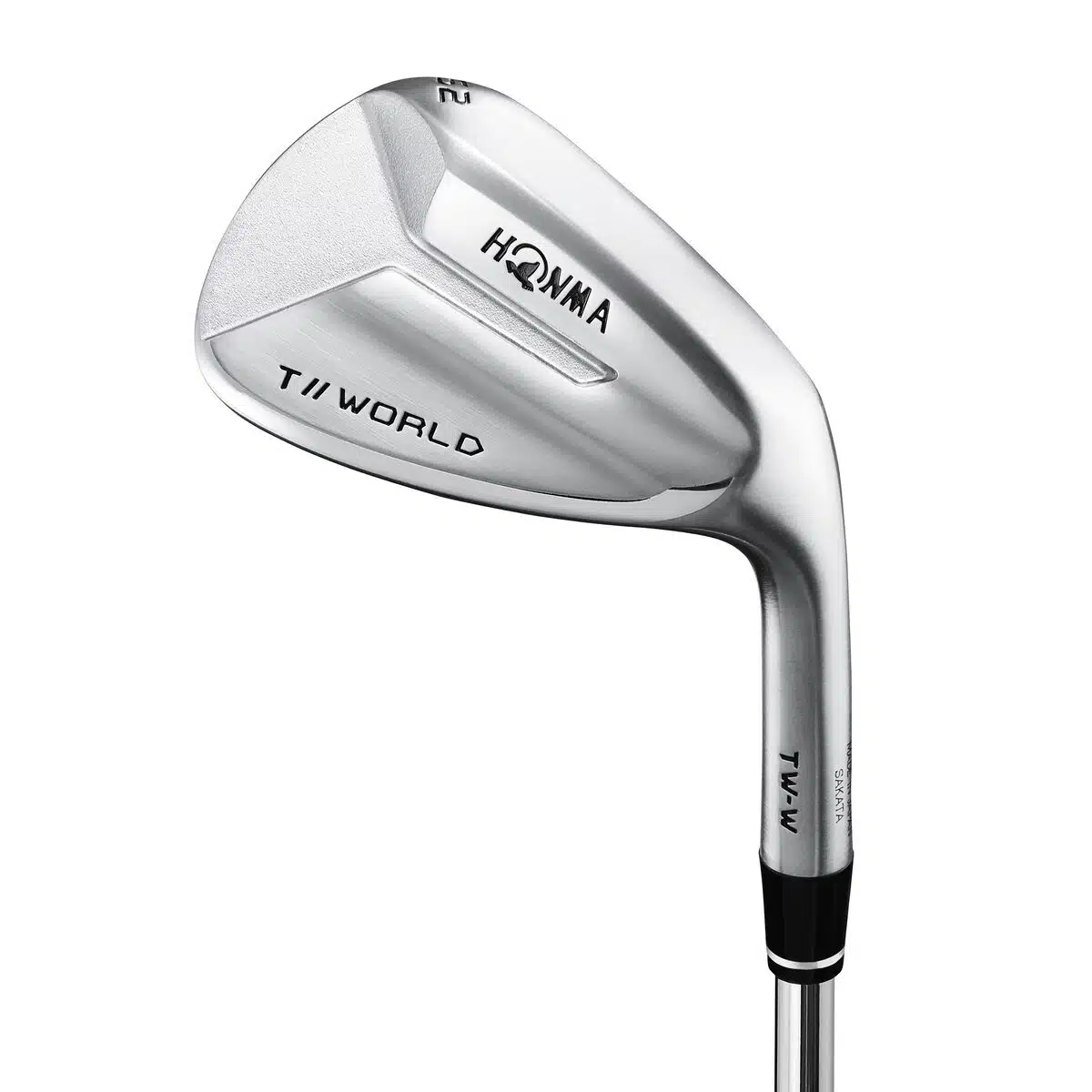 Pros
Produces a controlled trajectory
Generates increased spin
Stops rapidly on approach
The sole grind provides heel-to-toe relief
Moderately affordable
Cons
There is only one sole grind option
I found glare was a challenge at address
Despite their wealth of experience in golf club manufacturing, Honma is often overshadowed by the more famous Japanese brand Mizuno. However, their hard work does not escape me, and the T/World W4 sand wedge claims the title of the best ball flight in 2023.
Mizuno used their 50 years of experience to construct a sand wedge with a high CG and solid feel for improved feedback. Opposite to drivers and long irons that feature low CG, Honma lifted its position to produce lower ball flight for greater control.
I felt that the cross-milled face design provided impressive spin and, when combined with the lower trajectory, generated rapid drop and stop control. That saw my ball grind to a halt, leaving me close to my target.
My only gripe with this sand wedge is the lack of sole grind constructions. There is only one to choose from. The C-Sole design rocks a Crescent-shaped sole that offers heel-to-toe relief, encouraging versatility around the green. In other words, it works with a closed, open, or neutral clubface angle.
Rating: 3.5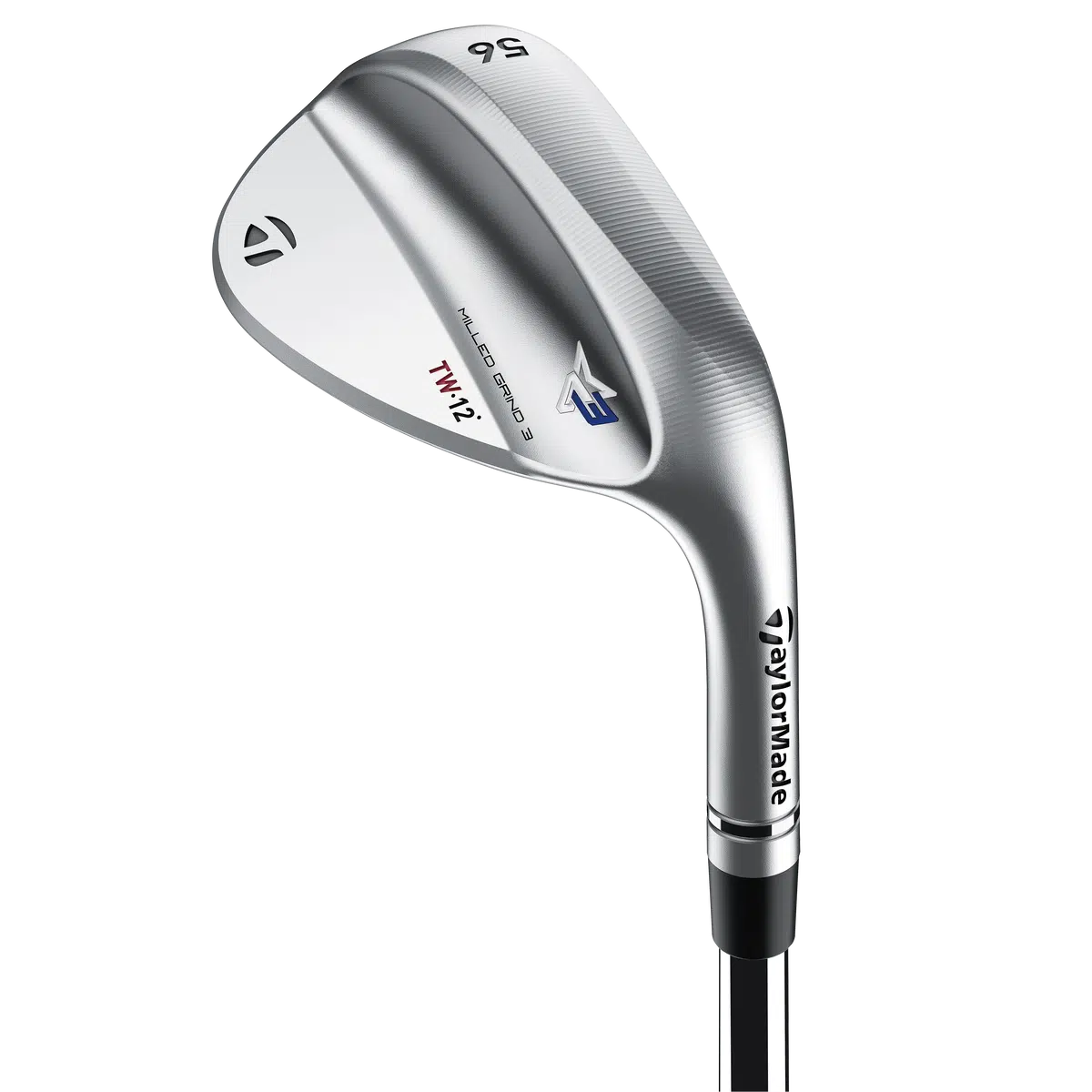 Pros
Attractive profile
Generates enhanced friction at contact
Produces increased spin
Delivers a lower ball flight for greater control
Clean turf interaction
Cons
Limited sole grind options
Expensive
The most superficial section on our list revolves around the best-looking sand wedge in 2023. I cannot think of a more fitting choice than the TaylorMade Milled Grind 3, which combines a classic profile with innovative technology.
TaylorMade engineers opted for the less is more approach by omitting the face plating, which enabled them to precisely position the grooves for escalated spin and a soft feel. In addition, you'll notice the presence of raised Micro-Ribs between each indentation, designed to increase the texture of the clubface.
The additional texture boosts friction between the sand wedge clubface and the ionomer for more spin and greater greenside control. Further aiding spin is the ZTP Raw design which creates sharper, narrower, and deeper grooves for an advanced spin in all weather conditions.
Moreover, I noticed this wedge provided a Milled Grind sole to produce crisp turf interaction and optimal CG positioning. You'll find that the Milled Grind sole glides over the turf and prevents digging into the earth, prompting a clean strike with rampant spin and improved short-game control.
Finally, I enjoyed lower ball flight thanks to the optimal CG setup, which increased my handle on the shot to deliver consistent results. The controlled trajectory, with escalated spin, helped my ball stop after one bounce, allowing me to attack the flagstick.
Rating: 4
Pros
Forgiving
Crisp turf interaction
Moderately affordable
It is easier for the average golfer to swing in the bunker
Clean platinum chrome finish
Cons
The spin was not the highest out of our best sand wedges.
Restricts workability
The Callaway Mack Daddy CB closes out our list of the best sand wedges by taking the title of the best sand wedge for bunker shots. In addition, it impressed me with its moderately affordable price, clean turf interaction, high spin, and forgiveness.
Callaway allows you the choice of one sole grind to match different golf swings and turf conditions. I found that the W-grind offered impeccable forgiveness and bounce, out of the sand trap and rough, for greater consistency. You'll see that this helps you strike the golf ball cleanly to generate the required spin rate.
A star feature of this sand wedge is the Groove-in-Groove technology that escalates your spin rate off the clubface for superior control.
In addition, the undercut cavity back increases your MOI to help keep the face square to the target at impact for straighter shots. I also noticed that it prevented spin drop-off on off-center hits for greater consistency around the dancefloor.
Rating: 3.5
FAQ
What Is The Easiest Sand Wedge To Use?
In my experience, the Cleveland RTX Zipcore or Tour Edge Hot Launch E522 are the easier sand wedges to use. That is because they offer a forgiving cavity back design with a high MOI, prevent spin drop-off, and deliver a controlled trajectory.
In addition, these wedges feature sole grinds that glide over the turf with limited interaction to promote consistently clean strikes.
What Loft Sand Wedge Do Most Pros Use?
According to Golf Magazine, eight out of the top ten male golfers in 2020 operated with a 56° sand wedge. However, that figure varies depending on the loft combination of their pitching, gap, and lob wedges.
What Is The Best Wedge For Bunker Play?
Your sand wedge is the best for bunker play, hence its name. The weaker loft, smooth gliding sole, and high spinning grooves help you get under the ball for a higher lift and soft landing.
Should You Chip With A Sand Wedge?
Yes, you should chip with a sand wedge because it provides a lower launch than a lob wedge for improved control, and run, to get your ball up to the cup.
How Far Should I Hit My Sand Wedge?
As a mid-handicapper with a medium swing speed, I hit my 56-degree sand wedge an average of 87-yards on a flat track during a warm day with no wind. That number will vary depending on the conditions, the time of day, and the quality of my ball striking.
However, to give you a ballpark figure, golfers who swing a driver over 105 mph may expect to reach up to 120-yards. Conversely, those swinging the big stick below 83 mph may produce south of 80-yards on average.
Conclusion
The sand wedge is an integral part of your golf bag and helps you escape the bunker, play controlled chip shots, bump and runs and attack the flag on full swings. It is a magical golf club that can save and gain you countless strokes.
If you are a high handicapper, I suggest sticking to forgiving cavity-back sand wedges that reduce the impact of off-center strikes. Conversely, mid-handicappers may prefer a combination of forgiveness and playability found in a more compact profile.
Finally, lower handicappers may prefer tour-inspired wedges. They offer a buttery-soft feel, crisp acoustics, playability, and drop-and-stop spin. Before we wrap up, let me remind you of my top three picks for 2023.
The Cobra Snake Bite is my favorite choice for a high spin rate. Thanks to its sharper, deeper, narrower grooves, heat-treated face, and high MOI. Next, high handicappers or golfers on a budget should try the affordable Tour Edge E522, thanks to its forgiveness, superb turf interaction, and high MOI.
Closing out the list is our overall best sand wedge for 2023, the Callaway Mack Daddy 5 JAWS. It provided more spin, multiple grind options, and a buttery-soft feel for a pleasant short-game experience.