Knowing what to wear to a golf tournament will ensure you have a stress-free afternoon, and all your focus can be on exquisite golf. If you already golf, then there are probably no surprises here, but you could benefit from our pro tips from having been to so many golf tournaments ourselves.
If you don't play golf, you'll benefit greatly from our experience and ability to clearly explain various golf tournament outfit ideas.
You probably already have these things in your closet so read on so you can be confident in your ensemble come tournament day.
At A Glance—What Do You Wear To A Golf Tournament?
Keep it simple and respectful. When in doubt, just wear what you would when you go golfing. If you don't play golf, wear something you would wear to a casual Friday at work. You want to be comfortable, but this isn't a day at the beach.
Wear a shirt with a collar and sleeves (long or short)
Wear khakis or a nice material that is not athletic or denim
Wear shoes that you will be comfortable walking in for hours across moderately hilly terrain.
Be sure to check the weather and make the necessary preparations.
Dos And Don'ts Of Golf Spectator Attire
Men
Women
Dos

Wear a shirt with a collar or at least a t-shirt that's golf-related
Wear khakis or other dress pants or shorts
Wear comfortable footwear (sneakers or golf shoes)

Wear footwear that is closed-toed and flat
Wear shorts or skirt that is at an appropriate length
Wear a wide-brimmed hat

Don'ts

Wear a tank top or any kind of sleeveless shirt
Wear jeans
Wear flip flops

Show too much skin
Wear high heels or shoes you don't want to get dirty
Wear athletic gear like yoga pants and halter tops
Let's break it down for those who want advice on fashionable golf spectator outfits.
Choice of Outfit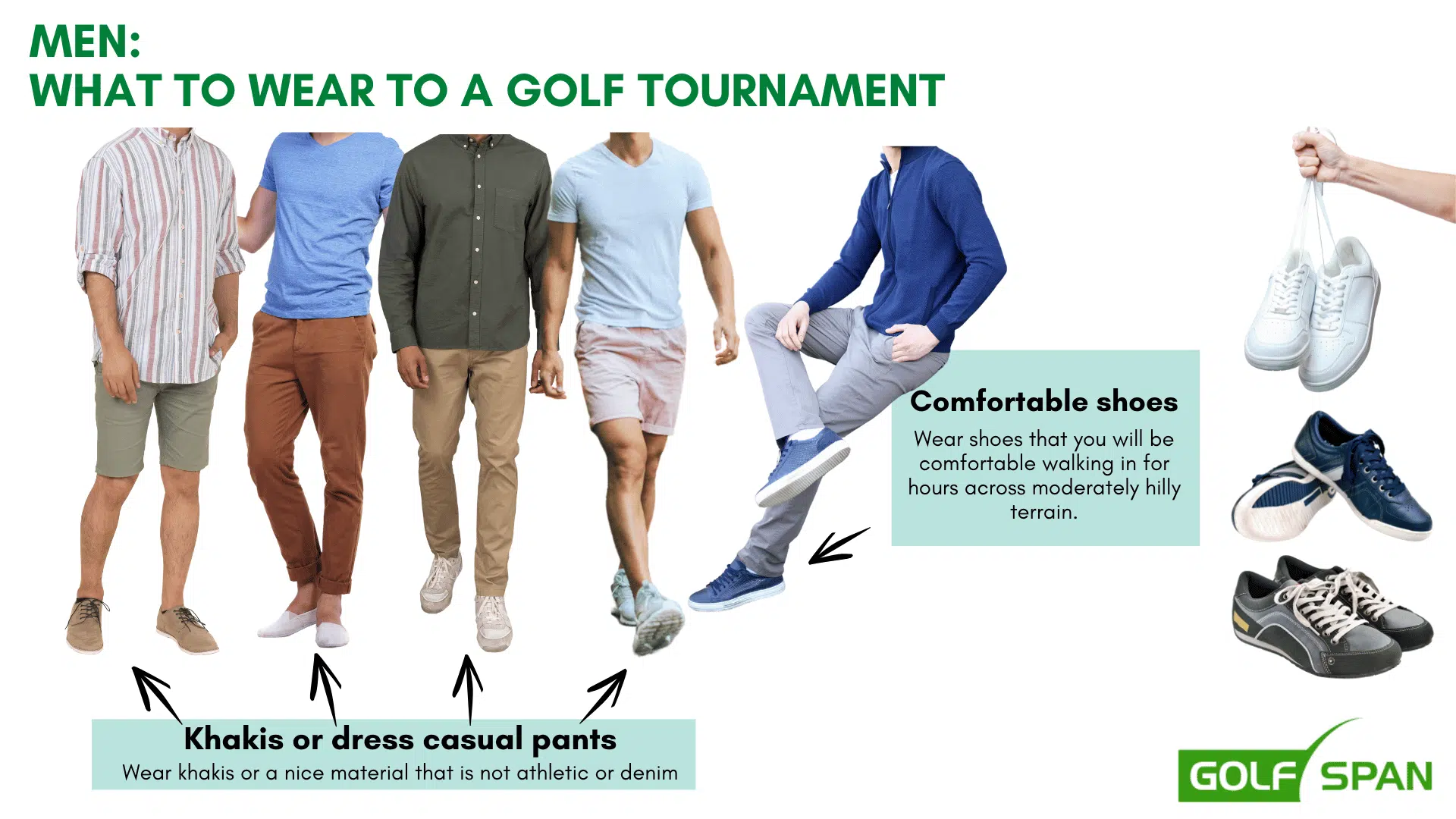 Since golf tournaments are typically played in nice weather (British Open excluded), our options are quite vast as long as we respect the game and the facility.
For Men
If you want to venture away from the typical golf outfit, you can jazz it up by adding a bit of business. Wear a nice button-up shirt with a vest if it's not too hot. This is a throwback to early golf attire without wearing funny-looking socks.
Feel free to express yourself with a fun print on your golf shorts or pants. Companies like Loudmouth have made it acceptable to show a little flair. Just make sure it's made for the golf course and not Coachella.
For Women
Like on the golf course, women have more options when deciding what to wear to a pro golf tournament. Sleeveless shirts are permitted, but spaghetti straps are discouraged. Women don't need to sport a collar, but plunging necklines should be avoided.
Wearing shorts, pants, skirts, or dresses is all on the table for women. But before you walk out the door, just remind yourself that these events are steeped in tradition, and tournament officials may have an issue with those who choose to be too revealing with their female golf spectator attire.
Footwear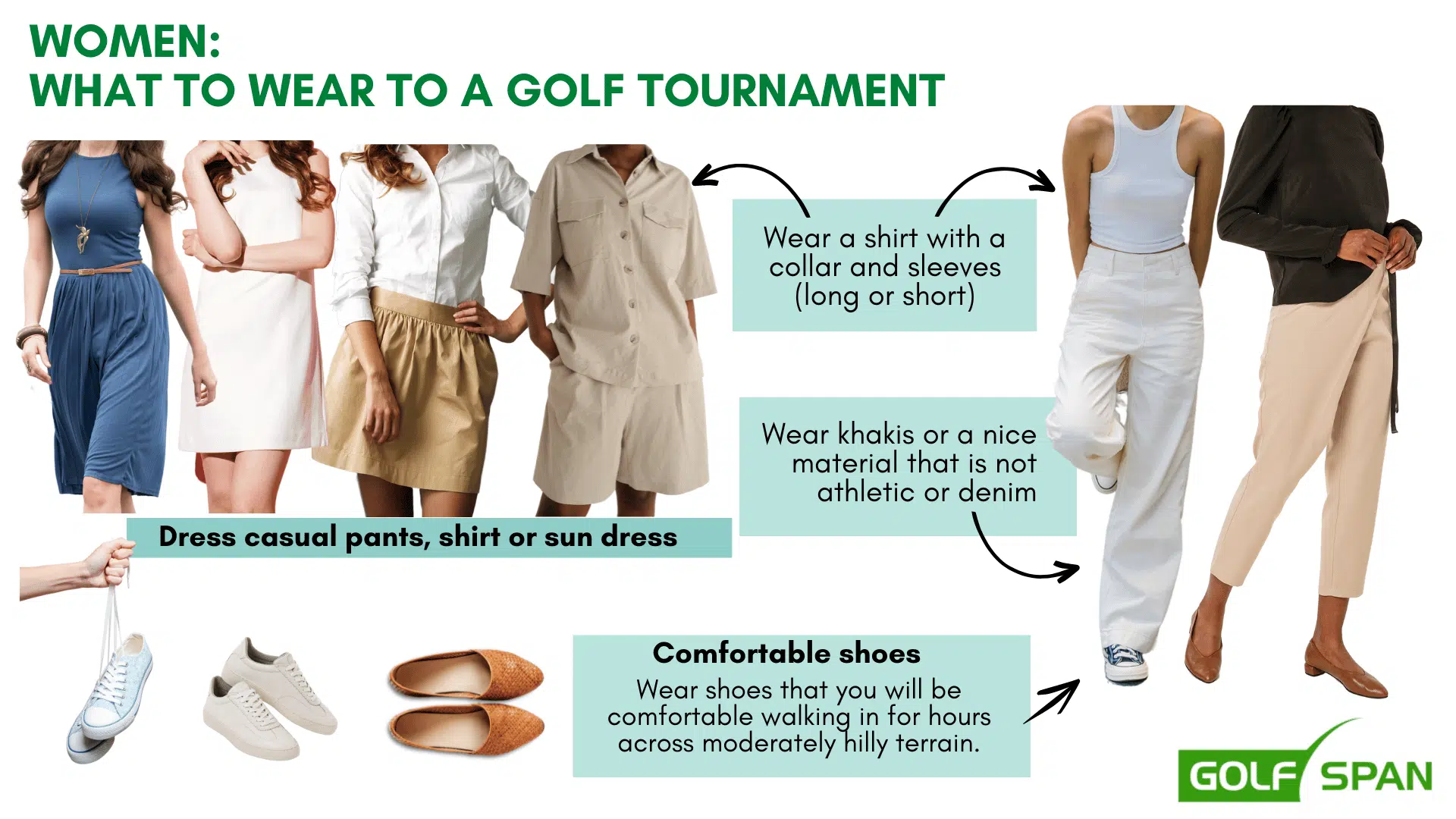 You will be walking a lot. Be sure your feet are taken care of and protected. This isn't the place to show off your latest purchase because it may not be appropriate, or you may end up ruining them with unexpected terrain on the course.
For Men
Yes, you can wear your golf shoes. However, there is an unwritten rule that this is not what true golfers would do. In theory, it makes sense. Golf shoes are made to accommodate a golf course's unique topography and are comfortable. But purists will prefer that you dress the part; golf shoes are for golfing, so keep them in your golf bag and wear sneakers, boat shoes, loafers, etc.
For Women
While you want to look good and satisfy the dress code requirements, you will be walking a lot and possibly into some dirty spots. Not all spectator paths are paved, and trampled-down grass can lead to standing water and, eventually, mud. Bear this in mind when choosing your footwear for women's female golf spectator attire.
Outerwear
Check the weather before leaving the house. Golf courses are much more lenient when keeping warm and dry. If it's going to rain, it's perfectly ok to bring your yellow raincoat if you don't have any fancy golf rain gear.
Unlike the stigma that golf shoes come with choosing what to wear to a PGA event, rain gear is not held to the same scrutiny. Stay warm and stay dry no matter what.
Expert Tips On What To Wear To A PGA Tournament
Call The Pro Shop—The only way to know exactly what to wear to golf tournaments is to call the course and ask any pro shop attendant. I guarantee you will not be the only one to do this, so the staff will be prepared to answer all your questions.
Check Social Media—If the line is busy or you want to avoid human interaction, you can always log on and check their website or any other platform they are present on. In many cases, they will explain the dress code, but if not, you can use pictures to form an accurate representation of their expectation.
Wear What The Pros Wear—If you come dressed in what your favorite PGA professional is wearing, you'll fit right in. If they allow the pros to wearing it, then so can you.
Always Bring These To A Golf Tournament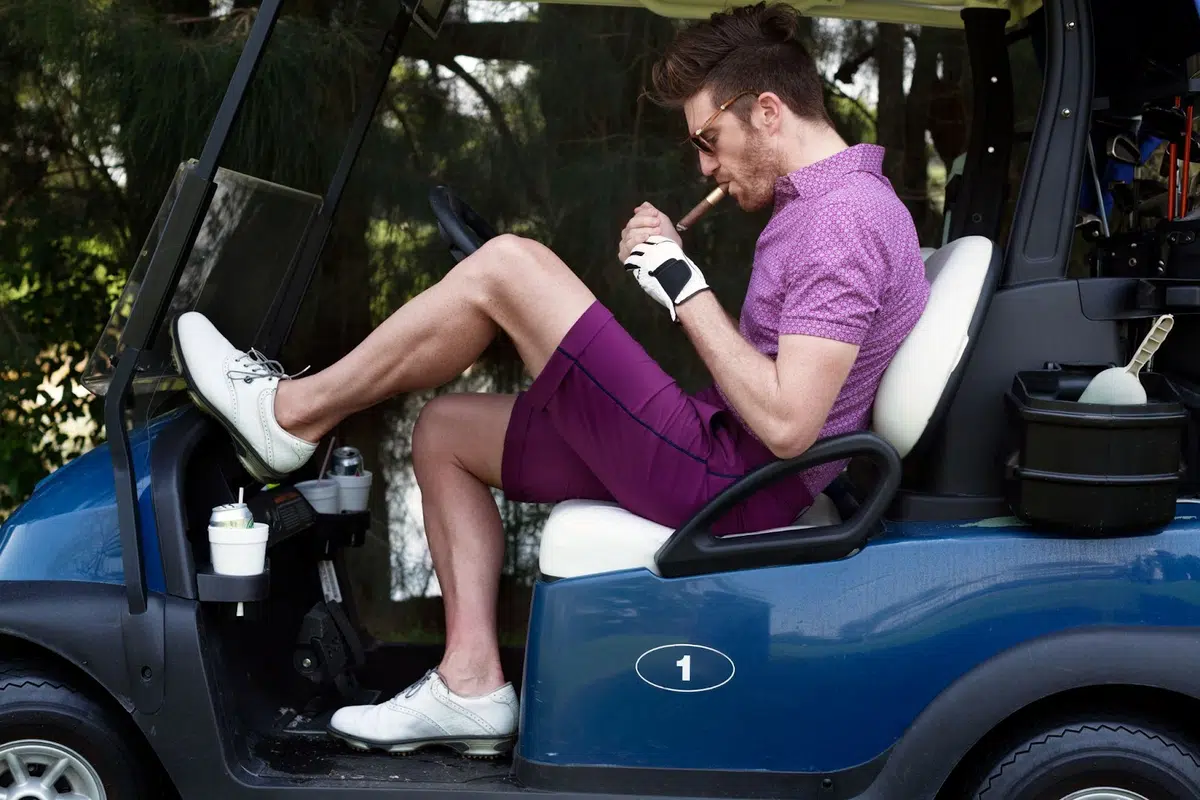 You will be walking a lot, and access to amenities may be few and far between. Examine this list and evaluate which are necessities and which are not. You'll have to carry whatever you bring for the whole day, so be efficient with your selections.
Shoulder bag or large purse will make it easy to carry your necessities
Reusable water bottle
Sunscreen
Sunglasses
Binoculars
Foldable and small lawn chair
Bug spray
Foldable rain jacket
Cash for parking and other treats
Never Bring These To A Golf Tournament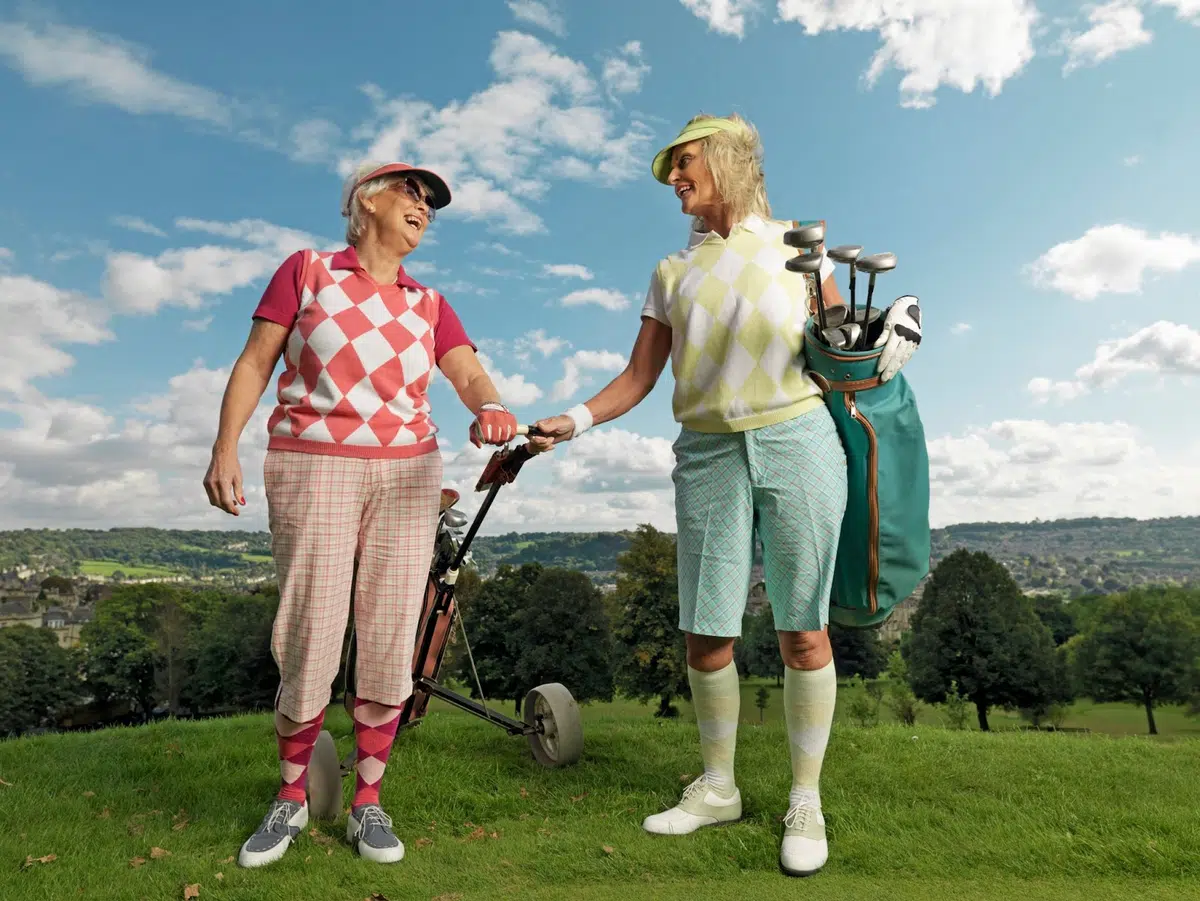 While this is a day of fun, it's not completely void of rules and regulations to ensure the safety of everyone attending. Avoid these items to save yourself any disappointment at the entrance gates.
Large bags, keep your carry bag small
Outside food or beverage (including alcohol)
Signs, these are not as appreciated on golf courses as they are at other sporting events
Radios, cameras, or any electronic device that makes noise—silence is golden
Key Points Of Golf Tournament Etiquette
Now that you're dressed the part let's talk about how to present yourself to ensure you have fun, and you don't spoil it for any of the other attendees (or the pros for that matter). Golf is unique because we get to watch our favs from so close. Let's not ruin that by ignoring the rules allowing such access.
Keep Quiet—This may seem obvious, but with tens of thousands of people around, it's hard to achieve. Always be aware of your position on the course. You may have just witnessed three players tee off, but only a few yards away, another pro may be putting on a nearby green. Always watch for volunteers with raised signs; this indicates a player is preparing for their shot, and everyone should stand still and keep quiet.
Post Up—Sure, it's fun to walk around, check out the course, and try to see as many pros as possible, but there's an argument to be made for sitting still and letting them come to you. You can find a spot on most courses that intersects a few holes. Look for a nice shady spot under a tree where you can see one tee box and one green. From here, you'll get to see every golfer and see them hit tee shots, chips, pitches, and putts.
Bring A Chair—If you want to traverse the golf course, I highly recommend bringing a light and foldable chair. This will enable you to park wherever you see fit and enjoy some world-class golf in comfort. It doesn't have to be a chair; there are foldable stools that act as a walking cane as well for easy transport.
Eat Ahead Of Time—Sure, you'll want a snack since you'll be in the sun and burning some calories, but golf tournament food is expensive. It's like going to any professional sporting event. Fuel up before leaving so you can stave off hunger for as long as possible and focus on the golf, not your appetite.
What To Wear To Watch Golf—Junior Edition
The PGA Tour spectator dress code is slightly different than any junior tournament. Many spectators are just supportive—and nervous—parents who probably skipped out on work to watch their kid play.
Most tournaments and golf courses recognize this and provide leniency regarding the dress code. Jeans are more common, although still discouraged, and still not allowed to be worn as a player on the course or the driving range and sometimes not in the clubhouse either.
It's always best to keep a change of shirt and pants/shorts in the car if you plan to frequent junior tournaments in haste.
FAQ
Is There A PGA Dress Code?
Yes, there is a PGA dress code. Players must wear pants during tournament play at all times. Their shirts must have a collar, and sleeves must cover at least half of their upper arm. Pants are to be made of khaki or another variation of dress pant material. Sweatpants and denim are not permitted. Shirts must be tucked in at all times—this is something we don't have to worry about when choosing what to wear to PGA golf tournaments.
Is There A Dress Code For Golf Spectators?
Yes, there is a dress code for golf spectators. Deciding what to wear to PGA tournaments is easy after your first visit. While many will allow jeans, they are frowned upon. Also, they will not tolerate any kind of beach or athletic wear. Keep your t-shirts respectful, which will also be allowed, especially in hotter climates. Golf-related t-shirts are preferred.
Can You Wear Jeans As A Golf Spectator?
Yes, in most cases, you can wear jeans as a golf spectator. However, this may vary depending on the course and the event that the tournament is held. The Masters and US Open golf dress code will vary from the Waste Management Open. To put your mind at ease, contact the course you'll be attending and ask the staff what the dress code is for the days you'll be there.
What Should I Wear To The US Open Golf Tournament?
You should wear a collared shirt tucked into your golf pants, shorts made from khaki, or another type of premium dress pant material. You should wear comfortable sneakers if you plan to explore the course, but boat shoes and loafers are also acceptable if you spend most of your time in the hospitality tents.
Summary—What To Wear To A Golf Tournament
Knowing what to wear to a golf tournament can be tricky. All tournaments are created differently, so if you want to push the envelope without going overboard.
The best thing to do is to contact the course. If you want to play it safe and just focus on enjoying the high level of golf, keep it simple.
Wearing what you would on the course is the safest bet. If you don't play golf, stick to business casual attire that includes collars, buttons, and anything that satisfies the 'smart casual' genre. Remember, you're there to see the world's best do what they were born to do; focus on that and save the fashion statements for other occasions.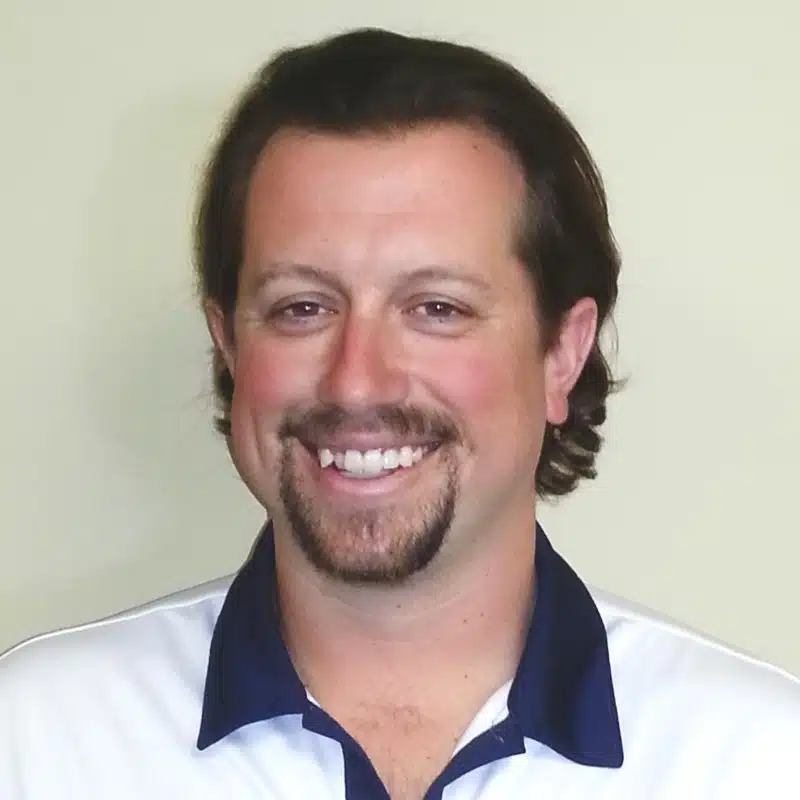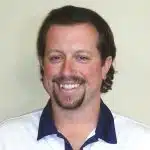 Clint became the Head Teaching Professional at one of Toronto's busiest golf academies and was featured on Canada's National Golf TV program, "Score Golf Canada," twice. He now tests and reviews golf equipment and gets to enjoy the game he loves whenever he wants while helping people lower their scores.