Storage space is often at a premium, and golf equipment can be rather large and bulky. Putting all your golfing equipment together will make it less intrusive to your lifestyle and more accessible to load into your vehicle quickly. Golf club storage ideas, including finding the right golf bag organizer for you, will help with this.
What's the best golf bag organizer for you? 
Read on to learn a list of the best golf bag storage options on the market so you can find one to suit your home or garage.
At a glance: Our Top 7 Picks for Golf Club Storage Ideas
Buying Guide: How to Pick the Best Golf Organizer
There are a few things to consider when deciding which organizer is best for you:
Access: Where in your house will the organizer live? Many golf storage trays are only accessible from the front. So, if you opt for such an organizer, make sure you have enough space to pull your bag out and put it in.
Size: A pretty obvious one. You'll need your organizer to fit all of your bags and gear without taking up too much space in your home.
Maneuverability: Many golf bag storage rack systems have wheels so you can move them around your home or garage. But, you'll also need to ensure they still work while stacked heavy with your gear. You may also want to get a stationary garage golf bag organizer if it's in a spot where it may get knocked and move accidentally.
Golf Bag Organizer Reviews
Quick Overview: Our Top Picks for 7 Golf Club Storage Ideas
1. Milliard Golf Organizer – Best Golf Bag Organizer Overall
Pros
Easy assembly
Portable
Can hold two bags
Cons
Hard to get into from the side
The Millard golf organizer golf club storage racks are large enough to store 2 large golf bags with 4 shelves for your accessories. What sets the Millar organizer apart from other organizers that we reviewed is the top shelf that is enclosed on four sides, enabling you to store golf balls without any concern that they may fall off the sides.
All other shelves are enclosed on three sides, with the front side being open for easy access. Unlike most other organizers that cater to two golf bags, the shelves are on the side rather than between the two bags.
The organizer is easy to assemble and includes full instructions, including pictures. Leveling the organizer on any surface can be achieved by adjusting the feet.
A large frame measuring 36 inches wide, 16 inches deep (at the bottom), and 37 inches high. It narrows to the top for ease of access. The 36 inches width is divided into two areas, 26 inches for the bags and 10 inches for golf balls and other equipment.
2. SafeRacks Golf Equipment Organizer Rack – Smoothest Movement
Pros
Lightweight
Smooth wheels
Extra wide bag slots
Cons
Forgetting to lock the wheels could spell disaster
SafeRacks golf equipment organizer rack is the avid golfer's dream. These golf bag storage for garage racks are perfect for those that need to move it around easily. The heavy-duty steel wire shelf is extra-wide to fit even the largest bags comfortably while providing sufficient space for storing your shoes and other golfing equipment.
This is one of the larger (18 inches deep, 43 inches wide, and 40 inches tall) and heavier (40 pounds) organizers that we reviewed.
Moving the organizer around is not a concern since it is based on a frame with four wheels, of which you can lock two.
The large frame with two 14.5 inches wide by 18 inches deep bag slot allows enables you to store any bag, even Tour-sized cart bags, comfortably with space to spare.
Three sturdy shelves are adjustable, allowing for storage of golf ball cases, tees, hats, shoes, cold weather gear, and other accessories. Furthermore, it caters to storing your umbrella in a circular support ring.
Related Reading: The Best Golf Bag Coolers
3. Morvat Golf Organizer – Heaviest Load Capacity
Pros
300lb load capacity
Can fit bags sideways
Plenty of shelf space
Cons
Morvat offers you a perfect way to tidily store and organize your golf equipment and accessories rather than your golfing equipment being strewn across the floor, taking up unnecessary space.
Setting up the organizer is a straightforward process that can be completed in as little as 10 minutes. Adjustable feet ensure that you can level the organizer on any surface for the best results.
The space on the organizer can efficiently store 2 golf bags, balls, shoes, tees, gloves, and gear neat and tidy in their designated spaces. The golf bags are stored on either side of 4 shelves in the center of the organizer, where you can store your accessories. Protective covers on the sides of the bags and the back of the shelves prevent them from slipping off.
Once stored in the organizer, your golf bags and accessories can easily be retrieved. Smooth edges of the frame ensure that your bags do not hook and are torn while handling them.
It is relatively compact, measuring 38 inches wide, 36 inches high, and 16 inches deep.
Durable and hard-wearing materials are used in the fabrication, making the design easy to assemble as a DIY project. Once assembled, it can easily be leveled out by using the four adjustable feet.
4. Home-it Golf Dual Storage Organizer – Best Budget
Home-it golf storage organizer is a simple solution to your storage problem requiring little assembly and technical expertise.
It requires a level and fixed setting as there are no leveling feet and no wheels to relocate it once assembled.
Measuring 39-inches wide, 36-inches high, and 16-inches deep makes, these garage golf bag storage options one of the larger organizers under review.
You can store two large golf bags on either side of the mid-section shelves, while the four shelves enable you to store your accessories. Golf balls will be difficult to store on the shelves unless placed in a container to prevent them from rolling off the sides.
The Home-it storage organizer is one of the more basic-looking organizers under review and will serve its purpose.
5. Monkey Bars Storage Golf Racks – Most Discrete
Pros
Space saving
Easy install
Cons
Monkey Bars is a wall-mounted series of golf bag holders offering you an alternative if you lack space to keep a standing organizer. This will remove the bags from your limited floor space and avoid your family tripping over your favorite pastime while you neaten up space. Golf bag storage in a garage can be tight if you use the garage for other things. If so, this could be an excellent solution.
The durable rack is constructed of industrial-grade steel with a gray powder coat finish.
Installing the rack against the wall with its two studs is an easy project that can be completed in around 15 minutes.
The 48-inch wide rack can easily accommodate between 4 and 6 golf bags, up to a maximum of 200 pounds, on the four 4-inch single hooks and two swivel J-hooks. All hooks are rubber-coated for the protection of your bag.
6. Mythinglogic Golf Bag Storage Organizer – Best Single Bag Option
Pros
Space saving
Easy install
Cons
Racor's garage storage for golf clubs solution requires a little assembly but be mounted with a single stud against the wall in a safe and secure location that is out of high-traffic areas.
The durable black finish protects the rack against corrosion.
The rack can only store one golf bag, but the surrounding cage protects it from accidental bumps in high traffic areas and tight spaces.
Retrieving your bags and shoes is straightforward, and there are no doors or locks in place to be removed.
Bonus: KOFULL Golf Club Organizer
The KOFULL golf club organizer is not aimed at storing golf bags but rather at storing individual clubs as a display. This makes these golf club organizers ideal for shops that want to put their inventory on display. However, it can be useful if you have a large club selection and swap clubs depending on the course you are about to play.
Installation can be done by one person in a short time. The frosted antiskid base prevents the organizer from skidding and scarping on smooth surfaces.
Various options enable you to store 9 clubs, 18 clubs, or even as many as 27 clubs for easy access.
A 9-club club organizer measures a mere 27.56 inches by 10.83 inches by 19.69 inches.
The sturdy metal construction is moisture-proof with individual storage for every club, thus protecting them from banging against each other. The edges of the storage section may cause damage to graphite shafts if inserted and removed regularly.
More Golf Bag Storage Ideas: Build You Own
Of course, instead of buying a golf bag organizer, you could build one from scratch. Check out some of these ideas from Pinterest: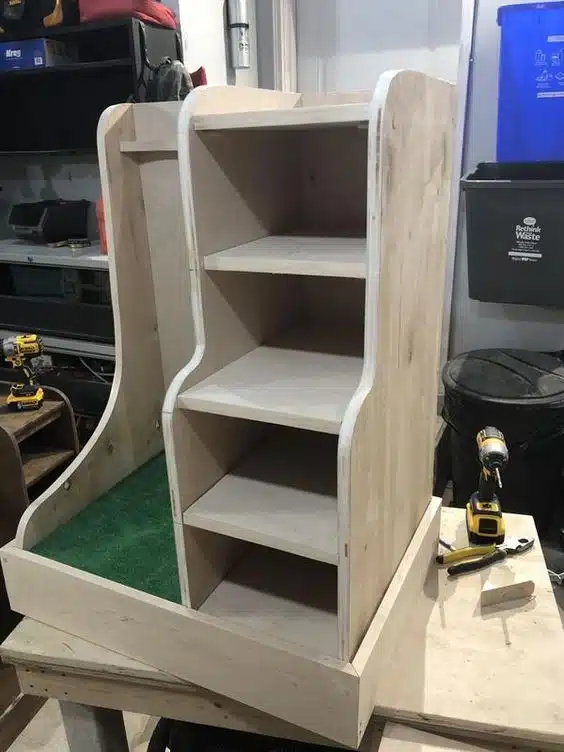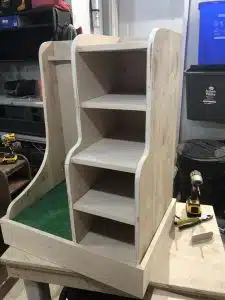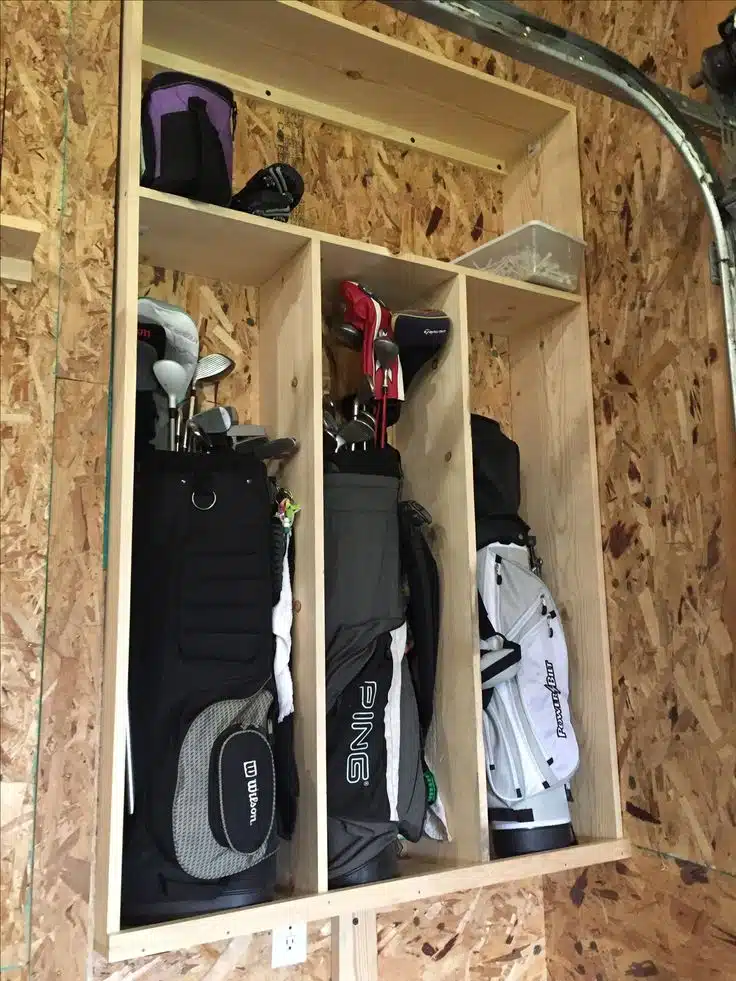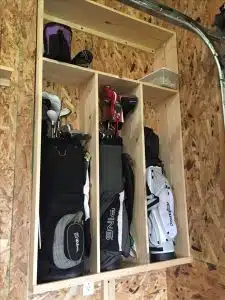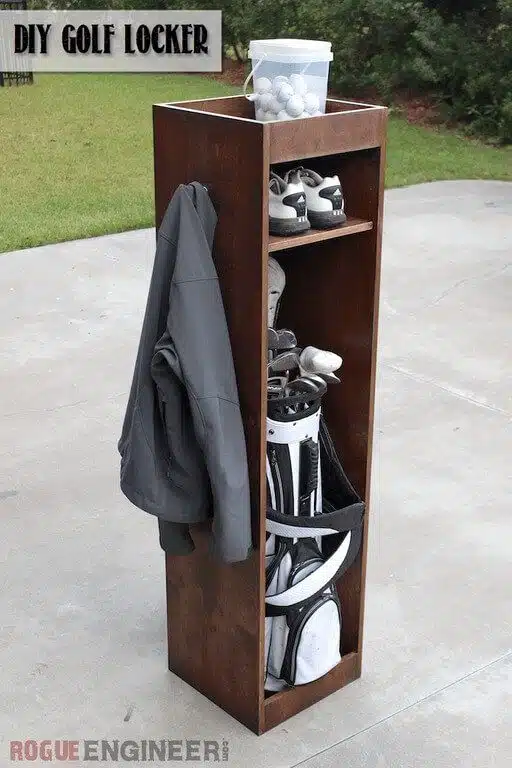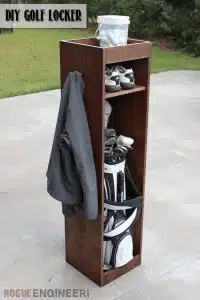 Frequently Asked Questions
How Do I Organize My Golf Clubs in My Garage?
There are plenty of ways to organize your golf clubs, but the most efficient way is to simply buy a golf organizer for garage use from Amazon or another reputable supplier.
Where Should I Store My Golf Clubs in My House?
They can go anywhere that is clean and dry. You may also want to keep your bag and other golf gadgets out of direct sunlight as it may cause the fabric to fade.
Is It Okay to Leave Golf Clubs in the Garage?
Yes, that's fine, provided your garage is free from dampness or potential security issues. You may want to consider specific golf club storage for a garage to keep your belongings safe.
Final Thoughts
The best solution will depend on your needs and your equipment. A few options stood out.
Monkey Bars storage golf rack is the best wall-mounted rack. Although it does not offer space for shoes and other accessories, it can store up to 6 bags of up to 200 pounds. This makes it ideal for a family of golf lovers.
Overall, the organizer that suits most needs best is the Millard Golf Organizer with its durable construction, leveling feet, and the enclosed top shelves for storing golf balls.
Any feedback or experience with your chosen golf bag organizer will be appreciated in the comments section below.
Related Articles
Nick Lomas is the founder of GolfSpan, an avid golfer, not quite a pro but has over 15-years of experience playing and coaching golfers from all over the world. His mission is to bring the golfing community a better experience then it comes to choosing the right golf gear, and finding the right set up for your game.