The shortened release cycles whereby various brands offer new equipment annually or bi-annually results in avid golfers building quite a stockpile of golf clubs. This raises the question of what to do with old golf clubs?
Donate
Depending on your financial status and money requirements there are a few ways of reducing your stockpile to a manageable level.
If you are in the fortunate position where you can dispose of the clubs and apparel without any compensation it would be beneficial to the game of golf if you donate the clubs thereby enabling underprivileged people to be introduced to golf.
Who knows, your clubs can be the start of the road for someone to become a professional golfer one day.
Donations can be done to charitable organizations such as Goodwill, The Salvation Army, Savers, and many more. These charitable organizations will either resell the clubs supplementing their funds or donate them to deserving recipients.
Golf training institutions such as The First Tee can use donations to teach kids from underprivileged communities the details of golf.
Many professional golfers have set up their own foundations to give back to the community. Although many of them receive sponsorships from the brands that they represent, a few extra clubs that they can distribute will always be welcomed.
Donating golf clubs can have the following benefits.:
Create space for new equipment in your selection
Generate interest in golf in underprivileged youths
Enable military veterans to experience the joys of golf
Selling your clubs
Should you rather want to sell your clubs to enable you to replace the club(s) there are a few ways to do this.
Brick-And-Mortar Stores
Brick-and-mortar stores are the physical locations where you buy your golfing equipment such as the local golf trading store, the pro shop at the golf course, and even a second-hand shop.
These shops are generally quick trades as you can take the clubs to the physical location for inspection and conclude a trade immediately. Some stores will allow you to trade in your old clubs on new equipment. Trade-ins generally achieve a higher price than a direct sale as the company can make money when selling your new equipment.
Selling the clubs to a brick-and-mortar store will alleviate the hassles of boxing and sending the clubs via a courier to the new owner.
Online-Stores
Online trading has become extremely popular over the last decade and even more so during the Covid-19 pandemic when people experienced restrictions on their movement.
Direct sales to individuals can be quite risky and open to theft unless the purchaser has a track history of successfully purchasing equipment online.
To overcome this there are many golf trading sites available that will allow you to sell your old equipment to the store, sell to other subscribers on their platform, or trade-in your old clubs on new purchases.
The process to conclude a sale online is slightly more onerous and takes a while longer due to the transport of your clubs by courier companies.
Before selling your clubs online there are a few steps that you can take to prevent losing your clubs in the process.
There are plenty of blogs available that will provide feedback on experiences that golfers have had with the specific site. This will provide a good indication of whether the site is trustworthy.
Online trading is rife with fraudsters that want your equipment without paying for it. Make sure that the payment channel being used protects your money and that you can release the money once the trader receives your equipment. This is less likely to happen when working with a reputable dealer.
You Do Not Have To Sell A Full Set
Determine whether the buyer is willing to trade individual clubs as well as full sets. This will enable you to get rid of selected clubs while keeping the long irons in your bag.
Shipping costs can be expensive if you don't shop around. Generally, you will be responsible for the shipping cost when selling your clubs.
There are some reputable online stores with long track records that you can trust with your money.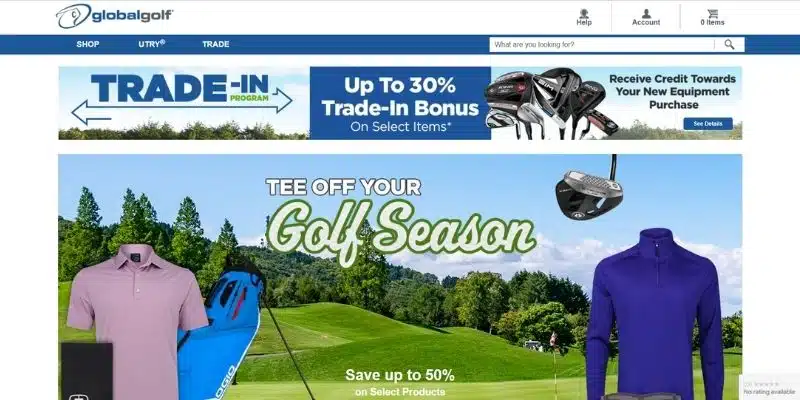 GlobalGolf has been around since its inception by Ed Byman in 2001 specifically aimed at the market for used golf clubs. It allows for trade-ins of your clubs.
In addition to the trade-in option, they offer a 14 day Try Before You Buy program.
The website provides all the information you require including how your clubs will be rated.
In addition to their website, they have retail operations in Greensboro, North Carolina; Salt Lake City, Utah; and Mississauga, Ontario, Canada.
2. GolfWrx
GolfWRX started in 2005 and offers a complete golfers forum and a golfing community providing loads of discussions, a trade store, and allows for trades between members.
It does not only sell / trade-in golf clubs but frequently reviews new equipment and provides instruction videos.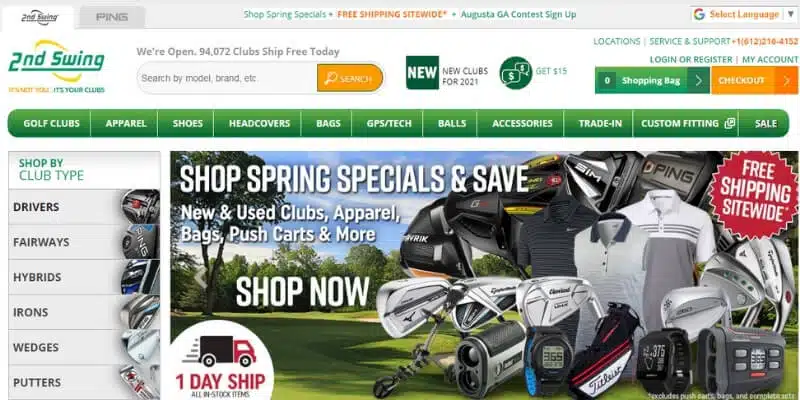 2nd Swing started online during the Masters Tournament week of 2007 with two stores in the Twin Cities area, opening stores in Scottsdale, Arizona in 2015, Wilmington, Delaware in 2017, Columbia, Maryland in 2019.
A user-friendly experience on their website provides access to approximately 50,000 clubs for sale and they offer a 30-day guarantee.
Although you cannot sell your clubs directly, they offer a trade-in program.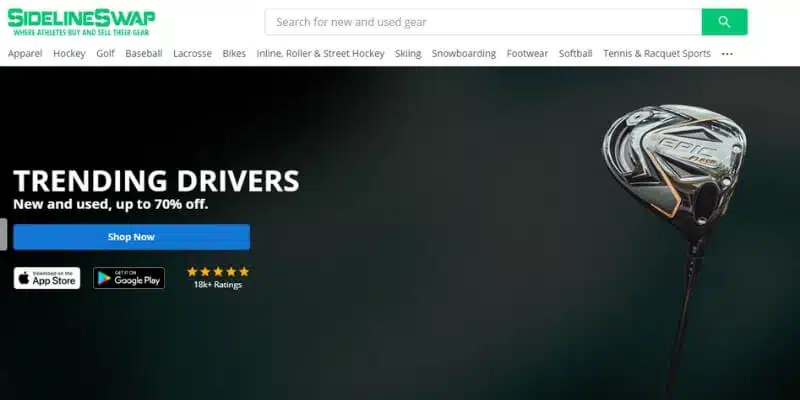 Sidelineswap has been around since 2012 aimed at trading sporting equipment at affordable prices.
You can list your clubs on the website with no upfront charge but there is a 12% commission on completion of the sale up to a maximum of $50.
The site is straightforward to use and available on the iOS app store.
Recycling And Disposal
Some companies specialize in the recycling and disposal of waste such as broken clubs thus preventing it from ending up in the landfill.
One such company is LoadUP in the US and golfclubs4cash in the UK. They will collect your old clubs and dispose of them in a climate-friendly way or donate it to a charity of their choice.
Not For Sale
When your equipment is not in a condition that you can / want to sell or donate it, there are several easy applications for the clubs as a whole or portions thereof.
Coat Hooks
Cutting the golf shaft a few inches above the ferrule enables you to secure it into an angled hole on a mounted or standing block of wood.
This can then be used to hang your hat, coat, or other apparel onto. It looks great and is a practical way to repurpose the club.
Garden Tools Storage
An old bag with dividers is ideal to store your garden tools in and keep them separated. It will make it easier to carry the garden tools around while protecting them. An old stand bag will even keep them in the upright position while you are working in the garden.
There are many ways limited only by your creativity for the use of old golf clubs and equipment. It can be used to make art, a walking stick, bottler openers, tables, picture frames, and even as décor in your games room.
Final Thoughts
The life cycle of golf clubs can last around 10 years, but many golfers replace them much more frequently. This creates a stockpile that needs to be depleted one way or the other.
Donations and selling your clubs are ways to deploy clubs that are still useful and undamaged.
However, the unusable clubs can be reused in many other ways. Let your imagination take over and become creative, it could create a source of income.
Related Articles
Nick Lomas is the founder of GolfSpan, an avid golfer, not quite a pro but has over 15-years of experience playing and coaching golfers from all over the world. His mission is to bring the golfing community a better experience then it comes to choosing the right golf gear, and finding the right set up for your game.