I played with the Mizuno Pro 225 irons for over a week, and they worked like a charm for me. So it only made sense to write my Mizuno Pro 225 review.
The Mizuno Pro 225 Irons are players distance ideal for mid-handicappers. The irons have a wide sole design, a multi-material construction technique, a hot metal face that is thin and flexible, and tungsten weighting strategically placed to optimize the center of gravity. These features make the club forgiving on mishits and provide good distance on well-struck shots.
After using these irons, I realized why there are different irons for each skill level. The right irons for your golf skill will complement your game and make you a better player.
In this review, I'll go into depth about all the benefits and features of these irons and list their drawbacks. So, let's see if you'd want to add the Mizuno Pro 225 irons to your bag.
Mizuno Pro 225 Irons: Overview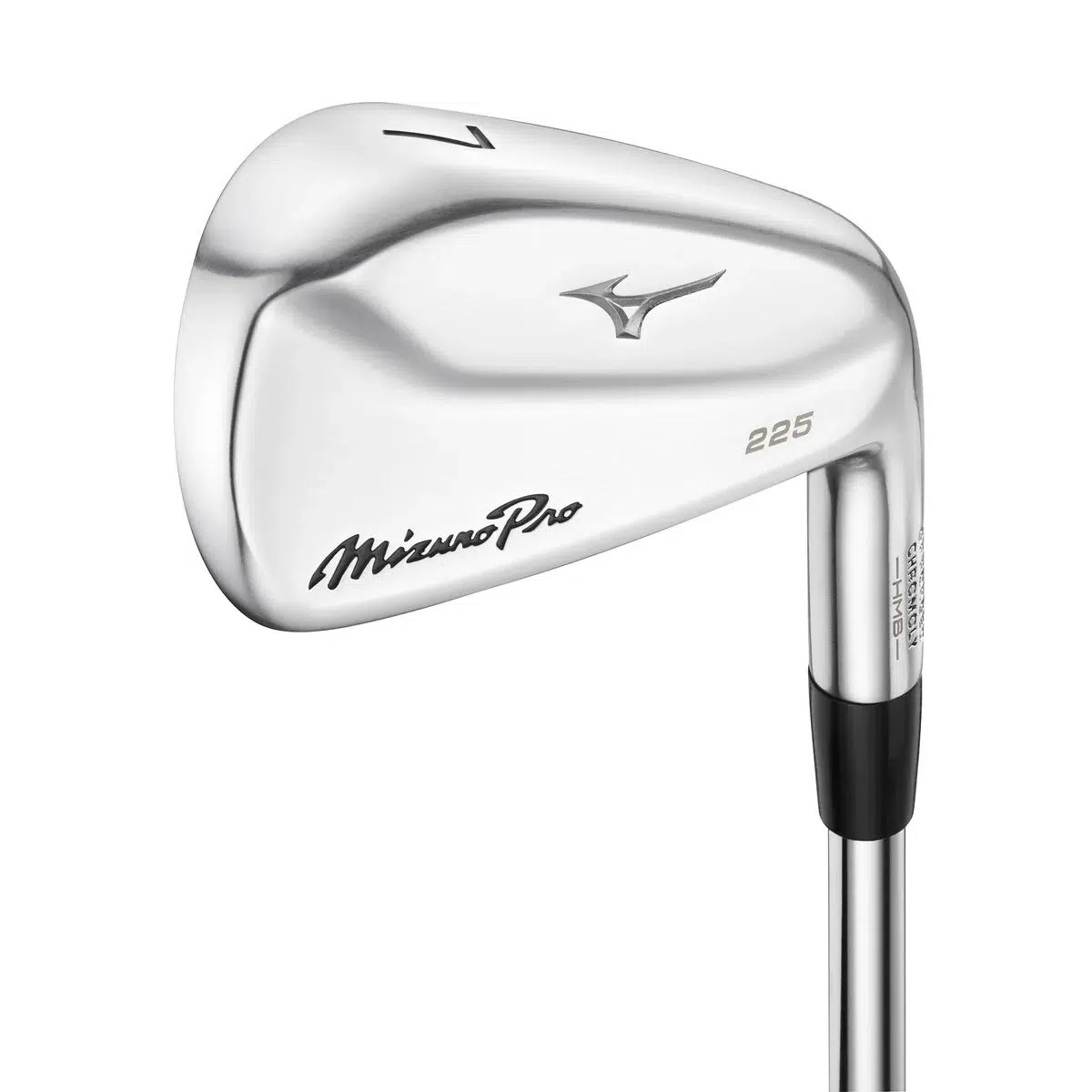 Pros
Forgiving even on off-center hits.
High MOI & Tungsten weights.
Heated metal faces increase ball speed and distance.
Increased accuracy.
Provides confidence and improved shotmaking.
Beautiful players distance irons.
Cons
They're expensive.
Not offered in left-handed.
The Pro 225s have a futuristic, high-tech aesthetic that may not appeal to traditional golfers.
The Mizuno Pro 225 Irons are high-end golf clubs that offer forgiveness and distance at the same time.
The Pro 225 are the latest irons from Mizuno's Pro line of irons.
They have a wide sole that evenly distributes weight for improved stability and balance. The tungsten weighting aids in increasing accuracy on off-center strikes, while the heated metal face increases ball speed and distance.
These irons offer the ideal balance of forgiveness and distance for dedicated golfers looking to take their golf to the next level. You should get better performance and a great feel from the Mizuno Pro 225 Irons on every shot.
Key Metrics to Consider
These are my ratings for the Mizuno 225 Pro Irons.
Note: All ratings are out of 100.
| | |
| --- | --- |
| Overall | 90 |
| Star Rating | 4.5 out of 5 |
| Distance | 92 |
| Forgiveness | 88 |
| Feel | 90 |
| Workability | 85 |
| Aesthetics | 95 |
| Price | 85 |
Continue reading to learn more about the Mizuno Pro 225 Irons and who should buy them.
Who They're Best For?
It's impressive because golfers of all skill levels favor the Mizuno Pro 225 Irons, from single handicappers to those with the highest handicaps. This is due to their exceptional overall performance and terrific feel on successful strikes.
However, I recommend these irons, particularly for mid-handicappers who haven't felt much improvement and want to get better.
The Pro 225 irons are ideal for medium to fast swing speeds and should increase your distance and accuracy.
Below, I'll highlight how the Mizuno Pro 225 Irons can still be useful to you:
Low-Handicap Golfers
Low handicappers will appreciate the responsiveness of the Mizuno Pro 225 Irons' striking, which offers feedback on hitting the golf club.
The Pro 225 are one of the best golf irons for low-handicap golfers.
Mid-Handicap Golfers
After my testing, I found that the Mizuno Pro 225 Irons are ideal for mid-handicap golfers.
These players distance irons offer more forgiveness than most players' irons.
These irons can help you develop your skills and increase your feeling of consistency. You'll be able to compete with golfers on a higher level of play thanks to the distance and high launch angles.
High-Handicap Golfers
The thicker topline of the Mizuno Pro 225 Irons gives players with high handicaps a sense of security while positioning the club behind the ball. High-handicap golfers might really use forgiveness, superior launch angles, and greater distance in their game.
Although you get more distance with these clubs, I won't recommend them to a total beginner. Players distance irons suit experienced golfers.
If you're new to golf, I'd recommend you check out the best golf irons for beginners.
Mizuno Pro 225: Verdict
Before I go into the specifics of each feature, here's what I concluded after playing with the Mizuno Pro 225 Irons.
Golfers of all skill levels may get distance and forgiveness from these irons. After giving it some thought, I found that the distinctive design of the Mizuno Pro 225 Irons offers adjustable weighting, enabling an adjustable center of gravity and better ball flight.
According to my research, mid-handicap golfers should strongly consider the Mizuno Pro 225 Irons to enhance their game and feel confident on the course. These irons offer a stable feel on excellent strikes and are the ideal blend of forgiveness and distance.
Mizuno Pro 225 Irons Specs
I've mentioned the Mizuno Pro 225 lofts, lie, offset, and shaft length here. For more details on Mizuno 225 specs, scroll down.
Pro 225 Irons – Specs
| | | | | | | | | | | |
| --- | --- | --- | --- | --- | --- | --- | --- | --- | --- | --- |
| Club | 2 | 3 | 4 | 5 | 6 | 7 | 8 | 9 | PW | GW |
| Lofts | 16.5° | 19° | 21.5° | 24° | 27° | 30° | 34° | 39° | 44° | 49° |
| Lie | 59° | 59.5° | 60° | 60.5° | 61° | 61.5° | 62° | 62.5° | 63° | 63° |
| Offset | 0.15 in | 0.142 in | 0.138 in | 0.134 in | 0.13 in | 0.122 in | 0.144 in | 0.106 in | 0.098 in | 0.094 in |
| Length | 39.5 in | 39.0 in | 38.5 in | 38.00 in | 37.5 in | 37.0 in | 36.5 in | 36.0 in | 35.5 in | 35.25 in |
Note: All of this data was gathered from Mizuno.
Why You Should Trust Us
Our team spends thousands of hours trying out and researching golf equipment to help you take your game to the next level. Here's our product review process.
We can bring these reviews to you through the small commissions we earn if you buy through the links below.
How We Reviewed These Products
Golfspan only shares equipment and brands we trust.
I'm a regular golfer and professional writer, and I researched and evaluated the Mizuno Pro 225 irons. Then an editor reviewed and fact-checked the list.
The information you get in this article is up-to-date because we conduct regular content audits to update and revise our reviews to ensure you receive the latest information.
I considered these criteria for the Mizuno 225 review:
Cost
Distance
Forgiveness
Feel, Appearance & Sound
Launch & Accuracy
Comparing the Mizuno Pro Series: Pro 225 vs Pro 223 vs Pro 221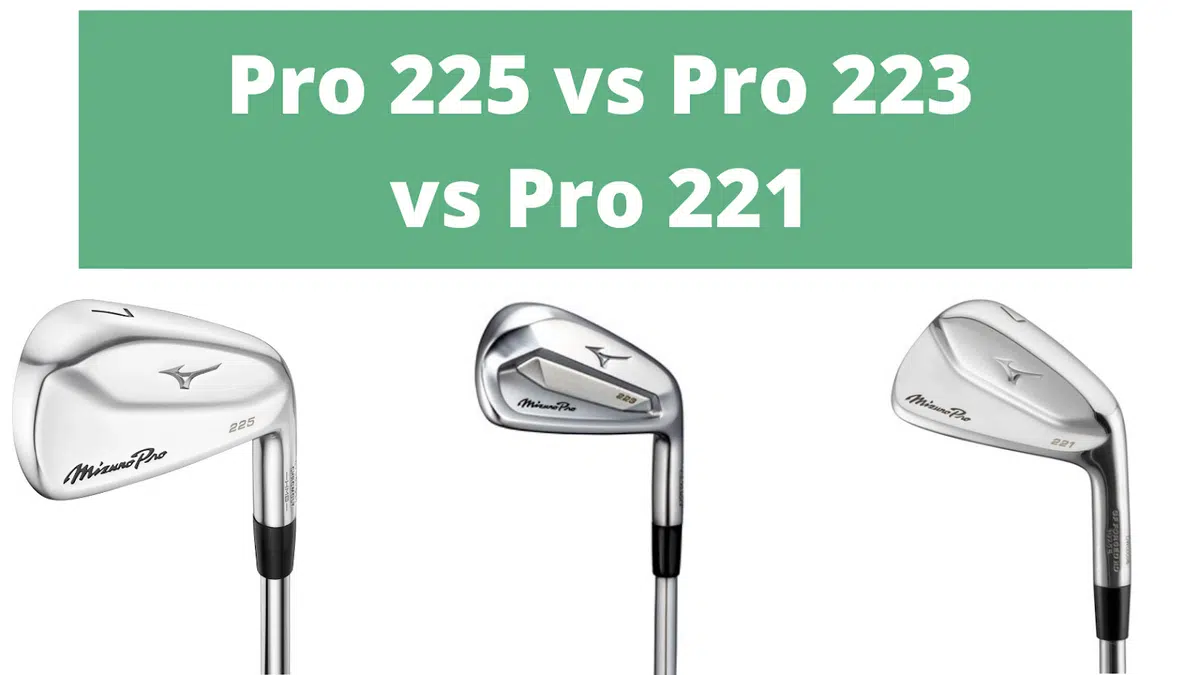 Mizuno produces some of the best irons for golf. Pro golfers can get clubs custom-made for them, but even Tiger Woods used to play with them.
The Mizuno Pro 225 irons are the newest addition to the Mizuno Pro series of irons, and they have various upgrades over the Pro 221 and Pro 223 models.
The three models have been compared below:
Design
The Pro 225s are forged irons with a hollow body architecture. The thin face of the Mizuno Pro 225 Irons contribute to their improved distance performance.
The club has a sleeker appearance thanks to a slightly larger clubhead than the previous generations and a thinner topline.
The Pro 221 Irons have a smaller head size than the Pro 225 and a forged cavity back.
The Pro 223 Irons have a slightly bigger head than the Pro 221 and are likewise forged cavity back irons.
Performance
In comparison to earlier models, the Mizuno Pro 225 Irons provide greater distance and forgiveness. Because of its somewhat larger sole, the Pro 225 is more forgiving when using long irons.
The Pro 221 Irons provide more conventional performance with good control and feel.
The Pro 223 Irons are also great for low-handicap golfers because of their feel and precision.
Technology
The Harmonic Impact Technology in the Mizuno Pro 225 Irons aids in delivering a strong and reliable sound at impact. Additionally, the Pro 225 boasts a variable-thickness face design that contributes to increased ball speed and distance.
The Pro 221 irons have a milled pocket cavity which helps distribute the clubhead weight for more stability and control.
The Pro 223 irons were built using a Grain Flow Forged HD method. This improved the consistency and precision of these irons.
Things to Consider Before Buying The Mizuno Pro 225 Irons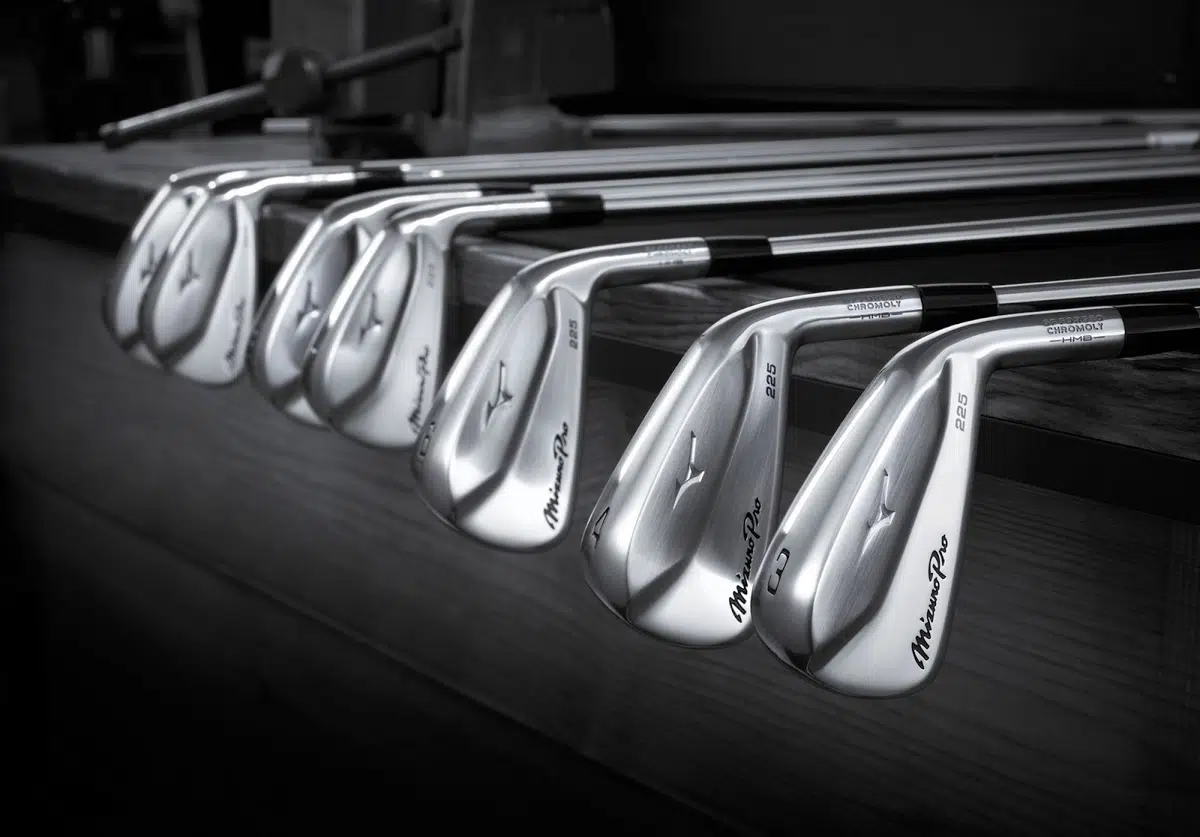 Before making your choice, there are a few factors you should think about before buying the Mizuno Pro 225 irons.
For your convenience, I've listed a few of these factors below so you can be certain you're getting the best value for your money.
Your Skill Level
When choosing a set of irons, it's critical to consider your golfing skill.
The Mizuno Pro 225 irons are ideal for mid-handicappers and low-handicappers, in my opinion.
I do feel that golfers of all skill levels can work around with the Mizuno Pro 225 irons, but you'd be capitalizing on its benefits if you're a mid-handicap golfer.
I wouldn't recommend this to absolute beginners, but you could give it a shot once your swing is consistent and you're breaking 100 at the least.
Swing Speed
After trying out these irons, I realized that slow swing speeds don't sit well with the Pro 225s. So if you've got a slower swing speed (around 75 mph), I wouldn't recommend going for these irons.
You could possibly change shafts, but golfers with medium to fast swing speeds should use the Mizuno Pro 225 Irons.
If you swing more slowly, you might not be able to create enough clubhead speed to take full use of these irons. On the other hand, if you swing really quickly, you might want a set of irons with stiffer shafts to assist you in controlling your ball flight.
Budget
Now, I know golf is an expensive sport and all, but sometimes these things can cost a lot. So naturally, you do want to consider your budget before buying these irons.
Since they're an expensive pair of irons, the Mizuno Pro 225 Irons might not be within everyone's price range.
Playing Style
Distance and forgiveness are the core features of the Mizuno Pro 225 Irons. If that's what you want, great – these should work perfectly for you. However, if you have a certain playing style or want something else from your irons, you can look for irons that will cover your weaknesses.
For instance, you might want to think about a set of blades or players' irons if shot shaping and workability are more important to you than forgiveness.
Current Irons
I'm not a fan of changing irons every time a new set comes out. I believe you should stick with your irons until you feel like your equipment is restricting your performance.
Now if you feel like getting the Pro 225s would be a big jump for your irons, you'd be making the right decision. At the same time, if your current clubs don't sit well with you for some reason(very common), you can still try out the Pro 225s and see if they work well with you.
Mizuno Pro 225 Irons Review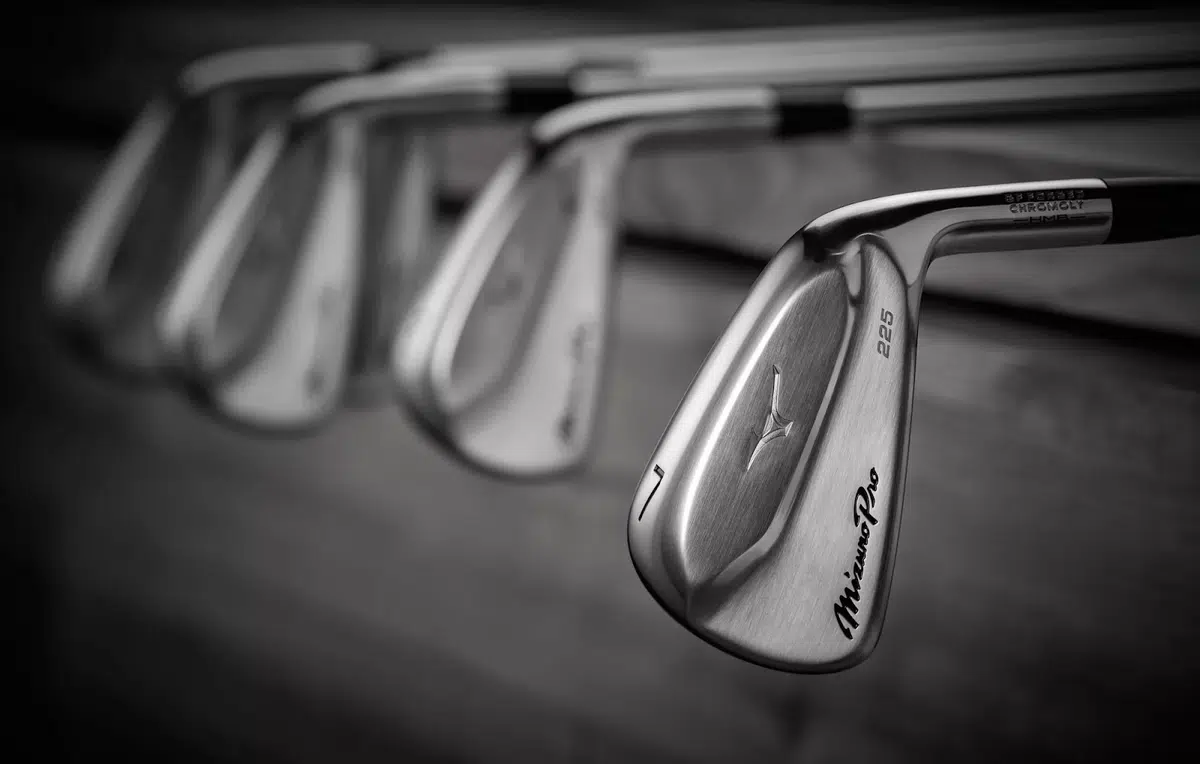 The classy Mizuno Pro 225 irons were introduced in 2022. These irons are a tempting alternative for golfers seeking flair and great performance due to the attention and interest generated by their modernized appearance.
In order to determine whether the Mizuno Pro 225 Irons met expectations, I tested them on the driving range and the golf course.
Before I get into how the Pro 225s performed, let's see how other golfers reviewed them.
How I Tested the Mizuno Pro 225 Irons
I have to admit that I was quite pleased with how well they performed.
I started with hitting some balls at the driving range to get a feel of the irons and understand their distance and forgiveness.
After that, I went out on the local course with the Mizuno Pro 225 Irons to see how they performed in actual game scenarios.
They were quite workable, which I appreciated because they made it simple to shape my shots. These irons have a fantastic feel, and I found that they were highly responsive on solid hits.
Overall
During my testing of the Mizuno Pro 225 Irons, I was able to see that they offer a great balance of feel and forgiveness in addition to amazing distance.
These irons are ideal for mid to low-handicap golfers that want the extra 5-15 yards on their clubs without foregoing a lot of forgiveness.
These irons have a special blend of technologies, such as Harmonic Impact Technology and Grain Flow Forged HD, which deliver a gentle and solid feel on impact.
Golfers can play with confidence because of the club's steadiness and forgiveness on off-center shots thanks to the CORTECH design, which helps maximize launch and distance.
Distance
Ok, so I have to admit that Mizuno did a great job with the distance on these irons.
I typically hit my 8-iron around 160 yards, but during my range session with the Pro 225s, I was hitting around 170 yards almost every time—that too with an improved carry distance.
A 10-15 yards increase is really good if you ask me.
Pros criticized the Mizuno Pro 225 Irons' predecessors for variable performance on accurate shots. However, the new design causes shots to come blazing out from the center, leading to more reliable approach shots.
The consistency of the Mizuno Pro 225 Irons was demonstrated during my own test with the 9-iron. Even though there were some mishits, the distance dispersion for the shots was hardly noticeable.
Forgiveness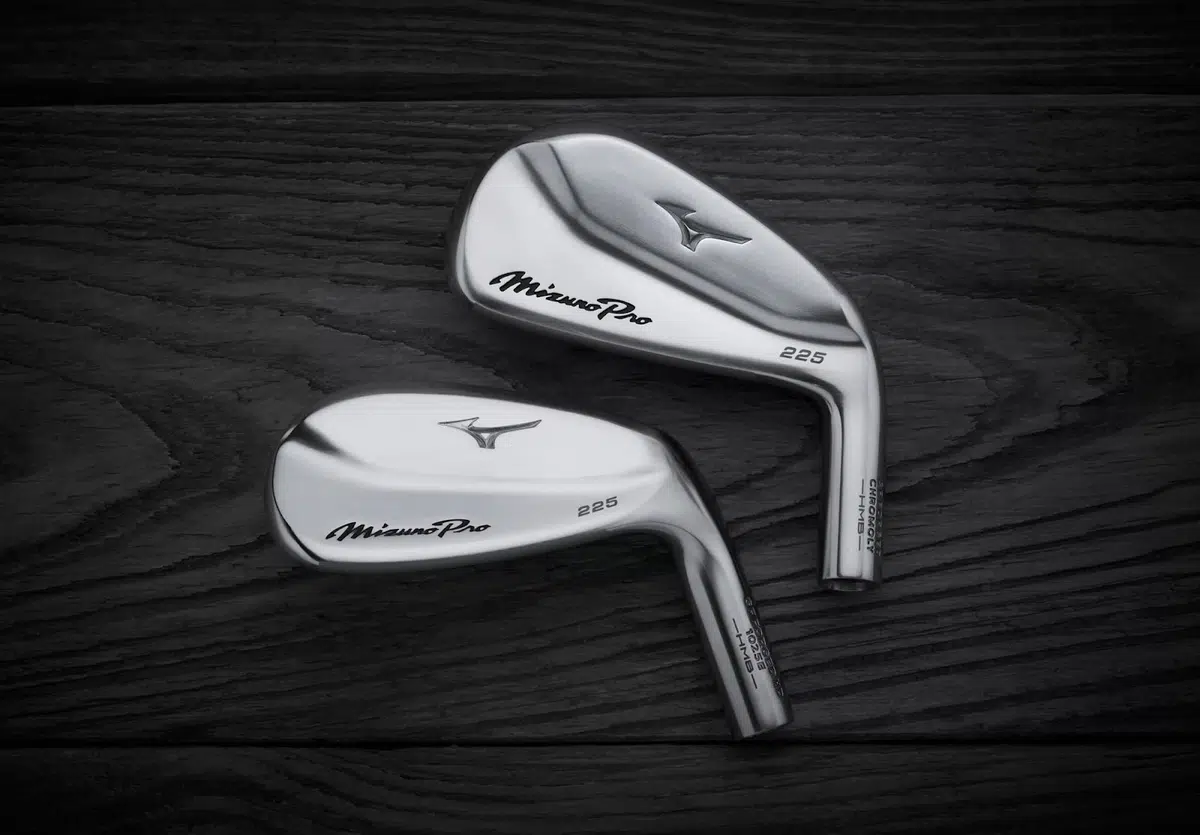 As I used several clubs from the set, I discovered that the Mizuno Pro 225 irons had okay forgiveness.
I wouldn't call it great, but it wasn't poor. The club's forgiveness, in my opinion, was average, especially when compared to other players distance irons.
The club's slightly broader sole is intended to increase forgiveness in the long irons. However, my tests discovered that it performed worse than other clubs in the same class.
I also felt the club to be "hooky," making it more probable for right-handed golfers to bend the ball to the left.
If you value feel and workability, you may find the Mizuno Pro 225 irons to be a suitable choice, but if you want more forgiveness, check out the most forgiving irons here.
Accuracy
Mizuno is known for its accuracy. Mizuno's research and design facilities are highly invested in producing clubs that provide consistent results in shot-making.
I usually track my irons with a launch monitor on the range sometimes.
When I took the Pro 225s, the results didn't show much variation in them. Throughout, the launch angles and spin speeds were remarkably constant.
Being a mid-handicap golfer, one of the many things that I expect from a club is consistency. I want results that can be repeated to predict how my strokes will react in challenging circumstances.
The Mizuno Pro 225 Irons worked for me. They provide good accuracy even though they aren't very forgiving.
Launch
While these irons had a respectable launch, I discovered at the range that they fell short of my expectations compared to some other irons I had previously tried.
My own experience indicates that the Mizuno Pro 225 Irons' launch was not always constant.
Some of my shots managed to get to a decent height, but others seemed to fall a little short and lacked the needed stopping power. I found it challenging to accurately anticipate how my shots would perform on the course due to thisconfidently
Having said that, I believe it's crucial to remember that launch performance can change based on a variety of variables, such as swing speed, club choi: I used several clubs from the set andhe Mizuno Pro 225 Irons might not have been the best fit for my swing, they might turn out to be fantastic for someone like you.
Feel & Look
The Mizuno Pro 225 Irons are a stunning pair of irons that offer a fantastic feel and appearance. It's easy to see how sleek and little the club is once you have it in your hands.
Afterall, these are blade irons with a Grain Flow Forged 4135 Chromoly club face and neck and a 431 stainless steel back.
Some golfers who prefer more forgiving clubs may find the thin, compact design of the forged heads to be off-putting. But its compact form enables a higher degree of control and accuracy while firing rounds.
For those who struggle with slicing, the tiny offset in the irons' design may be able to help.
The Mizuno Pro 225 Irons have an incredibly unique feel. The Pro 225s from Mizuno continue their tradition of producing some of the best-feeling irons on the market.
Features & Benefits of the Mizuno Pro 225 Irons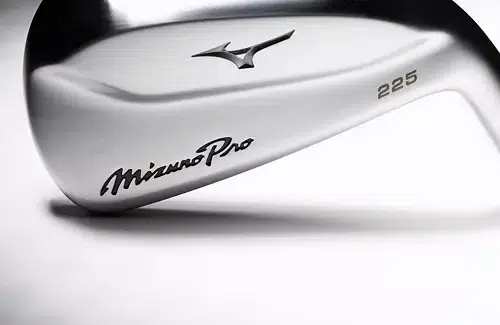 The following are some of the key qualities and advantages of Mizuno Pro 225 irons:
Multi-Metal Construction
The Pro 225s feature a multi-metal structure.
Soft 1025E mild carbon steel makes up the head of the forged iron, and lightweight titanium makes up the back of the clubhead.
A strong and fluid swing is the outcome of this material combination.
Tungsten Toe Weighting
These Irons contain 28.5g tungsten toe weighting, which offers great stability and forgiveness.
Tungsten in irons increases MOI allowing you to produce higher launches, stable flights, and more ball speed.
Beveled Trailing Edge
The Mizuno 225 irons include a beveled trailing edge, which improves turf interaction.
A smoother impact and faster ball speed are the results of the beveled edge's reduction of friction and resistance.
Progressive Set Design
The irons from the Pro 225 series have a progressive set design. Wider soles on the longer irons make launching the ball into the air simpler.
The sole of the shorter irons is smaller, providing better control and precision.
Premium Finishing
These clubs come with a high-quality finish that improves the club's appearance and delivers durability.
The clubface's chrome finish adds to its appeal, while the clubhead's smooth surface reduces glare.
Mizuno Pro 225 Alternatives
If you find that the Mizuno Pro 225 might not be the right option for you, other alternatives are available too.
Here are three of the closest competitors to the Mizuno Pro 225s.
Pros
Exceptional workability and control over ball flight.
Improved launch angle and forgiveness on off-center shots.
Consistent accuracy and distance.
The longer irons provide greater launch and more forgiveness
Shorter irons offer better control and workability.
Cons
Not a good fit for high handicappers
Expensive compared to some other irons.
Some players may not like the compact shape if they prefer larger clubheads.
Takes time to get acquainted with the clubs workability and control.
The Apex Pro irons have a progressive design, with the longer irons' (3-5) hollow-body structure offering a higher launch and more forgiveness. The shorter irons' have a cavity-back construction offering better control and workability.
The irons feature a premium appearance and feel on the course thanks to their smooth, satin chrome finish.
Pros
MainFrame technology increases ball speed and forgiveness.
Accurate and consistent irons.
Soft feel and improved distance.
Straight flights are easy to attain.
The Tour V.T. Sole provides improved control and reliable contact.
Cons
Shorter blades and soles.
Less launch angles.
The irons' style may not appeal to all golfers.
The Srixon ZX5 Irons are another close competitor to the Mizuno Pro 225s. These irons are designed to balance forgiveness, accuracy, and distance.
They have a hollow back design and forged construction, a tungsten toe weight, a Tour V.T. Sole design, and a forged SUP10 face insert.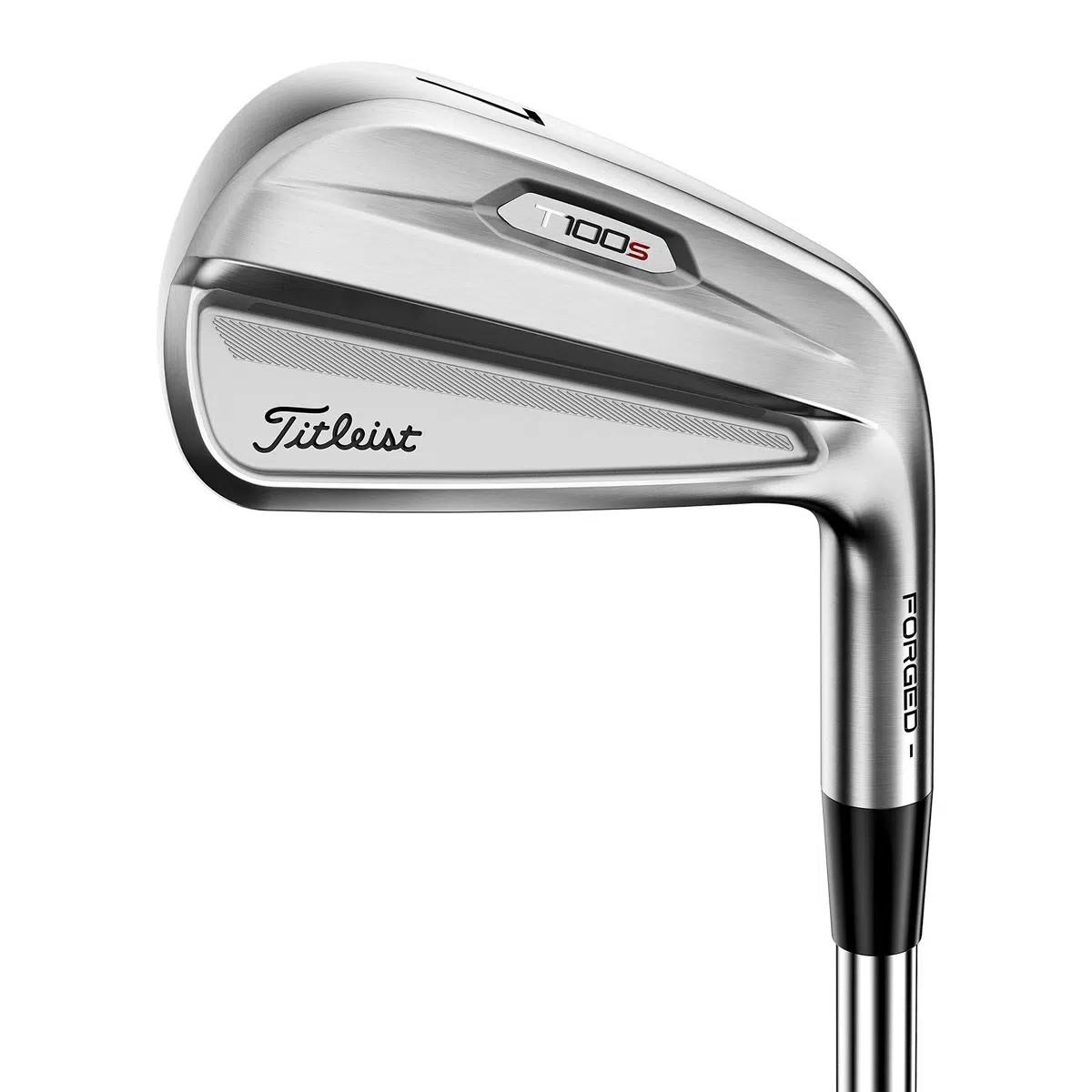 Pros
Better forgiveness and launch because of high-density tungsten weighting.
Enhanced feel and feedback
Consistent performance across the set
Greater Customizability thanks to a variety of stock shaft and grip alternatives.
Cons
Not useful for high-handicappers and beginners.
Can be costly.
Not as forgiving as other models on the market.
The Titleist T100S line is an improved version of the T100 iron model that is designed with a new high-density tungsten weighting method that improves the clubs' all-around performance.
The forged cavity back construction of the T100S Irons produces a solid feel with improved consistency, and the tungsten weighting is strategically positioned to reduce the center of gravity.
The set composition of the T100S Irons includes progressive sole widths and blade lengths, allowing players to personalize their clubs to suit their individual tastes and swing speeds.
FAQs
Are Mizuno Pro 225 Forgiving?
The Mizuno Pro 225 Irons are somewhat forgiving irons. They're suitable for skilled golfers who prefer control and workability over forgiveness.
They offer some forgiveness characteristics but are not the most forgiving. However, they provide great feel, precision, and distance control for those who can consistently strike the ball well.
What Handicap Is Mizuno Pro 225?
Golfers with low to medium handicaps, often between 1 and 15, are the target market for the Mizuno Pro 225 irons. However, because every player's skill level and playing style is different, testing out the clubs first is advised to see if they are a suitable fit for your game.
What Did the Mizuno Pro 225 Replace?
The Mizuno Pro 225 irons were introduced by Mizuno in 2022 as a brand-new model, not a replacement for any specific earlier model. They might be viewed as the replacement for the well-liked Mizuno MP-20 irons, which were introduced in 2019.
Final Thoughts
The Mizuno Pro 225s were launched in 2022 and generated a buzz among the golf community. The Pro 225s are targeted for mid-handicappers but they're great irons for a wide range of golfers.
You can tell that Mizuno put effort into designing these irons, and the results speak for themselves. The irons deliver long distances, sleek look, adequate forgiveness, and a soft buttery feel.
I wouldn't mind sticking with the Pro 225s if you ask me. So, I hope this Mizuno Pro 225 review helped you make an informed decision. What matters in the end is the synergy between you and your clubs. So, whatever feels right, stick with that. Happy golfing!

As a skilled golfer and wordsmith, Abdulmoiz brings a fresh and engaging voice to the golfing world. Whether he's on the course or at the keyboard, he strives to improve and inspires others to do the same.