Having great iron play is the only way to keep your handicap low and help you get it even lower. These irons provide a combination of distance and accuracy, which can help you greatly.
While it might be easy to say that low handicappers should use blade irons, that's not always true. Even if it is true, there are many different kinds of blade irons, and you still need to find a set that suits you and your game.
The best low-handicap irons should look good when you pick them up. If you feel intimidated, they aren't the ones.
Read these in-depth reviews to decide which irons are the best for you.
3 Featured Low-Handicap Irons
What Should a Low Handicapper Look for in an Iron?
Control — This is crucial for low handicap golfers to improve and take note of every shot they take. Improving means identifying even the smallest miscues, and you can't do that with irons that are too clunky and made solely for forgiveness.
Trajectory — Controlling the ball flight is easier with the right set of irons. Depending on how you swing, you can either increase or decrease the amount of spin you put on the ball. This is directly related to the direction of the ball.
Spin Rate — Having more spin makes it easy to work the ball left and right. Having less spin will help you straighten the ball flight and soften any mishits that result in either slices or hooks. Depending on your natural tendencies, always pay attention to the grooves and what kind of spin they produce.
Why You Should Trust Us
Golfspan is independent and not pressured by manufacturers to recommend products. We were not paid for the reviews in this article. These irons were selected by our team, who have over 100 years of experience playing golf and thousands of hours reviewing products. We may earn an affiliate commission when you purchase something through our retail links.
In-Depth Reviews Of The Best Irons For Low Handicappers
Pros
Most distance for a blade iron
Increased accuracy from wider sole
Maintains Mizuno's signature look
Hollowed out clubhead and thin face contribute to increased distance
Added tungsten stabilizes mid-long irons
Cons
Lack of forgiveness due to new design
Looks great at address but pretty simple otherwise
Specs
High MOI
Added tungsten
Wider sole
Mizuno constantly ranks atop lists for the best low-handicap irons, but these are much different than previous models. The new changes add noticeable distance to keep pace with all the new combo sets being released.
This is achieved by using a slightly larger sole. It doesn't change the look at address, but it does help increase the launch angle. Couple that with a thin face and a new hollowed-out clubhead design, and you get higher ball speed with each club.
This wider sole also helps to increase the MOI. The higher the MOI, the less your clubface will twist at impact.
Added tungsten in the mid-long irons is another huge advantage. To counter the hollowed head, tungsten stabilizes the club head through impact. This increases the COR, which is the measurement of energy transferred. Another reason why these clubs provide more distance than other best low handicap irons in 2022.
Pros
Elongated clubface for forgiveness
Hollowed head produces more flexibility
Added foam to enlarge the sweet spot
Tungsten installed in the toe to maintain distance with off-center hits
Cons
Thicker topline than other blades
Specs
Added SpeedFoam Air
More tungsten in the toe
Increased distance and forgiveness from previous model
Here is another distance option for low-handicappers who may lack a bit of club head speed. The design is slightly different from the Mizuno irons, but both produce greater distance using their own design techniques.
There are two approaches to hollowed-out club heads. One is to leave it hollow, and one is to fill the void with some kind of foam, resin, or microspheres. Mizuno uses air, and TaylorMade uses what they call SpeedFoam Air, which we can only assume is a combination of air and foam.
This addition doesn't change the weight at all because they have shaved the inside walls of the club head to compensate. What it does provide is better feel and a larger sweet spot where you need it most, in the toe.
There's also more tungsten added to this area to help maintain distance on off-center hits. These irons have been very popular with high-single-digit handicappers since they easily transition to or from larger iron headsets.
Pros
Compact look at address makes it easy to work the ball left and right
Hollowed clubhead design adds distance and forgiveness
Added urethane microspheres to all the club face to flex
Central tungsten weight increases ball speeds
Cons
The finish is quite shiny
Specs
Exceptional workability
Urethane microspheres in hollow club head
Increased sweet spot size
It's agreed that these are the prettiest irons out of all the best irons for 5 or 7 handicappers. They have a sleek and compact look at address that makes you feel like a pro just looking at them. The top line is much thinner than previous models made by Callaway, and people love it.
They have also chosen a similar hollowed-out club head technique to add distance and improve forgiveness. While I'm not sure about the forgiveness part, they definitely increased the distance.
With an added tungsten weight in the back, the face is very hot. This solid mass helps with energy transfer and produces higher ball speeds.
For forgiveness, the hollowed-out space is filled with urethane microspheres. This provides face flexibility across the entire club face to help straighten off-center strikes. While not as effective as TaylorMade's SpeedFoam Air, they are more forgiving than the old-school blades of yesteryear.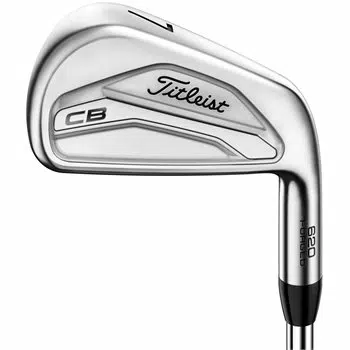 Pros
Progressive cavity back design
Traditional club head construction
Standard lofts to provide more control
Classic Titleist look at address
Excellent forgiveness
Cons
Might be too simple looking
On the higher end of the price scale
Specs
Cavity back design
Simple and classic look
Traditional forged construction
Titleist has always been looking out for low handicappers, but these could help a slightly wider range of golfer. They are perfect for players new to the low handicap numbers and a little hesitant to dive headfirst into traditional blade-style irons.
The cavity back design helps enlarge the sweet spot so off-center strikes won't be as detrimental. They are also progressive throughout the set, so the longer irons are more forgiving, and the shorter irons focus more on accuracy.
These irons stick to a more traditional construction without any filler. This process provides an authentic feel that low-handicap golfers require. Having the right feeling helps you improve by giving you great feedback about making contact and interacting with the turf.
You can't beat the look of these as they rival the Mizunos when it comes to a classic, clean, and simple appearance at address. The finish is slightly muted to prevent glare, which also helps them stay looking new for a long time.
Pros
More forgiveness than other irons for low handicappers
High toe maintains distance on off-center strikes
Cavity back design is great for players who miss the sweet spot
Newly designed sole for improved turf interaction
Cons
Slightly larger than other blade irons
Specs
High toe for forgiveness
Cavity back design
Larger clubheads
These Srixon irons are similar to the Titleist 620 CBs because they offer more forgiveness than traditional irons for low handicappers. They also sport a higher toe than other irons, which is there to help even more with off-center hits.
While the design may look a little unconventional, it works very well. It allows players more control over their ball flight but still has a lot of forgiveness. The tungsten weighting in the toe is a big contributor and is only added in the 7 through 3 irons.
Another advantage these irons have is in how the sole is designed. They help to cut through the turf easier, so if you tend to have a steep swing, these irons will reduce your chunks and help you glide through the impact zone.
If you can get used to the slight difference in look and size, then there are lots to like about these, and they are definitely one of the best irons for low-handicap golfers.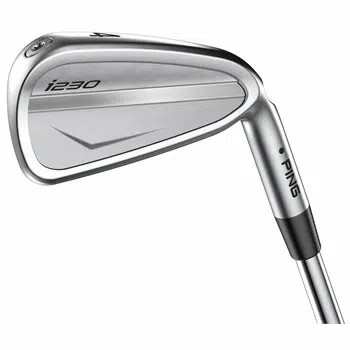 Pros
Thin topline and minimal offset
Hybrid cavity back
Added tungsten in the toe for forgiveness
Micromax milled grooves are optimized to each iron
Smooth and solid feel at impact
Cons
Very compact long irons take some getting used to
Specs
Ultra-compact iron heads
Minimal offset
Super clean and simple look at address
These irons may look simple, but a lot is happening under the hood. PING is more commonly known for their forgiving clubs that help high handicappers, but this set is impressive and belongs on the list of best golf irons for low handicappers.
The build is very different as they are pieced together to ensure weighting is evenly distributed and optimized for flexible shot shaping abilities. Due to how compact the iron heads are, they've added tungsten weight in the toe to help with distance and forgiveness.
They have a slight cavity back but definitely feel more like a muscle back. The weight is concentrated low to help with creating the best ball flight. The Micromax milled grooves are adjusted to each iron. So shorter irons have sharper grooves to create more spin, while the longer irons are less to maintain a penetrating ball flight.
These are great for players who want the most simple-looking irons with the least amount of offset. They definitely earn the title of "butter knives."
Pros
Expertly crafted by the most experienced company in the business
Classic look and appearance
Hollowed out club head design
Added weight in the toe
Great for working the ball in both directions
Cons
May be too small for some
Specs
Uses updated technology
Small profile
Easy to work the ball left and right
I don't know why Wilson tends to get overlooked a lot. Sure, they offer many budget-friendly options that don't have the same technology as some other companies, but they are Wilson. They've been around longer than any other club manufacturer and have churned out one of the best irons for low handicappers with this set.
They keep up with the times when it comes to construction as these are hollowed out, just like some of the most popular irons for low handicappers. There is also added weight in the toe to add balance and keep the face square through impact.
If you want a traditional look, check these out, as they rival Mizuno and Titleist for that clean and classic appearance. They are some of the most compact irons to help you shape the ball and have complete control over the flight.
The grooves are also modified to add a bit of spin, which helps you work the ball left and right.
Pros
Forged head design
Large tungsten weight for power
Thicker body absorbs shock better
Cavity back design provides forgiveness
Cons
Slightly thicker topline
Tougher to manipulate ball flight
Specs
Large tungsten weight
Thick club head design
Provides exceptional feel
These forged irons are the perfect blend of hard-to-hit blade irons and more forgiving cavity back irons. You will see these in the bags of tour players who want a great feel and a little forgiveness.
It all starts on the back with the enormous tungsten weight. Callaway has been playing with this idea for a few years now, and this is the best iteration. The unique shape and placement help to create distance and provide forgiveness in a wide area on the club face.
Being forged, the feel is exceptional. Low-handicap players like yourself crave this type of feel because you get rewarded with a great shot and will always know what went wrong with the poor shots.
Forgiveness is also created by their slightly thicker size when compared to old-school forged irons. They may look a little larger than you want at first, but the benefits are massive once you get used to them.
FAQs
Can Low Handicappers Use Game Improvement Irons?
Yes, low handicappers can use game improvement irons, but they may not help. Game improvement irons lack accuracy in favor of forgiveness and distance. Low handicappers usually don't need too much help with distance and instead choose to focus on control and accuracy more, two things that game improvement irons do not excel in.
What Irons Should A Low Handicap Use?
A low handicapper should use irons that will provide great feel and feedback on each shot. You can only improve if you have the correct information about your ball striking. Irons with too much forgiveness absorb all the vibration, so each shot feels the same. This is great for high handicappers but not low handicappers.
What Is Considered A Low Handicap Golfer?
A low-handicap golfer is someone whose handicap is at least under 10. Having a single-digit handicap is the easiest way to distinguish between low and mid-handicap golfers. A high handicap would be considered anything over 16.
Conclusion
There are so many great irons out there that it's hard to choose. We are so lucky to live in a day and age with many options. While I stand behind every iron on this list, the creme de la creme is always the Mizuno Pro 225s for the best irons for low to mid-handicappers.
The look and feel alone are enough to get your juices flowing, and when you catch these irons on the sweet spot, nothing feels as good. Get your low handicap down to scratch a lot easier with these irons.