The Mizuno Pro 223 irons are part of Mizuno's pro series. Over the years, Mizuno has created a strong reputation in golf. It focused on innovation and performance to provide golfers with one of the best golf irons on the market. I've written this Mizuno Pro 223 irons review to show what it brings.
The Mizuno Pro 223 irons are cavity-back forged players' irons made from cutting-edge technology designed to deliver a lovely combination of distance, feel, and forgiveness. If your swing speed is high (more than 100 mph) and your shots are consistent, these irons might be ideal for you.
You must have the right irons to play golf at your full potential. To find out if the Mizuno Pro 223 irons are worth having in your bag, I'll explain in detail the features, advantages, and disadvantages of using these irons. So, let's get into the Mizuno 223 review.
Overview of the Mizuno Pro 223 Irons
Pros
Excellent feel
Good spin
Great workability and control
Attractive design
Improved performance than previous models
Cons
They're expensive
Average distance and forgiveness
Not suitable for golfers with slower swing speeds
Key Metrics to Consider
These are my ratings for the Mizuno 223 Pro Irons.
Note: All ratings are out of 100.
| | |
| --- | --- |
| Overall | 85 |
| Star Rating | 4.4 out of 5 |
| Distance | 85 |
| Forgiveness | 80 |
| Feel | 95 |
| Workability | 95 |
| Aesthetics | 95 |
| Price | 75 |
Verdict
The Mizuno Pro 223 irons look and feel great and have a solid balance of forgiveness, distance, and accuracy.
But they're more focused and specifically engineered for golfers with a faster swing speed. It's not suitable for golfers with slower swing speeds.
These irons have a cutting-edge design and structure that maximizes workability and control. They're cavity back irons, but from what I've reviewed, they might feel like blade irons to some.
You will see a lot of pros that use the Pro 223 irons, and many low handicappers also love using these irons on the golf course.
In general, golfers looking for feel and workability should strongly consider the Mizuno Pro 223 irons.
Who They're Best For?
The Mizuno Pro 223 handicap range should be 3-9, in my opinion. Mizuno lists them as 5-9, which is a slim range too.
They're designed with tour players in mind and are ideal for golf courses with more demanding layouts.
Low-handicapped golfers would love these irons as they're excellent for shot shaping and give superb feedback and feel upon impact. The shorter irons deliver exceptional spin and control, improving the player's scoring ability. This is one reason why Rory Sabbatini has been spotted using them.
These irons aren't the best for mid-handicappers, especially those with slow to medium swing speeds. However, if you're an aspiring player looking to move to player's irons, you can make do with these clubs.
HIgh-handicappers will especially struggle with these irons. The club's relatively small face offers little distance and forgiveness compared to other irons.
So, I will simply recommend these irons to single-digit handicappers who consistently hit the fairways and desire more workability.
Things to Consider Before Buying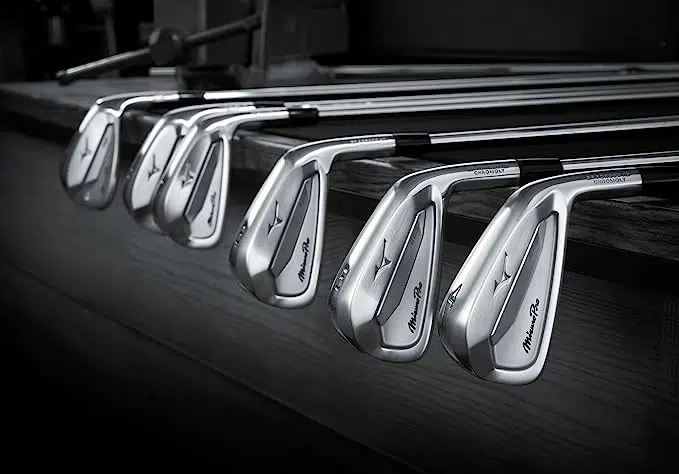 Here are a few things to consider while purchasing the Mizuno Pro 223 irons before you decide.
Your Skill Level
I believe the Mizuno Pro 223 irons are ideal for low-handicappers as they can produce the best results using them.
If you're a mid-handicap golfer, you can still capitalize on the benefits of these irons. The shorter irons provide excellent workability, spin, and control.
I wouldn't recommend this to high-handicappers and absolute beginners. These irons will only benefit your game if you can hit consistently and your swing speed is over 100mph.
Your Swing Speed
After assessing the Pro 223 irons, I realized they're appropriate for golfers with faster-swing speeds. If your swing speed is slow, I recommend you go for an alternative, such as Callaway Golf Rogue ST Max Irons or Taylormade SIM2 Max Irons.
Changing your shaft might aid, but golfers with medium swing speeds may still need help to make the best use of the Pro 223s.
However, golfers with faster-swing speeds can utilize these irons most effectively.
Your Budget
Considering your budget is an important factor when purchasing new or old clubs. Since the Mizuno Pro 223 irons are expensive, they might only be affordable for some golfers.
Your Playing Style
If you want workability and shot shaping, the Mizuno Pro 223 Irons can work perfectly for you.
If you're looking for game improvement irons or have a certain playing style, you can look for other irons that can cover your weaknesses.
Why You Should Trust Us
Our team spends thousands of hours trying out and researching golf equipment to help you take your game to the next level. Here's our product review process.
We can bring these reviews to you through the small commissions we earn if you buy through the links below.
How We Reviewed These Products
Golfspan only shares equipment and brands we trust.
I'm an experienced golfer and writer, and I extensively tested and researched the Pro 223 Irons to understand how these clubs would perform under different conditions and circumstances.
Then an editor reviewed and fact-checked the list. Finally, we conduct regular content audits to update and revise our reviews to ensure you receive the latest information.
I considered these criteria for my Mizuno 223 irons review:
Cost
Distance
Spin & Control
Feel, Appearance & Sound
Launch & Accuracy
Mizuno Pro 223 Irons Review
The Mizuno Pro 223 Irons are one of the newer additions to the Mizuno lineup.
The clubs incorporate 1025E Pure Select Mild Carbon Steel faces and soles that provide strength, durability, and a satisfying feel.
The Flow Micro-Slot Technology reduces drag and increases ball speed, while the Grain Flow Forged HD process maintains a consistent grain structure that enhances the feel.
In my quest to gather valuable insights on the Mizuno Pro 223 irons, I spent a lot of time studying how these irons can help bring the best out of your game.
Overall
In my evaluation of the Mizuno Pro 223 irons, I found that they offered a unique balance of workability and control with a fabulous overall feel.
These irons are perfect for low-handicap golfers who like shot shaping and extreme control over their shots without compromising on the feel and looks of the clubs.
I straight away felt that the clubs' enhanced feel and ball speed was because of the Flow Micro-Slot technology and the Grain Flow Forged HD process.
Golfers can confidently play their game because of the club's wonderful scoring ability and feedback, and not only are these irons great in performance, but they are also great in appearance.
Distance
As stated by Mizuno, the Pro 223 irons are designed to deliver golfers good distance, but I found these irons to be somewhat lacking when I tested them on the course.
I can generally hit my 7-iron around 175 yards, but with the Mizuno 223 Irons, I could only hit around 170 yards. I believe it was mainly because of my medium swing speed and a smaller club face than my regular irons that I couldn't get more distance.
The Mizuno Pro 223 Irons can be extremely favorable if you want workability, spin, and control in your irons rather than distance. However, golfers who consistently hit solid shots might be able to get those extra yards as well.
Forgiveness
After testing the different clubs, I discovered that the Mizuno Pro 223 irons weren't very forgiving.
In my opinion, the forgiveness offered by the clubs was average. I wouldn't call them bad, but they weren't great as well. You can easily find better clubs than the Pro 223s if you seek more forgiveness.
It's easier to hit the sweet spot if you're an elite ball striker, but with a face thickness of just 2.4mm compared to the 2.6mm of the JPX921 forged irons, you will find that these irons don't offer much forgiveness.
If you value forgiveness, you may find the Mizuno Pro 223 Irons less suitable than other irons.
Accuracy
Mizuno knows how to create clubs that provide excellent precision, and the Pro 223s are no different.
If these irons compromised on forgiveness, they made it up by delivering accuracy.
They're fantastic golf clubs that provide great accuracy and control. For golfers who want to work the ball both ways, these irons can help them play those shots more accurately.
Even though the Mizuno Pro 223 irons aren't much forgiving, they're fairly accurate and ideal for you if you're a low-handicap golfer.
Launch
During my review of the Mizuno Pro 223 Irons, I discovered that they offered pretty good and consistent launch angles.
The irons are designed to create a high launch and provide excellent stopping power on your shots.
However, Launch performance can differ because of many factors, such as swing speed, the loft of the club, and course conditions.
Even though I believe the Pro 223s aren't a good fit for my swing and playing style, they might be a great option for someone like you.
Feel & Look
There's a reason why golfers love the Mizuno Pro 223 irons. They're remarkable-looking irons that offer a superb feel and excellent feedback.
The irons are slightly larger than the 221 irons in the sole but have a compact head shape with little to no offset. They have a classy brushed satin finish, and the slight muscle at the head's base offers more assurance than blade irons.
The Mizuno logo has been shifted to the club head's center, and "Mizuno Pro" is printed on the toe as a nod to earlier Mizuno irons.
Like other Mizuno irons, I must admit that the Mizuno Pro 223 irons are among the best-feeling irons on the market. I'd have to give credit to the soft copper underlay, which delivers this premium feel.
Features & Benefits of the Mizuno Pro 223 Irons

Let's find out what features the Mizuno Pro 223 Irons offer and how they can benefit your game.
Grain Flow Forged Construction
The Mizuno Pro 223 Irons are made at the iconic facility in Hiroshima using Mizuno's outstanding Grain Flow Forged HD (High Density) technique.
This procedure guarantees that the grain of the metal moves in the same direction. It makes the club stronger and stiffer while improving its feel and performance.
Forged Chromoly with Flow Microslot (4-7 Iron)
These irons' faces are constructed of chromoly steel, a sturdy and light material that produces a thin, sensitive response that offers a wonderful feel upon contact.
The face has a series of micro slots strategically placed to increase ball speed and forgiveness.
The micro slots also help reduce energy loss at impact, which is one of the reasons for the massive ball speeds.
1025E Pure Select Mild Carbon Steel (8-PW)
These irons are forged from a single billet of 1025E mild carbon steel.
This particular steel is renowned for its durability, tensile strength, and capacity for forging into thin, responsive faces.
Beveled Back Edge and Soft Copper Underlay
The Mizuno 223 irons have a heavily beveled back edge to accommodate the Flow Microslot technology.
The back of the club has a soft copper underlay, which is one of my favorite features of these irons. The copper helps dampen vibrations and provide a more pleasant feel at impact.
Mizuno Pro 225 Irons Specs

I've mentioned the Mizuno 223 iron specs, including their lofts, lie, offset, and shaft length. For more details on Mizuno 223 specs, scroll down.
| | | | | | | | | |
| --- | --- | --- | --- | --- | --- | --- | --- | --- |
| Club | 4 | 5 | 6 | 7 | 8 | 9 | PW | GW |
| Lofts | 22° | 25° | 288° | 32° | 36° | 41° | 46° | 51° |
| Lie | 60° | 60.5° | 61° | 61.5° | 62° | 62.5° | 63° | 63° |
| Offset | 0.138 in | 0.134 in | 0.13 in | 0.122 in | 0.114 in | 0.106 in | 0.098 in | 0.094 in |
| Length | 38.5 in | 38.00 in | 37.5 in | 37.0 in | 36.5 in | 36.0 in | 35.5 in | 35.25 in |
Note: All of this data was gathered from Mizuno.
Alternatives to The Mizuno Pro 223 Irons
If you think the Mizuno Pro 223 irons differ from what you are searching for, many other clubs can provide features suitable for your game.
Below, I've listed some alternatives for you to consider.
The Callaway Apex Pro Irons are for accomplished golfers who value control and workability. These irons have a small shape and are made of forged metal, which provides an excellent feel and feedback.
Players can confidently shape strokes with the Apex Pro irons thanks to their high precision and shot-shaping ability.
Pros
High workability and control
Exceptional feel and feedback
High accuracy
Increased ball speed
Cons
Less forgiving compared to game-improvement irons
High skill-level required
The TaylorMade P790 Irons are one of my personal favorites. They're well-known irons due to their performance and look.
These irons have a special design that blends a hollow body with a forged face to increase ball speed and improve forgiveness. The P790 irons have a modern, player-inspired design and deliver a sizable increase in distance.
For golfers who want distance without losing control, they offer consistent performance and a great feel.
Read our complete review of the TaylorMade P790 irons here.
Pros
Good distance and playability.
The hollow body design combined with SpeedFoam improves ball feel and speed.
Very forgiving on off-center strikes.
Sleek and modern appearance.
Cons
Less workability compared to more compact player's irons.
Feel may be slightly dampened due to the hollow body construction.
The Srixon ZX7 irons are renowned for having a superb feel and usability.
These irons are designed for competent players and have a conventional design. The forged construction of the ZX7 irons improves feel and feedback and offers a solid blend of forgiveness and shot-making abilities.
Read our complete review of the Srixon ZX7 irons here.
Pros
Great combination of forgiveness, feel, and performance
Forged from 1050 carbon steel
Hollow body construction for increased ball speed and forgiveness
Tour-proven design
Cons
Not as forgiving as some other alternatives
Not as long as some other alternatives
FAQs
What Does the Mizuno 223 Replace?
The Mizuno 223 replaces the Mizuno MP-20 MMC. Compared to this, the Mizuno Pro 223 is a more conventional forged iron. It is made to feel more responsive than the MP-20 MMC and has a forged face and body. Additionally, the Mizuno Pro 223 is more compact than the MP-20 MMC and has a smaller topline.
Do Any Pros Use Mizuno 223?
Professional golfers Matt Kuchar, Hideki Matsuyama, Kevin Kisner, and Brandon Hagy favor the Mizuno Pro 223 irons. In 2022, these golfers moved to the Mizuno Pro 223 irons, and they are happy with their performance. The irons offer an ideal blend of forgiveness, feel, and performance.
Is Mizuno Pro 223 Cavity Back?
The Mizuno Pro 223 is a cavity back iron. Compared to blade irons, cavity back irons are intended to be more forgiving, which can help players hit the ball more consistently even when they don't strike it properly.
Final Thoughts
So after my Mizuno Pro 223 irons review, I can confidently say that these are among the best player's forged irons in 2023.
The Mizuno Pro 223 Irons are a good option for low-handicapped golfers, especially tour players and pro golfers with relatively faster swing speeds looking for extra control and workability.
I wouldn't recommend these clubs to a higher-handicap golfer, though. They have much better options to choose from which would improve their game.
Would I buy them? Probably no. That's because I'm not ready for players irons yet.
But if you're ready for players irons, having these babies in your bag would definitely help you gain workability, control, and an excellent feel from your clubs.

As a skilled golfer and wordsmith, Abdulmoiz brings a fresh and engaging voice to the golfing world. Whether he's on the course or at the keyboard, he strives to improve and inspires others to do the same.