Cut golf balls was born in 2016 after founder Sam U got a bee in his bonnet and set off to make tour-quality products for the price of a distance ball. In this post, I conduct a detailed Cut Golf ball review, introducing you to all the ionomer and urethane options from the young brand.
By the end of this post, you will know what Cut Golf is, how their golf balls compare to legacy brands, and which one best suits your swing. In addition, I address the elephant in the room and determine whether these affordable balls offer sufficient durability to fit into your bag.
Here is what you can expect to learn in our Cut Golf Review review:
Pros and cons of the 5 best Cut golf balls
Cut golf ball comparison chart
Who makes Cut golf balls
Which Cut golf ball suits each skill level and swing speed
Cut Golf Balls Comparison Chart
| | | | | | |
| --- | --- | --- | --- | --- | --- |
| Ball | Cut Grey | Cut Matte | Cut DC | Cut Blue | Cut Red |
| Pieces | 3 | 3 | 4 | 4 | 2 |
| Type | Tour | Distance | Tour | Tour | Distance |
| Cover Material | Urethane | Ionomer | Urethane | Urethane | Ionomer |
| Compression | Medium | Medium | High | High | Low |
| Ideal Swing Speed | Mid – High | Slow – Mid | Mid | High | Mid |
Why You Should Trust Us
Our team spends thousands of hours trying out and researching golf equipment to help you take your game to the next level. Here's our product review process.
We can bring these reviews to you through the small commissions we earn if you buy through the links below. 
How We Reviewed These Products
Golfspan only shares equipment and brands we trust. 
I'm an experienced golfer of 28 years and thoroughly researched and evaluated the products shared below. Then an editor reviewed and fact-checked the list. Finally, we conduct regular content audits to update and revise our reviews to ensure you receive the latest information. 
To select these balls, we considered these criteria:
Cost
Speed
Spin
Feel
Distance
Construction
5 Cut Golf Balls Review
Pros
Affordable
Produces rapid ball speed on long shots
Reduces driver spin
Easy to compress for moderate swing speeds
Outstanding greenside spin
Cons
Not suited to slow swing speeds
Reduced durability
Specs
Construction: 3 piece
Golf Ball Type: Tour
Cover Material: Urethane
Compression: 80
Dimple Pattern: 314 Pattern
Colors: White,
The Grey ball from Cut Golf is their best offering for its long game ball speed, low driver spin, and increased greenside revolutions. Besides its all-around performance, I appreciate that the Grey is an affordable urethane design for the average moderate-swing speed golfer seeking the qualities of a tour golf ball.
In my experience, the core worked wonders on long shots, enhancing compression, boosting rebound, and imparting rapid speed and low spin on the ball. This combination caused me to generate a consistently high launch on iron and wood shots, leading to sufficient carry distance.
My long game spin and speed received a further boost from the firm ionomer mantle design, aiding my distance cause. The ionomer mantle lowered revolutions on high-impact shots and prevented velocity drop-off on all strikes.
Next, my favorite feature was the urethane cover which gave me the joy of superior greenside feel and control. It was refreshing overall for a moderate swing speed like mine to play a tour-style ball and enjoy optimal performance from tee to green.
Read More: The Best Golf Balls
Pros
Easy to trace in flight
Affordable
Low driver spin
Fast ball speed
Soft feel
Cons
Low greenside spin levels
The matte colors are not every golfer's cup of tea.
Specs
Construction: 3 piece
Golf Ball Type: Distance
Cover Material: Ionomer
Compression: 65
Dimple Pattern: 314 Pattern
Colors: Yellow, Orange, Fuego, Green
After cutting our teeth on a mid-handicap Cut Golf ball, we move on to their matte distance ball range, the easiest to trace in the air. Besides the attractive matte color finish, I generated ample ball speed and low long-game spin for a powerful launch and consistent carry distance.
The Cut Matte range features 4 attractive colors suited to fashionable golfers or those needing an optic-friendly construction. The manufacturer gives you the choice of a matte yellow, orange, Fuego, and green finish. However, the yellow was the most effective to trace and find in my experience.
Unlike other distance golf balls, the matte model sports a 3-piece design, powered by a soft, high-energy core supported by an ionomer mantle. The core enhances energy transfer at impact, imparting optimal velocity on the ball. Furthermore, the mantle limits ball speed drop-off and further contains spin.
While its soft ionomer cover offered a superior feel on short shots, I struggled to generate the level of spin produced with the grey ball Cut design. Finally, I felt the 314 dimple pattern performed admirably, obliterating drag on the launch and enhancing lift for increased carry length.
Pros
Exceptional greenside spin and control
Explosive long-game ball speed
Lowers long game spin
Encourages workable ball flight
Affordable for a tour-quality golf ball
Cons
Not suited to slow swing speeds
Not the most durable urethane golf ball around
Specs
Construction: 3 piece
Golf Ball Type: Tour
Cover Material: Urethane
Compression: 105
Dimple Pattern: 360 Pattern
Colors: White, Atomic Yellow
You may be familiar with their tour-performing DC range if you read the Cut Golf Ball review Golf Digest edition 2020. They are the brand's flagship and aim to compete with balls from legacy brands like the Titleist Pro V1 and TaylorMade TP5.
The complex 4-piece construction was naturally slightly stiff for my moderate swing speed, but I appreciated the all-around performance. The Dual Core design proved effective on high-impact shots as it boosted energy transfer and maximized rebound off the clubface for explosive speed and low spin.
The ionomer mantle sandwiched between the soft urethane cover and the high-energy core further enhanced my ball zip quest. The stiffness of the mantle preserved ball speed on all shots and blasted my ball into the air for maximum distance.
In addition, I enjoyed the workable flight on the Cut DC, allowing me to induce a draw or fade on approach to attack the flagstick. Finally, I thoroughly enjoyed the spin and control produced by the soft urethane cover. It etched itself into my wedge and short iron grooves, increasing revolutions off the face and landing rapidly.
Pros
Affordable for a urethane tour-style ball
Incredible greenside spin
Accelerated ball speed
Reduced long-game spin
Promotes piercing ball flight
Cons
The higher compression is not ideal for slow swing speeds
Only available in white
Specs
Construction: 4 piece
Golf Ball Type: Tour
Cover Material: Urethane
Compression: 90
Dimple Pattern: 314 Pattern
Colors: White
Next up in our Cut golf balls reviews, we stay with tour-quality golf balls designed to fly farther off the tee and spin high around the green. The 90 compression Cut Blue is another product built for higher swing speed golfers demanding a penetrating trajectory.
The 4-piece golf ball is powered by a responsive core, which promotes increased energy transfer on high-impact strikes. I found the added energy transfer helped the golf ball rebound exceptionally off the woods and long iron club faces, leading to impressive carry and total yardage.
Like other tour-grade Cut balls, the 4-piece design featured an ionomer mantle, restricting spin and accelerating ball pace. Once the ball hit the air, I felt the 314 dimple pattern worked wonders to control the apex and encourage an enhanced forward momentum.
Finally, my favorite feature was the soft urethane cover. It produced a soft feel and managed to grip into my grooves, increasing friction and backspin revolutions on shorter greenside shots.
Pros
Built for slow to moderate swing speed
Low long-game spin
Accelerated long-game ball speed
Launches high
Entry-level price tag
Cons
Minimal greenside spin
The glossy finish fades rapidly
Specs
Construction: 2 piece
Golf Ball Type: Distance
Cover Material: Ionomer
Compression: 60
Dimple Pattern: 320 Pattern
Colors: White Gloss
Most of our Cut golf ball reviews have centered around tour-quality constructions that work for higher swing speeds and skilled golfers. However, the Cut Red ball is proof the brand caters to slow swing speed, high handicappers, seeking explosive ball speed, and low spin on long shots.
The engine of the 2-piece design is a soft, high-energy core installed to enhance energy transfer at contact for superior spring off the clubface, which helped me produce faster ball velocity and minimal spin on high-impact shots with my woods and long irons.
Next, the increased rebound of the 60-compression golf ball resulted in an enhanced, powerful launch. As it hit the skies, the 320 dimple pattern took over and resisted drag and enhanced lift for increased carry distance off the tee.
Lastly, the ionomer cover on the Cut Red golf ball delivered a marvelous performance on long shots, adding to my speed and low spin desires. However, it provided limited assistance around the green, creating restricted backspin revolutions.
Read More: Titleist Velocity Golf Ball Review
Cut Golf Ball Company Overview: Features & Benefits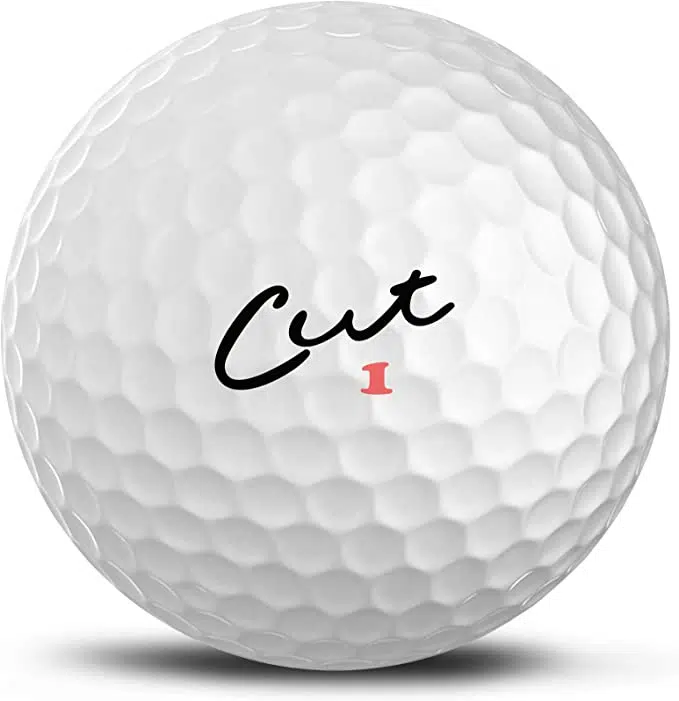 Who Are Cut Golf Balls For?
Cut Golf manufactures distance and tour golf balls for low, mid, and high-handicap golfers. Their tour-quality golf balls typically feature 3 to 4 pieces with a urethane cover. Furthermore, the distance balls carry an ionomer cover and 2 to 3 layers.
What Is The Best Cut Golf Ball For High Handicappers?
The best Cut golf ball for high handicappers is their Red range. The 2-piece distance golf ball design sports a powerful, soft core, a medium compression score of 60, and a firm ionomer cover. The Cut Red golf balls limit long-game spin and boost ball speed for maximum long-game distance.
What Is The Best Cut Golf Ball For Mid-Handicappers?
In my experience, the Cut Grey offers the best performance for mid-handicap golfers. Although it's covered in a soft urethane material for high spin, it is affordable, long, and consistent. I find I generated ample speed and controlled spin on long shots to boost yardage. Plus, I produced impressive greenside spin.
Which Cut Golf Ball Is Best For Low Handicappers?
I was torn between the Cut Blue golf balls and the Cut DC range for low handicappers, but the latter eventually took the crown. Its complex 4-piece construction maximizes speed and lowers spin on wood and long iron shots before boosting revolutions on wedge and short iron strikes.
However, should the 105 compression prove too firm for your swing, I suggest turning to the Cut Blue range instead.
Which Is The Straightest Cut Golf Ball?
The Red ball produced the straightest flight during testing thanks to the increased compression, low spin, and aerodynamic dimples.
Which Is The Longest Cut Golf Ball?
My medium swing speed sent the Cut Matte golf balls further than their peers, stemming from their lower compression, consistent launch, and forward momentum.
However, a higher swing speed golfer may generate excess compression at contact and balloon their shots, losing carry yards. The best solution for faster swingers is to play the firmer DC construction.
Which Cut Golf Ball Spins The Most?
In my experience, the Cut DC golf ball offered the highest level of spin around the green, thanks to its soft, tour-quality urethane cover. I found it easier to generate hop and stop spin on shorter shots, while the added spin allowed me to attack the flagstick on full strikes.
FAQ
Does Cut Golf Ball Have A Trial Pack?
Yes, Cut DC offers a trial pack of golf balls, equal to a sleeve or 3 golf balls. Instead of forking out for a dozen golf balls you are unsure about, you can start with 3 and test the waters before committing to a complete box.
Would These Be Alright For Someone With A Faster Swing Speed?
Yes, the Cut DC is built for faster swing-speed players, launching a driver above 105 mph. The 4-piece 105 compression golf ball is stiff and offers limited rebound assistance off the clubface, demanding accelerated clubhead velocity into impact.
Are Vice Or Cut Balls Better?
In my experience with Cut golf balls vs Vice, I find them equal in terms of quality, affordability, velocity, and spin are concerned. Although Cut golf balls are marginally more affordable, I produce similar distance, accuracy, spin, and control with the tour balls.
In addition, I find both Vice and Cut Ball distance constructions spin low off the driver, accelerate and generate consistent distance.
Who Makes The Cut Golf Ball?
Cut Golf balls are made by golf ball manufacturers in Taiwan, who then brand the balls with the company's logo. However, Cut Golf headquarters are located in Newport Beach, California.
Final Thoughts
After conducting a thorough Cut golf ball review, I am impressed with their product's quality, affordability, and performance. They manufacture golf balls for every player ranging from long-distance constructions for slow swing speeds to all-around tour golf balls for skilled players.
Although my favorite golf ball overall from Cut is the Grey design, I respect all their work. The Grey ball stood out because it accommodates the average moderate-swing speed golfer, seeking speed off the tee and ball spin around the green without forking out a fortune.
In addition, I feel the Cut Red ball is the best choice for slow swing speed high handicappers seeking increased long game length. Finally, the Cut DC is the flagship design from the brand, as it helps superior golfers enjoy firm compression, long distance, and high wedge spin for a fraction of the price of a Pro V1.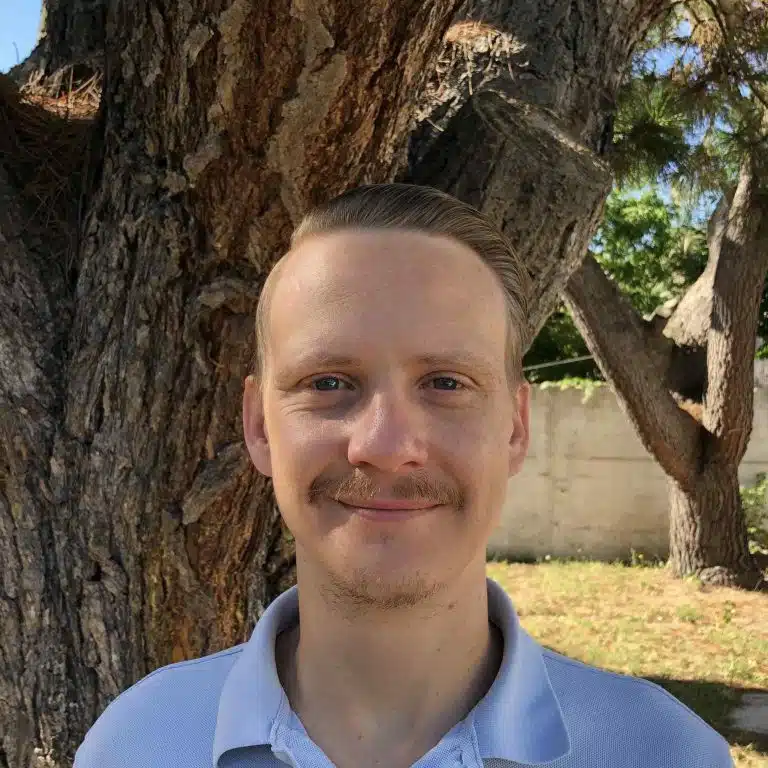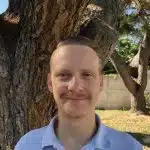 Matt is a seasoned golf equipment writer and sports fanatic. He holds a Postgraduate in Sports Marketing and has played golf for over 28 years.