PING golf equipment has a proud history and their golf clubs are highly sought-after by players at all levels. Although they d have budget options, most of their new clubs are a fair investment. We look at where to buy used PING golf clubs.
PING has made some of the most legendary clubs of all time and it is interesting to take a brief look at their history.
The History of PING
PING is an American sports equipment manufacturing company based in Phoenix, Arizona. The company was founded by Karsten Solheim, an engineer at GE, in 1959. Initially, he concentrated on making putters from his garage. This was done in response to the problems experienced with putters at that stage.
1962 produced the first victory on the PGA tour when John Barnum won the Cajun Classic Open Invitational. This was only the start of the legacy plagued by many obstacles and disputes with the golf governing bodies.
In 1966 the USA outlawed all PING putters except for the ANSER for tournament and handicap play. The reason put forward by the USGA was that golfers gained an advantage from the special bend in the shaft just below the grip.
The general acceptance of the PING putters became a reality in early 1967 after Julius Boros's win at the Phoenix Open, on the PGA Tour's while using the PING Anser putter. Shortly thereafter the patent was approved on March 21, 1967. The 1969 Masters produced the first major championship win for a PING putter.
PING was the first company to build custom-fitted putters.
In 1969 the product range was increased to include a set of irons. The difference to the irons on the market at that time was that the PING irons had heel-toe-weighting and were custom fitted for the player.
PING was the first manufacturer to produce high-quality cast clubs using investment casting to reduce costs and ensure enhanced quality control
The custom fitting idea spilled over from the putters and golfers could be custom fitted for their clubs. Many manufacturers saw the benefit and soon started doing the same.
The USGA took action against Karsten Manufacturing in a lawsuit that lasted most of the 1980s. This was as a result of PING smoothing the edges of the U-shaped grooves. The court eventually ruled that PING did not contravene any regulation and all irons sold up to that point were acceptable, but all new clubs had to conform to regulations.
Where to Buy Used PING Golf Clubs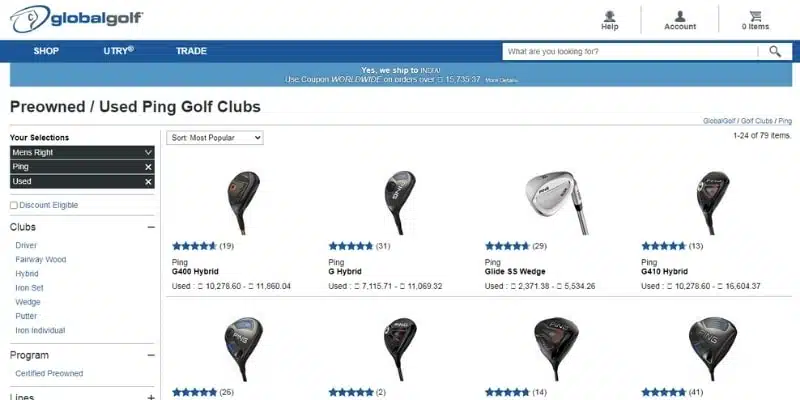 Global Golf currently has a range of 74 PING items in stock on their website.
The GlobalGolf site was founded in 2001 looking at creating a market to trade used golf clubs. All trades enable you to build up loyalty points that count towards the next item you acquire.
They can offer top prices for trade-ins and fair value on new club sales as a result of building relationships with manufacturers over many years.
Trading golf clubs started on eBay in the initial stages until a proprietary website was released in 2006.
There are more than 50,000 golf items available for trade at their Head Office in Raleigh, North Carolina; a retail operation in Greensboro, North Carolina; Salt Lake City, Utah; and an international location in Mississauga, Ontario, Canada.
There have been some negative reports on the internet, but it does not mean that they are not delivering a good service. There are sure to be some disgruntled clients when you move the number of clubs that they do.
GlobalGolf.com will allow you a 14-day test purchase on their Try Before You Buy program. This can be done by selecting from their collection of iron sets for $50 per set. Items have to be paid for after 14-days or returned for a refund, based on the condition, if you are not satisfied.
Domestic shipping to all states excluding Alaska, Hawaii, and the territory of Puerto Rico can be done under the Economy Delivery option with an approximate delivery time of 5 business days.
Standard/Ground deliveries within the contiguous U.S. can be expected within 4 business days.
There is an option to expedite deliveries by using the Next-day, 2-day, or 3-day options.
Non-contiguous states and territories, Alaska, Hawaii, and Puerto Rico, are usually delivered within 3 to 7 business days.
Military APO/FPO Shipments must be shipped via the U.S. Postal Service Priority Mail and delivery will take place between 2-4 weeks from dispatch.
International shipments can be delivered to more than 125 countries including Canada. Fully stocked orders will be dispatched within one business day of payment verification.
Delivery to most locations within Canada is typically within 2 to 3 business days after being dispatched.
Deliveries to most major international metropolitan areas can be expected within 2-5 business days after dispatch.
Domestic deliveries are charged at flat rates for all customers within the continental U.S. irrespective of the number of items purchased.  Economy $4.99; Standard/Ground $9.99; Military APO/FPO $19.99; 3 Day $14.99; 2 Day $19.99; Next Day $29.99. Alaska, Hawaii, and Puerto Rico are charged at a flat rate of $9.99.
International deliveries, including Canada, are calculated based on the weight of the items ordered as well as the zone of the shipping destination.
International Economy deliveries are made between 5 to 10 business days, International Standard between 4 and 9 business days, International Priority between 3 and 7 days, and International Express between 2 and 5 days after dispatch.
Customs duties and taxes are not included in the quoted rates.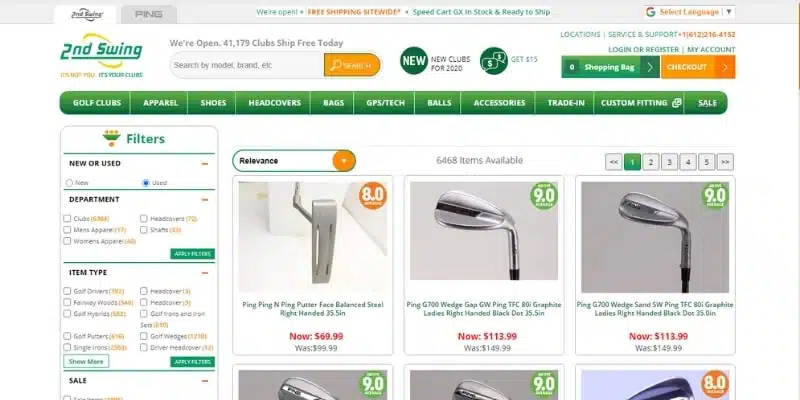 2nd Swing Golf has the largest selection of new and used PING golf clubs for you to choose from.
They started in 2006 trading golf clubs and opened its first physical facility during Masters week of 2007 in Minnesota.
The company grew from the initial store in Minneapolis by adding 2 stores in the Twin Cities area. Since then 3 more stores have opened in Scottsdale, Arizona in 2015; Wilmington, Delaware in 2017; Columbia, Maryland in 2019.
A well-designed website is straightforward to navigate on but carries less stock than some of the major competitors.
You can filter your club selection by status (new or used), brand (PING, TaylorMade, etc.), dexterity, loft, shaft flex, shaft model, and club model.
The type of golf clubs available range from drivers, fairway woods, hybrids, individual irons, iron sets, wedges, putters, and complete sets.
Filtered results can be sorted by the newest models, oldest models, relevance, best sellers, ascending price, or descending price.
All equipment sold on the website carries a 30-day guarantee.
Trades are direct with 2nd Swing and no trades are allowed with 3rd parties. To make your clubs available for sale, you have to trade them in. However, this should not be a major obstacle as 2nd Swing offers the best prices for trade-ins on their website.
The free delivery option on 2nd Swing does not apply to PING clubs, or customers in Alaska, Hawaii, and Puerto Rico.
Orders are processed within 48 business hours after receipt of payment and shipped weekdays during business hours excluding public holidays.
Standard shipping is sent via FedEx Ground or USPS Priority; delivery will take between 2 and 6 business days.
International orders will be executed by USPS to Alaska, Hawaii, and Puerto Rico shipments while expedited shipping will be sent via FedEx.
FedEx expedited shipping options do not deliver on Saturday or Sunday and do not count this into the quoted period. It is possible to arrange a Saturday delivery at an additional expense.
Domestic shipping costs for clubs and shoes are $9.99, 2 Business Day shipping $24.99, Next Business Day shipping $44.99.
International shipments will incur additional costs for duties and taxes on every item as set out by your government. FedEx will pay the taxes upfront and you have to reimburse FedEx them upon delivery. The FedEx shipping rate to Canada is $29.99

The 3 Balls website has 76 PING golf clubs for sale under the pre-owned program. This consists of complete club sets, drivers, fairway woods, hybrids, iron sets, wedges, individual irons, and putters.
You can select the shaft flex, shaft length, shaft material, loft, and product line for drivers and fairway woods. Length is measured in deviations from the standard length,
Iron sets options include all of the options for drivers and fairway woods and provide an option to add the number of clubs in the set composition.
Wedges options include all of the above and type of wedge.
Putter options are flex, lie angle, length, loft, shaft material, type, grip type, and product line
US Shipping Times
Where the full order can be filled from stock, it will be shipped within 1 business day after receipt of payment.
Residential orders are only delivered on weekdays excluding holidays. Saturday deliveries are possible is some limited areas.
Commercial deliveries can only be done from Monday to Friday excluding holidays.
When shipping, your order will arrive within these delivery estimates based on your location and selected shipping speed.
Economy deliveries within the contiguous US will be delivered between 3 and 12 business days, Ground deliveries between 2 and 6 business days, next day deliveries, 2-day deliveries, and 3-day deliveries are self-explanatory.
APO/FPO deliveries are completed between 2 and 4 weeks.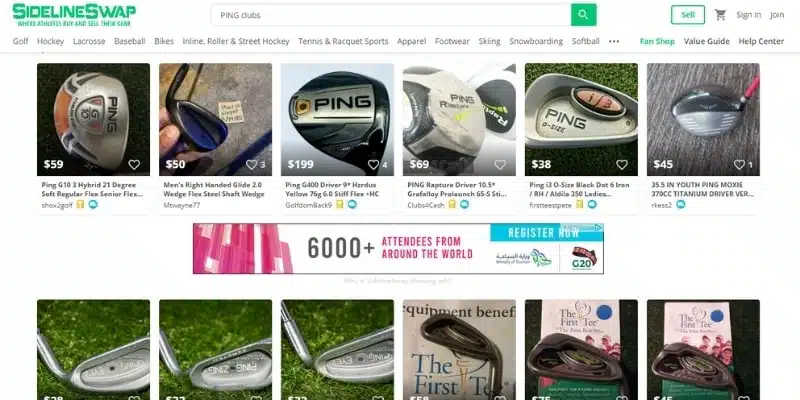 Sidelineswap has 1,315 PING clubs on their website
Sidelineswap was founded in 2012 to trade sporting equipment at affordable prices. It was not exclusively targeting the golf equipment market.
The aim of Sideline Swap is not to trade directly with the public but rather to provide a platform to enable 3rd parties to trade with each other
The website is simple and straightforward to navigate even though there are multiple sports represented.
Filtering the available equipment is easy to understand and you can filter by a category, brand, condition, model, site location, item type, seller type, and price range. All options are available via dropbox selection and you do not have to type it in.
Sorting the filtered lists can be done by recommended, newest, oldest, last uploaded, ascending price, descending price, and trending items.
Payment and Ownership
The buyer pays for the clubs online on the website upon checkout. The funds are then stored in an escrow account and will only be released when the equipment is received and approved by the buyer.
Approval, in this case, means you have confirmed that the order has arrived in its promised condition or 72 hours have elapsed after delivery confirmation, whichever comes first.
Shipping
Sellers are expected to ship their orders within 3 days of the date of the sale unless they are away from home on holiday or business. When unavailable to ship the seller needs to have open communication with the buyer.
SidelinSwap will contact sellers if the shipment has not been sent after 2, 4, and 7 days. If not sent after 7 days and there is no update from the seller, the buyer will be refunded.
Domestic USPS Priority Mail shipments generally take 1-3 business days to deliver. UPS Ground and FedEx Ground generally take 2-6 business days.
Prepaid shipping labels are made available upon making a sale.
Braintree processes all payments detail and Payoneer processes bank transfers to protect all your payment information. Both these providers conform to PCI Service Provider Level 1. This is the most stringent level of certification available
Sidelineswap offers a Buyer Protection program for peace of mind
USPS Priority Mail is used for trades within contiguous states and Canada Post for Canadian shipments.
FedEx and UPS options are available for domestic shipments within the U.S. when these carriers provide better rates.
Final Thoughts
PING golf clubs have been at the forefront of innovative technology since 1959 and continue to be a highly sought-after product.
Many websites make pre-owned PING golf clubs available at reasonable terms and pricing.
Note that 3 Balls have a free shipping option available but new PING products are excluded from this option.
Sidelineswap does not sell clubs directly to customers but is a brokerage where customers can trade peer-to-peer.
Global Golf offers the best service and products and has received high ratings from customers that have dealt with them.
Related Articles
Nick Lomas is the founder of GolfSpan, an avid golfer, not quite a pro but has over 15-years of experience playing and coaching golfers from all over the world. His mission is to bring the golfing community a better experience then it comes to choosing the right golf gear, and finding the right set up for your game.