Acuity golf clubs are a blast from the past. Today, let's stroll down memory lane and chat about the good old Acuity golf clubs. Manufactured by Dick's Sporting Goods, these clubs were, and for many still are, a trusty companion on the golf course.
As a PGA-certified instructor and lover of all things golf in general, I've had my fair share of swings with these clubs. They might be old school, but hey, who said old isn't gold? Although they're no longer in production, there's still a second-hand market for them, and their performance is often overlooked.
Acuity golf clubs were a symbol of simplicity and affordability in their prime. While they may not match today's high-tech offerings regarding distance and feel, their economic value cannot be overlooked. Particularly for newcomers and casual players, they provide a budget-friendly entry into golf despite their lack of technology.
Acuity Golf Clubs Review
View this post on Instagram
Pros
Affordability: Acuity golf clubs were one of the most wallet-friendly options on the market when they were in production, making them a popular choice among beginners and casual players.
Distance: Designed with high MOI and lightweight construction, these clubs aim to boost your clubhead speed and send your ball soaring.
Simplicity: Catering to beginners, Acuity offered complete golf sets. This saved newcomers from the potential headache of assembling a set from various individual clubs.
Cons
Durability: Despite the manufacturers' claims about their durability, Acuity clubs did receive some flak for getting marked up pretty easily.
Feel: Quite a few players have reported a lackluster feel to these clubs, with some extra, unwanted vibrations on mishits.
Quality of Shafts: The clubs featured RCX graphite shafts and some basic steel models, which, while light and handy for speed, didn't quite match the quality of more premium shafts.
Why You Should Trust Us
Our team spends thousands of hours trying out and researching golf equipment to help you take your game to the next level. Here's our product review process.
We can bring these reviews to you through the small commissions we earn if you buy through the links below.
How We Reviewed These Products
Golfspan only shares equipment and brands we trust.
I'm a PGA-certified golfer and instructor, and I thoroughly researched and evaluated the Acuity golf clubs. Then an editor reviewed and fact-checked the review. Finally, we conduct regular content audits to update and revise our reviews to ensure you receive the latest information.
When researching this review, I considered these criteria:
Cost
Distance
Forgiveness
Feel
Accuracy
Playability
If you are looking for the very best clubs around, be sure to check our list of the best golf club brands around.
Who Makes Acuity Golf Clubs?
Dick's Sporting Goods launched Acuity Golf Clubs with the ambition to make the sport more accessible to a broader audience. These clubs' affordability and forgiving nature promptly won them popularity among novices.
Unfortunately, the initial surge of enthusiasm met a stumbling block as questions about durability arose. Regular usage led to quick wear and tear, undermining Acuity's long-term reliability. Compounding the issues was a reported lack of satisfying feel, with users experiencing excess vibration on mishits.
As golf technology advanced, Acuity found itself outpaced. Competitor brands were offering enhanced performance, superior forgiveness, and improved feel, thus dimming the allure of Acuity's more basic designs. As a result, production eventually came to a halt.
Yet, despite no longer being produced, Acuity golf clubs have found a second life in the pre-owned market, with platforms like eBay, Amazon, and Craiglist being sources for these clubs at times.
Acuity Golf Clubs Review
View this post on Instagram
One of the benefits of being a pro and lover of golf is that I've had the chance to wield a variety of clubs, Acuity among them. Their tale of rise and fall intrigued me, and I couldn't resist diving into the experience they offer.
Here's my first-hand account of the various aspects that make these clubs.
Distance
My first swing with the Acuity driver was more impressive than I thought it would be; my standards were set pretty low. Its lightweight design, coupled with a high Moment of Inertia (MOI), lends itself well to distance. I found that I could get high clubhead speed without much extra effort, and this helped launch the ball off the clubface, much to my satisfaction and surprise.
Let's be clear: These clubs may not hit as far as the Callaway Paradym Irons with their billion-dollar research and development. However, given their target demographic of beginners and occasional players, the Acuity clubs hold their ground pretty well for their time.
Forgiveness
When it comes to forgiveness, Acuity Irons lives up to their promise and reminds me of PING irons in some aspects. Their design seemed quite forgiving on off-center hits. On days when my swing was a bit off, these clubs didn't punish me as hard as others might have. The ball still took flight, even if I hadn't struck it perfectly, and I must say, that's a relief, especially for those just starting their golfing journey.
Feel
On the feel front, I have to side with the popular opinion. The Acuity clubs do lack the smooth, satisfying contact you might find in more premium clubs. The vibration on impact, especially on mishits, is noticeable. This can affect a player's confidence over time, turning an otherwise pleasant round of golf into a guessing game of how the next shot will feel.
Accuracy
When I think about precision, the picture isn't all that bleak. The accuracy of these clubs is relatively good for their price range and purpose. They might not offer pin-seeking precision, but they provide a reasonable control level. With consistent use, I believe beginners can get a good sense of direction and slowly improve their accuracy.
Overall Playability
Considering all factors, the Acuity clubs offer a decent playability level, especially considering their affordability. They provide an accessible entry point into the world of golf, with enough forgiveness to prevent beginners from being discouraged by the inherent difficulties of the sport.
However, the limitations in feel and durability could prove a stumbling block for more seasoned players or those looking to improve their game significantly. The availability of advanced options in the market further challenges the case for Acuity.
Top 5 Best Acuity Golf Clubs
View this post on Instagram
Acuity GS1 Hybrid
This hybrid club is a standout in the Acuity range. Its design aims to make hitting from rough spots or long distances more manageable for beginners.
My experience with this club revealed a surprising level of forgiveness on off-center shots and decent distance coverage. However, I found the feel somewhat lacking, with noticeable vibration on mishits.
As an alternative, beginners might consider the TaylorMade SIM 2 MAX Rescue for a smoother feel and greater distance.
Acuity Turbo Plus
The Turbo Plus irons are quite the performer when it comes to achieving distance. They are light in weight, aiding in achieving faster swing speeds. My personal test run found them to be consistent in their performance. A downside is the limited control for precision shots, which might frustrate more advanced players.
An alternative could be the Callaway Big Bertha B21 Irons, known for their distance and control.
Acuity Turbo Max
Turbo Max driver was designed with beginners in mind. The large clubhead offers a sizeable sweet spot, forgiving of mishits. My experience with this driver was fairly positive in terms of distance. However, the feedback on impact was a bit jarring, particularly on less-than-perfect hits.
As an alternative, the Cobra RADSpeed XB Driver might offer a more balanced mix of forgiveness and feel.
Acuity Voltage Golf Clubs
This set has been favored by women and junior players for its affordability and the variety of clubs it offers. When I tested the Voltage driver, I enjoyed its easy swing and decent distance. The downside here is the somewhat dated design, which might not appeal to everyone.
As an alternative, consider the Cleveland Launcher XL Lite Driver for a similar price range but a more modern look.
Acuity Voltage Golf Club
This club is easy to handle and offers a consistent performance. I found the grip comfortable, and it did a good job of finding a balance between maximum tackiness and soft feel. However, durability of the iron heads could be an issue over time, and the lack of a left-hand version excludes a portion of golfers. Overall, it's a really good women's acuity golf club choice.
On a side note, check out our list of Golf Club Names.
Who Are These Clubs Made For?
In their prime, Acuity golf clubs were aimed at those needing maximum forgiveness and distance. They were mainly geared towards beginners or occasional golfers. The clubs' affordability and forgiving nature made them an excellent choice for these demographics. Even today, Acuity clubs might still be a good fit for you if you're just starting or playing only occasionally.
Guide to Buying Acuity Golf Sets
Making A Smart Purchase
A smart purchase is one where you get value for your money. Used Acuity clubs usually go for between $100 to $130 on platforms like eBay, which is a reasonable price considering their performance.
However, keep in mind that these clubs may not last as long or perform as well as more modern clubs.
Avoiding Scams
When buying Acuity clubs online, purchasing from reputable platforms like eBay is wise. These platforms have measures in place to protect buyers from scams. Always read seller reviews and ratings before purchasing. It's also good to compare prices across different listings to ensure you're getting a fair deal.
If you're looking for other brands, however, be sure to check out our list of golf club brands to avoid.
FAQs
How Much Do Acuity Golf Clubs Cost?
Used Acuity clubs can range from $100 to $150 on platforms like eBay. Always check the clubs' condition and authenticity before making a purchase. The Acuity golf clubs set prices can vary based on the specific model and the condition of the clubs. Since these clubs are no longer in production, they are often found in the second-hand market.
Do Pro Players Use The Acuity Golf Clubs?
Acuity golf clubs are typically not the choice of professional players. Due to their affordability and forgiveness, they were designed primarily for beginners and casual golfers. Pro players often opt for high-end golf clubs that offer more precision, customizability, and technology-enhanced performance. However, every player has unique preferences, and the important thing is choosing a club that fits your skill level and playing style.
Final Thoughts — Are Acuity Golf Clubs Good
The charm of Acuity golf clubs lies in their simplicity and affordability, making them an appealing option for beginners or occasional golfers. Despite no longer being in production, they have managed to leave an indelible mark on the golfing landscape.
Although their performance may not match up to the technological prowess of contemporary clubs, they still offer a sense of nostalgia and a window into golfing history.
If you're looking for an inexpensive golf club set and looking for decent second-hand clubs, Acuity golf clubs would be a solid option if they're in good condition.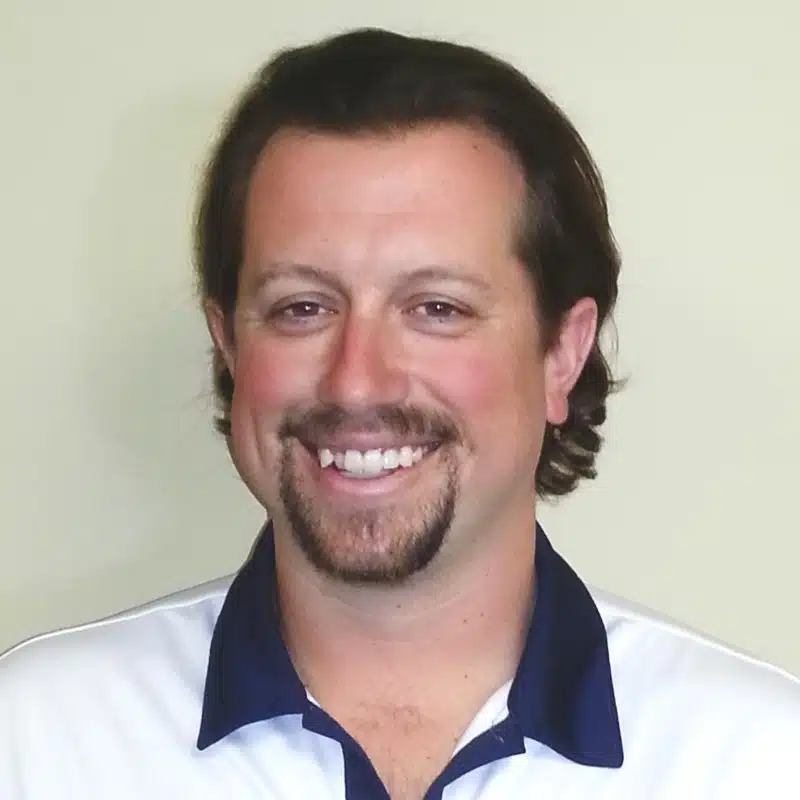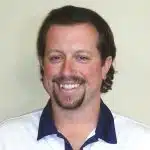 Clint became the Head Teaching Professional at one of Toronto's busiest golf academies and was featured on Canada's National Golf TV program, "Score Golf Canada," twice. He now tests and reviews golf equipment and gets to enjoy the game he loves whenever he wants while helping people lower their scores.