It does not have to be that way as there are clubs on the market put on sale for less than $300. We take a close look at the best golf clubs under $300.
Entering the sport at this level does not have to be built entirely around pre-loved equipment as there are many manufacturers that produce superb clubs at modest prices to empower new entrants to the sport to encounter the delights of golf and the refreshing air. You will similarly benefit from increased well-being and stress-relief benefits.
at a glance: Our Top 5 Picks for Golf Sets Under $300
Moreover, it allows the family unit to join in without squandering a fortune in kitting everybody out with clubs.
It will be sensible to do a comprehensive investigation and draw up a shortlist of the clubs that you consider suitable for your profile. Before taking the decisive step and buy your clubs, go experiment with them at the merchants to make sure that you purchase the clubs most appropriate for your profile.
How To Choose The Best Golf Clubs?
Finding the finest clubs in the category under $300 possibly will be quite a challenge as the pool to pick from is considerably lesser than gear exceeding the $300 threshold. Do not fret though, there are certainly more than enough options on offer to ensure that you find lasting clubs that will go a long way into your golfing career before they need to be substituted.
Quick Overview: Our Top Picks for Golf Sets Under 300
Choosing The Best Irons
The set of clubs that you select will largely be determined by your age. Senior golfers and ladies will require the lightest clubs offered to promote the fastest swing that they can muster. Adults that are entering the sport may want heavier and stronger shafts in line with their swing speed. Teenage golfers ought to rather invest in clubs fit for their height, keeping in mind their rapid growth patterns and how frequently they will have to replace the set.
There are 3 distinct groupings for irons founded on the level of proficiency of the golfer. Beginners or high handicap golfers will be more at ease with ultra-game improvement irons, intermediate or mid-handicap golfers will be comfortable with game improvement irons and advanced or single handicap golfers with either game improvement irons or blades.
Even though there are these distinct groupings guiding golfers on the type of irons to acquire some talented golfers can play with clubs intended for golfers in a higher category without suffering any major negative effects.
Buy Astutely
Companies have release cycles to launch newer models with the most recent technology. Some do it annually while others have multiyear cycles.
Before the release of the most recent technology, companies frequently advertise the existing range at a sizeable markdown to arrange for the announcement of the new model. This will provide you the prospect to get hold of terrific technology at relatively inexpensive prices.
Pre-used Is Not Inconceivable
There will be numerous second-hand sets accessible following the release of the latest model at prices that most golfers can afford. When purchasing pre-used, make sure that they are still in pretty playable condition.
Given that there are new sets for under $300 it is generally not necessary to buy used clubs unless there is perhaps a specific driver or another invidual club you are after.
Cast And Forged Irons
The two most prevalent kinds of irons are forged and cast iron. This ought not to be a major dilemma as you are not likely to encounter forged clubs in this price range. If you do come across forged clubs for under $300, be extraordinarily circumspect as they are either in inferior shape or counterfeit. Stick to cast irons as you will probably get a good quality set at this price.
Cast irons are less expensive as they are produced from molten steel which is poured into a mold in the form of the clubhead being manufactured. They are more appropriate for cavity back irons due to the lighter weight of the metal thus affording the producers the opportunity to distribute the weight to the edge broadening the sole for a lower and further backward CoG.
Forged irons are more expensive and produced from a single section of pure metal which is pummeled under high pressure into the preferred form and then honed and polished to achieve a strong look. They produce an astonishing feeling when contact is made on the sweet spot delivering supreme workability and hence results in the ball being shaped to the golfer's needs.
Clubhead
The shape and size of the clubhead will have a key impact on the forgiveness and accuracy of your clubs. The bigger heads will offer more forgiveness and provide more assistance while the slighter head will be trickier to hit perfectly on a routine basis. For the single handicap golfers, however, they will offer more opportunities to shape the ball.
Face and Grooves
Grooves are cut into the face of clubs to deliver spin on the ball and aid in the trajectory that the ball will take after impact. Regulating associations monitor the influence of grooves on the ball flight, in particular, the spin produced by your wedges and set boundaries on the size and shape of the grooves.
Although it is important to appreciate the various grooves and grinds, beginners and high handicap golfers will not encounter a major influence on their game in the initial stages. What is of more significance is to make certain that the grooves on the clubface are kept clean and unobstructed to get the best possible assistance from the grooves to your avail by cleaning the face after every shot whether it looks dirty or not.
Types of Sole Grinds
Various ground and turf conditions require distinct bounce on your wedges hence the soles are shaped to cut through the soil after striking the golf ball.
Advanced and better players favor slimmer soles that will enable them to cut through the turf and take divots on virtually all of their clubs. Beginners and high handicap golfers would rather play deeper and broader soles as there is more weight delivered to the rear and base of the sole producing a lower CoG for a more penetrating trajectory and higher launch angle.
Loft
The loft of your club is directly correlated to your swing speed. Fast swingers (110mph +) want a smaller amount of loft (10 degrees or lower for a driver) to elevate the ball soaring into the air whereas gentle swingers (90 mph or less) will require a high loft (12 degrees or more for a driver) and in-between swingers a transitional loft.
You will discover that irons vary between sets and manufacturers and the consequence of this is that specific sets reach longer distances with the matching club number as others. An illustration of this is that a 6 iron with a 30-degree loft will have a propensity to travel further than a 6 iron with a 33-degree loft.
Finishes
The mainstream clubs come in a gleaming silvery color as the result of the materials used in production. As this is highly reflective, some manufacturers have included black clubs to their collections, but this is the tiny minority. To brand their clubs more distinct producers frequently include paint and displays to the back of the clubhead.
The Shaft
When deciding on the shaft there are some traits to contemplate such as material, length, flex and tipping point.
Material
The 2 most frequent materials employed in the manufacture of shafts are steel and graphite. Drivers and woods have lengthier shafts and involve more suppleness and graphite is the more appropriate material for this purpose.
Irons and wedges favor heavier and stronger shafts to add more control to the swing. Graphite shafts are more appropriate for ladies, seniors and people with slower swing speeds to extract the extra whip for increased speed.
Stiffness
Shaft stiffness is linked with your swing speed and extra fast swing speeds (110mph+) favor extra-stiff shaft (X), slower swing speeds (100 mph+) will require a stiff (S) shaft, regular speed swings (90 mph – 100 mph) will find the regular shaft appropriate. Lower swing speeds (below 90 mph) will find senior (S) or ladies (L) shafts the best fit.
This video will give you some insights on clubhead speed.
5 of the Best Golf Clubs Under $300
Pros:
The high-tech driver is effortless to hit
Ergonomic carrying bag
The irons present terrific accuracy and are straightforward to control
Ideal for both left-handers and right-handers
Easy-to-hold putter
Cons:
The cost is much more than the 2015 version
The hybrid gives perhaps a too high trajectory for some
As a comprehensive bag for under $300, the Ultra Set has a wonderful repute for employing some of the finest technologies presently offered.
The Wilson set is suitable for golfers entering the sport and intending to understand how to play to the top of their capability. Golfers that are planning to either teach themselves or intending to approach a professional for some instruction and afterward spend hours on the driving range will find the Wilson Ultra to be one of the top sets.
Set composition
Driver
3 Fairway Wood
4 Hybrid
Irons 5-PW
Putter
It is available in left and right orientation
Shafts
The shafts are constructed from iron which will be beneficial to nearly all entry-level golfers which this set is aimed at.
Performance
The technology employed in this set is ideal for new entrants to the amazing game of golf. The 460cc titanium driver with the Low Center of Gravity and hot face is perfect for a high launch off the tee and advancing the ball to a great distance.
The super game improvement irons with sizeable sweet spots include perimeter weighting for supreme forgiveness on slight mishits.
The soft paddle grip on the putter is particularly comfortable and the alignment aids make orientation so much simpler. You should be likely to hole your fair share of distance putts.
The lightweight bag containing a self-activating stand with copious deep pockets allocates storage capacity for all your clubs and accessories.
The clubs are aimed at golfers 6' 2" and taller and is available for both left-handed and right-handed golfers.
The lively and colorful appearance of the Wilson Ultra set is sure to draw awareness wherever you go without being over the top.
Verdict
Wilson produced its most cost-efficient package with the Ultra set and beginners will find it highly competitive. Having gotten numerous favorable assessments online it is evident that beginners are exceptionally pleased with the package.
Lazrus golf clubs are sold online to keep the price as affordable as possible by cutting out middlemen.
At first glance, they appear similar to some premium branded golf clubs at a competitive price.
Average golfers playing off a high handicap or just starting out will appreciate the design and consistency most.
Some of the most prominent features of Lazrus clubs are the straight flight, comfort, consistency, and steel flex shafts.
Lazrus set contains a 4-iron, 5-iron, 6-iron, 7-iron, 8-iron, 9-iron, and pitching wedge.
Shafts are only available in stepped steel designed to absorb vibration. It is available in regular flex and a custom Lazrus grip.
All irons have deep grooves for amazing spin, control, and consistency from virtually any lie.
The irons have a straight ball flight with a moderate draw bias that provides a consistent ball flight from the wedges which are the heaviest irons in the set.
Wedges have a relatively low shaft flex rating ranging between 25-degree to 60-degree resulting in lower swing weight compared to similar wedges.
Pros:
Full titanium driver with a large sweet spot offers decent distance and forgiveness
Exceedingly forgiving 3 wood built for long, high penetrating shots
Fantastic hybrid
Durable irons
Solid stand bag
Coprehensive quality set at a great price
Cons:
Only works for right-handers
No headcovers available
The stand bag pockets are not very deep
Callaway is a top tier manufacturer supplying superior quality golf clubs and, as the Strata emanates from this well-established stable, you can rely on this set to be top quality. This does not imply that you will pay top dollar as the Strata is one of the least expensive comprehensive sets on the market.
It will empower new entrants to our cherished sport to buy from a reputable manufacturer at a super affordable price.
Set composition
460cc titanium composite driver
Fairway wood
Number 5 hybrid
6-iron
7-iron
8-iron
9-iron
Pitching wedge
Mallet putter
Clubhead covers
The woods have an extra-large and forgiving sweet spot producing exceptional distance. The woods are fitted with graphite shafts while the irons and putter are fitted with iron shafts. The steel shafts on the irons are stiff enough to encourage a good impact on all shots.
The hybrid performs as a replacement for the often tricky longer irons.
The cavity back irons range from a 6-iron through to a pitching wedge with perimeter weighting for extra stability. The sole measurement gets broader as the numbers rise in the set with the pitching wedge having the widest sole.
The mallet putter contains a T-marking to foster improved alignment leading to more holed putts.
A strong lightweight stand bag comes standard with a rain hood, five accessible pockets, and a supplementary cooler pocket. The incredibly convenient and comfortable carry strap makes it a delight to carry for 18 holes.
Verdict
The set is available to both left-handed and right-handed golfers and will provide all the distance and accuracy you require and even offer assistance on those off-center hits which you are very likely to contend with frequently in the beginning.
This is a complete set for the budget-minded that has received a lot of gleaming online reviews.
4. Confidence Power Hybrid Club Set [Currently Out Of Stock, Will Update Soon]
Pros:
Respectable driver presenting excellent distance
Fantastic hybrid
Solid irons
Very inexpensive
Ultra-consistent
Large clubheads and faces on irons
Swings are light yet powerful
Complete set
Everything is incredibly strong
Stand bag has elegant design and copious pockets
Pleasant headcovers for woods and hybrid
Available to lady golfer
Cons:
Only for right-handed golfers
The grip is thin and golfers with large hands could find it challenging to hold onto
Some grips seem to be skewed
Some golfers don't appreciate the basic design
No headcovers available
The stand bag pockets are not very deep
As one of the cheapest sets offered in this category the Confidence Power Hybrid set is well worth the cost for a casual golfer that needs a set that will offer him all that he wants without exceeding his budget for the occasional golf game.
Set composition
460cc Titanium Driver
24-degree hybrid wood
6-iron
7-iron
8-iron
9-iron
Pitching wedge
Putter
Stand bag
Shafts
All clubs come with a steel shaft with a regular flex.
There is a 12-degree loft on the 460cc Titanium driver and a huge sweet spot offer inspiring forgiveness.
The 24-degree hybrid is a vital element of the set that eradicates the burden of hitting long irons. The cavity backed irons are uncomplicated to swing and make contact with. Holing putts with the semi-mallet putter is uncomplicated.
Verdict
A complete set with all the clubs you will be utilizing on your golf journey. Although being thin, the grip is comfortable, and the lightweight swing does not apply too much burden on the grips. Toughness is one of the best characteristics of the clubs and combined with affordability makes this a terrific contender.
On the negative side, there have been some rumors that the grips are misaligned.
Overall if you compare the advantages and the concerns raised, the Confidence Golf Power is a respectable starter set but could falter against intense opposition.
5. Club Champ DTP2 8 Piece Club Set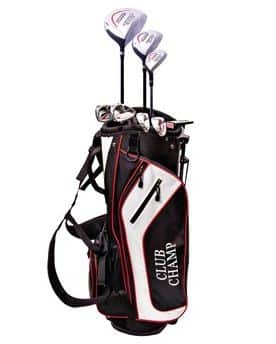 Pros:
Quality, uniflex graphite shaft on driver, 3 wood and hybrid
Steel shafts on irons allowing for more game improvement
Excellent price
Sole weighted irons for forgiveness and playability
Forgiving mallet style putter with Tru-Roll face
Cons:
Lowest iron is 7-iron
Only available for right-handers
It's hard to go wrong with this Club Champ set. To start with, a 8-piece golf set at this price is a steal. Each club has been designed with the needs of a beginner in mind, featuring an abundance of forgiveness features to help inspire confidence with every shot.
Set composition:
Forged allo 45" driver
15 degree 3 Wood
21 degree Hybrid
Irons 7 – PW
Putter
The driver, 3 wood, and hybrid of this set each feature a low-torque, uniflex graphite shaft. This would be beneficial to any player, but especially to beginners, since it helps to generate high clubhead speeds. When you're just starting out and learning the game, that extra whip with a driver will go a long way to help you achieve decent distances.
The irons feature steel shafts, which should be well suited to the majority of golfers. Though graphite shafts can be useful on irons for beginners, they start to lose their effectiveness once the player starts to swing with more confidence. Steel shafts, however, are much better equipped to push your iron game to higher levels.
In addition, the irons have sole-weighted clubheads, which greatly increase playability and forgiveness. It's clear that these clubs are designed to help the player play with confidence.
The putter is mallet style, giving it a decent amount of forgiveness. Even better, the face of the putter has been lined with Tru-Roll technology, giving the user increased ball control and direction. It might not be the fanciest putter in the world, but it certainly has the potential for some quality green play.
Sadly, the lowest iron in this set is the 7-iron. However, instead of low irons, you can use the hybrid club, which can come in handy almost anywhere, be it off the tee, fairway, or out of the rough. Beginners generally have a lot more success with hybrid clubs than they do with low irons.
Verdict
For the price at which it's currently available, this is an excellent set. Every club, from the driver to the putter, has been tailored for forgiveness, while still offering enough performance for the user to push their game to an intermediate level. The main drawback is the lack of low irons, but this is made up for with the hybrid and the fairway wood.
Final Thoughts
Entering the exciting world of golf can be affordable and people that want to test the waters before investing heavily in their equipment have some very capable yet affordable sets to choose from.
To select a winner in this category is not straightforward as you will encounter some areas that are not of the high standard that you get used to in the top tier equipment that is being evaluated on an ongoing basis. Several sets are only offered to right-handed golfers which restricts the choice for left-handed golfers substantially.
We assessed some well-known brands and some of the lesser-known brands. The lesser-known brands hold their own extremely well in this category and will not let you down at all.
In our opinion, the Callaway Strata with a rich heritage and quality at an exceptionally competitive price stand out between all the assessed clubs.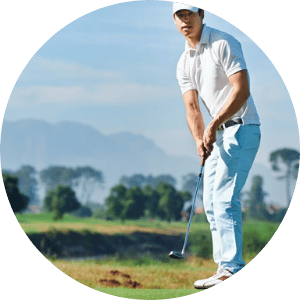 Nick Lomas is the founder of GolfSpan, an avid golfer, not quite a pro but has over 15-years of experience playing and coaching golfers from all over the world. His mission is to bring the golfing community a better experience then it comes to choosing the right golf gear, and finding the right set up for your game.