PGA Tour events usually last 4 days, with each golfer playing 18 holes daily. It usually takes a pair of golfers 4 hours to complete 18 holes. LIV Golf and Ryder Cup tournaments are only 3 days. At the same time, most charity golf tournaments are just 18 holes played in 1 day.
However, tournaments vary from event to event. For instance, the Masters has a lot of mini-events, such as a Par 3 contest, which takes up more time. In comparison, match play events like the Ryder Cup could end early without a clear winner.
I'm a huge fan of golf, so when I get asked by students, "How long does a golf tournament last?" my answer is always, "Not long enough."
With so many tournament formats, I thought I'd clear the air and cover everything you need to know about how long a golf tournament lasts.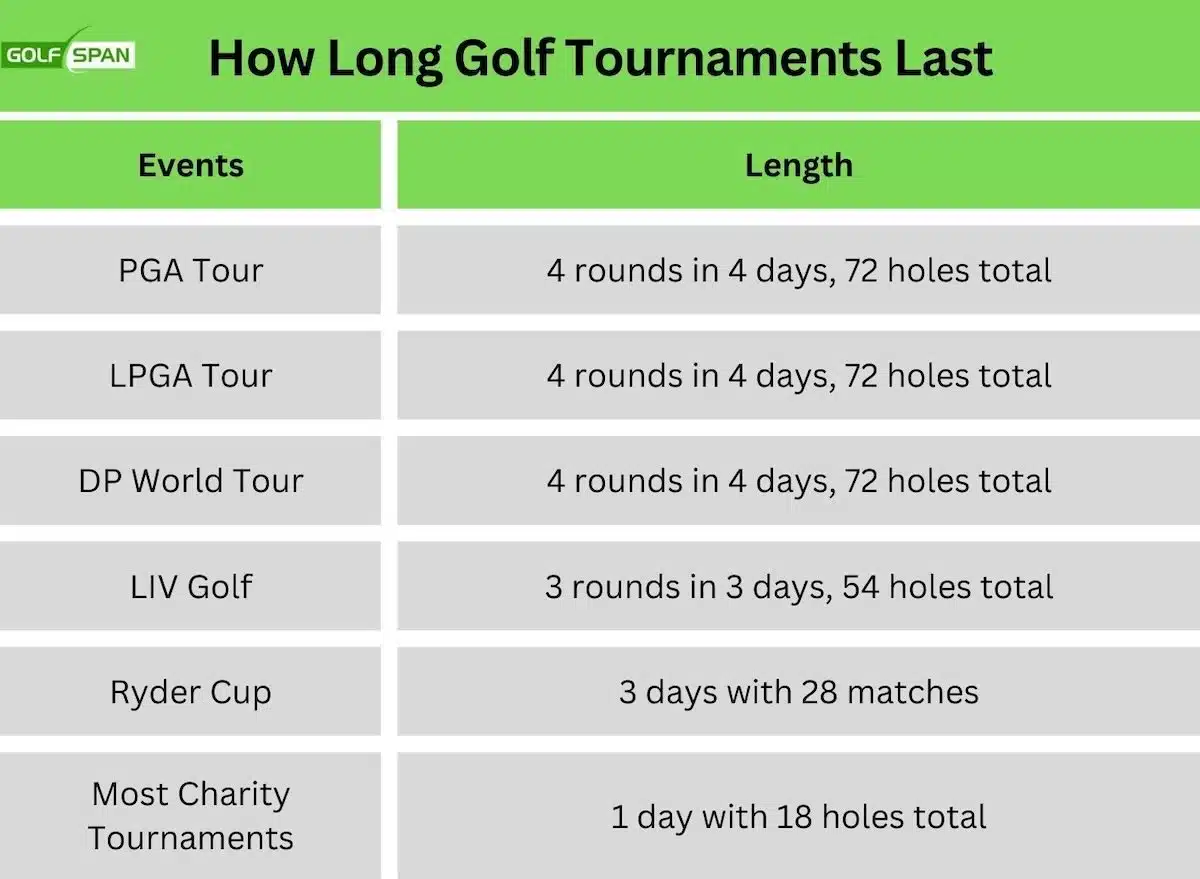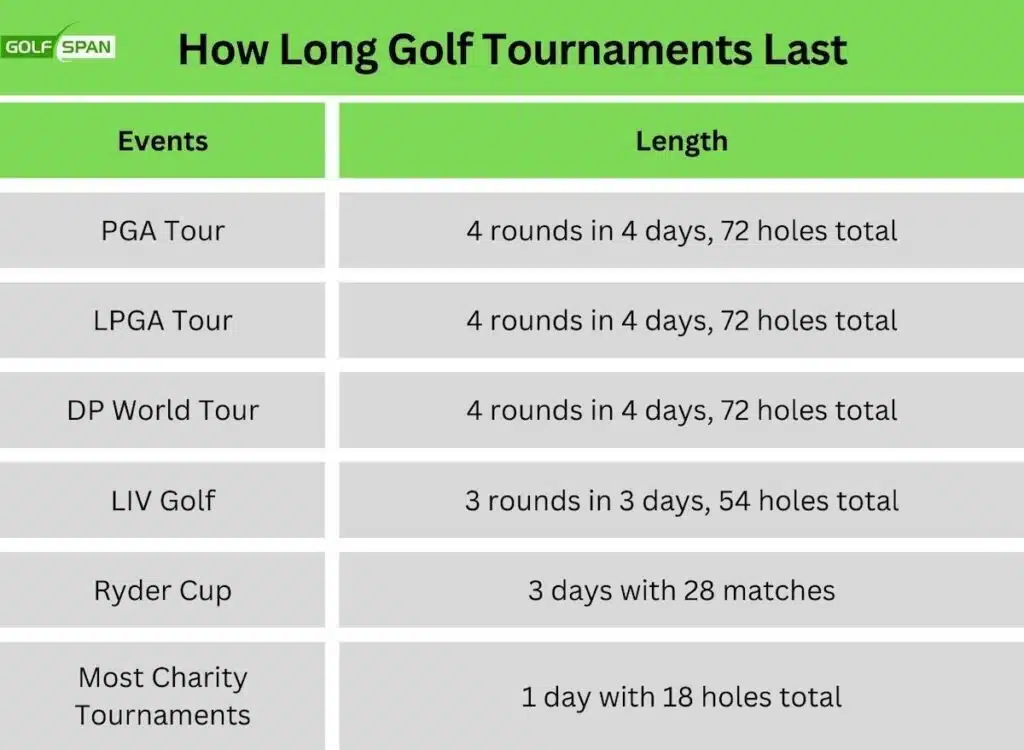 How Long Does A PGA Tour Tournament Last?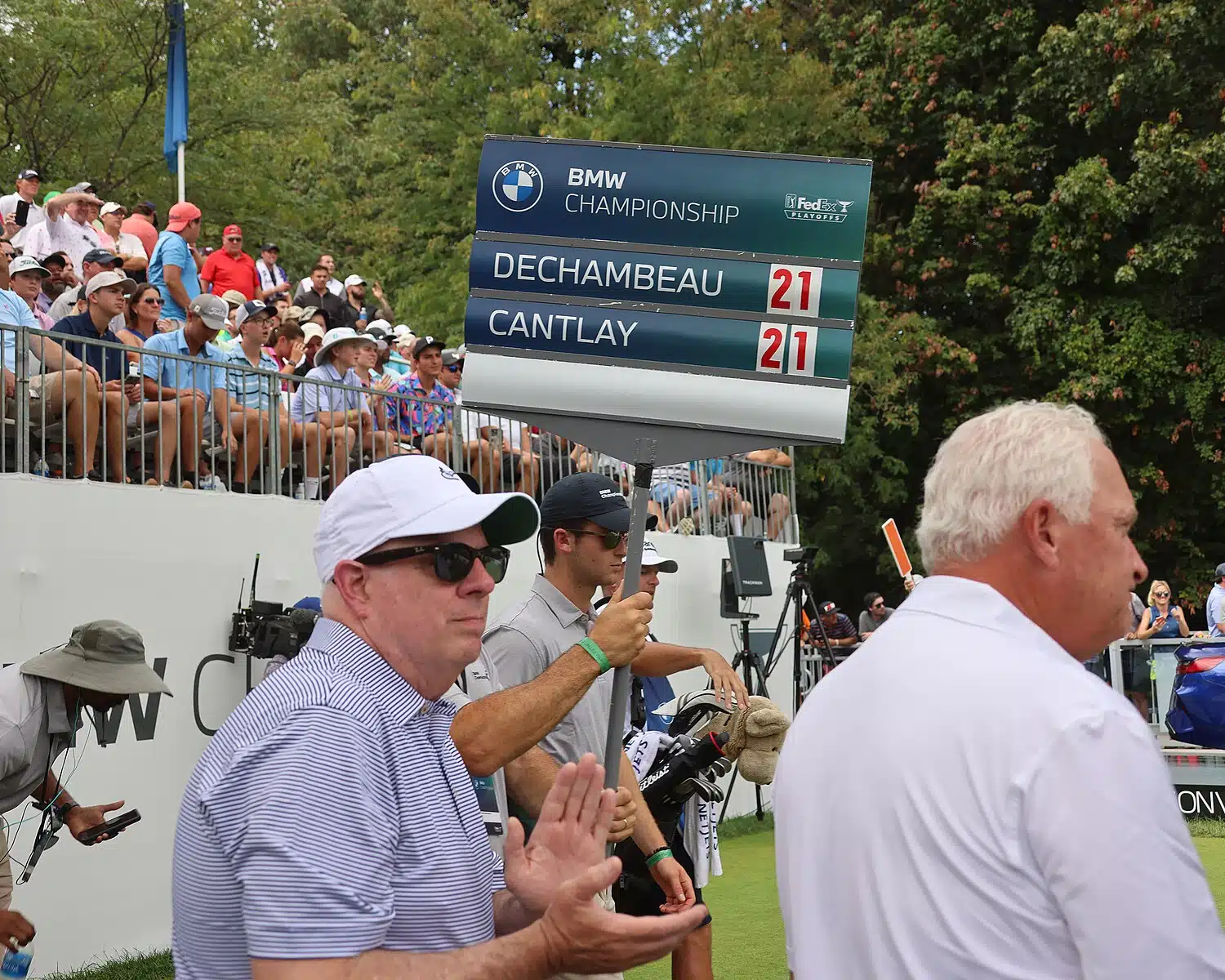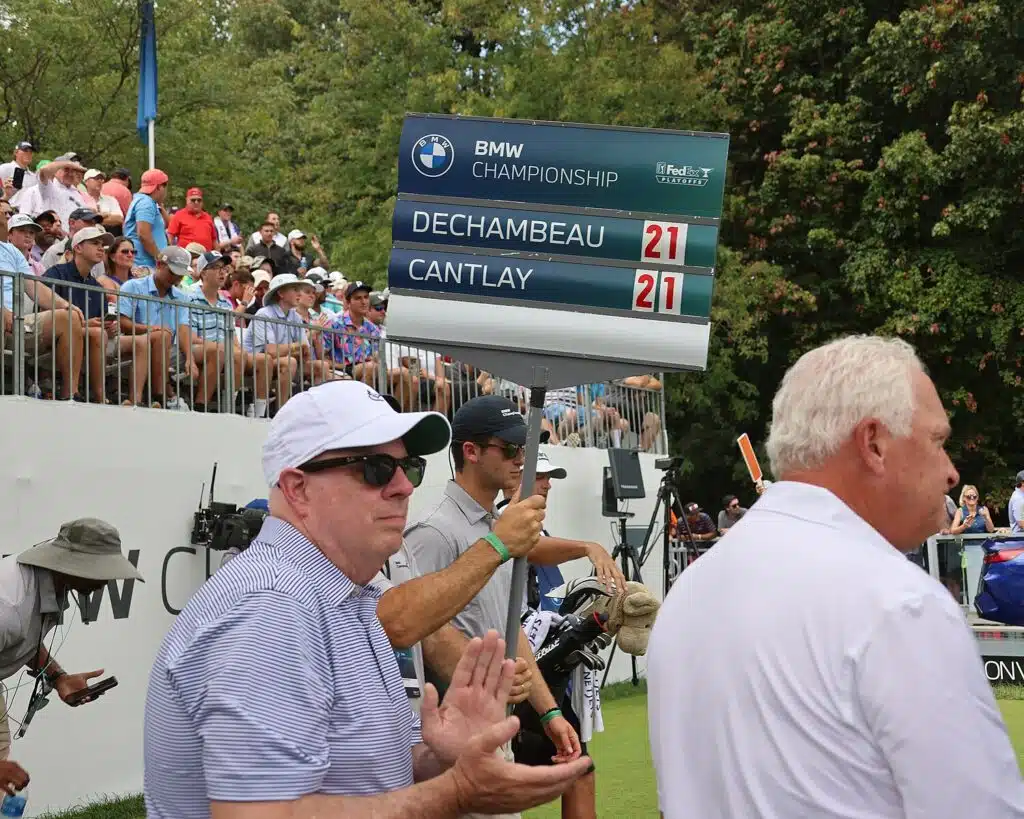 The PGA Tour, LPGA Tour, and DP World Tour hold most golf tournaments over 4 days and 72 holes. Pro golfers usually are paired with a partner, and it takes them about 4 hours to play a round.
Golfers can start teeing off as early as 8 am, so all golfers can finish before it gets dark.
An important detail is the field is cut down after the second round so golfers can start later. For instance, at the Masters in 2023, Tony Finau and Sahith Theegala were the first pair to tee off at 12:30 pm for Round 4.
Quick History Lesson: This 4 round system was developed by Bobby Jones and first implemented in the early days of the Masters. Before that, tournaments were played with 18 holes on the first two days and 36 holes on the third and final day. He proposed this idea to his partner to let the golfers rest an extra day so they could play to their best ability.
| | | | |
| --- | --- | --- | --- |
| Thursday | Friday | Saturday* | Sunday |
| Round 1 | Round 2 | Round 3* | Round 4 |
*Round 3 on Saturday starts with only players who made the cut
How Long Does A LIV Golf Tournament Last?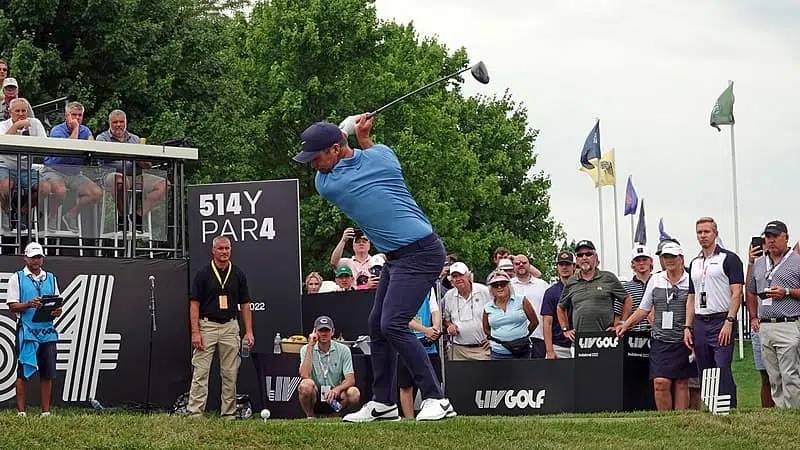 A LIV Tour event is only 3 rounds of 18 holes each day, so 54 holes total. There's also no cut, so every day has the same number of golfers playing.
A LIV Tournament is also smaller by only allowing 48 players to compete. This makes it easier for viewers to watch everyone involved. LIV players also compete in a corresponding team event to try and pack as much action into three days as possible.
| | | |
| --- | --- | --- |
| Friday | Saturday | Sunday |
| Round 1 | Round 2 | Round 3 |
How Long Does The Ryder Cup Tournament Last?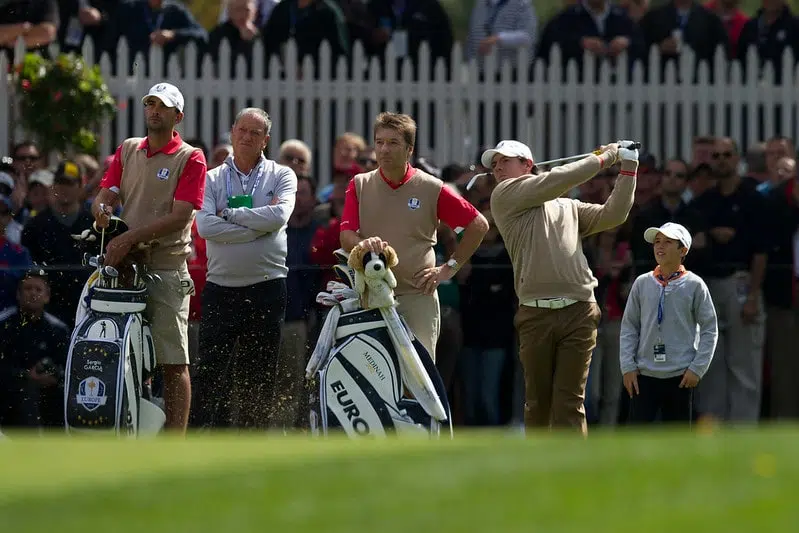 The Ryder Cup lasts for 3 days with 28 total matches. But it's match play, so if a golfer is winning decisively, the round could be cut short.
The first two days of the Ryder Cup pairs fellow teammates into teams of two. Matches are scheduled for morning and afternoon sessions, with points awarded to the winners.
On Sunday, players compete in singles matches to determine the final point count and who will win the Ryder Cup.
Friday
Saturday
Sunday
Morning
Foursomes
Foursomes
Singles
Afternoon
Four-ball
Four-ball
How Long Does A Charity Golf Tournament Last?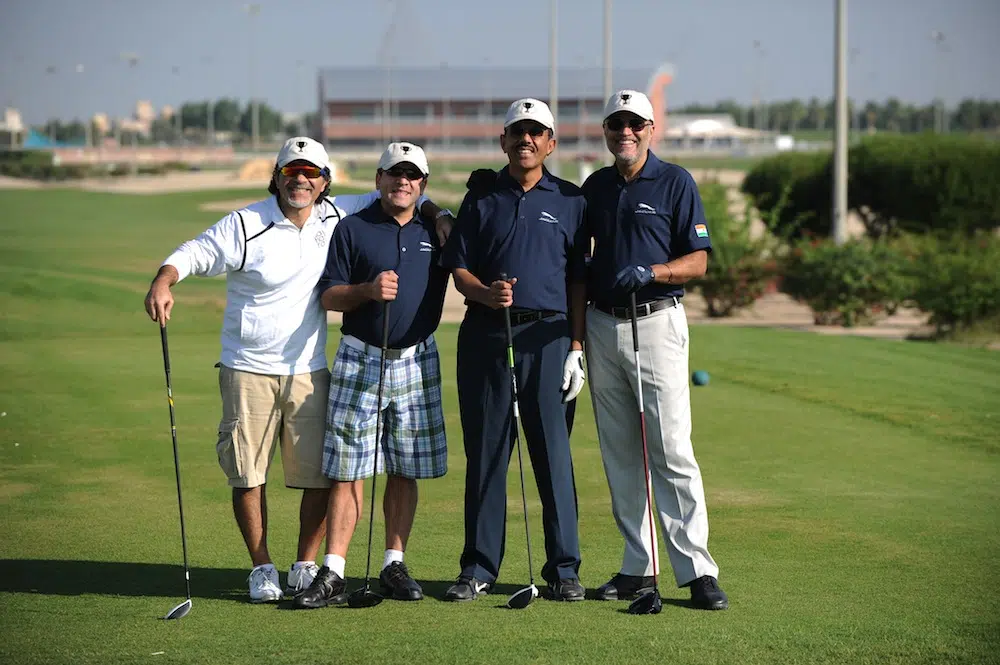 Most charity golf tournaments last 1 day, with each golfer playing 18 holes in a team scramble format. A team scramble even allows players of all skill levels to compete, but since the golfers are inexperienced, it can take longer.
However, the scramble format is designed to speed up the pace of play.
Sometimes, a charity tournament will encompass 36 holes spread out over two days, usually Saturday and Sunday.
To speed up the pace of play, charity tournaments use a shotgun start to ensure everyone starts and finishes simultaneously.
Charity Tournament Mini-Events
The pace of play in charity tournaments is also affected by an array of mini-games spread throughout the course. This includes:
Closest to the pin contest
Long drive (for men and women)
Longest putt
Raffles and 50/50 draws
Complimentary food and beverage offerings
Pro/AM events and contests
Tournament sponsors run these and provide a fun aspect to the day despite their time-consuming nature.
What Is The Longest Amateur Golf Tournament?
Match play events can go longer than the traditional stroke play tournaments found in most PGA Tour Events. Match play exists in the amateur ranks, including one of the world's oldest golf tournaments, the U.S. Amateur.
Wednesday
Thursday
Friday
Saturday
Sunday
Morning
32 matches
32 matches
32 matches
Quarter-Finals
Semi-Final Matches
Afternoon
Quarter-Finals
Final Match
How Long Does 18 Holes Of Golf Take 2 Players to Play?
It takes two players approximately 4 hours to play 18 holes of golf. This assumes no groups in front and no break time at the turn. If a twosome encounters a slow foursome ahead, they can ask to play through if the course flow allows.
Sometimes, the course is fully booked ahead, so it only slows things further when a twosome tries to play through.
This is why many courses will pair a twosome with a single or another twosome. Not only does the course get to squeeze more rounds in to help their bottom line, but the pace of play runs much smoother when the groups on the course are all the same size.
How Long Does 18 Holes of Golf Take 3 or 4 Players to Play?
Threesomes and foursomes can take anywhere from 3.5 hours to 4.5 hours to play 18 holes of golf. Assuming no groups are ahead, a threesome should always be finished in under 4 hours.
Whereas a foursome is always over 4 hours, hopefully not by much. These days, there is a big push by the public to play faster, so golf courses and their marshals are diligent with tracking a group's time as they make their way around the course.
FAQ
How Many Hours Does A Golf Tournament Take?
A golf tournament can take up to 96 hours to play if spread out over four days. However, one-day golf tournaments can take as little as 5 hours to play if done in a team scramble format, and the tee times are set to shotgun formation.
How Long Is The Longest Golf Tournament?
The longest golf tournament in history occurred at the 1931 U.S. Open. Then, if any players were tied after the first four rounds, those players had to return for a 36-hole showdown. In 1931 they were still tied, so the players returned for a second 36-hole playoff match.
How Long Does The Masters Golf Tournament Last?
The Masters golf tournament lasts for four days. However, this could be extended as a result of a tie at the end of the fourth day or if inclement weather causes delays, which push the tournament to a fifth day.  
How Long Does The PGA Tour Season Last?
The PGA Tour season starts with the Sentry Championship in early January and ends with the Tour Championship in late August. However, events scheduled from September to December are part of the new Fall Series and give lower-ranked players a chance to improve their status.
How Long Does A 9-Hole Golf Tournament Last?
A nine-hole golf tournament can last for as little as 2 hours. If organizers use a shotgun start and the tournament is a scramble format, play can move much quicker. With a 9-hole tournament, there is no halfway break, which saves time.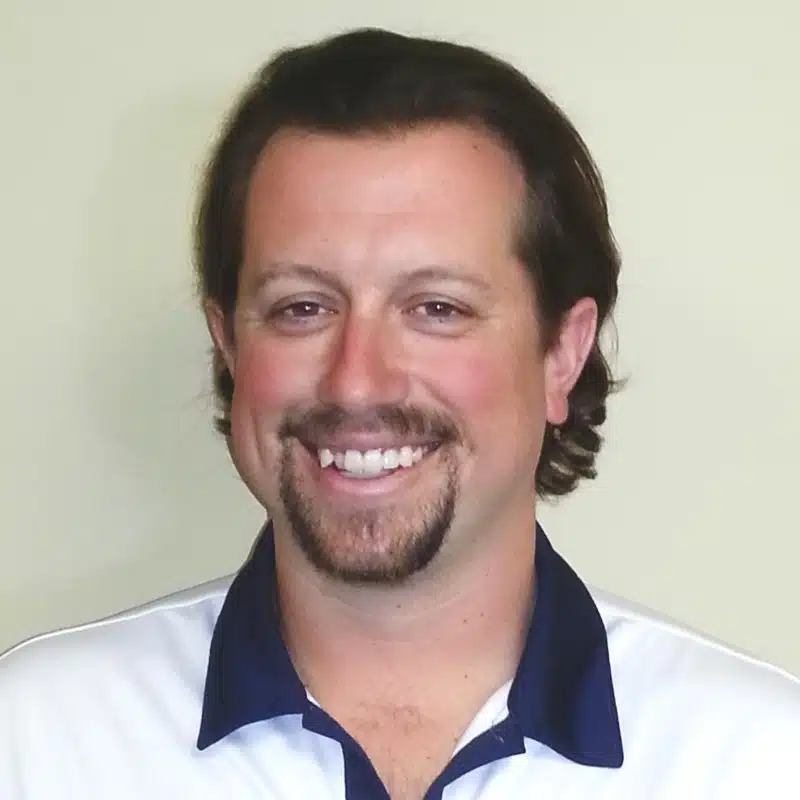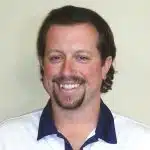 Clint became the Head Teaching Professional at one of Toronto's busiest golf academies and was featured on Canada's National Golf TV program, "Score Golf Canada," twice. He now tests and reviews golf equipment and gets to enjoy the game he loves whenever he wants while helping people lower their scores.