As the global economy continues to slow, consumers are hunting high and low for value-for-money products. Golfers are no different, and I am on a mission to help you save pennies without reducing your time on the links.
In this post, you'll learn about the best cheap golf drivers for 2022. Which is right for you?
Although inexpensive drivers do not feature the level of game improvement technology in premium constructions, I have identified excellent value-for-money products.
You will still enjoy explosive ball speed, low spin, high launch, and straight ball flight.
Once you have identified your optimal affordable driver, you could browse our best golf sets for under $300.
The 3 Best Cheap Golf Drivers
Best Overall
Best Budget
Most Forgiving
PXG 0211
Powerbilt TPS Supertech
Tour Edge Hot Launch E522

Pros

Explosive ball speed
High launching
Enhanced MOI for straighter shots

Super affordable
Forgiving
Combats slices

Maximum MOI
Prompts a high launch
Exceptional face flex

Cons

The Precision Weighting Technology weights are not included
It is priced at the top end of the best cheap drivers

The offset is off-putting at address
Questionable durability

The shorter shaft costs you swing speed
The offset design is unappealing and can aggravate hooks

Price Score
88.6
98.8
89.4
Distance
89.3
87.0
86.1
Forgiveness
93.8
88.9
94.2
Spin
90.2
87.4
85.7
Rating
4.5 Stars
4.5 Stars
4 Stars
What To Consider When Purchasing The Best Budget Golf Driver
Product Authenticity
When searching for the best drivers for money, you will encounter a host of brands and models you have never heard of. It is easy to get starstruck by a juicy price tag but stick to reputable brands.
Purchasing cheap equipment from unreputable producers leads to non-durable products which break rapidly and make the process more costly. If you have never heard of a brand, check our robust library of resources on Golf Span to see what our experts say.
Callaway, Titleist, and Ping are also safe bets, but you will struggle to find their drivers in the bargain bin. Notable affordable brands include PXG, Srixon, Cleveland, Tour Edge, and Wilson.
Durability
Durability is always a factor with cheap clubs, which is why it sometimes pays to spend a little extra. If you are serious about playing the game long-term and lowering your handicap, consider a driver at the higher end of the budget market. A club in this bracket is more likely to last.
However, if you are a weekend warrior looking to play the odd game, you may be comfortable with spending less. Even if it means reduced longevity.
Clubhead Speed
Many amateurs play with equipment ill-suited to their game, which impacts ball striking, velocity, and accuracy. All these components must gel for you to optimize your distance. You'll find that your swing speed slows if the clubhead and shaft are too heavy for your swing.
Therefore, test a few drivers with different weight profiles, and see which one is easier to boost your miles per hour.
Moment of Inertia (MOI)
The higher your driver's moment of inertia per cubic centimeter, the less likely the clubface will twist during the swing. You will find that high MOI drivers help the average golfer maintain a square clubface leading into contact for straighter shots. Players struggling with hooks and slices should consider drivers with this setup.
Ball Speed
Maximum ball speed is vital for distance off the tee. If you catch the ball off-center, you lower your coefficient of restitution (COR) which impacts your ball speed, launch, and total yards. The solution is a fast titanium clubface with an expanded sweet spot that maintains velocity and limits spin on mishits.
Our Testing Process
As an independent team, we select the best cheap golf drivers based on our research. While we get a commission if you use one of our affiliate links, brands do not pay us to conduct reviews, so everything you read on our website is unbiased and factual. We have a team of golfers who write and have more than a thousand hours of experience reviewing golf equipment.
The Best Affordable Golf Drivers In 2022
1. PXG 0211 – Overall Best Cheap Driver
No products found.
Parson Xtreme Golf turns eight this September, and I will put the cherry on their birthday by awarding them the prize for the best golf driver for the money. I found that the 0211 offered an incredible balance of forgiveness, high launch, feel, and acoustics for half the price of other well-known brands.
Starting with the high-speed titanium alloy that accelerates ball speed and boosts durability for greater longevity. That presence of rapid velocity helps the average golfer achieve ample distance off the tee.
A feature that stood out to me was the Railed Sole Geometry which extends from heel to toe, lowering the center of gravity (CG) and enhancing the moment of inertia (MOI).
The lower CG positions prompt a high launching golf ball, while the MOI combats twisting to remain square through impact.
Furthermore, you'll enjoy the magic of a vibration-dampening polymer known as the Honeycomb TPE Insert. I found it drained out shocks on off-center strikes to protect my palms. Plus, it amplified the acoustics for a superior tee box experience.
Finally, the PXG 0211 contains Precision Weighting Technology enabling you to alter the CG for your optimal launch and flight. However, the weights are not included, and you must purchase them separately.
Lofts
Pros
Explosive ball speed
High launching
Enhanced MOI for straighter shots
Vibration dampening
Consistent distance
Cons
The Precision Weighting Technology weights are not included
It is priced at the top end of the best cheap drivers
Rating: 4.5
The Powerbilt TPS Supertech toppled the best cheap drivers to take the title in our 2022 test. Despite its rock-bottom price tag, it offered ample forgiveness, ball velocity, and low spin.
It doesn't possess the technology of other drivers but holds its own in the entry-level category.
When I was a junior, my buddy played Powerbilt clubs, and he didn't change them until he was playing off a 4. The point is the brand produces decent equipment for the price point.
I was impressed with the expanded sweet spot of the Supertech, which is the star performer. Thanks to a 460cc clubhead, the engineers widened the strike zone to enable rapid ball pace and low spin across the face.
You will see that the TPS Supertech contains moderate offset at address, which may deter superior players. However, this setup is designed to help you fight slices and encourages straighter ball flight.
Overall, the Powerbilt TPS Supertech is worth considering if you are a high handicapper or a part-time, casual golfer.
Lofts
Pros
Super affordable
Forgiving
Combats slices
Maintains ball speed on all strikes
Low spin off the clubface
Cons
The offset is off-putting at address
Questionable durability
Rating: 4.5
With more than 5000 grams per cubic centimeter squared of MOI, the Tour Edge Hot Launch E522 is our most forgiving budget driver in 2022. Aside from MOI, it encourages a high launch, rapid ball pace, and straight shots.
The purpose of the enhanced MOI is to keep the clubface square at impact, generating straighter shots for improved accuracy. In addition, you will notice that a draw bias heel weight is inserted to fight slices and improve your fairways in regulation record.
I found that the low and back CG setup simplified every launch. It felt effortless sending my ball into the heavens. This contributed to consistent carry distance, placing me in a prominent position for my approach shot.
Furthermore, the Diamond Face 2.0 technology is genius. You will spot 42 thick and thin diamond shapes scattered around the clubface for variable thickness. As a result, it boosts the flexibility of the face to deliver exceptional ball zip on all strikes.
Finally, Tour Edge opted for shorter shafts to boost your control and smash factor. Although the shorter shafts help you strike the ball cleanly, they cost you clubhead speed.
Bookmark our article on the most forgiving drivers in 2022 to find numerous options to keep you straight and long.
Lofts
Pros
Maximum MOI
Prompts a high launch
Exceptional face flex
Improves smash factor
The offset design combats slices
Cons
The shorter shaft costs you swing speed
The offset design is unappealing and can aggravate hooks
Rating: 4
4. Mazel ZU35 – Best Affordable Driver For Seniors
Mazel is not a brand at the top of my list under normal circumstances. However, if you are a senior golfer searching for an easy launching, forgiving driver, their ZU35 is worth testing. It carries a wealth of game improvement technologies that ensure rapid pace, high launch, and optimal forgiveness.
The first feature you will notice is the CNC Cup Face which elevates the rebound of your golf ball off the clubface at impact. I found this provided explosive ball speed to encourage maximum length off the tee.
In addition to its ball speed, you will notice that the clubhead is super light, which helps slower swingers increase their miles per hour. You'll find that this further boosts its reputation as a handy tool for senior golfers.
Finally, I enjoyed an easy, high launching tee shot with the Mazel ZU35, which is perfect for slow-swinging high handicappers. However, it can prompt faster swingers to produce excess spin off the face and balloon shots.
Lofts
Pros
Explosive ball pace
Super lightweight head increases swing speed
Expanded sweet spot
The gold and black finish adds character to the club
Launches high
Cons
Faster swingers may balloon shots with this driver
Durability
Rating: 4
5. Tour Edge Bazooka 470 – The Straightest Best Driver For Price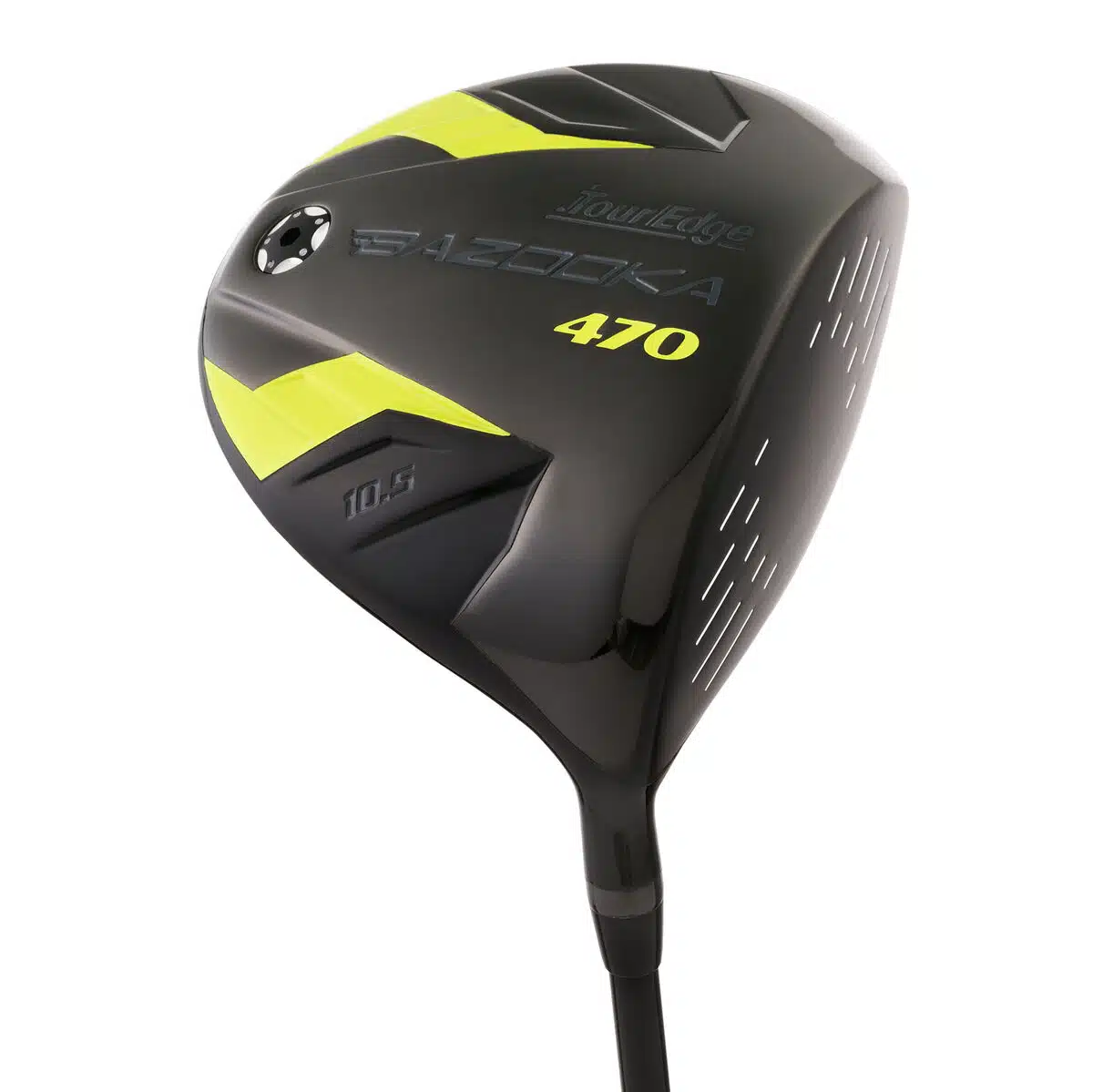 The Tour Edge Bazooka 470 is our longest affordable driver in 2022. It toppled its peers with lightning ball velocity, forgiveness, high launch, and straight flight. These features make it an ideal option for mid to high handicappers looking for a neutral profile.
Its gigantic sweet spot impressed me the most during testing, as I produced consistent ball speed and spin on all shots. Tour Edge suggests that the driver's deep face design and variable clubface thickness enhanced the active zone.
Added to lightning pace, the sweet spot reduced the damage of heel and toe mishits to remove an element of curve on your ball. In addition, you will find that the Bazooka 470 encourages high launching shots to help you get airborne on every drive. You have the fixed rear sole weight for deep and low CG to thank for that.
Finally, the engineers employed lightweight shafts to help slower swingers increase clubhead speed on the downswing.
Lofts
Pros
High launching
Straight ball flight
Accelerated ball speed
Promotes rapid swing speed
Affordable
Cons
The massive head is not attractive
Not suited to faster swing speeds
Rating: 4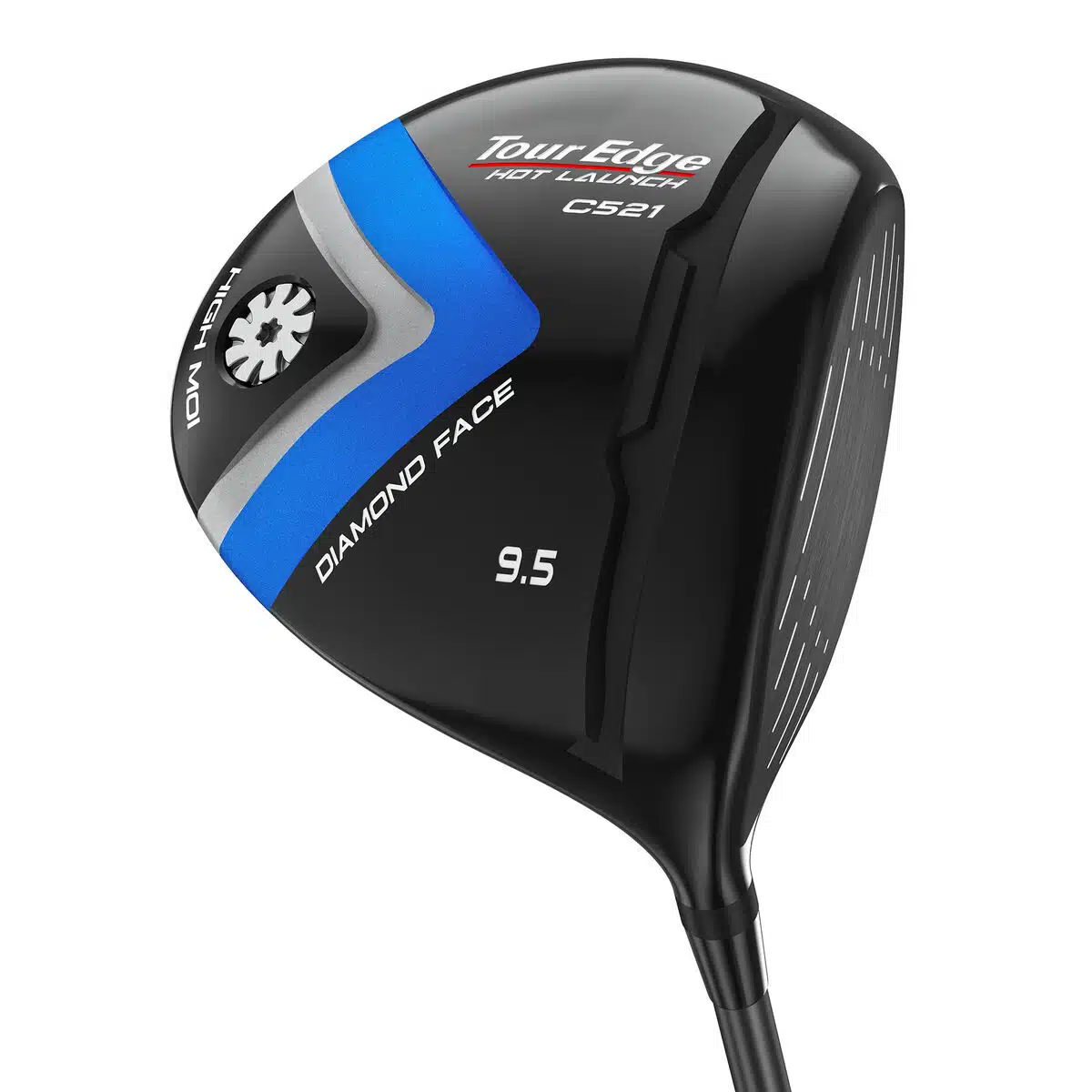 Staying with Tour Edge, we move to our easiest launching of the best value golf drivers. Accelerated ball zip, minimal spin, high launch, and amplified acoustics catapulted the Hot Launch C521 to the top.
I touched on the Diamond Face Technology in the E522 review above, but it carries a different composition from the C521. 9 thick and thin diamond shapes grace the clubface in various regions to create variable face thickness.
The shapes pair with a deeper face cup structure to boost spring off the clubface for explosive speed and lower spin. As a result, you produce optimal distance off the tee.
Tour Edge reckons the C521 possesses 8% extra MOI compared to previous models, pushing it beyond 5,000 grams per cubic centimeter. You'll find that this feature helps you maintain a square clubface at impact for straighter golf shots.
Lastly, Tour Edge roped in their Acoustic Ribbing Channels to improve the feel and sound of the driver. These channels lie inside the crown and minimize vibrations on off-center strikes while producing deafening sounds.
Lofts
Pros
Optimal ball velocity
High MOI
It prompts high flight
Encourages straighter flight
Lowers spin
Cons
The 9.5-degree loft is too strong for slower swingers
Limits workability
Rating: 3.5
7. Srixon Z585 – The Fastest Best Cheapest Golf Driver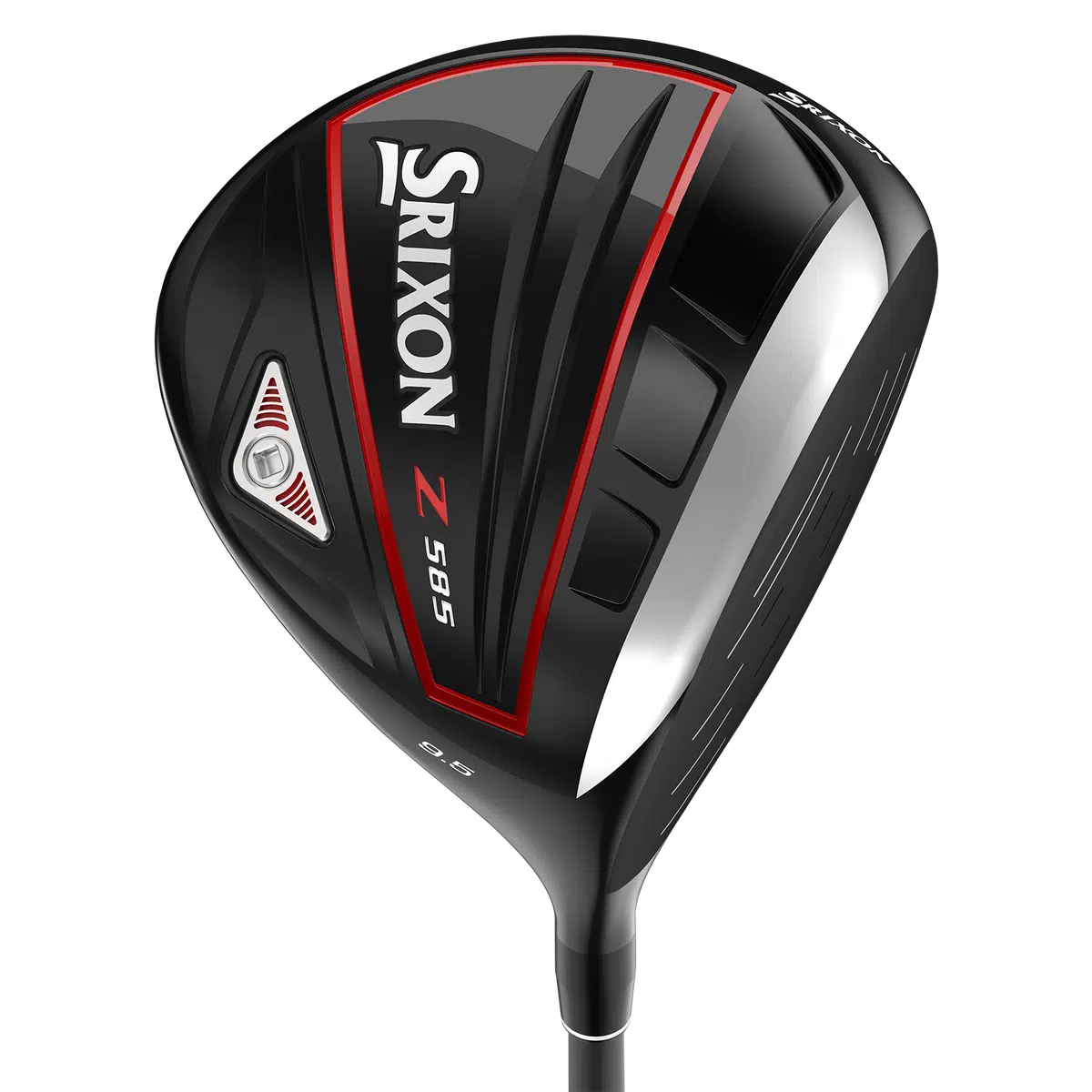 Accelerated ball speed, and low spin are mandatory to produce maximum distance off the tee box. During testing, the Srixon Z585 dominated this category to take top honors. However, what sealed the deal was its impressive forgiveness and straight ball flight, which I find suitable for the average mid-handicap golfer.
The Z585 does not contain the quantity of technology found in other golf drivers. However, its titanium cup face is sufficient to lower spin and boost your ball speed. You will notice that the thin titanium face is flexible, causing it to shoot your urethane dimples high, straight, and long.
I found this Srixon driver carried a super lightweight crown, which helped me improve my swing speed. Rapid speed and a clean strike help you generate optimal yardage.
In addition, the reduced mass of the crown allowed engineers to reposition weight around the perimeter of the driver for increased forgiveness. Therefore, you still produce adequate speed and spin on strikes out of the heel and the toe.
Lofts
Pros
Maximum forgiveness
Rapid ball speed
Lightweight crown
Enhanced MOI
Low spin
Cons
Minimal technology compared to other drivers
Priced at the higher end of the best cheap drivers market
Rating: 3.5
8. Wilson D300 SL – Best Cheapest Driver With An Adjustable Hosel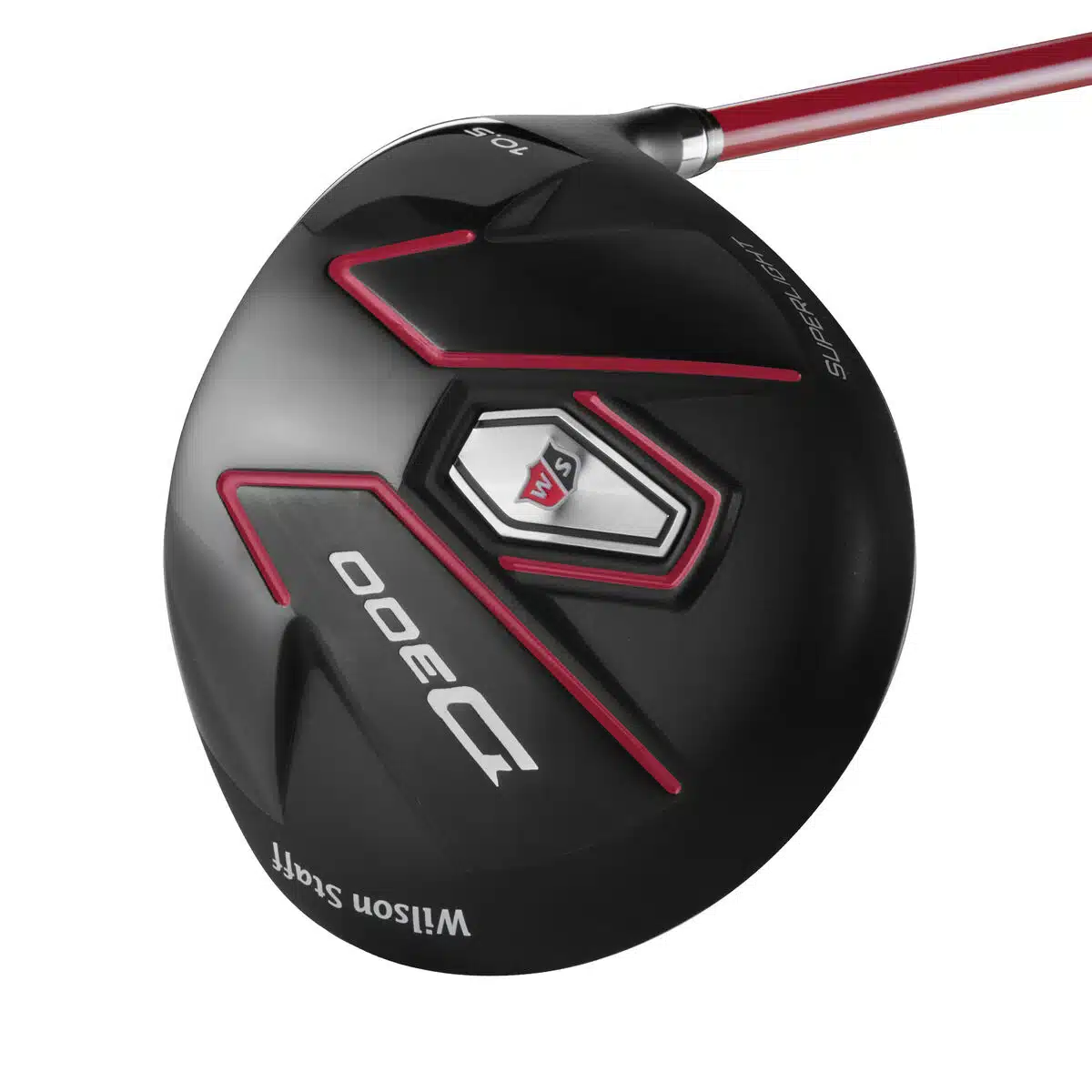 Adjustable hosels are a common feature on modern mid-range and premium drivers, which allow you to alter the loft and lie of your clubface. Fortunately, the Wilson D300 is among the best golf drivers for the money and contains an adjustable hosel.
The Fast Fit Adjustable hosel offers six settings, but it has a minor range of 1 degree on either side. While some golfers may not approve, I feel that the 1-degree alternation is sufficient for you to produce varying launch results.
Furthermore, you will feel that the D300 SL is lighter than other driver heads, which helps slower swings increase their miles per hour. Another win for slow swingers is the Micro Vortex Generators dotted on the crown. I found they fought drag and cut through the air for an uninterrupted trip to the impact zone.
The downside of the Vortex Generators is that they are an eyesore and can distract you at address and during your swing. Overall, if you need additional clubhead speed and like the versatility of an adjustable driver, the D300 SL is worth a hit.
Lofts
Pros
Increases clubhead speed
Adjustable hosel
Expanded sweetspot
It gained yards over the D200
Fair forgiveness
Cons
The Micro Vortex Generators are an eyesore
The clubhead looks marginally toe weighted at address, which may put some golfers off.
Rating: 3
FAQ
What Is the Cheapest Golf Driver?
The overall cheapest golf driver in 2022 is the Powerbilt Golf TPS Supertech, which runs you well less than $100. It is equipped with an extensive sweet spot and is designed to produce explosive ball speed and low spin while combating slices for straighter flight.
What Is the Best Driver Money Can Buy
The best driver money can buy from a value standpoint is the PXG 0211. This driver is half the price of premium models and still offers the game improvement features the average golfer needs. It accelerates ball speed, increases MOI, and encourages a high launch.
In addition, the PXG 0211 is equipped with a Honeycomb TPE Insert to dampen vibrations and amplify acoustics.
Conclusion
There you go. Despite rising inflation, there are plenty of quality, cheap golf drivers that accelerate ball pace, lower spin, and lead to high long golf shots. Naturally, a cheaper driver requires you to sacrifice some features, but you still enjoy ample forgiveness, consistency, and yards.
If your budget is tighter than tight, and expenses must be quashed, your best bet is the Powerbilt TPS Supertech. However, if forgiveness is your main prerogative, you should test drive the Tour Edge Hot Launch E522.
Finally, those with a larger budget, willing to push the limits of the cheap driver market, should look at the PXG 0211. Our overall best cheap golf driver in 2023 feels incredible, launches high, accelerates ball speed, and increases distance.
Read More: