Starting out playing golf can be such a daunting experience having to learn about all the equipment at your disposal, what suits your play, and cultivating a swing. This does not happen overnight, and you have to work at getting into the swing of things.
Golf equipment makers are competing heavily to convince you that their specific equipment is what you require to improve your game from the outset. In this highly competitive market, it is extremely difficult to select the equipment that is best suited for you.
The driver is the most difficult club to conquer as it has the longest shaft of all the clubs in the bag; therefore, the biggest chance of something going awry during the swing.
As the ball travels further with the driver, a small miscalculation at contact could significantly impact how your ball lands 200 yards away from the tee. In this review, we will highlight the most sought-after drivers for high handicappers and beginners.
At a glance: Our Top 4 Picks for Best Driver For High Handicappers
Things To Keep In Mind When Buying a Driver
To best prepare yourself to make an informed decision when buying a driver with confidence, we will define the most likely criteria that will play a role in your purchase decision of this most difficult club.
There is nothing that puts a bigger smile on a high handicap golfer's face than a drive that sails straight down the fairway for a considerable distance. This, of course, is also the start of getting your scores down and cutting into that high handicap. As your driver is the most expensive club in your bag, selecting the right club will save you money in the long term.
The equipment manufacturers spend millions of dollars every year in an attempt to improve their equipment and improve your performance on the course. Golfers spend many hours at the driving range in an attempt to conquer the beast that causes so much fun and yet so much frustration.
Many golf pundits differ, and there is a big overlap in the opinions about the best drivers for high handicap golfers. We have reviewed 24 different drivers to decide on the best ones that we believe suit the high handicap golfers.
Before reviewing the clubs, you must consider some areas when selecting your driver. It will benefit you to have a club fitting done to ensure that the driver you select is best suited to your requirements.
This review is aimed at beginners and high handicap golfers. 
The skill level will vary from individual to individual, though. Consider the time you have been involved in golf and whether your skill level has increased over time. If you are a beginner and have the right skill level, your game will improve rapidly, so choose a driver that you can keep for a long time.
Beginners and high handicap golfers require as much assistance as possible in selecting the most suitable driver. It can be a scary experience doing a club fitting when your swing is inconsistent and still a work in progress.
It will be beneficial to start with the most forgiving driver you can lay your hands on that still conforms to your swing requirements. The most expensive driver is not always the best for your circumstances.
At this stage of your golf game, it is more about enjoying the game and improving than selecting clubs based on your playing partners' choice of club. The swing is long, and the ball is small. Make use of every bit of assistance that you can get.
When selecting a driver, ensure that you select the biggest head available that conforms to the maximum of 460cc as set out by the golfing authorities.
Loft
It is important to select a club with the correct loft to suit your clubhead speed. This is where a club fitting will be extremely beneficial in determining your swing speed. Most beginners and high handicap golfers will have low swing speed and require the most assistance getting the ball into the air.
For clubhead speeds below 85 miles per hour, it is recommended that your loft should be between 14 degrees and 20 degrees. Clubhead speeds between 85 miles per hour and 94 miles per hour require a loft of between 12 degrees and 13 degrees, and clubhead speeds between 95 miles per hour and 104 miles per hour require a loft between 10 degrees and 11 degrees.
Materials
All types of materials are used in the construction of the clubheads, and they impact the price and performance of your driver. In the early years, most driver heads were manufactured from stainless steel. This is still a popular option for entry-level drivers and will do little harm to your budget and last forever.
The downside of stainless steel drivers is that they are not quite as forgiving. For a more forgiving clubhead at a still manageable budget, look at clubheads made from composite alloys. For ultimate performance and the highest price, you can look at titanium clubheads. Beginners and high handicap golfers will gain from the forgiveness titanium heads offer if you are willing to pay the premium.
Adjustability
Selecting a driver with too many extremely adjustable options will create confusion and distract you from the basics of getting the ball off the tee and into the fairway.
Shaft
Selecting the shaft that suits your swing speed is another important factor in your decision. The incorrect shaft can cause you to push the ball when too stiff or pull the ball when there is too much whip in the shaft.
When selecting the correct shaft, you need to measure your swing speed, which is different from the clubhead speed as discussed in selecting the loft of the driver. 
Swing speeds below 62 miles per hour would fit an L (Ladies) flex. Swing speeds between 63 miles per hour and 76 miles per hour require an A (Seniors) flex.
Most beginners and high handicap golfers fall in the R (regular) stiffness category, where swing speeds vary between 77 miles per hour and 92 miles per hour. Swing speeds above 93 miles per hour will require an S (stiff)) flex.
The selection of the weight of the shaft will not play a major consideration in the selection of a driver for beginners and high handicappers; however, it is beneficial to understand that lighter shafts will allow you to swing faster and are whippier than the heavier shaft.
Quick Overview: Our Top Picks for Best Driver For High Handicappers
The Best Drivers for High Handicap Golfers
*Get 8% off from Global Golf with Code: GOLFSPAN
Pros:
Supreme forgiveness

Rapid ball speed off the face

Adjustable weight for your desired shot shape

Promotes a high launch

Produces consistent carry distance
Cons:
Topping the list as the best golf driver for beginners in 2022 is the Callaway Epic Max. A Jailbreak Speed Frame combines with an A.I.-designed Flash Face to deliver stability, speed, forgiveness, and distance on all tee shots.
Furthermore, the engineers at Callaway added a 17-gram rear weight, which enables you to adjust your ball flight. For example, If you are prone to a slice, you can adjust the position to produce a draw bias shot and alter your shape by 20-yards.
Finally, the high launching driver is available in 9, 10.5, and 12-degree loft to cater to fast and slow swinging golfers.
The Verdict:
The Callaway Epic Max produces supreme forgiveness for beginner golfers looking for distance and accuracy off the tee. While it performs exceptionally well in assisting high handicappers, it does cost a premium and is out of the budget of many golfers.
Rating: 4.5 Stars
Pros:
Affordable

Enhanced sweet spot

High launch

Promotes consistent distance

Restricts side spin that induces a slice
Cons:
Beginners with fewer resources still have options when it comes to a long, forgiving driver. Claiming the title as the best driver for beginners on a budget is the King Par Tec Plus. The 460 cc driver features 10.5-degrees of loft to enable moderate to slow swingers to launch high, long drives.
In addition, the driver contains an expanded sweet spot to offer an optimal moment of inertia (MOI). That means that when you catch the ball off the heel or toe, it reduces side spin to deliver straighter ball flight.
Verdict
Ultimately, the King Par Tec Plus is ideal for beginners on a strict budget. It may lack the technology found in premium brands, but it is forgiving and long enough to give high handicappers what they need.
Rating: 4.5 Stars
*Get 8% off from Global Golf with Code: GOLFSPAN
Pros:
Accelerated clubhead speed

Reduces spin

Prompts increased ball speed

Delivers consistent distance

Forgiving
Cons:
Costly

The natural low launch may not work for slow swingers
The best high handicap driver for forgiveness in 2022 is the TaylorMade SIM 2. Its forged ring construction produces optimal aerodynamics and partners with a SIM inertia generator to accelerate clubhead speed.
In addition, the Speed Injected Twist face employs corrective face curvature to promote straight shots on off-center strikes. Plus, a Thru-Slot Speed pocket increases the flex of the face to maintain ball speed on low face strikes.
Finally, the SIM 2 produces low spin and high forgiveness from increased distance and accuracy off the tee.
Verdict
Overall, the TaylorMade SIM 2 driver is a work of art packed with game improvement technology. It keeps you long and straight but costs a premium.
Read More: To help you weigh up your options, we also discuss a host of other clubs in our most forgiving drivers guide.
Rating: 4.5 Stars
Pros:
Made of superb graphite

Fully adjustable

Modern and attractive appearance and clean finish

Great value for money

Features an Offset Technology for straighter ball trajectory

It is a lightweight driver

Massive 'sweet' spot

It is a light driver that any golfer can swing almost effortlessly
Cons:
Complicated Adjustment process

The extra-large sweet spot can be illegal in some tournaments

This driver is shorter than most other top brands
Most golfers, especially high handicap golfers, are constantly fighting the left to right directional drives or the dreaded slice. There are several draw-biased drivers on the market, and the Pinemeadow PGX deserves a chance when you are looking at purchasing a driver. 
The offset technology found in the PGX driver aims to present a square face for straighter ball flight and less slice.
A pleasing visual appearance faces you when lining up on the tee box. You are met with a matte black head adorned with green and white stripes that finish the clubhead head off in style.
With lightweight technology embedded into the PGX offset design, the designers produced a well-balanced club yet limited the driver to 200g. This is achieved in part through graphite's use in the construction of the shaft and clubhead. Not only does it save weight, but it improves flexibility and strength.
Adjustable settings on this driver are not always available on all offset drivers. The specially developed hosel on the PXG Offset can be adjusted upwards and downwards to suit your requirements. Small plugs can add weights between 0.5 and 2 grams to the head. This is a complicated process and would not be recommended for golfers new to the adjustable technology.
The PGX Offset comes in a 10.5-degree loft, and 58-degrees lie. On the face of the enjoyable 460cc head, you will find one of the biggest sweet spots in the game of golf affording you with the maximum forgiveness wherever the point of impact is.
The combination of Anti-Slice Technology and Offset-technology helps to fight that dreaded slice by presenting a square face for straighter shots.
Verdict
In fighting your slice few clubs that will offer you the benefits, you will receive from the Pimeadow PGX Offset. You will find unmatched forgiveness and straight shots, and the extra-large sweet spot will provide forgiveness for the off-center shots.
Although difficult to master, there is an option to adjust the hosel and the weight of the clubhead. This is a club that you would do well to test when going through the motions of searching for that ultimate slice fighter.
Rating: 4.5 Stars
*Get 8% off from Global Golf with Code: GOLFSPAN
Pros:
Encourages increased ball speed off the face

Prompts accelerated clubhead speed

Enhances stability at impact

Adjustable loft
Cons:
It does not include an adjustable weight to alter your preferred ball flight
When we talk about distance in the modern game, Bryson DeChambeau and his Cobra equipment are sure to come up. That is why it is unsurprising that the Cobra Speedzone Extreme is the best golf driver for beginners seeking distance.
Its CNC Milled Face prompts explosive ball speed off the clubface, while the T-Bar speed chassis offers stability at impact. These features combine to produce forgiveness and high launching shot.
Furthermore, the engineers placed 69-grams low and back for a lower CG position. That helps you consistently launch your ball high. 
Moreover, a streamlined head shape helps beginners maximize clubhead speed on the downswing for a superior coefficient of restitution (COR).
Verdict
The Cobra Speedzone Extreme delivers an improved COR, accelerated ball speed, and a high launch for superior yardage. It is best suited to those beginners who could use the assistance of a few extra yards.
Rating: 4 Stars
*Get 8% off from Global Golf with Code: GOLFSPAN
Pros: 
Optimal ball speed

Promotes straighter shots

Forgiving

Delivers consistent distance

Suited to players with faster swing speeds
Cons:
Not suited to players with slower swing speeds
The Srixon Z 785 driver takes the prize for the best driver for a high handicapper looking for a low launch. This only suits beginners with rapid swing speeds, who tend to balloon drives with higher launching designs.
Its light Ti51AF Cup Face ignites supreme ball speed off the face to help you increase your distance off the tee. In addition, the driver is available in a 9.5 or 10.5-degree loft, making it better suited to fast and moderate swing speeds.
A lightweight carbon crown enabled the engineers to reposition mass around the perimeter of the face. This enhances its MOI to reduce side spin on off-center strikes to deliver straighter drives.
Lastly, the Quick Tune System enables you to adjust the swing weight and loft of the club for optimal launch and ball flight.
Verdict
In conclusion, the Srixon Z 785 is a low launching driver that offers a combination of distance and forgiveness. I do not recommend that players with slower swing speeds try this, as they may struggle to launch their tee shots.  
Rating: 4 Stars
Pros:
Affordable 

Forgiving

Encourages straighter shots

Optimized distance

Easy launching
Cons:
Not allowed in USGA or R&A sanctioned tournaments
An illegal golf driver is prohibited from use in USGA tournaments. However, they are helpful and affordable for beginners to produce consistent distance and accuracy. The best illegal golf driver for 2022 is the Intech Non-Conforming Driver.
The Intech Non-Conforming driver features a 12.5-degree 520cc head which exceeds the limit applied by the USGA. The oversized clubhead offers maximum forgiveness by maintaining ball speed and restricting side spin on off-center strikes.
As a result, you enjoy consistent distance and straight shots, even when you mishit the ball.
Verdict
The Intech Non-Conforming driver is ideal if you are simply looking to have fun, keep straight and go long.  
Rating: 4 Stars
Pros:
Attractive appearance

Optimal ball speed across the face

Forgiving

High launching

Affordable
Cons:
The high launching nature may cause faster swingers to balloon their tee shots and lose distance.
If appearance matters to you, the PXG 0211 driver will pique your interest. Its hybrid crown construction coupled with Railed Sole Geometry makes it the best-looking driver for beginners.
Its high-speed Ti412 face works to deliver accelerated ball speed across a wider area of the face that helps you achieve maximum carry and total distance. 
The Railed Sole Geometry contains a low and back CG that works with the face to produce a high launching tee shot.
Furthermore, Precision Weight Technology heightens the MOI of the driver and induces a high launch. The optimal MOI provides extra forgiveness to keep you long and straight off mishits.
Verdict
The PXG 0211 driver is a good-looking, affordable driver. It delivers consistent distance to get you airborne, even on off-center strikes. Finally, the driver is suited to the majority of high handicappers.
Rating: 4 Stars
Pros: 
Light

Expanded sweet spot

Affordable

Prompts increased ball speed

High launching
Cons:
Durability

The high launching setup may cause some players to sky their shots and lose distance.
If your clubhead speed is slow, one reason may be that your driver is too heavy. The Mazel Titanium claims the title of the best driver for a high handicap golfer to increase clubhead speed.
The lightweight construction of this affordable driver helps you ramp up clubhead speed for optimal COR at impact. Plus, its Cup Face Design increases ball speed for superior carry and total distance.
Furthermore, the driver sports an expanded sweet spot, which restricts side spin and maintains ball speed. That means that even on mishits, you still enjoy consistent distance and accuracy.
Lastly, the Mazel placed the CG deep and low, which helps you get your ball airborne with ease.
Verdict
The Mazel Titanium driver is affordable, forgiving an easy launching option that serves the needs of beginners well.
Rating: 4 Stars
*Get 8% off from Global Golf with Code: GOLFSPAN
Pros:
Combats sliced shots

Encourages accelerated ball speed

Launches high

Adjustable loft and lie
Cons:
The final option on this list is the newest design of them all. The Callaway Rogue ST Max LS promotes a low launch and neutral ball flight for faster swinging players. However, you can adjust the loft and lie of the face to set up for your preferred tee shot.
The ST Max Draw delivers a high launch and draw bias flight to keep you straight and in the air. 20-grams of tungsten is placed low in the head to increase the MOI for maximum forgiveness on off-center strikes.
Furthermore, the Jailbreak Speed Frame provides superb stability at impact. It works with the clubface to produce accelerated ball speed across the face. 
Verdict
The Callaway Rogue ST Max Draw driver is an excellent option for players who consistently slice their drives. It helps keep you straighter and long. However, these features come at a hefty price.
Rating: 4 Stars
Best Beginner Driver: FAQs
What Is The Most Forgiving Driver For A High Handicapper?
The most forgiving driver is the TaylorMade SIM 2. That is because it promotes straighter shots and provides consistent ball speed on off-center strikes.
What Degree Driver Should A High Handicapper Use?
Golfweek suggests that players with swing speeds below 85 mph should use a driver loft above 14-degrees. While I agree that the higher loft is easier for beginners to launch, you will be fine with anything above 12-degrees.
What Loft Driver Should A Beginner Use?
As I suggested above, a beginner should use a driver with at least 12-degrees of loft. However, if you are a moderate to fast swinger, you can get away with less loft. 
Should A Beginner Golfer Use A Driver?
Yes, a beginner should use a driver. Even though it is a difficult club to master, you will need it if you intend to tackle a golf course.
What Is The Easiest Golf Driver To Hit?
The Intech Non-Conforming Driver is the easiest to launch. The driver needs a low and deep CG and rapid ball speed to earn this title.
How Many Drivers Should I Own?
You only need one driver unless you are a serious golfer with different options for various conditions.
Do I Need A Driver With An Adjustable Loft?
No, you do not need a driver with an adjustable loft, but it is nice to have. If you get fitted for clubs, you will determine your optimal loft and not require any adjustments.
Conclusion
High handicap golfers are spoilt with a choice of offset drivers suitable for all swing speeds and drivers that will provide the extra distance for golfers that are not fighting a slice.
There are many options available, and drivers are of such a nature that an investment made early in your golfing career can be utilized for a long time. 
The divers evaluated all serve a specific group of players, and your swing and circumstances will define your ultimate selection. Choose wisely and ensure that the driver benefits you in the most difficult swing in your golf game.
Before signing off, here are the best drivers for high handicappers in 2022:
Evaluate your game and look at your strengths and weaknesses. This will guide you in selecting the best driver for your needs. If you are still undecided on the best option for you, read our review on the best golf drivers.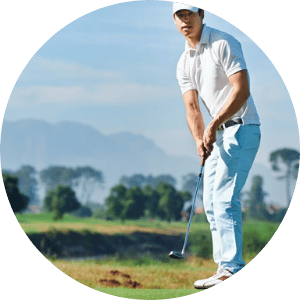 Matt is a seasoned golf equipment writer and sports fanatic. He holds a Postgraduate in Sports Marketing and has played golf for over 28 years.