Every golfer wants to drive well. Straight and as long as possible is what most of us want. The TaylorMade R15 is designed to do just that. It is not for beginners but more experienced golfers will appreciate the benefits of this club.
In this review of the TaylorMade R15 Driver, we will explain what it has to offer.
Things To Consider Before Buying a Quality Driver
The main purpose of the driver is to get you good distance off the tee. There are, however, a few other things needed. The TaylorMade R15 is all about distance but has a good many other significant advantages.
It is an advanced driver with a host of features and technologies. It is probably not best for beginners but most golfers, especially the mid to low handicappers will gain a lot from the R15.
Distance
As we said, distance is the main purpose of a driver. Distance should be your main goal unless perhaps you are an absolute beginner. There are a number of designs and technologies that make up a driver capable of delivering a good distance. The R15 encompasses the bulk of these technologies in their own unique way and then add a few of their own.
Forgiveness
Even experienced golfers still want a fair amount of forgiveness. A forgiving driver will allow balls that are not struck perfectly dead center to still travel a good distance without straying too far off course.
Clubhead Size
This is related to forgiveness. The maximum allowed is 460cc. While this will give you more confidence at address and more forgiveness it can slow your swing down slightly. The R15 is available in a 360 or 330cc build.
Aerodynamic Head Design
The more aerodynamic the head the faster you should be able to swing which will result in more distance. With TaylorMade design and technology, you can be sure the heads are ultra-aerodynamic.
Loft
This will determine how high the ball launches. A higher loft will result in a higher launch. While the launch is important, too much loft will reduce distance. As with many aspects of drivers, it is all about finding the right balance. If you struggle with loft look for a driver with a good loft or an adjustable loft that you can work with.
Adjustability
This is important especially for better players that know what they are doing. Adjustability adds a bit to the weight of the driver but can help you dial it in for your specific needs, the course or weather conditions on the day.
Shaft
The shaft is an important aspect. Weight and length are important but critical is the shaft flex. The faster your swing speed the more stiffness you want in the shaft. Conversely, a slower swinger will want more flex.
The TaylorMade R15 Driver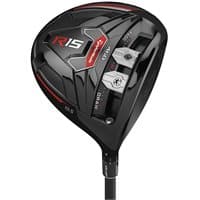 TaylorMade were pioneers in drivers introducing the first steel 12-degree loft metal wood as far back as 1979. While they make a range of quality golf clubs they have always been known for highly effective drivers.
They had great success with the R series driver for many years before switching to the SLDR. The R15 marks their return to the popular R series and it has a lot to offer.
It is a driver designed primally for distance while still offering ample forgiveness. It is highly adjustable and delivers a high launch with minimal spin.
What TaylorMade has done with the R15 is build on their extensive experience and success with earlier models and tweaked a few areas to make the R15 faster, longer and more effective than earlier models.
There are a number of technologies that have gone into making the popular R15 the driver it is and we will explore these in more detail.
Pros
Serious distance
Extremely forgiving
Plenty of playability
Accurate and forgiving
Highly adjustable
Value for money
Cons
Better players had some challenges shaping their shots perfectly
Some golfers are not crazy about the crown graphics
Not ideal for higher handicap players
Features & Benefits
Low and forward center of gravity
This is one of the design features TaylorMade has used for a while and they have fine-tuned it for the R15. It promotes a good launch with a low spin. This maximizes distance.
Some players might need additional loft to make this work but fortunately, the R15 is highly adjustable. More on that later. You can always work the loft to your style and swing speed.
Speed Pocket and Inverted Cone Technology
As you would expect from a TaylorMade driver, they have incorporated a speed pocket as well as inverted cone technology. These are both tried and proven technologies that promote distance.
The inverted cone technology not only improves distance but also makes the R15 more forgiving and allows for better results on off-center hits.
The Speed Pocket further reduces spin adding more to the speed and distance of the driver. The updated front track system also operates as a Speed Pocket which allows for a larger sweet spot and helps keep the spin low.
Adjustability
While many modern drivers offer adjustability TaylorMade take it to a whole new level with the R15. You can dial the driver into to your exact needs. The 4-degree loft sleeve will give you an optimized launch.
They also sport "new & improved" sliding split weights that can be positioned to the toe for a fade or the heel for a draw. You can literally have the best of both worlds and adjust the driver to your specific needs. This feature is also handy on tricky courses or when the wind is high.
Flight Control Technology TaylorMade call it, with good reason. There are not many drivers that allow for such perfect adjustability.
The Head
The head is lighter than previous versions and has been flattened out. This allows for greater ball speed and distance. It is available in a 460 or 430 CC configuration according to your needs. It is a large head, make no mistake, but the sleek appearance allows it to still fly swiftly through the air. The aerodynamic design is exceptional.
Shaft
The shaft is also new and is the Fujikura Speeder 57 Evolution shaft, one of the leading shafts available. It has a Lamkin UTX Grip. It is a fair 45.5 inches length and available in a range of options including Extra Stiff, Stiff, Regular and Light. Ensure you match the shaft stiffness with your swing speed.
Looks
There is no denying that looks are important, particularly with drivers. Most golfers will agree that the R15 is an impressive looking driver. Despite the adjustability and great technology, it looks modest yet powerful. It does have a large head so it has an imposing presence but does not look oversized by any stretch of the imagination.
The crown graphics are subtle yet some are still put off by them. The shape is sleek and refined and appeals to most players. There is a decent alignment aid for those that want one. It is subtle enough for those that do not want one to be able to ignore them but they are for those that prefer them.
Feel
The feel at impact is generally favored by most players. It is not as assertive as some other drivers but certainly lets you know what you did and how you did it.
This is a high-tech driver that has a good combination of technologies. The adjustability, Front track Speed Pockets,  sliding weights, and low and forward CG combine well to create a driver that delivers distance with fair forgiveness. It is highly adjustable and works well for most mid to low handicappers.
Alternatives
There is no doubt that the TaylorMade R15 is a killer driver but that it is not to say it is the only great one. There are a number of other worthy alternatives.
Here are a few options worth a look:
1. The Ping G400 Max Driver
Ping know their way around a good driver and the G400 Max is a classic example of their design skills and technology. It has a large sweet spot so is highly forgiving but does not compromise on distance.
It also sports a center of gravity near the rear that delivers distance combined with forgiveness. It is a versatile driver that works well for a range of players and is not just for better players.
It is forgiving and hits long and far. It is not the cheapest driver you will find but it delivers the goods and is extremely popular and well-liked.
2. The Cobra King F9 Speedback
As quality drivers go, the Cobra King F9 Speedback is a serious contender. It also features a low and back weight position for optimal COG and has a CNC-milled face. The entire design supports speed and has a fair amount of forgiveness.
It also features great adjustability and the interchangeable sole weights range from 2g to 14g for optimal performance according to your game. The MyFly hosel also allows for flexibility and fine-tuning of the paly on this driver.
3. The Titleist TS2 Driver Review
Another legendary driver, the TS2 uses legendary Titleist technologies that have made them famous. The adjustable hosel and Speed Chassis stand out. They combine well to give the driver forgiveness and make it workable for a wide range of golfers.
This thin clubface promotes energy transfer, speed, and distance. In a driver designed for distance, this is all-important.
Conclusion
There is no doubt about it, your driver is one of the most important clubs in your bag. You need one you can rely on. All golfers have different needs but distance and accuracy rate amongst the top for golfers at all levels.
The TaylorMade delivers on both aspects and still offers so much more. It is undeniably a long driver which is vital. It is forgiving and accurate. At the same time, it still gives you good playability and control for a distance driver. There is not much more you could ask for. If you are looking for distance and control, the R15 is a good option.
When selecting the best driver for your needs you have to consider your skill level as well as your main priorities. This will help to guide you to select the best driver to fit your needs.
Consider your needs and skill level. If you play a relatively decent game you cannot go wrong with the TaylorMade R15. It is a player's driver that will still work well for the mid handicappers. Gain a few feet with your tee shots and maintain accuracy with the TaylorMade made R15 driver.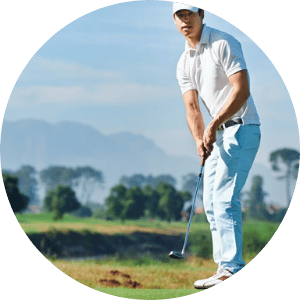 Nick Lomas is the founder of GolfSpan, an avid golfer, not quite a pro but has over 15-years of experience playing and coaching golfers from all over the world. His mission is to bring the golfing community a better experience then it comes to choosing the right golf gear, and finding the right set up for your game.