Many golfers spend a fortune on their clubs and other equipment and yet give very little though to one of the most important aspects of their game – the golf ball. Using the best amateur golf balls will probably have more impact on your game than any other equipment you invest in.
We will take you through what to look for in a quality ball to help you find the best one for your needs. We then highlight 5 of the best options available right now.
Not all golf balls are created equal. Each golfer is unique and by using the right ball for their game they should see an immediate improvement. Many people think that one ball is very much like the next but that is simply not true.
Golf ball technology is as advanced as the leading clubs and a lot of research and development goes into creating the ideal balls for different types of players.
at a glance: Our Top 5 Picks for Amateur Golf Balls
What Do You Want From Your Ball?
The first thing to do is to honestly access your skill levels and look at your strengths and weaknesses. That should help you determine what you need from a golf ball.
Do you need more greenside control, are you needing more accuracy, do you have a slow swing? These are the types of questions you need to ask before you can start comparing the attributes of the golf balls available.
What To Look For In a Golf Ball
While some balls can be classed as general purpose balls most will focus on one or two key areas.
Here are a few of the key factors you want to look for in a golf ball:
Construction
There are a number of construction methods used and each one has different attributes. This will affect the way they perform.
One-piece golf balls are the most basic and least expensive. They would be used at driving ranges or for beginners on a tight budget. They have low compression, little forgiveness and not the greatest distance. They also do not have a great feel.
Two-piece golf balls are much better and can deliver distance with a better feel. They are generally rather durable.
Three-piece golf balls are softer for more feel, better spin, and control. You then get four and five-piece balls with greater potential to maximize the potential of each shot you make.
Dimples
Dimple design is fundamental to the spin, playability, and aerodynamics of the ball and is critical to their performance. Much research has been done into the perfect dimple design. As with other aspects of the golf ball design, the dimple technology is tweaked according to the primary goal of the ball.
Spin
Spin has a dramatic effect on the performance of the ball. They range from low, mid to high spin balls. Low spin balls are more forgiving as there is less side spin. Higher spin balls will have a longer carry and work better if you are trying to play a draw. Mid spin balls obviously fall somewhere in the middle.
Durability
While you might lose the odd ball out of bounds or in the water, the ones you manage to hang onto should last a while. Most quality brands have decent durability although some will keep going longer than others.
Compression
This is an important aspect to understand. It is simply a measurement of the amount of deflection a ball experiences when struck. Balls with a low compression generate more distance, particularly for slow to medium swing speeds. They also tend to have a softer feel. Faster swingers can use a ball with higher compression which will still deliver distance but give them greater control.
Quick Overview: Our Top Picks for Amateur Golf Balls
Is It Worth Spending Money On Good Golf Balls?
In a word – yes. Consider the investment made in clubs and equipment as well as a day of golf. It would be a shame to then compromise that by using a poor quality ball. Many golfers will buy used balls or "lake" balls.
Most amateurs will lose a few balls each round but it is better to invest in quality balls that will help to improve your game and performance. You might even lose a few less this way. You do not have to spend a fortune. There are many options that offer great value for money.
It's also important to understand when and how often you need to change your golf balls for optimum performance.
So How Do I Choose a Golf Ball?
The important thing is to understand your requirements. Each golfer is an individual and has unique needs. There is a wide range of balls on the market and there is something to suit all styles. In order to select the best ball for your needs, you need to understand what it is you need most from a golf ball.
Once you have established your primary goals you can narrow your search down to the balls that offer the features you need. It might be necessary to experiment a bit before you find the ideal ball for your game.
You obviously have to stick within your budget but this is not a problem. There are great quality balls that will not break the bank. They will improve your enjoyment of the game as well as your score.
For a bit more insight, the video below has some great advice.
Our Top 5 Best Golf Balls For Amateurs
Callaway makes a number of exceptional golf balls but their Supersoft Golf Balls are one of the most popular for the amateur golfer. While these might not be ideal for golfers with exceptional swing speed, for everyone else they are a pleasure to use. Feedback from golfers that have played these golf balls has been overwhelmingly positive.
While most golfers don't want to admit it, very few amateur players can be considered fast swingers. These balls have an ultra-low compression which gives them the pleasing soft feel but also helps to maximize distance. If you want a few more yards off your long shots, are looking for extra feel, or both, these are worth considering.
They have a low spin for which makes them forgiving and accurate and also improves distance. The trademarked Calaway HEX aerodynamic design allows them to cut through the air for even more distance. Most players will enjoy the control they get around the green.
If you want something other than white you can also get these balls in Lime, Orange, Yellow, and Turquoise.
They are reasonably priced which should appeal to the average golfer. You get the performance but if one happens to go into the lake it is not the end of the world.
The Callaway Supersofts are 2-piece balls with a soft Polybutadiene core and a Trionomer Blend cover. These work well together to make the ball forgiving and long.
While these are often touted as great balls for beginners that is only part of the story. They have a lot to offer all golfers with the exception of those with a fast swing speed.
2. Titleist Pro V1x Golf Balls
Pros:
Outstanding distance
Great greenside control
Highly versatile
Good durability
Pleasant feel
Consistent
Improved aerodynamics
Cons:
Somewhat pricey
Not ideal for beginners
Titleist makes a lot of claims about their new Pro V1x Golf Balls. Judging by the popularity and positive feedback there must be a fair amount of truth in what they say. Let's take a look at a few of the claims and the technology behind them. They have always been highly rated balls from a wide range of players and it appears they are now even better.
Titleist promises a good combination of penetrating distance while still offering great control around the green. This is an appealing combination for any amateur golfer. Considering you have to use the same ball from tee to green, such versatility is a great advantage.
Distance is, however, their main priory. The 2.0 ZG Process Cores is new and optimized for maximum distance. They have used a thicker casing layer and a significantly thinner cast Urethane Elastomer cover. This results in more spin when you need it, around the green, and less when you don't, off the tee. At the same time, they have managed to keep the exceptionally soft feel these balls have been known for in the past.
The improved and tour-proven dimple design has a higher coverage with 392 dimples. This further improves distance and helps with accuracy.
The cleverly named  A.I.M. or Alignment Integrated Marking (A.I.M.) will be helpful to many players on the putting green.
Another advantage of these balls is their outstanding durability. They are not the cheapest balls on the market but they perform well and, provided you do not lose them, will last you well. Titleist the balls are extremely versatile and while this is true, most would agree they are better suited to more seasoned players. Beginners could find a better ball.
TaylorMade are also no strangers to quality golf balls and the Project (a) Golf Balls have been a great success for them. They are popular with a wide range of players. They are soft 2-layer balls that deliver good greenside control as well as good distance when you need it.
These popular and highly rated balls are designed for slow to moderate swing speeds. While the two-layer soft balls allow for good distance they still provide much-needed control around the greens. This is a valuable combination that many golfers appreciate. They are also workable enough for most players.
These balls are aimed the amateur, the average player. They are not ideal for beginners or low handicappers but everyone else can enjoy the benefits of the TaylorMade Project (a) Golf Balls.
Project (a) balls have a new 322 dimple design which reduces drag. They are accurate and deliver good distance. The soft core allows for a decent spin on your short game and less off the tee, the best of both worlds.
They have a multi-layer construction with a firm outer layer, a urethane cover and a soft inner core. You should get a good carry and a good run. The urethane cover does a lot for the feel of the ball and most players enjoy it.
While these balls are close to tour quality in many respects the price is still pretty reasonable. Now in their third iteration, these balls have proved to be popular and well-liked by a wide range of golfers. They are extremely versatile and help you from tee to green. The feel is good and the control is great.
While these are versatile golf balls those with slower swing speed will get the most out of them. Before we get into the details, it is worth noting that these are exceptionally good value for money. If you are on a tight budget or tend to lose a few balls most rounds, these are quality balls that can help your game without breaking the bank.
What makes them more suitable for slower swing speeds is the low compression (about 60). This compression ratio will allow you to generate decent distance even off a slow to moderate swing speed. This is further enhanced by the Energetic Gradient Growth Core design. It consists of a soft center with a firm exterior. In other words, the balls are soft in the center and get progressively firmer as you move out. The result is great distance and feel. The balls have a high moment of inertia which improves both distance and forgiveness.
Srixon has still managed to design these balls for good greenside control. They have good aerodynamics with a 338 Speed Dimple design for less drag and resistance and improved performance in the wind. It also helps get the ball up in the air for an easier launch.
Not everyone likes alignment aids but for those that do these balls have an alignment arrow to help with your set-up and target focus for improved putting.
For the more serious amateur golfers with a mid to low handicap that wants to invest in a top-quality golf ball, the Bridgestone Tour B RX might give you the edge you are looking for. At this level, marginal gains are harder to come by so every advantage helps. These balls are packed with a range of technologies to help you make those gains. They are designed primarily for distance and accuracy.
Let's take a look at a few of the technologies that make these balls perform the way they do.
First off, like a number of leading distance balls, the Tour B RX has a Gradational Compression Core. This means great speed off the clubface for longer distances. This ball has a low compression ratio suitable for better players but it will be of great benefit to slower swingers. This design not only delivers speed and distance but also reduces side spin for improved accuracy.
The ball would not give the speeds and distance it does without good aerodynamics. This comes in the form of the Dual Dimple design. This is a tried and tested design that has worked exceptionally well for Bridgestone on other premium balls. The Seamless Cover is another Bridgestone technology that gives these balls an added advantage. It ensures balance and consistency for improved aerodynamics.
Next up is the Urethane cover with Bridgestone's SlipRes technology. Not only is this extremely durable but gives good greenside control and a great feel.
These technologies combine well with the leading materials used for a ball that most find to hit exceptionally far and accurately. Despite the Tour class of ball, they are surprisingly good value for money.
Final Thoughts
From tee to green you will use a range of clubs but only one ball. Make sure it is the right one for you.
You should now have some insight into the importance of the correct golf ball and what to look for. We have highlighted some of the best options available right now. Selecting the best amateur golf ball will help your game. You need to give some thought to your needs and that will guide you.
While we have only reviewed the leading options, the Callaway Supersoft Golf Balls stand out as the best of the best. They have a good feel and great aerodynamics. The design makes them accurate and forgiving. Most importantly, for most, is that they deliver good distance, even off a slow to medium swing speed. Best of all, they are value for money.
Give some thought to your golf ball choice and invest in balls that will improve your game.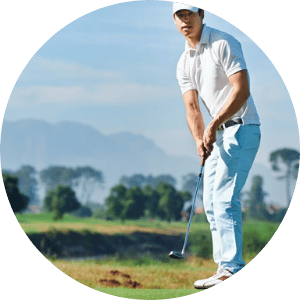 Nick Lomas is the founder of GolfSpan, an avid golfer, not quite a pro but has over 15-years of experience playing and coaching golfers from all over the world. His mission is to bring the golfing community a better experience then it comes to choosing the right golf gear, and finding the right set up for your game.