If you are a high handicapper, you want to select clubs carefully as the right equipment can make a dramatic difference to your game. Putting is particularly important as this aspect can make or break a round of golf.
at a glance: Our Top 5 Picks for Putters for High Handicappers
We will take you through what to look for when selecting the right putter as well as the 5 best putters for high handicappers.
Quick Overview: Our Top Picks for Putters for High Handicappers
What To Look For When Selecting a Putter
Buying a putter can be a bit overwhelming as they come in a bewildering range of shapes, sizes, colors, angles, weights, and other factors. All are these are important to the performance of the putter.
It is important to have a basic understanding of the various relevant factors to consider when purchasing a putter so that you can make an informed decision and get the best one for your style of golf and your needs.
The right putter will make a considerable improvement to not only your score but also your enjoyment of the game. We will take you through these important considerations to guide you through the options available.
This will help you match the right styles and features to your game to maximize your strengths and mitigate and weaknesses you might have.
The following video will give you a brief overview of putter selection:
Head Design
While all aspects of putter design are important you want a head that will give you confidence and work for your style of play. Some putters have highly unusual head shapes and they do not work for everyone.
The main styles are blade heads, mid-mallets, mallet heads, and perimeter-weighted heads.
Blades are compact traditional putters while mallets have a large head which most high handicappers will find gives them more forgiveness and accuracy. Mid-mallets fall between the two and are quite versatile.
The putting style and performance differ according to the head design so it is important to look for those that work with your style. Also remember that not all heads have site lines so if you need these, take note.
Putters with a high moment of inertia (MOI) will be more forgiving when you do not strike the ball dead center. It simply means that the club is less likely to twist on off-center hits.
The video gives an explanation of the putter head options:
Faces and Inserts on Putters
Technology improves in leaps and bounds and putter face inserts as a good example. Many manufacturers now offer a range of inserts and each has specific characteristics.
The same is true of the groove design used on many putter faces. This is something to look at when making your selection.
You want a feel and action that works with your putting style and inspires confidence. Some golfers prefer a softer touch while others want a bit more feedback, bounce or roll.
Length
Another critical aspect is the shaft, particularly the length. Golfers quite obviously vary in height and the length of the putter needs to be appropriate.
Many golfers do not use the correct length putter and this will impede their performance. The average putter is generally 35 inches but there are often 34 or 33-inch options.
It is important that you can take a comfortable posture and stance when address your ball on the green and the correct length for your height is essential.
Most putters are available in a range of lengths to ensure you select the one that works best for you.
Belly or long/chest putters are much longer than the traditional 35 to 33-inch options and have become rather popular even with some pro golfers.
They do help players with bad backs but some simply find better control with these designs. Belly putters are around 41 to 45 inches and chest putters range from 45 to 50 inches.
Shaft weight
The weight and shaft length work together so it is important to get the balance right. Merely reducing the shaft length on a putter too long for you will do more harm than good.
Shaft design
Many players, particularly high handicappers, will benefit from an offset shaft. This keeps your hands beyond the ball and will aid in control and accuracy.
Balance Point
Some putters have a toe balance while others have a face balance. If you play more of an arc styled put with a more open face, you want a toe balanced options.
If you generally play straight for the pin then a face-balanced putter is a better option.
Grips
Putters come in a range of grip sizes, textures, and shapes. The grip has a major impact on putting performance and it is important to select the one that works best with your style of putting.
While most grips will taper lower down many find a thicker grip more comfortable. Depending on your putting and grip style you might find a larger grip to be more comfortable.
Counterbalanced grips offer more weights below the hands which helps many golfers avoid hinging the wrists as they put.
Budget
The price of putters spans a wide range and you need to factor in your budget. Obviously, money spent on a putter means less to spend on other golf equipment or actual rounds of golf.
While quality putters can be expensive there are some well-priced options that are highly effective.
Here is some info from the PGA page on selecting a putter.
The 5 Best Putters for High Handicappers Reviews
Straight off the bat, these are not the cheapest putters on the market. As a high handicapper, or indeed any golfer, they are a sizable investment. If you want to improve your accuracy and consistency, however, they are a good option.
TaylorMade has a range of putters that are much loved by pros and amateurs alike. They offer a quality and consistent roll thanks to the technology. The MOI on the Spider gives great forgiveness.
Once again, this is a popular putter with the pros that are still accessible and affordable to high handicappers. The insert uses Roll Groove Technology.
This improves the RPM and hence the roll and distance. Importantly, most players find it to be highly consistent.
The putter has a groove technology with a 45-degree angle. The result is better control and consistency when the average golfer makes a putt.   The perimeter weighting lends itself to a higher MOI which further increases forgiveness.
While putters are not known for adjustability, the Spider does have some moveable weight options. High handicappers might not want to experiment too much but it is good to know there is some flexibility available. If you are unsure, stay with the stock weights.
This is another putter favored by the pros that are still an accessible and good option for higher handicap players.
While it might take a bit of time getting used to the play of this putter, most agree that it offers consistency and accuracy. Many also attest to the forgiveness of the putter which is a great benefit to high handicappers.
2. Odyssey Hot Pro 2.0 Putter
Pros:
Delivers a consistent roll
Good response and feel
Forgiving
Pleasing sound
Simple but appealing design with no glare
Durable
Cons:
It can take a bit of getting used to for many golfers
No option for an oversized grip for those that prefer them
Also known as the White Hot Pro, this is a popular and well-loved putter that many high handicappers enjoy. The White Hot insert is something Callaway have used in their Odyssey range for a while but it has been highly refined over the years for optimal feel and performance.
The inserts are firmer than previous designs this leads to a great roll. One thing most golfers appreciate is the consistency of the putter. It also delivers a quality sound for a putter and gives a feeling that most players enjoy.
Forgiveness and response are good thanks to the heel/toe weighting. Alignment is easy and accurate with contrasting alignment aids. This feature will help most golfers achieve greater accuracy and consistency.
Another feature that makes this an easy and effective putter is the full-shaft offset. This keeps your hands behind the ball for a solid and consistent strike.
The look is another factor and apart from aesthetics, it helps with performance as it is non-glare. It has classical simple lines and a gunmetal PVD finish. The design also makes the Hot Pro 2.0 Putter extremely durable.
This is a popular putter with many pros but will offer great consistency and accuracy to high handicappers. Given the advanced technology and great design, the pricing is reasonable.
The putter is a top seller and the response from players and testers that have used it is overwhelmingly positive.
The range has been around for a while now but Odyssey continues to develop and improve it for optimal performance.
Fans of a more traditional putter appearance will appreciate the classic design which has been combined with features and technology that most golfers will find help with their putting.
The face is precision milled with a unique and effective diamond pattern. This workmanship allows for good contact and delivers consistency and a good feel, both important to high handicappers.
One of the outstanding features of this putter is the 304 Stainless Steel that gives a softer but effective feel. This advanced material makes a notable difference in feel and performance.
The face has also been precision-milled which adds to the good feel and brings more consistency to the roll. The milling technique is specific to Cleveland although other manufacturers use a similar concept.
Again, although a lot of research and development has gone into the entire Hunting Beach range, the price of this putter is not out of reach and will be appreciated by the vast majority of high handicappers. The positive response of users confirms this fact.
Cleveland calls these SOFT putters but do not be misled by this. Although they do indeed have a soft and pleasant feel, SOFT is an acronym for Speed Optimized Face Technology.
This refers to the milling technology described above as well as the overall design. Most golfers will attest to the forgiveness and consistency that it offers.
Huntington Beach is the North American headquarters of Cleveland Golf and they say they drew a lot of inspiration from their local surrounds when designing this impressive putter.
They have spent many years refining and enhancing the design and technology of this range to optimize performance.
4. Wilson Staff Harmonized putter M5
Pros:
Competitively priced
Wonderfully comfortable grip
Micro-injection polymer face insert
Easy alignment design
Vertical seam grip for improved feel
Multiple density areas in the microinjection face insert
The soft feel grip is designed exclusively for Wilson
An excellent choice for mid-high handicap golfers
Cons:
Your only contact with the putter is through the grip and the Wilson Staff Harmonized M5 putter boasts a larger grip than its predecessors. The larger grip fits securely in your hands and offers greater control and less slippage.
The harmonized putter grip with a vertical seam at the backside for enhanced feel.
The shaft is available in 35 inches.
A few innovative features implemented on the face of the putter enables it to provide greater control, over the ball.
The plumber hosel and semi-mallet putter head continue to enhance the feel and control that you can exercise over the putting stroke.
A microinjection polymer face insert offers a better feel when contact is made with the golf ball. The putter head
Recreational players and mid-high handicap golfers will benefit from the enhanced red and white alignment lines for more accuracy when lining up their putts. Furthermore, you can expect more control and forgiveness when you strike the ball slightly off-center.
The Wilson Staff Harmonized Putter M5 is a well-designed, high-quality putter aimed at the mid to high handicap golfers at a reasonable asking price. More experienced golfers and better putters could fine it feel too bulky.
5. Pinemeadow Golf Men's PGX Putter
Pros:
Affordable and great value for money
Easy alignment
The white head gives good contrast and helps with alignment for most golfers
Good weighting and balance
Ideal for faster greens
Cons:
Some find it to be a bit on the heavy side
The color is not the most durable or easy to keep clean
Not all players enjoy the white finish
The cost of golf equipment, let alone the price of a round or two, can add up quickly. If you want a competent putter without breaking the bank, the Pinemeadow Golf Men's PGX Putter is an option to consider.
It is a budget putter that has a lot to offer and an appealing option for the mid to high handicapper.
Pinemeadow is not the most famous name in golf equipment but do not dismiss them based on that. They have a lot to offer and the PGX Putter is a leading example. It is highly rated by those that have used it.
It has a white finish which gives a great contrast and helps with alignment leading to greater accuracy. Some find that it discolors quickly so it will probably need a frequent wipe.
It is, however, a helpful appearance for most golfers and worth the effort.
This is a mallet-style putter with a good weight balance that will help with roll and control. It plays particularly well on faster greens which are more common on most golf courses.
This style and design are often a lot easier for high handicappers to use. The comfort and ease of use will naturally relate to greater accuracy and constancy.
Conclusion
This article should help you understand the important points to consider selecting a putter and we have highlighted 5 of the best options for high handicappers.
While they are all quality choices the Odyssey Hot Pro 2.0 Putter stands out as our top pick. It ticks all the boxes one would look for in a quality putter.
While the advanced White Hot Inserts make a world of difference, this putter has many other great features. These combine to give you a putter that is consistent, forgiving and easy to control.
It looks good, has a pleasant feel and is a reliable and dependable option.
Take your time to think about your own needs and putting style in order to select the ideal putter for your game.
Once you get used to it you will start to see your putting numbers drop which is sure to make your game more rewarding.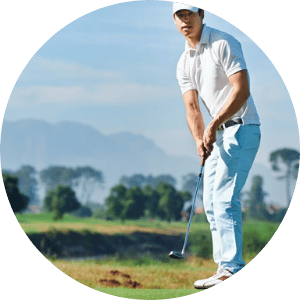 Nick Lomas is the founder of GolfSpan, an avid golfer, not quite a pro but has over 15-years of experience playing and coaching golfers from all over the world. His mission is to bring the golfing community a better experience then it comes to choosing the right golf gear, and finding the right set up for your game.