If you are a high handicapped golfer, you want to select clubs carefully as the right equipment can make a dramatic difference to your game. Putting is particularly important as this aspect can make or break a round of golf.
Having the right putter can quickly help you knock a few strokes off your game. It can also help you as you lower your handicap. But the best putters for high handicappers are different than those for low handicappers. So, what's the right putter for you? 
Read on as we take you through what to look for when selecting the right putter for your game. 
Readers interested in learning about the overall best putters should bookmark our review for later.
at a glance: Our Top 5 Picks for Putters for High Handicappers
Putters Buyers Guide
If you're new to buying putters, you'll want to check out these features to find the right club for you. 
Features to look for in a putter:
Head design

Face and inserts

Length

Shaft weight

Shaft design

Balance point

Grip

Budget
If you want more information, read our more detailed buyer's guide below the reviews.
Our Research Parameters 
Golfspan is independent and not pressured by manufacturers to recommend products. We were not paid for the reviews in this article. These putters were selected by our team, who have over 100 years of experience playing golf and thousands of hours reviewing products. We may earn an affiliate commission when you purchase something through our retail links.
Quick Overview: Our Top Picks for Putters for High Handicappers
The 10 Best Putters for High Handicappers 2023
1. Odyssey Hot Pro 2.0 Seven Bird – Best Value
Pros:
Exceptional value for money

Soft feel on all strikes

Delivers consistent distance control

Promotes greater accuracy

Pleasant milled finish
Cons:
The stock shaft is not suited to golfers with an arched stroke

The stock grip may cause certain golfers to induce excess wrist movement
The Odyssey Hot Pro 2.0 Seven Bird provides high handicappers with phenomenal value for money, stability, and an appealing PVD finish. It is our best putter for high-handicap golfers, because this is a putter you can comfortably stroke as you work down to a mid-handicap golfer.
Odyssey engineers removed the classic two-ball putter design, setting up the Seven Bird with a three-line alignment on top of the milled finish. The flange carries a cavity back mallet design, which I found produced superb stability at impact for consistent topspin and a smooth roll.
In addition, the evenly distributed mass in the putter head helped me square the face at contact to deliver straighter putts. Plus, the classic White Hot Insert appeared to soften the blow of each putting stroke for a soft feel and amplified sound off the face.
Although I had no issues with the midsize stock grip, some golfers may prefer to widen the rubber and fit a jumbo design. 
Next, I noticed that the double bend shaft obliterated toe hang to ensure a face-balanced construction, suited to golfers with a straight back and through stroke. I admire Odyssey for offering the Hot Pro 2.0 Seven Bird in a 33, 34 and 35-inch shaft length to cover short, medium and tall golfers.
2. Wilson Staff Harmonized Putter M5 – Best Budget
Pros:
Competitively priced
Wonderfully comfortable grip
Micro-injection polymer face insert
Easy alignment design
Vertical seam grip for improved feel
Multiple density areas in the microinjection face insert
The soft feel grip is designed exclusively for Wilson
An excellent choice for mid-high handicap golfers
Cons:
Your only contact with the putter is through the grip, and the Wilson Staff Harmonized M5 putter boasts a larger grip than its predecessors. The larger grip fits securely in your hands and offers greater control and less slippage.
The harmonized putter grip with a vertical seam at the backside for an enhanced feel.
The shaft is available in 35 inches.
A few innovative features implemented on the face of the putter enable it to provide greater control over the ball, making it an easy putter to use.
The plumber's hosel and semi-mallet putter head continue enhancing the feel and control you can exercise over the putting stroke.
A microinjection polymer face insert offers a better feel when contact is made with the golf ball. The putter head
Recreational players and mid-high handicap golfers will benefit from the enhanced red and white alignment lines for more accuracy when lining up their putts. Furthermore, you can expect more control and forgiveness when you strike the ball slightly off-center.
The Wilson Staff Harmonized Putter M5 is a well-designed, high-quality putter aimed at mid to high handicap golfers at a reasonable asking price. More experienced golfers and better putters could find it feels too bulky.
Who would have thought it possible to find putters for under $100? Well, we tried and tested the offerings and suggest you review our guide to see the verdict.
3. Titleist Scotty Cameron Phantom X 5 – Best Scotty Cameron Putter For High Handicapper
Pros:
Buttery soft feel

Produces consistent topspin across the putter face

Durable product

Works for golfers with a hybrid straight-arch stroke

Encourages accurate putts
Cons:
Costly putter

The stock grip may cause some players to increase wrist movement during their stroke
Scotty Cameron is a legend in flatstick circles because of their ability to construct premium, durable putters with exceptional feel and a pure roll. The Titleist Scotty Cameron Phantom X 5 goes one step further to include forgiveness and accuracy for mid and high-handicappers.
The challenge is the price of their products, which do not suit the budget of many golfers. However, if you have the capital, the Phantom X is an investment that will carry you over the years ahead.
This fully offset putter carries a winged mallet head, which bolsters the stability of the clubface at contact, to maintain topspin, and prompt a clean roll. In addition, it delivers a high MOI to help you keep the putter face square at contact and start your ball on the intended line.
I thoroughly enjoyed the feel every time the ball left the precision-milled 303 stainless steel putter face. It was buttery soft, and the acoustics were consistent for a pleasant experience.
Next, I noticed the small slant hosel created minor toe hang, which works best for golfers with a hybrid arch and straight stroke. Lastly, the stock grip is a Pistolero plus, which suits players with limited wrist movement.
4. TaylorMade Spider Tour Putter – Most Forgiving Putter For High Handicappers
Pros:
Leading brand and used by many top pros on the PGA Tour
Medium-sized head with perfect balance for a consistent stroke
Easy alignment arrow for precise putt line up
First fluted steel shaft for better feel and control
Pure roll inserts for a great sound
Cons:
Pricey
Certain players prefer a blade putter
TaylorMade has been a leading putter supplier on the PGA Tour and won many top tournaments around the world. Their Spider range is a real winner, and the putter sits perfectly at address over the ball. Shaft bend options offer the player the benefit of keeping the hands in position during the stroke.
The arrow-shaped True Path Alignment assists in lining up putts for greater success from all distances. TaylorMade Spider putters are known for their stability and exceptional feel. A heavy tungsten back bar optimizes the swing weight.
Pure Roll inserts produce a great sound while the 45-degree grooves increase topspin assisting the ball to hold its line on the green.
5. Cleveland HB Soft Premier #11 – Best Mallet Putter For A High Handicapper
Pros:
Glare resistant finish

Exceptional stability at contact

Promotes greater accuracy on the green

The face balanced design works for straight strokes

Produces a clean roll
Cons:
The stock hosel is not ideal for arched strokes

The oversized grip may feel uncomfortable for those with limited wrist movement in the stroke.
High handicappers require an affordable forgiving putter that encourages accurate putts and pure roll. The Cleveland HB Soft Premier #11 checks all the boxes in this area and prevents glare, which is an added bonus for my weak blue eyes.
I found the glare challenge was eradicated by the gray, satin PVD finish, and besides protecting my eyes looked attractive.
Besides its looks, I welcomed the consistent roll produced by the putter's Speed Optimized Face technology. No matter where I struck it off the face, the ball went on its way, resulting in consistent distance control.
The CNC-milled putter face added to the roll's consistency, enhancing all shots' friction for optimal topspin and forward momentum. Plus, the CNC milled pattern gave off a pleasing soft feel for greater feedback on the putting green.
I felt this putter did well to square up at impact and prompt a more accurate and consistent putting stroke. This suits high handicappers who close or leave the face open at contact.
Finally, Cleveland opted for a single bend hosel and an oversized Huntington Beach Soft grip. In my experience, the hosel works best for golfers with a straight back and through stroke, thanks to its face-balanced setup. Plus, the grip suits those who must limit wrist movement during the stroke.
6. PXG 0211 Hellcat – Best Alignment Aid Putter For High Handicapper Golfers
Pros:
Effective alignment aid for an accurate aim

High MOI 

Three hosel options for every stroke

Produces consistent roll

Soft feel
Cons:
Limited stock shaft length options

A heavy blade that some players may find challenging to adjust to
An advanced alignment aid goes a long way to helping high handicappers better understand where their putter face is aiming. I feel the PXG 0211 Hellcat offers the best alignment aid to help you improve your accuracy on the dancefloor.
PXG engineers employed an innovative Runway Reticle alignment aid, which includes a single top rail line and dual step geometry on the cavity. This is our first blade-style putter on the list, but its expert construction prevented the loss of forgiveness while enhancing feel.
A perimeter weighting design expands the sweet spot and increases MOI for greater stability through contact. In my case, this led to fewer erratic results because my aim was on point, and clubface generally squared up at impact.
Next, I appreciated the delicate feel produced on all strikes, thanks to the Milled Pyramid Face Pattern. The design also improved friction at impact, prompting consistent roll and superb distance control.
PXG offers the Hellcat putter in three hosel options to suit every putting stroke. Players with an extreme arch should consider the heel-shafted hosel, while slight arches are best equipped for a plumber's neck. Personally, I thrived with the lesser rotating double hosel.
7. Ping Sigma 2 Putter – Best High Handicap Putter For Feedback
Pros:
Exceptional feedback

High MOI design for greater accuracy

Produces consistent top spin

Ball fetch hole to limit bending 

Moderately affordable
Cons:
Some golfers find the head too light
The head shape is not popular with all players
Ping putters need no introduction. They have crafted soft feeling, consistent and forgiving putters before we managed to put a man on the moon. The Ping Sigma 2 delivered the best feedback of all the putters for high handicappers for 2023.
Most of the work is done by the Dual-Durometer Face, which possesses a firm back layer and a soft front for optimal feedback on all putts. I noticed the firm back layer offered a convincing feel on long-range efforts to help me feel the power in my strike.
Conversely, a soft front layer provided a cloud-like feel on short-range putts to produce a clean, consistent stroke. 
In addition, Ping TR Technology etched a unique pattern into the clubface for superior friction on all strikes, resulting in optimal topspin and roll. Next, I felt the ball pickup feature was nice to have, and seniors may appreciate not having to bend down to collect their ball.
The Sigma 2 offers three grips ranging from a pistol and mid-range size to a larger design that limits wrist movement during your stroke.
8. Tour Edge Exotics Wingman #2 – Most Accurate Best Putter For High Handicapper Golfers
Pros:
Promotes straighter strokes

Expanded alignment aid for a better aim

Suits golfers with arched strokes

Produces consistent top spin on all strikes

Affordable
Cons:
Not suited to golfers with straight strokes

Limited stock grip options
Tour Edge is one of the few golf manufacturers dedicated to seniors and slow-swinging high handicappers. As a result, they create forgiving, consistent clubs to make your life easier. For example, the Tour Edge Exotics Wingman #2 is the most accurate putter for high-handicap golfers.
This mini-mallet construction offers maximum MOI to help less gifted golfers square up the face and keep the ball on line. Your accuracy is further enhanced by the abrasive racing strip alignment aid, which runs down the center of the flange.
Admittedly, I was amused by the rocket ship design of the putter, but it is how the engineers managed to increase its stability. The stable clubhead supported the Micro-Groove face insert to provide optimal topspin on strikes across the putter face. This enabled me to generate invariable distance control.
I found the toe hang in this putter was too much for my straight back and through stroke. However, it suits those with an extreme arch, needing aid to get the putter face square at contact.
Tour Edge engineers opted for a KBS CT Tour putter shaft, which features a slick PVD paint job. Plus, they employed a Lamkin Jumbo Wingman grip to lighten grip pressure and limit wrist movement during your stroke.
Its refreshing to see golf club manufacturers designing clubs with different colors and patterns, like the Mizuno M Craft OMOI Type II. The winner of our best blade putter category is also a front runner for the best looking. The Blue Ion flatstick delivers superb accuracy, roll and feel.
At 370 grams, this is one of the heavier putters I tested for this review, resulting in fantastic stability. This helped me keep the putter face square to send my ball on the intended line, for an accurate putt.
Besides its looks and accuracy, the M Craft OMOI Type II delivered a soft touch on all strokes and elevated friction. The soft-touch improved my ability to judge the power of each strike for improved distance control. Plus, the elevated friction produced a pure roll for optimal speed control.
Next, I performed best with the Type II plumber's neck hosel, which suits golfers with a slight arch or straight back and through stroke. Finally, the stock grip is a Lamkin OMOI Sink Fit pistol, which suits players with limited wrist movement during the stroke.
Closing out our list of best putters for high handicappers in 2023 is the Cobra King Vintage Nova. It delivered the purest roll during testing, thanks to an expertly designed face, while its high MOI design helped me keep my ball on line.
The star feature is the SIK face insert with Descending Loft Technology to produce a clean roll on every stroke. Cobra engineers applied four descending lofts across the clubface, ensuring a clean roll no matter the angle you strike the ball at.
Next, I enjoyed superb stability through the stroke with the Nova wing mallet design and produced an impressive shot dispersion map. The combination of a clean roll and greater accuracy led to fewer three-putts and more hole-outs.
Another neat inclusion is the adjustable mass setup that allows you to alter the club head mass for optimal swing weight. However, if this luxury piques your interest, you must purchase the weights separately.
The Cobra King Vintage Nova is equipped with a midsize Lamkin Sinkfit grip, which reduces wrist movement and works for a range of golfers. Finally, the only stock shaft is a single bend hosel which creates face balance and suits players with a straight stroke.
What To Look For When Selecting a Putter
Buying a putter can be a bit overwhelming as they come in a bewildering range of shapes, sizes, colors, angles, weights, and other factors. All are these are important to the performance of the putter.
It is important to have a basic understanding of the various relevant factors to consider when purchasing a putter to make an informed decision and get the best one for your golf style and your needs.
The right putter will make a considerable improvement to not only your score but also your enjoyment of the game. We will take you through these important considerations to guide you through the options available. This will help you match the right styles and features to your game to maximize your strengths and mitigate any weaknesses you might have.
The following video will give you a brief overview of putter selection:
Head Design
While all aspects of putter design are important you want a head that will give you confidence and work for your style of play. Some putters have highly unusual head shapes and they do not work for everyone.
The main styles are:
Blade heads

Mid-mallets

Mallet heads

Perimeter-weighted heads
Blades are compact traditional putters, while mallets have a large head which most high handicappers will find gives them more forgiveness and accuracy. Mid-mallets fall between the two and are quite versatile.
The putting style and performance differ according to the head design, so it is important to look for those that work with your style. Also, remember that not all heads have sightlines. So, if you need these, take note.
Putters with a high moment of inertia (MOI) will be more forgiving when you do not strike the ball dead center. It simply means that the club is less likely to twist on off-center hits.
The video gives an explanation of the putter head options:
Faces and Inserts on Putters
Technology improves in leaps and bounds, and putter face inserts are a good example. Many manufacturers now offer a range of inserts, each with specific characteristics.
The same is true of the groove design used on many putter faces. This is something to look at when making your selection.
You want a feel and action that works with your putting style and inspires confidence. Some golfers prefer a softer touch, while others want a bit more feedback, bounce, or roll.
Length
Another critical aspect is the shaft, particularly the length. Golfers quite obviously vary in height, and the length of the putter needs to be appropriate.
Many golfers do not use the correct length putter, which will impede their performance. The average putter is generally 35 inches, but there are often 34 or 33-inch options.
It is important to take a comfortable posture and stance when you address your ball on the putting green, and the correct length for your height is essential.
Most putters are available in various lengths to ensure you select the one that works best for you.
Belly or long/chest putters are much longer than the traditional 33 to 35-inch options and have become rather popular even with some pro golfers.
They do help players with bad backs, but some simply find better control with these designs. Belly putters are around 41 to 45 inches, and chest putters range from 45 to 50 inches.
Shaft Weight
The weight and shaft length work together, so it is important to get the balance right. Merely reducing the shaft length on a putter too long for you will do more harm than good.
Shaft Design
Many players, particularly beginners, will benefit from an offset shaft. This keeps your hands beyond the ball and will aid in control and accuracy.
Balance Point
Some putters have a toe balance, while others have a face balance. You want a toe-balanced option if you play more of an arc-styled putt with a more open face.
A face-balanced putter is better if you play straight for the pin.
Golfers with straight strokes should review our face-balanced putter guide for 2023. 
Grips
Putters come in a range of grip sizes, textures, and shapes. The grip has a major impact on putting performance and it is important to select the one that works best with your style of putting.
While most grips will taper lower down, many find a thicker grip more comfortable. Depending on your putting and grip style, you might find a larger grip to be more comfortable.
Counterbalanced grips offer more weight below the hands, which helps many golfers avoid hinging the wrists as they put.
Budget
The price range of the best beginner putters spans wide, and you need to factor in your budget. Obviously, money spent on a putter means less to spend on other golf equipment or actual rounds of golf.
While quality putters can be expensive, there are some well-priced options that are highly effective.
Best Putters for High Handicappers 2023 FAQs
What Is a Good Putter for a High Handicapper? 
While the best putter for beginners will depend on stroke style, high handicappers will want to look out for a high MOI putter. For example, some may benefit from using a center-shafted putter, while others may not. Our top pick, the Odyssey Hot Pro 2.0 Seven Bird, offers this and will suit many different stroke styles.
Are Mallet Putters Better Than Blades for High Handicappers?
The general consensus is that mallet putters are more forgiving than blade putters for high handicappers. But, if you've been playing with a blade putter for years and switch to a mallet putter, you may see an initial rise in your strokes as you adjust to the new weight of your putter.
How Many Inches Should My Putter Be?
The length of your putter depends on your height. There are some adjustments to make based on your stroke, but you can use the following table as a good rule of thumb.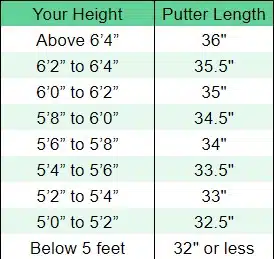 What is the Easiest Putter to Hit?
The easiest putter to hit is a high MOI design, with perimeter weighting and a forgiving face that preserves topspin on all strikes. For example, the Cobra King Vintage Nova produces a clean rolling putt no matter which angle you attack the ball from, which is useful for high handicappers.
Are Mallet Putters Really More Forgiving?
Yes, mallet putters are more forgiving. The larger head and perimeter weighting, the high handicapper will develop a putting touch that can be repeated more easily. Putting is practically 50% of all the shots played out on the course; to improve, this is the area to concentrate on.
Are Scotty Cameron Putters Good for Beginners?
Scotty Cameron putters, such as the Phantom X 5, are good for beginners because they are forgiving, accurate, and produce consistent roll. In addition, Scotty Cameron putters typically contain milled faces to deliver a buttery soft feel and pure roll. However, brace yourself for the premium price of their golf clubs.
Is a Mallet or Blade Putter Better for Beginners?
The blade putter may suit the eye and feel comfortable for the beginner. The various inserts allow the ball to roll smoothly after the stroke. It is a matter of preference as the thinner blade head does appeal to some rather than the thicker mallet putter. Comfort and confidence are the keywords when selecting the putter to put in the bag.
What Kind Of Putter Should A High Handicap Golfer Use?
A high handicap golfer should use a high MOI club head with a forgiving insert or milled face. The high MOI design promotes straighter putts, while the advanced face optimizes friction for consistent topspin and roll.
Are Bigger Putters More Forgiving?
Overall, yes, bigger putters are more forgiving. A larger club head enables engineers to employ perimeter weighting around high-impact points, which helps preserve topspin for a clean roll. Plus, bigger putters contain greater MOI and can resist twisting during the stroke to remain square at contact.
However, with the advancements in golf technology, you do find thinner blade putters which pack a wealth of MOI and forgiveness.
How Forgiving Are Scotty Cameron Putters?
Scotty Cameron putters are forgiving, striving to deliver optimal balance, a wide sweet spot, and maximum friction off the clubface. I experienced this with the Phantom X 5, which was lenient on my accuracy and distance control.
Are Expensive Putters Worth It For High Handicappers?
Yes, an expensive new putter is worth it for high handicappers if you are serious about working to lower your handicap. Unlike other golf clubs, you can play the same putter as your game improves, making it a worthwhile investment. This is because your perfect putter is determined by your stroke type and not necessarily your skill level.
Blade Vs Mallet Putter For High Handicapper?
I recommend high handicappers start with the balance, forgiveness and consistency of a mallet putter, before looking at blades. The mallet helps you produce dependable results on off-center strikes, while a blade may not offer the same leniency.
However, if you appreciate a blade putter's soft feel and acoustics, I suggest sticking to something like the PXG Hellcat or Mizuno M Craft OMOI Type II.
For a more detailed rundown of the features and benefits of blades vs mallet putters, read our review.
What Is The Best Putter For A High Handicapper?
The best putter for a high handicapper is the Odyssey Hot Pro 2.0 Seven Bird. It possesses exceptional forgiveness, promotes straighter putts, and produces a clean roll on all strikes.
Conclusion
This article should help you understand the important points to consider selecting a putter and we have highlighted 10 of the best options for high handicappers.
While they are all quality choices, the Odyssey Hot Pro 2.0 Seven Bird stands out as our top pick for the best putters for high handicappers. It ticks all the boxes one would look for in a quality putter. While the advanced White Hot Inserts make a world of difference, this putter has many other great features. These combine to give you a putter that is consistent, forgiving, and easy to control. It looks good, has a pleasant feel, and is a reliable and dependable option.
Take your time to think about your own needs and putting style to select the ideal putter for your game. Once you get used to it, you will start to see your putting numbers drop, which will surely make your game more rewarding.
Check Out These Related Articles:
Chris's love for golf is only rivaled by his wanderlust. A globetrotter at heart, He's played courses throughout Europe and Asia and at home in NSW, Australia. With a writing style as smooth as his golf swing, he'll help you find the right gear to match your skill level and style. You can connect with Chris on LinkedIn.