SkyTrak provides high-quality launch monitors with a high degree of accuracy that is affordable to a wide range of golfers.
Its accuracy is comparable to many of the top-end launch monitors/golf simulators such as Trackman.
The SkyTrak range of launch monitors was launched in 2015 and remains a popular option for many golfers. This can be ascribed to its performance and affordability.
SkyTrak SIG10 Golf Simulator Package
This SkyTrak SIG10 simulator package is based on a top-end SkyTrak launch monitor to provide you with an authentic full-screen golf golfing experience. Its design allows for 100% coverage of the screen with no white space at the top and bottom.
Only high-quality materials are used in the construction of the SkyTrak SIG10 golf simulator. The impact screen can withstand golf ball strikes up to 250 mph.
It provides real-time feedback data from the data points gathered at impact directly to the screen for a genuine golfing experience.
The package includes all the hardware required as well as a subscription to the SkyTrak Play & Improve Plan software that allows you to play 12 world-class WGT (World Golf Tour) golf courses.
The following items are included in the SIG10 package
SkyTrak Golf Launch Monitor
SkyTrak Metal Protective Case
SIG10 Golf Simulator Enclosure
Side Barrier Netting with sandbags
Weight Strip for Bottom of Screen
Landing Pad turf
Choice of Golf Hitting mat
HDMI Cable and HDMI to Lightning Cable
Micro-USB Charging Cable for SkyTrak
Play & Improve Software
SkyTrak User Manual & Quick Start Guide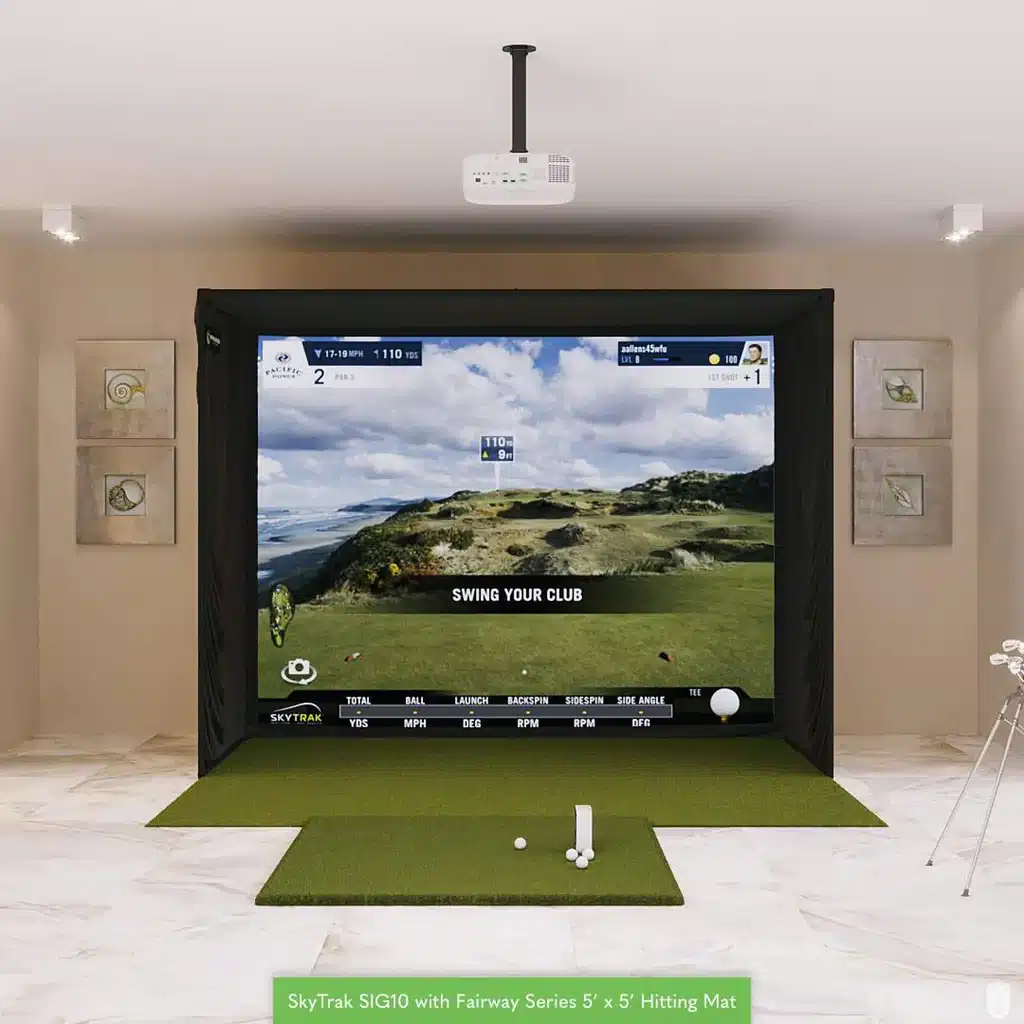 Pros
Full-screen simulation experience
Amazing accuracy
Game improvement tool
Handcrafted, Made in the USA
Data points include Launch Angle, Back Spin, Carry Distance
Works with iOS, Android, and PC
Voted 2017 and 2018 Best Value Golf Simulator by Golf Digest
Cons
Data can take a split second before it appears on the screen
SkyTrak launch monitors are simulation-enabled and can connect wirelessly with any mobile device.
SkyTrak Golf Launch uses photometric technology to record eleven data points to project a real-time graphic display of ball flight data on the screen.
Data points measured by the SkyTrak launch monitor include launch angle, ball speed, backspin, and sidespin, carry distance. These data points are displayed on the screen after the completion of your shot routine.
SIG10 Dimensions
The size of the SIG10 Golf Simulator frame is
10 feet 10 inches Wide
8 feet 4 inches high
5 feet deep
Impact screen for viewing dimensions
10 feet 1 inch wide
7 feet 7 inches high
12 feet 7 inches diagonal viewing with 4:3 aspect ratio
To fit this frame and screen, the minimum recommended room size is
12 feet wide
16 feet in length
and a minimum of 9 feet in height
The height requirement is to allow you to swing your driver. Be sure to leave ample space for your backswing not to be disrupted.
SkyTrak Metal Protective Case
To protect your investment in the SkyTrak SIG10 Golf Simulator, SkyTrak provides an authorized protective metal to protect the device from light drops, scratches, and bumps.
The protective case is manufactured from 13-gauge laser cut steel that provides easy access to the power button, enables you to view the LEDs through the case, adjustable legs for leveling or raising SkyTrak.
You can continue charging your SkyTrak SIG10 from the wall charger while it is tucked into the protective metal case.
SIG10 Golf Simulator Enclosure
SIG10 Golf Simulator is housed in a powder-coated steel frame that can be assembled in approximately 1 hour using the Quick Connectors.
An impact screen made from tight-knit polyester with a nylon surround attaches to the frame via bungees.
Side barrier netting keeps the ball within the perimeter of the simulator enclosure. The side barrier netting is kept down with sandbags, or you can tie it down to the floor.
Landing Pad Turf
To protect the floor from golf balls rebounding from the impact screen SkyTrak provides a landing pad turf. This turf is placed between the hitting mat and the impact screen.
Golf Hitting Mat
There are a few options available to choose from for the golf hitting the mat.
A Fairway Series 5 feet by 5 feet allows you to push a real tee into it. Options such as the Fiberbuilt 4 feet by 7 feet Golf Mat or the larger Fiberbuilt 4 feet by 9 feet Double Golf Mat offers sufficient room to cater for both left-handed and right-handed golfers.
More SIG10 golf mat options
SIG PRO 4 feet by 7 feet Golf Mat is easy on the joints and has enough space to set the SkyTrak on the mat so it is level with the ball.
SIG PRO 4 feet by 10 feet Double Golf Mat with a center hitting strip caters for both right-handed and left-handed golfers.
Projector
A good projector is essential for the optimal golfing experience. A short-throw projector with a minimum of 4000 lumens will ensure that the display is bright enough to use in a well-lit room.
Ideally, the projector should be a high resolution with 1080 pixels that connect to the launch monitor via an HDMI cable.
Examples of projectors that work well with the SkyTrak SIG10 golf simulator are
Optoma EH412ST Short Throw Projector
Panasonic PT-VZ580U Golf Simulator Projector
Projector Shield Enclosure
Projectors are not inexpensive and flying golf balls is a definite threat to its welfare.
An enclosure to protect the projector and neaten up the installation is well worth adding to your purchase of the SIG10.
Although you can attach the projector to the ceiling of the enclosure frame, a projector shield enclosure allows you to place the projector at floor level just before the impact screen.
Software
To get the most out of your SIG10 golf simulator SkyTrak offers a comprehensive Play and Improve software package that you can subscribe to. Some vendors offer this as part of their packages.
This software comprises a game improvement plan and a practice session that can be used in single-player or multi-player mode.
It also offers golf-course play, competitions like the longest drive challenge and closest to the pin challenge, bag mapping, as well as target practice.
Statistics are kept for you to track your progress and continuously do skill assessments.
Environmental settings such as humidity and wind conditions provide you the opportunity to hone your skills to play in strong winds from the security of your home.
Additional features available are
3D Driving Range with Shot Tracer Technology
Instant Ball Performance Data and Shot replay
Alternatives in the SkyTrak range
SkyTrak offers you a selection of golf simulators to suit your budget and space availability.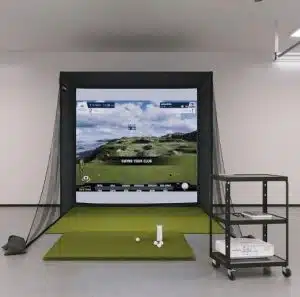 The SkyTrak SIG8 is the smaller brother in the range that requires less floor space while still providing you with an authentic golf experience. The SIG8 package differs from the SIG10 as it provides a smaller enclosure measuring slightly more than 8 feet wide (SIG10 requires 10 feet) and the 4 feet by 10 feet hitting mat option is removed.
It includes
Landing pad turf
5 feet by 5 feet, 4 feet by 7 feet, or full flooring hitting mat
Side barrier netting
SkyTrak metal protective case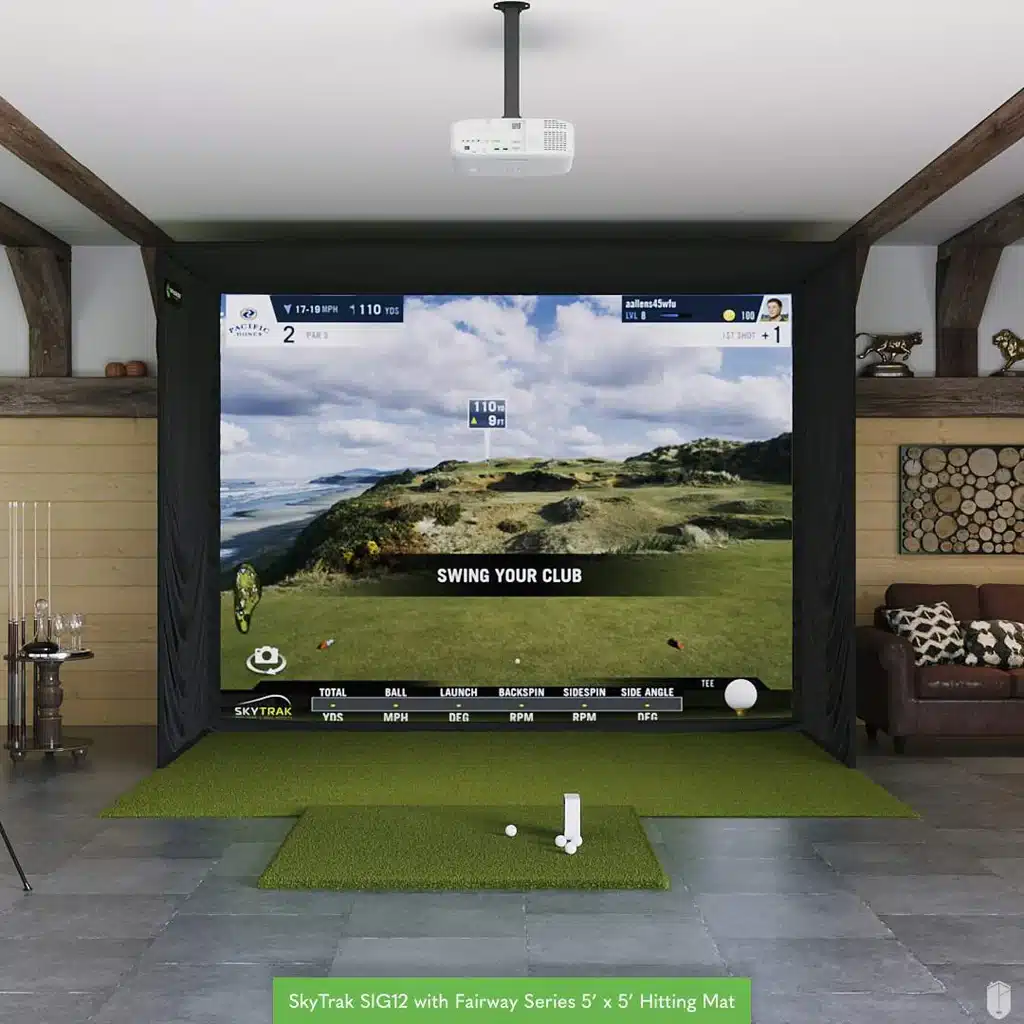 The SkyTrak SIG12 package is the bigger brother of the SkyTrak SIG10 simulator golf package offering a 12 feet widescreen as opposed to the 10 feet wide screen found in the SIG10 package.
Final Thoughts
SkyTrak is renowned for its high-quality launch monitors and the same quality can be found in their golf simulators.
Top-quality has not stopped SkyTrak from providing affordable options to golfers with a wide range of space availability and budgets.
SkyTrak has thought of every possibility and provide solutions to protect your investment and your property.
Expertly developed software offers you a wide range of options to improve your game, do club fitting, and play a range of games in single-user and multiuser modes.
We consider the SkyTrak SIG10 golf simulator to be a wise investment that will provide you, your family, and your friends with hours of golfing pleasure.
Your thoughts and experience on the SkyTrak SIG10 would be welcome in the comments section below.
Related Articles
Nick Lomas is the founder of GolfSpan, an avid golfer, not quite a pro but has over 15-years of experience playing and coaching golfers from all over the world. His mission is to bring the golfing community a better experience then it comes to choosing the right golf gear, and finding the right set up for your game.