After conducting a host of King Cobra LTD driver reviews, the LTDx consistently stood out as a suitable option for an array of golfers. In this post, I conduct an in-depth Cobra LTDx driver review to analyze features, shaft options, grips, launch profile, and spin.
In addition, I offer insight into what you need to consider when acquiring a game-improvement driver to increase distance. Finally, by the end of this review, you will know whether the LTDx driver works for your swing or whether the forgiving LTDx Max better suits your game.
Here is a rundown of what you will learn in our Cobra LTDx driver review:
Pros and cons of the Cobra LTDx
Technology that powers the LTDx driver
Factors to consider when acquiring a new driver
Alternative options to the Cobra LTDx driver
Cobra LTDx Driver Review
Pros
Low driver spin
Explosive clubface
Lenient
Adjustable hosel
Produces impressive distance
Cons
Not as forgiving as the Cobra LTDx Max
No moveable CG weight
| | |
| --- | --- |
| Total Score | 88 |
| Star Rating | 4-stars |
| Distance | 92 |
| Forgiveness | 88 |
| Feel | 89 |
| Workability | 84 |
| Aesthetics | 90 |
| Price | 85 |
Cobra LTDX Driver Specs Overview
| | |
| --- | --- |
| Lofts (Degrees) | 9, 10.5, 12 |
| Shafts | Project X HZRDUS Smoke iM 10 60, Project X HZRDUS Smoke RDX Blue 60, UST Helium Nanocore |
| Clubhead Size | 460 cc |
| Release Date | 11 February 2022 |
Read More: The Best Cobra Drivers
Cobra LTDx Driver: Features & Benefits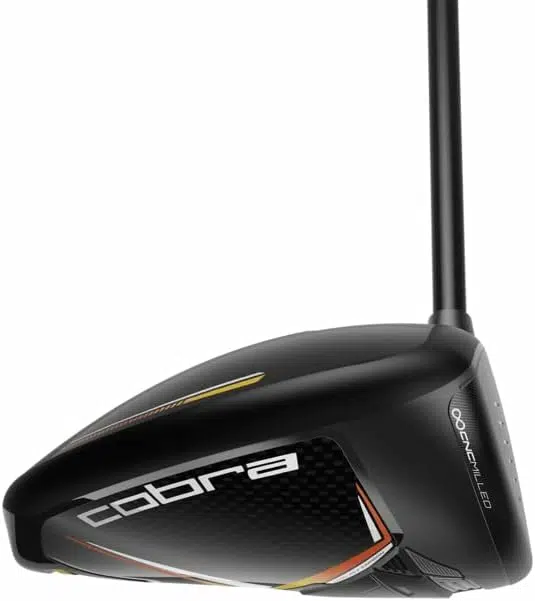 PWR-COR Technology
The engineers decided to employ PWR-COR technology to the Cobra LTDx, which caused the increased weight to sit low and forward. A 14-gram internal weight and 5 grams of external mass provide a total of 19 grams directly behind the clubface.
The additional mass enhances energy transfer at contact, imparting maximum power on your golf ball for a high, long tee shot. In addition, a 15-gram back weight provides outstanding stability to ensure minimal spin and rapid ball speed across the clubface on all strikes.
H.O.T Face Technology
Rickie Fowler's sponsor added their "Highly Optimized Topology" technology to the Cobra LTD driver range for forgiveness across the clubface. A combination of CNC machining and A.I learning helped Cobra identify the most commonly struck areas on the clubface.
A variable thickness pattern is applied to the clubface to help explode the golf ball off the face while restricting spin. As a result, I found the Cobra LTD x prevented speed drop-off on off-center strikes, delivering consistent launch, ball flight, and carry yards.
Multi-Material Construction
Cobra paired a lightweight carbon crown and sole plate with a strong, light titanium body. The outcome is a chassis that is 8.3 grams lighter than its predecessors for improved aerodynamics and clubhead speed on the downswing.
The added velocity leading into impact bolsters energy transfer to impart elevated pace and minimal spin on the golf ball. As a result, you produce increased flight for greater carry and total driver distance.
Thanks to the weight saved through multi-material construction, Cobra could use up to 30% additional carbon. Plus, by saving mass and using innovative materials, the engineers had extra weight at their disposal to reposition low and forward in the PWR-COR technology.
CNC Milled Infinity Face
The LTDx sports a Milled Infinity Face construction which envelops the leading edge to enhance clubface flexibility leading into contact. The Infinity Face design helped me prevent ball speed drop-off and spin increase for consistently powerful tee shots.
The Infinity Face proved particularly useful on strikes low off the clubface, as the added flex allowed me to salvage the situation and produce the desired launch, carry, and distance.
Cobra LTDx Shaft Options
King Cobra provides three stock shaft offerings for the Cobra LTDx, catering to fast, moderate, and slower swing speeds. First up is the Project X HZRDUS Smoke iM 10 60, which is crafted in a stiff and regular flex. Both shafts carry a medium kick point, producing a mid-launch with moderate spin.
Next, the Project X HZRDUS Smoke RDX Blue 60 is built in a 6.5 and 6.0 flex, or a stiff and extra stiff shaft in layman's terms. These shafts prompt super low spin and a lower launching tee shot.
Finally, the UST Helium Nanocore shafts suit players with slow to moderate clubhead speed. You have two options from Nanocore: regular and lite or senior flex. These shafts sport a low kick point and produce increased spin to generate a higher apex.
Grips
Cobra turned to the Lamkin Crossline 58R design for the Cobra LTDx stock grip, which I find is better suited to low-handicap golfers. The Crossline produces ample feedback and less tack for a firmer feel.
In addition, the Lamkin Crossline 58R is an affordable grip option that is built to last and provide sublime value for money.
Things To Consider Before Buying a Driver
Loft
Modern drivers are typically equipped with 9, 10.5, or 12 degrees of loft to cater to various swing speeds and launch preferences. On the stronger side, you find 8-degree drivers, which are most common among low-spin constructions like the Cobra driver 2023 edition, the AeroJet LS.
Like a 9 or 8-degree construction, drivers with stronger lofts produce lower launching drives for greater control, power, and forward momentum. However, these drivers require a high swing speed to get the ball airborne consistently.
The average golfer is better suited to a 10.5 or 12-degree loft, which promotes a hassle free-high launch. As a result, the average golfer stands to produce a more consistent carry distance with a weaker lofted driver.
Shaft
After identifying your desired loft, think about your intended shaft. The features to consider with shafts are flex and kick point. Moderate swing speed mid handicappers should start with a regular flex shaft that offers an element of spring into impact for maximum energy transfer.
Conversely, golfers with slower swing speeds should test a flexible senior or ladies' shaft and whip into the golf ball for optimal speed. Finally, golfers with high swing speeds are best suited to stiff, extra-stiff flex shafts.
Next, the kick point impacts the height of your launch. A low kick point shaft prompts a higher launching golf shot, while high kick point shafts produce lower ball flight. In addition, a mid-kick point design generates a medium launch.
Clubhead Size
Most game improvement golf drivers carry a 460 cc clubhead, the maximum size permitted by the USGA. These drivers offer an expansive area to strike the ball, resulting in added forgiveness on off-center hits.
While these driver clubheads are exceptional for the average golfer to achieve consistency, they reduce workability. Alternatively, you can have lower spin drivers, which feature a smaller clubhead size, typically between 430 to 455 cc.
While smaller clubheads promote exceptional workability and low spin, they leave less room for error. As a result, off-center strikes are severely punished, resulting in a loss of distance and accuracy.
Adjustable Hosel
Adjustable hosels are a common feature on modern drivers, allowing golfers to strengthen or weaken loft. Most manufacturers allow you to add or reduce 1.5 degrees of loft to the stock setup. For example, a 10.5-degree loft can weaken to 12 degrees and strengthen to 9.
An adjustable hosel lets you alter the loft profile and lie of the clubface to launch the ball higher or lower.
Moveable Center Of Gravity (CG)
Low spin drivers for high-swing-speed golfers tend to carry a shiftable CG weight on the sole. By shifting the CG position, you alter the shape bias of the driver to achieve your desired ball flight and accuracy off the tee.
A moveable CG weight lets you position the clubface in a draw, neutral or fade bias. A draw bias is generally favored by high handicappers looking to combat slice and hit more fairways.
Conversely, a neutral flight driver is a prime choice for superior golfers as it allows you to work your shot left or right, depending on the hole layout.
Read More: Cobra Driver Models By Year
Cobra LTDx Alternatives
The TaylorMade Stealth driver signified the brand's shift to the "Carbonwood era." Sixty layers of carbon line the clubface and are protected by a nanotexture cover to optimize spin, speed, and launch. In addition, the carbon layers provide superb twist face support and increase MOI for stability at impact.
Besides employing revolutionary features, the engineers stuck to past successes and added an Inertia Generator and Speed Pocket technology. The Inertia Generator ensures accelerated clubhead speed on the downswing, while the Speed Pocket boosts clubface flexibility for forgiveness on mishits.
Callaway released the Rogue ST Max in 2022 to serve the needs of mid-handicappers seeking distance without sacrificing forgiveness. A 26-gram tungsten cartridge is positioned low and deep in the clubhead to generate spectacular stability for rampant ball speed and reduced spin.
The Jailbreak Speed Frame and A added to my velocity and reduced my spin.I Designed Face combo. These features offer support across the clubface, preventing speed drop-off and spin increase. Finally, a draw bias profile fights slices and promotes straighter shots to improve fairways in regulation.
The new Cobra driver 2023 release is the AeroJet range, which sports the same H.O.T Face and PWR-Bridge technology found in the LTDx. The Cobra driver 2023 edition delivers impressively low spin and a moderate launch for optimal tee shot yards.
The H.O.T Face generates explosive ball speed and reduced revolutions across the clubface, while PWR-Bridge optimizes energy transfer. The flexibility of the clubface and sole help the average golfer produce consistent launch and distance on all strikes for improved forgiveness.
FAQs
Is The Cobra LTDx Driver Forgiving?
Yes, the Cobra LTDx driver is forgiving as it generates consistent speed and low spin across the clubface. In addition, the LTDx promotes a consistent medium launch to produce optimal carry yards. In addition, the driver features elevated moment of inertia (MOI) to boost stability and prevent ball speed drop-off on mishits.
Is LTDx Better Than Radspeed?
Yes. The LTDx is better than the Radspeed as it delivers superior smash factor, lower spin, faster ball speed, and significantly longer carry and total distance.
What Does LTDx Stand For In Cobra?
The LTDx stands for Ultimate Longest Total Distance. It is a fitting name for the big sticks which deliver lower spin, rampant ball speed, exceptional carry, and total distance.
Is Cobra LTDx Good For High Handicappers?
No, the Cobra LTDx is not good for high handicappers because it is built to serve mid-handicappers seeking neutral flight without relinquishing leniency. High handicappers are better off playing the Cobra LTDx Max which produces sensational forgiveness and consistency for inexperienced players.
What Is The Difference Between LTDx and LTDx LS?
The Cobra LTDx driver is the standard edition of the set and is built to offer mid-handicappers a moderate launch and added forgiveness. Conversely, the LTDX LS is the low spin model, with a refined head shape, better suited to the high swing speeds and clean ball striking of low handicap golfers.
Final Thoughts
Our Cobra driver reviews of the LTDx, LTDx Max, and LTDx LS show that the former is a suitable big stick for mid-handicappers. The driver produces a medium launch and restricts spin for maximum power, launch and carry distance off the tee.
Although the Cobra LTDx is forgiven, it does not offer the level of leniency found in the Cobra LTDx Max, which is better suited to high handicap golfers. Our Cobra LTD driver 2023 analysis proves that despite its age, the LTDx carries advanced technology and performs consistently.
As a result, it is a worthy driver to consider if you are in the market for a new big stick this year. You enjoy distance and control, all without giving up forgiveness.