In 2015, you couldn't say "golf" without hearing Jordan Spieth's name. He was just that popular. This helped him become one of the richest golfers ever.
What is Jordan Spieth's net worth? Jordan Spieth has a net worth of about $120 million. He currently sits 8th on the PGA Tour earner's list with $55,394,957. His endorsements, such as Under Armour, total around $27.6 million annually. He's made $10 million in appearance fees. This leads to +$365 million in earnings as of 2023. He's also spent a lot with a $7.1 million house, $24 million private jet, and +$300,000 spent on cars. 
While this is a vast sum, with his recent return to form, it could be on the upswing.
| | |
| --- | --- |
| Place of Birth | Dallas, Texas |
| Nationality | United States |
| Born | 1993 |
| Highest PGA TOUR Ranking | 1 |
| Salary | ~$27.6 million |
| Net Worth | ~$120 million |
What Is Jordan Spieth's Net Worth?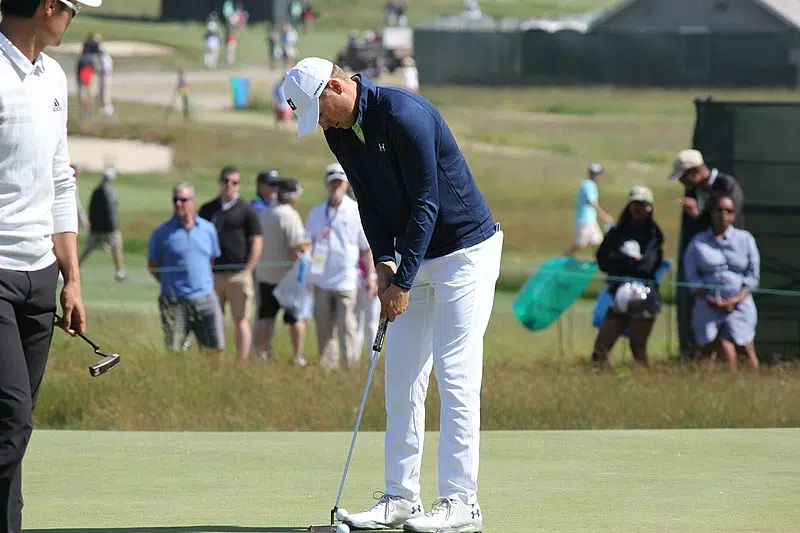 Peetlenumber1 (Wikimedia) under CC BY-SA 4.0 – Original
As one of the most successful golfers of this era, Spieth is up there as one of the top earners. But how much is Jordan Spieth worth exactly?
Let's take a look at Jordan Spieth's earnings and expenses to estimate his net worth:
Career PGA Tour earnings: $55.3 million
Career endorsements: ~$300 million
Career appearance fees: ~$10 million
Jordan Spieth Family Foundation: -$58 million spent
House: -$7.1 million spent
Cars: -$325,025 spent
Private jet: -~$24 million spent
We estimate that Jordan Spieth's net worth in 2023 is around $120 million. While his total earnings are likely more than $365 million, he spends a good chunk of this running his private jet and donating to needy organizations.
From 2015 to 2016, Forbes reported that the golfer earned a staggering $52.8 million. Most of this came from off-course earnings at $32 million; the rest came from prize money. This placed him 37th among the top-earning celebrities for that year.
In 2018 his performance dropped, and his earnings reflect this. Forbes estimated a lower sum of $41.2 million. This dropped further still by 2020. At this time, Forbes placed the figure at $27.6 million, with just $1.6 million coming from on-course earnings.
Jordan Spieth's Tournament Earnings
Having won numerous major events at the PGA Tour, it's no surprise to see Jordan Spieth high up on the PGA Tour earners list. As of 2023, he ranks 8th with $55,394,957, sitting above the likes of Jason Day and Zach Johnson.
As previously mentioned, 2015 was a big year for Spieth. In the FedEx Cup alone, he won over $22 million. $12 million of which came from prize money, and $10 million was a bonus.
Jordan Spieth's Endorsement Earnings
As with many of the top names in golf, the earnings Jordan Spieth's sponsors bring eclipse his on-course winnings.
Unfortunately, none of the contracts are public, so we do not have exact figures to report. However, Forbes estimated the figure to be around $26 million annually as of 2020. And we expect it's probably a similar number today.
Not that much has changed in that time. Only an extension of his Under Armour deal by another four years to reach 2029. The company has also promised to donate more than $1 million to the Jordan Spieth Family Foundation.
Jordan Spieth's original Under Armour deal was believed to be worth a similar amount to Tiger Woods's. Around eight figures per year with additional bonuses. Alongside his Under Armour deal he also has sponsorships with other big brands such as AT&T, Rolex, Full Swing, and Titleist.
Jordan Spieth's Appearance Fees
Jordan Spieth has made about $10 million in appearance fees. He is believed to have earned $500,000 for competing in a tournament back in 2014. But as his name has grown larger, he can command higher rates. For the Australian Open in 2017, he is reported to have received around $1 million just to show.
What Are Jordan's Spieth's Expenses?
View this post on Instagram
Jordan Spieth Family Foundation
Rather than seeking additional income, Spieth actually gives back a lot of the time. This is most evident in his charity. The Jordan Spieth Family Foundation seeks to further junior golf, assist military families and veterans, help individuals with special needs, and fund pediatric cancer research.
Each year his charity selects a series of organizations that are worthy of a grant. Most recently, in 2023, 21 organizations were selected. While we don't know the value of each of these grants, the Children's Medical Center Foundation disclosed that they received $500,000 from Jordan's foundation in 2022. They were one of the lucky grant recipients of that year.
In 2022, 13 organizations were donated to. Assuming they all received the same sum, Spieth's foundation may have donated $6.5 million that year. If we apply this figure since the company's inception, the Jordan Spieth Family Foundation may have donated $58 million in total.
Jordan Spieth's Investments
Spieth runs his own charity and actively invests in numerous companies. His investment which he has been the most vocal about, is Invited. Invited is a private golf club with more than 200 venues nationwide.
He chose this golf club above all others because it's how he got his start in golf. He played at the very first club in Brookhaven and wants to give back to the company. Alongside his financial support, he serves as a brand ambassador and advisor.
Besides Invited, Spieth has also invested in the Player's Tribune. Former American baseball player Derek Jeter founded this media platform. It provides the means for professional athletes to connect to their fans through articles, videos, and podcasts.
Jordan Spieth's House
Having accrued so much wealth, it should be no surprise that Spieth splurged when it came time to purchase his home.
He currently lives in a $7.1 million mansion in Dallas with his family. Complete with 10,000 square feet of space, a basketball court, and a pool, it's the perfect place for him to unwind after a taxing day of golf.
Jordan Spieth's Car
With 10,000 square feet of space to fill, Spieth certainly doesn't hold back when it comes to cars. He has a huge 12-car garage located on his property which neighbors his half-size indoor basketball court.
Of the 12 cars he owns, only 6 are public info. These 6 cars total at least $325,025. Below you can find each car along with its price tag.
Mercedes Benz CLS: $85,000
Toyota 4Runner: $39,555
Jeep Grand Cherokee: $41,530
Ford F150 truck: $33,695
Electric BMW I3: $44,450
Cadillac Escalade: $80,795
Jordan Spieth's Jet
Like many other golfers, Jordan Spieth travels in style using his private jet. Based on photos, we believe that he owns a Cessna Citation Sovereign. This is a business jet that has a cruising speed of 797 km/h.
The approximate cost of purchasing such a plane is around $8 million. It costs almost a further $2 million to operate each year.
Jordan Spieth's Major Earnings Year by Year
Here are Jordan Spieth's big paydays on in PGA tournaments.
| | | | | |
| --- | --- | --- | --- | --- |
| Year | Tournament | Position | Value | Total |
| 2013 Jul | John Deere Classic | 1 | $828,000 | $828,000 |
| 2015 Mar | Valspar Championship | 1 | $1,062,000 | $3,690,000 |
| 2015 Apr | Masters | 1 | $1,800,000 | $2,628,000 |
| 2015 Jun | U.S. Open | 1 | $1,800,000 | $5,490,000 |
| 2015 Sep | Tour Championship by Coca-Cola | 1 | $1,485,000 | $6,975,000 |
| 2016 Jan | Hyundai Tournament of Champions | 1 | $1,180,000 | $8,155,000 |
| 2016 Apr | Masters | 2 | $880,000 | $9,035,000 |
| 2016 May | Dean & Dulca Invitational | 1 | $1,206,000 | $10,241,000 |
| 2017 Feb | AT&T Pebble Beach Pro-Am | 1 | $1,296,000 | $11,447,000 |
| 2017 Jun | Travelers Championship | 1 | $1,224,000 | $12,671,000 |
| 2017 Jul | The Open | 1 | $1,845,000 | $14,516,000 |
| 2018 Apr | Masters | 3 | $748,000 | $15,264,000 |
| 2021 Apr | Valero Texas Open | 1 | $1,386,000 | $16,650,000 |
| 2021 Jul | Open Championship | 2 | $1,198,000 | $17,848,000 |
| 2022 Apr | RBC Heritage | 1 | $1,440,000 | $19,288,000 |
Jordan Spieth's Net Worth Milestones
According to our estimates looking at his winnings and sponsorships, here's about how much Jordan Spieth's net worth is per year.
2013: $2 million
2014: $10 million
2015: $50 million
2016: $90 million
2017: $130 million
2018: $160 million
2019: $190 million
2020: $210 million
2021: $240 million
2022: $270 million
2023: $276 million (so far)
Jordan Spieth's Early Career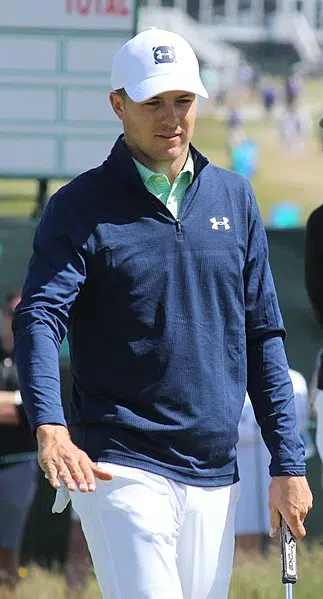 Peetlenumber1 (Wikimedia) under CC BY-SA 4.0 – Original
Like most of the top golfers, Spieth started the sport at an early age. He first picked up a club at 4, and by 10 years old, he would routinely play. Spieth showed promise as a junior, placing second in consecutive years at the Junior PGA Championship in 2008 and 2009. These performances helped him earn the Rolex Junior Player of the Year award in 2009.
In that very same year, he would claim his first notable win at the U.S. Junior Amateur Championships. However, he wasn't done there. Two years later, in 2011, he won the tournament again. This made him the second player ever to win the tournament twice, alongside the all-time great Tiger Woods.
Spieth's golfing success continued while studying at the University of Texas. In his first year, he topped three events and was the highest scorer on the team. He would also play his part in helping the Longhorns secure the NCAA Championship. Alongside this win, he earned a spot in the All-Big 12 team and obtained the accolades of All-American and Big 12 Freshman and Player of the Year.
This success helped Spieth pick up a position as an alternate in the U.S. Open. While he only placed 21st, this was an exceptional performance for such a young amateur. It propelled him to world number 1 in the amateur rankings.
Jordan Spieth's Career
What Was Jordan Spieth's First Big Pay Day?
Jordan failed to pass the PGA Tour qualifying school assessment despite stellar performances. He would instead turn pro during his sophomore year while at university.
His first tournament was in 2013 at the Farmers Insurance Open, where he failed to advance, taking home no prize money. It was a better story at the Puerto Rico Open, where he placed joint second. Yet, in July at the John Deere Classic, Spieth would get his first professional win.
He overcame David Hearn and Zach Johnson in the playoff and in doing so became the youngest player to win a PGA Tour event in 82 years at the age of 19. This saw him earn a sizeable $828,000 in prize money. Not bad for a teenager!
In 2014, Spieth appeared at the Masters and put on quite the show. In the final round, he led the pack by two strokes and was on track to become the youngest Masters winner ever. However, Bubba Watson reclaimed the lead, and Spieth ended up tied for second. This still earned him $792,000, and he became the youngest runner-up of the tournament.
What Was Jordan Spieth's Biggest Year for Income?
Undoubtedly, 2015 was Spieth's year of dominance. He returned to the Masters and did what he could not do in the year prior — winning the tournament and netting $1,800,000. But not only did he win it. He tied Tiger Woods' record of 18-under. He also set his own record for the most birdies with 28 and became the second-youngest winner of the tournament. Following the win, Spieth rose to world number 2.
Later in June, Spieth would add the U.S. Open to his majors collection. He narrowly won the event by one stroke, beating out both Dustin Johnson and Louis Oosthuizen. This once again put his name in the record books and bolstered his bank account by a further $1.8 million. He became the sixth player in history to win both a Masters and U.S. Open in the same year.
Before placing joint 4th at the Open Championship, Spieth elected to compete in the John Deere Classic once more to try and replicate his success from 2013. The effort proved worthwhile, leaving with another win and a chunky $846,000 cheque.
Unfortunately, Spieth would come up short for the PGA Championship of that year, placing second to Jason Day. So he would have to settle for two majors in 2015. Even so, he rose to world number 1 for a brief stint in August and September.
How Does Jordan Spieth's Income Continue to Grow?
Spieth commenced 2016 with a win at the Hyundai Tournament of Champions, bagging $1.18 million. He easily beat out second-place Patrick Reed by eight strokes. However, he would not prove so successful at the Masters that year. After a strong start, he had one of the most extreme meltdowns in history, putting two balls into the water. He would have to settle for second place and a measly $880,000 (poor Jordan!).
Spieth quickly bounced back in May, winning the Dean & Deluca Invitational, and would get a further win at the Emirates Australian Open, earning $1.37 million combined. By 2017, Spieth won his 100th PGA tournament as an AT&T Pebble Beach Pro-Am professional. Becoming the second player to secure nine wins on the PGA Tour before 24 (after world war 2). This earned him a hefty payday of almost $1.3 million.
More success followed throughout the year, but the Open Championship stole the spotlight from the rest. This marked his third majors win, meaning only the PGA Championship eluded him. His purse totaled $1.84 million, which was his largest to date.
Jordan Spieth's Poor Earnings & Resurgence
Post 2017, Spieth experienced a major dry spell. This likely put extra pressure on him than most, given his incredible form in 2015. Spieth dedicated more time to golf to try and get back to form, and after 1,351 days winless, he finally got a victory at the 2021 Valero Texas Open. This secured him almost $1.4 million in earnings — not that he needed it!
It seems this period of intense training paid off, as not only did he win the Valero Texas Open, but he also performed very well at the majors that year. He placed third at the Masters and second at the Open Championship, winning almost $2.4 million in the process. This starkly contrasted his performances during his winless spell, where he often failed to qualify, let alone compete for the win.
Most recently, Jordan secured his 13th PGA Tour win at the RBC Heritage and won five of five matches competing in the U.S. team at the 2022 Presidents Cup.
Jordan Spieth's Personal Life
View this post on Instagram
Spieth is married to high school sweetheart Annie Verret. The pair married back in 2018 in Dallas, where they live. They have a son together called Sammy and a dog named Silo.
Jordan chooses to keep most of his private life private, occasionally sharing photos of himself and his family. Although you might not know it, he is Catholic and attends the PGA Bible Study.
Given his commitments to his family, golf, partnerships, and the Jordan Spieth Family Foundation, it seems he has a pretty hectic life.
FAQ
How Much Does Jordan Spieth Make From Sponsors?
Jordan Spieth makes an estimated $26 million per year from sponsors. We believe most of this comes from Under Armour, as the deal is said to be worth eight figures.
How Much Money Is Jordan Spieth Worth?
As of 2023, golfer Jordan Spieth's net worth is an estimated $276 million. The majority of this comes from sponsors rather than from tournament winnings.
Why Is Jordan Spieth Worth So Much?
Jordan Spieth is worth so much because he is one of the most successful golfers of all time. He was formerly world number one and has won three majors. Back in 2015, in particular, he was very prominent. This helped him secure big brand deals alongside high tournament earnings.
How Much Did Jordan Spieth Make Today?
In the 2022 season, Jordan Spieth earned $3,369,622 on the PGA Tour. He also earns around $21.6 million annually from his endorsement deals. Assuming his on-course earnings are around the same currently, Spieth nets approximately $68,000 per day.
This figure wouldn't fall much even if his performances dropped, given that most of his income comes from sponsorships.
What Is Jordan Spieth's Age and Net Worth?
Jordan Spieth is 29 years old as of April 2023 and has a net worth of approximately $276 million. Most of this comes from his sponsorships with brands such as Under Armour, AT&T, and Rolex. His annual income from his sponsorships totals around $27.6 million.
Closing Thoughts
Jordan Spieth's net worth is in the ballpark of $276 million. And while this falls well short of the likes of Jack Nicklaus, who is worth 400 million, he's much younger at 29. And who knows? Jordan Spieth's career earnings could even surpass the legend if he makes the switch to LIV Golf like many players already have.