Tiger Woods is the wealthiest golfer of all time. He's made more money on the Tour than any golfer, and he has a long list of sponsorship deals.
So how much is Tiger Woods' net worth worth? In 2023, Tiger Woods' net worth is estimated to be $1.1 billion, totaling $1.7 billion in career revenue. He's earned over $120 million from the PGA. He also earns about $50 to $60 million per year. Most of his earnings come from sponsorship deals with companies like Nike, Rolex, and Gatorade. 
Despite his impressive 15 major titles, his on-course earnings make up a relatively minor sum of his salary. In 2019, it was estimated that only 7.6% of his fortune was earned on-course, with the rest coming from other sources.
In this post, we break down Tiger Wood's net worth across the board to explain how he became one of the wealthiest individuals on the planet.
Tiger Woods' Net Worth: Overview
| | |
| --- | --- |
| Place of Birth | Orange County, California |
| Nationality | United States of America |
| Age | 47 |
| Highest Ranking | 1 |
| Annual Salary | $50 million – $60 million |
| Net Worth | $1.1 billion |
Tiger Woods Early Career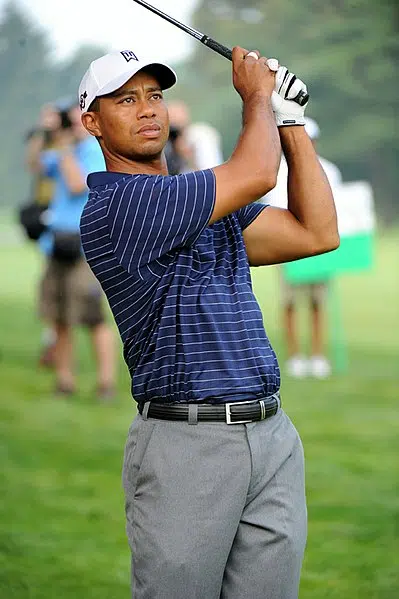 Tim Hipps (Flickr) under CC BY 2.0
As one of the best ever to do it, it should come as no surprise that Woods got started with golf from a very early age. First tackling the sport aged 2, he was taught by his father, Earl Woods, a former college baseball player with a passion for golf. Initially, Woods wanted to become a baseball player like his dad, but after experiencing a rotator cuff injury, he pivoted his efforts toward golf.
Over the following years, he would demonstrate skill far beyond his years, appearing on numerous television shows such as The Mike Douglas Show and That's Incredible! By the age of 11, he surpassed his father in ability giving him the skill to claim the Junior World Championship title on six occasions. Four of which were back-to-back.
At 15, Woods became the youngest U.S. Junior Amateur Champion, and later, in 1990, he has declared the Southern California Amateur Player of the Year. He participated in his first PGA Tour event in 1992, where he lost in a playoff. The following year he would place second once more.
Fast forward to 1995, and Woods competed in his first major at the age of 19. He was the only amateur to compete; all he could manage was joint 41st place.
Tiger Woods Career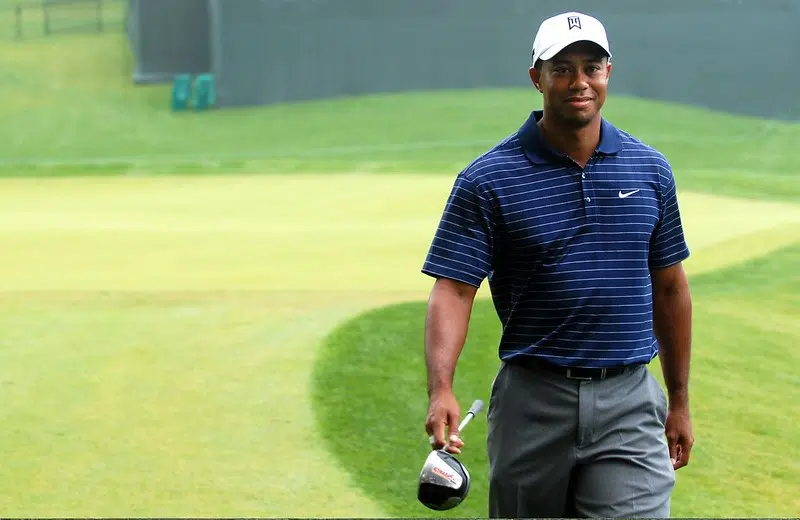 1996-2000
Woods turned pro in 1996, and in less than a year, he claimed his first majors win at the Masters, earning him $486,000. He did so comfortably and set a record as the tournament's youngest winner. He was only 21 years old at the time. Just a few months later, in the middle of 1997, he set another record. This time for the quickest rise to world number 1.
His hot streak would continue in the following years. In 1999 he secured eight PGA titles, becoming the first player in over 20 years to do so. In fact, by the end of the next year, he had won nine of the twenty PGA Tour events he had competed in — a ridiculous record by anyone's standard. These superb performances also enabled him to break the record for the lowest scoring average in the Tour ever.
Among these elite performances was his win at the 2000 U.S. Open. He demolished the competition winning by 15 strokes, the largest gap ever at a major event. It was the best display of golf the sport had ever seen to many. And to round off this incredible run, he became the youngest to achieve a Grand Slam.
2001-2008  
His 2001 win at the Masters concluded a flawless run of four consecutive majors, known as the "Tiger Slam." Woods would not experience extended adversity until 2003. During this time, he failed to win a major and lost his number 1 ranking, which he held for a record 264 weeks.
His resurgence began in 2005 when he claimed two more majors: the Masters and the British Open. He would go on to defend the British Open a year later, winning by two strokes to Chris DiMarco — the player he narrowly overcame for his 2005 Masters win.
Already considered by many as the greatest of all time, 2008 would help cement his legacy. Woods faced two months away from the sport in April after requiring knee surgery. So when he returned to play at the U.S. Open, he was a little out of form. Yet he battled hard and scraped a victory in an 18-hole playoff.
As a result, Woods claimed his third Grand Slam, making him only the second player. His U.S. Open win was even more remarkable because he had to sit out for the rest of the season due to the severity of his knee injury.
2009-2013
Woods' keenly-awaited return did not live up to fans' hopes. This was because he failed to win another major (despite good performances), and his infidelity came to light. With his strings of affairs extensively covered in the media, Woods lost many of his sponsors and once again stepped away from golf.
He returned the next year for the Masters but would fail to win, placing joint 4th. In fact, Woods' performances would remain lackluster for the next few years. During this period, he battled injuries and fired his caddie, Steve Williams. It wasn't until the Arnold Palmer Invitational in 2012 that he would finally get back in the win column.
In 2013, he would return to the Arnold Palmer Invitational and claim his eighth victory. Not only did this mean he tied the record for the most wins at a single PGA tournament, but he also regained his world number 1 ranking. Yet by the end of the year, he still had no major wins, making this his fifth season without a major.
2014 Onwards
From 2014 onwards, Woods was plagued with injuries. It caused him to both miss and pull out of various events. He underwent back surgery in September 2015 and December 2016, causing him to miss a lengthy 15 months of golf. After returning for the Hero World Challenge, he was out again with more back trouble. However, he still longed to beat Nicklaus' 18 major titles record.
To the fans' surprise, Woods returned and claimed his 15th major at the 2019 Masters. This marked a 14-year gap since his last win at the tournaments. It also gave him the record for the longest gap between wins at the majors. In 2021, Woods faced more setbacks, this time in the form of a fifth back surgery and a car crash that badly damaged his right leg.
It took him over a year to recover to the point where he could compete, making his return at the 2022 Masters. He placed 47th, with a sizeable 23 shots more than the title winner.
What Is Tiger Woods' Net Worth?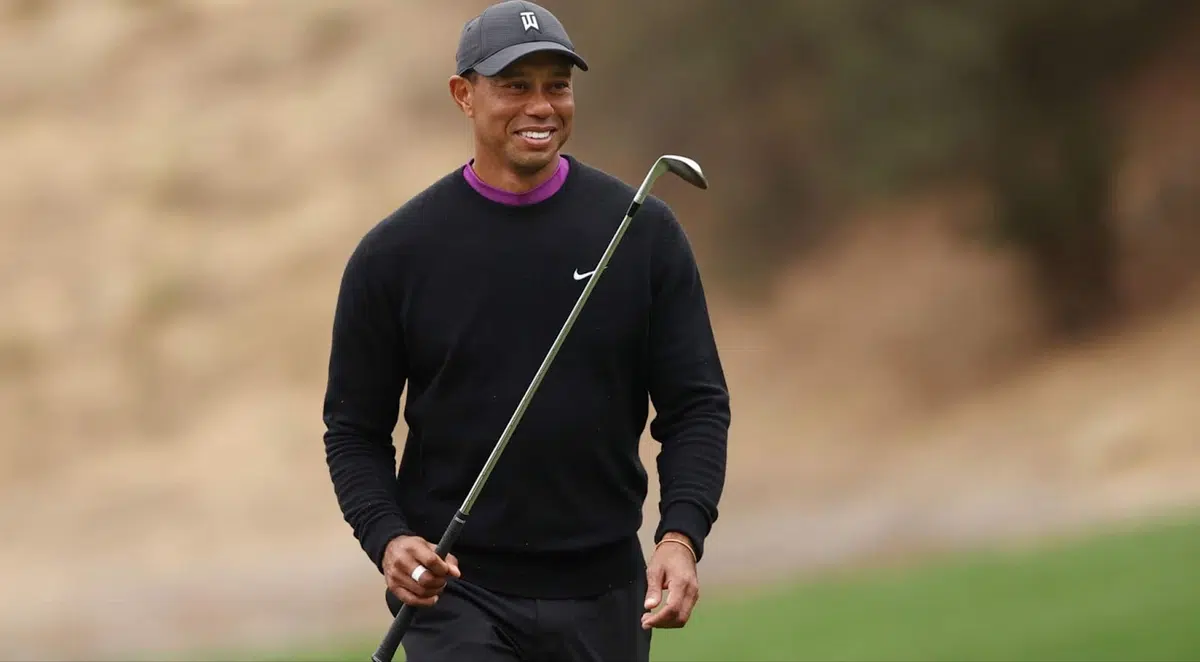 Theflowerbar (Wikimedia) under CC BY-SA 4.0
Tiger Woods is the richest golfer of all time, but just how much is Tiger Woods worth in 2023? We estimate his net worth in 2023 to be $1.1 billion, making him the 2444th highest earner globally.
Typically, Tiger Woods takes home around $50-$60 million yearly in terms of winnings. So far in 2023, he is not off to the best of starts, having accumulated just $40,000.
Of his total earnings, the vast majority comes from endorsements. In 2019, it was estimated that just 7.6% of his total income came from on-course earnings, with the rest coming from endorsements. But how much money has Tiger Woods made in total?
That figure is £600 million greater than his estimated $1.1 billion net worth. And with this figure ever-rising with his on-course winnings falling, his endorsements to prize money ratio is likely even more extreme now than it was four years ago.
Tiger Woods Tournament Earnings
View this post on Instagram
Tiger Woods is the highest-paid golfer on the PGA Tour, and it's not even close. The second highest earner is Phil Mickelson, with $94,955,060. Tiger Woods, on the other hand, has earned a total of $120,895,206.
The disparity is notably greater if we look down the list to the third and fourth positions. Both Vijay Singh and Rory McIlyroy have earned just over $70,000,000. This means that Woods has earned over 70% more prize money on the Tour than Singh and McIlroy throughout his career.
Tiger Woods' Endorsement Earnings
View this post on Instagram
Tiger Woods has numerous sponsors, and they typically earn him over $50 million yearly. Tiger Wood's endorsements include Nike, Rolex, Hero Motorcorp, TaylorMade, and 2k Sports.
Nike is one of the biggest of Tiger Woods' sponsors. First partnering in 1996, he agreed to a $40 million deal spanning over five years. This deal was extended by another five years for $100 million. Following the end of said contract, he earned around $20 million to $40 million each year for eight years, after which his contract fees with Nike were kept private.
Another one of his huge deals was with Gatorade. The drinks company created a unique drink they called "Gatorade Tiger." This earned Woods a staggering $100 million over 5 years for what was essentially no work. However, Woods would lose his Gatorade sponsorship, among many others, when his affair became public.
American razor brand Gillette also sent sizeable sums of money Woods' way for his endorsement in their "Gillette Champions" PR campaign. He penciled a deal alongside other top sports athletes like Roger Federer and Thierry Henry. He reportedly earned $5 million yearly for three years while the campaign was in place.
Other Income Sources
When his affair became public in 2009, Tiger Woods put his professional career on hold to try and save his marriage. The publicity also caused him to lose a significant number of sponsorships. To offset these losses, Woods set up a golf course design business which has been very successful.
The first U.S. course he designed is called the Bluejack National, and he has earned $10 million thus far on this venture. Another sizeable payout came from the PGA's Tour Player Impact Program. He earned the top figure of $15 million despite playing just nine rounds of golf on tour in 2022. That being said, it was more so his star power and performance in years gone by which secured him the top payout.
Another income source that we shouldn't overlook are Tiger Wood's appearance fees. While we don't know how often or exactly he charges tournaments to appear, many sources speculate that he has charged up to $1.5 million in the past. Now that's a crazy amount of money just to show up!
Tiger Woods' Career Earnings Year by Year
| | | | |
| --- | --- | --- | --- |
| Year | On-Course | Off-Course | Total |
| 1996 | $894,060 | $12,250,000 | $13,144,060 |
| 1997 | $2,380,831 | $19,500,000 | $21,880,831 |
| 1998 | $2,927,946 | $27,000,000 | $29,927,946 |
| 1999 | $7,681,625 | $27,000,000 | $34,681,625 |
| 2000 | $11,034,530 | $38,000,000 | $49,034,530 |
| 2001 | $7,771,562 | $56,000,000 | $63,771,562 |
| 2002 | $8,292188 | $67,000,000 | $75,292,188 |
| 2003 | $6,700,288 | $77,000,000 | $83,700,288 |
| 2004 | $6,370,407 | $83,000,000 | $89,370,407 |
| 2005 | $11,992,739 | $75,000,000 | $86,992,739 |
| 2006 | $11,941,827 | $87,000,000 | $98,941,827 |
| 2007 | $22,902,706 | $99,800,000 | $122,702,706 |
| 2008 | $7,737,626 | $109,600,000 | $117,337,626 |
| 2009 | $21,015,196 | $100,900,000 | $121,915,196 |
| 2010 | $2,294,116 | $72,000,000 | $74,294,116 |
| 2011 | $2,067,059 | $62,000,000 | $64,067,059 |
| 2012 | $9,124,386 | $77,000,000 | $86,124,386 |
| 2013 | $12,091,508 | $71,000,000 | $83,091,508 |
| 2014 | $610,775 | $54,500,000 | $55,110,775 |
| 2015 | $551,098 | $48,000,000 | $48,551,098 |
Data: Golf Digest
Tiger Woods' Net Worth Milestones
Tiger Woods earned his first $10,000 back in 1995. Below you can see how quickly he's earned his money and the milestones he's had along the way.
1995: $10,000
1997: $7 million
1999: $40 million
2001: $50 million
2003: $100 million
2005: $250 million
2009: $500 million
2010: $400 million (reduced due to divorce settlement)
2016: $700 million
2019: $800 million
2023: $1.1 billion
Tiger Woods' Personal Life
View this post on Instagram
Married in 2003, Woods has two children with Elin Nordegren. However, the pair ended their relationship and divorced in 2010 due to the revelation of infidelity on Woods' part.
This made headline news and caused the golfer to lose many of his lucrative sponsorship deals. He would go on to publicly apologize on numerous occasions, and he completed a therapy course in December 2010.
FAQ
How Long Did It Take Tiger to Earn $100 Million
Due to Tiger Woods' success as an amateur, it took him just 264 days to earn $100 million. He won the Masters after 228 days claiming $486,000. Shortly thereafter, Nike sponsored him for $40 million in a 5-year arrangement.
Just over a month later, he won the Bryson Nelson Classic. This helped him secure a $30 million sponsorship with American Express. At this point, with all of his prize money and endorsements, he had earned around $100 million.
When Did Tiger Woods Start Playing Golf?
Tiger Wood first began playing golf at the age of 2. His dad introduced him to the sport as he was a keen amateur player.
How Rich Is Tiger Woods?
Tiger Woods is incredibly rich, but what is Tiger Woods' net worth exactly?
Forbes places Tiger Woods' net worth at $1.1 billion. That makes him only one of three sports athletes who are worth more than a billion dollars.
How Much Is Tiger Woods' Caddy Worth?
Steve Williams served as Tiger Woods' caddy from 1999-2011. During this time, he earned around $12 million. Joe LaClava became his long-term replacement and has served as his caddie ever since. However, his net worth is much lower at $2 million. This is because Williams served as Woods' caddie during a much more successful period in his career.
Is Tiger Woods a Billionaire?
As per Forbes, Tiger Woods is a billionaire. He is estimated to have a net worth of $1.1 billion.
How Much Does Rolex Pay Tiger Woods?
Rolex first sponsored Tiger Woods in 1997 for $7 million as part of a 5-year deal. They also were one of the first companies to re-sponsor Woods after his affair hit the headlines.
Conclusion
So, when we're chatting about the big bucks in golf, Tiger Woods is basically the king. With a net worth of around $1.1 billion, he's not just a bit ahead; he's miles ahead! T
o give you some perspective, he's got about $700 million more than Phil Mickelson. And on the PGA Tour career earnings list? Tiger's at the top, with Mickelson trying to catch up, but still $25 million short. So, in a nutshell, when it comes to golf and money, Tiger Woods is the big name to remember!
Tiger Woods also is the most recognizable face in golf, which is why he's signed massive deals with Nike and Gatorade.