Meta description: Having recently signed up for the LIV Tour, Mickelson is raking in the cash. In this article, we take a deep dive into Phil Mickelson's net worth.
As the second-highest earner on the PGA Tour, Phil Mickelson has done very well for himself as a professional golfer. Yet while this $95 million sum is a crazy amount of money, it is dwarfed by income he has received from other sources.
Join us as we cover Phil Mickelson's net worth and his exceptional career from childhood to adulthood.
| | |
| --- | --- |
| Place of Birth | San Diego, California |
| Nationality | American |
| Age | 52 |
| Highest Ranking | 2 |
| Salary | $45.3 million |
| Net Worth | $300-$400 million |
Early Career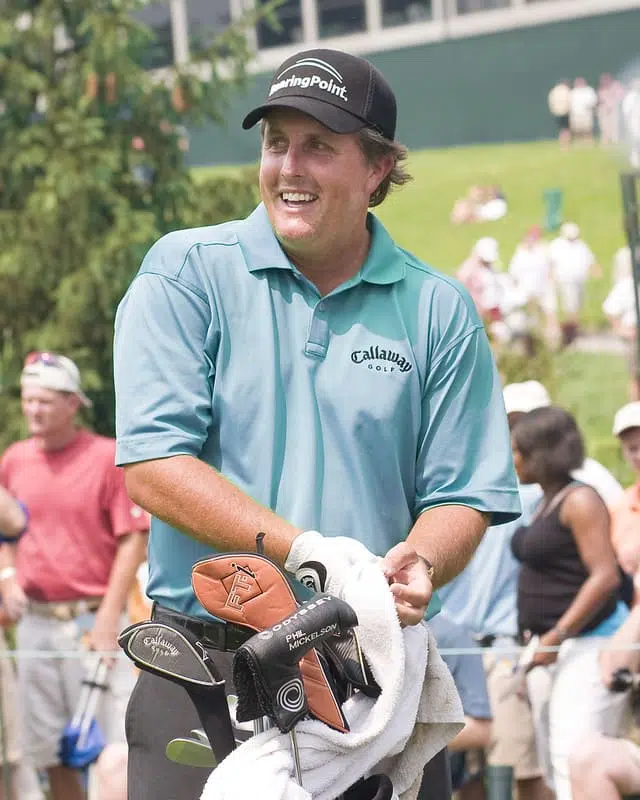 Ed Balaun (Flickr) under CC BY-ND 2.0
Phil Mickelson was one of the earliest golf starters, making his first swings at the young age of 18 months. Due to playing from such an early age, he mirrored his father's actions. This caused him to emulate his father's right-handed play even though Mickelson was left-handed. This, in time, would earn him the nickname "Lefty".
He would go on to win several tournaments in the San Diego area and as a result, received a scholarship to attend Arizona State University. He claimed three Haskins awards and three NCAA Individual Championships during his time there. The latter tying the record with Ben Crenshaw. By the time he left university, he had emerged victorious in 16 tournaments.
His most remarkable win came in 1991 at the age of only 20. He won the Northern Telecom Open, his first PGA Tour win. And in doing so, became only the sixth player to win a tour event as an amateur. Unfortunately, he had to forfeit the $180,000 prize money due to his amateur status.
Career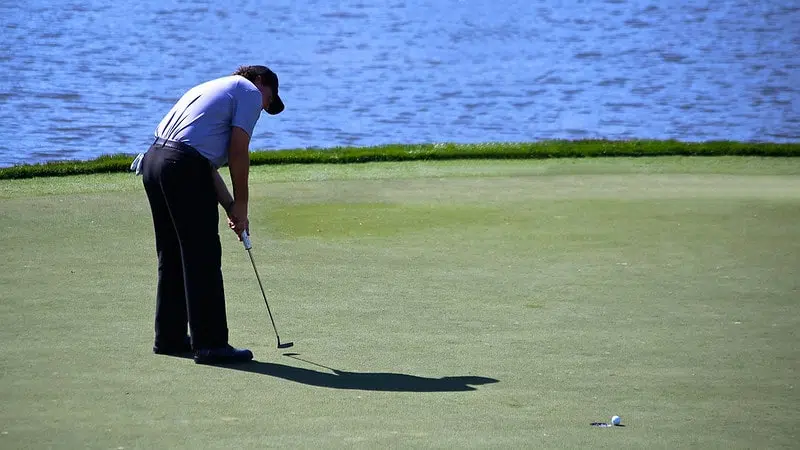 Corn Farmer (Flickr) under CC BY-ND 2.0
1992-2003
After graduating from Arizona State University in 1992, Mickelson wasted no time and immediately went pro. His first win came the following year when he won at the Torrey Pines, and he would keep winning at least once per year, claiming his first top-10 ranking at 7th in 1996. After winning the event he said, "This time, I'm going to accept the check." Collecting a respectable $180,000.
In the year 2000, his infamous rivalry with Tiger Woods began. This emerged when he blocked Woods from obtaining a sixth consecutive win on the PGA Tour, instead claiming the Buick Invitational title for himself.
Despite success with numerous tour wins and decent showings at the majors, some people felt that Mickelson failed to live up to his hype. Leading many to frame him as the "Best player never to win a major".
2004-2009    
In 2004 he dispelled claims about his underperformance in the majors by winning the Masters. He did so by beating Ernie Else by just a single point. After waiting such a long time for his first major win, it shockingly took him just a year to claim his second. This time it was the PGA Championship. But he wasn't done there. The next year in 2006, he claimed his second Masters title.
Yet, this momentum would falter at the 2006 U.S. Open, where he attempted to win three back-to-back majors. After obtaining a strong lead, he made a series of blunders on the final hole, costing him the title. A tie for second place would have to do. Speaking on the event he said, "I just can't believe I did that. I'm such an idiot".
One of the rockiest years for Mickelson was 2009. He started defending his Northern Trust Open title well and became the player with the second-highest wins on the tour. However, his wife developed breast cancer which caused him to take a leave of absence.
Shortly thereafter, he announced his return after positive news from doctors. But after placing second at the U.S. Open, his mother also developed breast cancer, causing him to step away from the sport once more. Fortunately, he returned to action in September and came back with a boom, beating Tiger Woods to secure the Tour Championship.
2010-2021
Mickelson started 2010 strong with his third Masters win but underperformed throughout much of the rest of the year. During this time he announced that he was suffering from psoriatic arthritis which may be one of the reasons he wasn't delivering.
By 2013, Mickelson secured his fifth major title when he won the British Open. But in the following two years, his form dipped, and as such, he hired a new swing coach to help resurge his career. It wouldn't be until 2018 that he would end his losing streak, claiming the WGC-Mexico Championship.
Three years later in 2021, Mickelson claimed his sixth major at the PGA Championship. This was particularly impressive as he did so at the age of 50, making him the oldest player ever to win a major.
2022
This marked a key year in Mickelson's career and many other players, as 2022 was the year that LIV Golf began handing out millions of dollars for players to appear on their tour. Mickelson, alongside many other high-profile names, decided to take them up on this offer.
This caused conflict with the PGA Tour which believed that such players were breaching their contracts. As a result, Mickelson and 16 other players were banned from participating in the PGA Tour going forward.
What Is Phil Mickelson's Net Worth?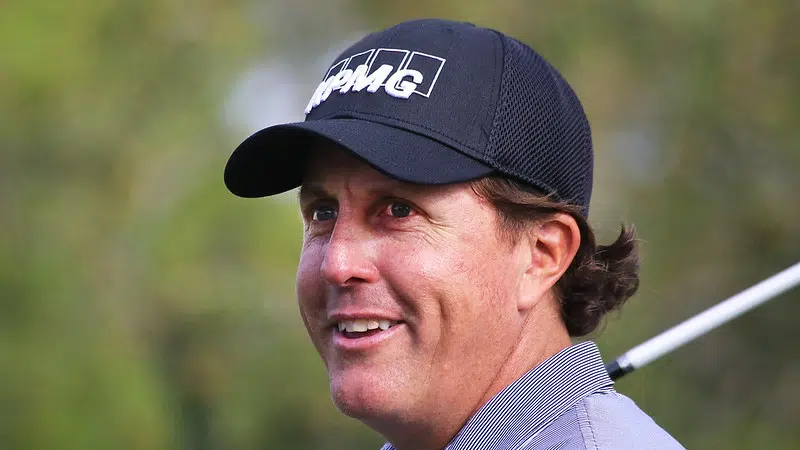 Corn Farmer under CC BY-ND 2.0
There is a bit of variation when it comes to estimates for Phil Mickelson's net worth in 2023. We estimate his net worth varies between $300 million to $400 million.
His lifetime earnings, on the other hand, are less contested. After signing a rumored $200 million deal with LIV Golf, Forbes speculates that Mickelson has crossed $1 billion in lifetime earnings, and nobody seems to disagree.
| | |
| --- | --- |
| PGA Tour | $94,955,060 |
| Endorsements | ~$30 million – $40 million annually |
| Tiger Woods Exhibition Match | $9 million |
| Player Partner Program | $6 million |
| LIV Golf Deal | ~$20 million |
Tournament Earnings
Most of Mickelson's tournament earnings come from his success on the PGA Tour. Throughout his career, he has amassed almost $95 million, placing him the second all-time earner to Tiger Woods.
However, unlike other golfers, he has no earnings from DP World Tour. But we should note, earnings from this tour are usually considerably less.
Endorsement Earnings
Like most big-time players, most of golfer Phil Mickelson's net worth comes from his endorsement deals. Forbes placed him as the 31st highest-earning sports athlete for 2022. In that year he earned $42 million from endorsements and just $3.3 million from on-the-field earnings. That's almost a 93% weighting in favor of endorsements!
Among his top endorsement deals were Callaway, KPMG, Workday, Barclays, and Exxon Mobil. His deal with Barclays was a longstanding one, spanning over 15 years.
However, Mickelson's decision to join the Saudi-backed LIV Golf league shook up his relationship with several of his sponsors. He promptly lost the likes of KPMG, Workday, and Amstel Light, and his deal with Callaway was postponed.
This was, of course, a massive loss, but no doubt, the rumored $200 million figure for the LIV Golf deal no doubt made back the loss and then some.
Other Income Sources
In the past, many have speculated that Mickelson has received hefty sums of money to appear at various competitions. One such source claimed he was paid $2 million to appear at the Abu Dhabi HSBC Golf Championship in 2014. Another claimed that he was given $1 million to appear at a PGA event.
However, there is one massive payday with no need for speculation. Mickelson competed against Tiger Woods in a hotly anticipated showdown winner-takes-all style exhibition match in 2018. Mickelson came out on top and netted a tidy $9 million.
Mickelson also received a respectable $6 million from the Player Partner Program. A PGA Tour initiative to reward players who helped further the sport of golf. This was largely in response to the financial pressure put on by the Saudi-backed Golf League.
Personal Life
Phil Mickelson is married to Amy Mickelson. They tied the knot in 1996 and have three children together.
Despite being so wealthy. Mickelson has suffered from gambling addiction throughout much of his career. It got to such a point where he enrolled in hundreds of hours of therapy.
He was also caught up in an insider trading fiasco in 2014 involving Dean Foods and Clorox. While he was not charged for his Clorox trades, he was not so lucky when it came to Dean Foods. The SEC ordered him to return $931,000 in profit plus $105,000 in interest. During that time, it also came to light that he formerly owed gambling money to Bill Walters — the man who tipped him off. The sum he owed was around $2 million.
FAQ
How Much Money Did Mickelson Get From LIV?
Phil Mickelson reportedly penciled a deal with LIV worth $2 million. He also has the opportunity to earn more via prize money. However, large sums his viewpoint, are yet to materialize as he has not secured any wins on the LIV Tour. So we may well see what Phil Mickelson is worth jumping greatly considering the multi-millions available in prize money.
Why Is Phil Mickelson So Rich?
Phil Mickelson is one of the wealthiest golfers because of his exceptional talent. After going pro he quickly became one of the best and gained a stellar reputation. This secured him lucrative endorsements which ended up comfortably out-earning his prize money from competitions.
So how much is Phil Mickelson worth?
Celebrity Net Worth estimates his net wealth is $300 million.
How Much Does Phil Mickelson Pay His Caddie?
The salary of Phil Mickelson is not public information. However, going based on comments from Michael Collins, a former PGA Tour caddie, we can estimate his earnings.
According to him, a caddie's payout is relative to the golfer's performance. A win gives 10%, a top 10 gives 7%, and anything lower gives 5%.
Therefore, based on Mickelson's lifetime earnings on the tour of $94,9955,060, we know that his caddie must have earned more than $4,747,753, as this is only 5%. Not bad for a caddie!
What Was Phil Mickelson's Net Worth Before LIV?
Phil Mickelson was estimated to be worth $800 million in total income before his LIV Golf deal. Rumored to be worth $20 million, this would make him a billionaire.
The same source estimates a net worth of $300 million post the LIV deal. Therefore beforehand, he was probably worth a little over $280 million.
How Much Money Did Phil Mickelson Make at the Masters?
Phil Mickelson has won three Masters tournaments in 2004, 2006, and 2010. He received $1.17 million for his first win, $1.26 million for his second, and $1.35 million for his third.
Does Mickelson Have a Private Jet?
Mickelson owns a $40 million Gulfstream V. The private jet has a range of 7500 miles and houses 18 people. Interestingly, he chooses not to pilot the jet even though he has a license. Instead, he prefers to fly smaller aircraft.
How Much Money Did Phil Mickelson Make as of Today?
The latest figures from Forbes suggest Phil Mickelson is either a billionaire or well on his way there. It depends on how much his $200 million LIV Golf deal was paid upfront and how much money he accumulated from other sources.
Closing Thoughts
With an estimated $300 million-400 million to his name, Phil Mickelson's net worth is among the highest compared with other top golfers. He is the second-highest earner on the PGA Tour after Tiger Woods, and thanks to his recent LIV Golf deal, his lifetime earnings are around $1 billion.