Jordan Spieth is a great putter, averaging 27.45 putts per round. Most of his success on the green comes from his phenomenal techniques and skills, but we can attribute some of it to his exceptional putter.
So, what is Jordan Spieth's putter? Jordan Spieth's putter is a Scotty Cameron Circle T 009 tour putter with a shaft length of 35 inches. The putter's long and stable shaft provides sturdy swings, while its ideal head weight allows you to square up and hit the ball straight. It features a 3/4 toe hang and full offset, enhancing accuracy and precision.
Even after hitting a perfect drive down the fairway or crisp iron shots on the green, you can still have a disappointing bogey if you can't putt from short distances. And you can't always blame your putting skills because your equipment does matter. A good putter increases feel, accuracy, balance, and precision, while a bad putter does the opposite.
Jordan Spieth relies religiously on his beloved Scotty Cameron Circle T 009 and hasn't changed his putter in over ten years. This exceptional putter has helped him bag several championships and set new records. So what makes his putter so special? What features does it have to make a phenomenal player like Spieth hooked to it?
Keep reading to find out! I've covered all the details of Jordan Spieth's putter and its features below.
Overview of Jordan Spieth
View this post on Instagram
Jordan Spieth is an American professional golfer who has won 13 professional tournaments in his career so far.
He has won three majors and the 2015 FedEx Open Cup. Alongside Jack Nicklaus, he's the only player to win three majors before the age of 24!
Spieth's golfing skills are exemplary, but his tactical thinking takes it one step further. He is one of the best strategists in golf and can turn what seems to be a lost cause into a victory — remember the 2017 Open Championships?
Jordan Spieth has won almost everything from the 'PGA Player of the Year' to the 'Arnold Palmer Award.'
His current net worth is $120 million, making him among the wealthiest golf players globally.
Spieth is particularly known for his putting skills, and his elite putter is thought to play a small part in it! So, what putter does Jordan Spieth use, and what's in his bag? Find out below!
Jordan Spieth's Putter Review — The Scotty Cameron Circle T 009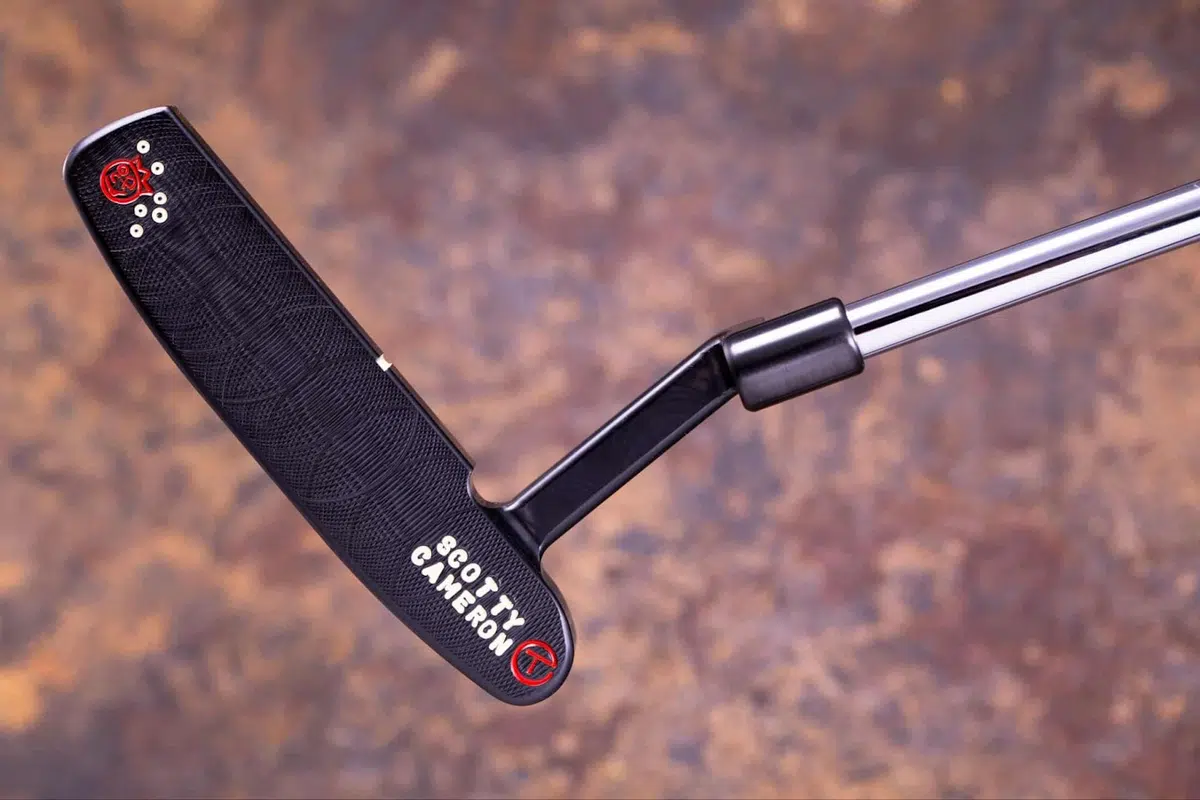 A small part of Spieth's remarkable performance on the green comes from his putter, the Scotty Cameron Circle T 009. He has been using it religiously since his days as a junior golfer in 2009!
The Scotty Cameron Circle T 009 is one of the most exclusive and best putters of all time. Its remarkable build and features have hooked Spieth to it, and we haven't heard any rumors about a new putter any time soon.
Apart from its exceptional features, Spieth also has a personal connection to his putter. His favorite golfers, Adam Scott and Geoff Ogilvy used the Scotty Cameron 009.
This motivated him to try out one of the blade putters in high school, and ever since then, he couldn't put it down. It has remained with him throughout his career and helped him win 13 PGA Tour events!
But what makes this putter so unique? I wish I could put it to the test myself, but it's just too expensive to buy a tour putter. Even old Scotty Cameron putters are pricey. You can find Spieth's putter for sale for around $18,000 on eBay.
Continue reading to learn more about Jordan Spieth's Scotty Cameron putter specs.
Pros
Made of high-quality German stainless steel, it's durable and long-lasting.
Its full offset and 3/4 toe hang provide maximum precision and stability.
The putter's textured clubface lets you achieve your desired impact on the ball, making it easier to sink in putts.
Its long and stiff shaft provides a sturdier swing.
It is an elegant and traditional blade-style putter that offers maximum feedback on each stroke.
Cons
It's only made for professional tours, making it extremely rare. The only way to get one now is to buy second-hand from online marketplaces.
Because of its rarity, this putter comes at a hefty price tag.
Features of the Scotty Cameron Circle T 009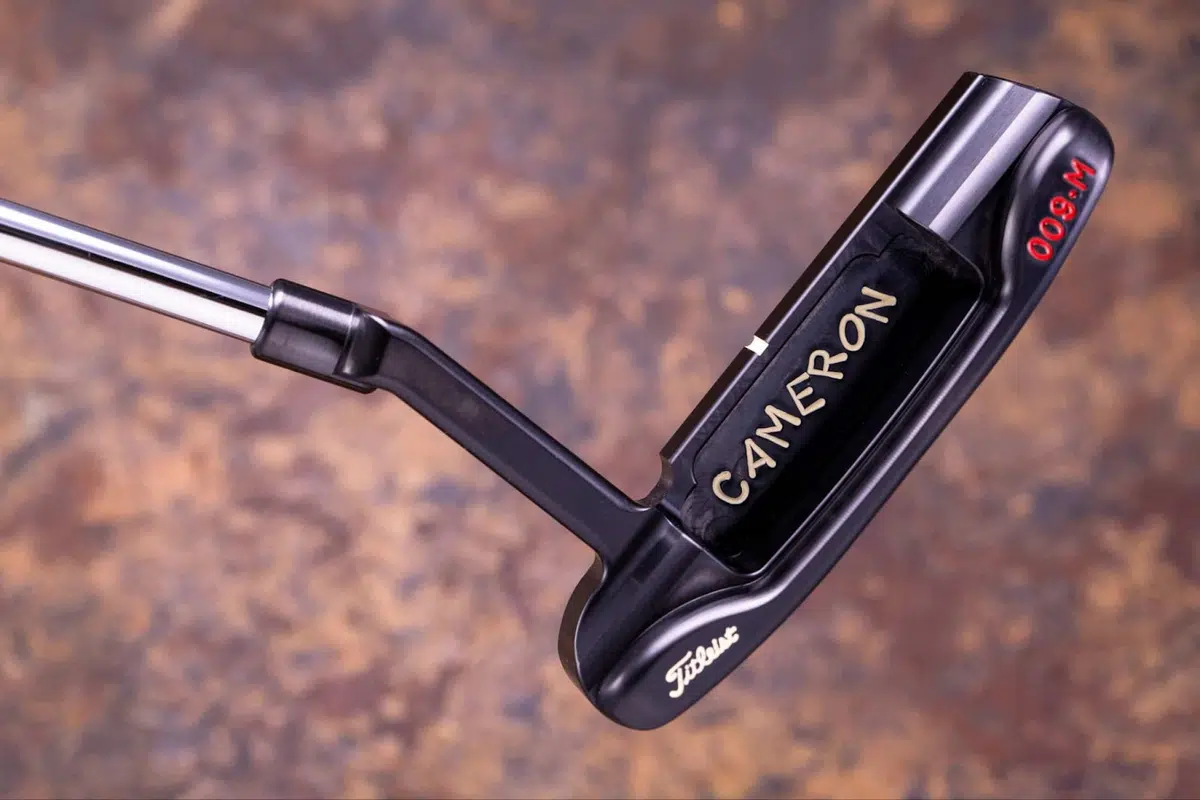 The Scotty Cameron Circle T 009 is unlike other old Scotty Cameron putters.
It offers several unique features that enhance the golfing experience of tour players and provides them with a bit of extra support for an additional edge on the course.
I've discussed all of Jordan Spieth's putter specs below.
1. Material
Jordan Spieth's putter is made from German stainless steel. This material provides a softer feel on impact and makes the putter more comfortable to use.
2. Design
This putter features a modern design with the Scotty Cameron stamp embedded on it. The logo consists of a T placed inside an O.
The T symbolizes 'Tour' as this putter was initially designed for professional golfers only.
Many tour players like McIlroy, Woods, and Smith have customized their Scotty Cameron putters. You'll mostly find their names on the back of the putter.
3. Head Weight
The Scotty Cameron Circle T 009 features an ideal head weight of 350 grams. Most high-end putters also have the same head weight.
This weight makes it easier for golfers to square up their putter face and align it to the starting line, increasing the chances of sinking a putt.
Putter heads with lower weights work on faster greens, while heavier ones are better for slower greens.
4. Shaft Length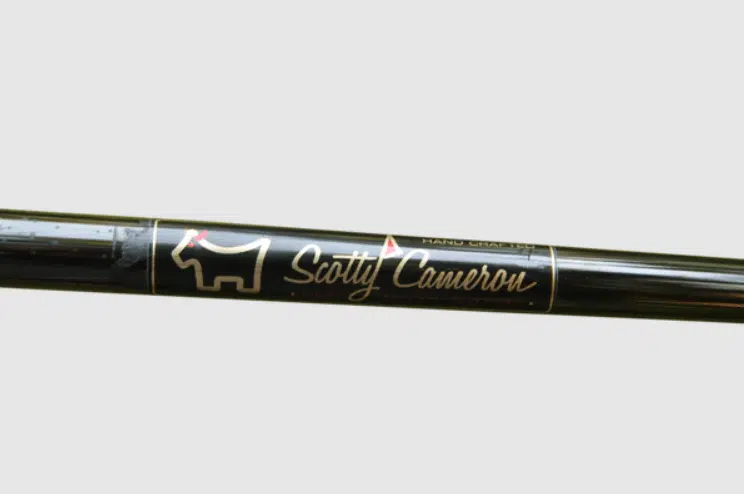 Jordan Spieth's putter length is 35 inches, perfect for his size and build. You can find multiple shaft lengths for putters which helps ensure you get the right fit for your stature
5. Finishing
The Cameron Scotty Circle T features a triple black finish. Its sleek and smooth appearance lets you grip it comfortably, enhancing your golfing experience.
This finish helps with the longevity of the putter, allowing players like Spieth to use it for decades without experiencing any discomfort.
6. Grip
The Scotty Cameron Circle T 009 features a greyish-black grip with textured ridges. It offers a lot of control, making delivering impactful swings easier.
However, you can replace its grip with another if it feels wrong. Spieth prefers to use the SuperStroke Traxion Flatso 1.0 grip for extra support.
7. 3/4 Toe Hang
The Scotty Cameron 009 putter comes with a 3/4 toe hang, meaning that its toe points at a 75-degree angle. It allows you to align the clubface accurately with the ball, maximizing precision and accuracy.
8. Full Offset
Offset defines the relationship between the head and shaft of the putter. It plays a massive role in the aim of the putt as it alters the angle of the face during impact.
A full offset means that the putter's shaft's width resides slightly in front of its face. Such an offset enhances accuracy and keeps the putter face more square at impact.
9. Plumbers Neck Style
The putter features a slight horizontal bend just below the meeting point of the shaft and the hosel, making it a plumber neck putter.
It is easier to strike the ball with a square face and send it on a straight path on the intended line.
A Peak Into Behind the Scenes
There's no denying that the Scotty Cameron Circle T 009 is not only an exceptional putter but also a work of art.
Cameron is passionate about creating golf clubs, and you can feel this when you hear him speak about his work. We recommend that you check out the above video for a glimpse into his creative mind.
Jordan Spieth's Bag — What's in It?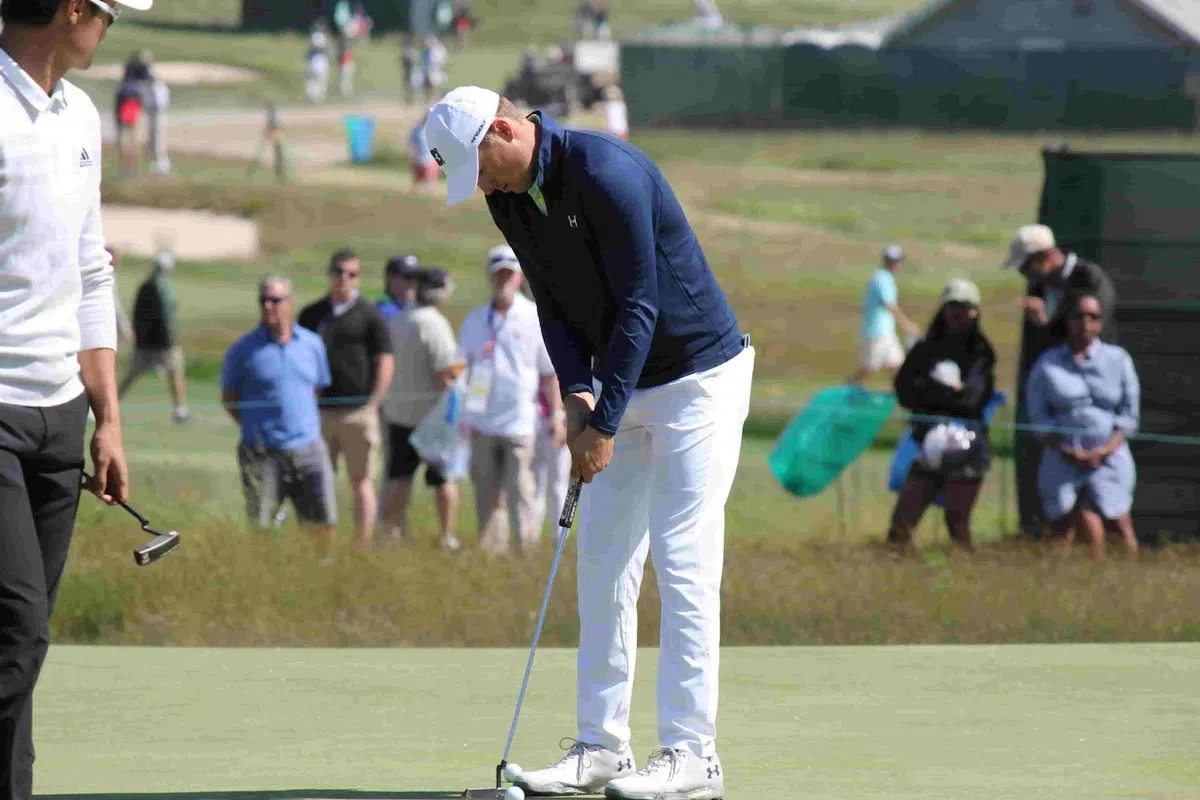 While Jordan Spieth has other elite equipment in his bag, his putter costs the most.
If you're interested in learning more about his gear, give our Jordan Spieth's WITB post a read. Alternatively, if you're short of time, you can find each product listed below for your convenience.
Frequently Asked Questions
What Kind of Putter Does Jordan Spieth Use?
Jordan Spieth uses a Scotty Cameron Circle T 009 tour putter. It's a blade-style putter made from German stainless steel. It sports a ¾ toe hang and a full offset for maximum precision and stability. Unfortunately, it has now been discontinued and fetches a hefty price on the second-hand market.
What Is the 009 Putter?
The Circle T 009 is part of Scotty Cameron's Newport putter line, exclusively designed for professional and tour use. They named it 009 after the San Diego zip code. The Newport line became famous after Tiger Woods used it to win several major championships — it's now one of the most expensive putters in the world.
Where Can I Buy the Scotty Cameron 009?
Scotty Cameron no longer produces the Scotty Cameron 009. So, the only way to get it is to purchase it as an antique from an online seller. However, you can buy the Newport line of Scotty Cameron putters, which is as close as you can get to the Scotty Cameron Circle 009.
What Is the Weight of the Scotty Cameron 009?
The Scotty Cameron 009 weighs 350 grams, making it light enough to hold comfortably. This weight also increases the chances of sinking the putt by making it easier to square up your putter face and align it to the starting line.
Final Thoughts
Jordan Spieth's putter has been in his bag for over a decade now. His Scotty Cameron 009 Circle T tour putter is made exclusively for tour players; its performance and price tag reflect this. The 009 putters is made to deliver ultimate performance with a precision-milled face providing exceptional feedback on each stroke.
If you want something similar, I recommend you check out the Newport Putters by Scotty Cameron. They're much like the 009 putters and far more affordable while being brand new.

As a skilled golfer and wordsmith, Abdulmoiz brings a fresh and engaging voice to the golfing world. Whether he's on the course or at the keyboard, he strives to improve and inspires others to do the same.