Scotty Cameron putters are much sought after and used by many professional golfers. These putters are stylish, well-designed, built to exact craftsmanship, and rather expensive. 
But Scotty Cameron putters are also pretty pricey. So can you pick up a used Scotty Cameron putter to improve your game?
If you buy a used Scotty Cameron putter, you can see a 25 to 45% price drop with 2 to 4-year-old putters. You'll save more than 50% for putters older than 5 years. 
But a used putter may not be right for your game. In this article, you'll learn the best places to buy used Scotty Cameron putters, how much they cost, and whether it's worth it. 
New vs Preowned Scotty Cameron Putters: Is It Worth It?
Golfers willing to buy used putters will see incredible savings, but is it worth it? Let's dive in to see. 
You can expect to save 25 to 45% for a used Scotty Cameron putter only 2 to 4 years old. You can save 50% or more with a putter older than 5 years. 
Due to their quality, design, and performance, Scotty Cameron putters are popular among golfers, even many pro golfers. When considering purchasing a Scotty Cameron putter, you may need to decide whether to buy a new or used one. 
Here are some factors to consider: 
Ultimately, deciding whether to buy a new or used Scotty Cameron putter depends on personal preference and budget. If you want a pristine, untested putter and are willing to pay a premium, go for a new one. If you're willing to sacrifice some appearance and want to save some money, a used one may be the way to go.
What are the best Scotty Cameron putters you could pick up used? 
What Are The Best Scotty Cameron Putters To Buy Used?
Here are some of Scotty Cameron's Best Putters:
Read More: The Best Putters Of All Time
Where to Find the Best Used Scotty Cameron Putters
We extensively researched the best places to buy preowned Scotty Cameron putters.
One of the most popular sites, and our top pick, is Global Golf for Scotty Cameron used putters. They tick all the right boxes regarding ease of use, pricing, selection, and service.
You can find a list of great Scotty Camerons for sale and their details here: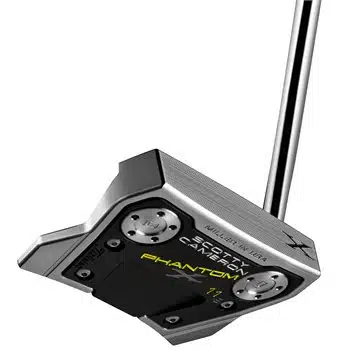 A great choice would be the Titleist Scotty Cameron Phantom X 12. This club makes the mallet-style putter much easier to use than other putters with the same style. You enjoy extra stability over the blade putters; the 11.5 aligns easily. This will give you better movement efficiency when you swing to keep the club on the correct path. 
The Phantom X 11.5 does feature a bit of a toe hang, which not everyone will love. However, it can help you to open and close the putter face with more on a stroke. When you take a swing, the putter feels solid and muted but forgiving. At the same time, it doesn't feel overly soft. 
This putter hands you good distance control to take consistent long-range or short-range putts. The customizable weights in the heel and toe only contribute to the mastery of distance control. Most who tried the 11.5 said that they loved it. At least on some level, you can't go wrong with it. Everyone will have a different golf swing, but the Phantom X 11.5 is not mistaken for its quality.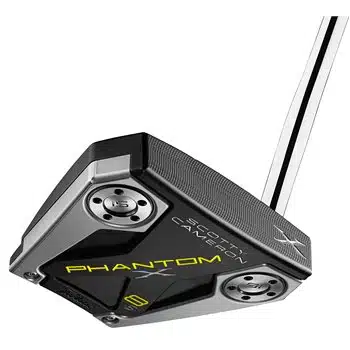 Don't expect the Phantom X 8.5 to feel like the Phantom X 11.5. In fact, thanks to a newly compacted club head, the X 8.5 offers enhanced toe flow due to it being angled back toward the heel. 
Pulling this one out of the box will reveal one obvious fact—it looks stunning! 
This curvy mid-mallet putter uses an integrated 6061 aluminum soleplate with stainless steel weights to give you the perfect weight distribution. Many customers said the weight distribution was better than most other putters they had used. 
If you had to compare it to the Newport 2.5, consider it an upgrade. Better alignment, improved spin rate, and better ability to judge speed contributed to an outstanding putter from Scotty Cameron. Few other golf companies pay as much attention to detail, and the putter oozes quality craftsmanship for which the brand has earned a reputation.
This putter helps you with an almost intuitive feel of the ball to improve your golf game. It also isn't hollow like many of the soft-face putters around. 
Which Conditions Are Best To Purchase From Global Golf?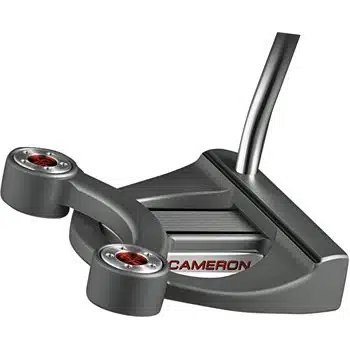 Condition Rating
Shipping Guidelines
Shipping Options
Shipping Rates
International Shipping
Return Policies
Mint condition clubs have not been used previously but may have minimal shop wear markings.  Excellent condition clubs have had limited use. 
Very good condition clubs have been played with and cared for appropriately and may show typical cosmetic wear for the age of the club. No impact on performance is expected. Value condition clubs have been played frequently, are in 100% playable condition, have cosmetic blemishes, and have no impact on performance.
Value conditions will give you the most savings, are still playable, and are your best option if you're on a budget. 
Poor conditions show significant wear to the point of not being playable and will not be sold by Global Golf.
Orders will only be processed on weekdays, excluding holidays, while both residential and commercial deliveries will be made from Monday to Friday. Some residential deliveries can be done on Saturdays.
Domestic
Deliveries to the United States, excluding Alaska, Hawaii, and the territory of Puerto Rico, can be done under the Economy Delivery option. The average delivery time is 5 business days, but remote areas may take slightly longer. Standard/Ground deliveries within the continental U.S. Delivery times vary by location; Average delivery times are 4 business days after shipment.
Deliveries can be expedited using the self-explanatory options, Next-day, 2-day, or 3 days.
In most areas, shipments to non-continental states and territories, Alaska, Hawaii, and Puerto Rico, are usually delivered within 3 to 7 business days. No ground service is available due to remote location limitations
Military APO/FPO Shipments must be shipped via the U.S. Postal Service Priority Mail, and delivery will occur between 2-4 weeks from dispatch.
International Shipping
International Shipments are made to more than 125 countries, including Canada. Orders will be dispatched within one business day of payment verification, provided all equipment is in stock.
Shipments to Canada are shipped via standard international economy service. Delivery to most locations within Canada is typically within 2 to 3 business days after being dispatched.
Deliveries to most major international metropolitan areas can be expected within 2-5 business days after dispatch.
You are responsible for paying all duties, taxes and other import fees levied on shipments at the delivery time. These costs are non-refundable.
Domestic
Flat rates are charged for all shipments to customers within the continental U.S., irrespective of the number of items purchased.
Economy  – $4.99 

Standard/Ground – $9.99 

Military APO/FPO – $19.99 

3 Day – $14.99* 

2 Day – $19.99* 

Next Day – $29.99* 

A flat rate of $9.99 is charged for all customer deliveries to Alaska, Hawaii, and Puerto Rico.
International deliveries, including Canada, are calculated based on the weight of the items ordered as well as the zone of the shipping destination. Options available are International Economy delivery times are between 5 to 10 business days after dispatch, International Standard are generally delivered between 4 and 9 business days after dispatch, International Priority deliveries made between 3 and 7 days from dispatch, and International Express being the quickest delivery option; deliveries made between 2 and 5 days after dispatch.
Customs duties and taxes are not included in the quoted rates.
Items that have not been customized, altered, or personalized can be returned without reason within 60 days of receipt of the product. All accessories must be included in the return. The full purchase price will be refunded.
The product must be returned in the same condition as it was sold. This does not apply to items purchased under the Playability Guarantee. Your return may be refused if the clubs are not in their original condition.
Products that are not in the original condition will be charged a 15% restocking fee irrespective of whether the club has been used or not.
Refunds will be issued within 5 to 7 days of receipt and inspection of the items. All refunds will be returned to the original form of payment. 30-Day Playability items returned will be refunded via a GlobalGolf e-gift card.
No part orders will be dispatched. Out-of-stock items may only be dispatched 4 to 6 weeks after receiving payment.
The return shipping and/or pickup costs will be deducted from your refund.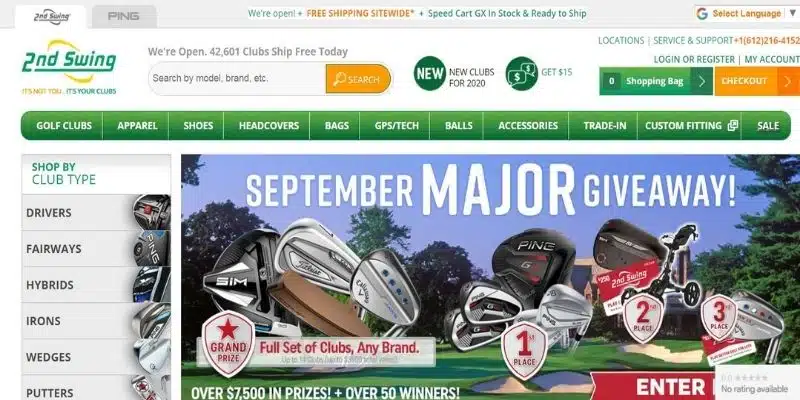 Another place to find used Scotty Cameron is 2nd Swing. 
The 2nd Swing Golf website is an online retailer specializing in new and used golf equipment, such as clubs, balls, bags, and accessories.
Customers can purchase products directly from the website or trade in their old equipment for credit towards new purchases. The website also offers a custom club fitting service to ensure customers get the right equipment for their needs. Additionally, the website provides resources such as golf news, tips, and course directories to assist golfers of all skill levels.
Here is what they have to offer.
Condition GuideShipping GuidelinesShipping OptionsShipping RatesInternational ShipmentsWarranty Information
New condition refers to brand-new items or items that may have been used within the store but never used on a golf course. Mint condition shows virtually no trace of wear and have only been hit 1 to 3 times in total. Above-average condition relates to clubs that have been used less than 10 rounds and are in top-used condition.
Average condition relates to clubs that have seen normal usage for an extended period, are well taken care of and still in good used condition.
2nd Swing offers free shipping for standard ground shipments in the United States for all clubs except Ping and Titleist equipment. Please remember that Scott Cameron putter is produced and manufactured by Titleist.
Geographical areas excluded from the free shipping offer are Alaska, Hawaii, and Puerto Rico.
Orders are processed and shipped during business hours from Monday to Friday excluding public holidays. Equipment will be shipped within 48 business hours after receipt of payment.
Domestic
Standard shipping is sent via FedEx Ground or USPS Priority; delivery will take from 2 to 6 business days depending on your location.
Orders exceeding $200 will receive free standard shipping. Free shipping is not available for any orders that contain new Ping products
International
Alaska, Hawaii, and Puerto Rico shipments are sent via USPS. No FedEx Ground shipping options are available to these areas. Expedited shipping will be sent via FedEx.
FedEx expedited shipping options do not deliver on Saturdays or Sundays and do not count this into the quoted period. It is possible to arrange a Saturday delivery at an additional expense.
FedEx 2nd day air will be delivered by the end of the second business day.
FedEx next day air will be delivered by the end of the next business day.
Domestic
USPS First Class Mail (Headcovers) – $4.99
USPS First Class Mail (GPS Units) – $9.99
Standard Shipping (Golf Clubs and Shoes) – $9.99
Standard Shipping when order is over $199.99 – Free
Standard Shipping (Golf Bags) – $19.99
2 Business Day Shipping – $24.99
1 Business Day Shipping (Next Day) – $44.99
Canada
Shipments to Canada will incur additional costs for duties and taxes on every item and are subject to Canadian Sales Tax (both Federal (GST) and Provincial (PST or QST). Taxes will be paid by FedEx, but you have to reimburse them upon delivery. The FedEx shipping rate to Canada is $29.99
Other Countries
International shipments are grouped into two zones and 2nd Swing will only deliver to countries on the list. Shipments outside the US may be subject to duties, taxes, import, and other fees which are for the purchasers' account. The fees will be paid by FedEx and you have to reimburse them upon delivery.
Shipping rates for international delivery are based on the defined zone. FedEx International Economy (Zone #1) – $69.99 and FedEx International Economy (Zone #2) – $99.99. International shipping is only done via FedEx.
In-Store Returns
2nd Swing offers a 30-day trial period for all new, custom, or used clubs purchased enabling you to try out the items. If you are not satisfied you can return the item(s) to the store within 30 days of purchase.
The full purchase amount will be refunded by an in-store credit if you use the credit the same day, otherwise fees waived during the original purchase will be levied.
Online Purchases
The 30-day period commences upon delivery to you. The offer only applies to 1 club per annum. A 20% restocking fee will be applicable when you return more than 1 item.
2nd Swing will verify the condition of the returned items before issuing credit.
Items exchanged after 30 days will not be eligible for the 30-day play guarantee. The refund on these items will be based on the trade value at the time of exchange.
Returns have to be in the original packaging, unused, and contain all accessories to qualify for a refund after the 30-day exchange window.
Custom orders refer to items that have been customized to individual specifications.
Unused custom products may not be refunded and are subject to a 20% restocking fee.
Custom products that have been used will be refunded for the cost of the club only.  Additional expenses incurred for the purchase and associated labor costs will be withheld from the refund.
Products that have been purchased as new, remain unopened and unused, are eligible for a full refund if returned within 7 days of receipt. Returns initiated between 7 and 30 days after receipt will qualify for an in-store credit.
New products that have been used before return will incur a minimum 20% restocking fee.
Items are no longer eligible for return after 30 days of receipt but can be traded in at current trade values.
All used clubs sold on 2ndSwing.com come with a 90-day limited warranty.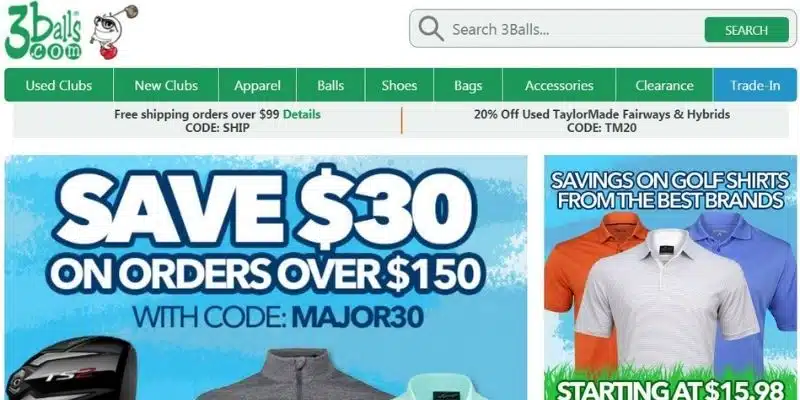 3 Balls has a lot to offer and have proved themselves in the market.
The 3 Balls Golf website is an online marketplace that sells new and used golf equipment, including clubs, balls, bags, and accessories. Customers can purchase products directly from the website or trade in their old equipment for store credit. The website also provides information on golf courses and offers a blog with tips and advice for golfers of all skill levels.
3balls.com accepts trade-ins in return for a 3balls.com eGift Card. Processing of trade-ins can take 10 business days (Monday through Friday) to be processed. The trade-in value you receive depends on the condition of your club.
Condition Guide
Shipping Guidelines
Shipping Options
Shipping Rates
Returns Policy
Warranty Information
Condition Rating
3 Balls grade used clubs as Like New that may show signs of very minor shop wear. Awesome, that shows some signs of limited use while still being in fantastic shape and has been exceptionally well maintained. Very Good that shows general wear associated with normal use, has been well cared for, and is in better than average condition. There is no sign of abuse.
Bargain items show frequent to heavy use but no signs of abuse. Cosmetic blemishes are visible.
Open Box includes items that cannot be sold as new, including unused returns, floor samples, or items removed and returned to the box without purchase. Open Box clubs may show minor forms of shop wear.
Shipping Guidelines
In-stock orders are shipped within one business day of payment verification. 3 Ball delivers to 125 international locations. Duties and taxes are not refundable.
US residential and commercial deliveries will be delivered Monday through Friday while some residential deliveries can be completed on Saturdays. No deliveries will be done on holidays or Sundays.
No partial deliveries of international orders.
Backorders from suppliers are sent to 3 Balls first. This can take between 7 and 15 days.
Shipping Options
Domestic deliveries options within the United States are Economy delivery within 3 to 12 business days, Ground Delivery within 2 to 6 business days. Next-day, 2-day, and 3-day deliveries are self-explanatory.
Military shipments must be shipped via the United States Postal Service Priority Mail.
APO/FPO deliveries can be expected within 2 to 4 weeks.
International shipping is available via Economy, Standard, Priority, and Express options
Shipping Rates
Domestic
Precise shipping rates are shown on the Shipping page of your order and vary based on the items in your cart.
Returns Policy
Any item may be returned, for any reason within 30 days of receipt of the product for a complete refund. Returned items must be in original condition to qualify for full credit. Item must not be used nor altered and must include all inserts and accessories, if applicable.
Altered products can be returned but a 15% restocking fee will be levied, or the return can be refused.
New items that have been used cannot be returned, irrespective of how many times they have been used. No custom or personalized products can be returned.
Shipping costs on returns will only be refunded if the return is a result of the company's error.
Refunds will be issued within 5 to 7 days of receipt and inspection of the items. The original payment method will be used for credit.
Returns outside the continental US are not eligible for a FedEx shipping label.
Items shipped from December 1 to December 31 may be returned until January 31 of the following year for a full refund.
Multiple orders may not be consolidated into a single return. All orders must be returned individually.
Warranty Information
Defects in a genuine product will be processed if returned within 12 months of the date of purchase. The item will be sent to the manufacturer for repair, replaced with the same or a comparable product, and refunded at the actual price less reasonable depreciation based on usage.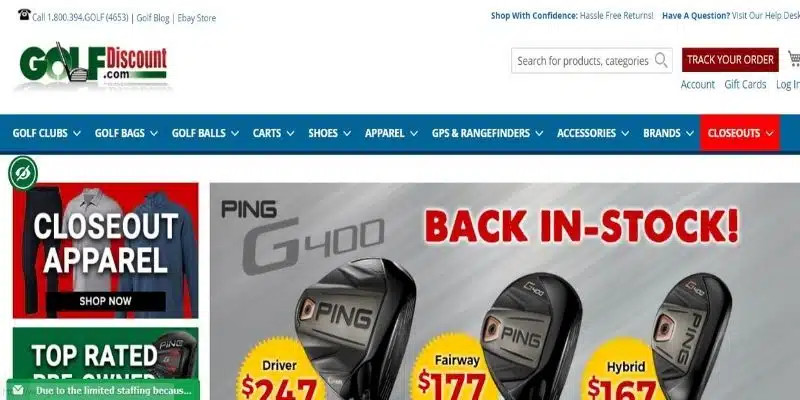 The Golf Discount website is an online retailer offering a wide selection of golf equipment at discounted prices, including clubs, balls, bags, and accessories. Customers can purchase products directly from the website, and regular promotions and clearance sales provide even more savings. The website also provides resources such as golf news, product reviews, and instructional videos to help golfers improve their skills. Additionally, the website offers a custom club fitting service to ensure customers get the right equipment for their game.
Condition Guide
Shipping Guidelines
Shipping Options
Returns Policy
Conditions Guide
Golf Discount rates their products according to the condition. New clubs have not been used or modified, and all original accessories are included. Excellent clubs show only slight signs of use with very slight surface scratches on the face and head, all original accessories included. Very Good clubs show some visible, but slight ball marks and scratches on club heads, but none through the paint and signs of light use from normal or light play.
Good club heads have light scratches or abrasions from normal play. Fair club heads have small to moderate scratching or minor paint chips. Your club shows signs of moderate to heavy usage but is in working condition.
Shipping Guidelines
Orders will be processed within 1 to 2 business days after receipt of payment and all domestic packages are shipped via FedEx except for PO Boxes and APO addresses that are delivered by USPS. International orders shipped to Canada or other international destinations will be delivered by FedEx International Express unless noted otherwise.
Insurance is included as part of the quoted price.
Golf Discount ships to over 142 countries worldwide.
Dropship orders will be processed and shipped at the earliest possible time. This is generally from 3 to 7 business days.
Backorders from the manufacturer will be shipped once it is received at the Golf discount premises.
No FedEx shipments are delivered on weekends or holidays.
Shipping Options
Domestic shipping options are FedEx Next Day, and 2-Day Air.
International shipments cannot be rerouted. Any attempt to reroute the shipment will result in the package being shipped back to GolfDiscount.com and a credit issued for the equipment. Shipping costs will not be reimbursed.
International customers are responsible for all local taxes and import duties upon delivery.
Domestic orders under $99 will be charged a flat shipping rate of $9.99, while any order exceeding $99 will enjoy free shipping. Ping equipment does not qualify for free shipment.
International shipping to Hawaii and Alaska are fulfilled by FedEx Next Day and 2-Day Air. Shipping rates are dependent upon the dimensional weight and destination of the shipment.
Return Policy
To exchange or return an item for a refund, it must be returned within 30 days of delivery for an exchange or full credit in the form of a gift card.
Clubs must be in like-new condition, unused, and show no sign of wear, in their original packaging, with tags, and all components and documentation included.
Used non-custom clubs are eligible to be returned under the 30-day satisfaction guarantee.
Whether used or not, custom golf clubs are subject to return under the 30-day satisfaction guarantee policy. Customers may return custom clubs once per calendar year per category.
Any club, whether used or not, may be returned for an exchange or a gift card, but a 20% restocking fee will be charged.
Personalized or clubs altered after purchase are not eligible for return.
Exchange or credit for products cannot be guaranteed 90 days after purchase.
No returns will be accepted more than 120 days after purchase.
Shopworn, demo, or used clubs may be returned within 14 days of delivery but are subject to a 20% mandatory restocking fee.
How Much Wear Can You Expect?
You'll want to only look at reputable used golf dealers. The best dealers list the condition you can find the clubs in. You can find Mint condition clubs with a money-back guarantee, so there's minimal risk of getting started. 
You can buy Scotty Cameron putters by looking at clubs in Very Good, Good, and Value conditions. But you'll also face more risk that you'll get clubs that are below par. 
What Are the Red Flags and Deal Breakers of Used Clubs?
Beware of sellers that act evasively whenever you ask questions. In person, if they won't let you test the used club, that's another big warning sign since they may be hiding something. 
You should understand the risks of going with a used club dealer with no return policy. Beware of anything "Sold as is" since this was usually meant to keep you from returning later with complaints. 
An instant deal breaker would be if they had many negative reviews about their platform online. Don't take the risk. If a used golf dealer has many negative reviews, find another source since you can buy from plenty of choices. Going with one that has negative reviews is a recipe for disaster.
It may work out, but there may be reasons for many negative reviews. One or two negative reviews are normal business, but pay attention to the volume of how many they had. 
FAQs
What Is a Good Price for a Scotty Cameron?
Many Scotty Cameron putters will cost over $300. You would consider this a fair price because Scotty Cameron putters are considered the best on the market. Expect newer models to cost anywhere from $300 to $400, depending on the model. You can lower the cost with a used putter.
What Is the Most Forgiving Scotty Cameron Putter?
The Phantom X 12 feels like one of the most forgiving Scotty Cameron putters that you can buy today. The forgiveness from this putter largely comes from its high MOI shape and the easy alignment from the putter. The stainless steel wings on it boost forgiveness. 
How Do I Pick a Scotty Cameron Putter?
To choose a putter, first, look for the right lie angle. You want the putter's sole to lie flat for consistent delivery of the face. Second, choose a good weight on the head to decrease the power needed for the stroke. Finally, you want a slight loft to get the ball out of depressions on the grass. 
Which Scotty Cameron Is the Best?
The Scotty Cameron Newport 2 always scores highly on this list as one of the best because of its design and awesome performance. Thanks to use from Tiger Woods, the Newport 2 is one of the most famous putters in the golf industry. 
Final Thoughts
Online resellers are extremely competitive in their terms and conditions, return policies, shipping options, and condition ratings. You can buy a Titleist Scotty Cameron Phantom X 11.5 used for far less than a new one. At the same time, you still enjoy many of the things that make the Phantom X 11.5 great, such as good distance control, great stability, and customizable weights at the heel and toe.  
Tons of less expensive Scotty Cameron putters exist when you buy used. 
GlobalGolf.com provides the best all-around offering with a well-designed website and user-friendly interface. Their list of used Scotty Cameron putters is comprehensive, and all information required to transact is set out on the website. 
Nick Lomas is the founder of GolfSpan, an avid golfer, not quite a pro but has over 15-years of experience playing and coaching golfers from all over the world. His mission is to bring the golfing community a better experience then it comes to choosing the right golf gear, and finding the right set up for your game.