Over the years, Las Vegas has diversified its image as "Sin City," lining the area with world-class golf courses. This post looks at the best golf courses in Las Vegas.
With only three municipal courses in the city, expect to pay a premium for green fees. However, it is worth it since you can play on the best courses designed by golf legends Pete Dye, Jack Nicklaus, Tom Fazio, and Arnold Palmer.
Here are the top golf courses in Las Vegas where you can head to the driving range.
The Best Golf Courses in Las Vegas
1. Shadow Creek – Best in Nevada
Shadow Creek holds the honor of being one of the most expensive golf courses built in the United States. Constructed in 1989, Shadow Creek cost over $60 million to sculpt on 350 acres of land. Designer Tom Fazio forces you to play for every position. If you are on the wrong side of the hole, approach shots become daunting.
This is not a layout for high handicappers and requires intense course management. Green fees will set you back $1000 during peak season, and you need to stay at an MGM property to gain access to the golf course.
Despite the exorbitant green fees and exclusivity, this luxurious course is the best golf course in Las Vegas. This 18-hole course has a great layout, and golfers will get a kick out of playing on it. 
2. TPC Las Vegas – Longest Course
Second on our list of top golf courses in Las Vegas is the city's TPC layout. TPC Las Vegas hosted the Las Vegas Seniors Classic Champions Tour from 1994 to 2001. In addition, it was featured on the 2001 Original Playstation game, Tiger Woods PGA Tour.
This public golf course is positioned in the boundaries of Red Rock National Park. Red Rock Canyon features as the backdrop for your round. This is one of the best public golf courses in Las Vegas.
Accuracy is essential, as wayward shots will see you playing from the desert sand. On the back nine, deep ravines come into play. A clean strike is required to clear the danger.
3. Snow Mountain Paiute Golf Resort – Best Affordable Option
Snow Mountain is one of three courses in the Paiute Golf Resort precinct, which sits on the land of the native Paiute tribe.
Legendary architect Pete Dye sculpted and designed all three courses. They all hold the honor of appearing on numerous lists for the best Las Vegas golf courses.
The location of the links brings the wind into play, raising the challenge for the average golfer. However, the lower green fees and the site of Gass Peak in the background make it worth a visit the next time you are in Vegas.
4. South Shore Golf Club – Best Beginner Golf Course
Designed by the great Golden Bear, SouthShore is a members-only Las Vegas golf club situated to the southwest of Las Vegas. The only way non-members can get a tee time is to stay at the Westin Lake Las Vegas Resort, a common tactic for Las Vegas golf courses.
It features five tee boxes, and each hole caters to golfers of all skill levels. The course rises from 1,410 to 1,750 feet before descending through craggy gullies en route to lake South Shore below.
5. The Mountain Course Angel Park Golf Club – Most Scenic Golf Course
From one golfing legend, we greet another. The Mountain Course at Angel Park Golf Club was designed by Arnold Palmer and offers long par-4s and par-5s.
The course offers a variety of desert sand traps, water hazards, and tree-lined fairways. Plus, the Red Rock canyon stands tall in the background exposing you to immaculate vistas.
Since Angel Park sits 3,000 feet above sea level, it results in extra distance compared to coastal layouts.
6. Arroyo At Red Rock Country Club – Best Views of The Strip
Another Arnold Palmer design, Arroyo is one of two courses at Red Rock Country Club. The jagged terrain of the layout requires precise course management from golfers of all abilities.
The challenging design includes gorgeous scenes of the Red Rock Canyon and the Las Vegas skyline. No hole gives you a better look at the Las Vegas Strip than from the 7th. This par-3 hole boasts spectacular views of the cityscape.
Water comes into play on five holes, while the remainder of the links are littered with bunkers and desert sand areas.
7. Coyote Springs Golf Club – Best Golf Course Under $100
Sticking with legends of the game, Coyote Springs Golf Club was designed by Jack Nicklaus.
Water hazards are featured on six holes, while more than forty bunkers wait to trap your ball. That excludes the typical desert sand that comes into play on several other Nevada golf courses.
Measuring 7,441 yards off the championship tees, this is one of the longer courses in the city. You need optimal distance and accuracy to walk off the links with a satisfactory scorecard.
8. Wynn Golf Club – Best Public Golf Course
This is one of the best public golf courses in Las Vegas, and its the perfect course for golfers of all skill levels. Take in some incredible scenery on a well-designed golf course that treats you like royalty from arrival. The $600 green fees make it one of the most expensive public golf courses around.  
As a championship-length course, it has plenty to offer golfers, and it was the site where Capital One hosted, "The Match." This golf tournament took place between Brooks Koepka and Bryson DeChambeau in 2021. When you play on this course, you will notice dramatic elevation changes. 
9. Cascata Golf Club – Most Entertaining Course
Towering red mountain peaks and red vistas at every turn, the Cascata Golf Club has lush green fairways, which immerses in the luxurious desert golf experience. This course is 30 minutes from the Las Vegas Strip, and the golf architect Rees Jones labeled it the "Eighth Wonder of Golf."
It also happens to be a Class A PGA course, and the many holes of the course will keep you entertained throughout. You never experience a dull moment when playing on this course. Many of the holes here are very memorable for the experience. You will encounter lakes and streams on this golf course. 
10. Chimera – Most Forgiving Fairways
The biggest thing that most golfers remember about the Chimera Golf Course in Vegas is it having some of the most forgiving fairways. You will see it provides you with a fair challenge from any set of the tees. It features 68 white-sand bunkers, and this golf course is just a few minutes from the Strip. 
Ted Robinson Jr. designed the course in 2003, giving you a highly playable desert landscape. This course is noted for its short par-4s, and it has become an increasingly popular course among beginners due to the forgiving fairways. 
Vegas Golf Courses FAQs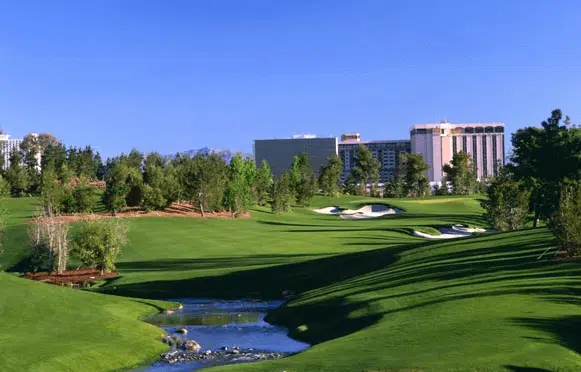 How Many Golf Courses Are There In The Las Vegas Area?
There are 42 Las Vegas golf courses. That gives you a varied choice of layouts. The majority of these courses are private, with only three municipal establishments.
Which Is The Best Golf Course In Las Vegas?
According to Golf Digest's 100 Greatest Golf Course Rankings, Shadow Creek is the best golf course in Las Vegas and the state of Nevada. Besides Golf Digest, Golfweek features Shadow Creek as their top golf course to play in the Battle Born State.
What Is The Most Exclusive Golf Course In Las Vegas?
Of all the golf courses Las Vegas has to offer, Shadow Creek is the most exclusive of the lot. You cannot access the property unless you are in an MGM-organized vehicle.
In addition, it has the highest green fees of any accessible course on earth. We highlighted this fact in our guide to the 8 most expensive golf courses in the world.
How Much Does Shadow Creek Las Vegas Cost?
The green fees for a round at Shadow Creek set you back a cool $1,000. However, you need to spend substantially more simply to get a tee time. You cannot access the course without staying at an MGM property.
After briefly scanning Booking.com, your cheapest option for a two-night stay is the MGM Park. That will set you back $139 per room, plus tax during weekdays. Conversely, on weekends expect to pay between $550 to $860 plus tax for two nights.
If we tally the amounts, it will cost you $1,039 plus tax to play a round on weekdays. Contrarily, a weekend trip can set you back anywhere between $1,550 and $1,860 for a round of golf and a two-night stay.
Do You Have To Stay At MGM For Shadow Creek?
Yes. As I explained above, you have to stay at an MGM property to earn the right to book at a tee time at the course.
Do You Have to Stay At MGM for Shadow Creek?
You must stay at MGM if you would like to access Shadow Creek. Only a privileged few could golf at Shadow Creek at one time, but they have since made it so that guests at MGM can golf there. MGM offers two different hotel resorts that you could stay at in Las Vegas. 
Is Las Vegas a Good Place for Golf?
While Las Vegas golf courses tend to cost a bit more than other golf courses in other cities, no one can deny that the place has plenty of great courses to golf on. You won't struggle to play a good game of golf here. 
Can You Play Golf at the Wynn without Staying There?
In the past, they made you be a guest at the Wynn Resort for you to play there, but that is no longer the case. Today, you no longer need to stay there, but it is often recommended that you book in advance because it is a highly sought-after golf course. 
Final Thoughts
There are your top golf course picks for the City of Sin. If you plan on tackling these courses, you better be straight or know how to play from the sand. The names that have designed most of these layouts are golf course design royalty which is why they should be on your bucket list.
If you are on a budget, I suggest planning your trip during the week and booking a late afternoon tee time. Many courses offer a reduced rate if you tee off at the end of the day. The most affordable option on this list is Coyote Springs Golf Club, with a low rate of $90 for 18-holes.
On the opposite end of the spectrum, you have Shadow Creek. It not only boasts the most expensive green fees in the city. It also holds the honor of the priciest round in the country and the world.
If you have the $1,000 budget for a round of golf, plus accommodation at an MGM property, I highly suggest giving it a go, at least once in your life. Although it costs a premium, there is no doubt that it tops the list of the best golf courses in Las Vegas.
Those who know their way around the strip should identify other bucket list courses across the country. To assist you, we have written a guide on how many golf courses are in the U.S.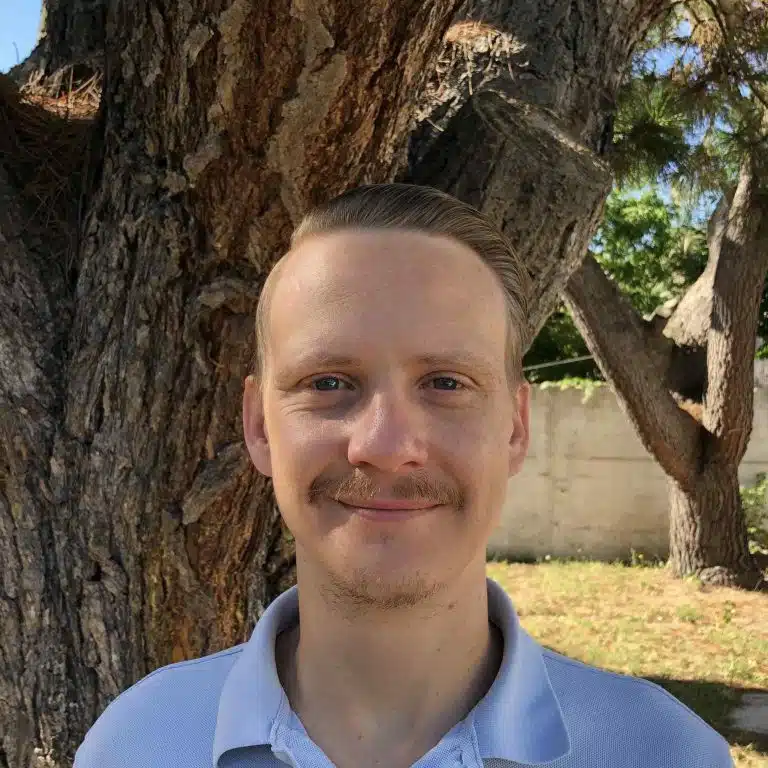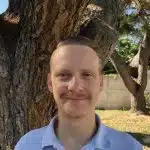 Matt is a seasoned golf equipment writer and sports fanatic. He holds a Postgraduate in Sports Marketing and has played golf for over 28 years.