Precision Pro is part of the revolutionary manufacturers offering quality, accurate golf rangefinders at an affordable price.
Although it is older than the Precision Pro NX9 Slope, the NX7 contains most of the same features, with two exceptions. This model is more affordable, and it does not feature a magnet to attach to secure it to your cart.
This lower price point will be a key benefit for many golfers, so read on as we go through each feature to see if it is a worthy addition to your bag.
Precision Pro NX7 Rangefinder Overview
| | |
| --- | --- |
| Total Score | 89.2 |
| Star Rating | 4-stars |
| Range | 84 |
| Accuracy | 89 |
| Zoom | 92 |
| Image Quality | 91 |
| Price | 90 |
Pros
Affordable
6X zoom
Slope mode
Accurate to the nearest yard
Ergonomic design
Cons
It is not fitted with a magnet to attach to the frame of your cart.
Reduced range compared to other models
Specs
600-yard range
6x magnification
Flag lock with pulse vibration
Lifetime battery replacement
Batteries included
Pro Slope Technology
NX7 Pro Slope Review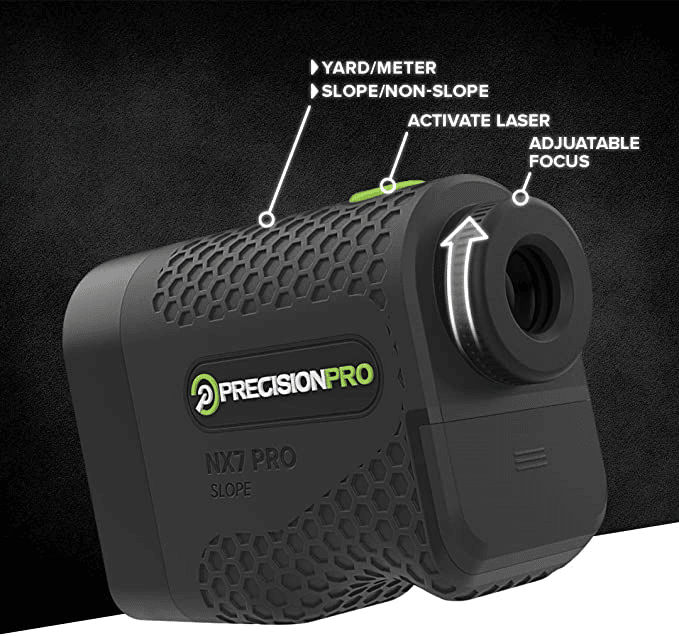 Adaptive Slope Technology
Besides its affordable price tag, the adaptive slope technology is its standout feature. It factors in the gradient of the slope between your ball and target. Providing plays as yardage. This allows you to make better-informed club selections for improved distance control.
Following USGA rule 4.3a, this Precision Pro rangefinder enables you to deactivate slope mode in tournament play.
600-Yard Range
In my NX9 Precision Pro rangefinder review, I explained that the newer model carries a maximum range of 600-yards. It seems that there was no improvement from the NX7, which has the same limit.
Obviously, 600-yards is more than enough for most par 5's. However, in my experience, devices with a maximum range of 1000-yards tend to be more accurate from further out. Remember, it still offers ample detail to help you plan your hole from tee to green, even if it is slightly less accurate beyond 300-yards.
+- 1-Yard Accuracy
If your rangefinder is inaccurate, it defeats its very reason for existing. The Precision Pro NX7 is accurate to the nearest yard up to 275-yards. Past that, I find that the results are erratic.
In any case, I do not hit the ball beyond 300-yards, and neither do most average golfers. That means that if there are slight inaccuracies over 300-yards, it won't severely impede our hole.
6x Magnification
The NX7 produces crystal clear optics thanks to 6x zoom. These optics speed up the time to receive your measurement by quickly identifying your target. Plus, an enhanced LCD display picks up your target in dull and bright light.
Water-Resistant
This laser rangefinder is water-resistant, which is welcome news for those in high rainfall areas. It's purposed to shield the components and lens from the rain. That allows you to use it during a downpour and still receive accurate yardage measurements.
Precision Pro Golf App
Purchasing the NX7 gives you access to the Precision Pro golf app. The application enables you to track your progress. In addition, you can view detailed information about the hole you are playing.
If you own a launch monitor, you can record that information on the app to aid with future club selection.
You can also record where your ball lands for each shot, and the device will measure the distance.
These yardages are calculated and averaged to determine how far you hit each club in your bag. This does wonders for your shot selection and the subsequent distance control.
In essence, the application equips you with GPS functionality and shot tracking.
Read more: To learn more about the best golf GPS devices, check out our full review.
Lifetime Battery Replacement
When your battery packs up through no fault of your own, Precision Pro offers a free lifetime battery replacement service. The lifespan of your device will not surpass three to five years. However, it is a nice gesture.
Factors to consider before buying a Rangefinder
Budget
A few years ago, golf rangefinders were deemed a premium product that the average golfer could not afford. However, there are now models that range from under $100 to above $500. Expensive devices offer an extended range, increased accuracy, and a faster reaction time.
Several affordable rangefinders now offer the same features as premium products. The challenge is that they do not perform to the same level.
For example, an affordable device may be accurate to the nearest yard up to 250-yards. After that, the readings are all over the place. A quality model provides accurate readings, whether from 5-or to 1000-yards.
Range
A range of 600-yards should be sufficient for casual golfers. However, if you are searching for supreme accuracy. You may desire a device that sees beyond 1000-yards.
Most entry-level devices offer a total range of 600-yards, while premium options often exceed 1000-yards.
Slope And Elements Mode
Operating a rangefinder with slope or elements mode increases the likelihood of receiving an accurate measurement.
Slope mode includes the angle of the gradient in the measurement reading to provide plays like distances. On severe inclines, an incorrect measurement could leave you a club or two short. Conversely, if the same occurs on a descending slope, you may find your ball well over the green.
Elements mode assesses barometric pressure and the temperature before providing a measurement. This feature ensures precise measurements no matter the time of day or the season.
Accuracy
I suggest not settling for any rangefinder that is inaccurate beyond one yard. Most affordable devices are accurate to the nearest yard, up to 250 to 275-yards. However, they become less accurate the further away you measure.
On the contrary, premium rangefinders are often accurate to the nearest yard, up to 1000-yards in some instances.
Precision accuracy is not a prerequisite for mid and high handicappers. Honestly, you just need a rough idea of the distance because you are not accurate enough for it to be a problem. However, low handicappers looking to attack the flag require a device with high accuracy.
Pinseeker Technology
Pinseeker Technology pushes your device to search for the flag and lock onto it rapidly. That speeds up the time to get your reading and saves you from double-checking that the measurement is to the flag.
Precision Pro NX7 Slope Alternatives
The Callaway 300 Pro is your best alternative option to the Precision Pro NX 7. It is priced the same as the NX7 and includes slope mode.
Its maximum range far outperforms the Precision Pro NX7. It detects distances from 5 1000-yards accurately to the nearest yard. In addition, it is fitted with 6x magnification.
Furthermore, Callaway added Pin Acquisition Technology (P.A.T) to lock onto the flag from 300-yards away. Plus, pulse confirmation emits a vibration once the laser has locked onto the flag.
Overall, the Callaway 300 Pro is an affordable rangefinder with optimal range and zoom. Therefore, it is ideal for the average golfer looking for a value for money device.
It still amazes me that you can pick up a rangefinder for less than $100 these days. The GoGoGo Sport VPro 24TL contains angle range compensation, the company's version of slope mode. Plus, it includes pin-seeking technology and can lock onto the flag pole from 150-yards out.
Furthermore, the device offers a top range of 650-yards and is accurate to the nearest yards. Lastly, it produces a 6x zoom for clear optics.
Overall, the GoGoGo Sport VPro 24TL is a budget device with a few premium features. As a result, it is built for high handicappers on a budget.
The TecTecTec ULT-X is priced slightly higher than the NX7. However, its accuracy is unmatchable. It boasts a maximum range of 1000-yards. Measurements from 300-yards out are accurate to the nearest 0.3-yards. From 301 to 600-yards, it is accurate to 0.5-yards; it is never more than 1-yard off.
In addition to optimal range, the ULT-X features advanced slope mode and 6x zoom for clear optics.
Lastly, TecTecTec added pinseeker and continuous scan mode to reduce the delay in receiving your measurement. Ultimately, the TecTecTec ULT-X suits mid and low handicappers on a budget.
Precision Golf Rangefinder FAQs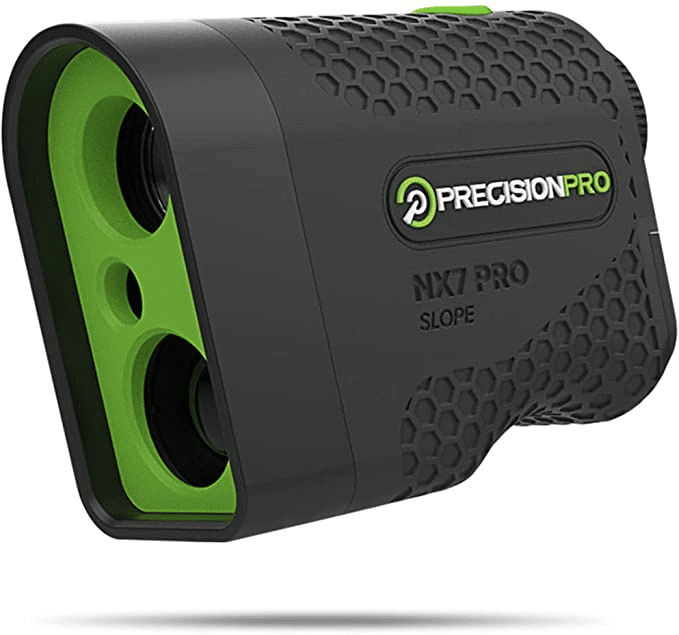 Does The Precision Pro Nx7 Have Slope?
The standard Precision Pro NX7 does not include slope. However, the NX7 Pro is equipped with slope mode to provide plays like distance measurements.
Is Precision Pro A Good Brand?
Yes, Precision Pro is a reliable rangefinder brand. They manufacture mid-range devices which are accurate and include premium technology.
How Do I Setup and Use The Precision NX7 Pro?
The NX7 Pro is simple to use.
Press the green button and release it to turn on. That allows you to scan and receive the measurement to different targets.
Press the button and release it again to get the reading to a specific target
Once the device has read the distance to your target it vibrates.
That is how easy the Precision Pro NX7 is to use.
Where Are Precision Pro Rangefinders Made?
Like millions of gadgets, the Precision Pro rangefinders are manufactured in China. Similar to Apple, their rangefinders are designed in California.
How Do I Change My Nx7 Pro From Meters To Yards?
You can change your measurements from meters to yards by holding the Mode button for 1-second. It will bring up M for meters, and yd for yards, select your option and you are sorted.
Final Thoughts
Precision Pro continues to impress with its affordable, quality rangefinders. Although they could work on increasing the range of their models, it does the trick for the average golfer. In addition, 6x zoom, slope mode, and water resistance equip it with premium features.
The Precision Pro NX7 is affordable for mid and high handicappers — despite its premium features. It is accurate to 250-yards, provides play-as distance, and clear optics. You can view the NX7 for a closer inspection of the aesthetics and packaging details.
If you desire a more accurate long-range device or budget option, read our guide on the best golf rangefinders.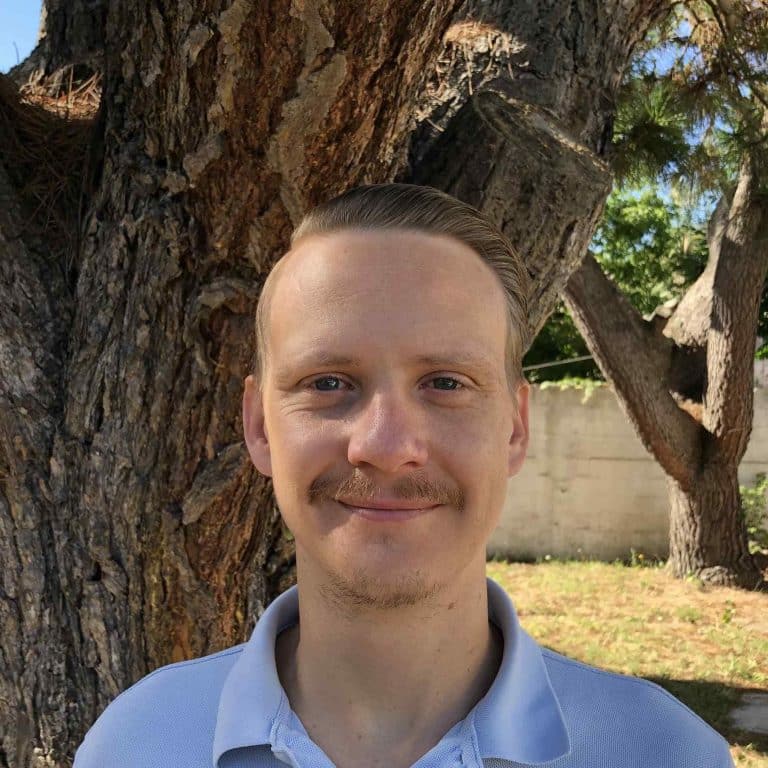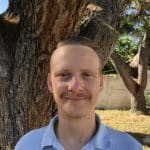 Matt is a seasoned golf equipment writer and sports fanatic. He holds a Postgraduate in Sports Marketing and has played golf for over 28 years.