The most forgiving hybrids are designed to fight slice shots, produce a high launch, and optimize carry distance and accuracy. In this post, I reveal the top 10 forgiving hybrids for 2023 to enhance yardage and help you hit your target off the tee and on approach.
Here are the 10 most Forgiving Game Improvement Hybrids 2023 Edition
After examining our review, you will learn that forgiving hybrids are easy to launch and sport expansive sweet spots for consistent speed and controlled spin. In addition, I will explain which hybrid suits different skill levels and ages to ensure you get the most out of your long game.
Top 3 Most Forgiving Hybrid Golf Clubs
Best Overall
Best Budget
Easiest To Hit
Callaway Paradym X
Tour Edge Hot Launch E522
Cleveland Launcher XL Halo
Pros

Draw bias shape to resist the slice curve
Glides through the rough with ease
Generates high launch

Affordable
Maximum rebound off the clubface
Reduced turf interaction

Easy launching hybrid
Enhanced stability
Gliding rails produce crisp turf interaction

Cons

The draw bias reduced the effectiveness of my fades
Premium price tag

Lowers workability
The diamond face design does look strange and will not appeal to every golfer.

Fixed hosel
The oversize head restricted my ability to shape shots

Price Score
82.5
96.5
94.3
Forgiveness
94.9
88.1
92.8
Turf Interaction
92.8
90.2
88.3
Accuracy
93.1
87.8
94.2
Distance
89.4
87.6
88.9
Rating
4.5 Stars
4.4 Stars
4.3 Stars
The Best Golf Clubs For Intermediate Players In 2022
Pros
Draw bias shape to resist the slice curve
Glides through the rough with ease
Generates a consistent, high launch
Contains an adjustable hosel
Preserves ball speed across the clubface
Cons
The draw bias reduced the effectiveness of my fades
Premium price tag
Lofts
The Callaway Paradym X tops our most forgiving hybrids list thanks to its slice-fighting design, towering launch, and adjustable hosel. It also worked to maintain ball speed and control spin revolutions across the clubface, thanks to an enlarged sweet spot.
I am personally not a fan of draw bias, simply because I prefer the control and versatility of a neutral flight golf club. However, I recognize the value in the setup, and the Paradym X showed why by attempting to limit the severity of my slices.
Adding to its forgiveness was the stability and speed of the Batwing Technology and Tungsten Speed Cartridge. The tungsten cartridge enables engineers to push the center of gravity (CG) low and forward, minimizing spin and boosting ball pace for a high golf shot.
In addition, the Batwing Technology enhanced the perimeter rigidity to stabilize the clubface at contact, preserving ball velocity on mishits. Conversely, the technology has minimal impact on the ability of the clubface to flex into contact and transfer optimal energy to the golf ball.
Finally, I found the Cutwave Sole glided through the turf unhindered, preventing the clubhead from digging into the ground and enabling a clean strike.
Rating: 4.5
Read More: The Best Hybrid Golf Clubs
Pros
Affordable
Maximum rebound off the clubface
Reduced turf interaction
Elevated launch
Promotes straighter flight
Cons
Lowers workability
The diamond face design does look strange and will not appeal to every golfer.
Lofts
The Tour Edge Hot Launch E522 offers an affordable hybrid for golfers searching for an easy launching club. Despite its entry-level price, the E522 is packed with game improvement features that deliver clean turf interaction, a rapid clubface, and towering lift-off.
I hold a particular infinity for the Houdini Sole, which significantly lowered interaction with the grass for optimal speed into impact. Plus, the sole enabled engineers to push the CG low and deep, promoting a high-flying ball that descends on a steep angle for greater shot-stopping power.
Once the clubface touched the ball, the 40 diamond shapes, which make up the Diamond Face 2.0 reported for duty and sprung the ball off the clubface. The impressive rebound generated off the clubface resulted in an accelerated pace and reduced spin for a powerful launch.
Next, I had no trouble squaring the clubface at contact owing to the advanced offset profile. This propelled me to hit more straight shots off the tee and on approach. However, it became tough to control my shape, but high handicappers seeking greater accuracy will suit the E522 fine.
Rating: 4.4
Pros
Easy launching hybrid
Enhanced stability
Gliding rails produce crisp turf interaction
Affordable
Impressive rebound frame prompts rapid ball speed
Cons
Fixed hosel
The oversize head restricted my ability to shape shots
Lofts
The Cleveland Launcher XL halo proved the easiest hybrid to hit this year thanks to its ginormous head, lower CG, and advanced sole grind rails. My experience with the XL Halo was largely positive due to its consistency and forgiveness. However, the oversized head is much to fathom, and superior golfers will likely prefer a compact design.
I generated mountainous flight with the XL Halo, which is owed to many factors, starting with the HIBORE Crown Step. Cleveland engineers lowered the mass of the crown, creating low and deep CG to promote a high launching shot.
The expertly crafted Triple Glide Rails thrust my clubhead through the turf, producing limited friction. As a result, I managed to maintain clubhead speed into impact and get sufficient clubface on the ball.
Further boosting my launch was the powerful Rebound Frame, which features flexible and rigid zones across the clubface. This combination proved helpful when I missed the sweet spot, minimizing ball speed drop-off and containing spin.
Finally, the XL head design contains a hefty 2,961 g-cm², producing outstanding stability at contact. This improved my ability to square the clubface, minimize ball speed loss, and increase spin.
Rating: 4.3
4. Ping G430 HL – Highest Launching Easiest Hybrid To Hit 2023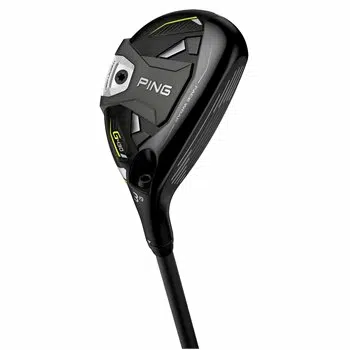 Pros
High launching hybrid
Lightweight, fast club
Built for slow swing speed
Elevated moment of inertia (MOI) for stability at impact
Contains spin on low-face strikes
Cons
Expensive hybrid
The high launch profile may not suit faster swing speeds
Lofts
The Ping G430 HL grabs the highest launching hybrid this season thanks to its lightweight construction, flexible clubface, and extremely low and deep CG. In addition, it contained my spin on mishits and preserved ball zip ensuring a high, powerful launch.
I felt the Carbonfly Wrap was the driving force of the G430 HL hybrid. It wrapped into the toe of the club, saving Ping 15% of mass. The weight saved was then repositioned low and deep, sending the CG lower for a mountainous launch.
Next, Ping engineers employed Facewrap Technology in the G430 HL, enhancing clubface flexibility and energy transfer. The outcome was adequate ball zip, contained spin, and a hassle-free launch, which slow swing speeds will endorse.
I was saved on multiple occasions by the Variable Roll Radius, which allowed me to control backspin revolutions on low-face strikes. Combined with the preserved ball speed, I generated a suitable launch across the board.
Lastly, a tungsten sole weight provided exceptional stability at impact, making it easier to control the clubface, velocity, and spin.
Rating: 4.2
Pros
The 3 hybrid delivers impressive distance
Promotes neutral ball flight
Medium to high launch
Fast, forgiving clubface
Glare resistant finish
Cons
The hosel is not adjustable
Only one stock shaft option
Lofts
I tested the 3, 4, 5, and 6 Wilson DynaPower hybrid, but the 3 left the grandest impression on me. I felt its restricted turf friction, low spin, rapid speed, and high launch profile exactly the long-hitting club a mid or high handicapper needs.
It proved handy off the tee and on long approach shots owing to its low CG, explosive clubface, and elevated MOI profile. Its DynaPower A.I. technology identified the appropriate thickness across the surface to accelerate ball speeds on off-center strikes.
I welcomed the flatter profile of the hybrid, which should appeal to mid and low-handicappers seeking a cleaner appearance at address. It also produced impressively low spin and neutral ball flight, enabling better workability on approach, ideal for experienced golfers.
The rear weighting position helped me deliver a consistent, medium apex leading to optimal carry distance. Finally, the black finish offered superb glare resistance at address, shielding my weaker eyes.
Rating: 4.5
6. Cobra AeroJet – Best Hybrid Golf Clubs For Mid Handicappers 2023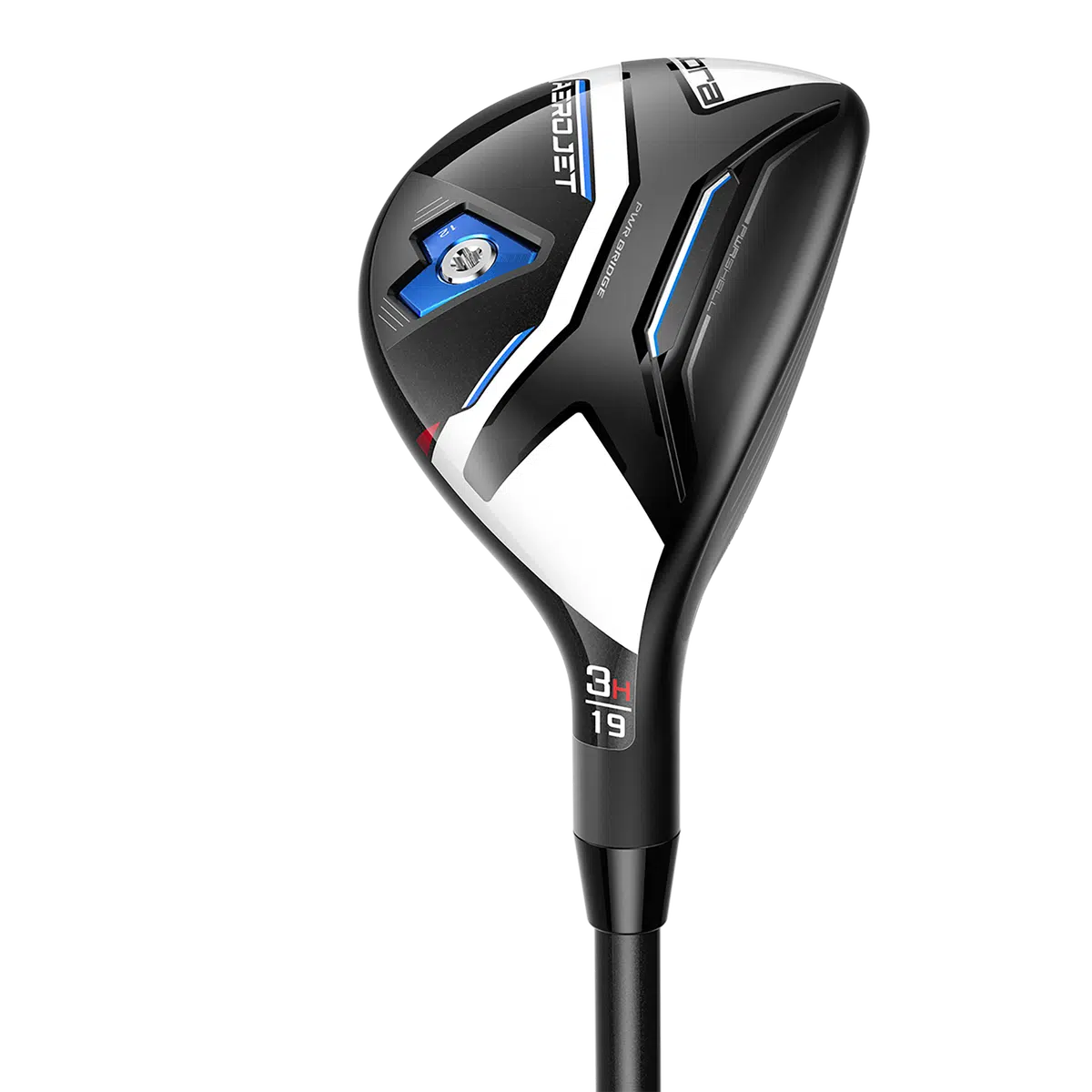 Pros
Accelerates ball speed across the clubface
Lowers spin
Promotes a high launch
Enhances energy transfer
Works for mid and high handicappers
Cons
Premium price tag
The hosel is fixed
Lofts
The Cobra AeroJet produced a pleasant feel, enhanced lift, and explosive ball velocity across an expanded clubface area. These factors combined to help our best hybrid for mid-handicapper golfers deliver superior forgiveness, optimizing carry distance.
I admired the work of the Highly Optimized Topology (H.O.T), which applied variable thickness to the clubface for consistent contact. Commonly struck zones on the clubface are thinner and boosted rebound for rapid pace and reduced spin revolutions.
My ball velocity was bolstered by the PWR-Bridge Weighting and PWRSHELL Face Insert to maximize clubface flex into contact. This enhanced my energy transfer from face to ball, imparting accelerated zip and minimal spin revolutions on the golf ball.
Besides increasing ball velocity, the suspended PWR-Bridge Weighting prompted engineers to reposition the CG low and forward. The setup reduced my spin rpm and encouraged optimal ascension.
Rating: 4.2
7. XXIO Twelve – Best Game Improvement Hybrids For Ladies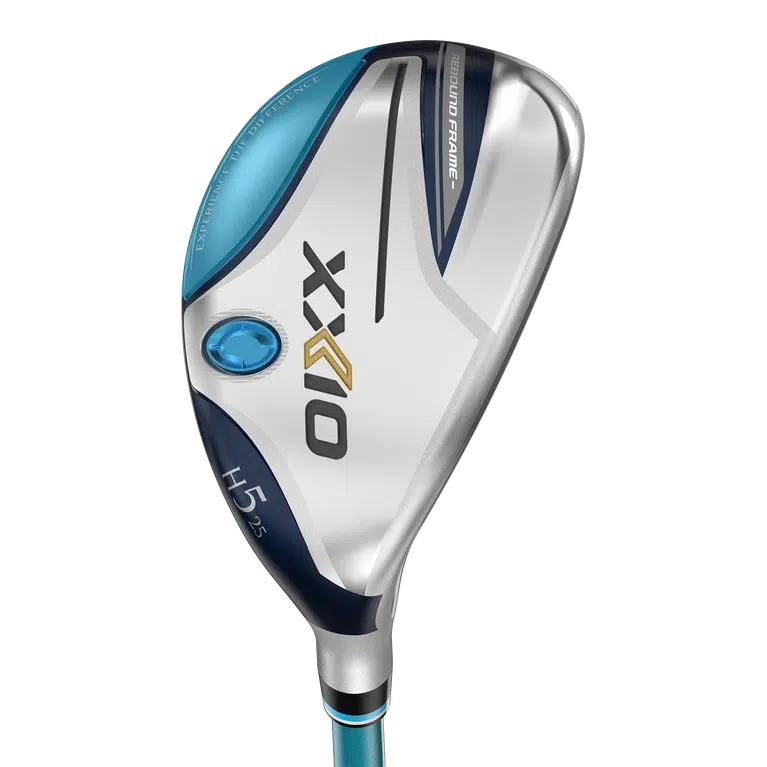 Pros
Aerodynamic, fast clubhead
Produces explosive ball speed
Weight Plus Technology for better club control
Generates a high launch
Produces impressive carry distance
Cons
Not suited to ladies with higher swing speeds
No alternative stock shafts
Lofts
XXIO continues to deliver super game-improvement golf clubs packed with innovative technology to forgive and progress your game. This time the Twelve hybrid features as the top pick for ladies. It impressed me with the aerodynamic clubhead, flexible, fast clubface, and lofty launch.
The ActivWing design enhances the clubhead aerodynamics on the downswing, clearing the way for a clean, powerful strike. Plus, the design bolsters the solidity of the club at contact, encouraging a square position and preventing a drop in velocity and a rise in spin.
Once the clubface reached the golf ball, the Rebound Frame jumped in to maximize energy transfer for rapid speed. This was made possible by the four interspersed layers switching from stiff to flexible. The structure increased flex on off-center strikes to get your ball airborne and powering forward.
XXIO engineers were not satisfied with the level of game improvement up until this point and decided to add Weight Plus Technology. It guides your hands and club to the preferred position at the top of your swing, allowing you to unload and power into impact.
Lastly, the Step Crown construction of the hybrid reduced the overall weight in the clubhead, giving XXIO room to maneuver. The weight savings allowed them to reposition the CG low to encourage a soaring ball flight.
Rating: 4.1
Read More: Best Women's Hybrid Golf Clubs
Pros
Limits friction with the turf
Prompts a towering launch
Twist Face design promotes straighter shots
Glare resistant finish
Preserves speed on low-face strikes
Cons
The high launch may not appeal to players seeking piercing, workable flight
Fixed hosel
Lofts
Clean turf interaction is essential for a hybrid to glide across the turf without digging into the dirt. The TaylorMade Stealth created minimal friction with the grass on long approach shots, thanks to the power of its V Steel Sole design. Adding to providing clean interaction, its sports optimal weight distribution for leniency and a desirable launch.
I found the carbon crown provided enough MOI to stabilize the clubface, ball speed, and spin levels for consistent outcomes. The carbon crown enables the engineers to save 7 grams of mass, which they duly repositioned lower for a low CG and elevated launch.
My consistency received an extra nudge from the Steel Twist Face, which lowers torque on the downswing to encourage a square clubface angle at contact. Next, the popular Thru-Slot Speed Pocket design increase clubface flex to impart ample speed and low spin onto the ball when catching it low in the clubface.
Finally, the high-launching TaylorMade Stealth rescue features a stylish black and red finish that is glare resistant. Overall, it has the ability to serve mid and high handicappers off the tee and on approach.
Rating: 4.0
Pros
Lightweight components accelerate clubhead speed
Clean turf interaction
Produces a towering launch
Optimal stability at contact
Built for slow swing speed
Cons
Not suited to fast swing speed
Moderately expensive
Lofts
21°, 24°, 27°, 30°, 33°, 36°
Senior golfers with slower swing speeds require a lightweight, flexible hybrid that boosts speed and power on the downswing for maximum energy transfer. The Callaway Rogue ST Max OS Lite ticked all the boxes, producing superior swing velocity, clubface flex, ball zip, and a steep apex.
Callaway fitted the ST Max OS Lite with lightweight components to enable slower swing speed to generate an enhanced acceleration into impact. I certainly felt my ability to unload from the top, and the flexible nature sprung the clubface into the ball at contact, transferring optimal energy and pace to the ball.
The oversized clubhead sports a refined sole that efficiently glides through the grass with limited interaction with the ground. This saved me from losing clubhead speed into contact, elevating my ability to transfer energy to the golf ball.
Once the clubface touched the ball, the Jailbreak System kicked in with its combination of stiffness and flexibility. The stiffer side of the clubhead stabilized the clubface and minimized the loss of pace. In addition, the flexible part of the club ensured I created sufficient speed and low spin on heel, toe, and low club face mishits.
Lastly, 24 grams of tungsten weight placed the CG optimally, encouraging a high, easy launch.
Rating: 3.8
Read More: Best Hybrid For Seniors
10. Titleist TSR1 – Best Hybrid For Straighter Shots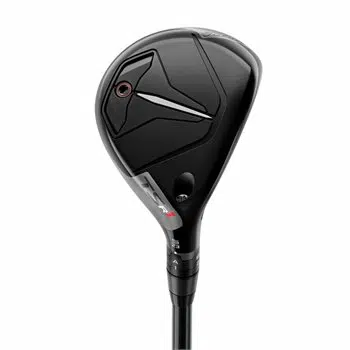 Pros
Lightweight build for added swing speed
Fast clubface
Maximum stability at contact
Glare resistant finish
Suits slower swing speed
Cons
The large head design will not appeal to mid and low handicappers
Costly retail price
Lofts
The premium-priced, adjustable, glare-resistant, and lightweight Titleist TSR1 brings our most forgiving hybrids review to a close. The fast swinging and easy launching design are ideal for slower swing speed high handicappers looking to consistently get the ball airborne.
Titleist crafted the TSR1 with a large head that gives the feel, acoustics, and rebound of a fairway wood, with the leniency and accuracy of a hybrid. I found the oversized design carried an enhanced sweet spot, which preserved pace across the surface and lowered spin, causing me to launch high and powerful shots.
Next, I appreciated the SureFit adjustable hosel, allowing me to strengthen or weaken the loft at my discretion. Plus, the black finish was a welcome addition as it combatted glare and looked slick at address.
Finally, the TSR1 produced consistently high launch and moderate spin revolutions for improved long-game distance. My only gripe is the premium price tag attached to it.
Rating: 3.6
What To Consider When Purchasing A Forgiving Hybrid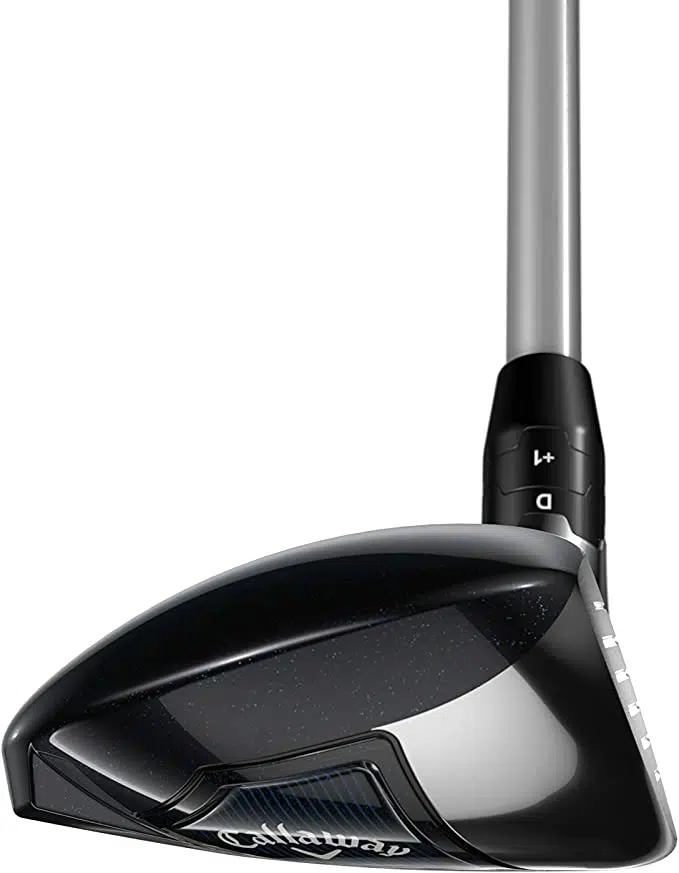 Loft
The optimal lofts for your game are the first factor to consider when purchasing a forgiving hybrid. Lofts range from 17 to 36 degrees, with the stronger options matching the setup of a 5-wood or modern-day 3-iron.
Most amateurs employ lower lofted hybrids to bridge the gap between a fairway wood and long iron. Mid and high handicappers who struggle to launch a 3, 4, or 5-iron are best off swinging a 17 to 19-degree loft to achieve a similar distance.
Once the average amateur reaches their mid-game, they generally switch to irons. However, beginners struggling to get shots airborne may consider playing with hybrids as weak as 36 degrees.
Draw Bias
Draw bias is a feature that mid-to-high handicappers may seek in a forgiving hybrid to promote straighter shots and greater accuracy. A draw bias hybrid is equipped with increased offset to make it easier to square your clubface at contact and generate straighter results.
You are less likely to produce a severe slice and impede accuracy by squaring your clubface at impact.
Clean Turf Interaction
Next, minimal turf friction is required with a hybrid to prevent the club from digging into the ground and losing clubhead speed. I recommend sourcing a hybrid renowned for clean turf interaction if you are susceptible to hitting the turf before your golf ball.
The Tour Edge Hot Launch E522 is a prime example of a clean gliding hybrid owing to its effective Houdini Sole. The magical design propels the sole across the turf without hassle before it catches the ball cleanly and launches it high into the sky.
Low CG
A low CG position is the final feature to ponder when acquiring forgiving hybrids. The lower the manufacturer positions the CG, the more assistance you receive at impact, and the higher your golf ball launches.
When the CG is positioned low and back, you may produce more spin than if it is low and forward. I find I generate greater distance with a low and forward CG because I tend to create excess spin without needing a boost from the club.
FAQ
Who Makes The Most Forgiving Hybrids?
Callaway makes the most forgiving hybrids, with two of their products appearing on our list for 2023. Callaway packs their hybrids with advanced game improvement technology to increase clubface flexibility, ball speed, launch, and accuracy.
Are Utility Irons The Same As Hybrids?
No, utility irons are not the same as hybrids. Utility irons typically contain a cavity back, with game improvement technology and perimeter weighting to optimize ball speed, contain spin and produce a consistent, low launch.
Utility irons look like golf irons. Whereas hybrids sport the appearance of a semi-fairway wood.
Should Golfers Play With Long Irons Or Hybrid Clubs?
Amateur golfers should play with hybrid clubs over long irons because of their forgiveness, consistency, ease of launch, and accuracy. While I play long irons, I find most amateurs struggle to produce desirable results with the strong-lofted long irons.
Conclusion
Our most forgiving hybrids review exposed me to several products that combat slices, minimize turf interaction and boost clubface flexibility. Together these factors deliver a hassle-free launch, impressive carry distance, and accuracy off the tee and on approach.
Although there were strong contenders for the overall title of most forgiving hybrid, the Callaway Paradym X obliterated expectations. The semi-draw bias flight, low spin, and explosive clubface produced an exceptional combination of distance and accuracy despite the occasional off-center strike.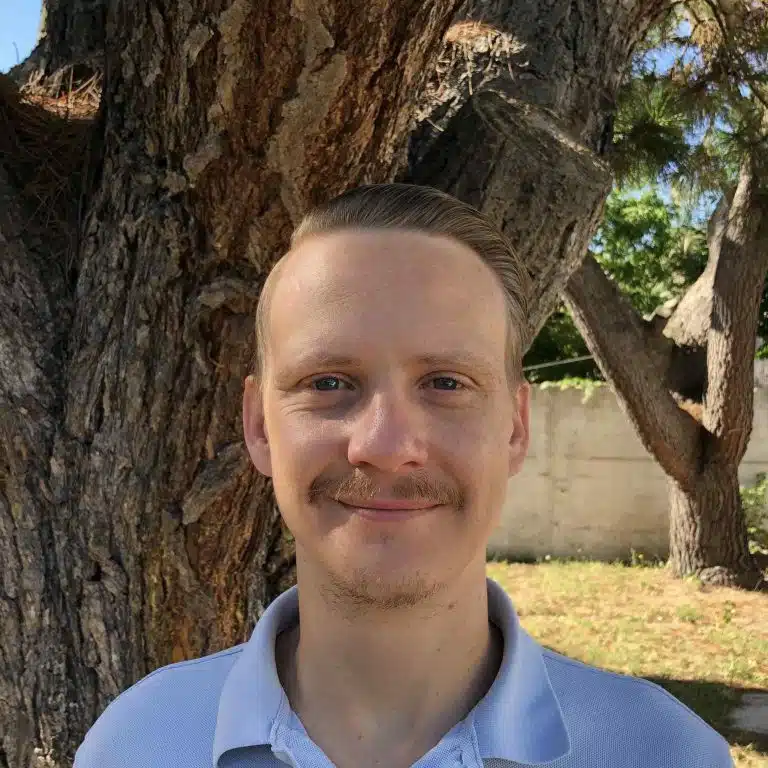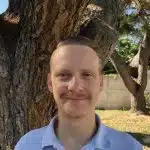 Matt is a seasoned golf equipment writer and sports fanatic. He holds a Postgraduate in Sports Marketing and has played golf for over 28 years.