While ICON golf carts may not have the reputation of the likes of Yamaha or Club Car for being in the game for decades, it is not a golf cart brand that should be overlooked.
It was only founded in 2017, but it has quickly made its name up, competing with some big names as an electric alternative to a golf cart.
So, let's look at which of the ICON golf carts are best for you in 2023? If you are on a budget, the ICON golf cart for you is the i20. We recommend the i40L for different terrains, and the best overall golf cart is the i60L, as it is the complete package.
However, there is much more to know, like the pros, cons, features, costs, and whether they are street-legal if you are looking to invest in one.
So, let's crack on, shall we?
Top 3 ICON Golf Carts – Review
Here is a table looking at 3 ICON golf cart reviews and which is best for which situation:
Best Overall
Best for Tough Terrains
Best Budget Pick
ICON i60L
ICON i40L
ICON i20
Pros

Lots of space for passengers
Metal front bump
Lifted

Thicker wheels (12")
Raised up from the floor
Metal front bump

Good price
Easy to move around
Quick to get up to speed

Cons

More expensive than the others but good value

Can't carry as many golfers

Price Score
89
82
87
Looks
91
87
85
Mobility
73
79
84
Effectiveness
90
88
77
Rating
4.5 Stars
4.5 Stars
4 Stars
What Is ICON?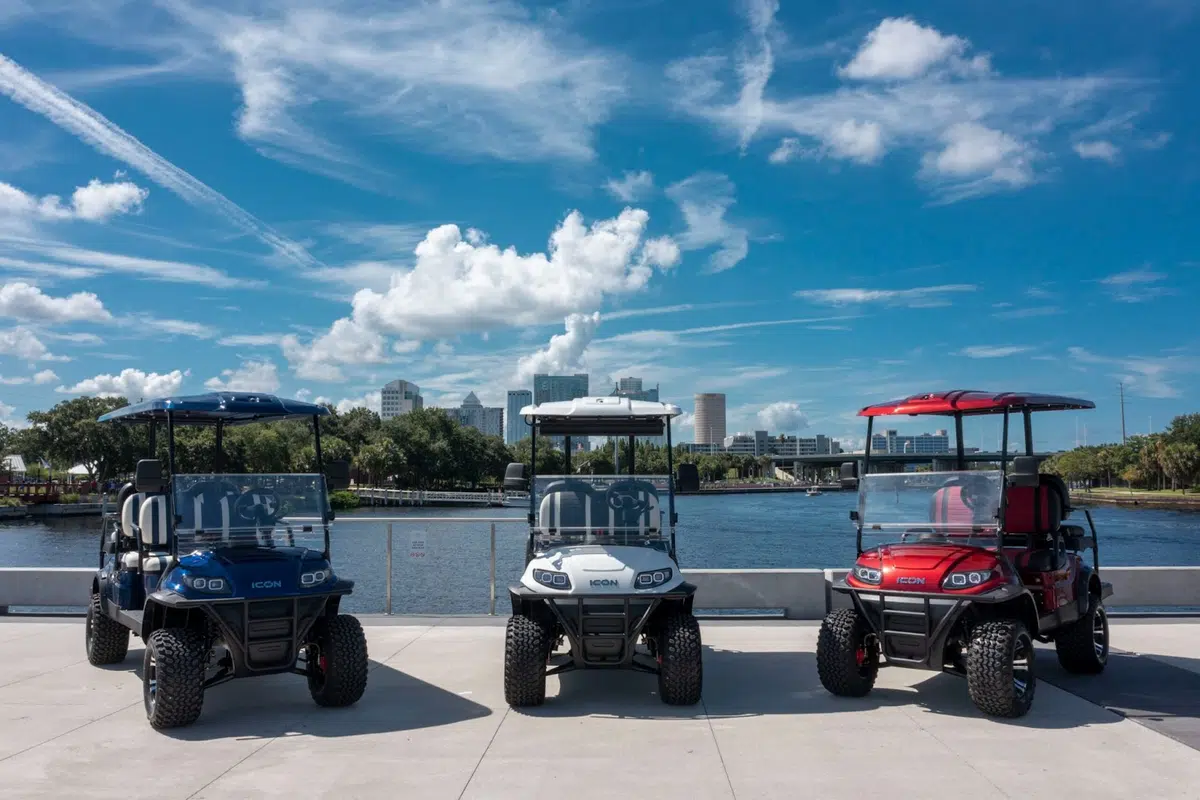 ICON is a golf manufacturer of EV golf carts and has been since 2017. The ICON golf cart is fast becoming one of the more popular cart brands on the market due to the quality and looks of the product. Additionally, more people are wanting to support the environment with electric carts.
ICON is based in Tampa, Florida.
Top Features of ICON Golf Carts
3-year warranty
Street legal in most U.S. states
Wheels with lots of traction
48-volt Toyota motor
Included customization
Complete light set
Seat belts
Digital dashboards
Batteries with zero maintenance
ICON Golf Cart Dimensions
For each cart, here is the Length x Width x Height in inches:
i20 –  96x49x72
i20L – 101x53x82
i20U – 144x49x72
i20UL – 144x49x82
i40 – 108x49x72
i40L – 113x53x82
i40F – 122x49x75
i40FL – 128x53x82
i60 – 134x49x75
i60L – 149x53x82
i60F – 168x49x75
i80 – 168x49x75
List of ICON Golf Cart Models
i20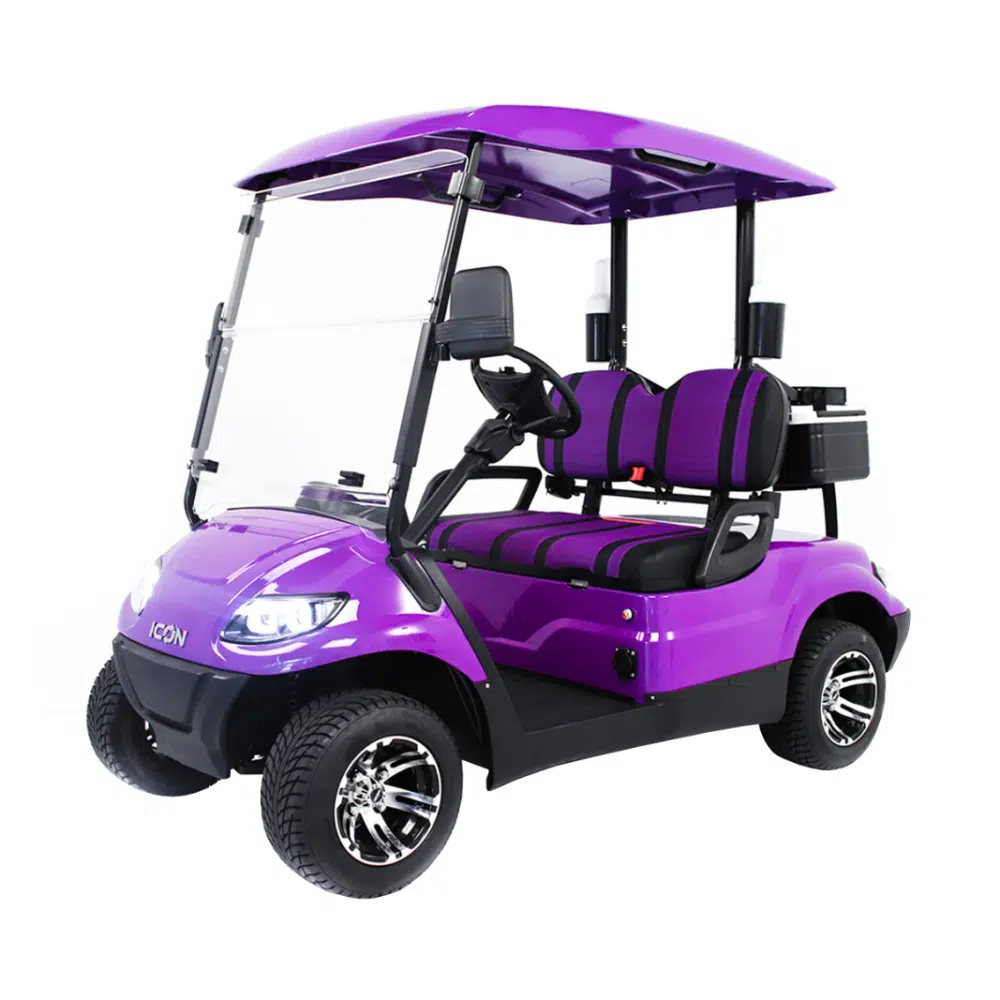 The i20 was the first series to be released and there are two seats. Additionally, there is a cooler on the side.
i20L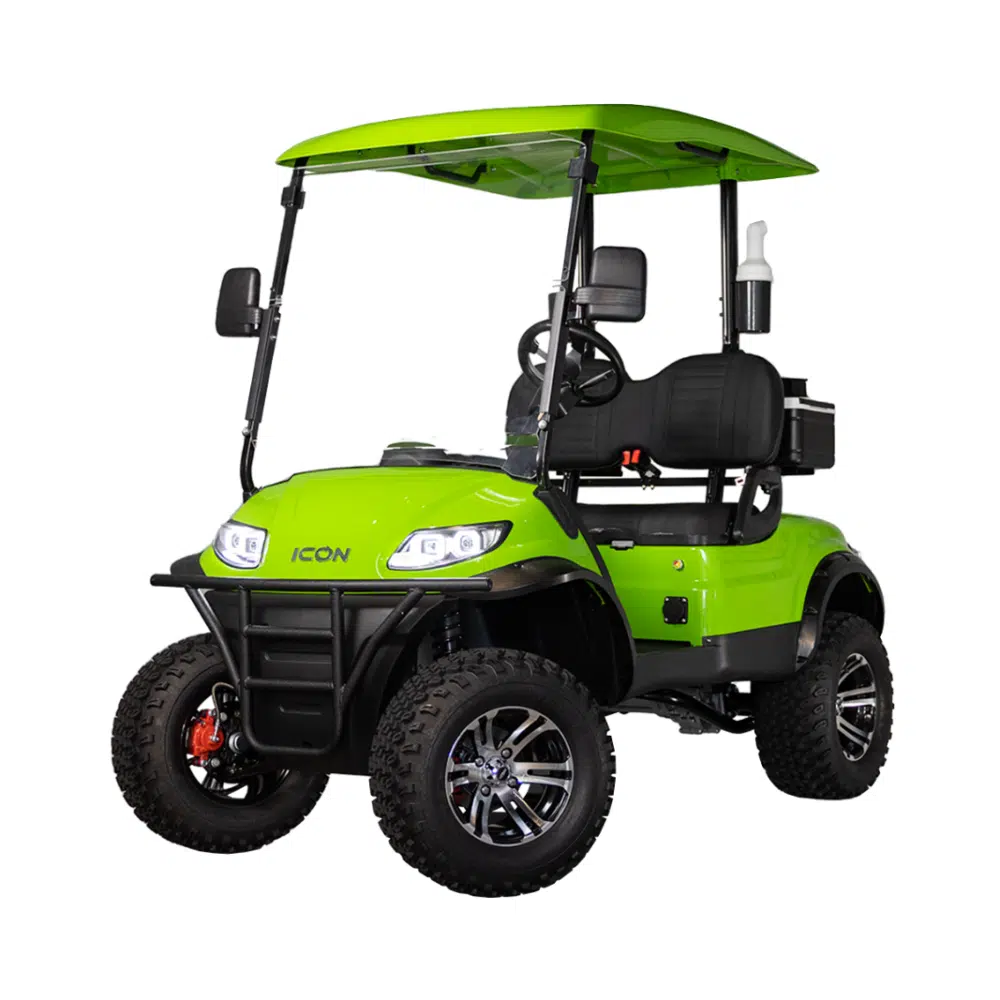 The wheels move from 10" on the i20 to 12" on the i20L, and there is a metal front bump too on all of the L models.
I40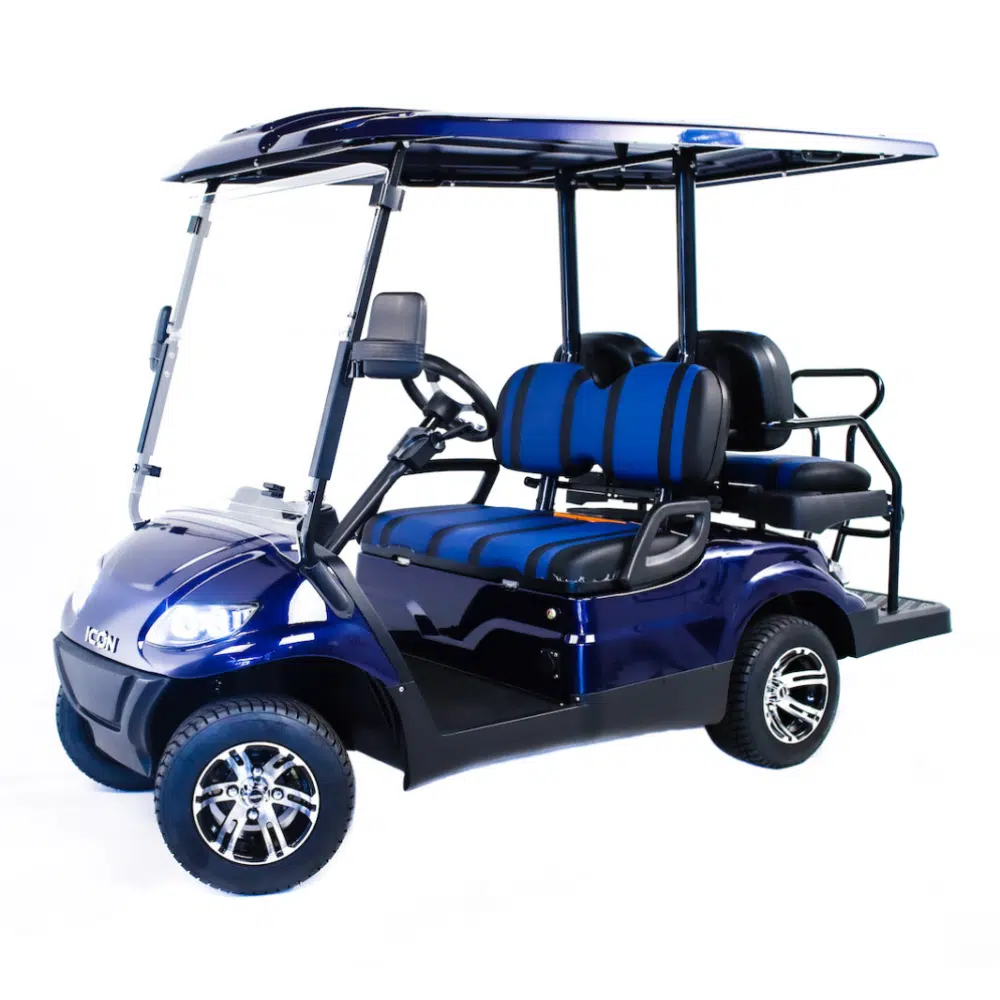 Moving to the i40, the big change is now there are 4 seats – 2 more are on the back. It is not far off 200 lbs lighter than the i20UL. The front has been reverted to look more like the i20U.
i40L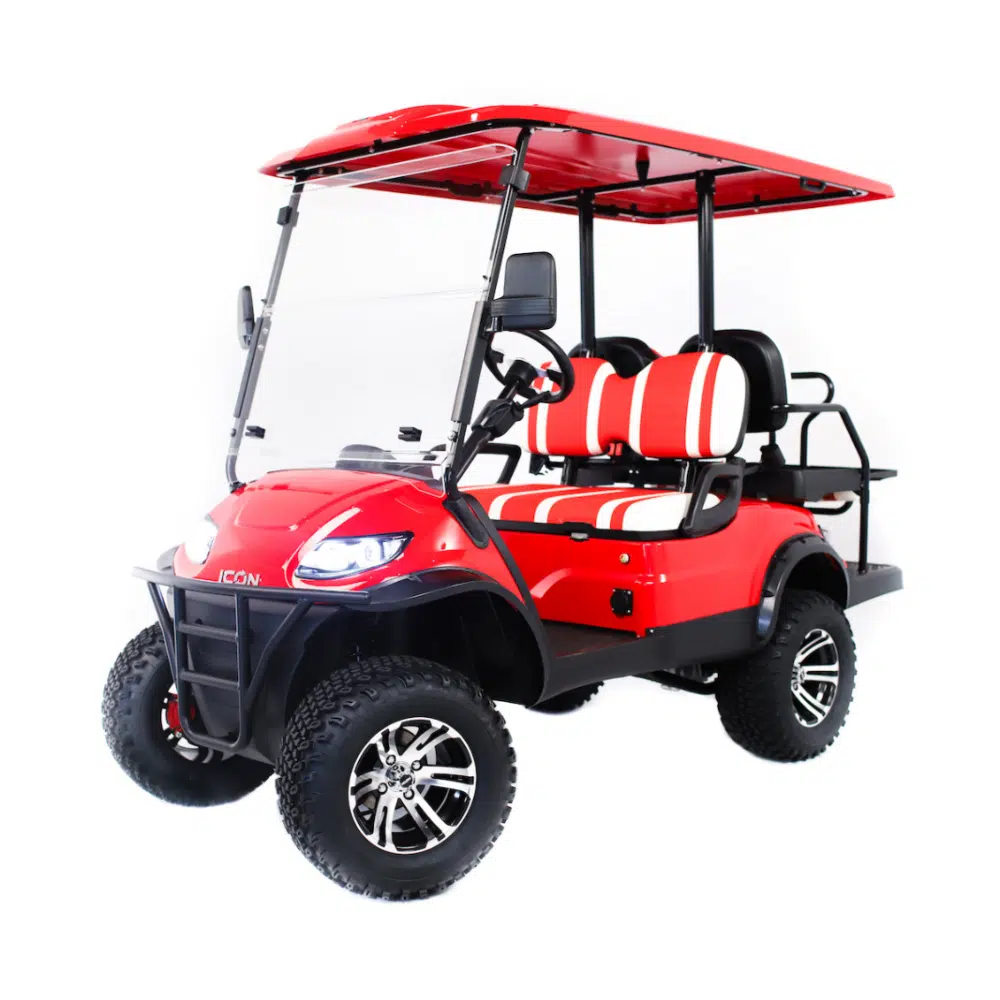 The lifted cart once again has the rear seats facing backward.
i40F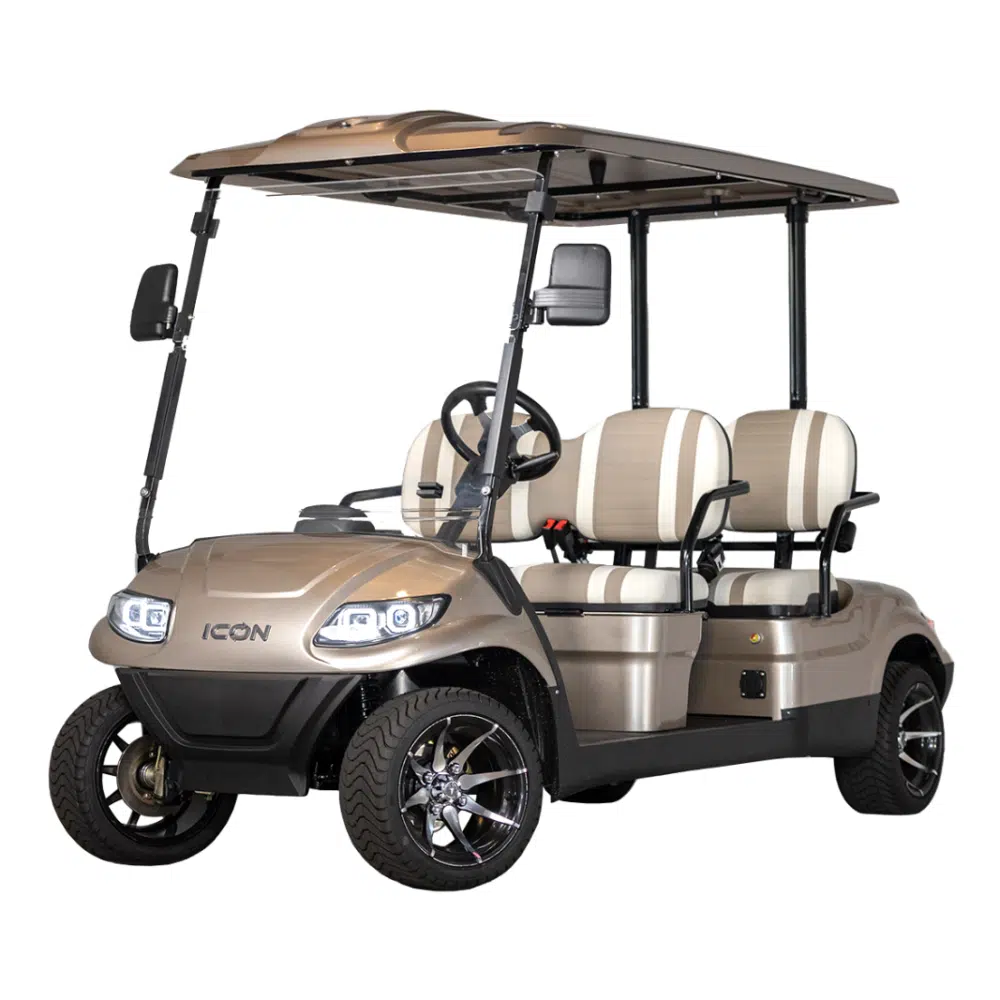 This cart is a bit longer as all 4 seats are facing forward, which is reminiscent of a car if you are on the road.
i40FL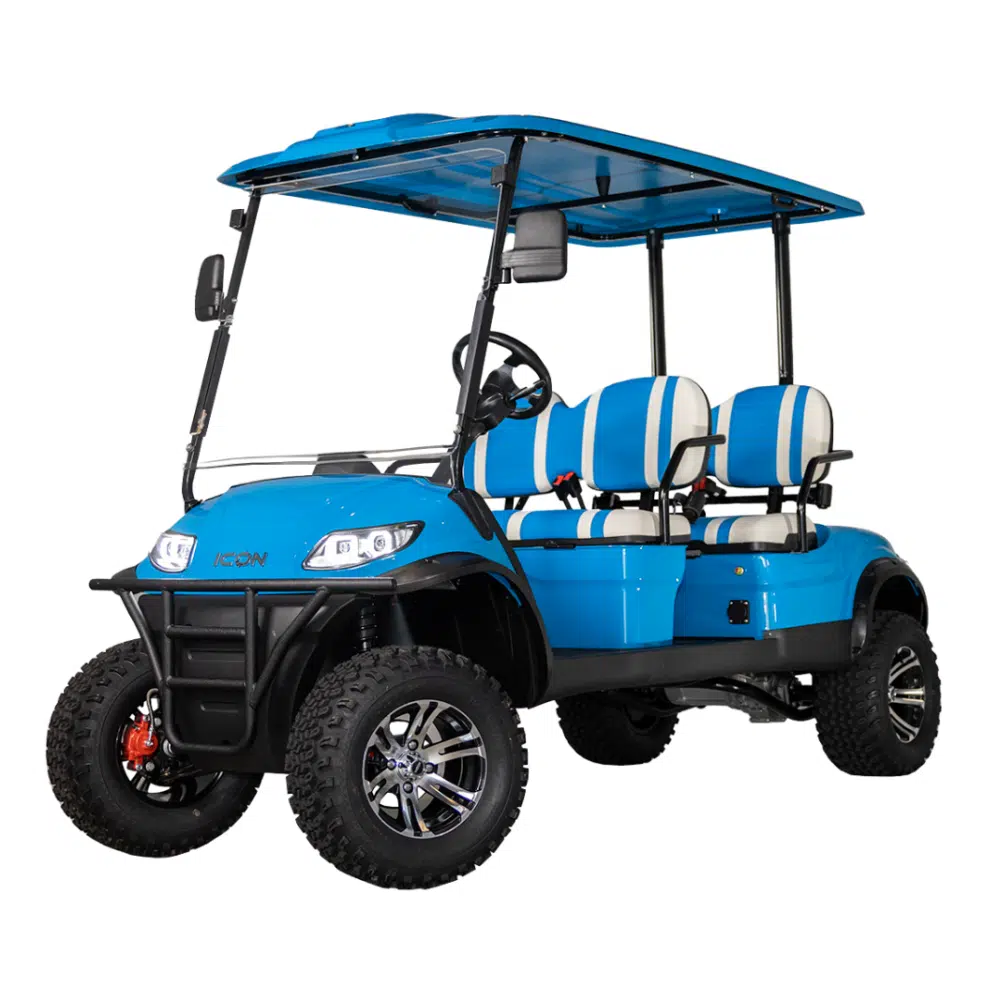 The lifted version is slightly heavier and bigger once again.
i60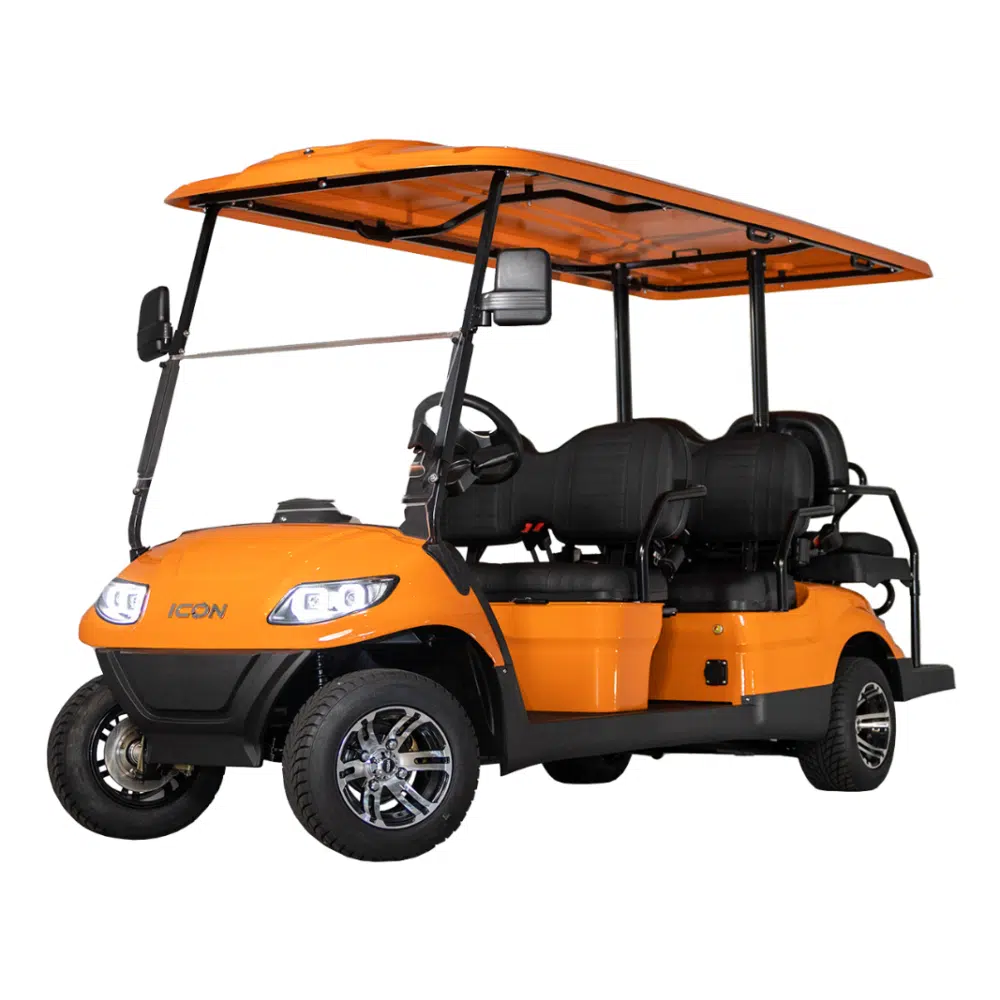 The i60 moves to 6 seats with 4 facing forwards and the rear boasting 2 seats as well. It is very handy for hotels and resorts.
i60L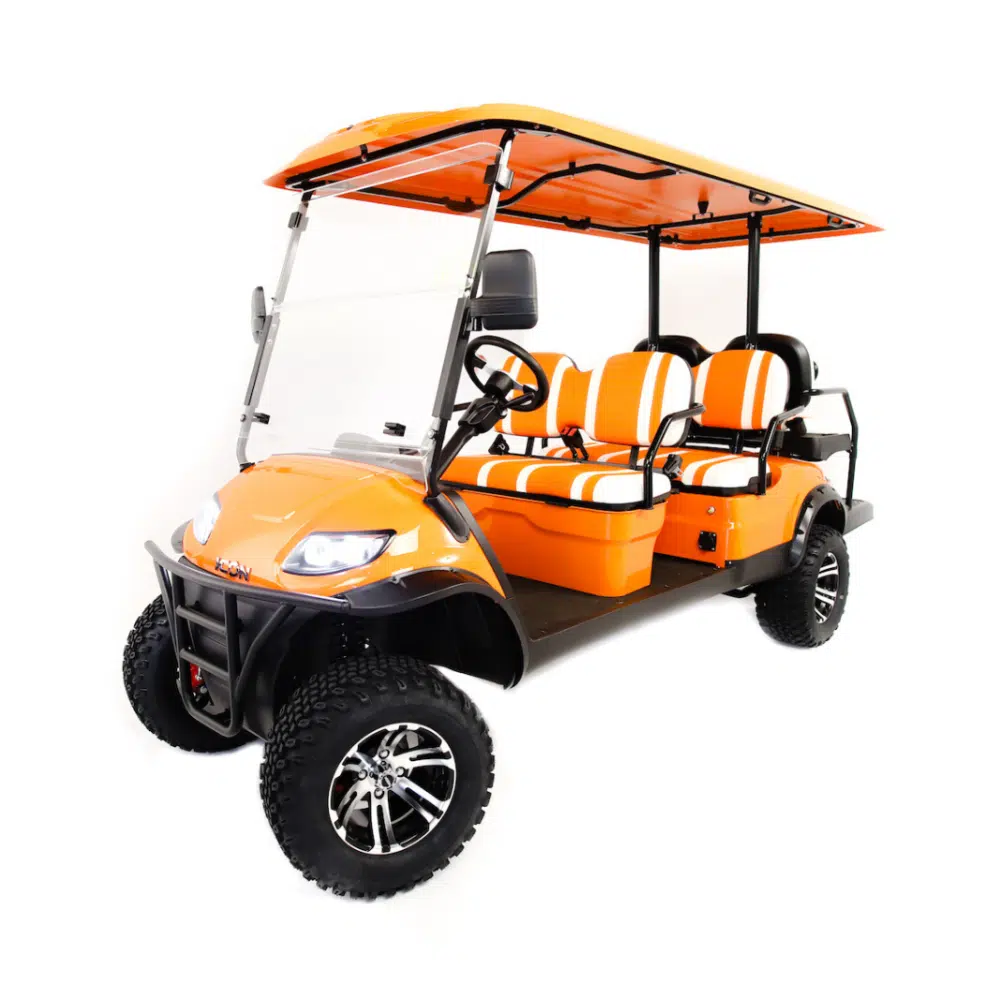 The i60L is raised and heavier.
i60F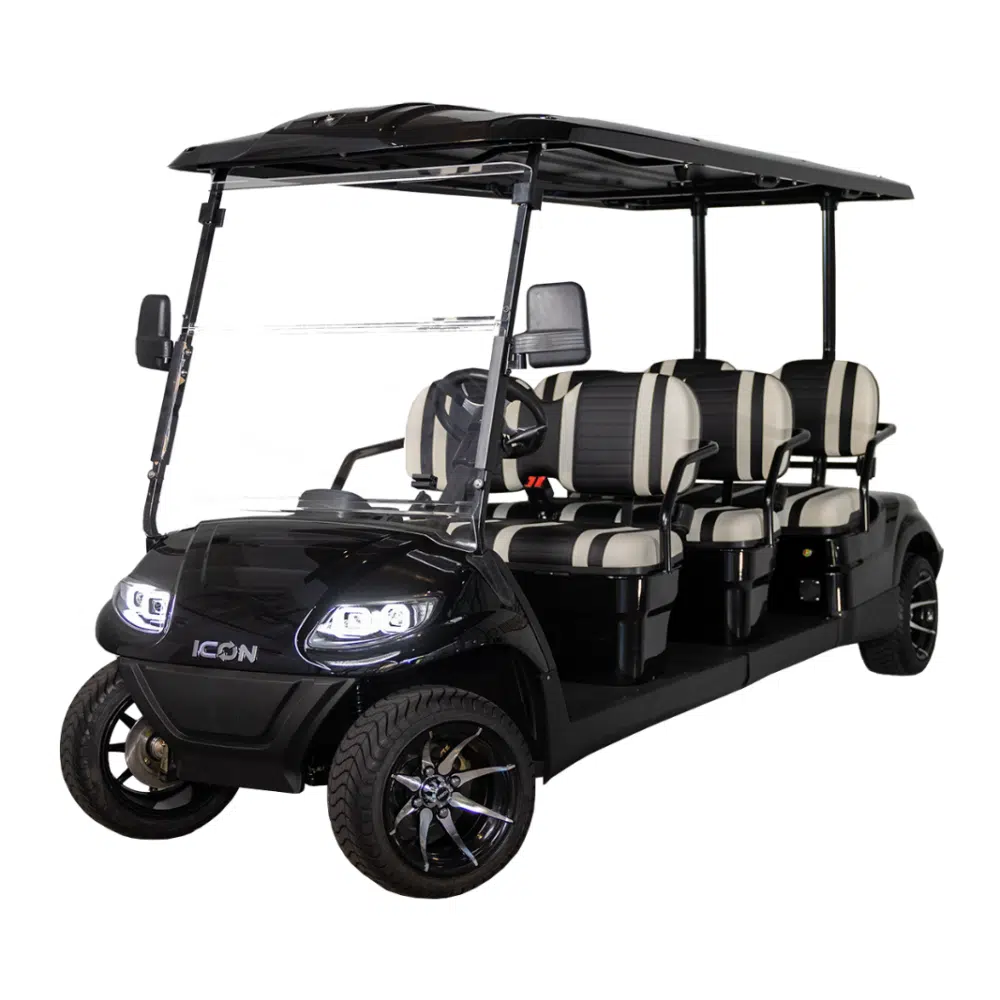 This cart has 6 seats, all of which are facing forwards, and it looks like the i60 model in design.
i80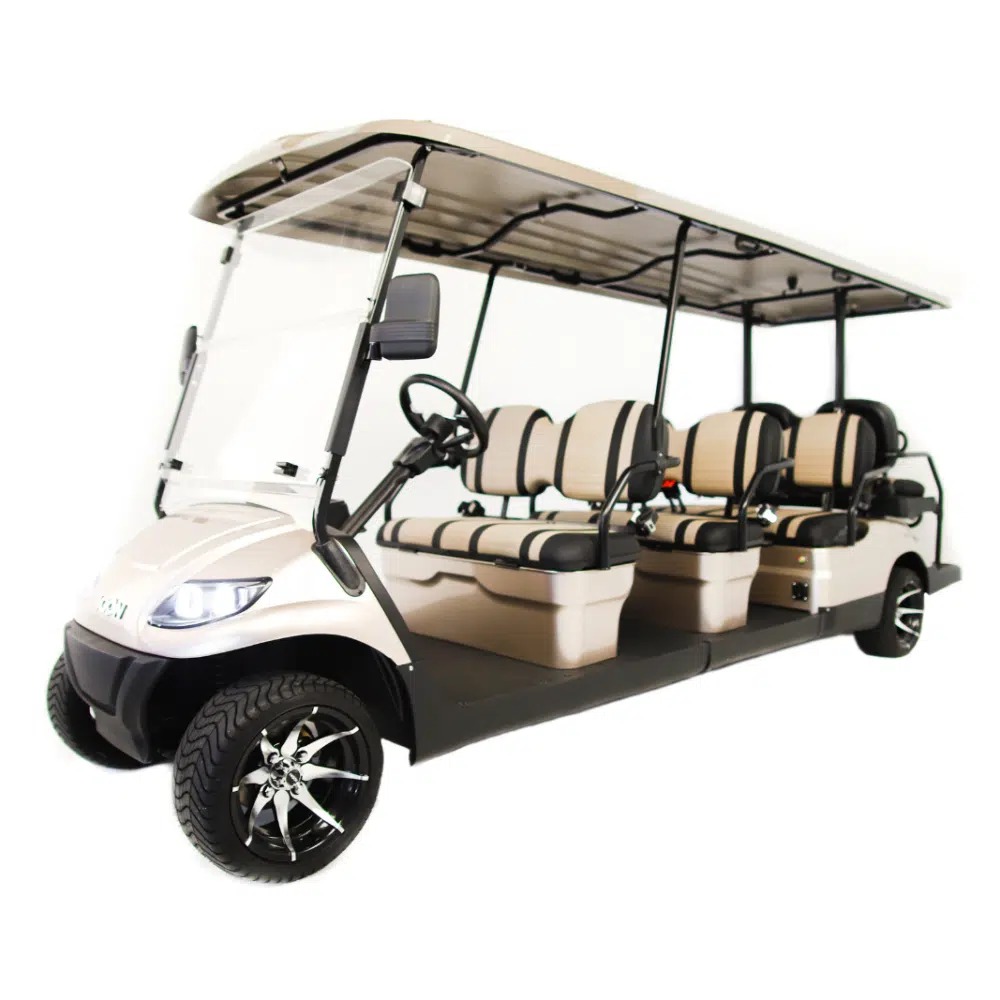 You guessed it. The ICON i80 can host 8 people on the cart, with the front 6 facing forwards and the back 2 facing backward. Despite this, at 1550 lbs it is just as heavy as the i60F.
Why You Should Trust Us
Our team spends thousands of hours trying out and researching golf equipment to help you take your game to the next level. Here's our product review process.
We're able to bring these reviews to you through the small commissions we earn if you buy through the links below.
How We Reviewed These Products
Golfspan only shares equipment and brands we trust.
I have thoroughly researched the ICON golf carts to help you avoid wasting so much time watching golf cart videos. After that, an editor reviewed and fact-checked this list. Finally, we conduct regular content audits to update and revise our reviews to ensure you receive the latest information.
Cost
Looks
Seating
Lift
Power
Speed
Braking
Tires
The 3 Best ICON Golf Cart Reviews 2023
Here is more detail on our ICON electric golf cart reviews: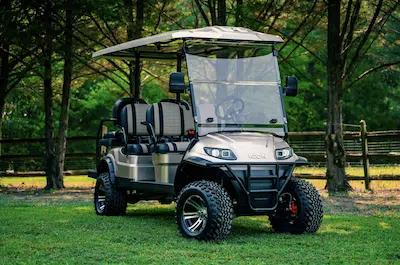 Pros
Lots of space for passengers
Metal bumper on the front
Lifted from the ground
Looks beautiful
Back 2 seats flip back for more space
Good braking power
Cons
More expensive than other models, but still good value
Key Features
Weight: 1541 lbs
Carries: 6 people
Wheels: 12-inch Machined Face Aluminum with Powder Coated Accents
Motor: 48V ICON 5KW 3 Phase High Torque Motor
Rating: 4.5/5
Our analysis revealed that the ICON i60L is, in our opinion, the best ICON cart on the market. It has hit the sweet spot with a 6-person capacity, while the back seats can fold back for extra space if needed.
Not only does it look great, it provides lots of space for passengers, and it is lifted off the ground too. The legroom is more than suitable.
Given its weight too, it is important it has good stopping and braking power especially coming up to corners and traffic lights. It has this in abundance so no need to worry there. The i60L ticks a lot of boxes for those wanting a new golf cart.
Who's it for?
This is for someone who wants one of the best golf carts around. They have to be happy to pay a little bit more for it than other golf carts, but it is worth it for the quality and benefits you get. The buyer might regularly play with a group or have a big family to take out, so it would work for them well.
2. ICON i40L – Best for Different Terrains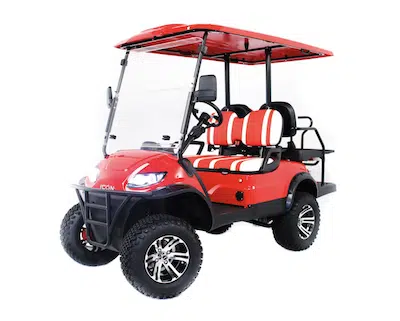 Pros
Good amount of space for passengers
Storage pocket
Lifted from the ground
Flip back rear seat
Great stopping power
Cons
Can't carry more than 4 people
Key Features
Weight: 1384 lbs
Carries: 4 people
Wheels: 12-inch Machined Face Aluminum with Powder Coated Accents
Motor: 48V ICON 5KW 3 Phase High Torque Motor
Rating: 4.5/5
The i40L is a special golf cart. Our research shows that it is the best ICON cart for different terrains. That means you can take it on the road, on the course, on hills, and on bumpy terrain and still enjoy it.
I found that it laps up bumps and keeps the ride smooth, which is ideal for the user. This is helped by the 12" aluminum wheels and 23" tires which lift up the cart.
It will cost upwards of $10,000, so it is not as cheap as another cart like the i20 – which I will cover next. However, it is still good value for money for what you get.
Who's it for?
This cart is ideal for someone who wants to use the cart for multiple uses across different terrains. They can use it on the course, short journeys, and moving items.
3. ICON i20 – Best Budget Pick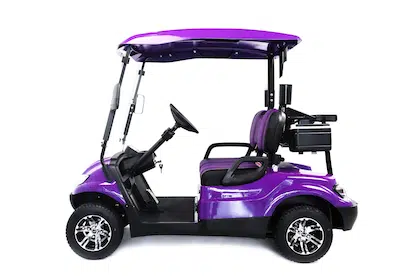 Pros
Good price
Easy to maneuver
Quick to get up to speed
Cons
Can't carry as many golfers or as many things as other carts
There isn't lots of space
Key Features
Weight: 1215 lbs
Carries: 2 people
Wheels: 10 or 12-inch Machined Face Aluminum with Powder Coated Accents
Motor: 48V ICON 5KW 3 Phase High Torque Motor
Rating: 4/5
Based on our observations, the ICON i20 is our pick if you are on a budget. Being the base version of the carts, it is well-priced.
Due to its small size, it is a cart that is easy for the driver to maneuver. We also assume that due to its 1215 lbs weight, it quickly reaches 25 mph speed.
Of course, it isn't as big or suited for other terrains as some of ICON's other carts. But you get what you pay for, and if your budget is limited, the i20 is a solid pick for getting you around.
Who's It For?
The i20 cart is best suited to someone who doesn't have lots of money to choose between the different models. They want an efficient and reliable golf cart that will get them from A – B in a timely manner.
How Much Do ICON Golf Carts Cost?
Our research indicates that new ICON golf carts can cost between $7,999,000 and $14,000, depending on the model and package you opt for.
To get your hands on an ICON cart, you must find a dealer and fill out a form. Once you have done this, the ICON team will get back to you with information on your nearest dealer.
Are ICON Golf Carts Any Good?
If you want to know are ICON golf carts good, our answer is yes. Of course, like any set of carts, it isn't perfect, but in our ICON golf cart review, we believe it to be a good-looking, effective golf cart that can get you from A to B in style. There are also some great options.
Pros
Here are some benefits of the ICON golf cart:
Good for the environment
It is street legal
It looks smart
Can carry many passengers
Lots of options
Gets up to a fast speed for a golf cart
Safety features
Saves you from walking around with your clubs with an electric cart
Cons
Here is a list of ICON golf cart problems or issues that owners can face:
Potential battery life issues
Potential light issues
Potential break issues
Size may mean the bigger options are hard to park
Sometimes can be a delay in the delivery of parts
What To Consider When Buying ICON Carts
Size
Given the differing sizes of ICON golf carts, knowing how big you want your golf cart to be is imperative. Perhaps you only ever play golf with one friend, but you have a family of 4 that might benefit from the cart from time to time.
So, before purchasing, know exactly how many people will use it.
Intended Use
Think about the intended use of the golf cart. Ask yourself where your cart will be used on a golf course, for transporting goods around hotels and resorts, or as an alternative to a car or bike to get around. This should help you narrow down what you need in the cart, for example, thicker wheels or not.
New or Second Hand
Consider whether you want a new or second-hand option golf cart. Obviously, the latter will be a little cheaper, but it will come with some wear and tear and it has more potential for issues that have accumulated over time. You will be paying a more premium price for a new cart, but it comes with fewer risks. It comes down to what is more important for you.
Where to Buy Used ICON Golf Carts for Sale?
Used ICON golf carts tend to be a few thousand dollars cheaper than the new versions. You can buy used ICON carts on websites like eBay, ATV Trader, and Golf Cart Resource where different models of ICON carts are for sale.
Who Makes ICON Golf Carts?
ICON EV makes ICON golf carts. In case you wondered where ICON golf carts are manufactured: The company does most of its manufacturing in Tampa, Florida. In the past, manufacturing was done in China. Now, a lot of the parts are imported from there.
What Is The Top Speed of ICON Golf Carts?
ICON golf carts are meant to come with a top speed of 25 miles per hour. However, our research has shown that some models can reach 27 – 28 miles per hour. The top speed often depends on how much charge the 48-Volt AGM battery has.
Are ICON Golf Carts Street Legal?
The short answer is yes, Iron golf carts are street legal in most states in the United States. The seatbelts and full set of lights (headlights, signal lights, brake lights, and taillights) enable this. ICON EV is one of the best brands for street legal golf carts.
ICON Golf Cart Accessories and Parts
The ICON golf cart also comes with:
Horn
EV charging port
Charger indicator
USB charging port
Accessories that can be added to the cart are:
Front basket
LED bar
Roof rack
Custom seats
Cup Holder armrests
Final Thoughts
We hope you have enjoyed reading our detailed ICON golf carts review. Now you know everything there is to know about the carts and which is the Our team.
If you take up our recommendation, let us know what you think! Whatever happens though, you are richer in knowledge now about the carts…
FAQs
Does ICON Offer Gas-Powered Golf Carts?
ICON does not offer gas-powered golf carts. If you weren't already aware, the brand name is ICON EV - the EV stands for electric vehicle. So, it is only electric-powered golf carts that they manufacture.
How Long Do ICON Golf Cart Batteries Last?
The 48-Volt AGM battery in an ICON golf cart will last around 25 - 50 miles before it needs to be fully charged again. It is worth the charge of the battery often so you are not stuck far away from a charging port.
How Far Can an ICON Golf Cart Go?
On a fully charged 48-Volt AGM battery, ICON golf carts can go between 25 - 50 miles on just a single charge. This does depend on the battery life and the terrain on which the cart is used. With less battery life, the range decreases too.
Are ICON Golf Carts 4-Wheel Drive?
Despite the sizable 12" wheels on some of the ICON models, the carts are not 4-wheel drive. That would require the carts to be able to provide torque to all of its wheels at the same time. The ICON cart cannot do this.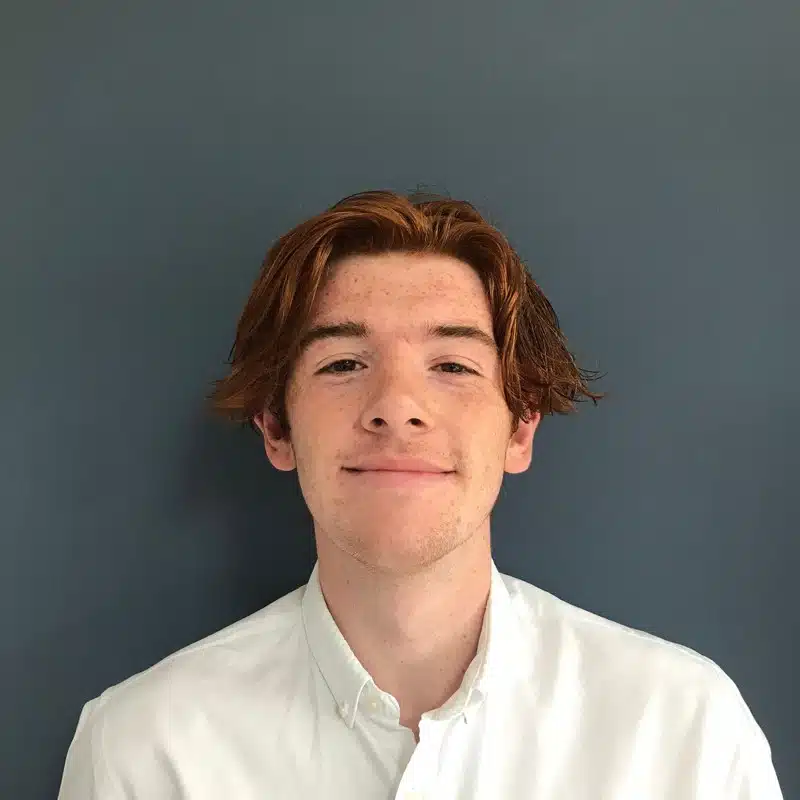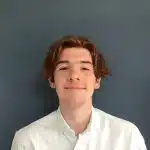 Jack was inspired by his Grandad Ron's golfing and grew up playing this great game. Now, he enjoys both playing and writing about it. He is also a big sports fan too. Jack is always looking for ways to find the edge on the course to share with readers.