Whether you're an amateur golfer hoping to improve your game or a seasoned pro looking to beat your personal best, the best golf visors of 2023 can give you an edge on the course.
You're probably wondering, what's the big deal about a visor? Well, the right visor can provide the perfect blend of sun protection, comfort, and style – essential factors for a focused and successful game.
Here are the 7 best golf visors:
In this comprehensive guide, you'll learn about each visor's costs, key features, and pros and cons. Read on, you wouldn't want to miss out on these game-changers.
Top 3 Golf Visors
Best Overall
Best for Alternate Use Case
Best Budget Pick
Nike Dri-FIT Swoosh Golf Visor
Titleist Tour Performance Visor
Adidas Men's Superlite 2 Visor
Pros

High breathability
Stylish design
Adjustable strap

Excellent sun protection
High-quality material
Comfortable fit

Affordable price
Lightweight
Wide color range

Cons

Limited color options
Slightly pricey

Not suitable for larger heads
Not many color options

Lacks durability
May feel tight for some

Price Score
85/100
90/100
95/100
Sun Protection
95/100
100/100
90/100
Comfort
100/100
95/100
90/100
Style
100/100
95/100
85/100
Rating
4.8/5
4.7/5
4.5/5
Why You Should Trust Us
Our team spends thousands of hours trying out and researching golf equipment to help you take your game to the next level. Here's our product review process.
We're able to bring these reviews to you through the small commissions we earn if you buy through the links below.
How We Reviewed These Products
Golfspan only shares equipment and brands we trust.
I've played golf for +20 years and am a professional writer about golf equipment. I meticulously researched each of the visors below. Following this, an editor combed through all the information to ensure it reads well and is factual. We also regularly review our content as the market changes to bring you the latest in golfing gear.
For this post on golf visors, I considered the following criteria:
Cost
Sun protection
Comfort
Style
Material
Sweat-wicking
The 7 Best Golf Visors Reviewed
Pros
High breathability
Stylish design
Adjustable strap
Cons
Limited color options
Slightly pricey
Key Features
Dri-FIT technology
Soft hook-and-loop closure
Embroidered Swoosh design
Rating: 4.8/5
The Nike Dri-FIT Swoosh Golf Visor stands as our top overall pick for 2023. Drawing from our experience, this visor delivers top-notch comfort with its Dri-FIT technology, which wicks sweat away, keeping you dry and focused on the game.
The visor's stylish design appeals to golfers who appreciate a sleek aesthetic, and its adjustable strap ensures a perfect fit. However, some may find the color options limited and the price slightly higher compared to other brands. But for the comfort and style it offers, it's worth the splurge.
Who's it for
The Nike Dri-FIT Swoosh Golf Visor is not just a visor – it's a statement of style, a testament to comfort, and a tool for enhanced performance.
It's designed for golfers who don't compromise on comfort and style regarding their golfing equipment. If you're the kind of player who tends to break a sweat during those nail-biting moments on the course, or if you're looking for a visor that adds a touch of class to your golfing attire, this is the visor for you.
With its optimal sweat management and stylish design, the Nike Dri-FIT Swoosh Golf Visor is a worthy addition to any golfer's gear collection.
Pros
Excellent sun protection
High-quality material
Comfortable fit
Cons
Not suitable for larger heads
Not many color options
Key Features
UV protection material
Moisture-wicking sweatband
Adjustable back strap
Rating: 4.7/5
When it comes to sun protection, the Titleist Tour Performance Visor takes the lead.
Our tests showed that its UV protection material effectively shields the eyes and face from the sun. The visor also features a moisture-wicking sweatband for added comfort and an adjustable back strap for a secure fit.
While it offers outstanding performance, golfers with larger heads might find it a bit snug. Moreover, the color options are somewhat limited. Nevertheless, it's a fantastic choice for those sunny days on the green.
Who's it for
The Titleist Tour Performance Visor is perfect for golfers who play under the harsh sun and need reliable protection. If you value function over fashion, then golfing sun visors are for you.
Pros
Affordable price
Lightweight
Wide color range
Cons
Lacks durability
May feel tight for some
Key Features
Climalite moisture-wicking sweatband
Adjustable strap
Mesh panels for breathability
Rating: 4.5/5
For golfers shopping on a budget, the Adidas Men's Superlite Visor is a fantastic choice. Our investigation demonstrated that despite its affordable price, it doesn't compromise on comfort or style.
The visor is lightweight, and its wide color range offers options for every golfer's preference. However, the durability could be improved, and some users might find the fit a bit tight. All things considered, the Adidas Superlite is an excellent value-for-money visor.
Check out our list If you're looking for golf gifts under $50.
Who's it for
This visor is a great option for budget-conscious golfers or beginners who are not ready to invest heavily in golf accessories yet.
Pros
Feminine design
Comfortable fit
UV protection
Cons
Limited color options
May not fit smaller heads well
Key Features
Moisture-wicking material
Adjustable Velcro closure
Embroidered Titleist logo
Rating: 4.7/5
For female golfers who prioritize both performance and style, we recommend the Titleist Women's Tour Performance Visor.
Through our practical knowledge and extensive testing, we have found that this visor combines a sleek, feminine design with high-quality features that enhance comfort and usability on the course. Its moisture-wicking material helps keep you cool and dry, even during the hottest rounds, while the UV protection safeguards you from harmful sun rays.
The golf tour visor's adjustable Velcro closure ensures a snug fit, conforming to most head sizes and shapes.
Who's it for
The Titleist Women's Tour Performance Visor is the perfect accessory for women golfers who value style, comfort, and performance in their golfing gear.
It is particularly suitable for those who play in sunny conditions and require effective moisture management.
Check out our article If you're looking for great golfing gift ideas for her.
Pros
Excellent sweat management (seriously, which means less cleaning your hat)
Durable
Adjustable strap for a perfect fit
Cons
Limited color options
May be too tight for larger heads
Key Features
UA Microthread fabric
Integrated HeatGear® sweatband
Adjustable closure
Rating: 4.6/5
After conducting experiments with the Under Armour Men's Golf Visor, our team concluded that it excels at sweat management. The integrated HeatGear® sweatband is designed to keep you cool and dry throughout your game.
The visor is made with durable UA Microthread fabric, ensuring it will last season after season. On the downside, it has limited color options and may feel too tight for golfers with larger heads. Regardless, it's an excellent choice for those who need efficient sweat management on the golf course.
Who's it for
This visor is ideal for golfers who often play in hot weather and need a visor that effectively manages sweat.
Pros
Fully adjustable for a perfect fit
High-quality construction
Classic design
Cons
Higher price point
Only available in two colors
Key Features
Performance fabric
Adjustable terry cloth sweatband
Low-profile unstructured design
Rating: 4.7/5
The Callaway Golf Tour Authentic Visor scores high in terms of adjustable fit. Our findings show that its performance fabric and adjustable terry cloth sweatband offer a comfortable and customized fit. Its classic design adds a touch of sophistication to any golf outfit.
However, this visor comes at a higher price point and is only available in two colors, which may deter some golfers. Despite these minor drawbacks, its comfort and adjustable fit make it worth considering.
Who's it for
This visor is a perfect fit for golfers looking for a high-quality, adjustable, and comfortable visor who don't mind spending a little extra on these features.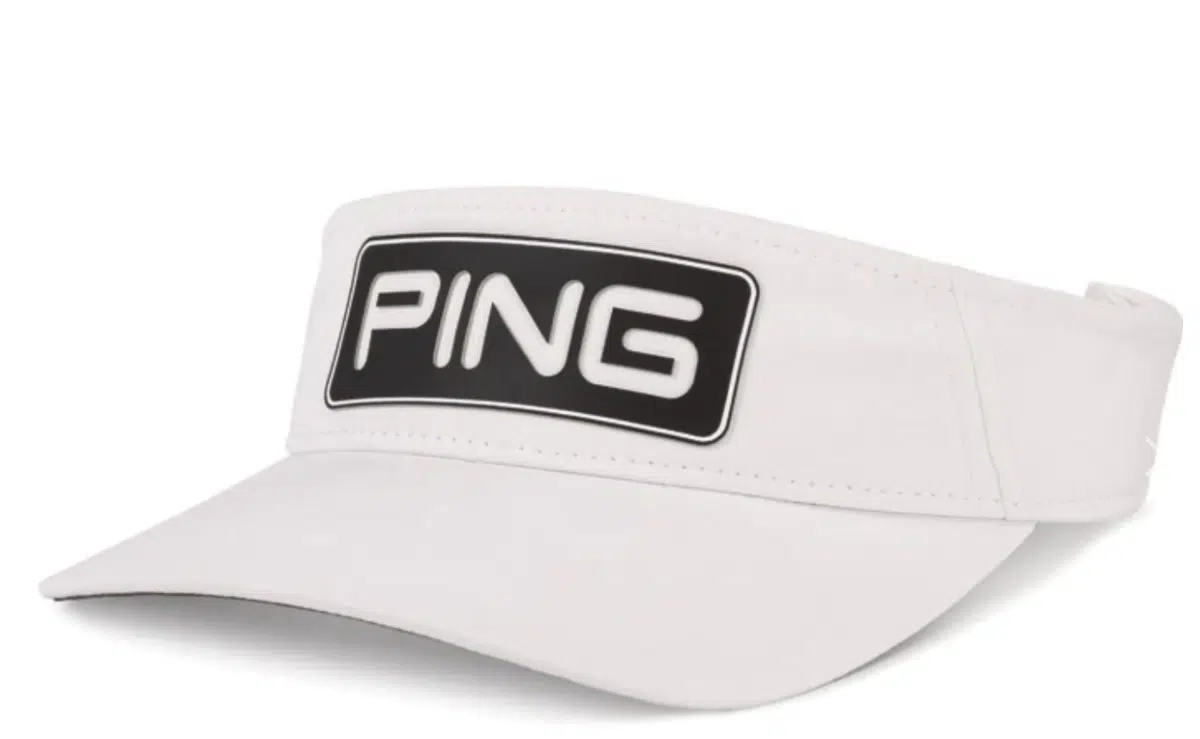 Pros
Stylish design
Durable construction
Comfortable fit
Cons
Key Features
SensorCool Technology
Adjustable closure
High-quality embroidery
Rating: 4.5/5
For golfers who value style, the PING Golf Men's Visor is our top pick. Our research indicates that this visor boasts a stylish design that doesn't compromise on comfort or durability. Its SensorCool Technology keeps you cool during hot rounds.
However, it might not be the best fit for larger heads, and its higher price point might be a turn-off for some. But if you're a golfer who appreciates style and quality, the PING Golf Visor is worth the investment.
Who's it for
The PING Golf Men's Visor is best for golfers who value style and quality and are willing to pay a bit more for these features. We've all watched and loved Bubba Watson rocking a PING visor over the years!
What To Consider When Buying a Golf Visor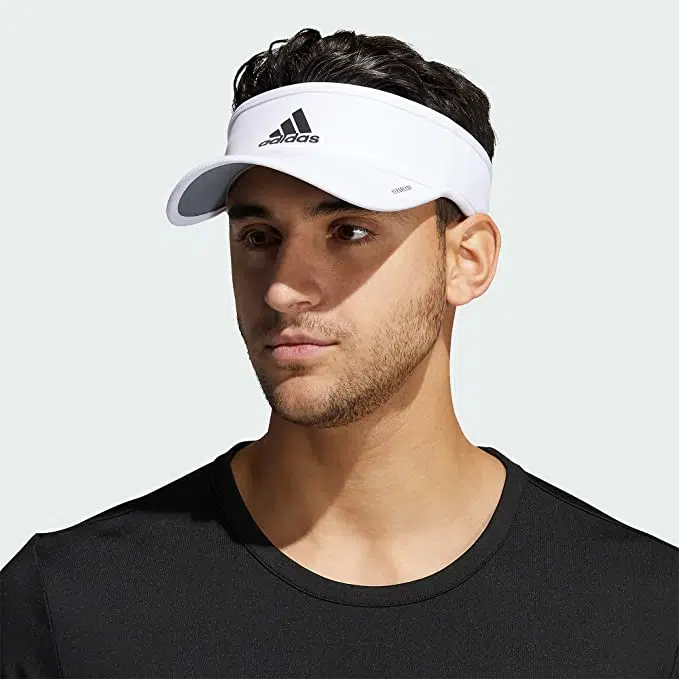 When you're on the lookout for the best golf visor to complement your game and gear, there are a multitude of factors to contemplate. It's not just about selecting a visor that looks good – it's about identifying a visor that feels good and enhances your performance on the green. From my experience, golfers that wear visors tend to also have a love for bucket hats.
Your personal comfort, the visor's functionality, and alignment with your specific needs are all crucial aspects to consider.
Here are a few key attributes you should consider:
Material
The material composition of your golfing visor can dramatically influence your comfort level and your overall performance during the game. Opt for visors crafted from breathable, sweat-wicking materials that can effectively manage perspiration, ensuring you remain cool and dry throughout your game.
This feature is especially important for players who partake in lengthy golf sessions or those who play in hot, humid conditions. Additionally, visors that offer sun protection are a must-have if you often find yourself playing under the sun's harsh glare.
These visors protect your skin from harmful ultraviolet rays, preventing sunburn and long-term skin damage.
Fit
A golf visor is only as good as its fit. A well-fitted visor provides a secure, comfortable experience, ensuring the visor remains firmly in place even as you swing with full force. An adjustable strap is an excellent feature as it can provide a customized, snug fit for all head sizes.
However, remember that not all visors are created equal – some may not fit larger heads comfortably, so it's always a good idea to check the size specifications and read reviews about the fit before purchasing.
Style
While the function of a golf visor is undoubtedly important, style is a personal preference that shouldn't be overlooked. Golf visors for men and women are available in a wide range of designs, from the classic, understated styles to bold colors, patterns, and unique design elements that allow your personality to shine through.
Many women's and men's golf visors also showcase embroidered logos, symbols, or other design elements, allowing you to proudly display your affiliation with a particular brand or team.
Price
The cost of golf visors can vary significantly, so finding one that offers the features and quality you need at a price point that aligns with your budget is essential.
While some high-end visors may come with a hefty price tag, they often justify the cost with superior materials, durable construction, and advanced features.
However, there are also many budget-friendly options on the market that offer excellent performance and value for money. Be sure to weigh your needs against your budget to find a visor that offers the best balance of cost and quality.
Best Golf Visors: FAQs
What Pro Golfers Wear Visors?
Many professional golfers wear visors, including Phil Mickelson, Bubba Watson, and Michelle Wie.
What Visor Does Jalen Ramsey Wear?
The professional football player, Jalen Ramsey is often seen wearing Nike visors.
Do Golfers Wear Visors or Hats?
Both visors and hats are popular among golfers. The choice often comes down to personal preference and the golfer's specific needs, such as sun protection and sweat management.
Final Thoughts
Golf visors might be going out of fashion according to some, but are an essential accessory for any golfer, helping to shield your eyes and face from the sun, manage sweat, and add a touch of style to your golf attire. The best golf visor for you depends on your specific needs and preferences.
From the practical functionality of the Under Armour Men's Golf Visor's superior sweat management to the adjustable fit of the Callaway Golf Tour Authentic Visor, and the stylish design of the PING Golf Men's Visor, there is a visor out there for every golfer.
The year 2023 has brought us some excellent options for golf visors, each with their unique strengths. If you're focused on style and don't mind paying a bit more, the PING Golf Men's Visor could be your perfect match.
In conclusion, based on our hands-on experience and thorough testing, the Nike Dri-FIT Swoosh Golf Visor is our top recommendation for the best golf visor in 2023. Its combination of comfort, sweat-wicking technology, and exceptional sun protection make it a great investment for any golfer.
Trust us at GolfSpan; you won't be disappointed with your golf gear choices.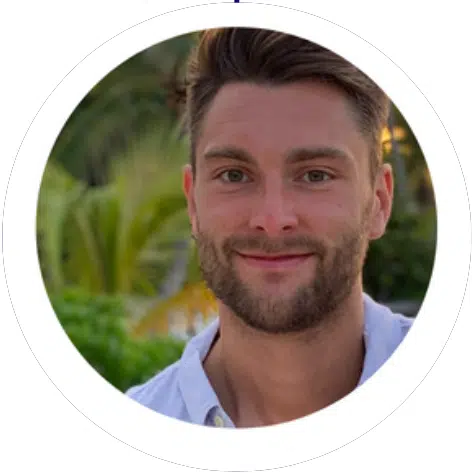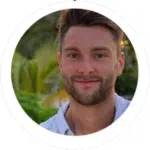 Sam has been playing golf for over 20 years and founded Impact Golfer. As a teenager, he discovered his love for the game using his grandad's clubs, including a wooden driver! As a golf obsessive, Sam plays whenever possible: regularly competing in matchplay with his friends and in tournaments at his local club. Fortunate to have a close friend who is a club pro– he has tested almost every type of equipment on the market (no freebies yet).