The best winter golf gloves are specifically designed to keep your hands warm and dry, enabling you to stay in control of the club — and your game. Your hands are the only contact with your golf club, and when they get cold they lose feeling, which will almost certainly impact your game.
When I'm playing in November or December, only the right golf gloves will work. If they don't feel good, I end up losing a bunch of strokes and it's not much fun.
In this article, we will look at the best golf gloves for winter to keep you warm during freezing rounds of golf.
As a broad overview, the best winter golf gloves are:
But this is just a snippet of what you need to know when it comes to winter golf gloves. Read on to equip yourself with all of the necessary knowledge!
Why You Should Trust Us
Our team spends thousands of hours trying out and researching golf equipment to help you take your game to the next level. Here's our product review process.
We can bring these reviews to you through the small commissions we earn if you buy through the links below.
How We Reviewed These Products
Golfspan only shares equipment and brands we trust.
An experienced golfer from our team thoroughly researched and evaluated the products we shared below. Then an editor reviewed and fact-checked the list. Finally, we conduct regular content audits to update and revise our reviews to ensure you receive the latest information.
To select these gloves, we considered the following criteria:
Warmth
Comfort
Fit
Value
Material
Durability
Wind and water repellence
Style
The 7 Best Winter Golf Gloves Reviewed by Us
Quick Overview: Our Top Picks for 5 Best Winter Golf Gloves
FootJoy provides some of the best equipment to professional and amateur golfers alike. They are especially renowned for their quality footwear and gloves.
The WinterSof golf gloves are made from soft Cabretta leather.
FootJoy employs the auto suede knit palm, the same kind of knit with such success on their RainGrip rain glove. I found that it gives exceptional levels of grip in wet conditions, much more so than the rest of the competition.
However, it does come with a drawback. While the palms are super grippy, they do wear a little quickly. Yet we found this to be true of almost all the gloves we looked at, so we can't be too critical. The rest of the glove holds up rather well.
The back of the glove offers a waterproof structured nylon construction and weather shield foam fleece to keep your hands warm and dry in inclement weather.
An extended knit cuff adds to the insulation capabilities and retains warmth inside the glove. Overall, despite the tendency for the palms to wear, we still think that they are the best thermal golf gloves you can buy.
Finger Ten winter golf mittens are not designed to use during your swing sequence but to aid you in keeping your hands warm in between shots.
Unlike most mittens, you must not remove the Finger Ten mittens during your swing. Just roll them up onto your wrists, swing, and then roll them back down when you're done. No need to remove either the mitts or your gloves as they fit comfortably over.
They are made with double-layer premium thermal fleece and a 100% windproof outer shell, making them suitable for use in blowy conditions. In our experience, they were very effective at keeping both our hands and wrist area warm, and we certainly appreciated not having to take them off for each stroke as this would have been a pain.
However, we did find they were a touch short. If you want to cover your fingers your wrists will be bare. This isn't a big issue if you are already wearing golf gloves, but it's a drawback. We also found they don't handle the wet too well, as is typical of fleece. Yet some fleece models like the Orlimar gloves have a much better time tackling the wet, being 100% water resistant.
These mitts are visually appealing in black with the words "Finger Ten" spelled out on top.
Quality is assured as Finger Ten offers a 30-day return if you are unsatisfied with the product.
Orlimar has been flying under the radar as a company, yet they offer fantastic specialized winter golf gloves. Their Performance Fleece winter gloves use synthetic textured patterns for the palm and finger sections of the glove to retain your feel and receive solid feedback from ball impact.
The exterior shell, combined with its signature fleece, provides warmth and a solid grip. The pattern assists in keeping the wind off your hands while the fleece extends over your wrists for added warmth, and the elastic cuff traps this heat inside the glove.
I found that they kept MY hands perfectly warm throughout my rounds, and I didn't sacrifice any feeling relative to my clubs because the material isn't too thick. The only area where these gloves let me down is their durability. After several uses, one of the palms started to show early signs of wear, indicating they are not particularly resilient.
However, given the competitive pricing and wide selection of sizes on offer, we still think that Orlimar gloves are well worth considering as they handle cold or wet conditions equally well. If, on the other hand, you're after the best golf gloves for durability, then consider the FootJoy WinterSof gloves instead.
4. Callaway Thermal Grip Warm Golf Gloves — Best Feel
Pros
Provides Pleasing Feel
Wind and water repellent
Available in cadet sizes
Thermal fleece keeps hands warm
Digitized synthetic leather palm allows a firm grip
Neat fit
Cons
No extra protective cuff
Prone to tearing at the seams
May prove not warm enough for very cold days
Callaway's classic design and manufacturing quality are visible in their thermal grip gloves. They are thin, lightweight, comfortable, fit neatly, and provide warmth due to the fleece-lined interior. A microfiber outer shell shields against wind and water while retaining freedom of movement for the fingers.
There's no doubt in our minds that the Callaway gloves are some of the best when it comes to grip. For many of the others we tested, you lose vital feeling when gripping the club, resulting in poorer shots.
However, the thinner material present in these gloves preserves feeling, making them a pleasure to use. The gloves with the closest feeling were the FootJoy StaSoft gloves, but we marginally prefer Callaway's.
Of course, the drawback to superior feeling is reduced warmth. They are certainly not the best for very cold conditions, yet we think they work great for typical colder months!
As the most expensive golf gloves on this list, the StaSoft premium winter golf gloves need to bring a lot to the table to make them worth considering, and in our opinion, they do.
Beginning with appearance, the StaSoft gloves look the best in our eyes. They sport a white and dark grey design that resembles most standard golf gloves.
As for function, they are also high performing. These gloves are constructed from Taction3 advanced leather, which is supposed to maintain its softness for longer periods than standard leather. While we haven't used these gloves long enough to put this to the test, we can say that they are pretty damn soft — they are the softest of the gloves we tested.
We can also testify that they are among the best gloves for feeling. You don't feel your grip is hindered, which is often the case with thicker golf gloves.
All in all, you largely have to weigh up appearance and feel versus warmth with these gloves. If you live in a very cold area, they are probably not the best for you, but they are a great asset on the golf course for typical winter conditions.
The HJ winter gloves sit just below the FootJoy StaSoft gloves in price, and in our opinion, they are a little worse overall.
The palms use Cabretta leather, providing plenty of grip for holding your golf clubs. As for maintaining warmth, they feature a thermal fleece with a line wrist to trap heat. However, while the gloves are grippy in practice, they aren't as good at keeping your hands warm as most other gloves. And as a winter glove, this is a pretty key feature.
They do, however, make up for this somewhat by being very comfortable to wear and offering good feel. We also like that they offer another color besides black: grey steel. While it's true that this is another understated color, they are the only gloves on this list that come with more than one color option.
Craftsman offers quality golfing equipment and accessories to professional and amateur golfers alike.
We found their winter gloves to be warm and comfortable, but their touchscreen compatibility really sold us. The last thing you want to do when it is bitterly cold is take one of your gloves off to operate your phone. Yet with these gloves, you don't need to!
We did find the process a little fiddly as our phones didn't always pick up when we touched the screen, yet overall they served their purpose well. And given that none of the other gloves on this list come with such a feature, they certainly have a unique selling point.
Our main gripe was their poor performance in wet conditions. After using the Orlimar and Callaway gloves (which have water repellence), it was clear that the Craftsmen gloves were very weak in this area. They left our hands saturated and icy after an extended period of rainfall. As such, while these gloves are great, you wouldn't want to use them if rainfall is forecast for the day.
Glove Materials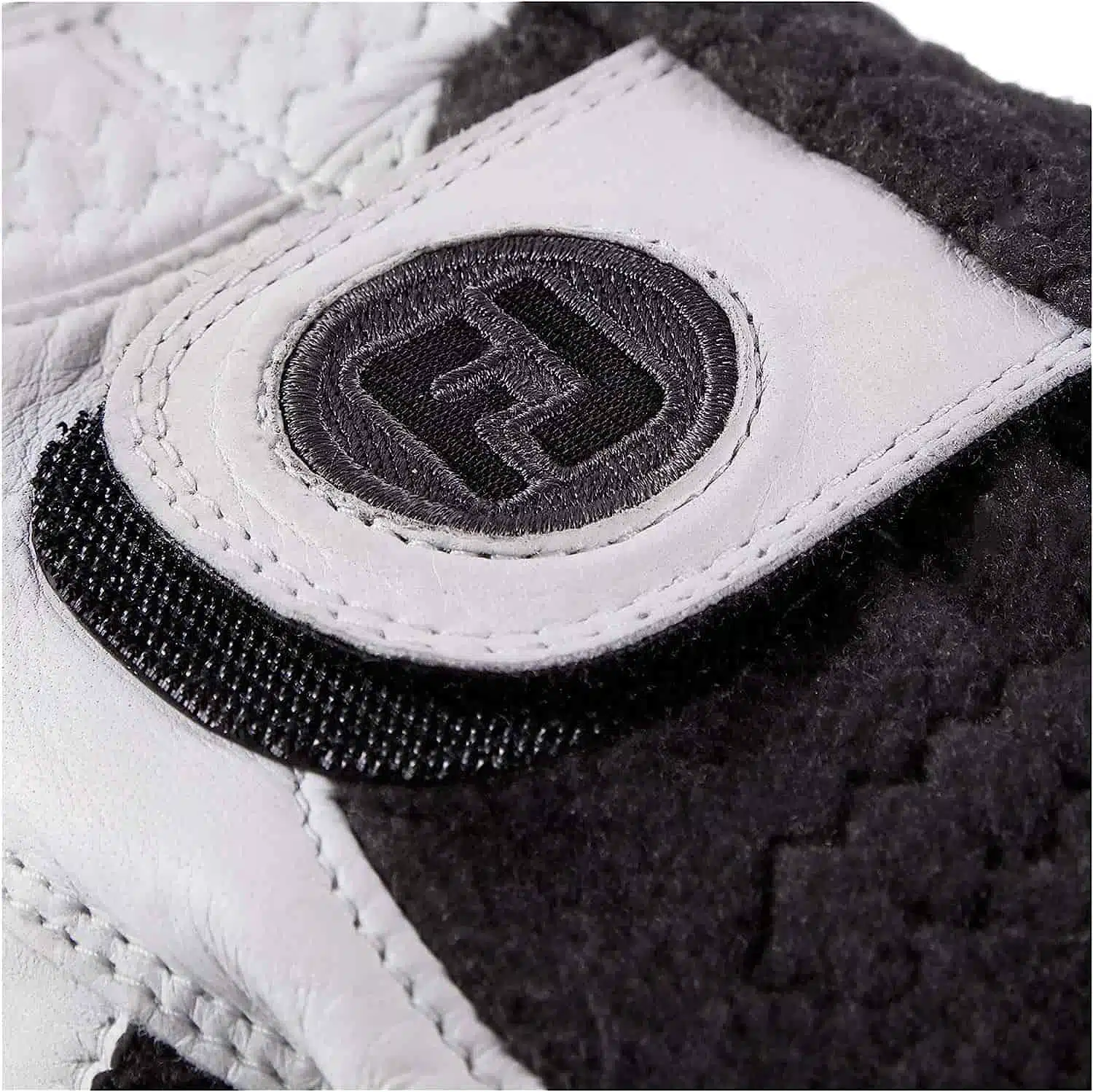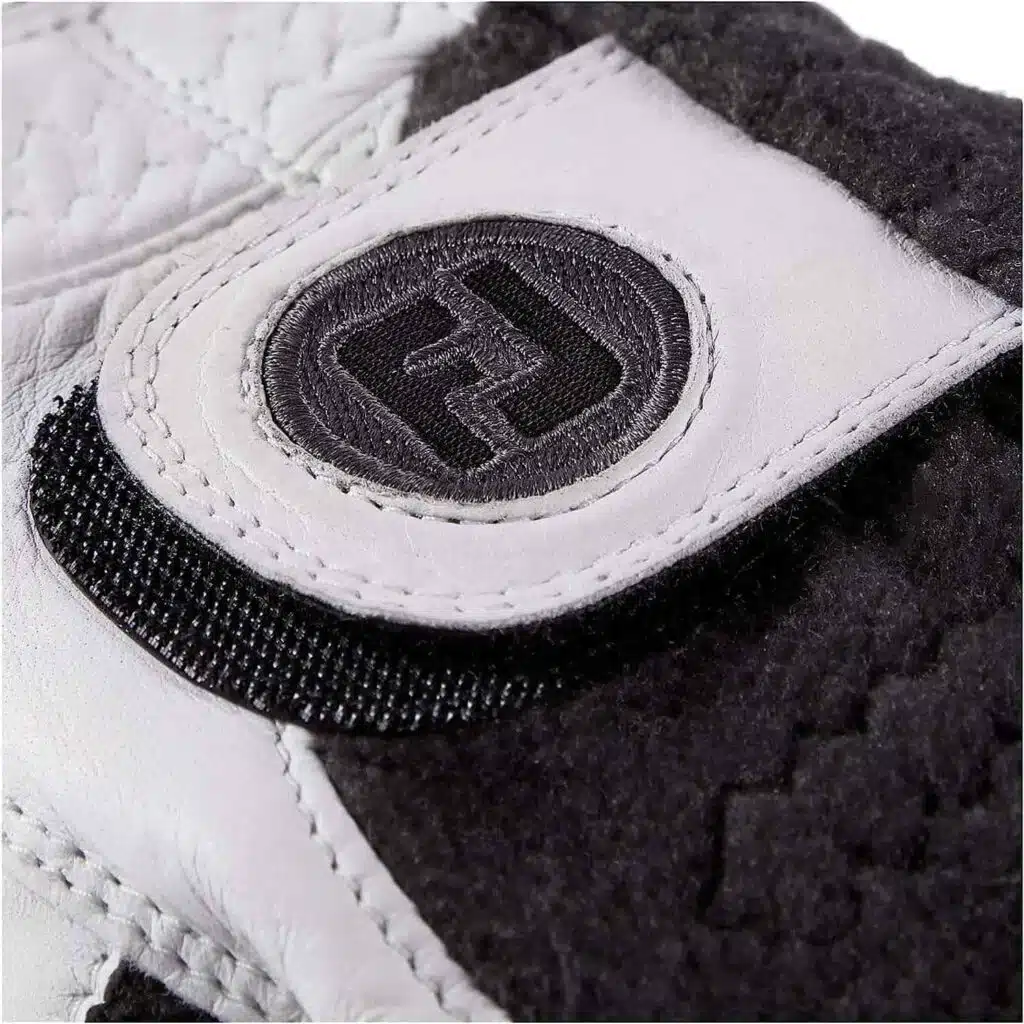 Leather
Tanned Cabretta is the most frequently used material in high-quality golf gloves, and is molded by precisely placed seams. Premium winter leather gloves are manufactured from 100% Cabretta leather to offer an ultimate luxury feel.
Synthetic Gloves
Synthetic gloves are made to be flexible and breathe on sweltering summer days to prevent the grip from slipping in your hands. They are manufactured from leather, satin, and spandex materials.
The breathability of synthetic materials does not do well during the winter months. Yet, they're easier to keep clean.
All-Weather Gloves
All-weather gloves are aimed at golfers that encounter many different conditions from hot humid days to rainy conditions and cold temperatures. The solid construction will keep your hands warm while keeping the wind out.
These gloves are less bulky than thermal gloves making them easier to use during play.
They are often sold in pairs to keep both hands warm and dry in a variety of conditions.
Thermal Golf Gloves
Thermal-heated golf gloves are bulkier than the others discussed above. They have a dense cotton lining and synthetic fabric to provide maximum hand warmth but sacrifice some playability.
Golf Mitts
Golf mitts are not ideal to use during the swing sequence but allow you to house your hands, gloved or ungloved, while moving between shots.
The warmth will allow you to get the feeling back into your hands to execute a better shot.
Key Features To Look For
Warmth
The main reason for purchasing a set of golf gloves for cold weather over normal golf gloves is to keep your hands nice and toasty during the harsher winter months. So seek out the warmest winter golf gloves that prioritize insulation. Ideally, you will want a fleece glove with a snug wrist to prevent heat from escaping.
Control/Grip
Chilly weather challenges your ability more than when playing under normal conditions. Your golf gloves must enable you to maintain a solid grip while keeping your hands warm.
You will find that the wintry weather exaggerates the feedback to your hands, and thinned shots will sting your fingers. A solid grip with the right glove will be effective and lead to better control.
Feel
Most winter gloves have an extra layer and are thicker than standard golf gloves. This reduces your ability to feel your clubs, resulting in poorer course performance. The key is to find the right gloves for your needs.
The unfortunate reality is that for an improved feel you have to sacrifice warmth by using a thinner material. A good balance is to purchase a set of gloves that offers the best of both worlds: good warmth and good feeling. Yet if your winters are particularly cold, you likely have to bite the bullet and just buy some of the warmest golf gloves with worse feeling. Alternatively, you can purchase two pairs, one thicker for harsh weather and one thinner for milder weather.
Size
Since winter gloves add layers to protect your hands from freezing conditions, the size that you require may differ from your normal glove. It is important to try gloves on if possible to ensure that they fit snuggly and that no loose hanging parts can affect your control.
Most gloves are available in common sizes from small to XL. However, select models will have many more size offerings including cadet and its associated size e.g. cadet small, cadet large, etc.
Cadet gloves are for golfers with wider palms and shorter fingers than most players.
Durability
With any investment, you want to be sure that it is going to last, and the same is true with golf gloves. In our experience, golf gloves deteriorate quicker than most other forms of equipment because they experience more wear. However, this doesn't mean you should settle for gloves that will last you a few months.
Look for gloves that use quality materials and good levels of craftsmanship. The fingertips, seams, and palms are the areas that show signs of damage first, so pay particular attention to these zones.
Water Protection
It's great being warm and all, but this quickly goes out the window in the face of rainfall if your clubs have no water protection. Only some gloves have such a feature, so think long and hard if you're considering going without. It's important to also remember that water resistance and water-proof are not the same thing — pay close attention to which language sellers use.
Another quality to note is that some gloves actually have improved grip during wet conditions, tough to get your head around, we know!
The Best Cold Weather Golf Gloves Frequently Asked Questions

How Do I Keep My Hands Warm in Winter Golf?
We'd recommend you use a combination of a set of decent winter golf gloves and combine them with golf mittens between shots.
Do Winter Golf Gloves Work in the Rain?
Many options do. However, bear in mind the elastic part around the wrist of some winter golf gloves is not waterproof. Check whether the ones you are looking at have a waterproof shell around the wrist. Alternatively, your jacket could cover this part instead.
What Are the Best Golf Mittens?
Our pick is the FINGER TEN winter golf mitts. They roll up around your wrists when you take your shot for extra convenience. Yet, any set of mittens that comfortably fit your glove-covered hands will do the trick.
Final Thoughts
Not all golf gloves work in the colder months. Only the best winter golf gloves are worth investing in. But on the positive side, all the gloves I mentioned will help you extend your golf season into the chilly season. These will keep your hands nice and warm, making the round much more enjoyable.
Although there are some great contenders for the best winter golf gloves in our list, one pair stood out above the rest, and that's the FootJoy WinterSof gloves. The reason we chose these gloves, in particular, is because they tick all the boxes. They are comfortable, warm, and preserve feeling while holding your club.
Related Articles
Chris's love for golf is only rivaled by his wanderlust. A globetrotter at heart, He's played courses throughout Europe and Asia and at home in NSW, Australia. With a writing style as smooth as his golf swing, he'll help you find the right gear to match your skill level and style. You can connect with Chris on LinkedIn.