Your hands are the only contact with your golf club and losing feeling due to the cold weather will almost certainly have an impact on your game. The best winter golf gloves are specifically designed to keep your hands warm and dry thus enabling you to stay in control of the club and your game.
In this article, we will look at the best winter golf gloves to keep you warm during those freezing winter days.
So, what do you need in a glove to protect you through these difficult winter days?
At a glance: Our Top 5 Best Winter Golf Gloves
Glove Materials
Leather
The most frequently used material in high-quality golf gloves is tanned Cabretta leather which is molded by precisely placed seams. Premium winter leather gloves are manufactured from 100% Cabretta leather to offer an ultimate luxury feel.
Synthetic Gloves
Synthetic gloves are made to be flexible and breathe on sweltering summer days to prevent the grip from slipping in your hands. They are manufactured from leather, satin, and spandex materials.
The breathability of the synthetic materials does not do well during the winter months.
All-Weather Gloves
All-weather gloves are aimed at golfers that encounter many different conditions from hot humid days, rainy conditions, and winter days. The solid construction will keep your hands warm while keeping the wind out.
These gloves are less bulky than thermal gloves making them easier to use during play.
They are often sold in pairs to keep both hands warm and dry in a variety of conditions.
Thermal Gloves
Thermal gloves are bulkier than the other discussed above as it has a dense cotton lining and synthetic fabrics to provide the maximum amount of hand warmth but sacrificing some playability.
Golf Mitts
Golf mitts are not ideal to use during the swing sequence but offer you the opportunity to house your hands, gloved or ungloved while moving between shots.
The warmth will afford you the opportunity to get the feeling back into your hands to execute a better shot.
Key Features to Look for Apart From Warmth
Control/Grip
Chilly weather challenges your ability even more than playing under normal conditions and can wreck your score quickly. It is essential that the golf glove enable you to maintain a solid grip while keeping your hands warm.
You will find that the wintry weather exaggerates the feedback to your hands and thinned shots will sting your fingers. A solid grip with the right glove will be effective and lead to better control.
Swinging a Club
Most winter gloves have an extra layer and are thicker offering distinctive characteristics. This differs from the glove that you normally use and it's worthwhile to swing a club to determine whether you will be able to swing the club without losing control.
Size
Since winter gloves add layers to protect your hands from the freezing conditions the size that you require may differ from your normal glove. It is important to try it on and ensure that it fits snug and there are no loose hanging parts that can affect your control.
The Best Winter Golf Gloves Reviewed by us are:
Quick Overview: Our Top Picks for 5 Best Winter Golf Gloves
FootJoy provides some of the best equipment to professional and amateur golfers alike. They are especially renowned for their quality footwear and gloves.
The WinterSof golf gloves are made from soft Cabretta leather.
FootJoy employed the autosuede knit palm that has been successful on their RainGrip rain glove for exceptional levels of grip in wetter conditions. It generally offers better grip wetter conditions. This assists in keeping your grip in all conditions.
The back of the glove offers a waterproof structured nylon construction and weather shield foam fleece to keep your hands warm and dry in inclement weather.
An extended knit cuff adds to the insulation capabilities and retains warmth inside the glove.
To ensure that you maintain a proper grip with both hands, the FootJoy WinterSof gloves are sold in pairs.
Finger Ten winter golf mitts are not designed to use during your swing sequence but to aid you in keeping your hands warm in between swings.
Unlike most mittens, the Finger Ten mittens do not have to be removed during your swing. Just roll it up onto your wrists, and then roll them back down when you're done. No need to remove either the mitts or your gloves as they fit over the gloves.
They are made with double-layer premium thermal fleece and a 100% waterproof and windproof outer shell making them suitable for use in all weather conditions.
Not only will it keep your hands warm, but it also covers your wrists and some of your lower arms.
These mitts are visually appealing in black with the words "Finger Ten" spelled out on top.
Quality is assured as Finger Ten offers a 30-day return if you are not satisfied with the product.
HJ gloves have been in business for over 30 years flying under the radar offers specialized winter golf gloves. its Windstopper winter gloves use leather for the palm and finger sections of the glove to retain your feel and receive solid feedback from the impact.
The WeatherTan Cabretta tanned leather exterior combined with its signature fleece provides warmth and a solid grip. Tanned leather assists in keeping the wind out of your hands while the fleece extends over your wrists for more warmth, and the elastic cuff keeps the warmth inside the glove.
To retain a solid grip, the HJ Winter Performance glove is available as a pair.
Pricing is competitive to offer feel and warmth year-round but shows its true value during the winter months.
4. Callaway Thermal Grip Glove
Pros
Sold as a pair
Provides Pleasing Feel
Wind and water repellent
Available in cadet sizes
Thermal fleece keeps hands warm
Digitized synthetic leather palm allows a firm grip
Neat fit
Cons
No extra protective cuff
Some golfers reported that the glove came apart after only a few uses
More expensive than many gloves on this list
Callaway's classic quality of design and manufacture is visible in the thermal grip glove. They are thin, lightweight, and comfortable, fit neatly, and provide warmth due to the fleece-lined interior. A microfiber outer shell shields against wind and water whilst retaining freedom of movement for the fingers.
The Opti Fit closure system keeps wind and rain out while keeping the warmth required.
A good feel is retained through the use of a digitized synthetic leather palm.
Fortunately, the Callaway Thermal Grip gloves are sold in pairs to keep both hands warm. Furthermore, it is available in a wide variety of sizes to suit golfers of all sizes, including cadet size.
Cobra is part of the Puma stable and offers quality golfing equipment and accessories to professional and amateur golfers alike.
StormGrip winter gloves are available in pairs to keep both hands warm to ensure that you can grip the club properly.
They work well in wet conditions as well with the suede fabric improving as they react to water.
The tailored elastic cuff keeps wind and water out for maximum heat retention and effective dryness.
As many of us use digital devices to guide us around the course to show distances and keep score, a nice touch is that the index finger is touch screen compatible to enable you to continue operating these devices without removing your glove.
Final Thoughts
Playing golf year-round is a privilege that few golfers experience.
Playing in freezing winter months is challenging as the padding to keep you warm affects your ability to swing, mishits sending a severe sting to your fingers, and the ball traveling shorter distances.
However, golfers being golfers, any opportunity to get on the course is appreciated and loved.
Keeping your hands warm makes the round so much more enjoyable.
Although there are some great contenders in the list discussed, our winner as the most versatile glove that will offer the best protection against wind, water, and temperature is the FootJoy WinterSof glove.
Any feedback on your experience with winter gloves will be highly appreciated in the comments section below.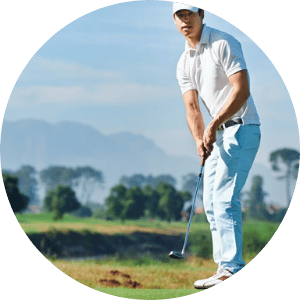 Nick Lomas is the founder of GolfSpan, an avid golfer, not quite a pro but has over 15-years of experience playing and coaching golfers from all over the world. His mission is to bring the golfing community a better experience then it comes to choosing the right golf gear, and finding the right set up for your game.