When the Cobra F9 series came out in 2019, it put most of the competition in its price bracket to shame. In fact, it gave a lot of the more expensive clubs a run for their money in terms of distance and forgiveness. That being said, this was in 2019, and golf club technology is progressing at an astounding rate.
The Cobra F8 Driver is built to increase your swing speed with sleek aerodynamics and a low center of gravity. It's a great fit for mid to low handicappers and could reduce your score by a few strokes.
But can its tech compete with the recently-released drivers today?
We'll take a deep dive into the tech in the Cobra F9 driver to see if it's still worthy of all the hype surrounding its initial release. We'll also provide a few newer alternatives to compare and contrast with.
Read on to learn everything there is to know about the Cobra King F9 Speedback driver.
Cobra King F9 Speedback Driver Review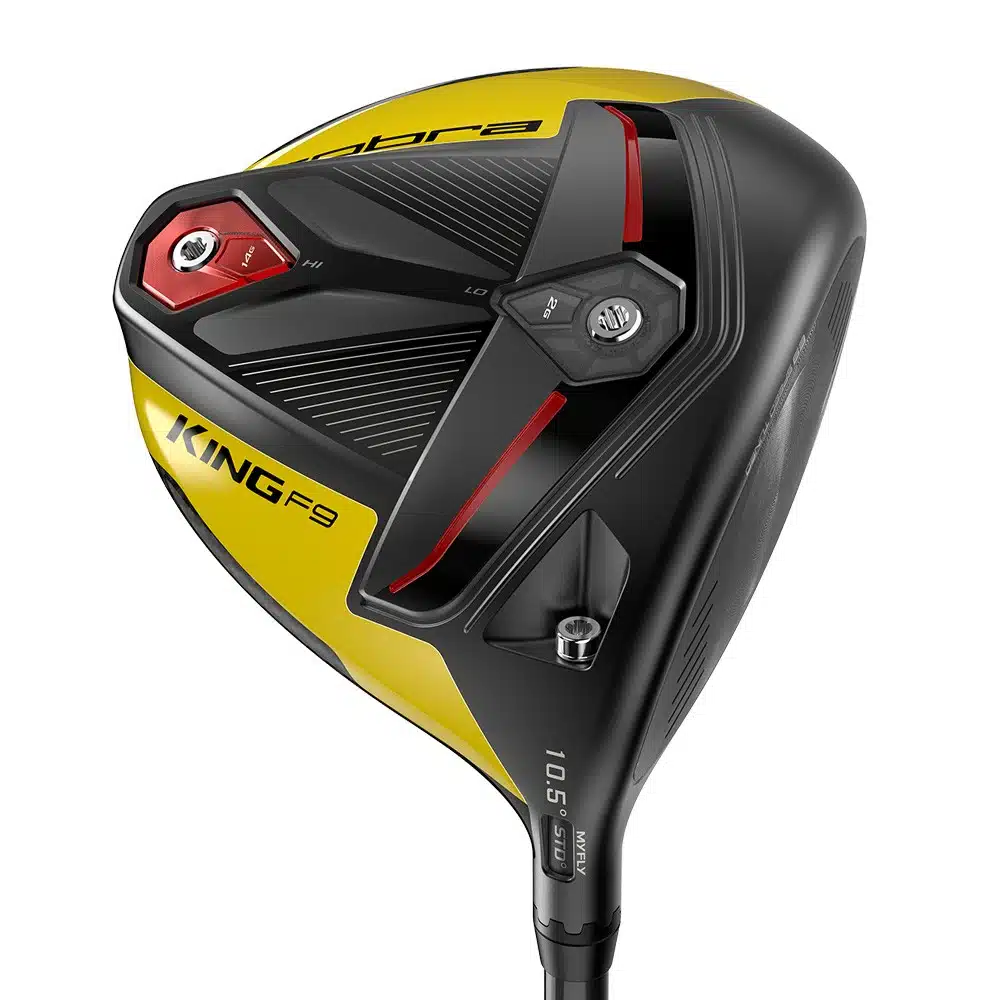 Pros
Low center of gravity
Aerodynamic head provides exceptional club speed
The CNC milled face provides a fast face to maximize forgiveness on off-center drives
Adjustable Hosel
Cons
Muted audio feedback
Shots struck high on the don't launch far
The Cobra F9 driver is still a great choice for more experienced players with lower handicaps. The club's design increases your swing speed, and the precision milling offers a bit of forgiveness on mishits. You can find better clubs today, but given that it was released in 2019, you could get a great deal on this club and shave a few strokes off your game.
Cobra F9 Speedback Review Scores
| | |
| --- | --- |
| Total Score | 86.6 |
| Star Rating | 4-stars |
| Distance | 88 |
| Forgiveness | 84 |
| Feel | 86 |
| Workability | 80 |
| Club Head Speed | 95 |
| Aesthetics | 86 |
| Price | 98 |
| Grip | 90 |
| Design & Tech | 87 |
Cobra F9 Speedback Driver Features
When they were first released, these drivers were to first to emphasize both aerodynamics and a low center of gravity. The design choices turned out to be a huge success, and there have been many copycats since. But, these OG clubs remain one of the best drivers on the market.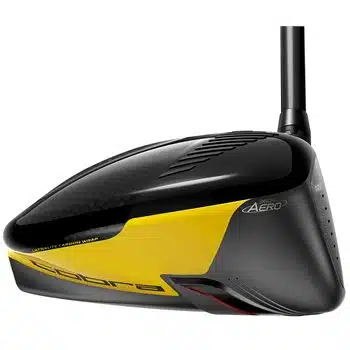 | | |
| --- | --- |
| Weights | 6g, 10g, 14g,(stock), 18g |
| Lofts | 9, 10.5, 12 |
| Materials | Carbon, CNC Milled Face, Polymer |
| Release Year | 2019 |
Aerodynamic Speedback Design
As the name of this Cobra Golf club implies, it's built for speed. One of the most important ways the F9 promotes a faster swing is through the aerodynamic head.
The designers at Cobra took their inspiration from airplane wings and decided to round the edges around the face. They then raised the tail end of the skirting section to help the clubhead cut through the air with maximum efficiency.
Adjustable Weighting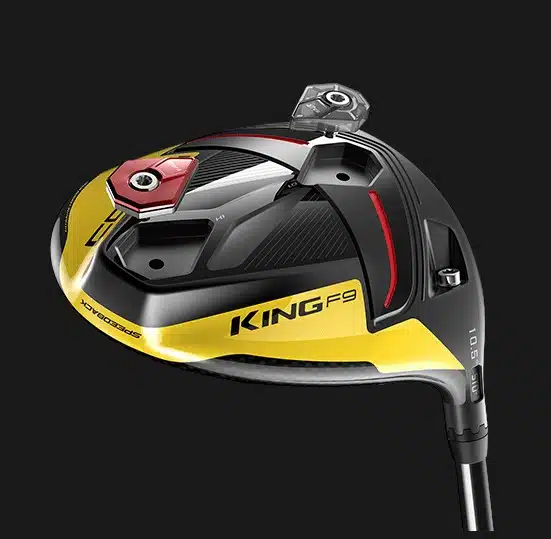 It's not often you buy a driver that can operate both as a low spin distance driver for a low handicap player and a forgiving high spin driver. But, the changeable weight ports on the bottom of Cobra F9 drivers allow for this with a few twists of a wrench.
Whichever weight you choose to use, it's important to note that this will remain a low center of gravity club, perfect for most golfers. However, some may not agree. If you need more forgiveness, make sure you have heavier weights to allow for more face spin.
A Light and Large Crown
Because the raised skirt on the rear of the clubs raises the center of gravity, just having weights in the bottom wasn't enough to truly call the F9 a low CG driver.
They also created a multi-material crown that covers the entire top of the driver and wraps around the sides a little. As they chose not to use titanium, this saved a lot of weight from being distributed over the top of the clubhead. It's even lighter than Carbon.
Precision Milled CNC Face
Cobra includes a fast face on the F9 range to compliment the blistering swing speeds you can achieve with this club. And, as we all know, sometimes fast swing speeds can result in mishits, especially among mid to low handicap players. Luckily, precision milling also promotes forgiveness for such situations.
The single-piece milling on the face of the Cobra F9 driver allows for a precise face thickness that allows for maximum forgiveness for all swing speeds. Cobra achieved this through their E9 Speed Tuned Tech that optimizes the bottom roll curvature and bulging. The face is also much thinner and lighter than a polished equivalent.
AI Feedback on Your Swing
Cobra drivers can come equipped with "Cobra Connect Powered by Arccos" technology. This is a connected golf system that has won many awards. It gives you enough data to help you make smart decisions when trying to improve your golf swing.
Cobra Connect uses sensors embedded in the grip to automatically note every shot's accuracy and distance. At the very least, it will help you keep track of your improvements and areas you need to work on.
Adjustable "MYFLY" Lofts
You can easily adjust these drivers. You can specify the Cobra F9 lofts to the following standards:
| | | | | | | | | |
| --- | --- | --- | --- | --- | --- | --- | --- | --- |
| Model / MYFLY settings | -1.5° | -1.0° | -1.0°D | STD° | STD°D | +1.0° | +1.0°D | +1.5° |
| 9° | 7.5° | 8° | 8.0°D | 9° | 9.0°D | 10° | 10.0°D | 10.5° |
| 10.5° | 9° | 9.5° | 9.5°D | 10.5° | 10.5°D | 11.5° | 11.5°D | 12° |
| 12° | 10.5° | 11° | 11.0°D | 12° | 12.0°D | 13° | 13.0°D | 13.5° |
| 12.5° | 11° | 11.5° | 11.5°D | 12.5° | 12.5°D | 13.5° | 13.5°D | 14° |
Shafts
Cobra King F9 drivers come with a range of shaft options from premium suppliers so you'd be sure to find the perfect fit if you were buying new. Unfortunately, Cobra no longer makes F9 drivers, so you'll have to take what you can get when you buy second-hand or are lucky enough to find an untouched one in your local pro shop.
Here are the stock shaft options that Cobra used to offer on the F9 series:
UST HELIUM (4F2 – LITE, 5F3 – REG)
FUJIKURA ATMOS – TOUR SPEC BLUE 6
PROJECT X – HZRDUS SMOKE 60
FUJIKURA ATMOS – TOUR SPEC BLACK 7
Cobra F9 Speedback Alternatives
Since the Cobra F9 is a little older, it can also be hard to find one. But, don't worry. Cobra has released some newer fantastic drivers, and some of the competition has some comparable drivers available. Check out the best of those options below:
The Closest Match – Cobra Radspeed Driver
After the Speedback F9 driver, Cobra released the Speedzone. And now, the most recent iteration of these similar drivers is the Radspeed.
Pros
New and improved F9 equivalent from Cobra
Super forgiving
Adjustable weights and loft
Easier to get a hold on than a Cobra F9 Driver
Cons
Much more expensive than a Cobra F9
Released in 2021, these drivers do everything the F9 drivers do but better! There are a few key differences, though.
One of the main differences that the Radspeed has compared to the F9 is the forward weighting. It lops a whole 28 grams right up to the face of the club. This means that the Radspeed drivers have a very low launch compared to the F9.
This weighting also lends itself more toward low spin. Despite this, Radspeed drivers remain incredibly forgiving. Also, the low spin helps to drive the ball much longer.
The Radspeed is available in 3 different models:
Regular: for those with a standard swing type
XB: for extra forgiveness
XD: for those with a draw bias
Steer clear of the XD unless you're sure you have a draw bias. Otherwise you could find yourself slicing shots you used to find easy. Otherwise, the regular and XB models should suit most golfers.
The Radspeed Regular is still very forgiving as it comes with an Infinity face which helps create speed across the entire face to prevent mishits. All the Radspeed models come with Infinity technology.
While Cobra uses the Radspeed to target low handicap players, mid-handicap players will also enjoy using this driver. However, if you're a high handicap player, you'd still be better off with the extra F9 as the spin off the face helps with forgiveness.
Read full review of Cobra Radspeed Driver.
Another That Promotes Speed – Callaway Epic Max Driver
If you've fallen in love with the Cobra F9 because of the tech that promotes swing speed and speed of the face, the Callaway Epic Max is a great alternative.
Pros
Very well balanced
17g sliding rear weight
Adjustable OptiFit hosel
Super forgiving
Cons
Some may not like the oversize head
With a name like Epic Max, you'd be right in assuming that these drivers help with distance. But they're also exceptionally forgiving. Part of how Callaway achieved both aspects with these drivers is the incredibly fast ball speeds of such a vast area of the face.
Callaway cites their Jailbreak AI Speed Frame as the driving force behind the epic stability in both the torsive and horizontal directions.
Just like in the design of the Cobra F9, Callaway strived to have the lightest crown possible. Their engineers designed a triaxial Carbon material that saves over 19 grams compared to a standard Titanium clubhead. This framing allowed them to redistribute the weight to create optimal forgiveness and launch.
There is a siding rear weight on every Callaway Epic Max driver that allows you to make the shots that you desire. They have also paired this with an OptiFit hosel. With the two of these adjustable parameters, you can alter a whopping 20 yards on your shot.
The Callaway Epic Max is a genuinely close driver to a Cobra F9. They're also much easier to get your hands on. Unfortunately, since they're one of the big 4 golf brands' clubs, they're more pricey than Cobra equivalents.
Premium Option – TaylorMade Stealth
Just like the Cobra F9, the TaylorMade Stealth driver is aimed at every golfer, no matter their handicap.
Pros
Adjustable to suit every golfer
Incredible forgiving
Super aerodynamic
Looks fantastic
Cons
If cost is no issue for you then the Stealth line of drivers from TaylorMade should be at the top of your list for drivers. It shares a few qualities with the Cobra F9 like an aerodynamic design, a fast face, and adjustability.
The difference is that Stealth drivers are newer and therefore packed with better tech. They are simply more forgiving and give more distance than the Cobra F9. However, these are the current flagship driver from TaylorMade and as such they come with a hefty price tag. One driver costs more than my first full set of clubs did.
They have a 60X Carbon Twist face that prevents mishits and optimizes ball spin by having a polyurethane cover that is covered in nanotexture tech. This provides plenty of friction no matter the playing conditions.
The lightweight nature of the Stealth Drivers allowed Callaway to set an intentional low and deep center of gravity to promote a huge moment of inertia on impact.
King Cobra F9 Driver Frequently Asked Questions
What Type of Player Plays The Cobra F9 Driver?
Due to the adjustable lofts and weighting, the Cobra F9 is an incredibly versatile driver that could suit pretty much any golfer. Yet, the forgiveness and speed-promoting qualities of these drivers make them a great choice for mid to low handicappers to shave a few strokes off their overall score.
How Forgiving Is the Cobra F9 Driver?
The great thing about the Cobra driver F9 is that you can adjust the spin-off the face of the club and therefore how forgiving the driver is. But, by default, this is definitely a game-improving driver and is therefore very forgiving. It's a great choice to help you stay straight and long. Since it also helps to promote faster swing speeds is perfect for those that have issues with slow swings.
How Good Is the Cobra F9 Driver?
They're good drivers and great bang for the buck. When these drivers were released in 2019, they vastly overperformed the competition at their price point. Now since they're a little older, you can get them at a steal and are a fantastic option for a second-hand driver too.
Is the Cobra F9 Driver Good for High Handicap?
The Cobra F9 driver is the perfect driver for high handicap golfers that need a little extra help with their swing speed, distance, and staying straight. Their low center of gravity and aerodynamic design help newer players with all of these areas.
Is Cobra Speedzone Better Than F9?
These are both fantastic drivers that tackle the same portion of the market. The Cobra Speedzone is a little newer than the F9, with a 2020 release date. They, therefore, do everything the F9 does but just a little better. However, the price difference between these two models can be huge, so the F9 could still be the right choice for you.
When Did the Cobra F9 Come Out?
Cobra Released the F9 driver in 2019.
How Much Does a Cobra F9 Driver Weigh?
The weight of the Cobra F9 depends on the weights you currently have in the weight ports. The standard is 14g, but they're also available in:
How Long Is the Cobra F9 Driver?
Cobra F9 drivers have a standard length of 45.25 inches with a standard grip. If you get one equipped with Cobra Connect, it will be 45.50 inches instead.
Final Thoughts
The Cobra F9 is still a standout driver. In spite of it being released a few years ago, this is definitely one you should still consider, especially if you're shopping for second-hand drivers.
If you manage to find a decently priced Cobra F9, you should snap it up. These are still incredibly popular and likely won't last long in your pro shop or online.
If you're having trouble finding a Cobra F9 Speedback driver, consider the alternatives we mentioned above.