It is only natural that your shoe spikes get worn out over time. Obviously, we aren't all analyzing the soles of our shoes daily, so it may take something like a slip when driving to notice that our spikes aren't up to scratch anymore.
When you spot that you lack some grip with your spikes, it is time to remove the golf spikes and swap them for some new ones.
Here is the foolproof method for replacing golf shoe spikes:
Clean the underside of the shoes with hot, soapy water.
Remove the spike by putting the prongs on the spike and twisting your wrench counterclockwise.
Remove all dirt from the hole.
Put a new spike in its place and turn the wrench clockwise until it clicks twice.
Repeat for all shoe spikes.
Read on to learn about the different golf shoe types, how to know when to swap your spikes, and a step-by-step guide on how to replace your golf spikes.
How to Know When to Swap Your Golf Shoe Spikes
Golfers are advised to swap their shoe spikes every 12 – 15 rounds or twice over the season for a regular golfer. Swapping shoe spikes can be more frequent if you play more than most golfers, and conversely, if you play every few months and look after the spikes, it may be 2 years before they need to be replaced.
Nike golf spike replacements can sometimes be changed more often than that, as the cleats are made of polyurethane or rubber, which doesn't last as long as you may like.
If you base the need to change your shoe spikes on feeling rather than time frames instead, the moment you feel a slight lack of grip in your shoes on a shot and lose confidence that you are anchored to the ground, you should look to swap the studs to stop it occurring again.
Tools and Materials Needed for Shoe Spike Replacement
You need two main things when replacing spikes on your golf shoes: a wrench – there are many tools kits available – and a bag of plastic cleats. You will use the wrench to unscrew the old stud and screw the new one into place.
If you wondered how to remove golf spikes without a tool like a wrench, you can save money by using something that is probably in your home right now. Needle-nose pliers can do the job just fine. Instead of using a prong to get in the two holes in the spikes, use a needle-nose as it fits well and then twist in the same action, which should come out.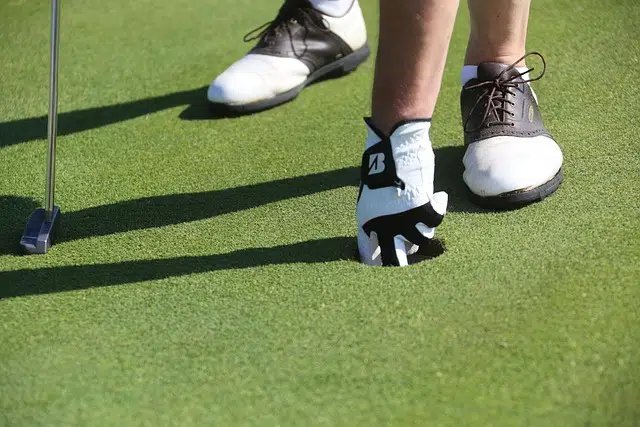 A Step-by-Step Guide to Replacing Golf Shoe Spikes
1) Clean Your Shoes
It is pointless trying to focus on removing golf spikes when the sole of your shoe is filled with mud and dirt. It makes the job at hand tougher, especially if mud is lodged in your cleats' holes.
Lots of golf clubs have brushes or an air compressor to get most of the dirt off after you have played. When you get home, use hot soapy water and a brush to get the rest of the dirt off before you start replacing your spikes.
2) Use the Wrench to Remove the Spike
Put the prongs in the holes in the spikes and press them in. Then, using the wrench, turn it anti-clockwise. This should be followed by the spike coming out.
3) Check That No Dirt Is in the Hole
Have a check that no dirt is in the hole and that nothing will interfere with you putting a new stud on.
4) Put the New Spike In
With one of your new spikes, put it in place and, again, turn this clockwise this time using your wrench. Make sure you hear that the spike has clicked twice.
5) Repeat for All Spikes That You Need To
Now, you can repeat this combination for the spikes that you need to replace. It is a foolproof method that will get the spikes in and out quickly and efficiently. Now you know how to change spikes on golf shoes moving forward.
Replacing Footjoy soft spikes is similar:
2 Tips for Maintaining Your Golf Shoe Spikes
Here are two top tips so you can limit the number of times that you need to remove your shoe spikes:
1) Limit the Times You Are on Concrete
If you are parked a distance away from your clubhouse, putting on your golf shoes by the car and walking on concrete can be unavoidable sometimes. If you can limit the time spent walking on the surface, it will cause damage to the spikes over time. This may mean finding a better parking spot or changing where you swap your shoes over.
2) Keep Your Shoes Clean
It sounds obvious, but many golfers neglect their shoes. After every round of golf, ensure you scrub the soles of your shoes with hot, soapy water to keep them in good condition. If you don't, debris and dirt can build up and impact your shoe spikes in the long run.
The Best Golf Shoe Spikes
Dynamic cleat technology
Fits with Fast Twist 3.0 and Tri-Lok systems
Traditional 8-leg design
The Softspikes are the top-selling cleats in the world. The Black Widow cleats feature dynamic cleat technology and fit golf shoes with fast twist 3.0 and Tri-Lok systems. The pack of 18 cleats are flexible to provide as much comfort as possible thanks to the traditional 8 leg design.
No products found.
For Golfers with a straight-line spike hole
Provides highest level of balance
Easy to replace
These Gusnilo easy-to-replace spikes suit golfers whose shoes have a straight-line spike hole. The shoe replacement brings a high level of balance to aid you on the fairway. The 21 spikes also come with a handy tool to replace the spikes. You get a lot for your money.
Champ's most comfortable spike
Polymer reduces spike pressure
Soft cushion layer
Champ's softest and most comfortable spike yet boasts a three-material design with an innovative soft cushion layer. The soft, advanced polymer creates a gentler impact on your feet when walking, reducing spike pressure.
Exceptional grip and comfort
Visible wear indicator
Green-friendly
The pack of 16 Champ replacement cleats fits Q-Lok insert systems. The spring flex traction provides exceptional grip and comfort. The anti-clogging studs have a visible wear indicator – the C turns solid when spikes need to be replaced. They are also green-friendly to limit damage to the course.
Get 23 soft spikes and spanner
Added strength and durability
The SOLM8 cleats are made from TPU composite material molded onto steel for added strength and durability. The configuration pattern also allows for a firm and stable grip on wet grass.
Spiked Vs Spikeless Golf Shoes
As the finer details in golf have gone under the spotlight more, as well as pros and amateurs are also looking at whether spiked or spikeless golf shoes work for them better.
It is down to the golfer for preference, but usually, spiked shoes are preferred for wet or tough conditions as they offer more grip. Thanks to replaceable spikes, too, the shoes last longer than the alternative.
Spikeless shoes are more versatile as they can be worn not just on a course but to and from the course in your car. They are easier to wear and more comforting as they are lighter due to the lack of studs underneath.
Why Replace Your Golf Shoe Spikes?
It is important to replace your golf shoe spikes when they don't have the same impact they used to. Your swing could fall victim otherwise if you slip when driving, for example, and that will be sure to add a few additional shots on. Also, rather than just buying a new pair of golf shoes, you get your use out of them and don't unnecessarily get your wallet out.
Final Thoughts
Now you know about everything that involves replacing golf shoe spikes. Don't let the information go to waste and leave your golf shoes deserted between the times you play – keep them clean, and it makes the whole process easier. It is even handier when you find a parking space right next to the first hole, but we can't have everything in life!
If you haven't already nearly gone flying after a powerful drive with spikes with poor grip, your future self will thank you for taking the proactive decision to swap.